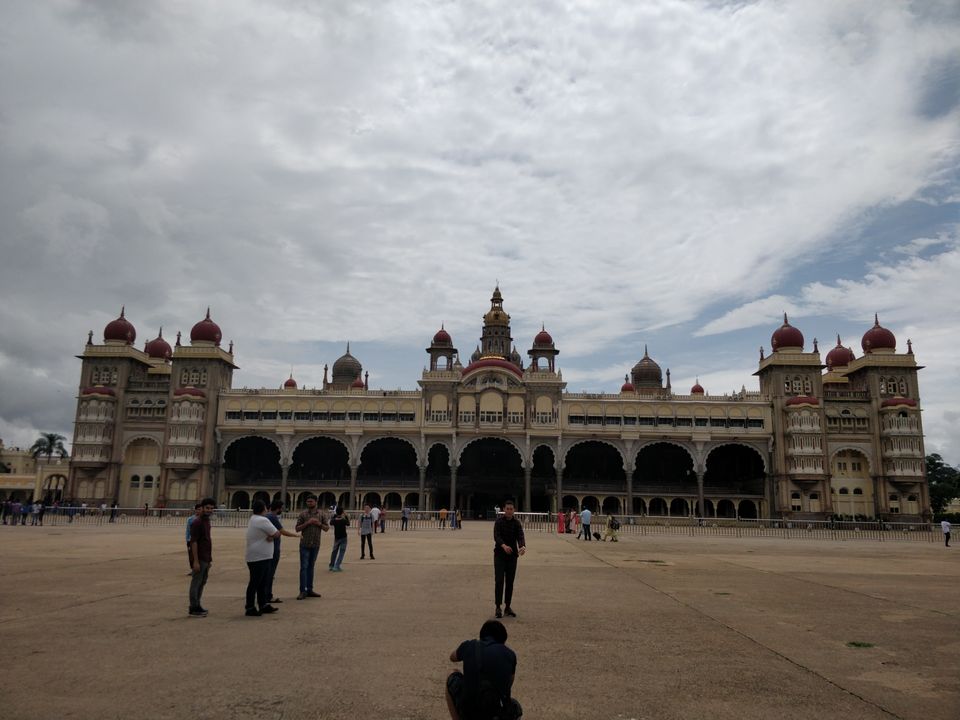 Blog: https://after1990s.blogspot.com/2018/11/mysore-weekend-gateway-from-bengaluru.html 
"Travel", they say, "as you will remember the roads as memories you'll always cherish", and that was exactly what I was looking for when my parents dropped in Bangalore to stay with me for a couple of weeks. Love for exploring new places has come in me from my parents I think, the moment I proposed them a road trip to Bangalore from Mysore they quickly agreed. I knew I had to be a little extra cautious because I was travelling with two old people, I had many things to take care of like wholesome food, clean washrooms and comfort. But this my friends, was one of the most beautiful journey I've had in my short travelling life, I suggest you all to take out sometime to travel with your parents.
Mysore or Mysuru, known for its royal palace, is a city in southwestern Karnataka state in India. The city is known for its rich culture. The city is famous for its gardens & palaces, and haven for women looking for silk sarees. Mysore best places to visit if you are a fan of olden day grand monument and rich Indian culture and tradition. It is also one of the must visit cities in India as per various travel sites, and probably the best weekend gateways from Bangalore. Due to its close proximity to Bangalore (around 150 KM), you can see many bikers enroute to Mysore over the weekends.
Here are some of the top places to visit in Mysore
1. Mysore City Palace
2. St. Philomena's Cathedral
3. Brindavan Gardens
4. Mysore Zoo
5. Sri Chamundeshwari Temple on Chamundi Hills
So, for this trip I had pre-booked a cab for 2 days. Prices for these cab services are very convenient and transparent. They generally charge price/Km and this is common among all cab drivers in Bangalore. I've given details of my cab driver with expenses at the end of the blog, those you want to travel with a fun and informative drive can dial him.
We started @ 7 AM from Bengaluru in taxi.
Places visited:
First stop was in Srirangapatna. We reached there in 3 hours. This place is famous for Ranganathaswamytemple, an ancient temple dedicated to hindu God Ranganatha (a manifestation of god Vishnu). No entry fee for the temple
While entering Mysore, we stopped at one of the tallest churches in Asia: St. Philomena's Cathedral. No entry fee required here as well.
We then headed to Mysore City Palace. This was my second visit to the palace. One can feel the grandeur embedded all around. The beautiful carvings in the royal structure, display of weaponry and other antics of that era will make you visit this palace time and again. This palace is beautifully lit during the famous Mysuru Dasara (which is a 10 day long festival beginning with Navratri and ending on Vijayadashmi; it typically happens in month of either September or October). You will easily spend 2 hours in the palace, and if you are an art connoisseur like me then you might end up lurking around for 3-4 hours Also if you are first timer do visit the museum for which you have to pay extra which is minimally priced.
The entry fees of mysore palace is Rs. 50.0 per person for adults, 30.0 per person Children between 10 - 18 Years, 10.0 per person for students, 50.0 per person for foreign tourists
Our next stop was definitely the Hotel, we were a little exhausted and in dire need of some rest and refreshment. I had booked Treebo rooms
TreeboKomfort Suites. 3km away from bus stand, located in yadavgiri. Peaceful area. Treebo has never disappointed me. Very spacious room. It was 2 bhk with AC in both rooms, TV & Fridge and other amenities were quite good and Breakfast was included.
I paid INR 1610 only for 3 people. (Received 50% discount while booking through Treebo APP).
After resting for an hour, we headed to Brindavan gardens by 5 PM. This is 25 km outside the city. Reached there by 5:45 PM. It is a very big & beautiful garden, nice place to relax during the evening. They organize fountain, music and lighting shows during the late evening for onlookers, and my parents enjoyed this one a lot.
The moment you set out of the garden, you'll be bombarded with street food options we binged on a few knick-knacks and went straight to the hotel. .
We decided to order dinner in room itself as we were totally drained out.
Note: Without any second thought, this was the best food we had, either go down and eat in the restaurant or order in your room in hotel. We ordered veg pulao, paneer tikka masala and naan. Good quantity and delicious.
We then signed off for the day. Here are few clicks for the day.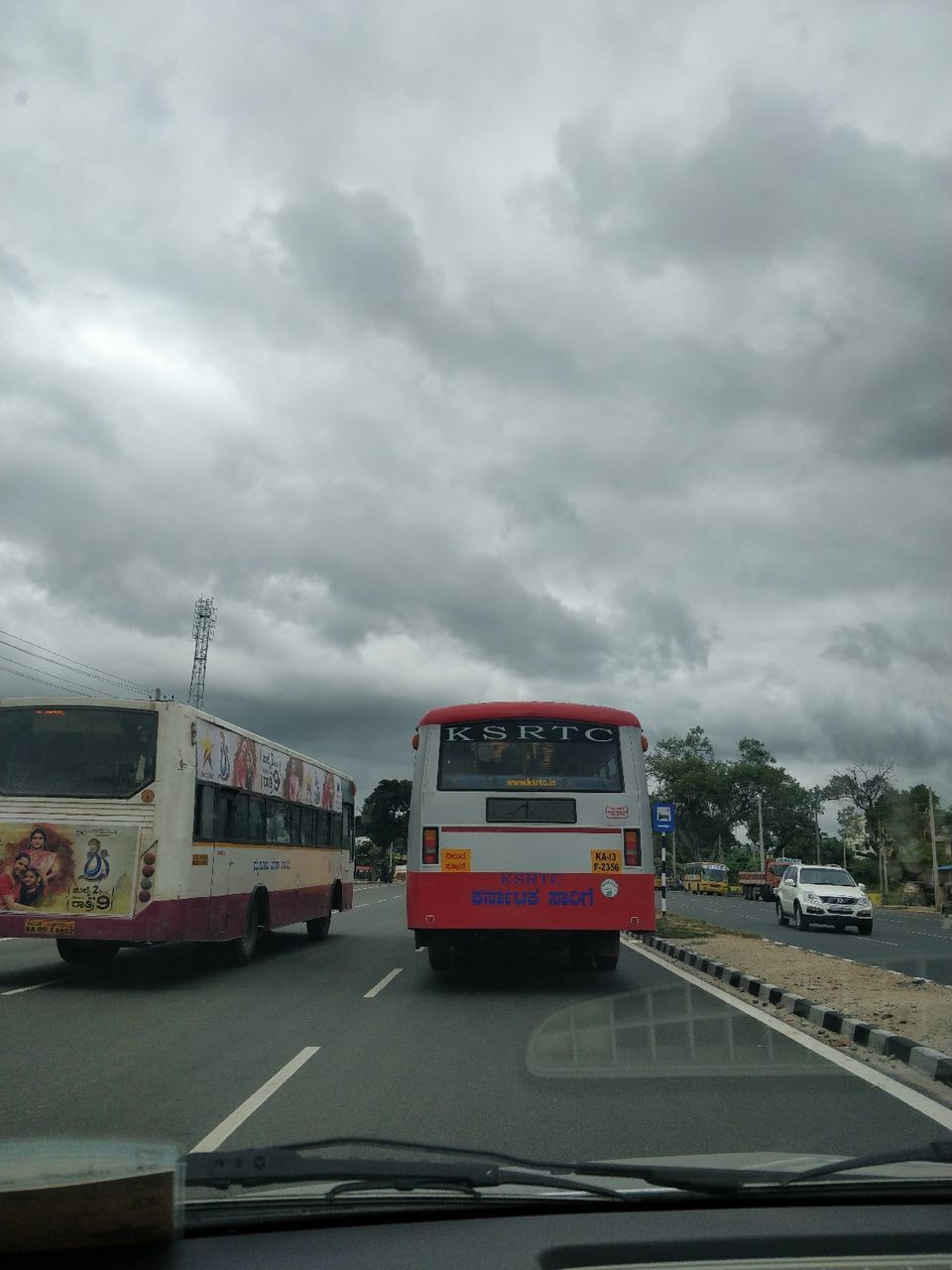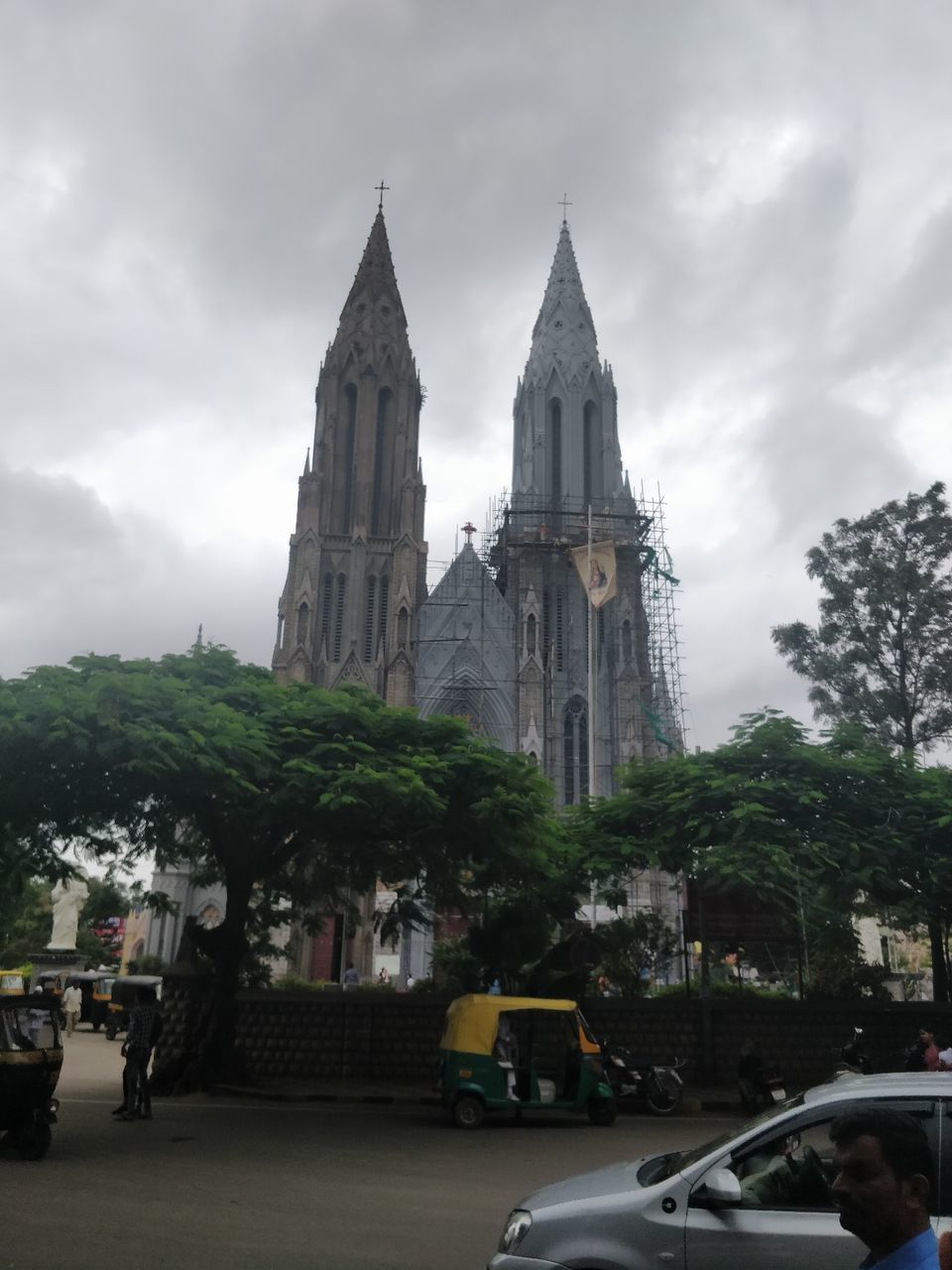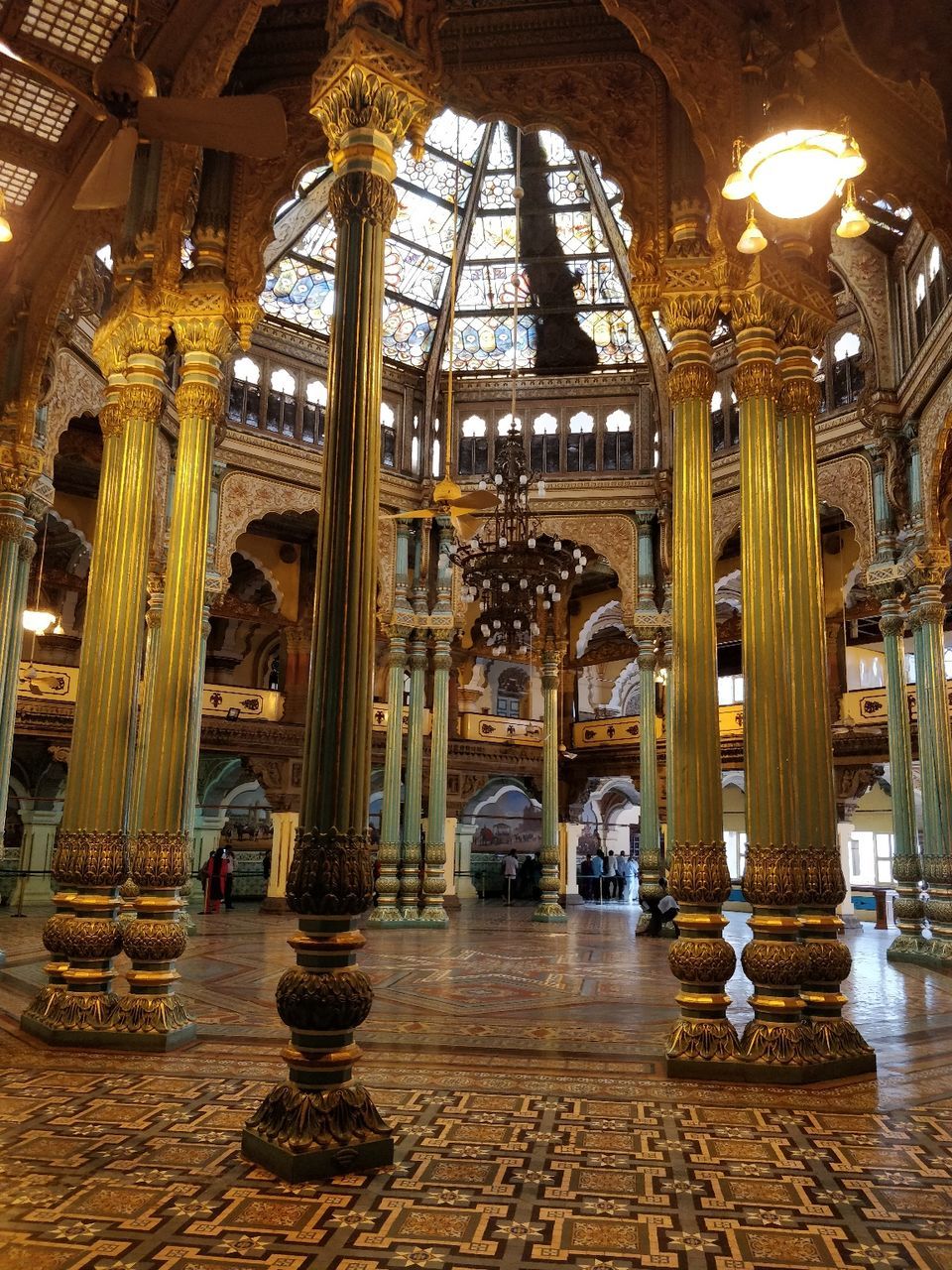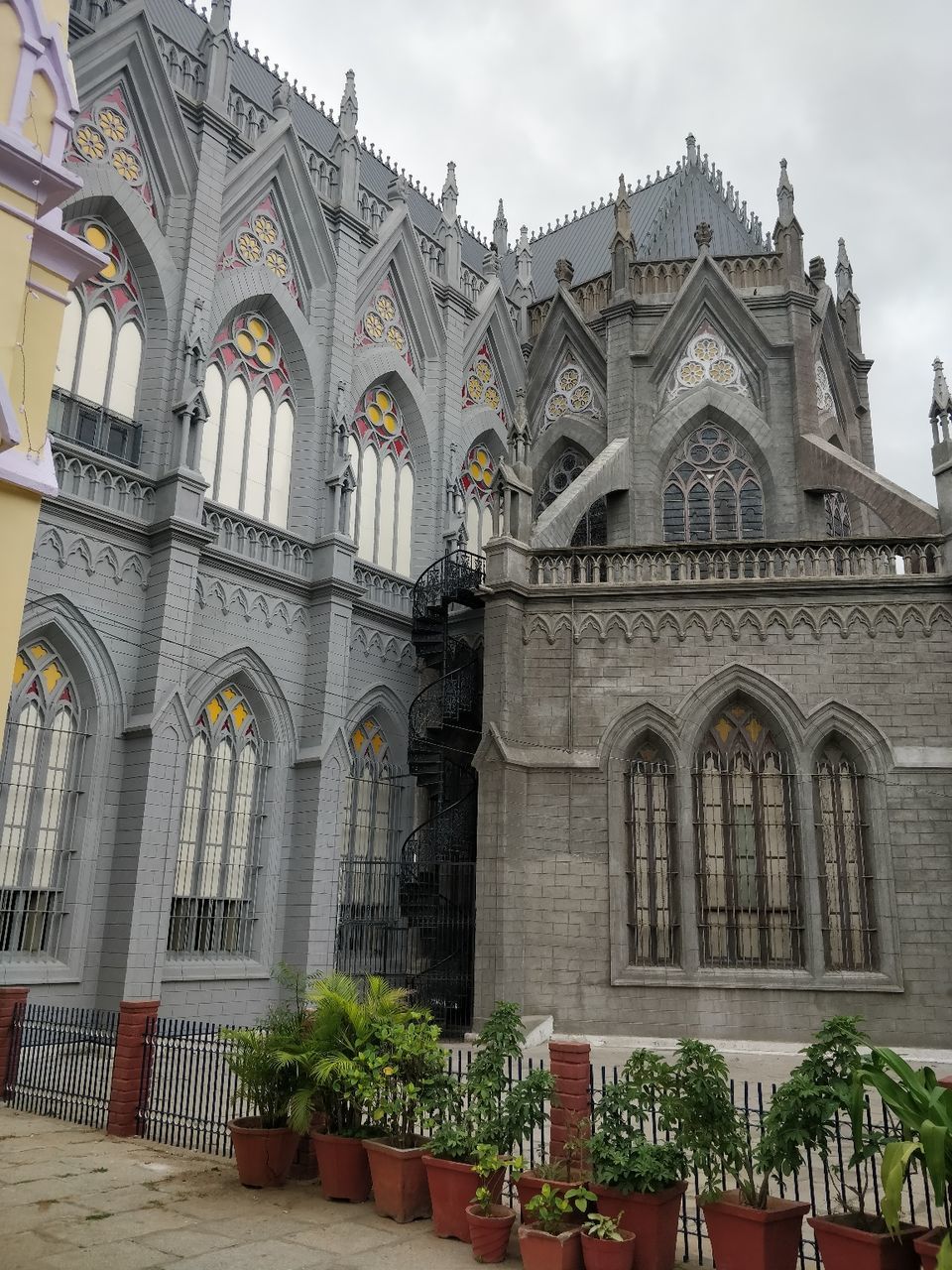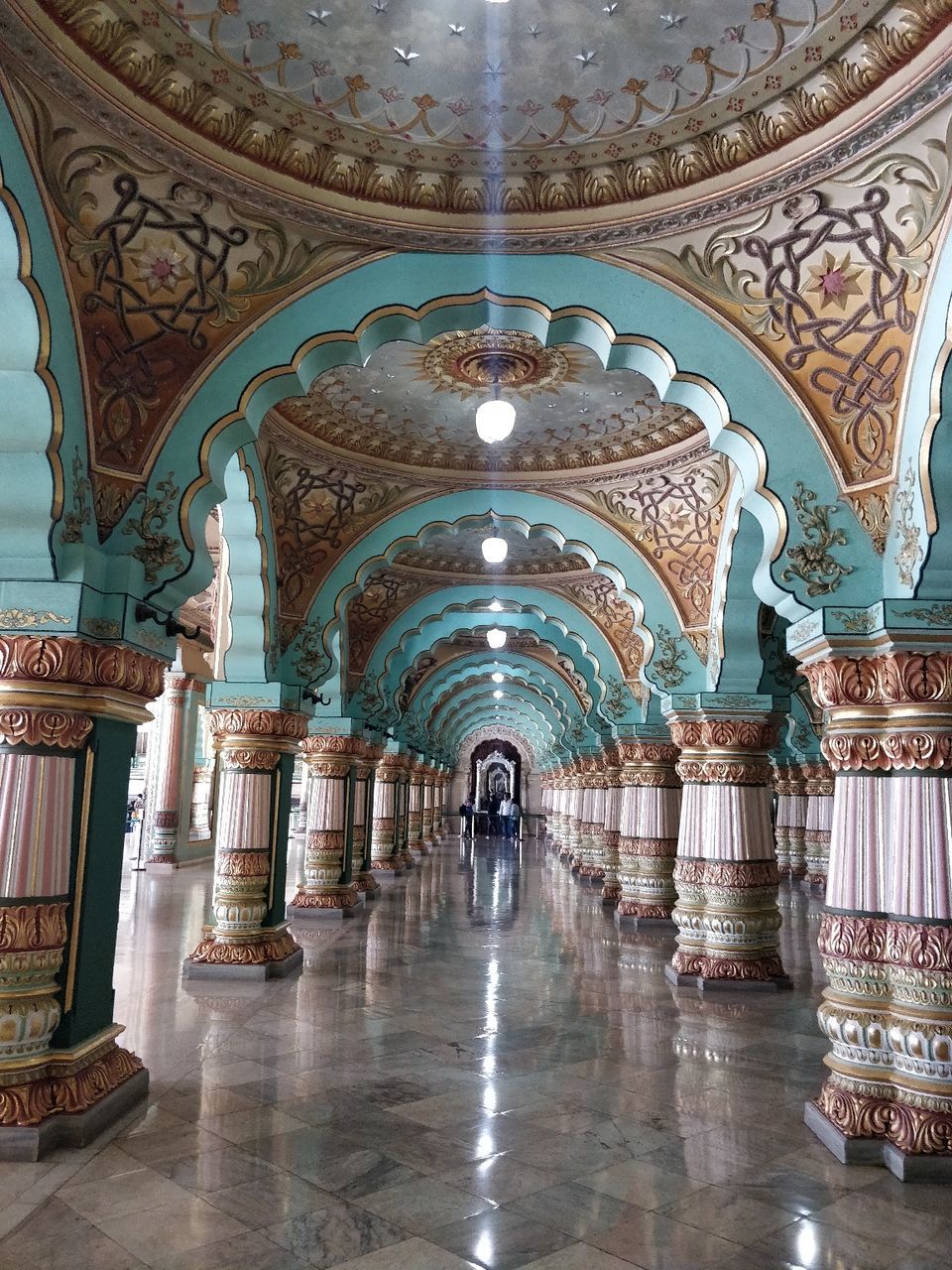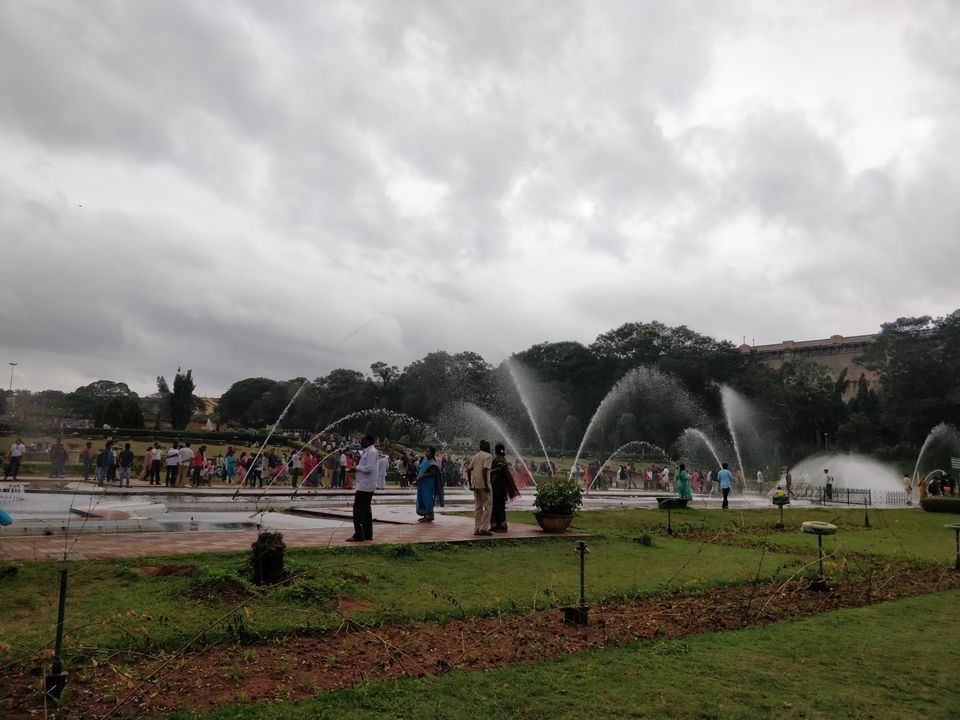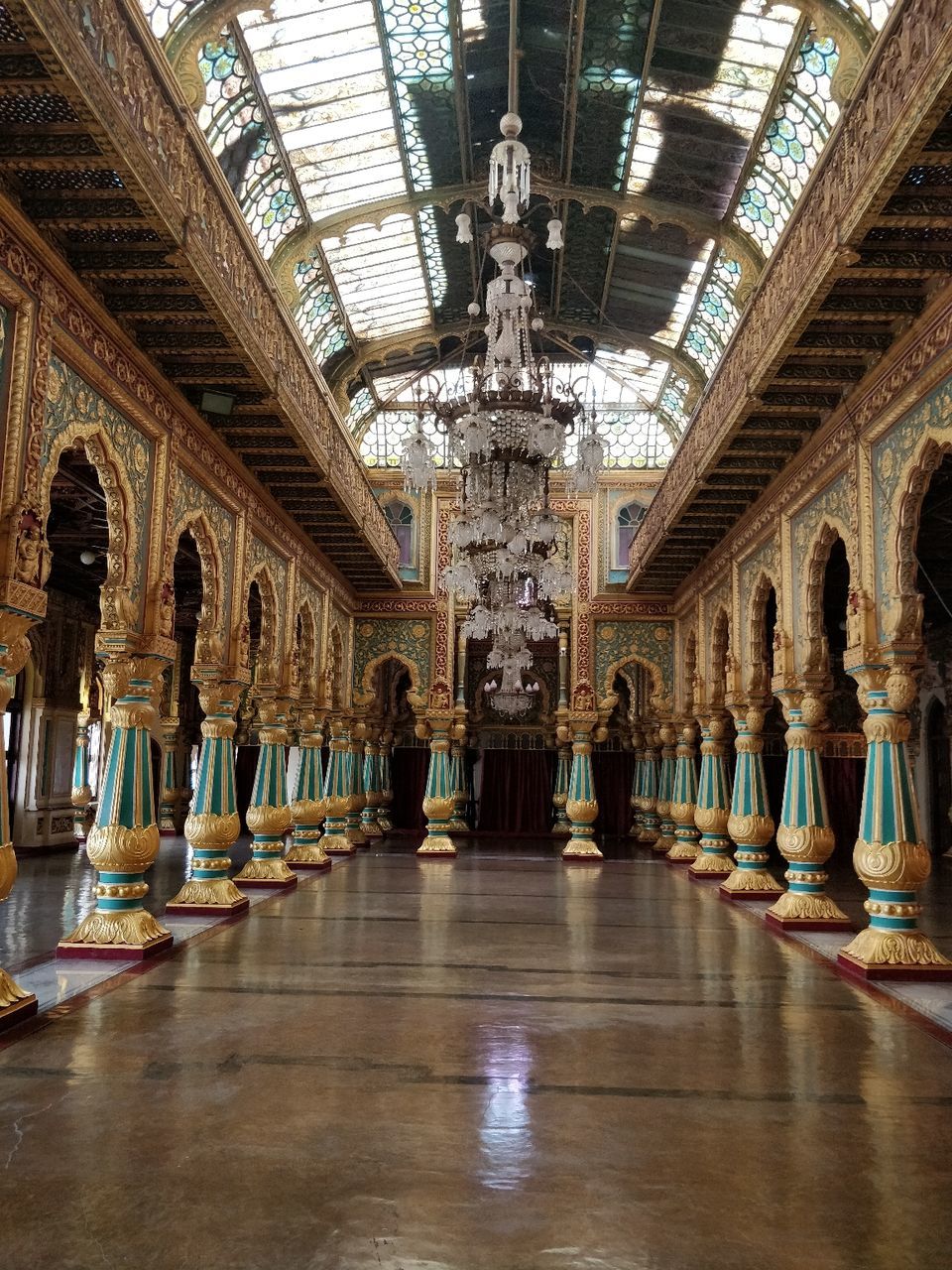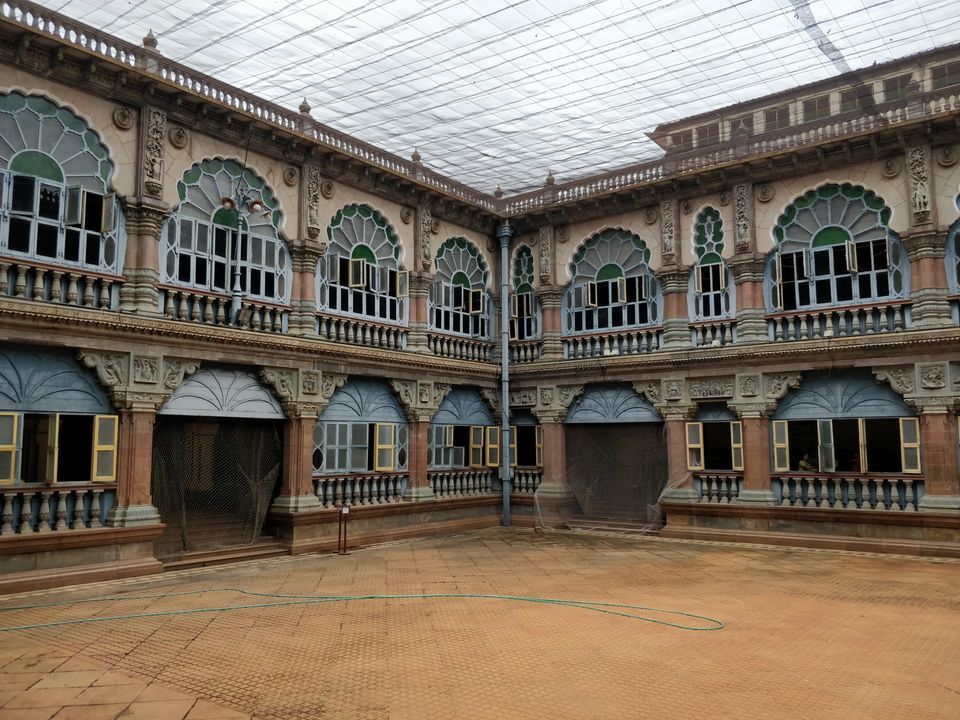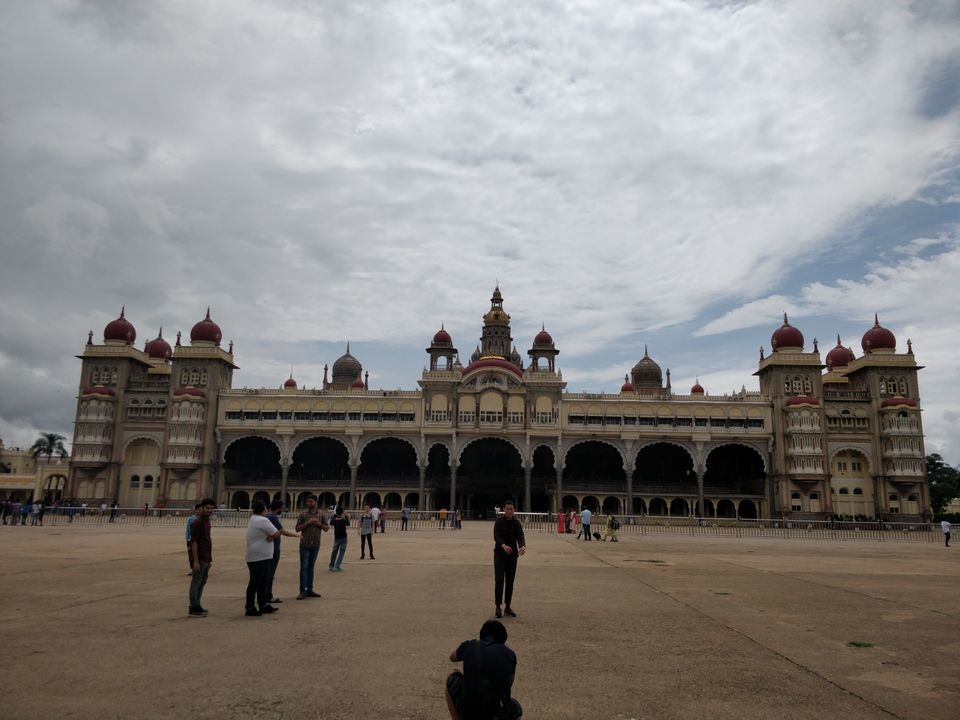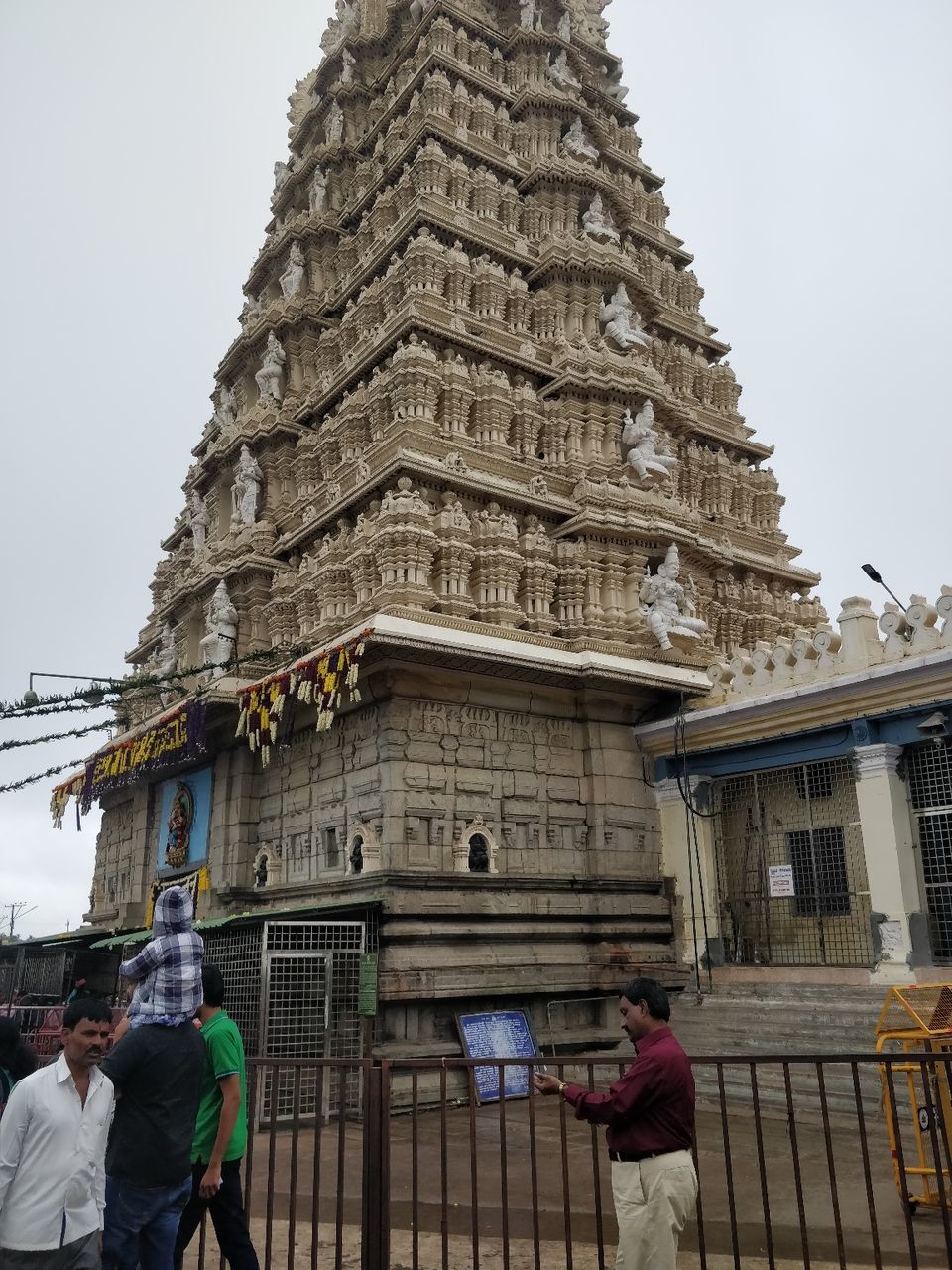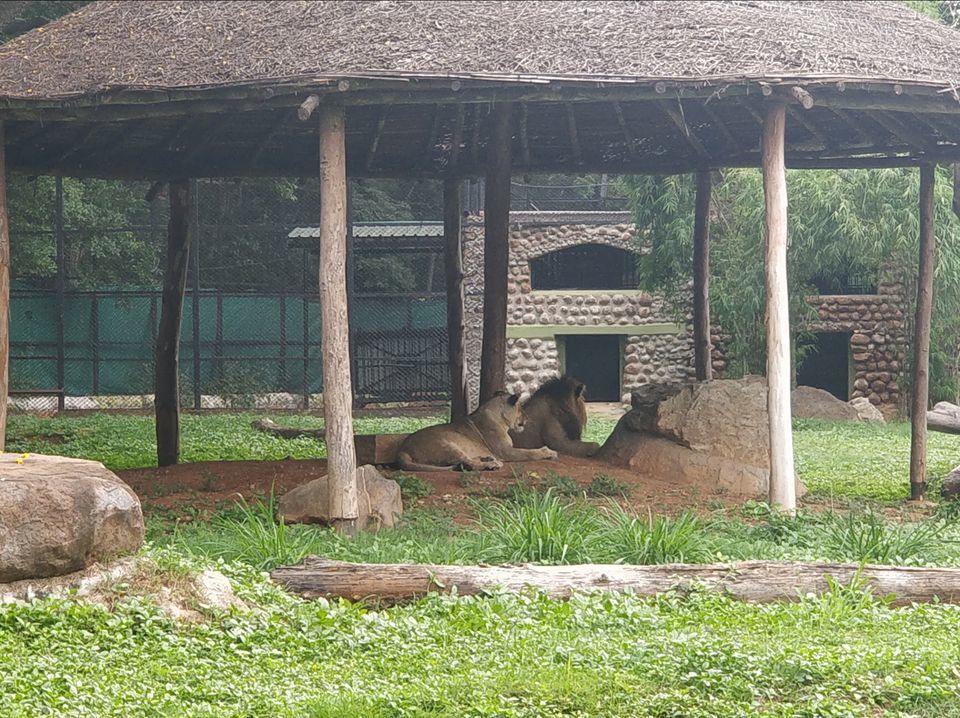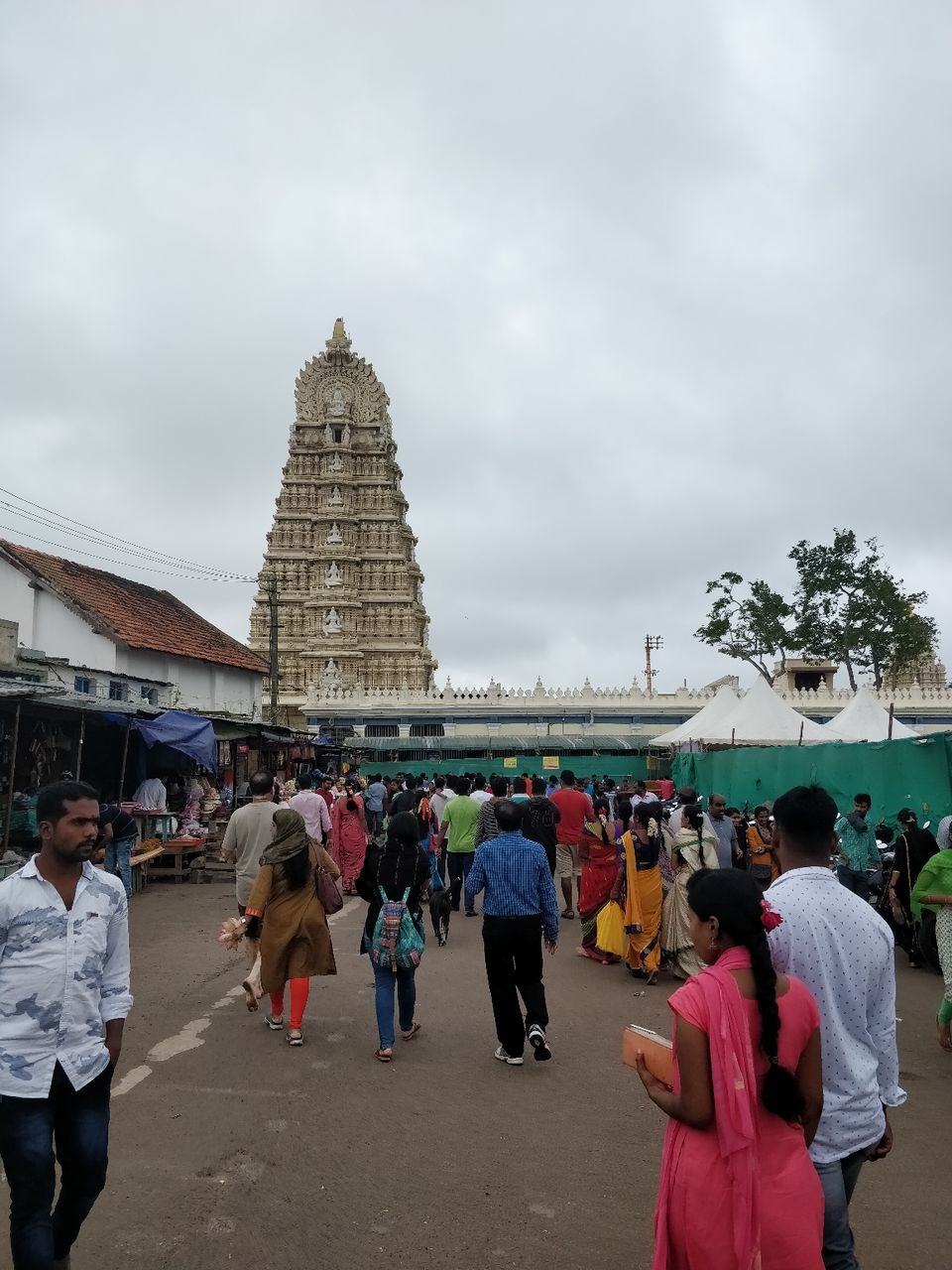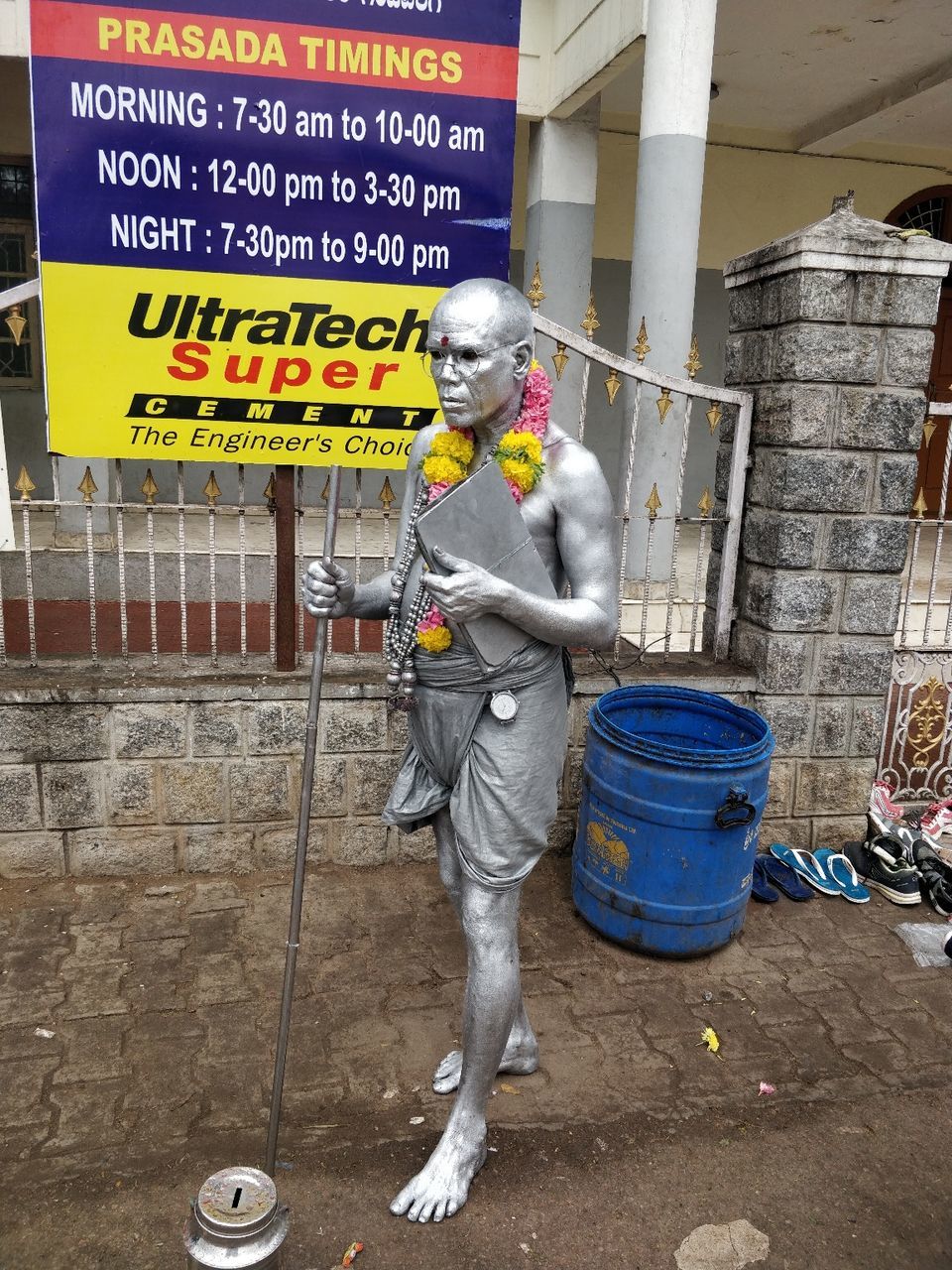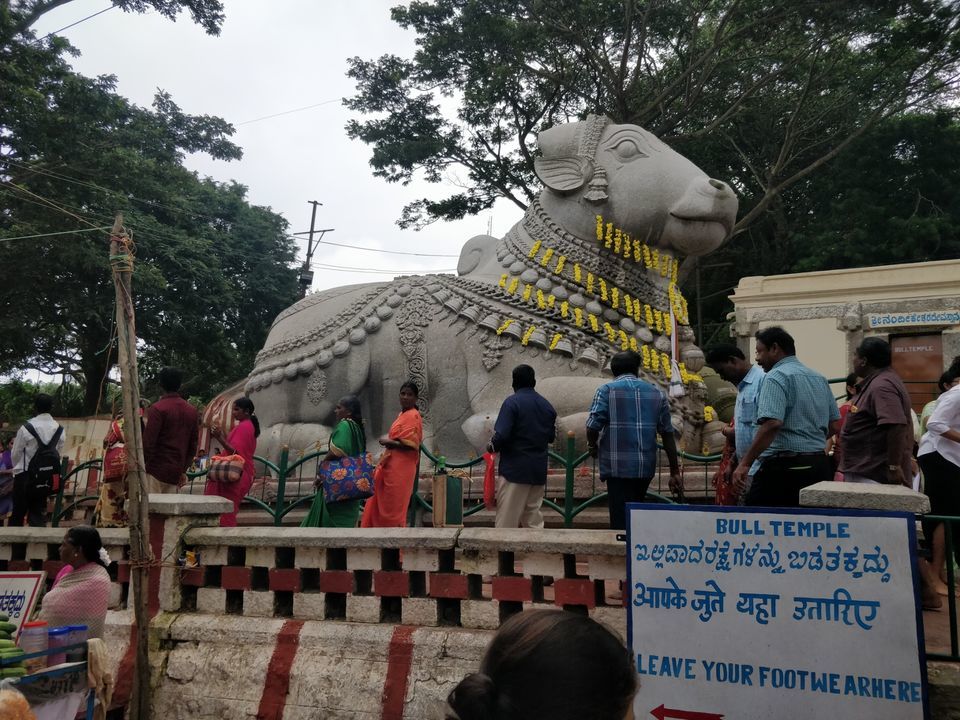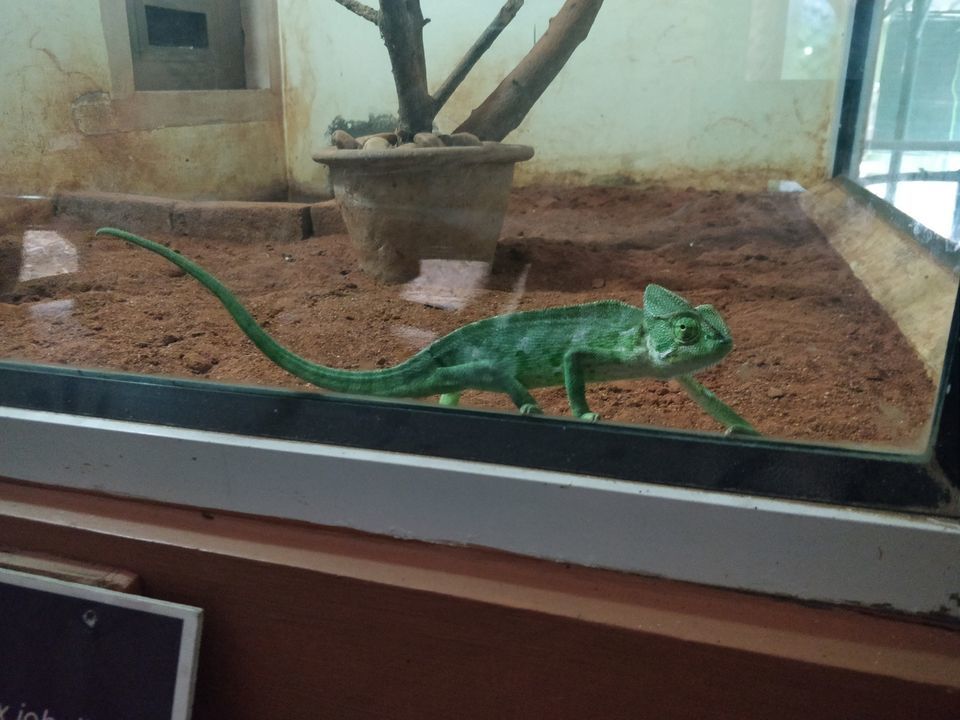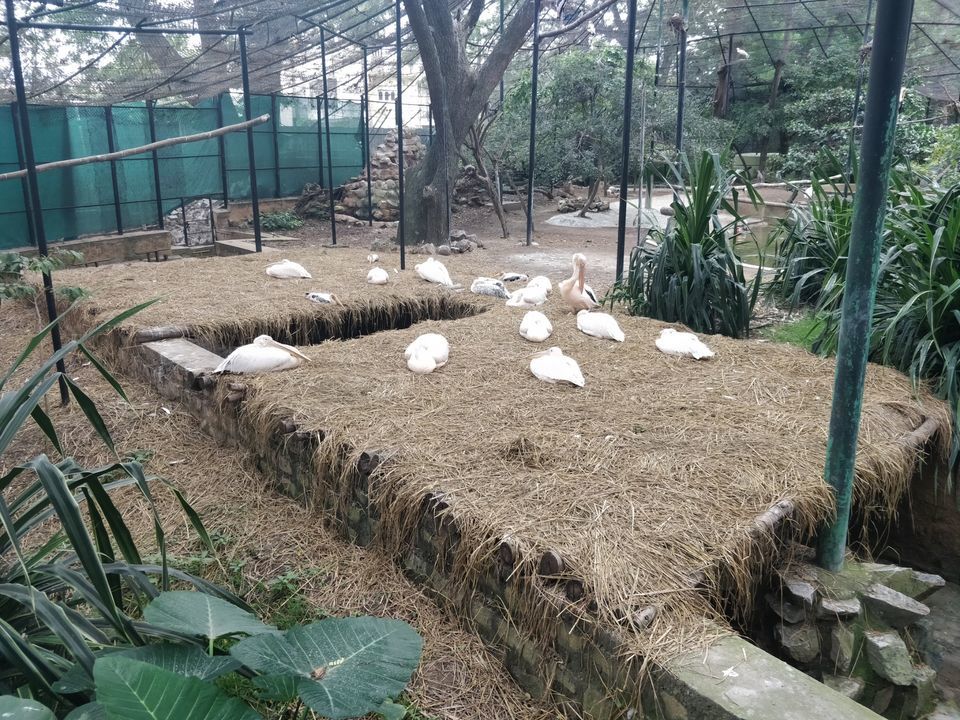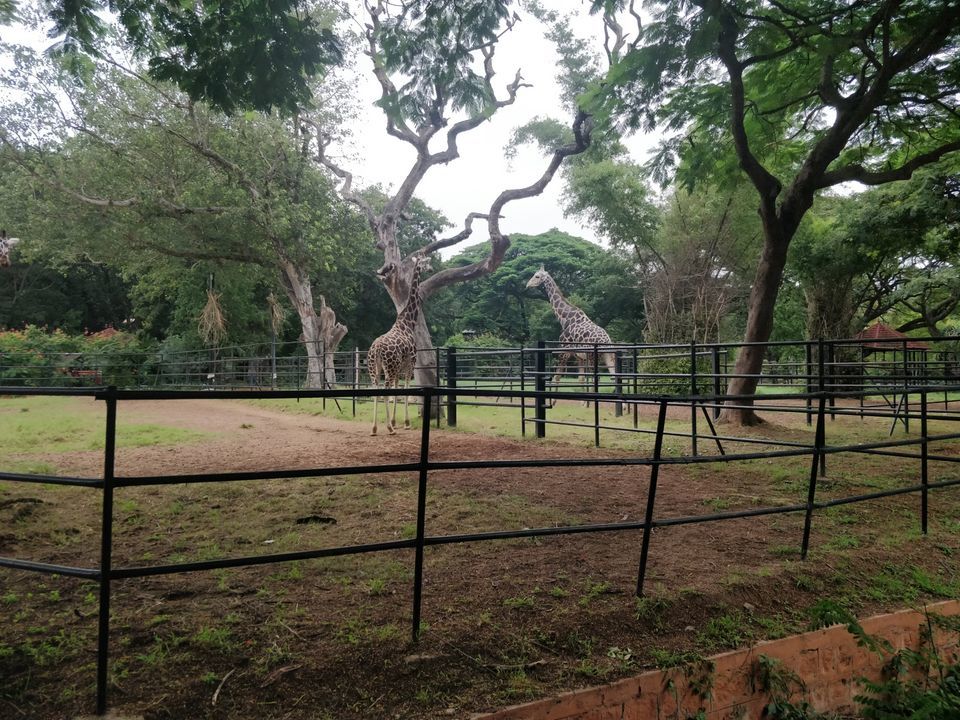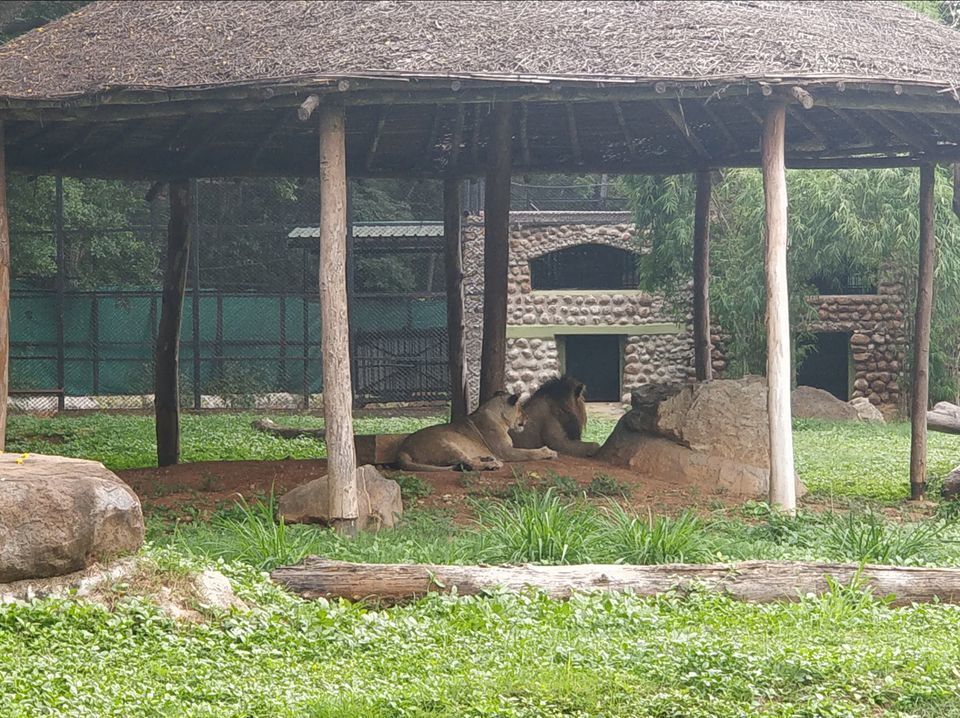 After having nice, sound sleep, we woke up by 7 AM, got ready by 8 AM.
Time for breakfast. Simple buffet of nice south Indian food & tasty sweets, along with tea, coffee & juice. After having food, we checked out of the hotel.
There is Chamundeshwari Mandir (Chamundeshwari or Durga) on Chamundi hills which is around 20-30 min away from city (13 km from Mysore palace). It is one of the 18 Shakti Peethas and is very much a revered place. You can have a view of Mysore city from top.
You can take special entry or direct entry ticket which is available for INR 100 per person along with a Prasad (either a laddoo or a peetha).
We got free by 10:15 AM. There is Nandi temple/Bull Temple close to Chamundeshwari Mandir. The giant Nandi idol is a sight for believers and in my case a perfect spot for some pictures.
Next stop was Mysore Zoo. We reached there by 11 AM. You can wander around the zoo or can take battery operated vehicle. It takes one hour on the vehicle. I, traveling with my parents preferred taking the vehicle. By walking, it takes around 2-3 hours. There are extra charges for the vehicle and are different for children, adult and senior citizens. There are variety of animals, ranging from different type of reptiles, to elephants, giraffes, lions & tigers. We wrapped up the tour here.
The 2 day trip to Mysore was fun filled and relaxing. Because of work commitments I could only spare 2 days for this beautiful city but you can stay here for longer period especially when you have family around. It was planned in a way that every moment was thoroughly enjoyed. There was no hurry and my parents loved each and every part of Mysore city. Take out time and visit this beautiful city and fall in love with its culture.
We then headed back to Bangalore and reached home by 4:45 PM.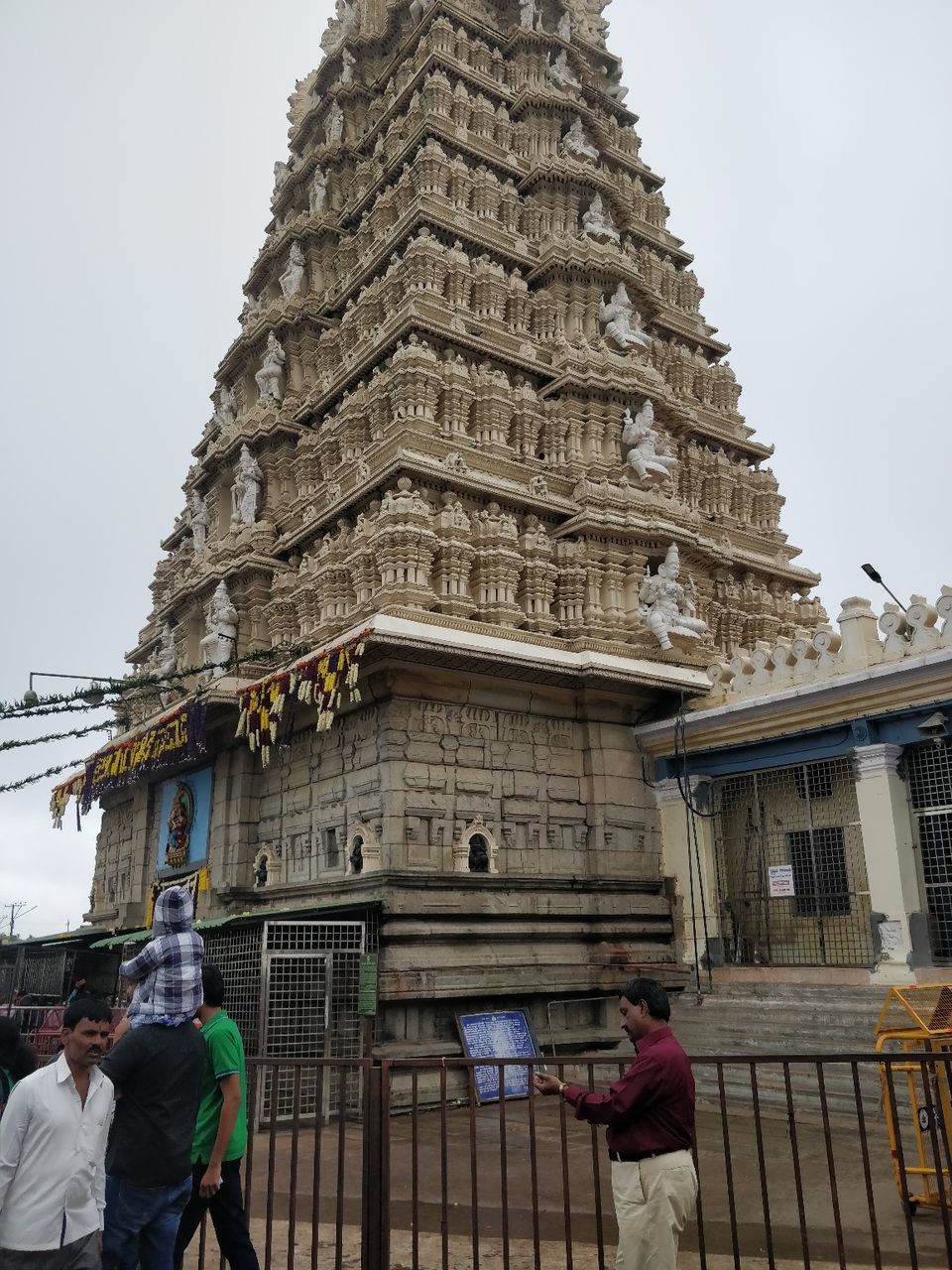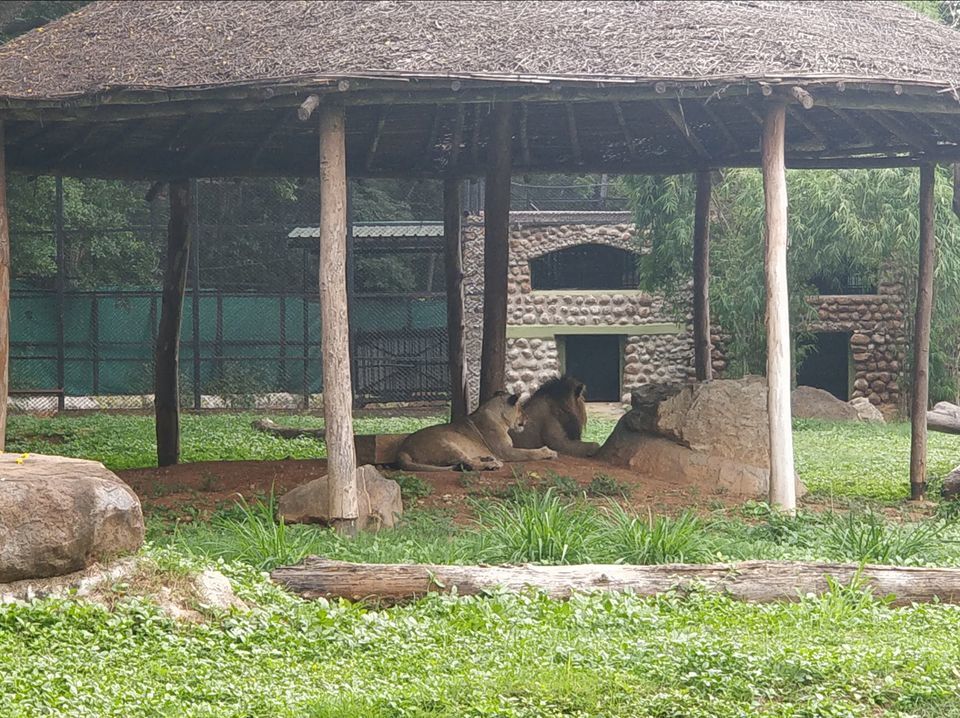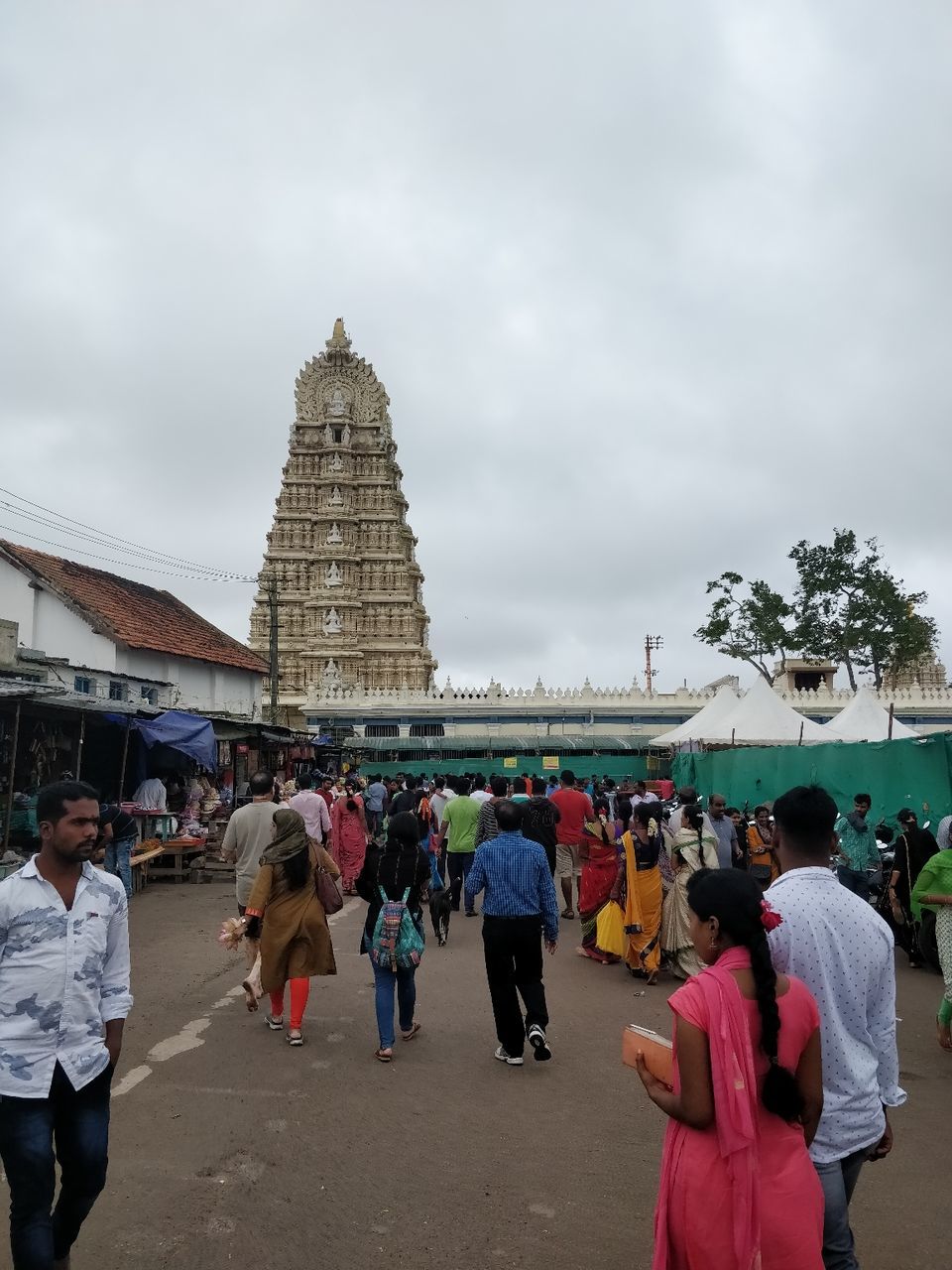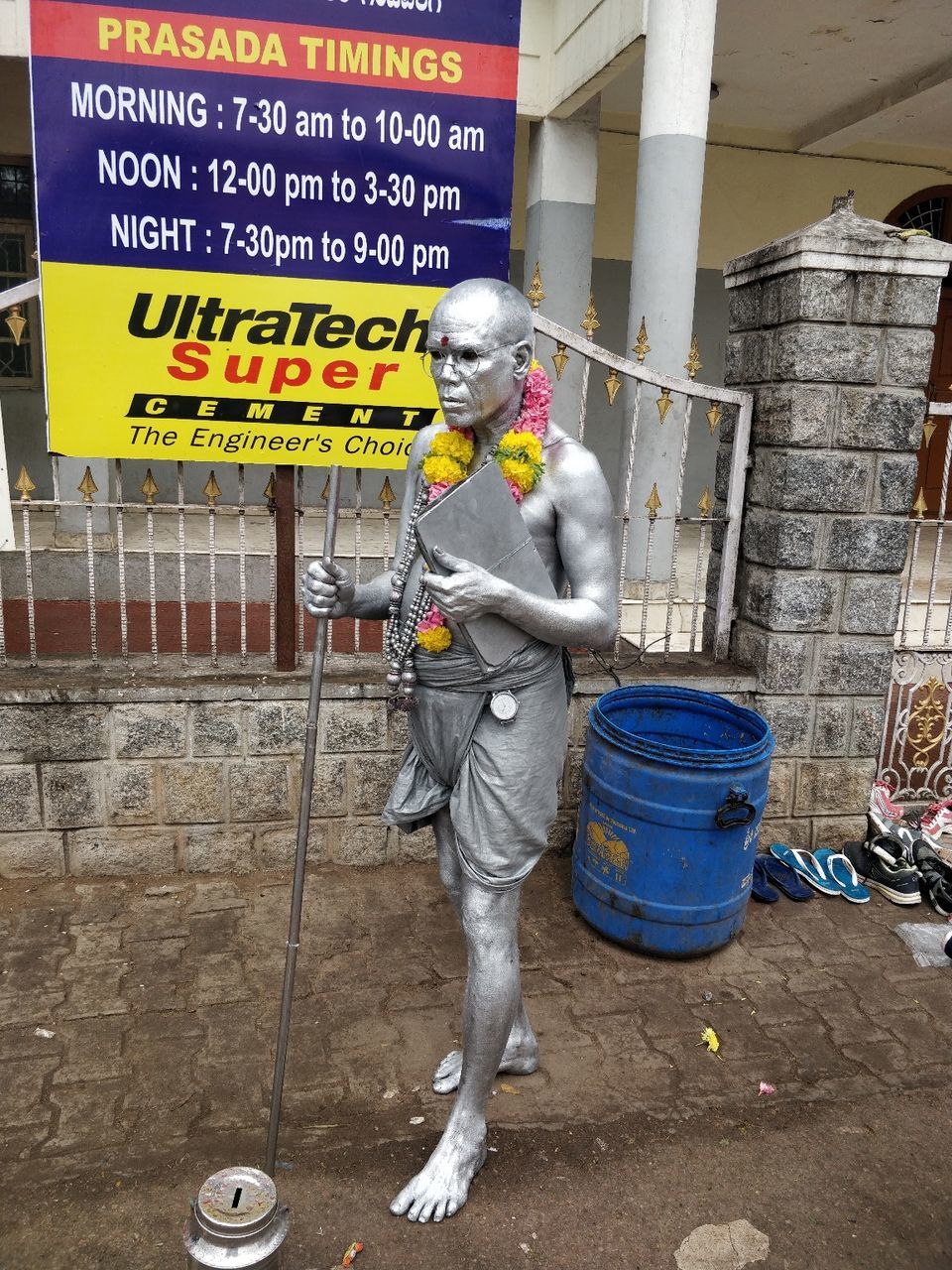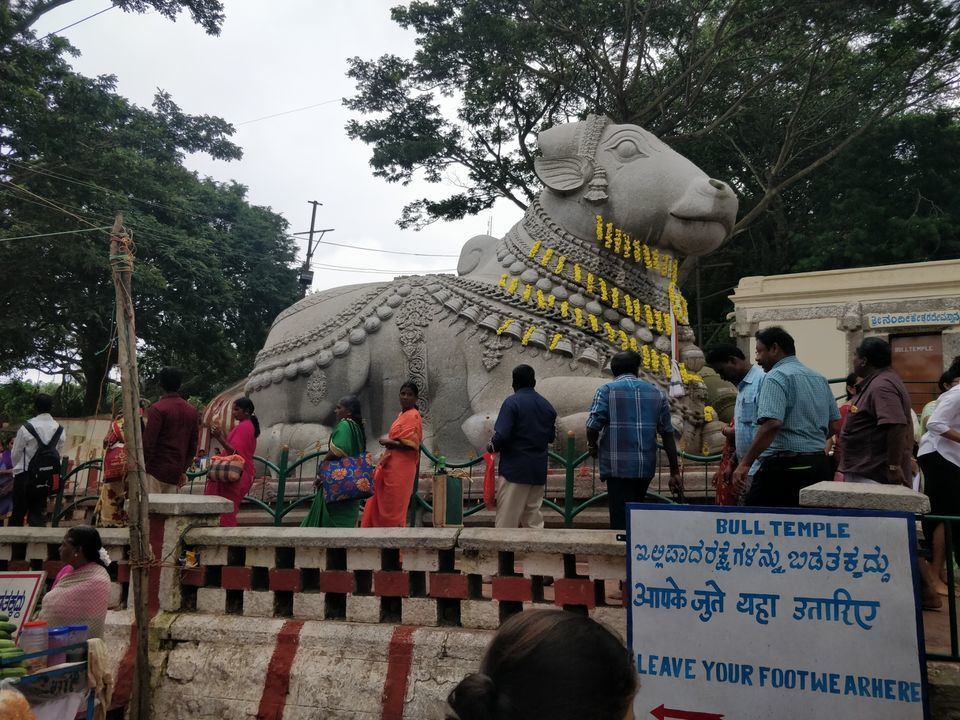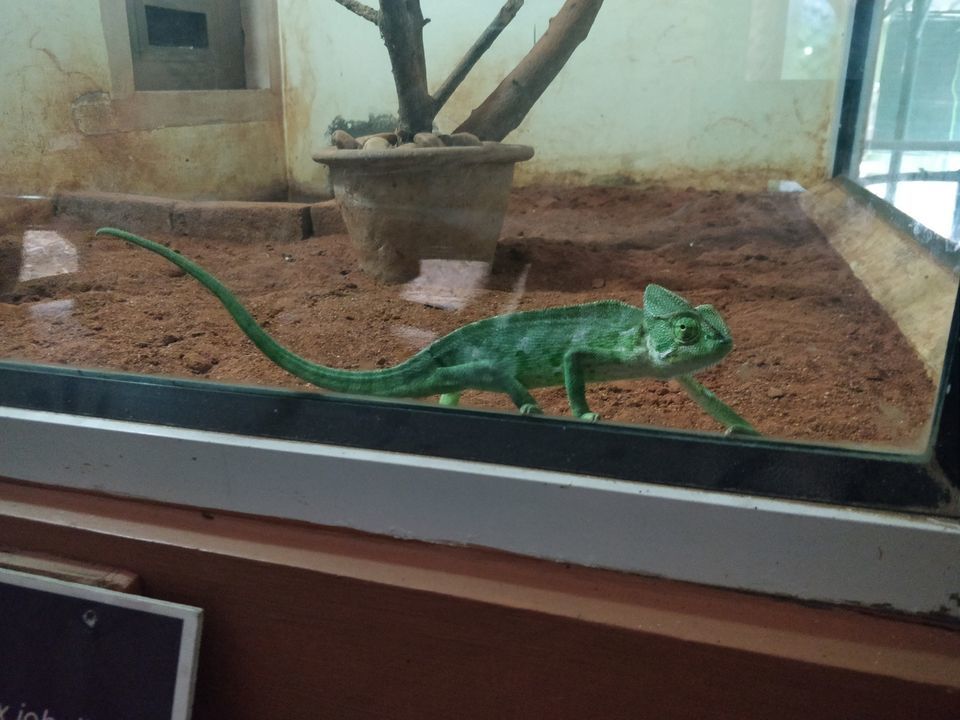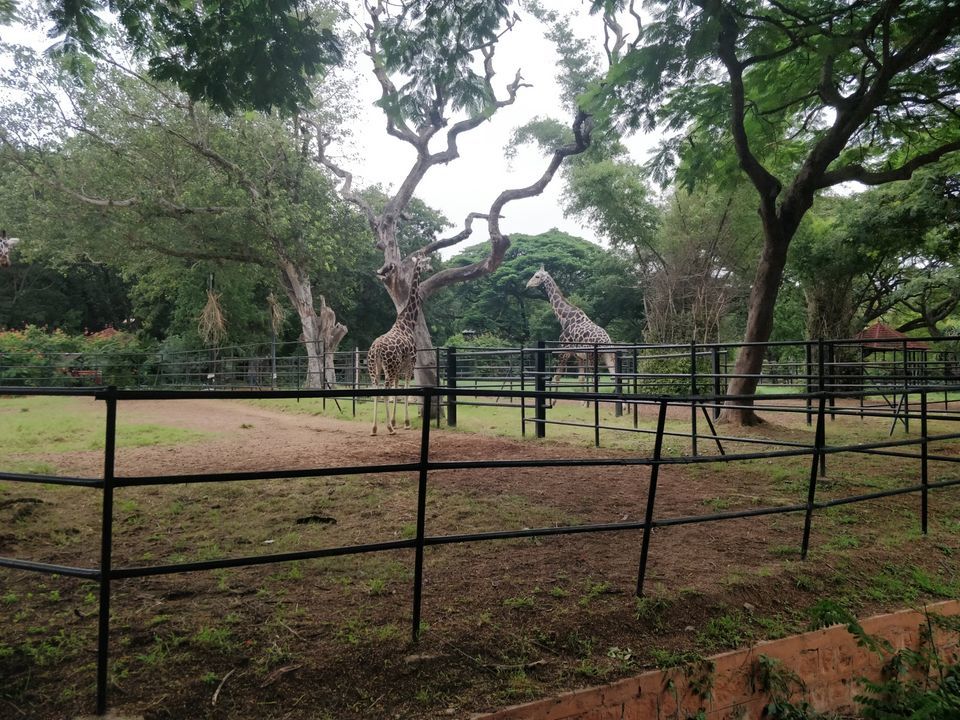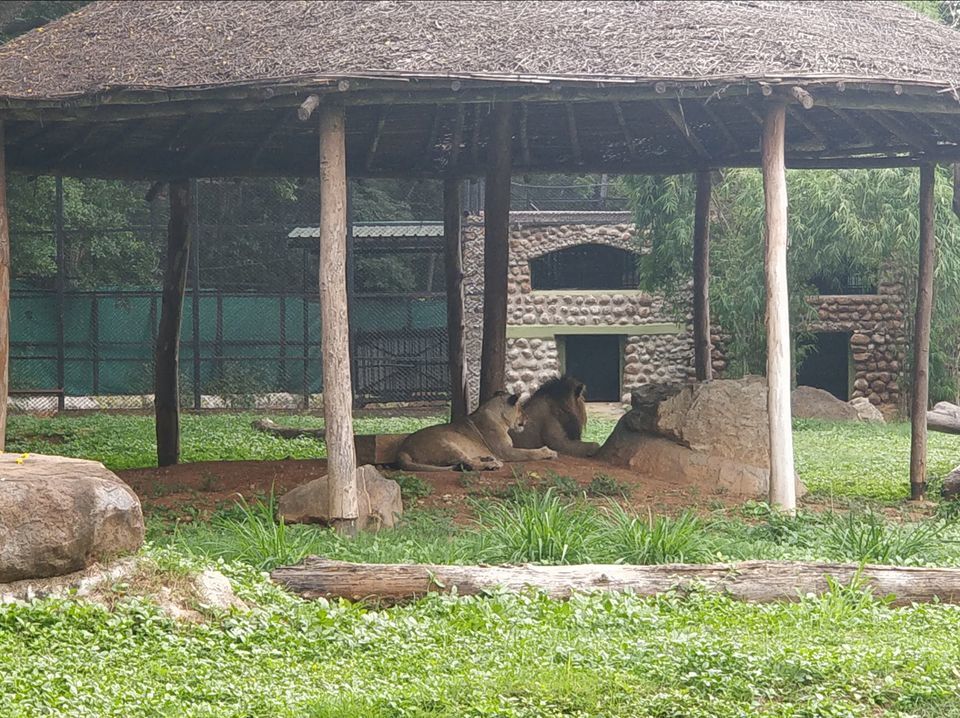 Expenses:
2 day taxi fare: INR 7000 (parking and toll if any is yours; car was Mahindra Verito)
Hotel stay: Treebo Komfort Suites: INR 1610 only (got this room @ 50% discount, breakfast is included)
Food: Personal expense
Contact No. of Nanje Gowda (taxi driver): +91 9945495047