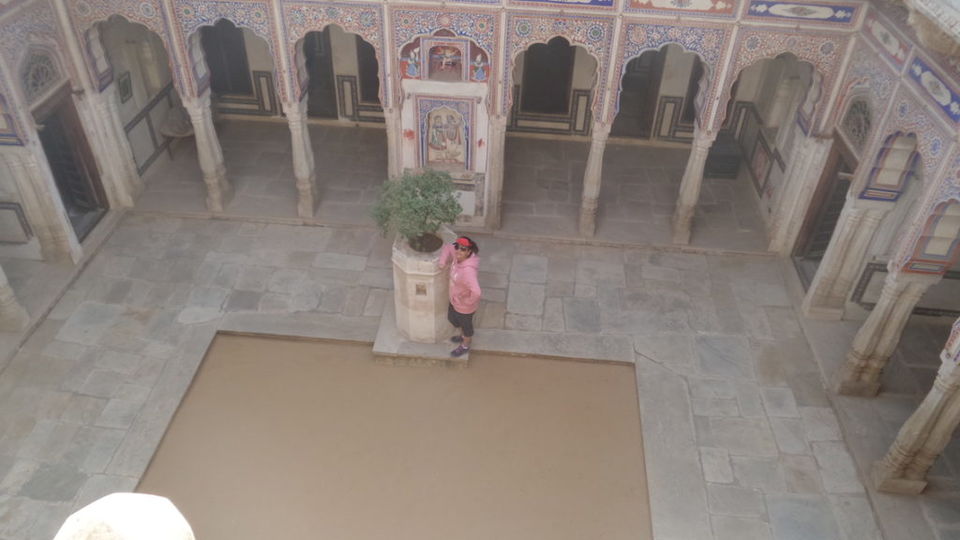 Day 4 & 5 - 23/24 Dec - Discovering Nawalgarh & Road trip from Nawalgarh to Narkanda via NH5!
Post breakfast the next morning Ritika and I headed off to explore the town (hamlet?) of Nawalgarh, Rajasthan. It being a lovely winter morning, we decided to walk the couple of kilometres in to town. About 10 minutes into the stroll we could smell Nawalgarh in the distance. The upside was that we didn't have to ask for directions. The downside was the stench was abhorrent enough to make one gag! Eventually, we got to the main street of Nawalgarh and discovered the reason for the stench - both sides of the narrow road had an open sewage line running along it. There were a few halwai shops, hardware stores and general stores, all adding their selfless contributions to the open 'nullahs'. Just in case that wasn't enough, there were a bunch of young dudes hanging around with their uber - cool 110cc bikes in their faux Wranglers (who the hell buys a fake wrangler jean? If you want to fake it, make it Armani!?!), chewing tobacco and helpfully doing their bit to add to the color and decor of the nullah. One of these dudes pushed up his shades and jumped off his bike on seeing us, 'You see haveli? I show only 200 rupees'. That made us look up and we realised that the open sewage line wasn't the main tourist attraction of Nawalgarh - the entire main street was lined with ancient 2 storied houses on either side. Most of them seemed deserted, while a few were either occupied or converted to newer and uglier houses. I suppose since they didn't need any long pipes or sewage tanks to be built, it must not have cost much! The guy seemed harmless enough, and we agreed.
I suspect he randomly chose an abandoned house, and considering it wasn't locked (the doors had fallen off), in we went. Nawalgarh is home to some of the country's largest business families, including the Birla, Poddar and Goenka family, amongst others. One look at the open sewer is enough to tell you why they left though. On a serious note, the town apparently fell on the crucial overland trade route from the NorthWest and beyond ( Persia, Turkey etc.), and was a key point for exchange of goods before they headed further inland, either towards Delhi or South towards Gujarat. The design of all houses here bears testimony to this. As you enter, there is a large waiting hall of sorts, where the clerks would examine what the visitor had to trade. If he deemed the item to be worthy of the Sethji's time, then the visitor would be ushered to a curtained enclosure on either side of this verandah, where the Seth (or his brothers, sons, nephews etc.) would himself meet the prospective seller, and strike up a bargain. The top of the walls of this outer room were lined with narrow galleries, and if there was something that the women of the house may be interested in, they would watch from these galleries, while themselves remaining unseen. We went up to the galleries, and other than it being a little cramped, the women seemed to have got the better bargain, at least this time around! As we went further inside, there was another, larger verandah, open to the skies. This space, about 40'x40′ was enclosed by a 2 storied structure on 3 sides, with a honeycomb of rooms. None of the rooms were over 300Sq.Ft. big, and were quite gloomy, given that only a few had windows, and those too were pretty small and high up near the ceiling. Evidently, looking out (or in) through the windows was not the criteria here. The ground floor had a small kitchen and an adjoining dry food store or pantry of sorts. The house we were in still had the 'chula' present along with a few old utensils, which was pretty cool. Didn't see any toilets or bathrooms, although I suspect they must've been somewhere. After all, the open sewer couldn't have been feeding itself. Our intrepid guide soon got bored of our company, and asked to be paid. We'd had enough too, so we paid him and wandered off into another of the abandoned houses. The layout was pretty much the same - I suppose it made sense given that pretty much everyone in Nawalgarh existed for the sole purpose of trade. We headed to check out the Bala Kila, or Nawalgarh Fort. The fort exists only in name, and a hideously ugly structure today houses SBI, HDFC, some sundry other banks and assorted sarkari offices. I don't know which approach is worse - the Maharashtra government penchant of letting their forts go to neglected ruin, or Nawalgarh approach of defacing the fort and turning it into offices!
We headed back to the Roop Mahal, and lazed around for the rest of the day, shoring up our energies for the long drive the next morning. By 0430Hrs we were all bundled up and loaded into the Yeti as we prepared to leave for our next destination, Narkanda, Himachal Pradesh. As I moved slowly along, the temperature guage read 4 degrees, and even with the fog lamps on I could barely see beyond the bonnet of the car. When I'd planned the trip, the Nawalgarh to Narkanda leg of 596Kms was to be covered in 10 hours via NH709 & NH5, with us reaching Chandigarh around 1100Hrs for brunch and then continuing towards Kandaghat, Shimla and Narkanda. Given the fog situation, we crawled along NH709 at about 25KMPH. The roads were deserted. Or at least we could not see or hear anyone in the 10 feet radius that was visible to us. It was freezing cold, and we could see absolutely nothing. Talk about poor planning! After struggling for around 30 minutes, I could make out the tail lights of what sounded like a truck ahead of me. In the interest of safety, I went up behind the truck and started driving in it's wake. I suppose that must've been great for safety, but it halved our speed. So after about 15 minutes of this I mustered the courage to overtake the truck and continued crawling at what now seemed like a pretty fast 25KMPH. Soon another car came up behind us, and started doing to us what we were doing to the truck. Except, this genius had his high beam lights on, which meant that not only could I not see ahead clearly, but the lights from his car seemed distorted and amplified in the mist, pooling around in front of my eyes. I tried signalling him to go on ahead, but he doggedly stuck to my tail. Eventually, I pulled over, hoping he'd come alongside. Unfortunately our friend dutifully pulled over behind me. Not wanting to get out of the comfort and safety of the car (the aircon was by now merrily humming along at full blast, with the thermostat set at 28 degrees!), I drove on for 10 more minutes, with our loyal follower mirroring every small twist and turn of the steering that I made. Seeing that things weren't improving, a slowed to crawl (Yes. You can crawl slower than 25KMPH), rolled down the window and waved the other driver to come alongside. After much reluctance, he came up beside me and rolled down his passenger side window. There was some bhangra rap blasting in his car (at 0530Hrs in the morning!!!!) and the 20 something chap seemed pretty thrilled with his lot in life. He grinned at me, as if to say "You and I are the only morons out on these roads at this unearthly hour'. I politely told him that I had no problem with him following me, but if only he'd turn off his high beam. He just grinned back at me like an imbecile. So I told him that YOUR headlights are blinding me, and I am likely to crash the car. Given how closely YOU are following ME, it is very likely that YOU will crash into ME if I stop suddenly. The only solution is either YOU go ahead and I follow you, or you turn your bleeding lights down. He seemed to get it this time, and nodded vigorously all the time grinning from ear to ear. Or maybe he was just moving in time to the music in his car. Either way, I drove ahead and he'd turned his high beam off. After about an hour, he blasted his horn, came alongside, rolled down the window and leaned over. As I rolled down my window to see what he wanted now, he waved vigorously, grinning and nodding his head all the time, and turned right at the intersection that had just come up. That was fun while it lasted.
We continued on towards Rohtak. By this time it was nearing 0700Hrs and there was a hazy twilight, although the fog hadn't dissipated yet. Still, visibility had improved and we were doing around 60KMPH. Somewhere between Rohtak and Panipat there was a police roadblock on the highway. Apparently a week back a child had been run over by a bus on the highway due to the fog, and the agitating villagers had blockaded the roads. The cops asked us to turn around and take a detour to Chandigarh. Left with no choice, we turned around and headed back almost 30Kms to Bhiwani, before cutting across to Hisar and then taking NH52 to Patiala and then Chandigarh. This had added around 90Kms to our journey. Given the fog situation, that meant a minimum of 2 hours time overrun. Soon it was 1000Hrs, and although the fog hadn't dissipated, visibility had improved to the extent that the headlights, especially the fog lamps, were effective. We had stocked up with plain cheese and butter sandwiches from the resort (Ritika thinks of everything!) and other than loo breaks, sped along non stop at a healthy speed of 80 to 90KMPH. If the fog had slowed us down, it had also done us the favour of keeping the roads nearly empty, and by 1300Hrs we crossed Patiala. Around this time the fog had completely dissipated & in another hour or so we reached Chandigarh. We halted at a brand new hotel (the name board was yet to be put up!) with only the restaurant being operational. The lady who owns the joint regretfully announced that she was still in the process of planning the restaurant menu, and for now she could only serve Butter chicken, Tandoori chicken, Naan and rice. For dessert we'd have to make do with gulab jamuns. I still can't figure out what she was so apologetic about! We ate to our hearts content, and headed on towards Shimla by 1500Hrs. The Chandigarh - Shimla highway had very sparse traffic, and we made good time, getting to Shimla by around 1730Hrs, with one refuelling break for the car. It took us a further 45 minutes to cross Shimla town, which is a veritable nightmare! Entire mountainsides have ugly manmade structures clinging to them, with an overflow of vehicles and humanity clogging the roads. As far as the eye can see, there are no mountains or trees visible. All you can see are ugly buildings attached to one another, like a mismatched Leggo set, covering the mountains. Finally we managed to get out after battling traffic for the better part of an hour, and climbed further up to Narkanda. It was dark by now, and the outside temperature read -1 degrees. Thankfully there was no fog, and the only thing slowing us down was the fact that we were navigating through mountain roads. We continued on NH5 and quickly crossed the beautiful Shimla reserve forest, Kufri and Theog. BY 1945Hrs we had crossed Narkand town, where a helpful shopkeeper told us that our destination, The Tethys Ski Resort was just a couple kilometres away.
A little out of town we turned left further into the mountains for the resort. This road is at an incline of around 30 degrees and about 2Kms long. As soon as we turned onto this road, the car went into a skid. As I fought the steering, the rear end swayed towards the passenger side. Luckily for us the Yeti's all time 4WD kicked in, and I managed to get the car back on the road. For a moment there though we were truly terrified. Neither of us had ever driven on snow or ice before! I slowly drove on, although to be truthful, I could feel the odd tyre spinning freely, and the car seemed to be gliding with a mind of its own. We finally made it up to the resort parking lot, where the manager himself waited to greet us (we'd called in from the Narkand village that we'd be reaching soon). After nearly 17 hours on the road, we had finally made it to our destination! The manager told us that unless it's an emergency, they never venture down or up this road after 6PM during the winters. Apparently, the temperature plunges below freezing, and the slush on the road freezes to black ice, which is treacherous for driving. That explained the skid we went into as soon as we got onto the last stretch of the road! As we got up to the room, the rest of the evening is a bit of a haze. I remember downing a few large ones, and at some point calling it a day. And what a day it was! Nevertheless, here we were, at the Tethys Ski resort, with 5 days of snow, skiing and trekking to look forward to!