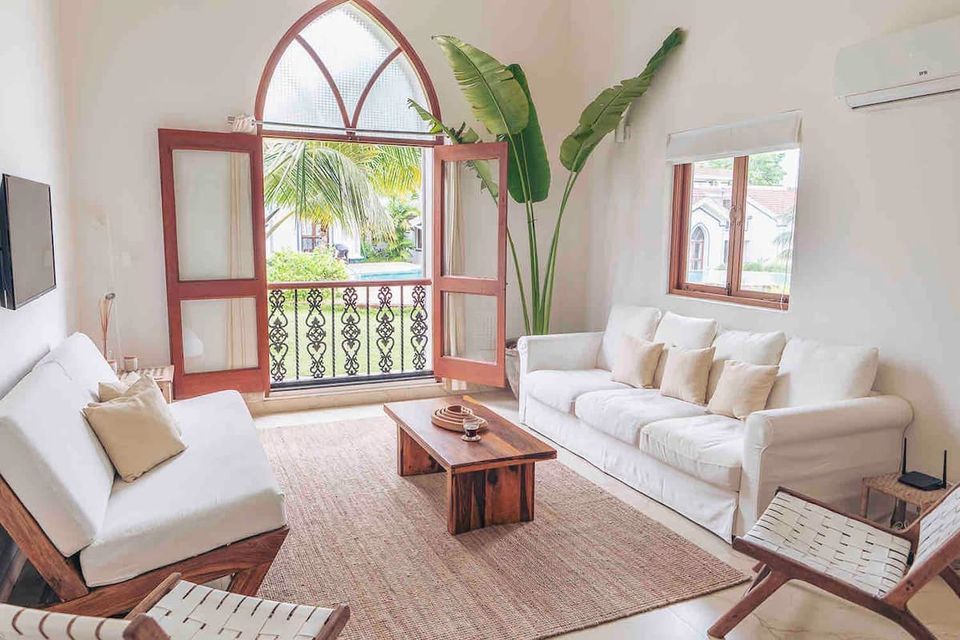 We all dream of waking up to the sound of the waves in Goa, living that balanced slow life and a bit of fun on the side (or a lot if you like). Whether it's for a workcation or a short holiday, theres not a single person who hasn't desired a trip to Goa with their friends. The aroma of freshly baked pao, the home made Goan thali with solkadi and a chilled beer is the perfect getaway. Stop waiting for 'next time' because now that a lot of us have the flexibility to work from home, this is the best time to experience different places. Stay in thoughtfully curated homes that are more welcoming than staying at a big hotel chain. Mingle with the hosts, and try the local delicacies - theres no bigger experience than living like a local in a new place.
Next time you are looking for a homestay in North Goa, look no further than this clean, minimalist, bright and perfectly located homestay - The Siolim Door. Located in the sleepy village of Siolim in North Goa, this inviting villa is made for those who are yearning for a peaceful getaway. It's time to finally make that trip to Goa you have been postponing. Okay don't get offended, if you have already been, it's time to save this villa for another trip!

A Chic Home in North Goa
This homestay came to life during the pandemic. The Siolim Door belongs to Revati and Charles Victor. They have full time desk jobs as advertising professionals and are part-time travel bloggers. An inspiring couple as they are, Revati and Charles Victor have travelled extensively, which is assuring to reckon that you will have the best time when you stay here!
This villa is a good 1,850-square-feet home located in Siolim, North Goa. Located in a gated community it overlooks the paddy fields. The interesting fact about this homestay is that both Revati and Charles Victor do not have a background of interior design. Yet they flamboyantly themselves converted this home into a minimalist chic abode.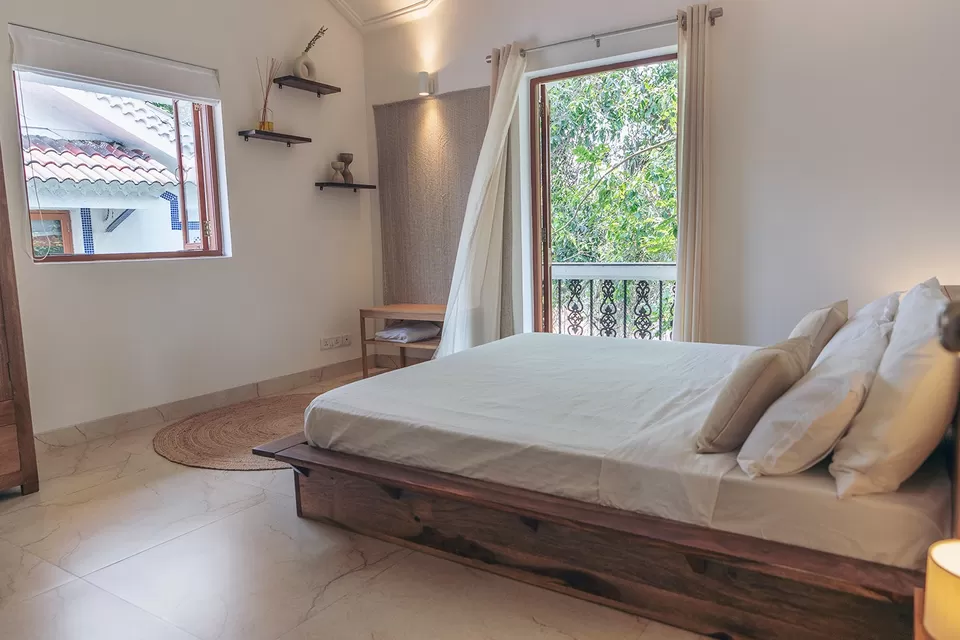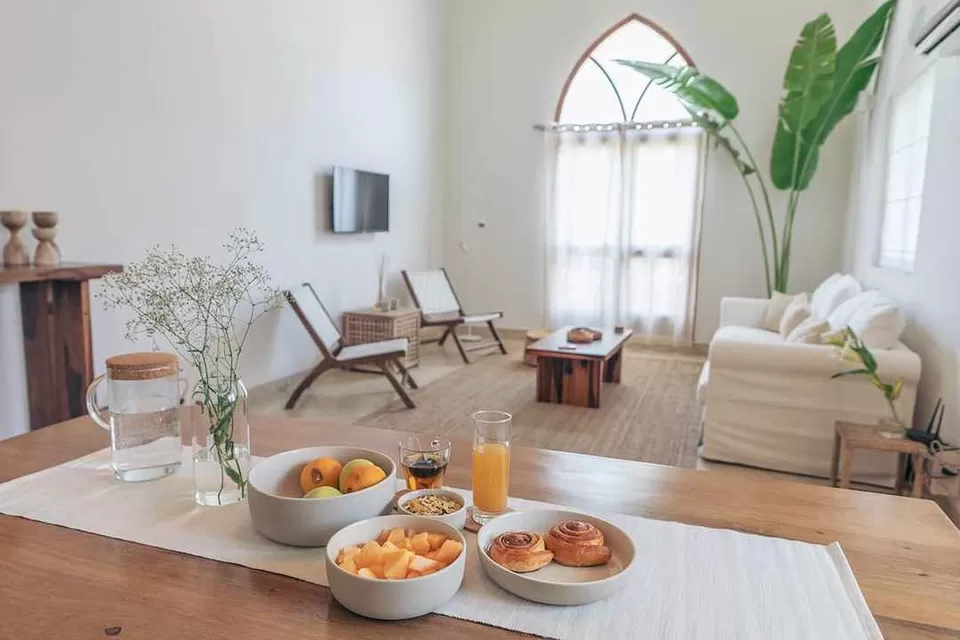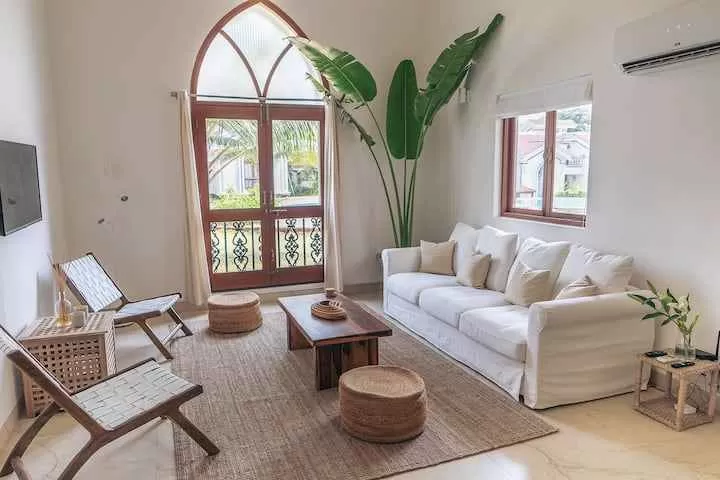 The Siolim Door is a peaceful and tropical villa with three bedrooms. This place will sweep you off your feet from the moment you step afoot. Enjoy the sunlight coming through the big windows as you chill in the cosy rooms. If you have been yearning to getaway from the busy stress life, look forward to an afternoon siesta as you lay on the daybed in the study.
When you are on a vacation, there should be no hurry to wakeup. Lie in bed watching the resident paradise flycatchers, kingfishers and hornbills on the Banyan tree. Sit with your favourite book in the patio, cosy in the living room or in the study. You will never be short of space in this villa.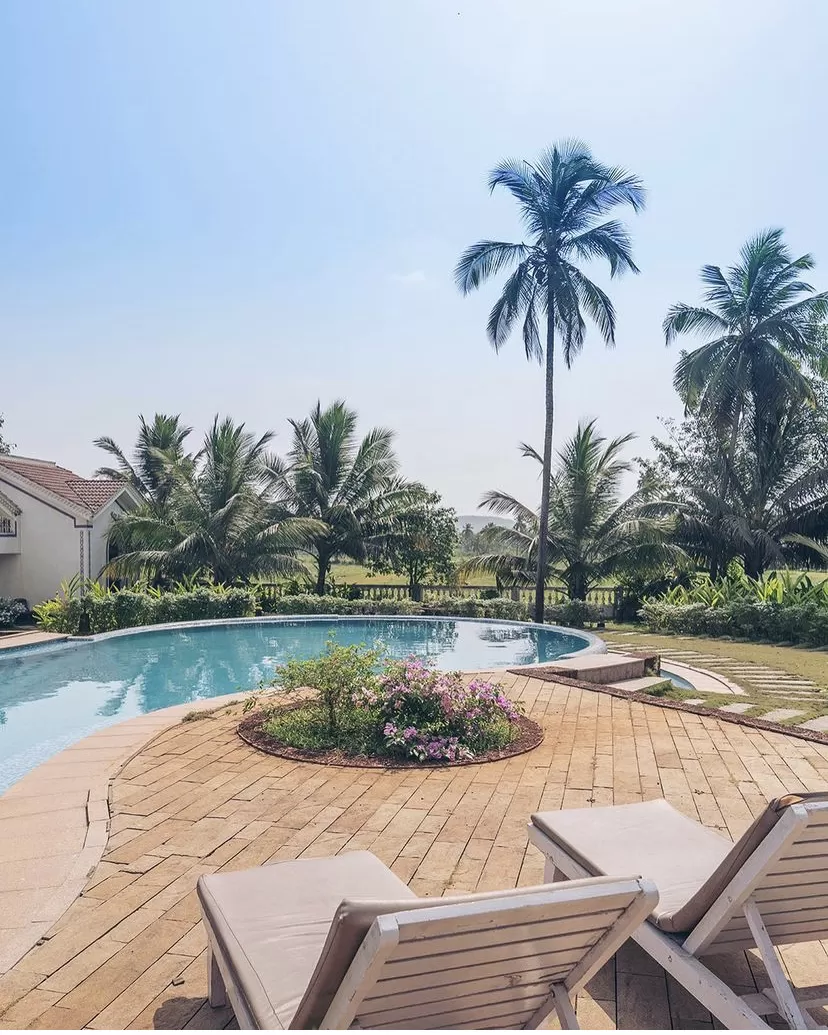 Why Stay at The Siolim Door?
The Siolim Door is a villa perfect or all kinds of travellers. From families to group of friends, you all can stay here. The atmosphere and interiors of this place are romantic in every iota of the decor and serene for those looking for a peaceful getaway. Book this homestay if you are travelling with your family and kids this place is safe, serene and aloof. Yet you won't be too far away from other places in North Goa.
You can relax here with a chilled beer or a glass of wine as you sit facing the beautiful rice fields with amazing birds adding to the natures orchestra. The hosts, Revati and Charles are also known to bring in their touch of hospitality right through.
Not far away from all the fun!
Siolim is perfectly located between the best of both the worlds. There are a lot of beach bars, restaurants and shops in Anjuna, Vagator, Candolim and Baga which isn't too far away from Siolim. And incase you want to go to the beach for a peaceful beach day or a romantic dinner you can go to Morjim, Ashwem and Arambol on the other side.
Everything is located within 10 minutes from this villa. So you won't feel like you did nothing when in Goa!
Booking Details
Address: Plot No 834/6/2 Kudal, Bamman Vaddo, Siolim, Goa 403517, India
Price: INR 8,203/-
Check-in: After 1:00 PM
Checkout: 12:00 PM
Check Here for Bookings
This villa is a perfect place to enjoy the quiet riverside life, sparkling nightlife or sunsets on the beach of Goa!
Indulge in the nearby cafes & restaurants
Siolim is close to many attractions, bars, cafes and beaches. Here are some of my suggestions for dinner dates, morning breakfasts and afternoon coffee chitchats.
'10 Romantic Waterfront Restaurants And Cafes in Goa That Will Make You Go WOW!'
1. Thalassa
2. Jamun
5. Buon Apetito
Thanks to places like Siolim Door, we know we can once again experience new things. What are you waiting for? Its finally time to experience this impeccable place and make the most of your time! Whether you choose to work from here or go with your loved ones you are assured to have a good time!
Ready to travel for free? Earn credits and redeem them on Tripoto's weekend getaways, hotel stays and vacation packages after the pandemic is over!