Almost after 5-6 months I decided to do trek in Sahyadris, And it was Night trek to Kalsubai with Trekkers United own by my friend Tirth Sangoi (Whom I met during Kedarkantha trek) and his friends. Very excited about my trek, I packed my bag and reached Thane station. I took the over- crowded kasara local train with three other travelers, my friends Nagarjuna, SriHari and his younger brother. Almost getting pushed down at Thane by passengers I managed to get back in the train. The journey started off with 30+ crazy travelers and our lead Tirth and we left for Bari village. There were lot of things uncommon in this group, age, physique, trekking experience; some were first timers while some had experience of trekking in Himalayas. But one thing was common, aim to reach top of Mt. Kalsubai.
Kalsubai is a mountain in the Western Ghats , located in the Indian state of Maharashtra . Its summit situated at an elevation of 1646 meters (5400 feet) is the highest point in Maharashtra which earns it the much glorified title of the 'Everest of Maharashtra'. The mountain range lies within the Kalsubai Harishchandragad Wildlife Sanctuary. It is visited throughout the year by avid trekkers, Kalsubai temple devotees and wildlife enthusiasts alike. The name Kalsubai has given to the mountain on the woman who used to live in this mountain according to the villagers living at the base of Kalsubai Mountain. It is said that a woman name Kalsubai was punished by the villagers and forced to leave the village, that woman climbed this mountain and started living on it and died there. That's how the name of this mountain Kalsubai came.
Trek to Kalsubai peak was a surreal experience. We reached Kasara by 12:45 AM where Tirth had arranged for a taxi to reach Bari village. It is advisable to pre book a taxi if travelling from Kasara. It took 1+ hour to reach Bari village. Being January we were experienced chilly, but it was quite pleasant. As an alternative spending the night at Bari village, one can reach Bari village early in the morning and start trek as early as possible.
We started our journey towards the summit at 3:00 AM after introducing each to others. You will be able to see breathtaking views of Bari village and surrounding area as scale towards the top. Monsoons, however - are the forerunner to splendid greenery all around here. The onset of the monsoon season is in June, when the Sahyadri' s blooms with all of its vivaciousness and vehemence. Between the months of June and August, Sahyadri hills face some heavy rainfall that leaves the weather of Sahyadri humid, wet and cool. The average annual rainfall in the Sahyadri hills ranges between 3,500 and 8,000 millimeters. The beauty of the seasonal waterfalls of Sahyadri hills is best experienced during the months between July and September. Monsoon is also the season for the adventurous people as this is the season in which adventure activities is in full swing. The natural beauty is there in abundance for you to enjoy all year long. If you are planning a trip in the summertime, then you should dress in light cotton clothing. If you plan to schedule your visit closer to the winter months in Sahyadri's, come along with your woolen apparel.
The weather conditions was perfect for hiking, there was light cool breeze blowing, I never had to exudate while mounting up. I reached my first ladder steps at 4.30 am, so it took me 90 minutes to figure out the way from Bari to the ladder along with the various breaks I took. The first ladder is series of steps with railing on one side, these ladders are usefully placed so as to make the trek more accessible to common people, they are placed where there are rocks and one can overcome this rocks by crossing on the stepladders. There are four ladders on the way with the last two being very steep. From here on the route is straightforward, just follow those series of ladder till you reach a table top, from there just follow in the direction of the peak which becomes visible and reach the final ladder which will take you to the top of the mountain. Though the trek looks easy but you must have good endurance level, prepare to walk at least for three to four hours from the Bari village. One has to be careful while climbing the ladders, as some of them are placed on vertical sections. The other danger is there are loose soil and gravel all along the trek which could make one slip if not careful. So be cautious, don't be in hurry, or challenge yourself for something foolish. The good thing about this route is that there are railing provided for the steps and ladder sections.
The view becomes more and more beautiful as to go up. You will be able to actually walk amongst the clouds as you scale further up during monsoon. One needs to climb 4500 feet from Bari village base through bushes, slippery patches and iron stairs to reach the top. Overall, Kalsubai is not a difficult trek but it does test your endurance and resolve. And that's a trekker wanted to prove, beyond the greed of getting some good pictures. We were the first group started towards the summit. Mt. Kalsubai offers a fantastic view of Sahyadri mountain ranges from the top. It took us four hours to reach the top with breaks in between. But it has been flooded with tourists which makes place lose its charm, Otherwise it would have been a fantastic summit.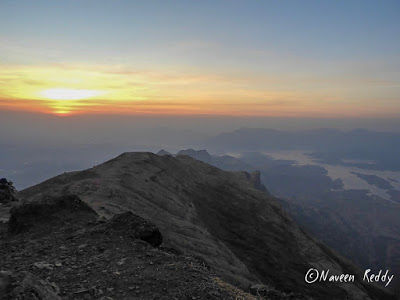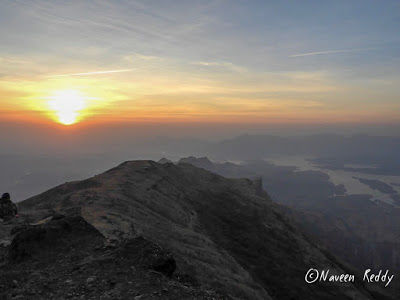 The view from the top is breathtaking, could see mountains all around you, also one can see the backwaters of Bhandardara dam, the various forts like Ratangad, Harischandragad, Alang, Madangad, Kulang and more. We were carrying food and water for our breakfast, had breakfast at the top. We were at the top for more than hour and decided to descend by 8:45. Now descending can be little tricky. Moving down the ladders will certainly test your fear of height.
There are many numbers of monkeys here, they are a very common sight, leaping from boulder to boulder or climbing the trees. They are a restless race with bulky bodies and black faces, though some have a red or a whitish tinge in the color of their faces. It is a very funny spectacle to see their females clutching their little ones close under their bellies and jumping or their kids engaged in a hot quarrel. They never molest the passersby though in some of them familiarity with mankind, However, while hiking on Kalsubai trail, just be careful and don't carry any type of bag in hands they may attack you assuming it as a food.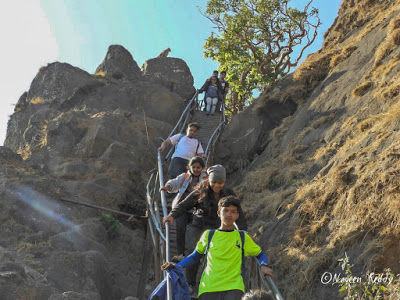 We decided to descend without wasting time grabbing rocks and jumping. In between we took break to finish rest of the drinks and snacks then continued with rappelling kind of descend. Descending was easy compared to ascending, at certain points; the steep descends risky due slippery surface. It took us around three hours to descend safely and come to the Bari village. The time was around 12'o clock and it was time proceed to Bhandardhara for Sandhan valley expedition with great memories in mind of Everest of Maharashtra's climb. The best example of how much you can stretch your mind in a given situation. Each and every aspect of great nature met while ascending and descending down the summit, taught us the way of living together in adverse conditions (Quite common in every trek).
In the subsequent blog post I will contemporary the detailed account of my adventures in Sahyadri's own Grand Canyon one and only Sandhan Valley.