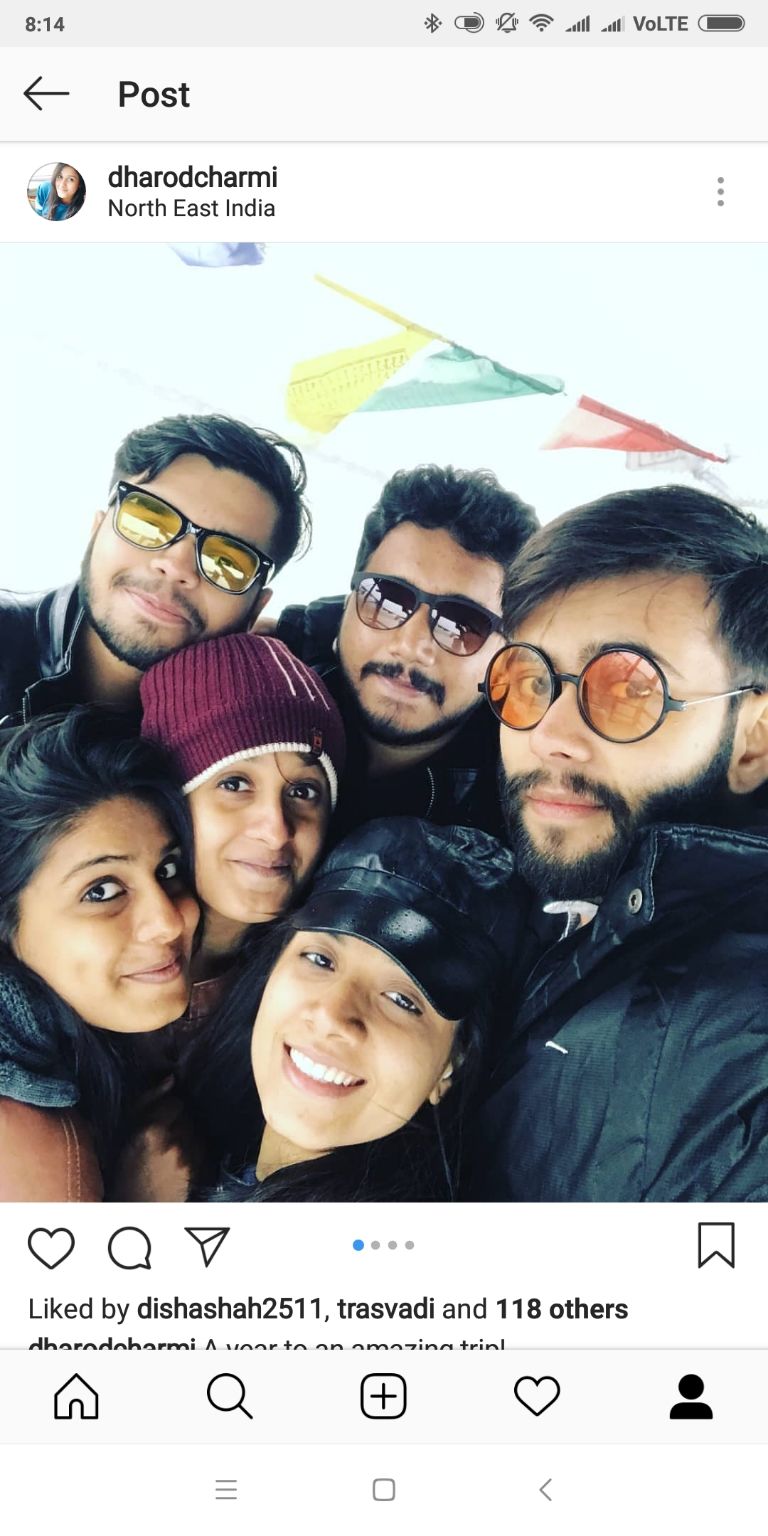 Haven't we always heard about how beautiful, how raw, how unexplored North East is?
Unique wildlife, amazing people, different culture a total paradise.
After fumbling through a few destinations I and my gang finally ended up going to North east.
We don't really like to join organized tours but plan our own trips. So we finally settled for 3 states Assam, Meghalaya and Arunachal Pradesh
We were ready for ultimate 2 week trip.
Distance from Mumbai to Guwhati is approx 2822km and it takes 2.50hr long flight journey.  We reached Guwhati around 8pm. From airport it took us a 40 min Ola ride to reach our hotel, which was located in Paltan bazaar-the heart of the city.
Temperature in Guwhati was around 32°C. Total Mumbai feels, but mid night it started raining and temperature fell around 26°C making it bearable for us.
By the time we left for dinner it was already 10.30 and maximum of food outlets were shut. We spotted Pizza hut outlet and went there with high hopes. The person offered us one–on-one which we readily accepted but it was a sheer disappointment.
We had to leave for Cherrapunji today which was a long journey with lot of sight-seeing halts. We managed to start our journey by 8am. Initially we had to cross the city so we didn't have much of view except the empty Guwhati streets.
We had planned to visit Umiam lake before reaching Shillong.
Umiam lake is a man made reservoir, very calm and peaceful surrounded by beautiful Kasi hills. It is well maintained by the Meghalaya tourism.
It was just half hour and suddenly the whole lake was covered with clouds, it started raining making the place look like completely different world. We were awestruck looking at the magic of nature. As it began raining heavily we ran to find shelter to prevent ourselves from drenching in rain. It won't stop raining for a while so all of us decided to run to our car and get overcoats but we all ended up getting drenched in rain .
What a welcome Meghalaya!
Once we reached Shillong we first headed to Mahindra showroom to get our car checked before the long journey. On checking, the car the person told us that there is problem in our car. So we left our car and luggage in waiting room. Luckily we got a bus ride up till market. We happily hopped into the bus. The ride was fun we enjoyed being a part of local life there. We got down at the main bazaar where we had good fulfilling food. Later we planned to visit elephant falls which was around 20 mins from there. We managed to get a taxi, driver readily agreed to fit all of us in small alto. We bargained for a round trip. We reached elephant falls, which is again man made. It is very famous and there are lots of tourist there making it really crowded and annoying. There was nothing great about the place. So we clicked few pictures and returned back to the Mahindra showroom where we had kept our car and luggage. After 4 hours of waiting, our car was ready.  We reached Cherrapunji around 11pm. The resort we stayed in was a well maintained huge property. It had individual stone house with capacity of 6 people to stay in.
We began our day a little late. We had light snack for our breakfast and left for Mawswami cave. It is again a famous tourist spot. Caving was fun but the caves were stinking to the core. Caving is not recommended for people with knee problem or heavy body. We went around the cave exploring it. This cave was famous and so again there were a lot of people making it crowded. On enquiring we got to know that there is proper caving happening around October -December, when people specially come for this expedition. Our next spot was Eco park, which had nothing spectacular about it except the fact that it gave Bangladesh view. Next destination was Sohra which is the wettest place on earth. Surrounded by beautiful bugyals, Sohra was peaceful. We sat there for a while appreciating its calmness.
We headed to Double Decker bridge which was not in our plan. It is very famous for being the only living root bridges in India. The pictures were tempting on enquiring with few people we got to know that we had to do a 4 hr trek to reach there, plus it was already 2pm.. By the time we reached the place it was already 4, but the trekkers inside us dint allow us to go back. So we took a local guide and started our journey to the raw beauty. While descending we met a lot of people struggling to climb, tired, lifeless asking if we were going to stay there, why did we start so late?. All of them had begun in morning, but that dint lessen our spirit. We were unstoppable we managed to reach down in an hour. One of the friend decided to go back mid way. So 5 of us and the guide went ahead. We had to pass 2 bridges to reach there. The moment we saw the Double Decker Bridge we were mesmerized by the beauty of the nature. We clicked a lot of pictures, played in the falls. Finally we started our journey back. While descending we didn't realize how much we had actual covered. But climb back was the toughest climb as we weren't ready for it. We couldn't see anything nor did we have torch or phone. Just a little moonlight was our savior. After covering a good distance we saw the best sight. A lot of fireflies. It was just like a fairy tale.
We wouldn't have made it without each other's push. We finally made it in 1.15 hr. That feeling was not less than winning an Olympic race. On reaching our friend greeted us with lot of drinking water and chocolates. Our legs gave up we had no power to stand so we decided to head straight to our hotel. We went there ordered our food and got freshen up. The dinner place was quiet hippie the owner seemed to be a big BOB MARLEY fan with all his posters around his music dim light. Ambiance was quite good. Food with below our expectation. Long but a memorable day.
Today we had Mawlynong and Dawki on our plan. We left around 8 for Dawki and had decided to visit Mawlynong on the way. It is famous as the cleanest village in Asia. So we reached the place roamed around in the village. Soon we left for Dawki.  Dawki river is famous as the cleanest river also open border to Bangladesh.
We had planned a stay there but our tents were too small and it was not possible for 2 people to fit in one tent. So we went ahead with kayaking and cliff jumping. We began driving towards Shillong, we called up the hotel where we had booking for next day and asked to give us a room for the night. On much request he agreed to give us a room.
We woke up early as we had planned to go to Kongthong which was around 4 hr from Shillong. It wasn't explored and our friend did specially mention the place. So we started off, the road to Kongthong is a just off roading you need really good driving skills. Plus there is no network on the way, so no chance of gps. Click on the below link to know more about Kongthong
We had to enter restricted region today that is Bhalukpong from where our journey to Tawang would began. As we entered the region there was a inner permit line checkpoint there. Where they checked our permits also asked us few question. After being satisfied by our answers they let us in. Our hotel was 10 min drive from the check post. We got our rooms chilled there, cooked our dinner in their kitchen which they happily allowed. Also we had the best red tea there. Still can't get the taste out.
We woke up early finished our packing, had amazing parathas and left for Dhirang. Roads to Tawang are yet not developed and there are high chances of car to skit. That was the most bumpy but beautiful ride. On reaching Tawang thanks to gps we found our hotel. Dhirang hotel was really beautiful . We spend a lot of time playing cards. Had good food also went on walk. We had a great fight with the flies there. It was great fun.
We left for Tawang. Our Tawang hotel was good. On enquiring the manager told us that we need permit to vist Madhri lake and Bumla pass. Also we need to hire local vehicle, we can't take our vehicle. That day we just chilled around in Tawang market. Tawang has old and new market and the roads are bit confusing due to one way. We managed to get vegetables for sandwich, bread and alcohol which is real cheap there.
We woke up late as we local sightseeing that day we had our lunch in market and went for local sightseeing Tawang monastery, Circuit house, War Memorial. We returned to our hotel gave the needed documents for permit.
We started off early as people aren't allowed at these places after 5pm. Our driver and car was ready. It took us an Hour to reach Bumla pass.It was really cold there. Way to Bumla pass was a bad ride. Lot bumpy, we din't really enjoy the ride. After Bumla pass we went to Shungaster lake also called Madhuri Lake as a song from Koyla movie was shot there. It was really beautiful lake but it was raining heavily and there was lot of fog which blocked the vision there. On requesting our driver stopped in mid way which was P Tso lake. There was no place to really get down to the lake so we opted to return back to our hotel.
We had to go to Bomdilla today. There we met 4 hitch hikers who were from Mysore. We had a great time talking to them also knowing about them and their trip. They invited us for trek next day morning which we agreed to and retired for the day as we had to get up early go on trek come back and leave for Kaziranga.
One of our friend fell ill at night and had severe back ache so we cancelled the plan to trek. Got ready and left for Kaziranga. We had to cover a bit distance today,change state and reach Kaziranga that is famous for its one horn Rhino. We started off again a bumpy ride same road. But we were enjoying it was last drive in hills now we had straight roads ahead. We started our nonstop journey as we were told to reach hotel before 5pm. The park is shut in monsoon so enquire before hand. The park was shut so we weren't allowed to go, but on requesting much hotel person arranged for a ride only until a certain distance where we spotted a few animals including Rihno. We came back to our hotel. Took our rooms which were really beautiful. Our day ended beautifully!
We had our breakfast in hotel itself and left for Majuli Island that is the biggest river island in the world on Brahmaputra River. We enquired about the ferry and were told that last ferry would be at 2pm. We left our hotel went to orchid garden nearby which had all the variety of orchids in north east.
Also there was a cultural show every 20 min where we saw Bihu dance that is the traditional dance of Assame people. We left the place and hurried to Kamlabari, point from which we had to take ferry to Majuli. We loaded our car in the ferry dint dare to get out of the car. It took us around 45 min to reach the Island. Majuli is a very beautiful island with rich culture. Our stay was in bamboo lodges. The stay was good. But it was very hot and lots of insects' lizards and rats, WRONG SEASON! So we decided to leave next morning.
We managed to get refund from the person in charge. Before leaving we decided to go have a look at the famous mask culture of Majuli Island. Here people don't know Hindi or English which made it difficult to get the directions but we somehow managed. On reaching we got to know it was run by a family, they have got national award for the same. They showed us how to make the base of mask in 10 min which would take us min 1hr. Real talent!
We had a word with Kaziranga hotel person who had agreed to give us room in minimum rates. We made the bookings rushed to ferry point. It took a while to load the car. And as we were going against the flow it took us around 3 hour to reach Kamlabari. It was about to sunset so we decided not to waste time and just head to Kaziranga.
We had decided to visit tea gardens today as we had missed it earlier. So we tress passed random tea garden clicked pictures.Explored a bit and started our nonstop journey to Guwhati. We had plans to explore Guwhati's night life. We had heard about a boat party but not much people there knew about it. A couple in café suggested us to go to underdog which was a sports bar also there were many other options in the same mall.  the place was vibrant filled with all youngsters. Later,We managed to spot a Chinese restaurant where we actually got good food. Once back we all retired for the day as we had morning flight back to Mumbai.
We woke up at 5 still were late for our flight which was 8. Somehow we made it to airport. Flying back with mixed emotion and lot of sleepy head. This was a trip we shall never forget.
P.S – Download offline state maps before leaving for your trip, as there is no internet connection in maximum of the places.Also if you are vegetarian carry your food along, as there is a lot of veg food issue there
The trip was much more fun, then what I've written here. To get the detailed itenary or know more about our trip, we are always up for food.