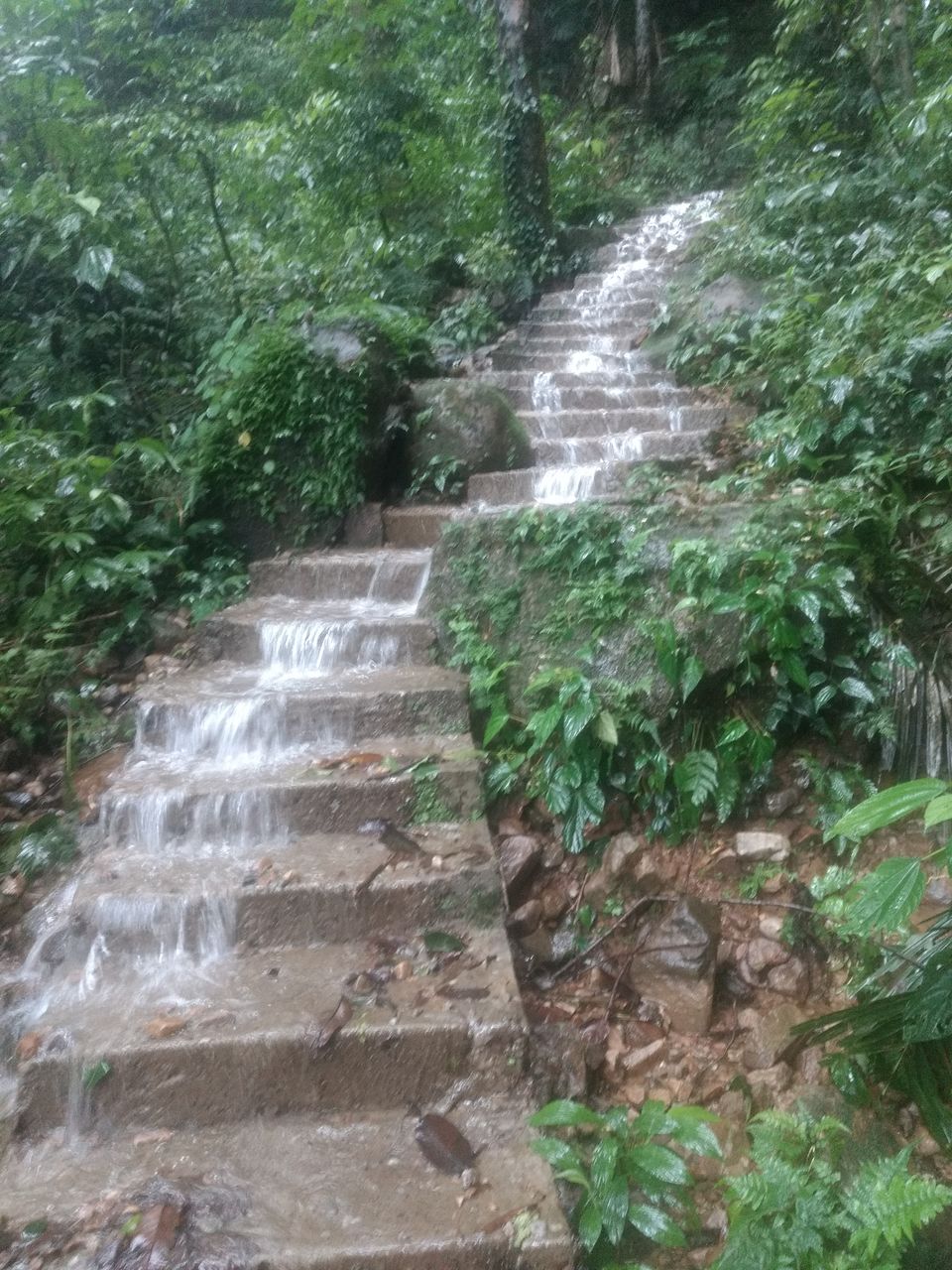 Our journey began by boarding a train from Siliguri to Guwhati. We reached Guwhati at around 5 in the morning and found a couple of share taxis waiting outside the station to take people to Shillong.
Off we were in those, reaching Shillong by around 8.30ish in the morning only to realize we were too early for any of the restaurants to be open.
We walked for about an hour in the city center before giving up and sat by the footpath waiting for some restaurant to open. Around 10.30 one opened and we finally got ourselves some food!
We then left to the main taxi stand to get ourselves a share taxi to Cherapunji (It would make life easier if you could rent a bike from here and do the entire journey on it but we couldn't get our hands on any bikes).
The taxi cost us around 80 rps only and in about 2 to 3 hours we were in between the clouds. We couldn't see what was 10 meters ahead either.
It really was the wettest place on earth and we were there during the wettest season.
CHERAPUNJI:
Now that we were in Cherapunji our next step was to find a place to stay which turned out to be not too easy as the first place we went to- hostel By the way, we got kicked out as the owner did not like us!
Finally, we found one place which agreed to give us a room for 1000 rps a night and we decided to spend the night there.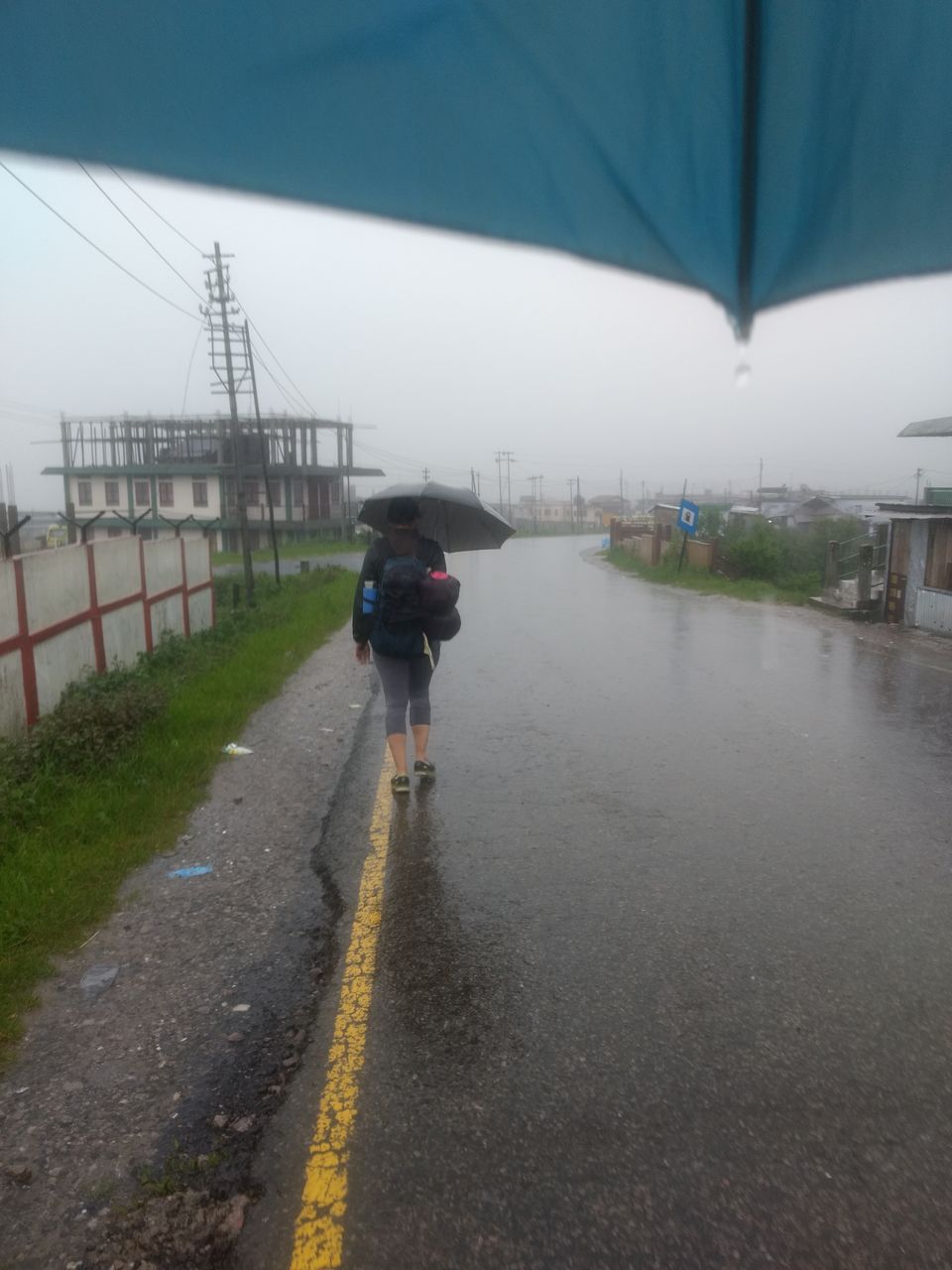 We then went to a cemetery of British generals, a park, a water tank, in-short we just went about walking in the rain for about 2 hours trying to see Cherapunji. Soon we were tired and after eating dinner which was hard to get as a vegetarian went back to our room.
MASWMAI CAVES:
The next morning we got up early and walked around 5 km. to Maswmai caves. We were the only ones on the road out that early in the rain but it was an amazing walk.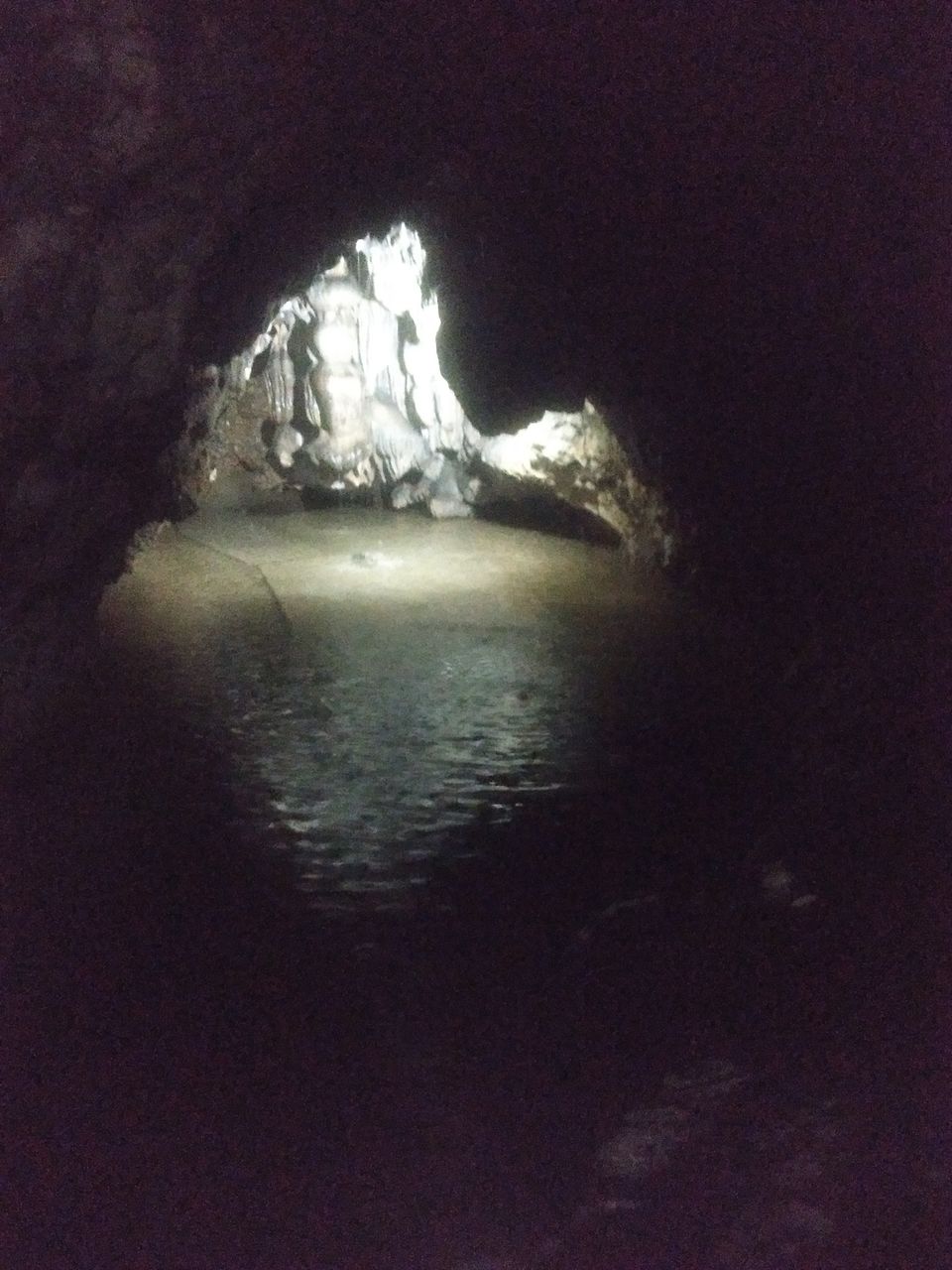 The caves were filled with water with only the 2 of us walking in there it was an experience to remember. The water falling from the top, the complete darkness in a few places, the natural lighting in a few, the slippery rocks and the formations and of course us trying to fit ourselves and our bags through nooks and corners of the cave.
It was beautiful.
DOUBLE DECKER LIVING ROOT BRIDGE
After finishing the cave we decided to go the living root bridge. We were told we had to walk about 3000 steps downhill to reach the bridge. We were excited.
7700 steps! That is apparently what we did that day, after our 5km walk in the morning. It is 3000 steps down to the root bridge but we were not impressed by it and so decided to walk further down not knowing what was ahead. We came across another root bridge which we reached after crossing a bridge made of re-bars and that was more natural and mezmerizing.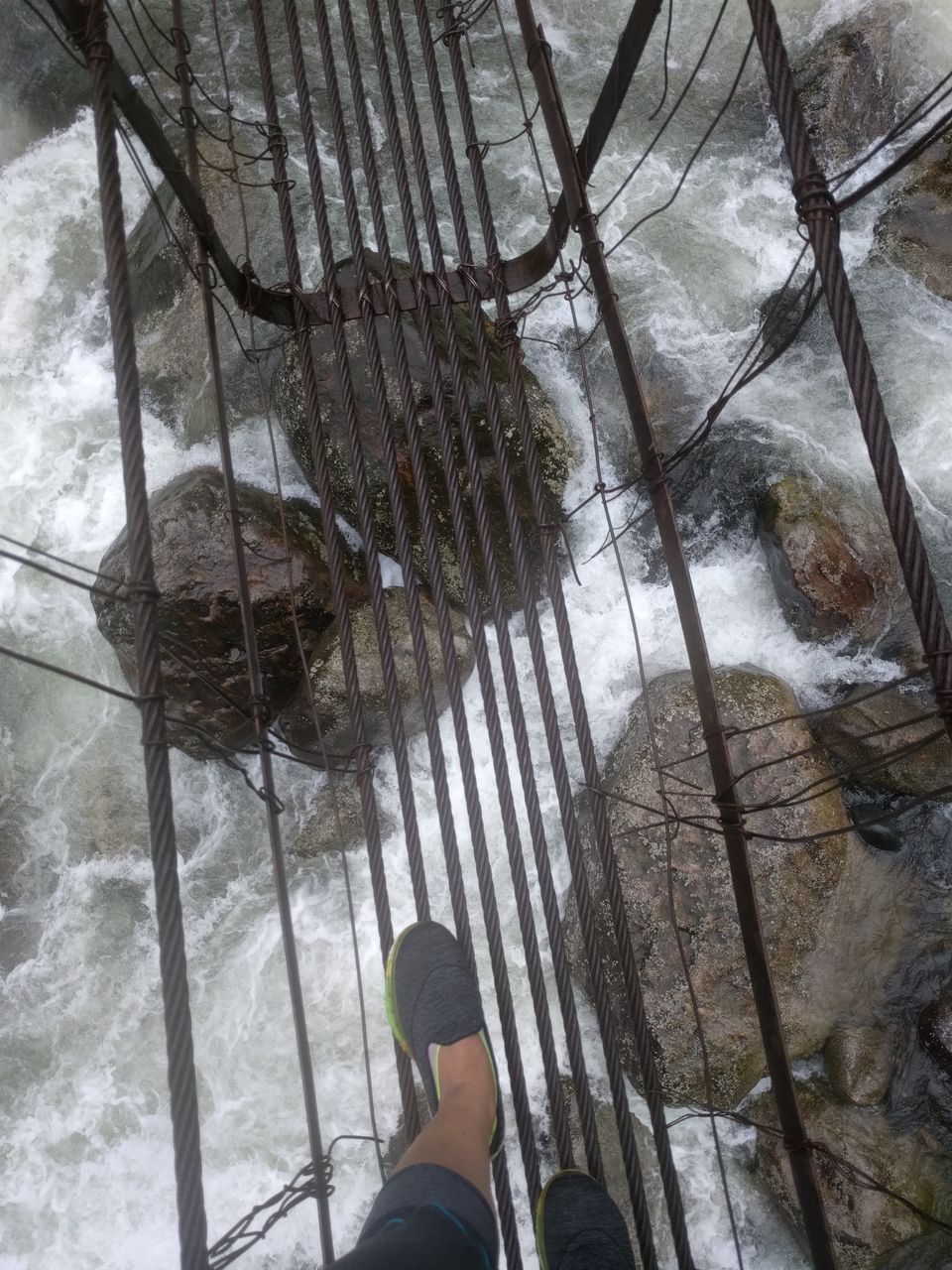 We then decided to walk further down. We could see no one walking ahead or behind us. We reached a stream which we thought was a dead end but luckily for us, 4 foreigners walked by right then and crossed the stream while helping us do the same too and hence we could go further.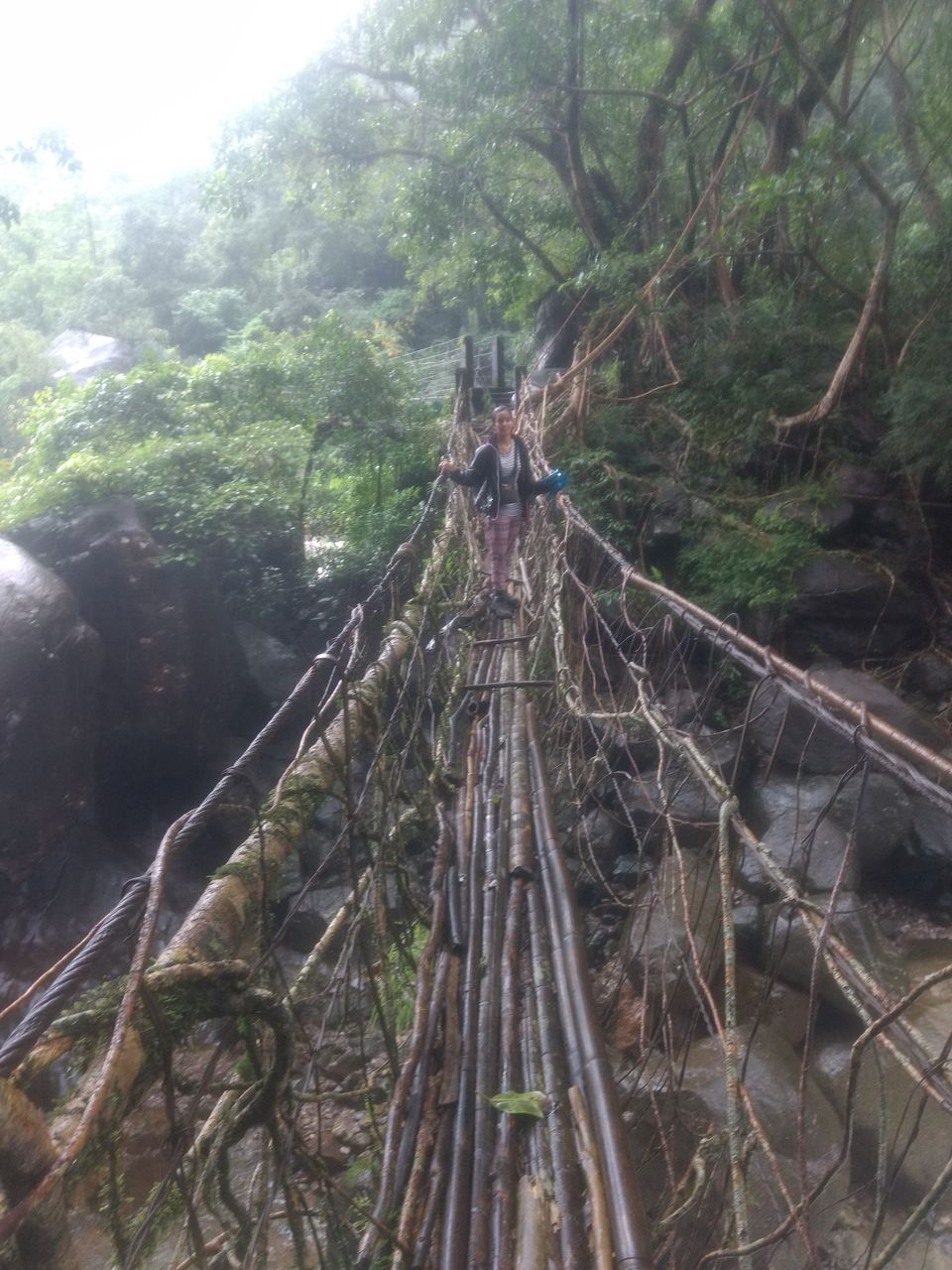 We let them walk ahead faster while we were slowly trying to make our way ahead when after around 10 mins we saw them heading back saying the next stream was more dangerous and they couldn't cross it. Disheartened, we still decided to go see it. This stream was smaller but was against a cliff so if you miss your step you fall down the falls. And since it was the rainy season the water flow was fast.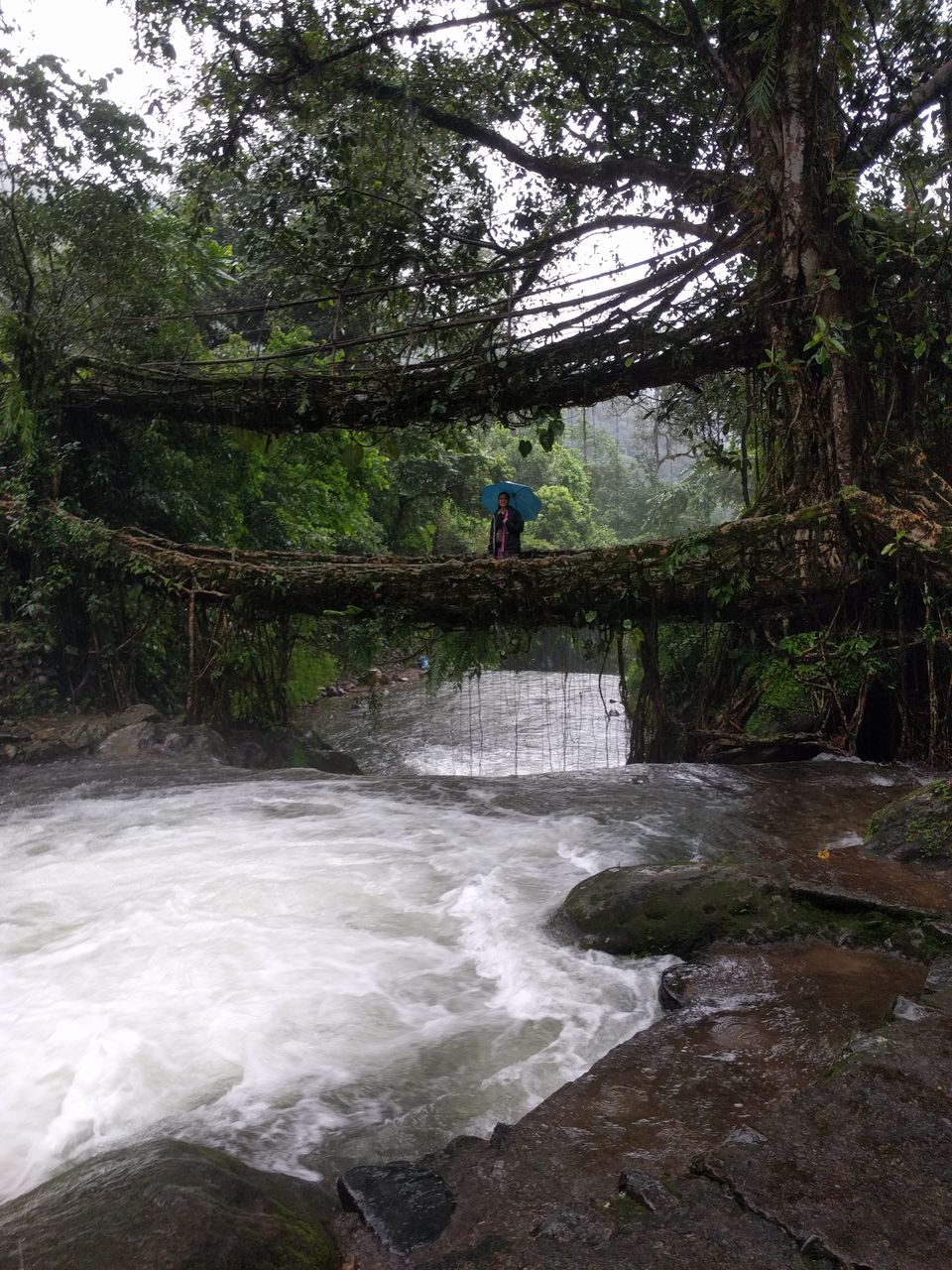 My friend tried once but we thought it was too risky and decided to walk back. But after walking back 2 minutes we stopped thinking we shall not come back here anytime soon, we should go ahead and see the waterfalls( the foreigners told us it leads to a falls)
So we went back, my friend found a place to place your foot so that we don't fall down and it worked. We crossed. We walked. We saw the waterfalls! A mighty waterfalls it was.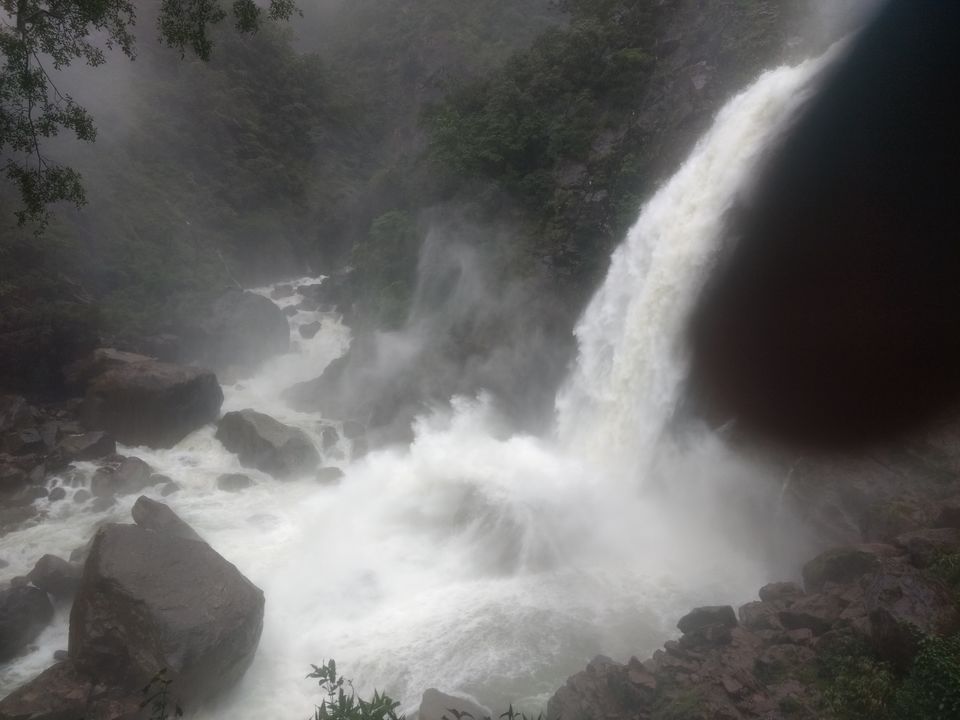 Next morning we got up and got ready to head back up those 3000 steps. We started walking by 10 and made it to the top by 12. We then tried to find a taxi to take us to Mawlinlong but as it was a Sunday we soon realized none of the share taxis was running.
So we went back to Shillong ( share taxis were available for this) and the next morning leave for the village. We made it to Shillong by 7 in the evening all tired and wet. Got into a restaurant, ate dinner after what felt like ages and then decided to start looking for a hotel.
MAWLINGLONG VILLAGE
Next morning a friends mom arranged a bus to Mawlinlong and Dawki which we thought was a public bus but it was an arranged tour. After our adventures until last night, this was a very dull day.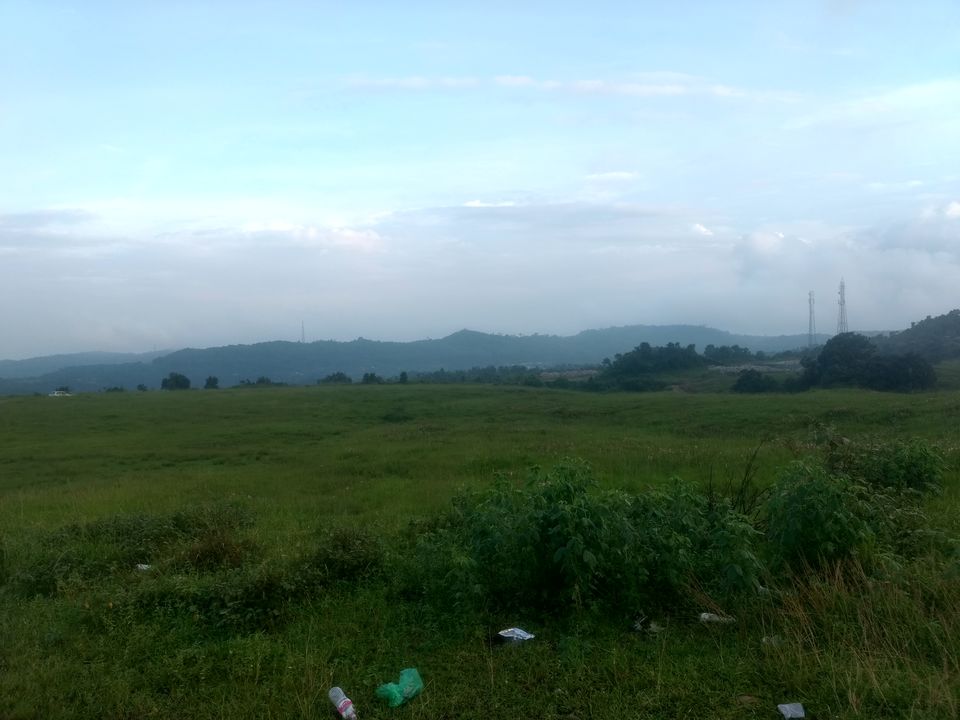 On and off every spot, another root bridge which wasn't that impressive, a big rock hanging on small rock, a good lunch at the cleanest village where we spotted 3 wrappers, off at Dawki which is supposed to have crystal clear water but due to the rain was muddy, the India Bangladesh border, viewpoints and finally back by 7 in the night. We went back that night to the room and had a really good sleep after ages as our bodies were so tired.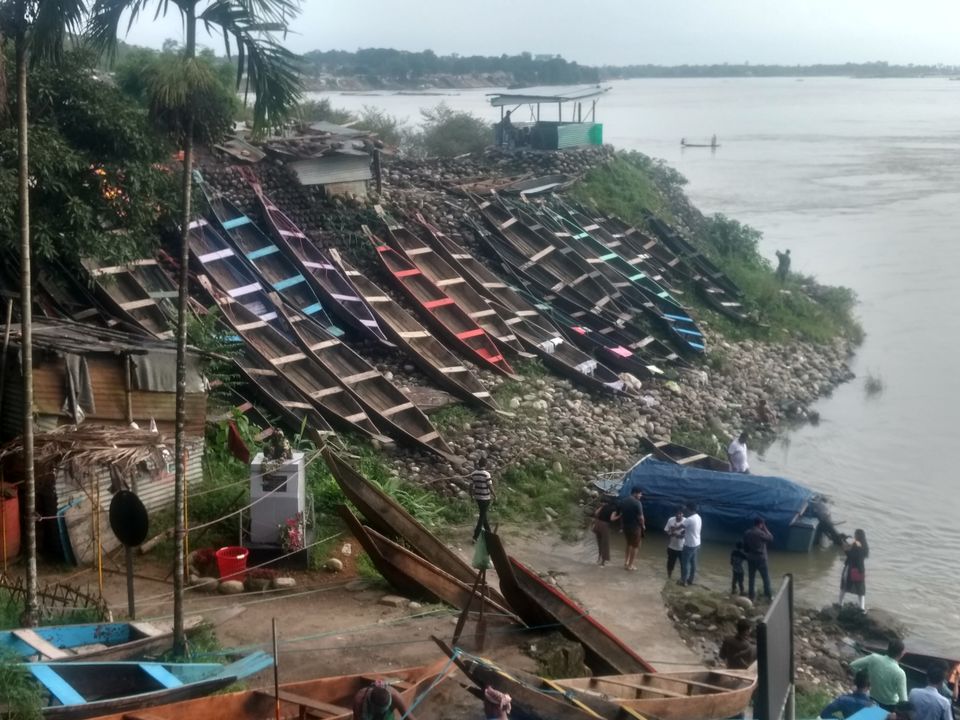 After an amazing 5 days of proper adventure, not knowing what was coming next, less food, less sleep, extra walk, we reached Guwhati to find out all trains were cancelled. We spent a whole day there, got a bus to Siliguri in the evening and made it back to Gangtok by 2 the next noon. We finally made it home.
FUN FACT: The people of Meghalaya do not have a script. Their texts are written in English. Try reading this newspaper of theirs, like I did.