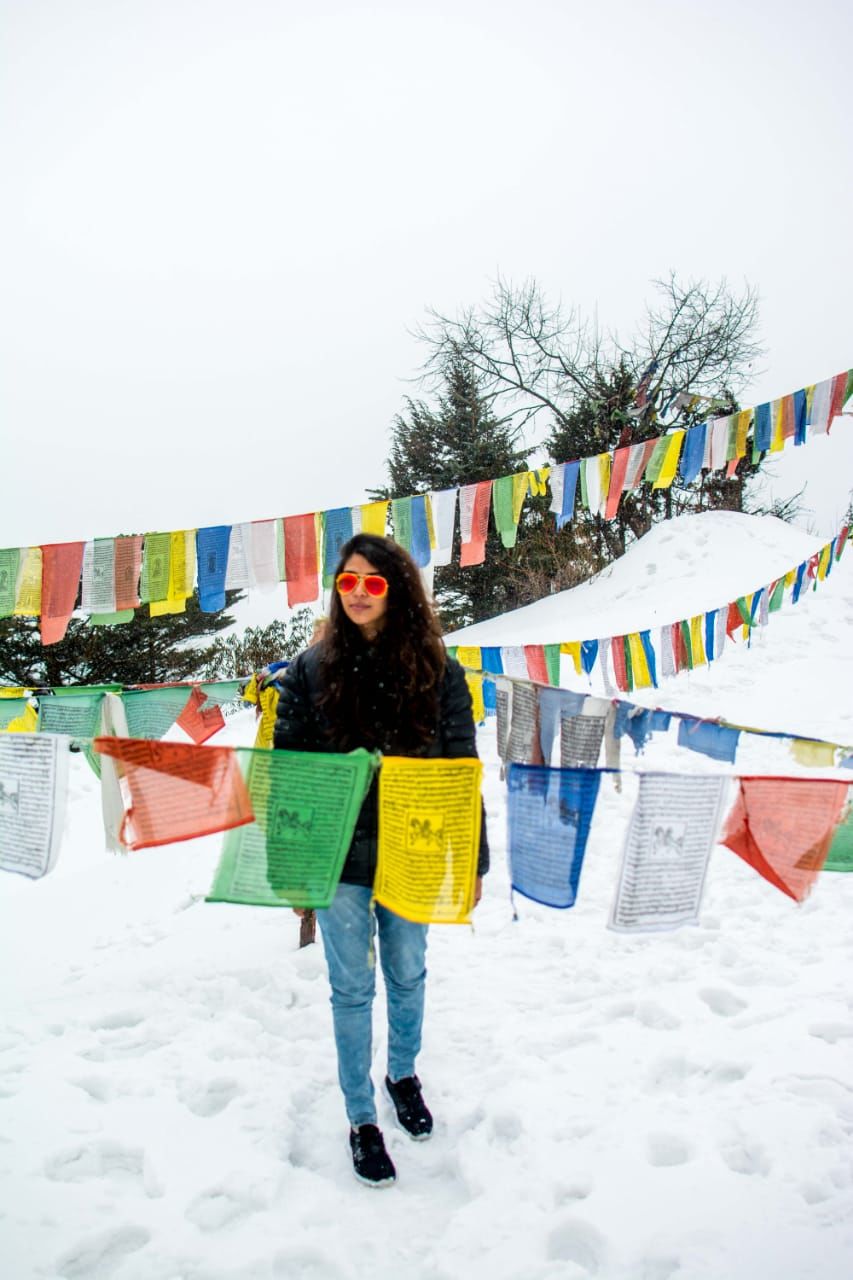 Colorful prayer flags all over, peaceful monasteries, toughest people with warmest heart and nature's generous wonders, that's what North East is for you.
This blog was going to be a little bit longer. Reason being the duration of the trip and some extra Gyaan. I'm writing it in two parts. This part is about Tawang Valley. Part 2 is about Meghalaya. If you only want the itinerary, head to Day 1. If you want some "दिल से बातें" and tips, keep reading.

I graduated this year. Grad Trips are very popular and indeed a great way to live quality moments with your best friends. I have had 2 grad trips already and was completely broke.
I literally wished to have a friend who could say "पैसा हाथ का मैल होता है, मेरी savings किस दिन काम आयेंगी?"
Haha! I was that friend for myself. So I decided to go on this expensive special trip with two of my best friends. However, I'm gonna tell you how to minimize the cost without compromising on the experience.
Things to keep in mind:
1. The costliest part of our trip was the rented car. It costed us around ₹ 52 k for three people for duration of 10 days. This could definitely be reduced. Form a group with more number of people, opt for local transport, negotiate more with vendors or don't book online.
2. We took flights from Ahmedabad-Guwahati, which costed around ₹ 7.5 k (round trip). Prior planning and coupons to the rescue!
3. You can find really cheap sumptuous meal options almost everywhere in the entire Northeast India. This will cost you ₹ 80-100 for veg and 100-120 for non veg food.
4. There are plenty of home stays and hotels. Online prices are usually higher than the offline ones. So reach the place, go and see around, bargain a little and book. We never paid more than ₹ 1500 (500/person) at any place even in Guwahati. When in doubt trust locals, always!
5. Get a good friendly driver. It matters a lot and you will realize it once you read further. Get someone who likes travelling basically his work.
6. Stay at, eat and interact with locals. Tourism is one of the major sources of their scant income. Let's support them for the love of the beautiful places earth has given us.
7. Make a really good playlist of your favorite songs. You will be getting enough time to listen really a lot of songs.
Pro tip: People of Tawang Valley to be extremely stylish so level up your style game or get some tips from them.
Let's see the itinerary now!
We arrived at Guwahati airport around 1:30 p.m. We had our stay booked at Guwahati. The next day we had to leave early morning.
We had booked this trip with with Chal Kabira. It is a travel startup which organises good Grad trips for graduating students. We had booked only the vehicle through them which costed around ₹17 k for each person for 10 days. It was a luxury Innova. The cost could be further minimized if you have more people, we were just three friends.
The next day we woke up early, had breakfast and left for Tawang Valley, of which the first stop was going to be Bhalukpong.
Bhalukpong is a small town in Arunachal Pradesh. By the time we reached here, it was almost evening. We had not booked our stay prior. Our driver took us to Bhalukpong Tourist Lodge aka Circuit House. The online prices for the same were around ₹2500 for 2 people. However, we simply negotiated with the manager as we were only going to stay for the night and more importantly we were students (low spending capacity, haha). He agreed and not only gave us a room for ₹ 1500 but also arranged an extra bed in a room for two. Oh, beautiful people everywhere!
"There is one important thing I want all of you to know. When we travel in a rented vehicle with a driver and have to stay somewhere overnight, most of us do not bother about the driver. Usually travel agencies with whom we book our trips, pay an amount of 300-500 per day for food and stay. This is an additional income for driver apart from whatever scant they earn through these trips. So, they tend to suggest/influence us to stay in places which provide free parking options and driver's room. Sometimes you end up staying in a costlier place. To find a Win-Win situation, search for cheaper places with the parking area and Driver's room. It's not difficult, we did the same during our entire trip and saved money on hotels compared to the online rates. I don't know if you knew this already but I didn't know before the strip. hence :) Let's just be good humans. "
Back to Bhalukpong Tourist lodge, it has Kemeng river flowing at a distance of 200 meters. There are many things you can here like visit Pakhui Wildlife Sanctuary, Tipi Orchidarium, Kaziranga national Park, Bhalukpong Fort etc. We had planned Tawang Valley. By the time we reached here, it was almost evening . We checked in and went straight to the river.
Can you imagine what an evening full of serenity after entire day of listening travel songs feels like? See!
The next day we have to leave for Dirang. Dirang is a small village in the west Kemeng district of Arunachal Pradesh. We got stuck on the way because of some construction. To avoid this, one needs to start very early from Bhalukpong, as they open the route for limited time. Our driver did not agree on leaving early. (conflict started from here)
During the halt, while the two of my friends enjoyed JCB Ki Khudai, I sat in the car, gazed at the scenery from the window with curious eyes (halt was for 2-2.5 hours).
By the time we reached Dirang, it was evening. We walked around and found a home stay for ₹ 1000 for 3 people. We checked in and left for TDL monastery aka Kalachakra monastery. One of my friends who fell in 'Pehli Nazar ka pyaar' (kidding guys) with our host (young beautiful and humble girl), asked her to accompany us as we didn't know the route. She readily agreed and showed us the way. We also met some school kids on the way, who were ecstatic to see us and told us some shortcut route to reach the monastery.
I had never visited a monastery prior. I had assumed that it will be like the usual temples. So I was not very excited. But to my surprise, it was one of the most peaceful places I have ever been to. Monasteries are in my wish-list now. Definitely a must visit!
We had our breakfast and decided to explore hot water spring before leaving for Tawang. I recommend you to skip this as it is quite ruined by human touch.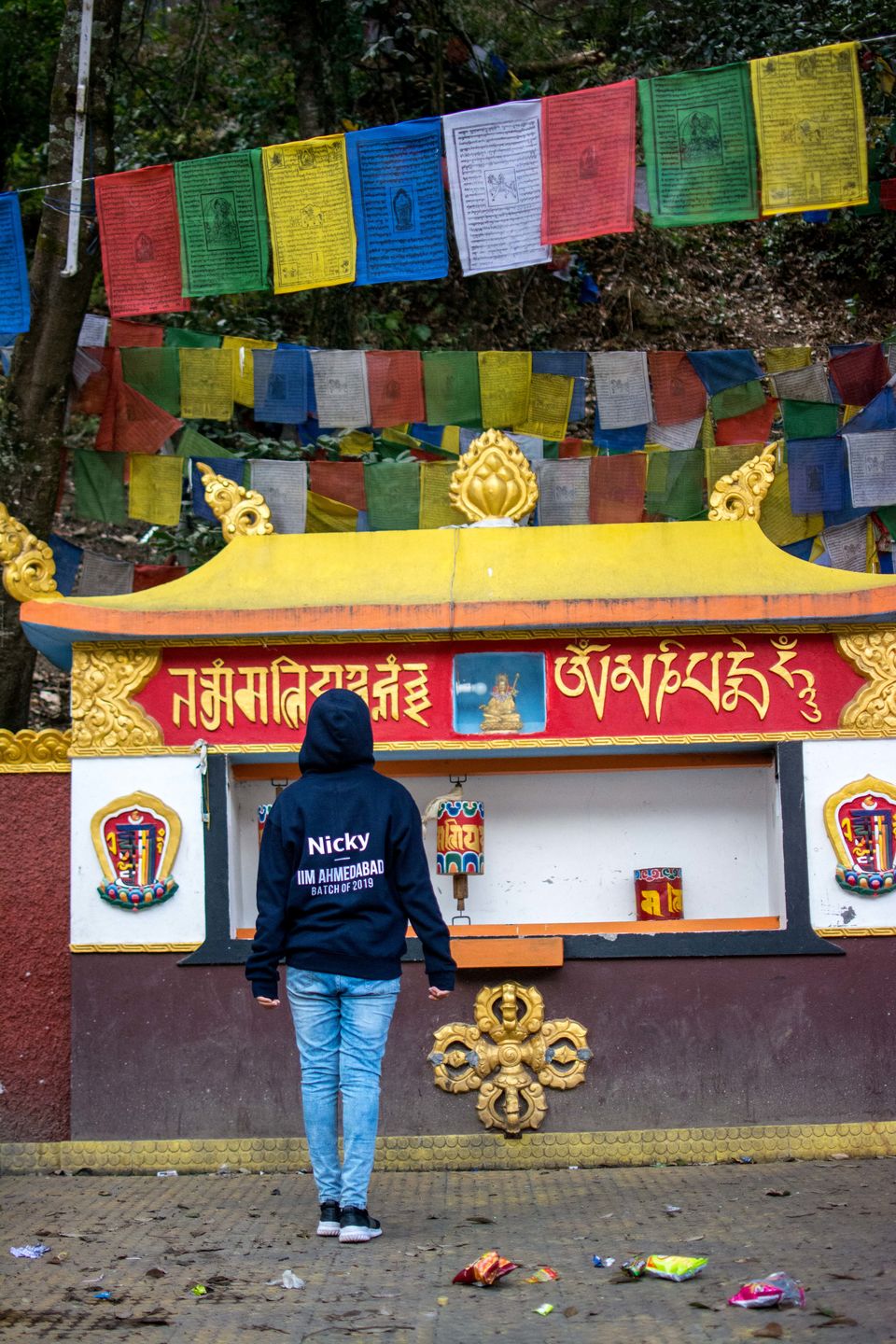 Now there are so many things to do in Tawang. You can hike to Gorichen peak,visit Tawang monastery, watch 'light & sound show', explore Bumla pass, visit various lakes like Madhuri lake, Ptso Lake, heart shaped lake. There is no end. If you are going in May-June you can explore adventure activities like River Rafting as well.
One cannot take vehicle of other states to Bumla pass or other lakes.
So, we rented another car (a Bolero) which costed us ₹ 1000 for a day. The driver we got here was an adrenaline junkies. After travelling with him, we realized how important it was to have someone like him. By this I mean, someone who loves doing whatever he does.
We left for Ptso Lake aka Sungester lake, which was completely frozen. Be played like kids , made snowman and what not.
See the happiness!
The best part was there was no one else apart from the four of us.There is a hotel as well, which was closed at that time but if you go after June it will be serving hot tea with the best view!
We also explored heart shaped lake aka Rih Dil Lake. It was surrounded by snow all around we did not there to even touch the water.
Tawang has beautiful prayer flags all around which gives a feel of divinity and adds vibrancy to your Instagram pictures. Check mine!
The next morning we left Tawang after having breakfast. There are many suspension bridges on the route. We stopped at one such bridge, simply looked around and found beauty.
Just observe the colors and don't miss the caption!
We left early morning for Guwahati. The next part of the trip is exploration of Meghalaya. To read that click here.
If you found this blog useful please follow @woman_who_wanderz
For doubts/suggestion/feedback, use the comments section.
Let's wander!
Frequent Searches Leading To This Page:-
north east india monasteries tour packages, best north east tourist places, north east best tour packages, north east india trip cost, places to visit in north east
We ate simple food and talked about how exciting our lives were going to be (as all three of us were going to join corporate jobs, irony? absolutely right. :p )
Entering Tawang Valley was like dreaming with eyes wide open. You will be surrounded by huge snow capped mountains and will feel mesmerized by the beauty. Call it existential crisis or whatever, it made me question many of my life choices. We were awestruck!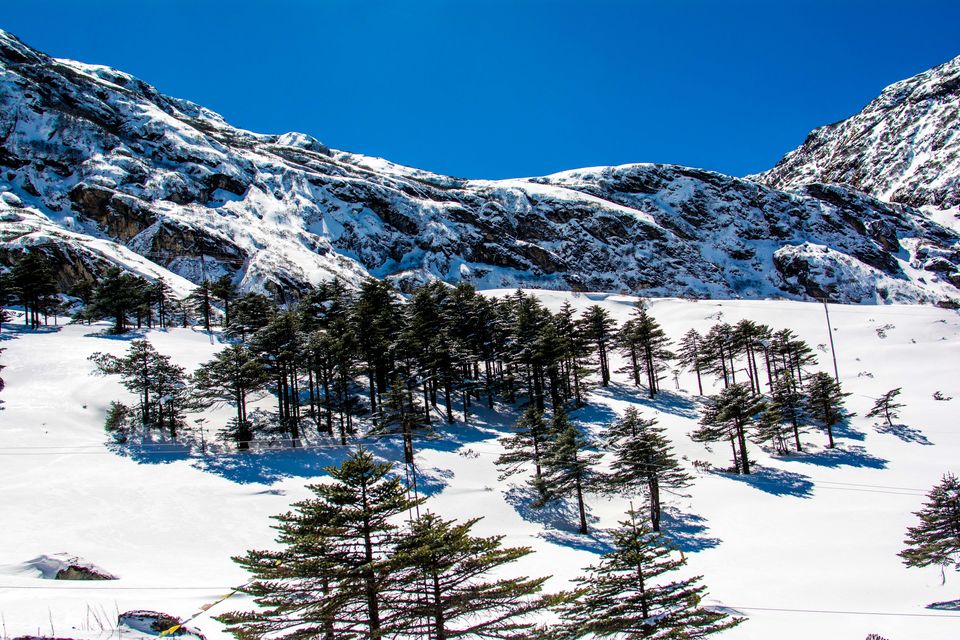 Before entering Tawang valley, one has to pass through the famous Sela Pass. It connects Tawang with rest of the India. White powdery particles of snow were literally in the air. It was extremely cold but exceptionally beautiful.
See yourself!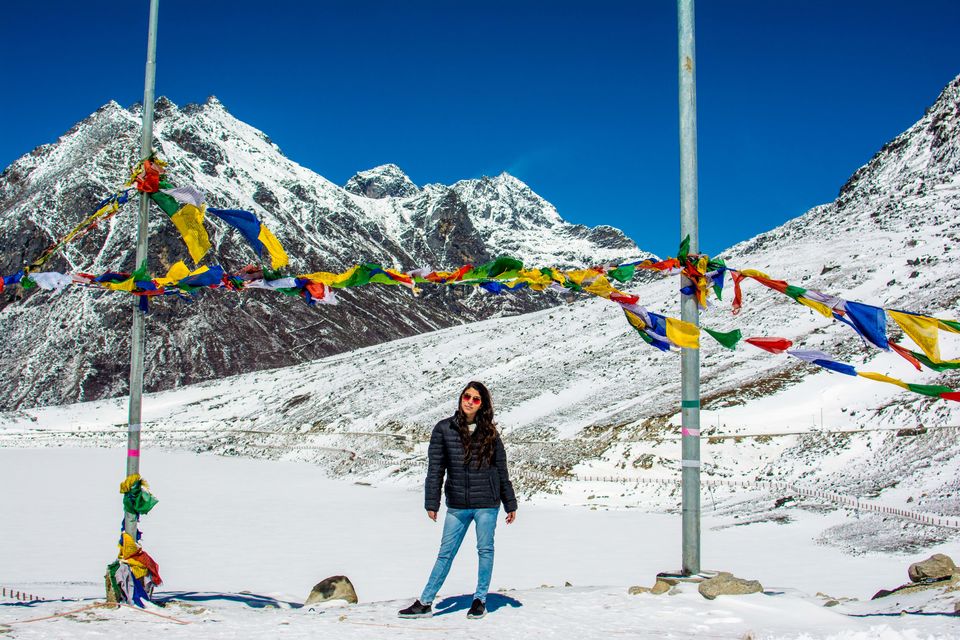 The route wasn't easy. Roads were covered with snow, our car even got skidded 2-3 times because of excessive snowing. And that's when we came to know that our driver had a phobia of snow. Can you believe it? We were with someone who had fear of snow in a place which had snow all around and he was the one who had to drive.
This is when we realized we had a problem.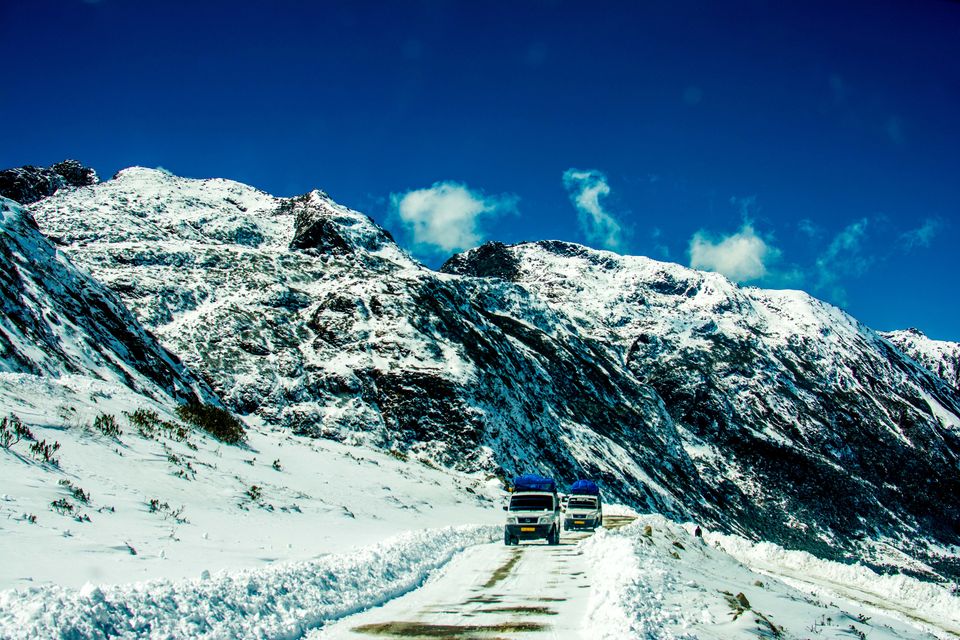 By evening we entered Moon Valley aka Tawang Valley. I was ecstatic as I have never seen a place so damn beautiful in my life!
To stay, again we searched for a place, talked to local people around and found one with 3 beds for ₹ 1400 (included room heater).
One cannot survive without heater. It was -6 degrees in the night, we slept like babies as we were pretty tired.
We also visited Tawang monastery and attended 'light & sound' show I recommend you to stay atleast 2 days and let the vibe of Tawang sink in. We couldn't.
By evening we reached Bomdila, a small town in Arunachal Pradesh. We stayed in a local home stay and relax a little. Bomdila too, has a monastery which is a good option for some evening meditation.
I was continuously seeing snow since last 4 days and it was freezing cold as well that's when I realised,
"बर्फ crush की तरह होती है, पास जाके पता चलता है कि दूर ही ठीक थे।""
Hilarious right? yeah that.
The cost breakup is:
Flights: ~ ₹ 7.5 k (Ahmedabad-Guwahati-Ahmedabad)
Rented vehicle: ~ ₹ 9 k (try to reduce this one)
Stay : ~ ₹ 3.5 (almost ₹ 300/day)
Food: ~ ₹ 1.5 k
Most of us didn't talk much this entire time till we found this beautiful waterfall named Nuranang falls aka Jung fall. It is an enthralling waterfall with a height of around 100 meters. It takes a 15 minute trek kind of walk to reach here. Check out!