Located at a distance of about 60km south of Chennai, Mahabalipuram, which is also known as Mammalapuram has some breathtaking sights to offer. This ancient town's history goes back by almost 2 millenia to the time of Ptolemy! Such a vast history this town has had that it offers you monuments from different eras of human civilization. And for the very same reason. this town has been classified as a UNESCO World Heritage site.
State owned(TNSTC) buses run all day long between Chennai and Mahabalipuram in addition to which, there are lots of private buses which run on the same route. It takes about an hour to reach Mahabalipuram from Chennai in the buses.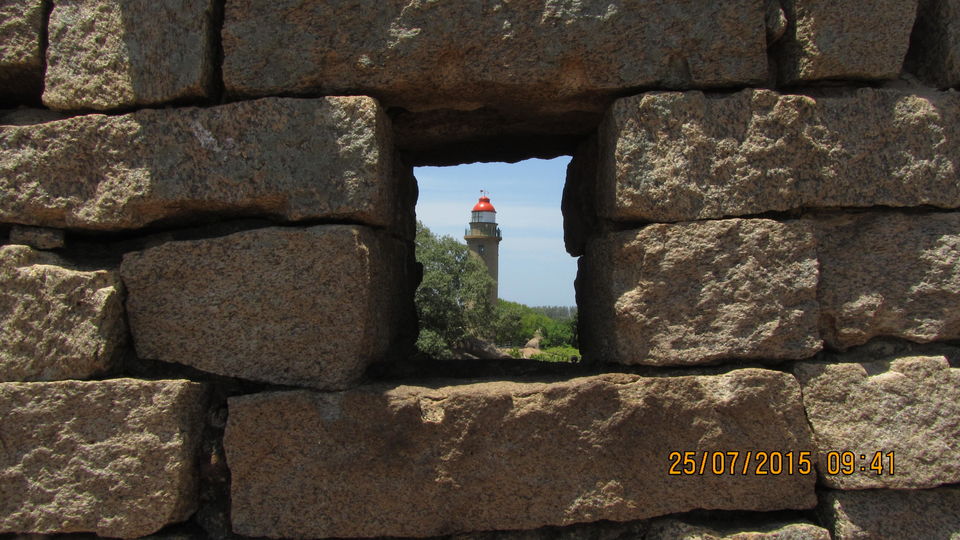 The entire town of Mahabalipuram is best explored on foot. A day is enough to cover all the sites.
The site closest to the bus station is the Descent of the Ganges.
Descent of the Ganges: These are two HUGE rocks with carvings depicting Arjun's Penance and the Descent of the Ganges. The intricate carvings have stood the test of time across almost 1600 years! The site is located right next to the road and can be spotted very easily. Best time to visit is in the morning when the sun is just rising. Yes, it is difficult to fit it in a single photo frame.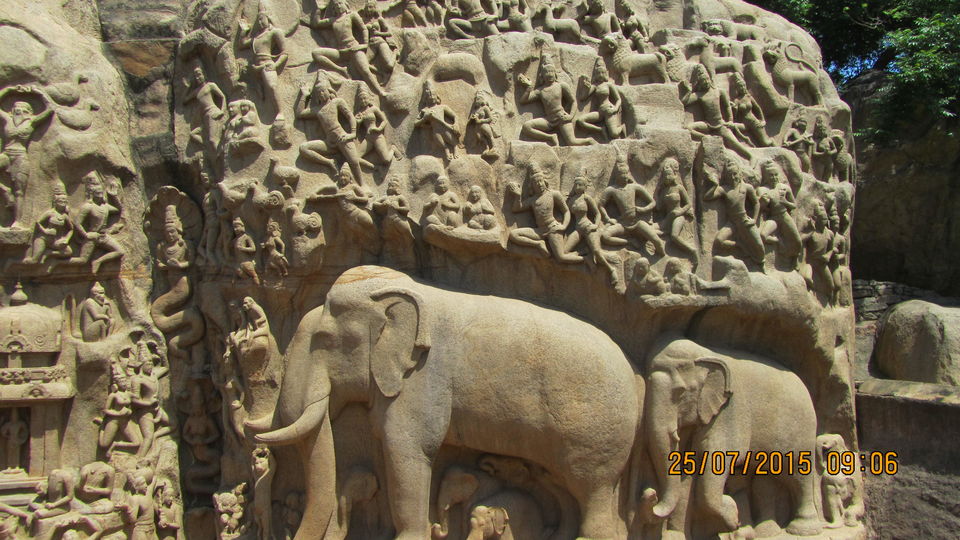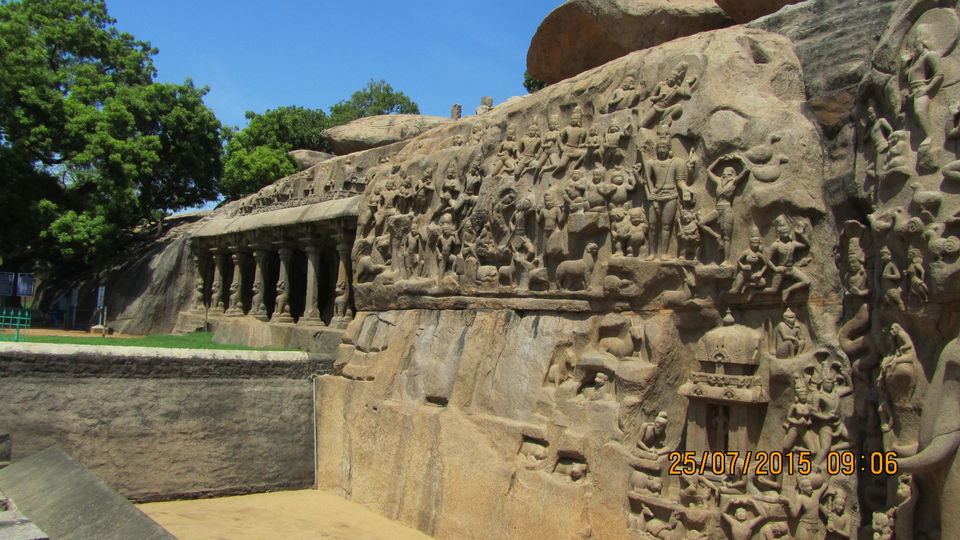 Raya Gopuram: Right behind the Descent of the Ganges lies Raya Gopuram. It's a tower with carvings on it. Worth a walk through it.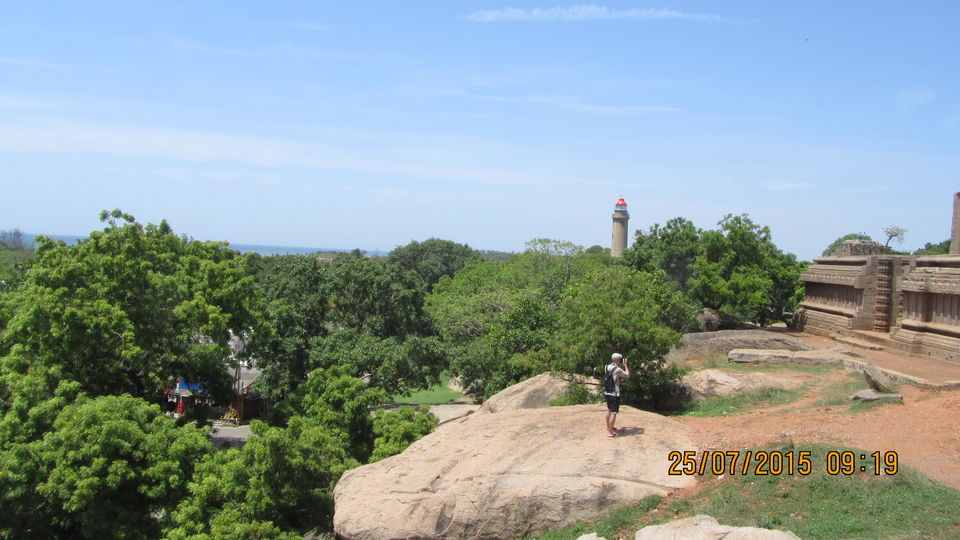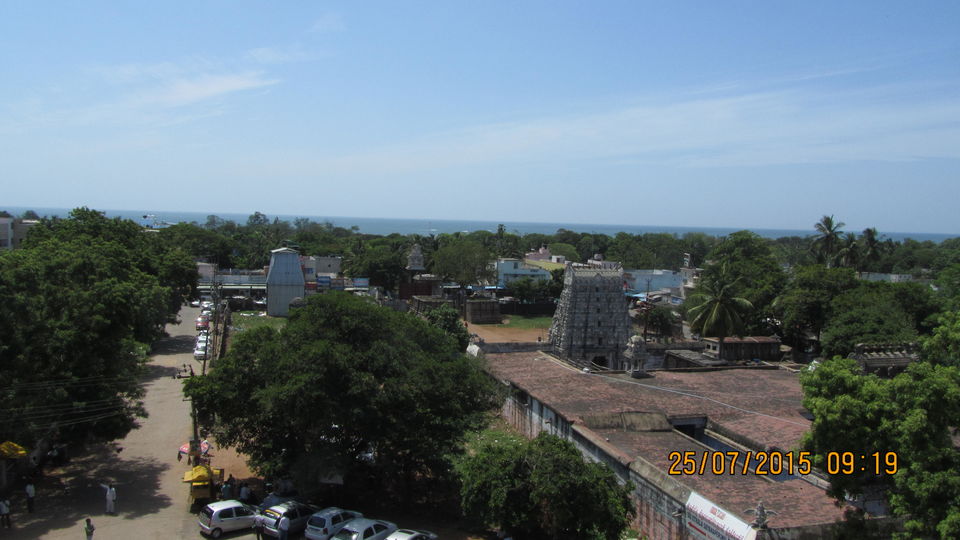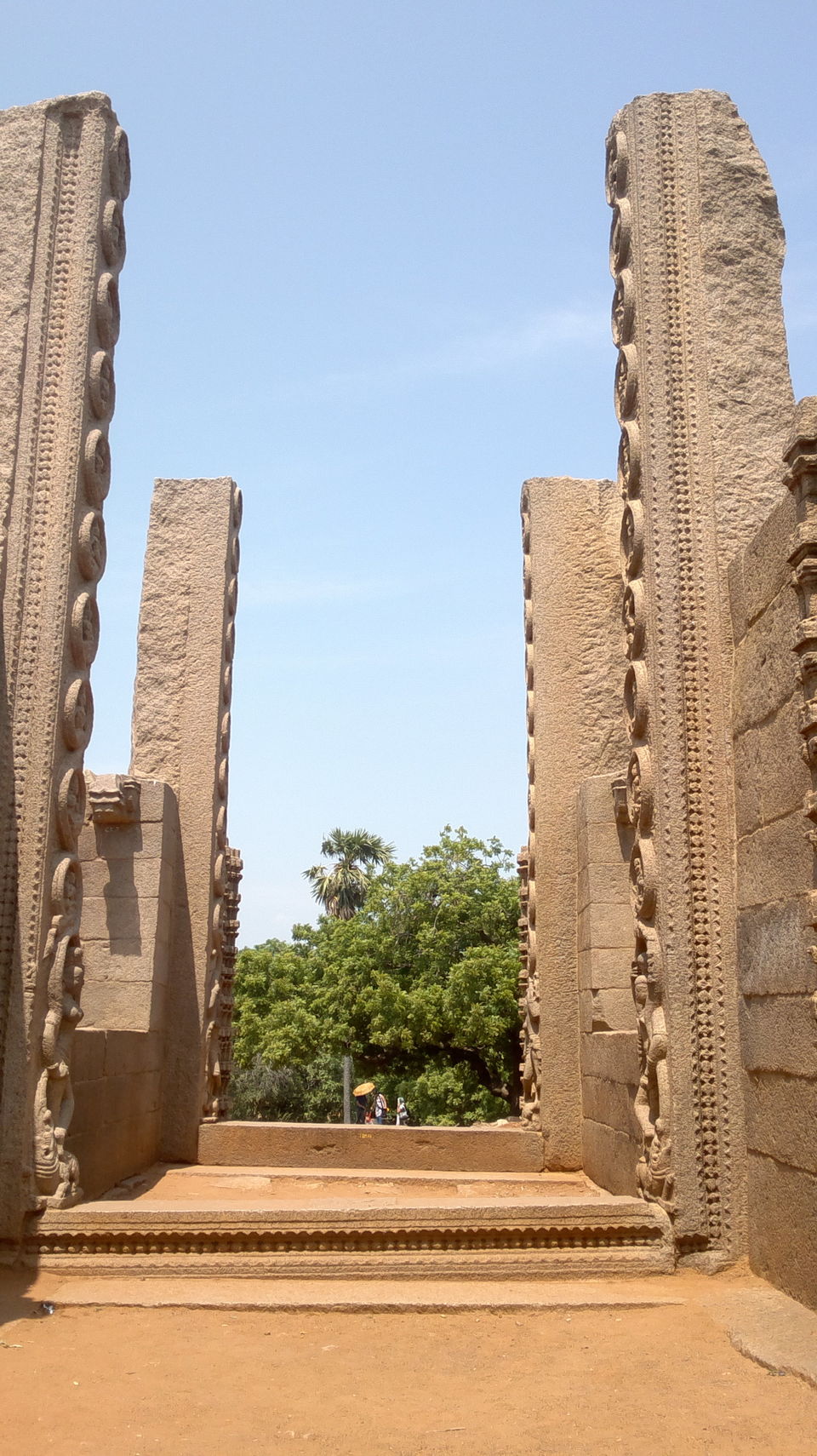 The trek to lighthouse from here is about 15-20 minutes on the rocky terrain of Mahabalipuram.
Lighthouse: This lighthouse is over a century old and still stands strong. Next to this is India's OLDEST lighthouse which is nearly 1400 years old! The lighthouse is open to tourists and one can get panoramic views of the entire town and the sea coast from here. Beware, there are a lot of monkeys roaming in this area who may snatch your belongings away like it took our water bottle! There is an entry fee for the Lighthouse.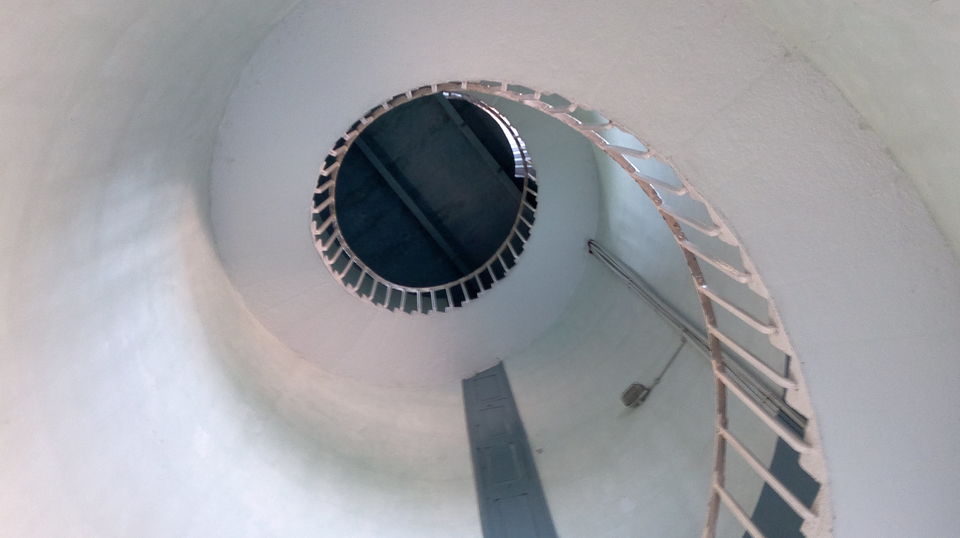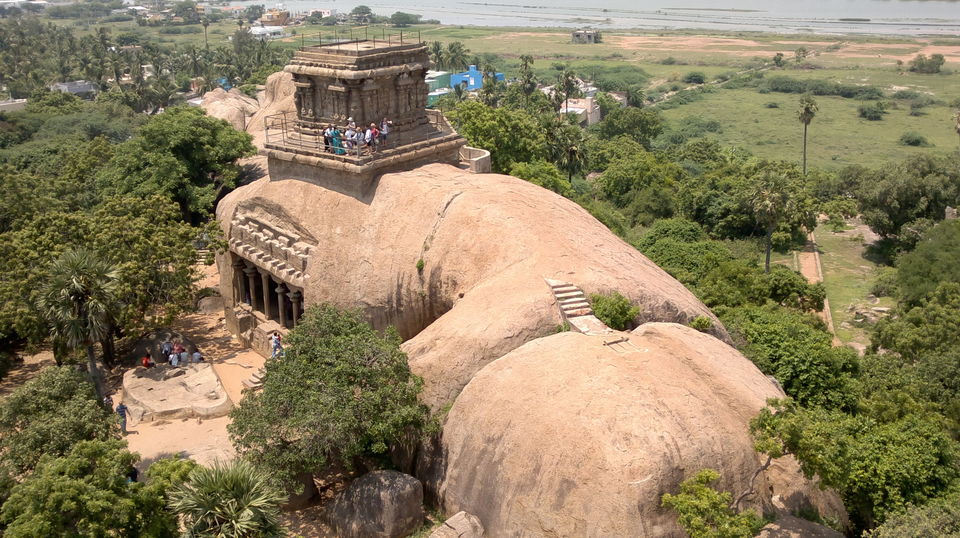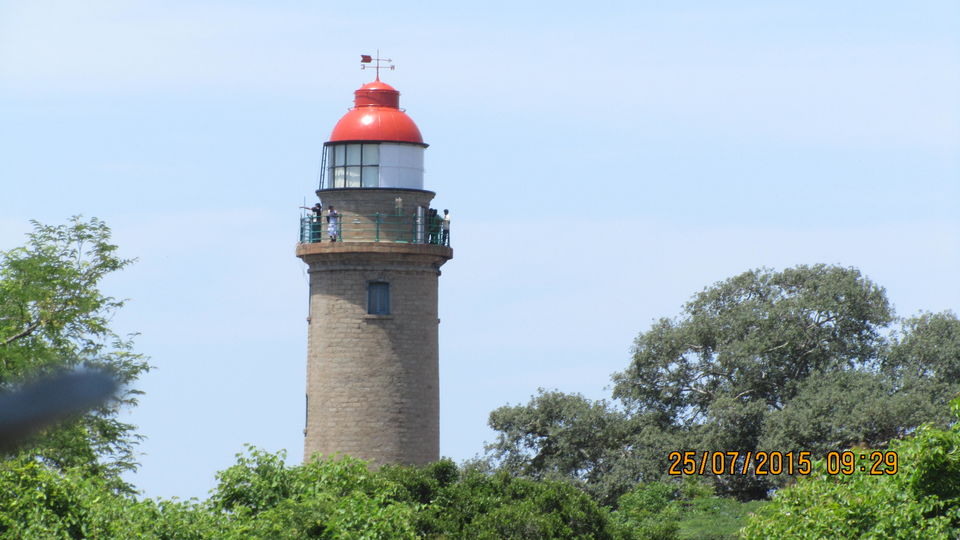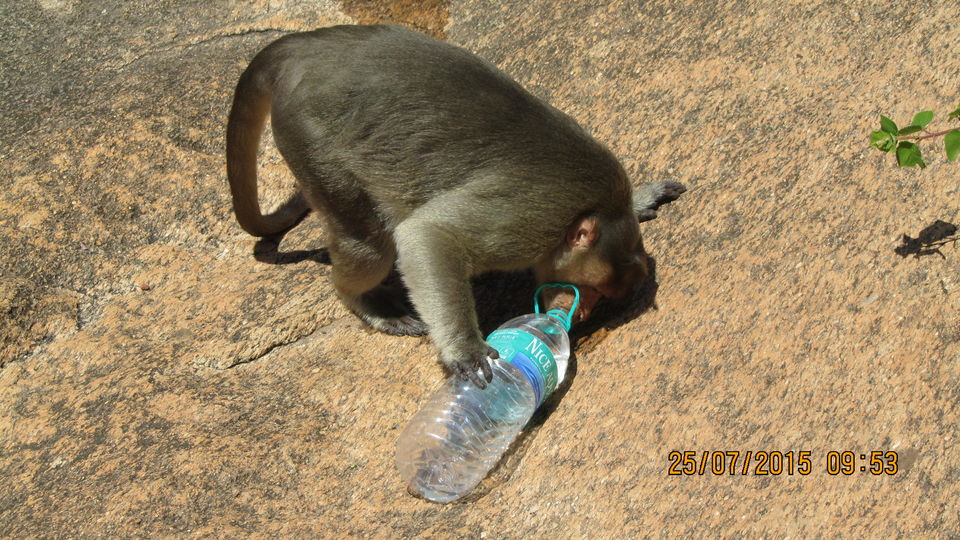 From here, we proceeded to the Krishna's Butterball, which is a 20 minute walk from here.
Krishna's Butterball: Imagine a 250 ton rock standing on a slippery slope on JUST 1.2 meters of base for about 1200 years! Let that sink in. The sloped rock is actually very slippery, to the extent that one can slide on it. This is one natural marvel that MUST be seen. This rock would have left Isaac Newton confused as well.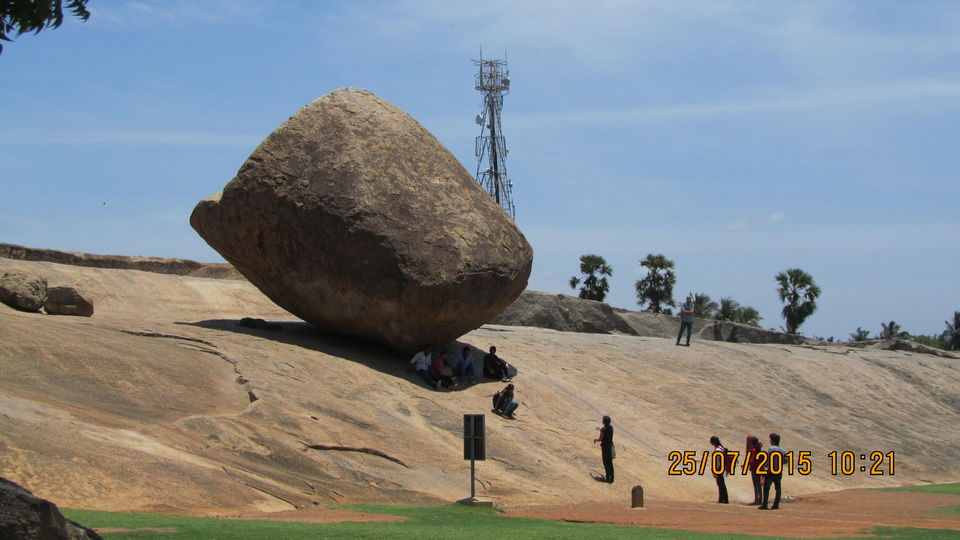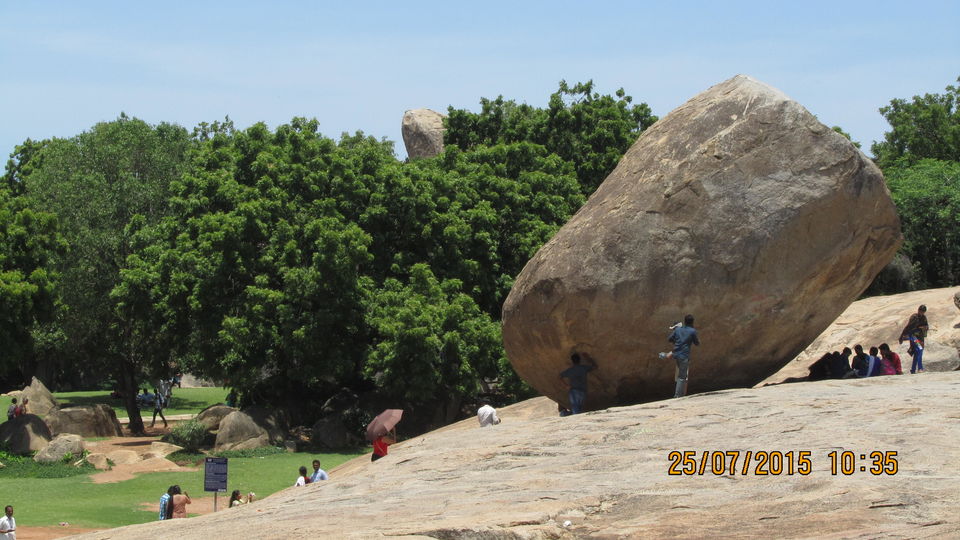 From here, we went to the Five Rathas, which are located at the other end of the town. The walk is about 30 minutes on road. Alongside, one can find many rocks with carvings such as the one below.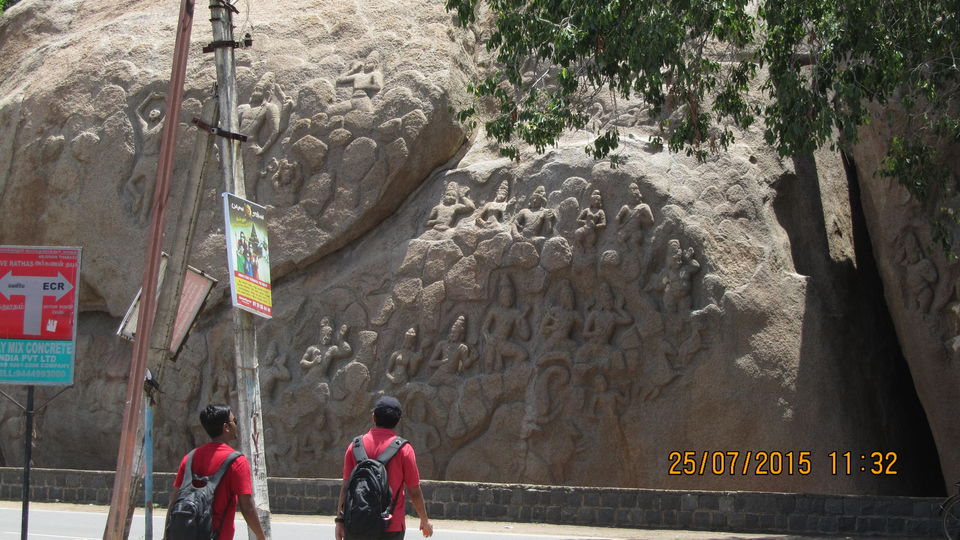 The Five Rathas: There are five "Rathas" or chariots here which are monolithic rock structures. Each rath is differently carved and they are named after the five Pandavas and Draupadi. There is an almost life size monolithic statue of an elephant here. There is a nominal entry fee here.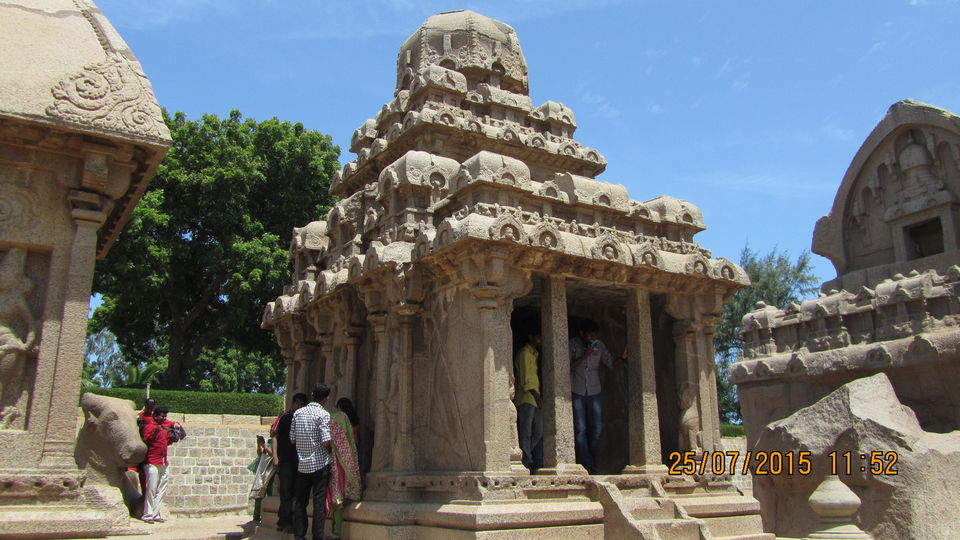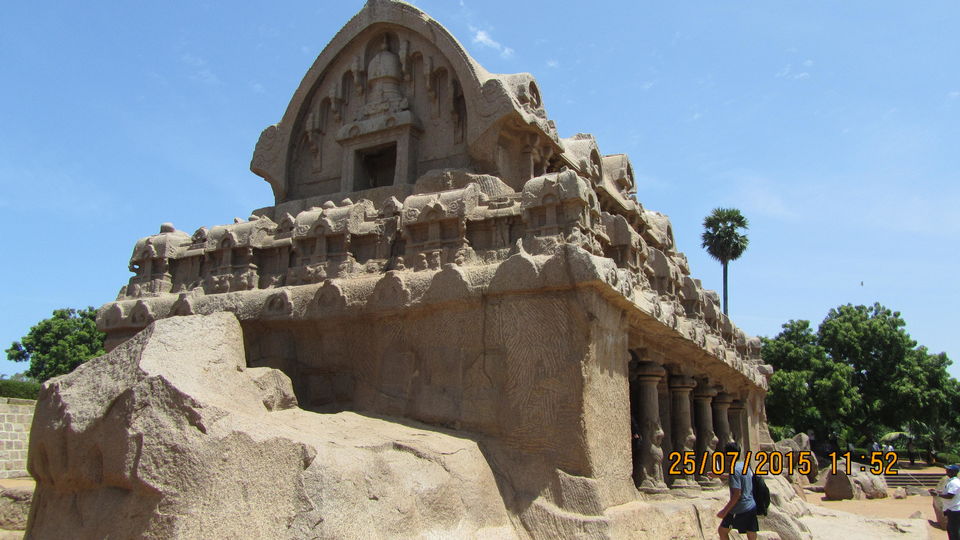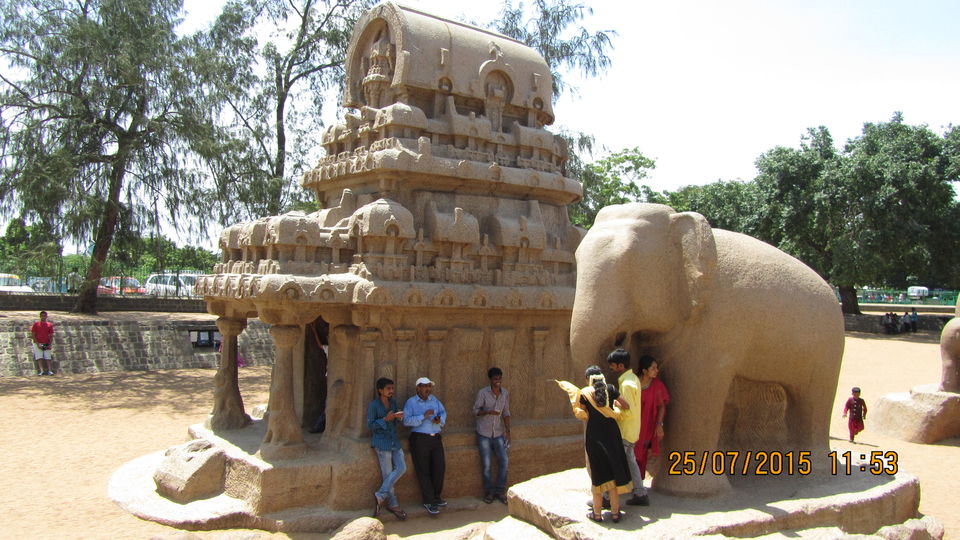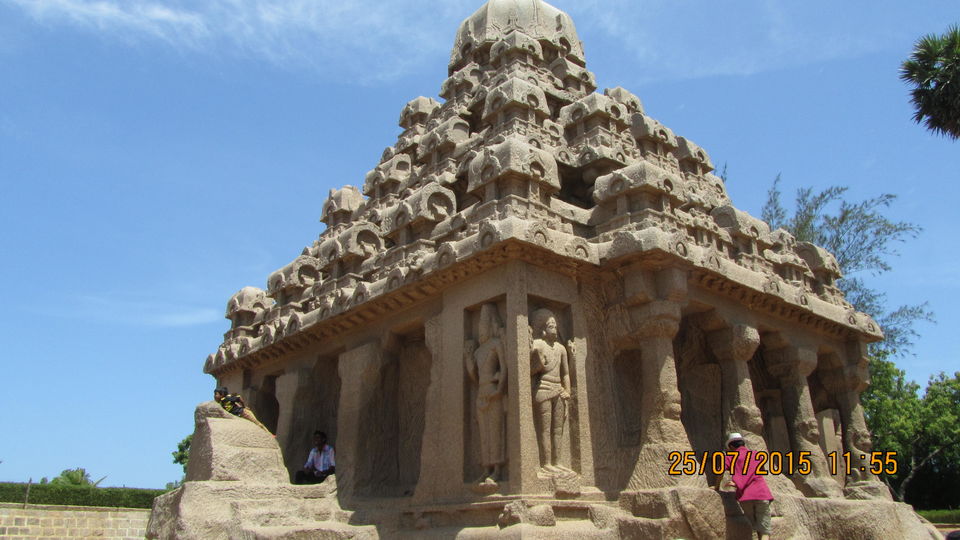 Shore Temple: This temple is about 1200 years old and overlooks the Bay of Bengal and is located right on the shores. It has stood the test of time including the tsunami of 2004. The temple is made from rocks and has some beautiful carvings inside and around it. One can see remains of the large public baths made for the temple. This site has a nominal entry fee as well.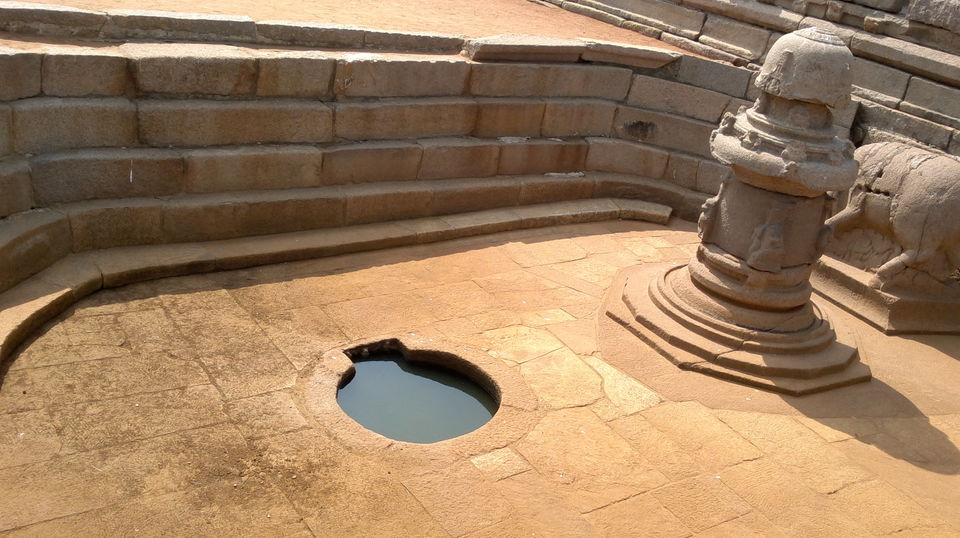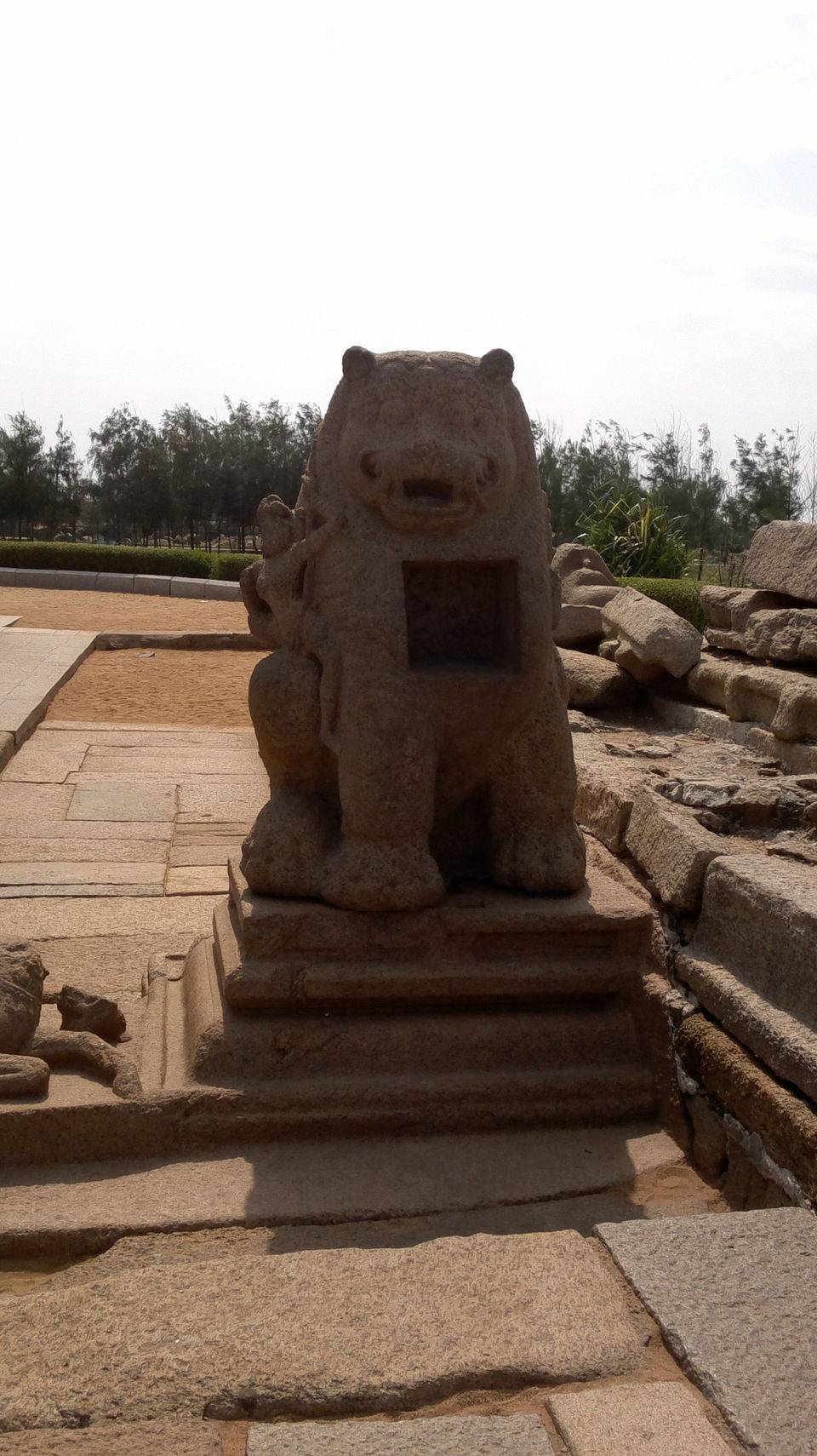 From here, we proceeded to the Mahabalipuram Beach to beat the July heat.
Mahabalipuram Beach: Mahabalipuram has some amazing beaches to offer. The beaches are clean and relatively empty compared to Chennai. This makes Mahabalipuram a perfect spot for just lazing around at the beach as well.
P.S: The beach has sudden depth, tread carefully.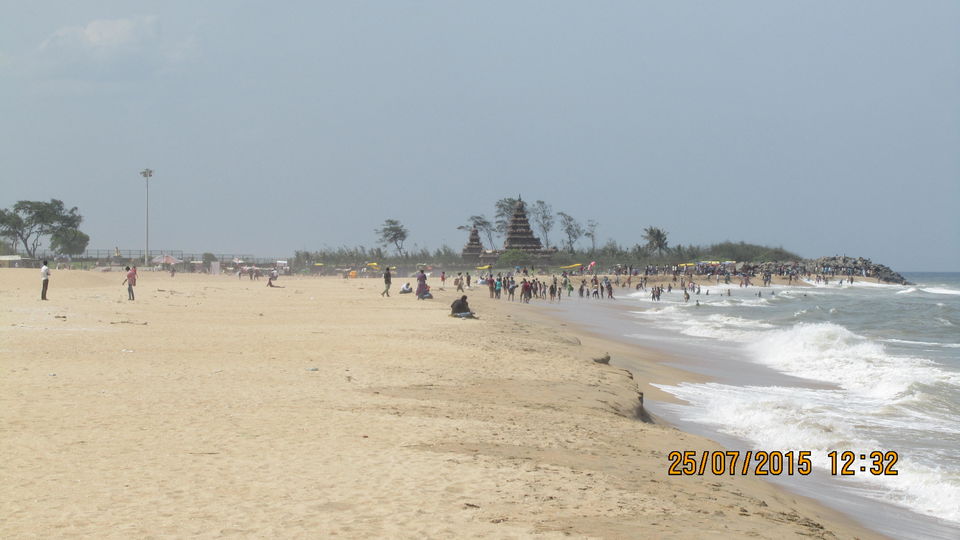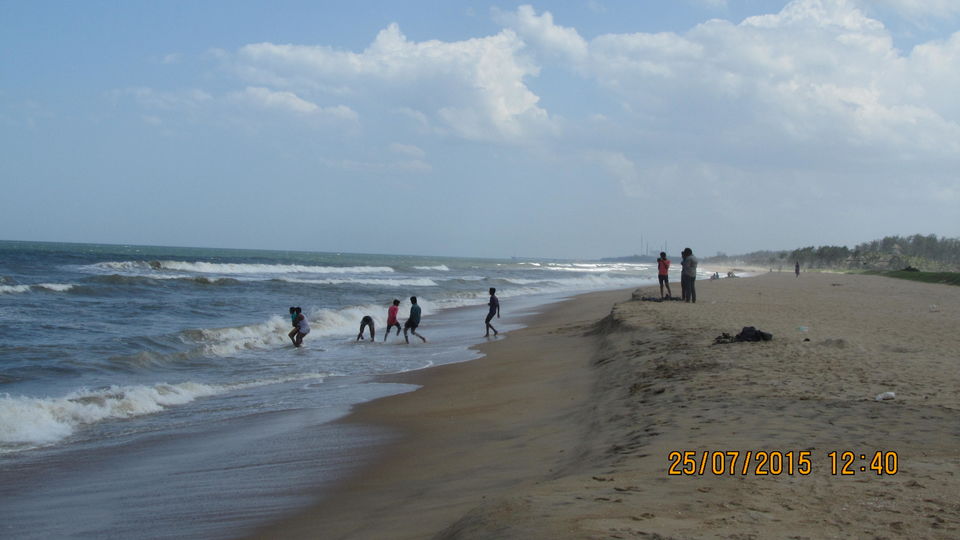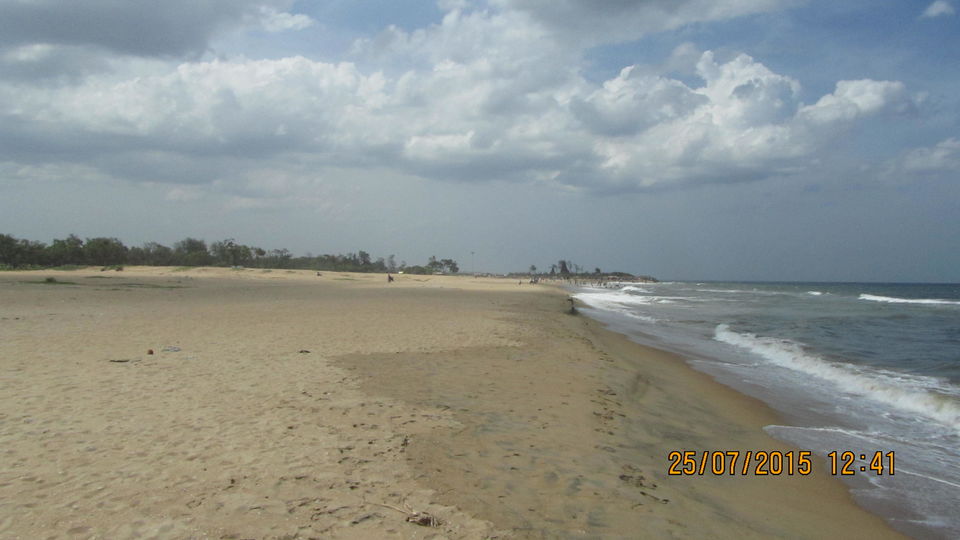 This should set a perfect weekend getaway for everyone just as it is for Chennaites. The ancient history of this town deserves atleast one visit.
PS: Do try the tapioca chips sold here. Will definitely leave your taste buds craving for more.
Transportation: Bus No. 515 from Tambaram Bus station goes directly to Mahabalipuram.
Food: One can find lot of small restaurants and cafes here. Seafood can be found easily by the beach-side stalls.
Overall Budget for the day: Approx. INR. 500 for Indians,
Approx. INR. 1000 for foreigners. (The entry fee to sites is different, sadly.)