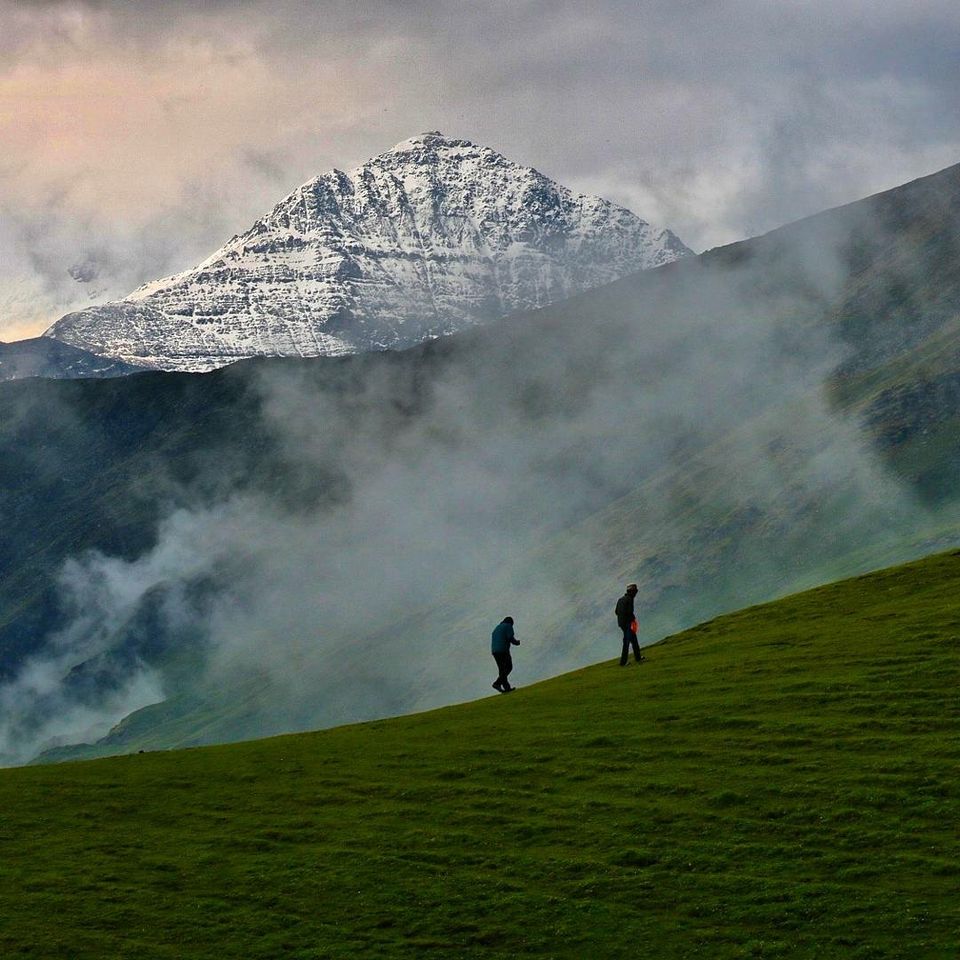 #TripotoTakeMeToHimalayas
Day 1 : Ghaeroli Patal - 10,000ft.
First day of the trek and I am beat. The OCD in me was making me count all my footsteps. But the amount of water I had to drink has made me forget it. All that matters at this point is the crunching of leaves under my feet. And if I trek long enough the crunching beneath my scuffed up boots will be ice and snow. Even longer and my feet will be soaked by puddles from melted snowmen and narrow paths.
Perhaps, I'll keep on moving until I'm bathed with sunny rays of the summit. Well, after hours of consistent walking through a forest, I crossed a river so fresh. Beautiful weather, peaceful ambience and peeping mountains made me realise how every step I took was worth. Worth a million steps.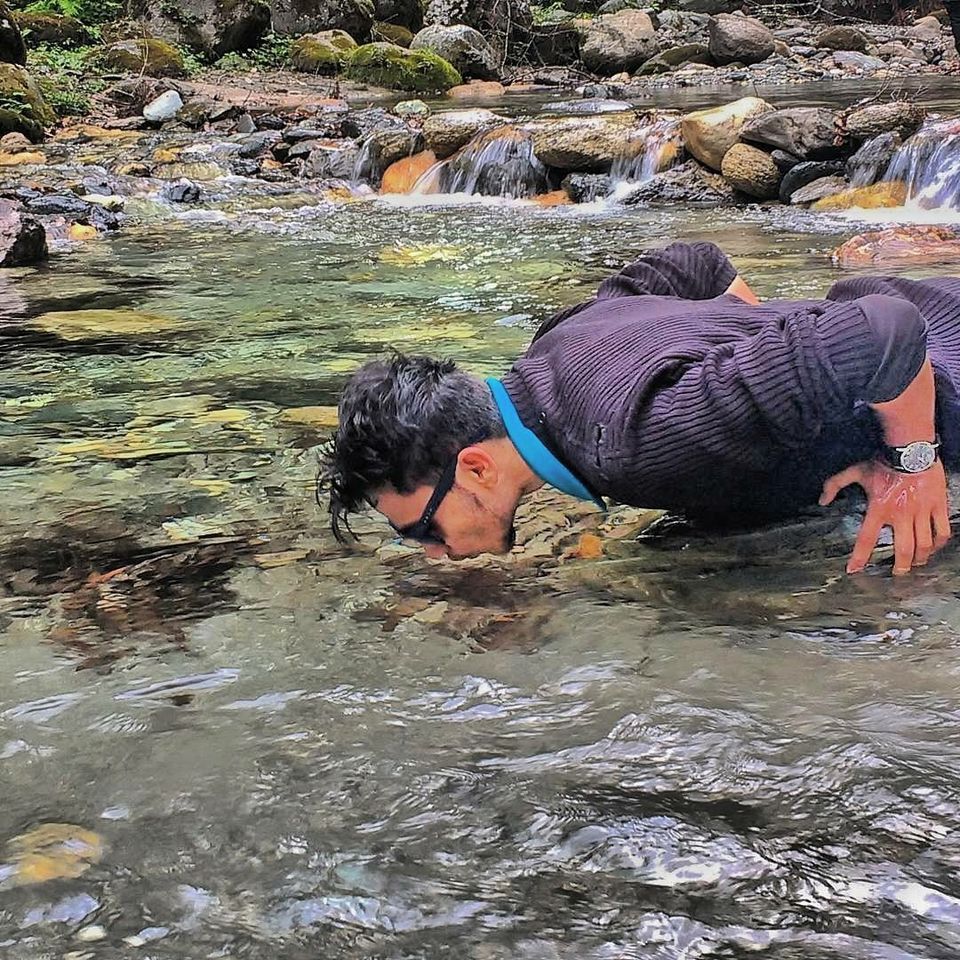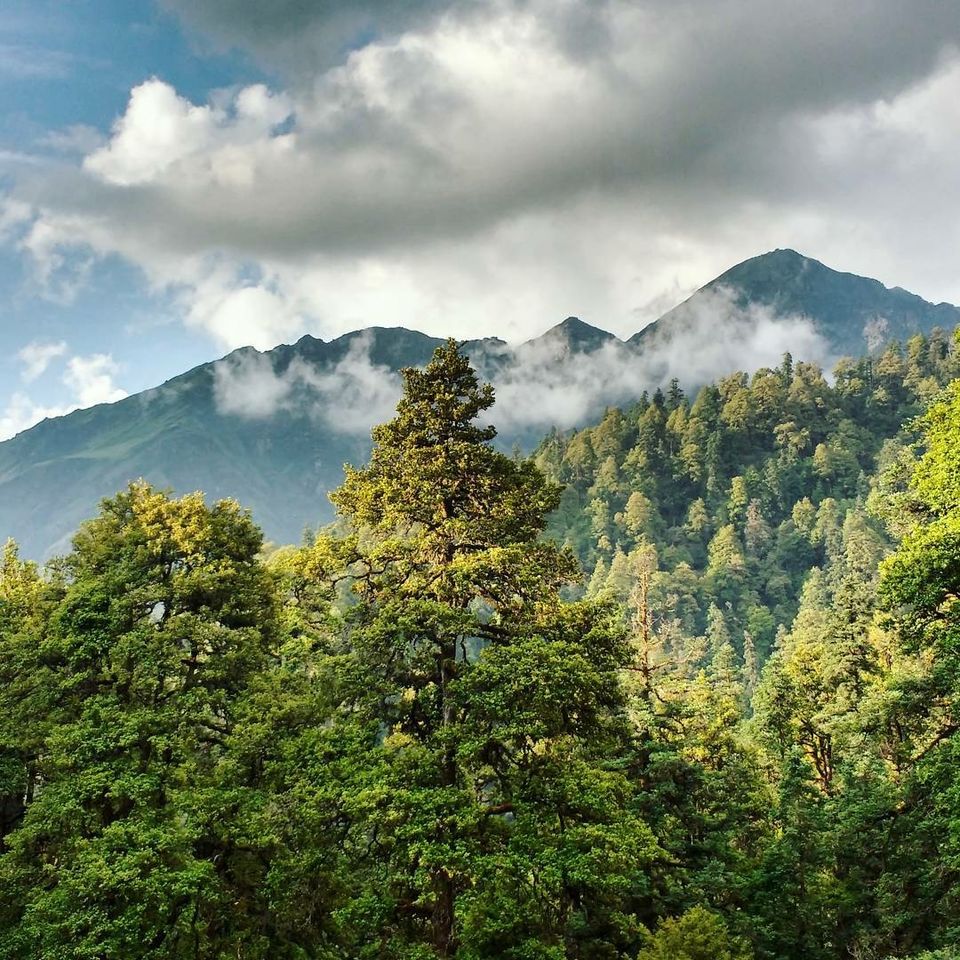 Day 2: Ali Bugyal - 11,000ft.
After an early morning hike for 3 hours, we reached a point where the trees from the forest stop showing up. It only meant that we hiked enough to reach the Alpine region. No trees, just giving way to an endless blanket of green. So surreal that it looked like one of those famous wallpapers from Windows XP.
Don't believe me? Here you go...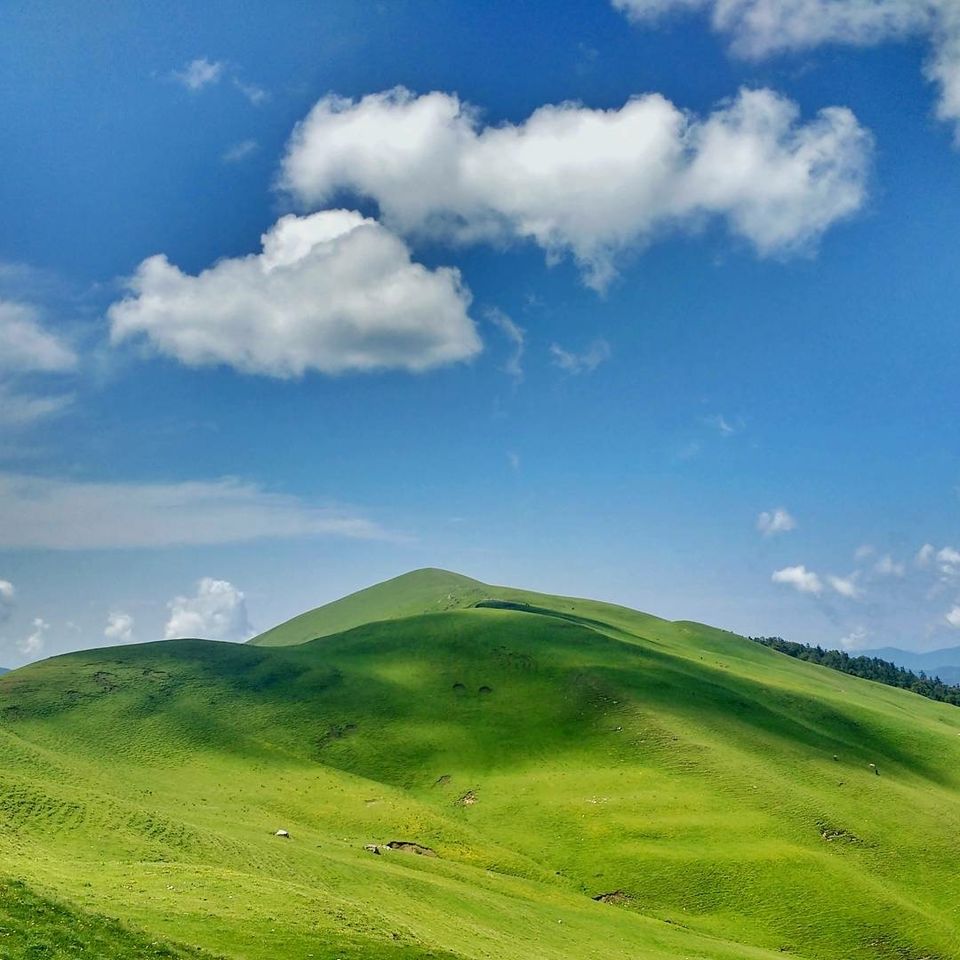 I could not, not take a picture here.
And yes, keep good care of your Mom's Tupperware.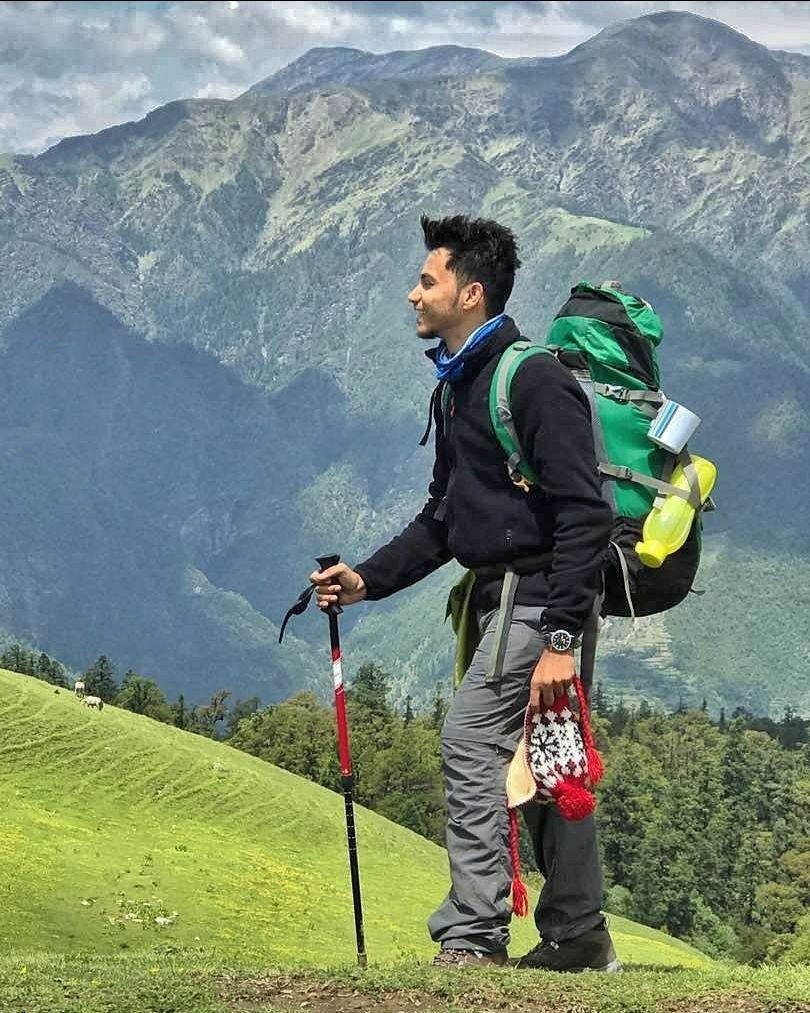 That night we camped at Bedni Bugyal. And to no surprise the sky was lit. My neck hurt from looking up at the twinkly sky. We also got a chance to see the mighty Trisul.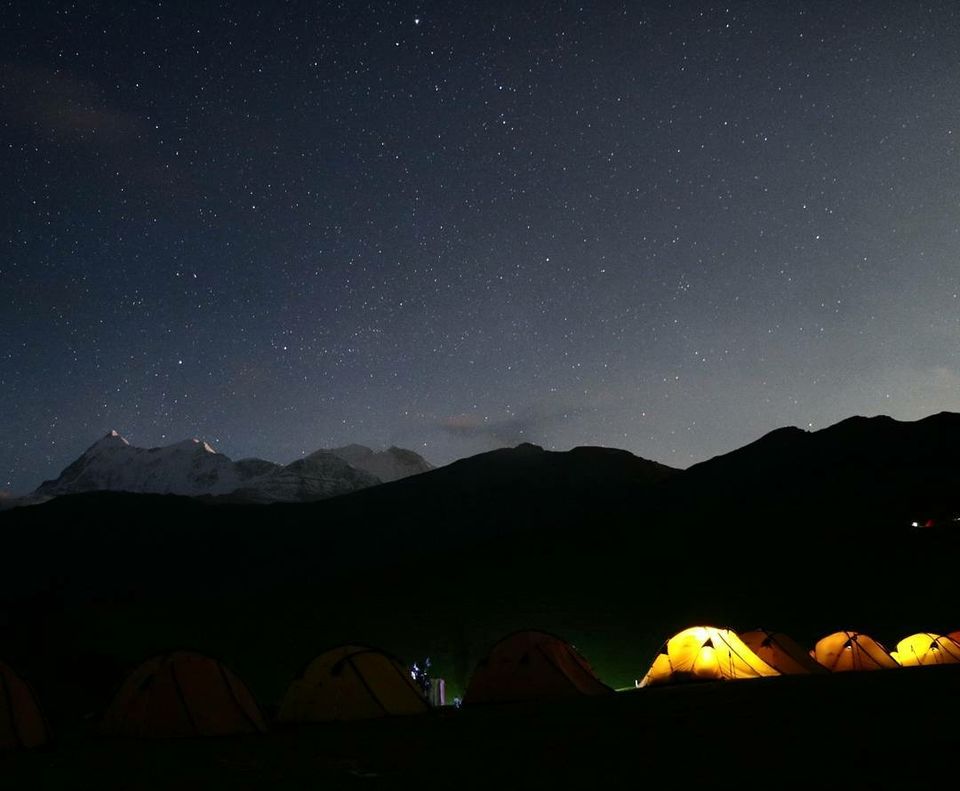 Day 3: Bedni Bugyal - 11,700ft.
This day comprised of all the lazying around at Bedni campsite. Which includes dog cuddling, soup sipping, skygazing and a small hike to Bedni top.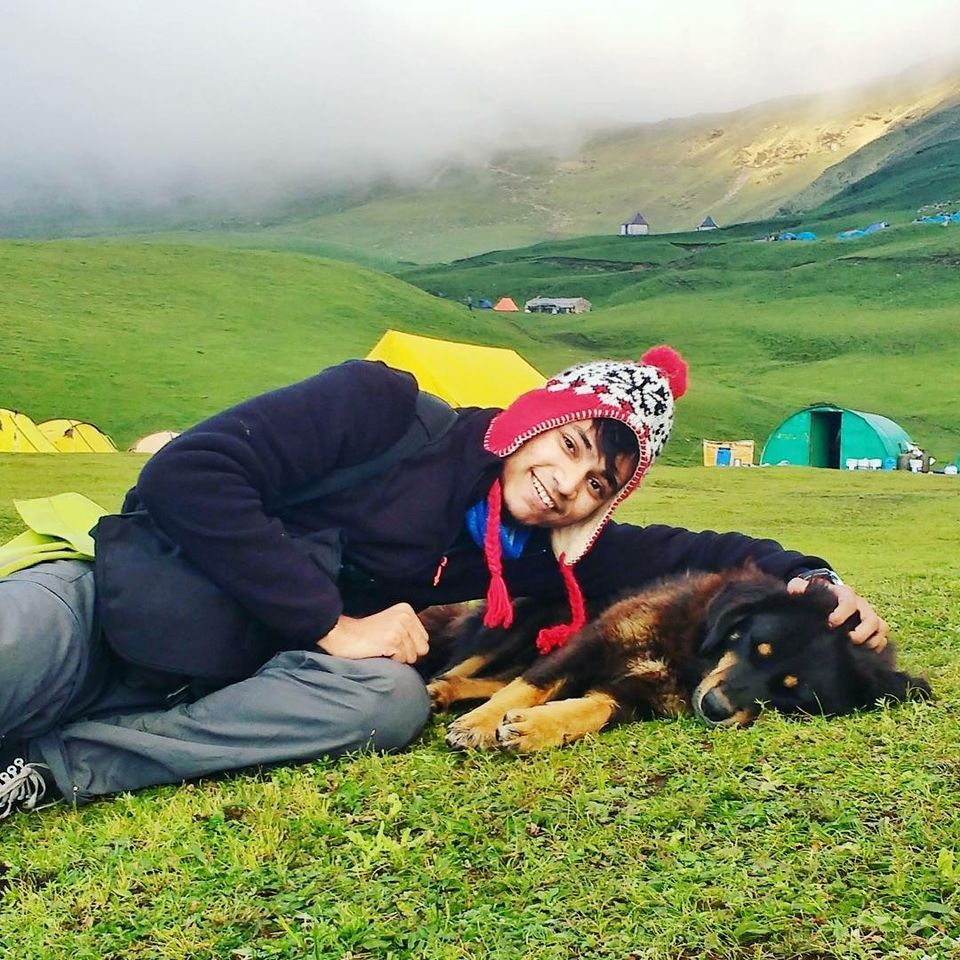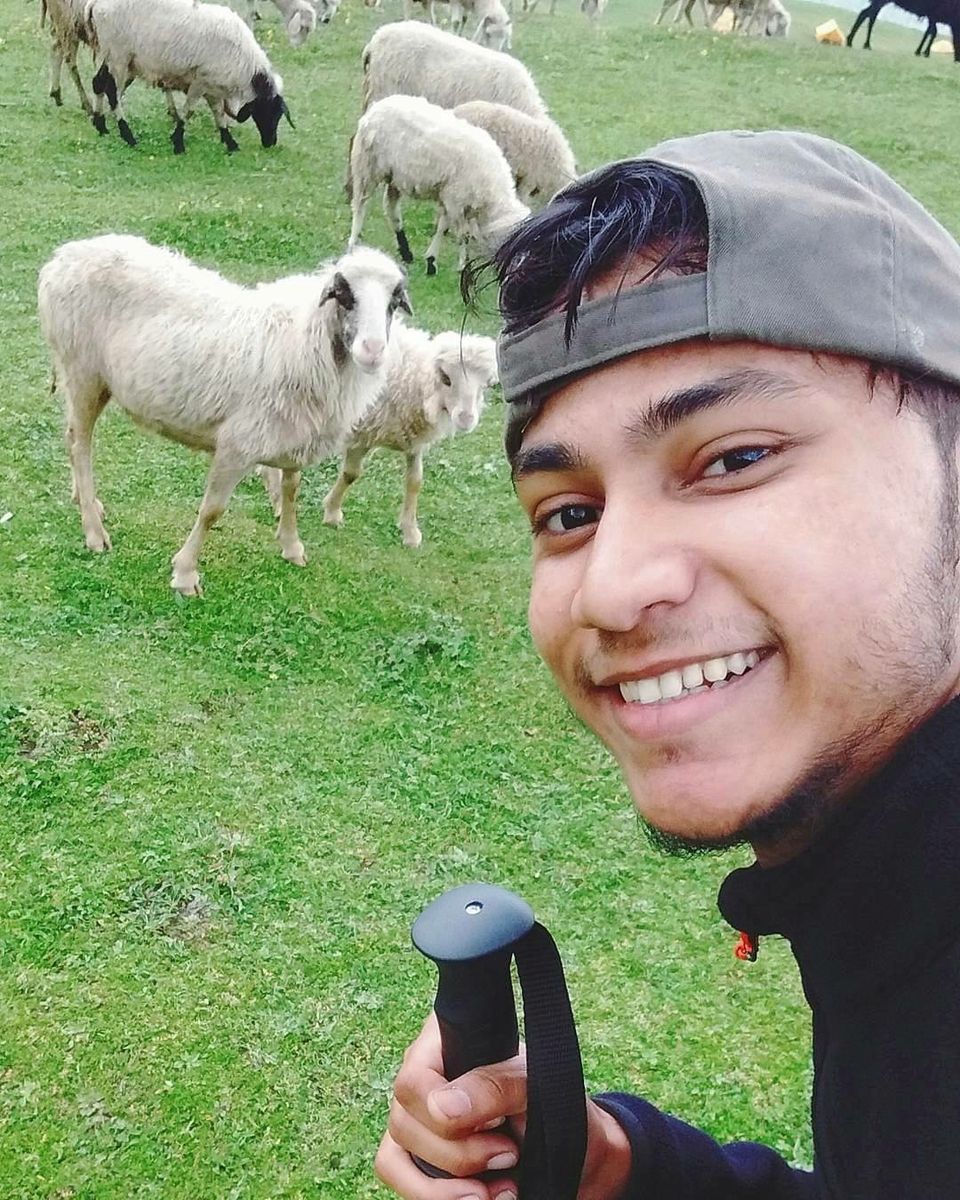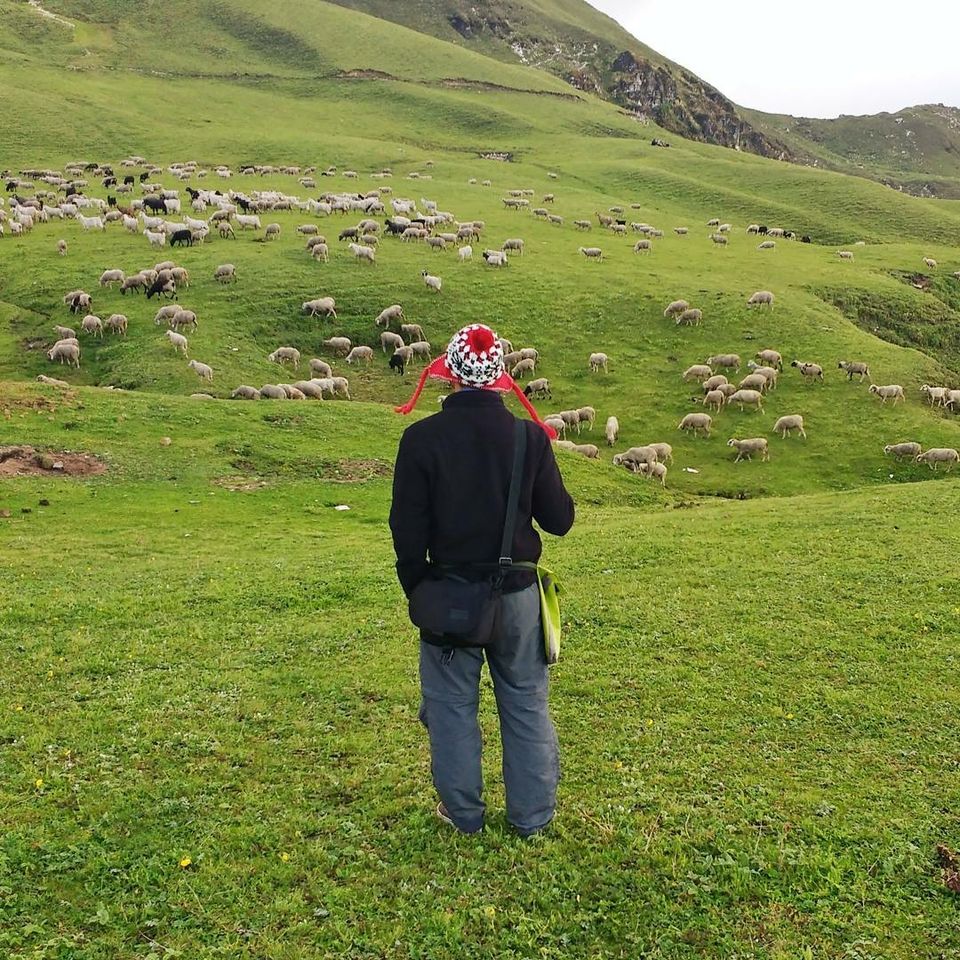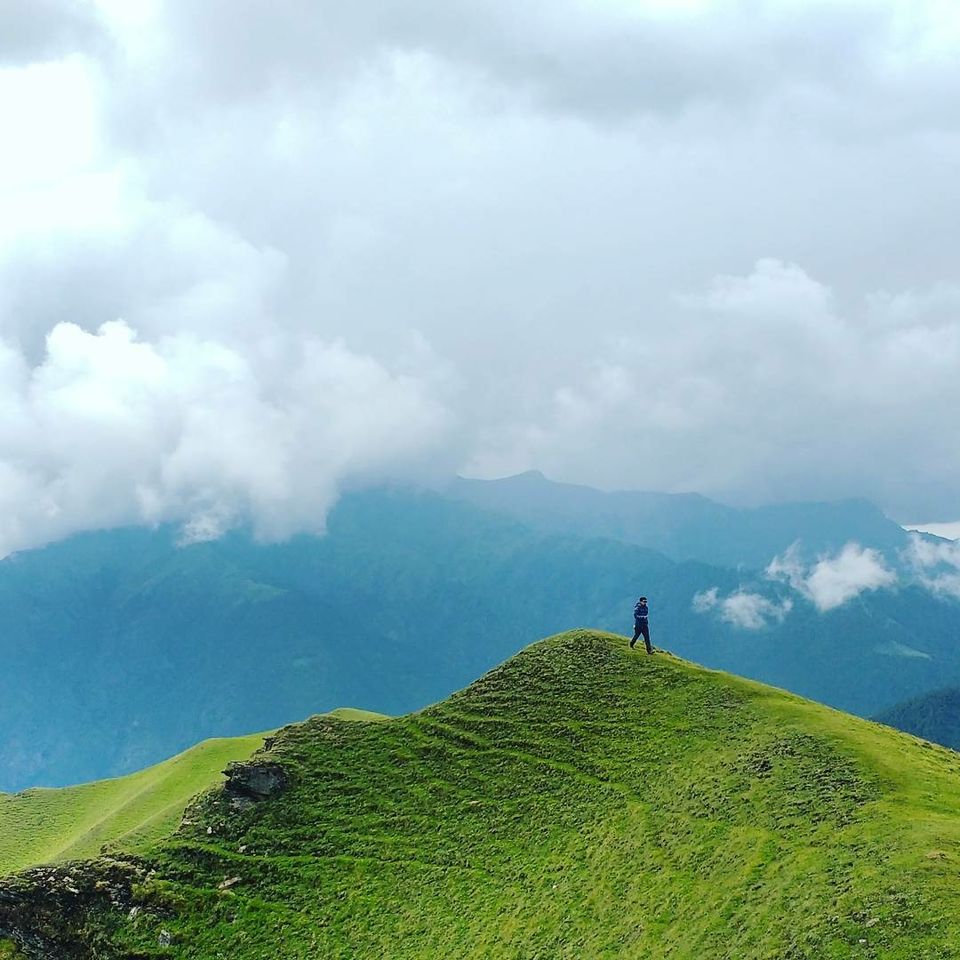 Here, I present to you, Mt. Kaalidak. If you're lucky enough, you'll see the clouds dancing around the mountains, rather putting a good show.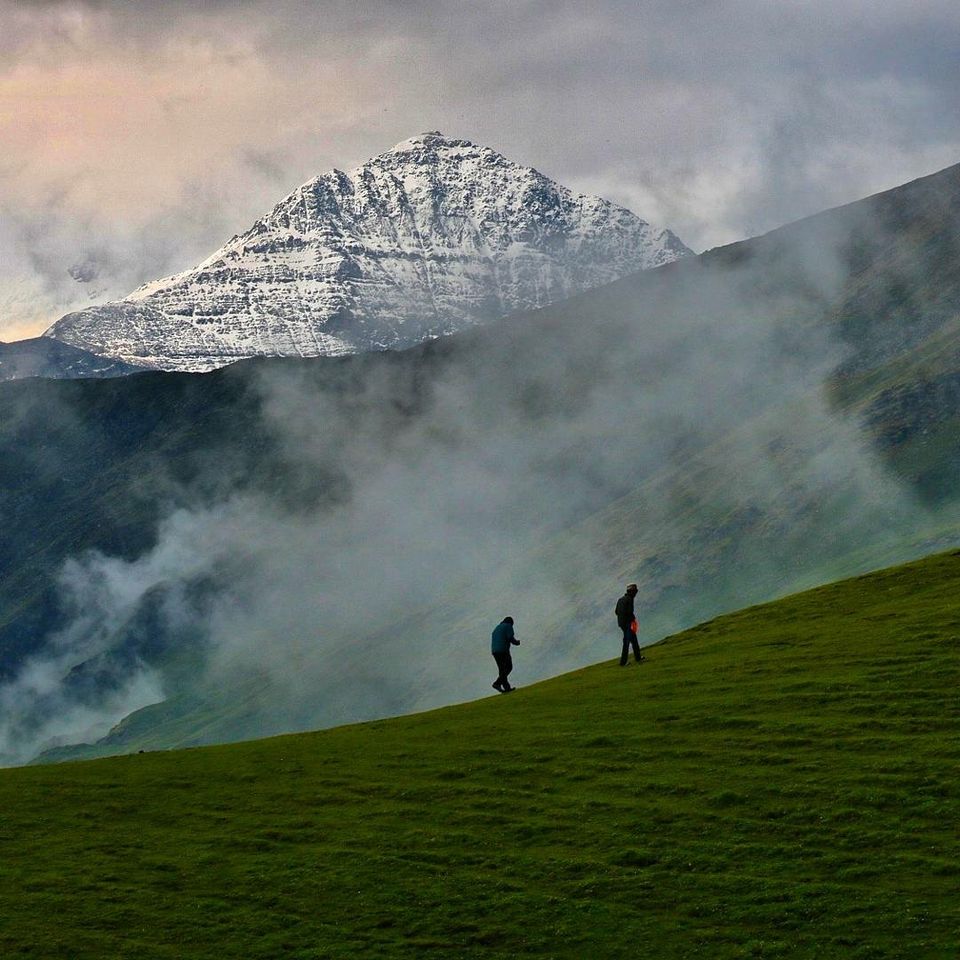 Sipping soup with a view.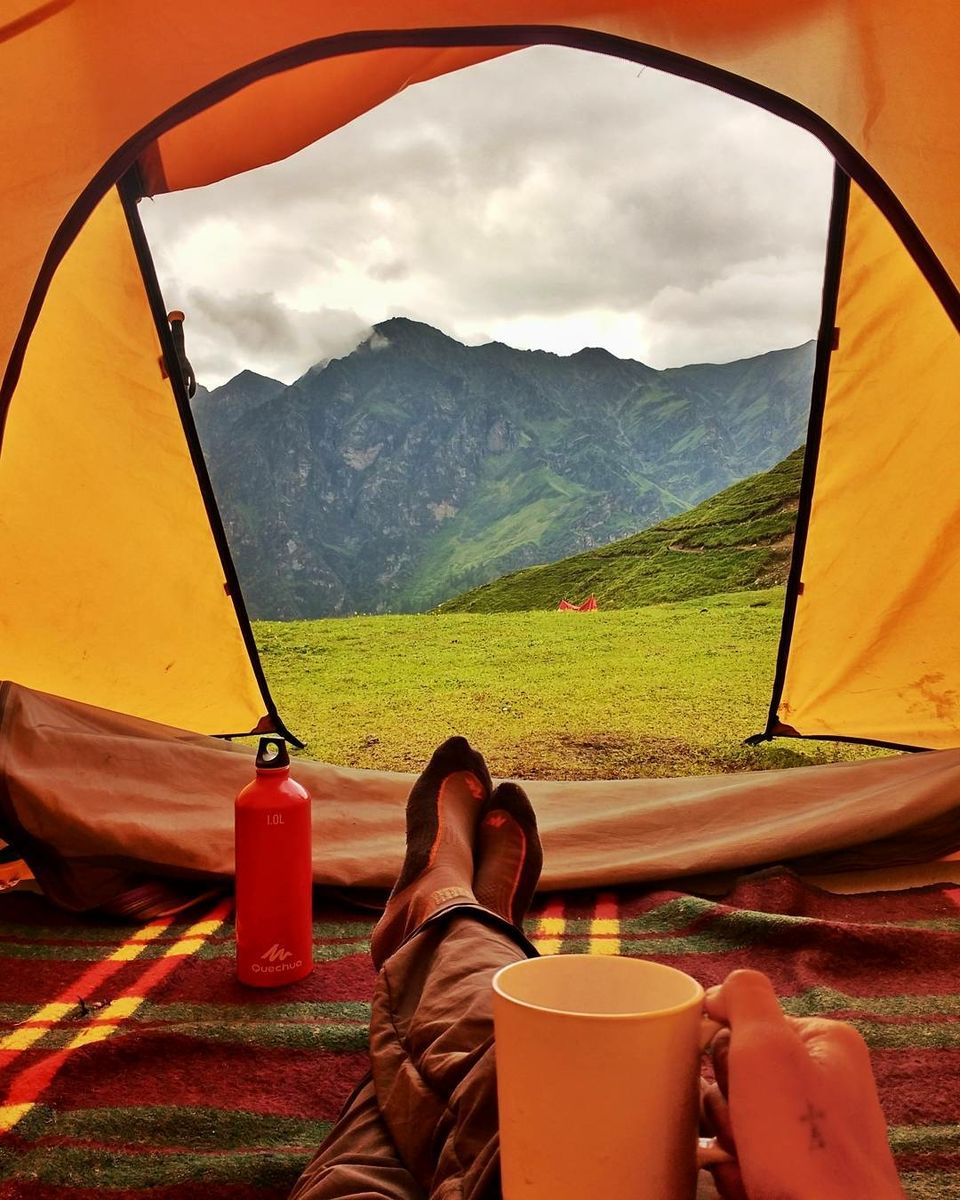 Day 4: Patar Nachauni - 12700ft.
We were warned from the beginning that this is one of the windiest campsite. A place where flying tents wouldn't be that big a deal. It was one of those freezing nights when the temperature had dropped low. Neither the winds nor my woollens helped. Trying to spot the milky way wasn't the real challenge. Getting out of the tent, however was complete torture and not any less risky. With a runny nose and trembling hands, I managed to set my tripod. The later challenge was getting my gloves out to press the shutter. Hitting the shutter seems like such an easy task, but, it took me 10 seconds to even do that. The cold kept reminding, how every passing second it's taking control. I admit to being a fool, at the same time I couldn't stop grinning, that someone else will be able to see this too.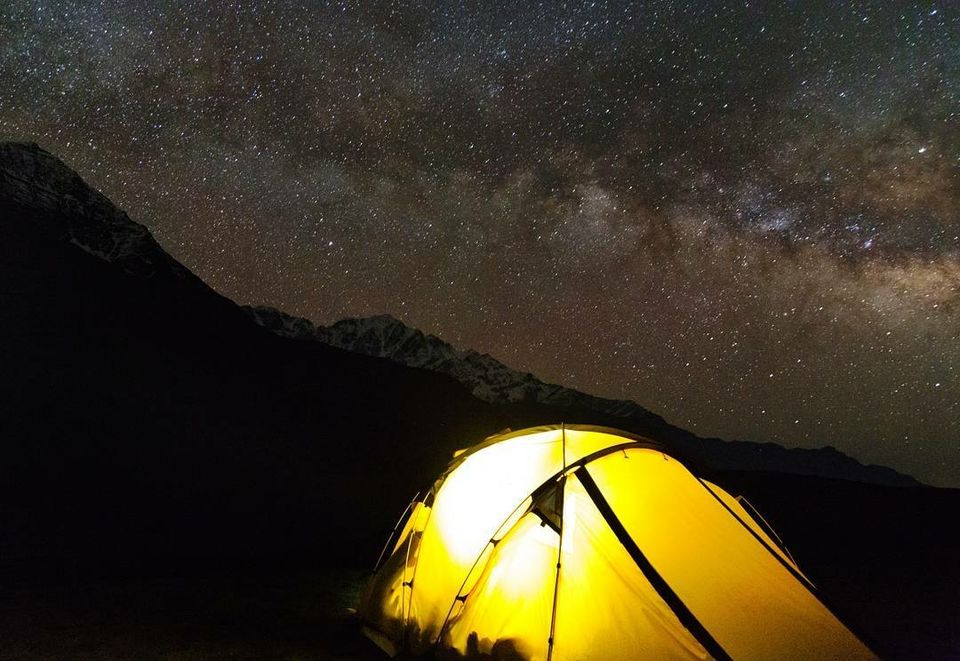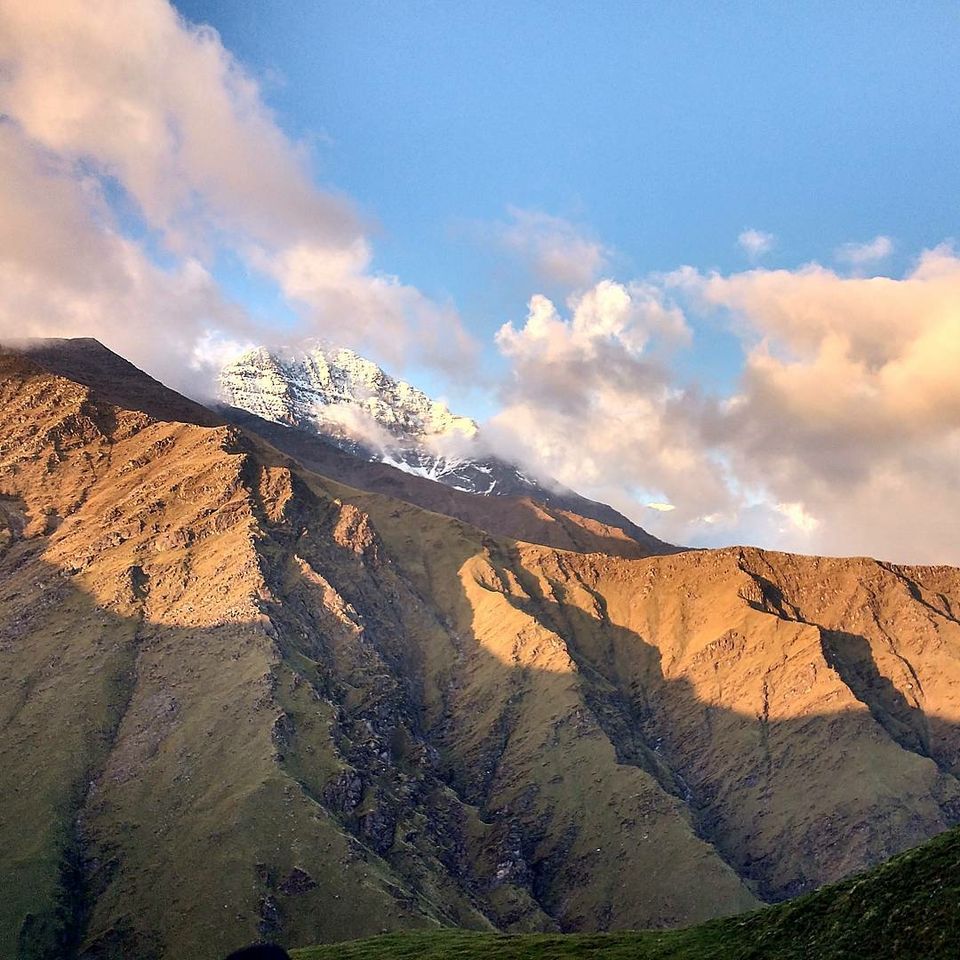 Day 5: Bhagwabasa - 14,100ft.
The steep ascent from Patar to Kalu Vinayak temple is going to test you, like for real. It's no piece of cake for someone who is new to trekking. But with the adrenaline rush that the view gives, can be quite an experience.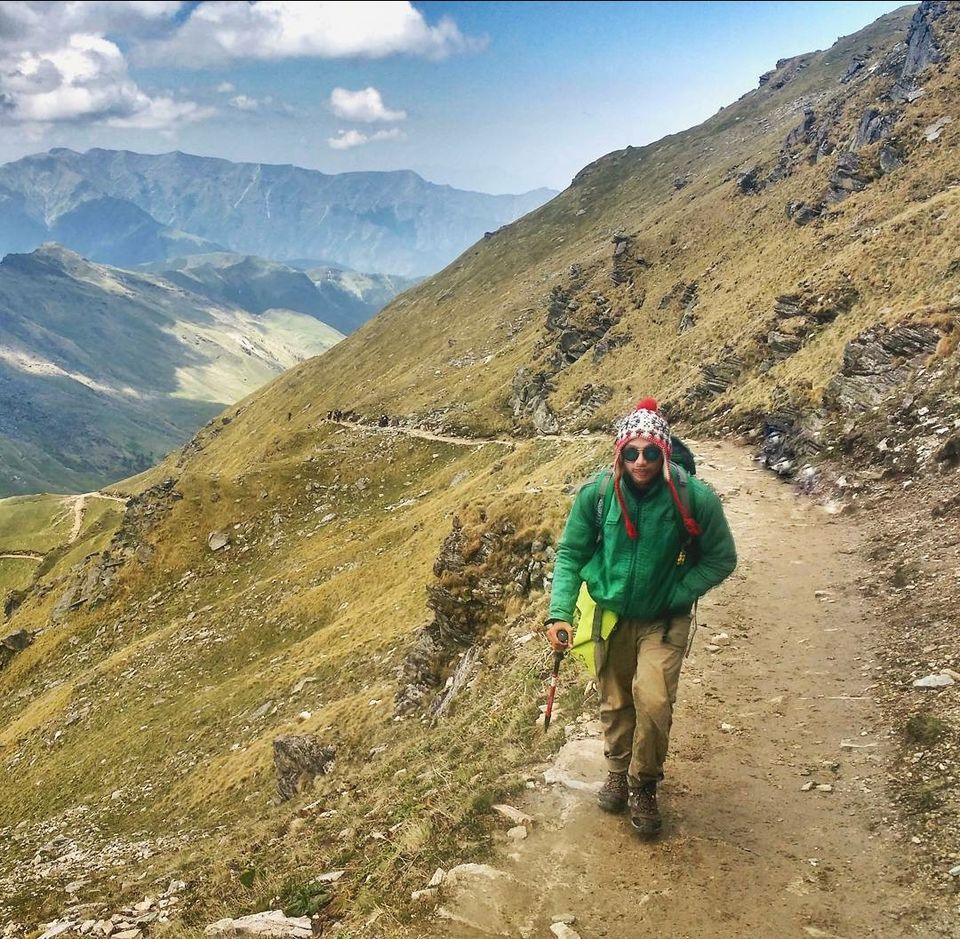 Bhagwabasa is known for it's unpredictable weather and rocky terrain. If you're lucky enough, and the sky is clear, you can sight Mt. Trisul and Nanda Ghunti from the campsite.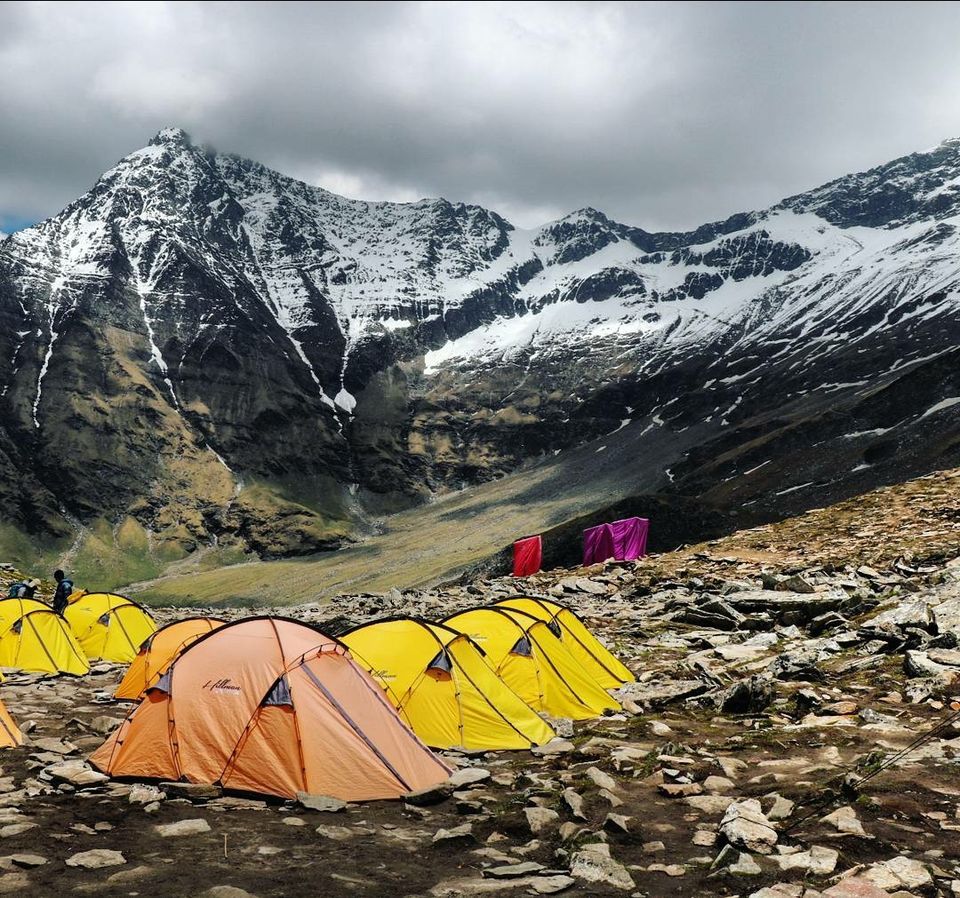 Trisul seen from Bhagwabasa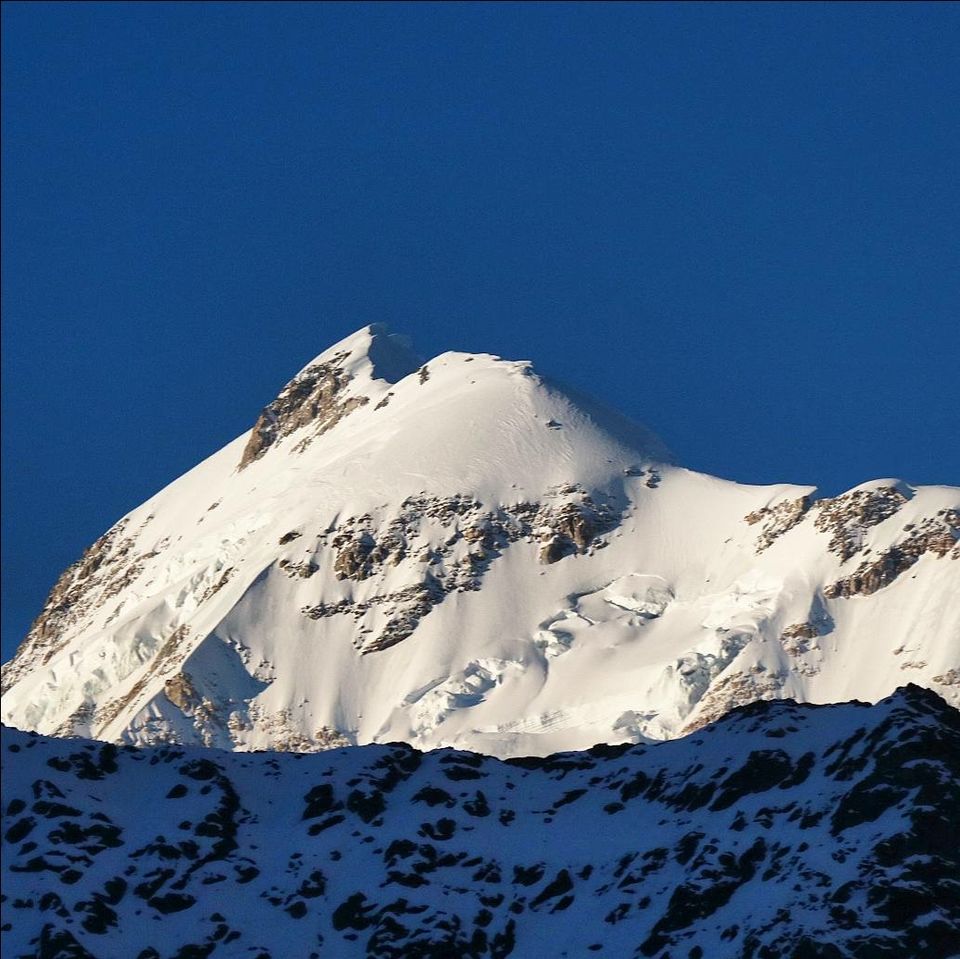 Sunset from Bhagwabasa was something I can never forget. Even though I'm known for my bad memory, this very moment is etched deep in my heart.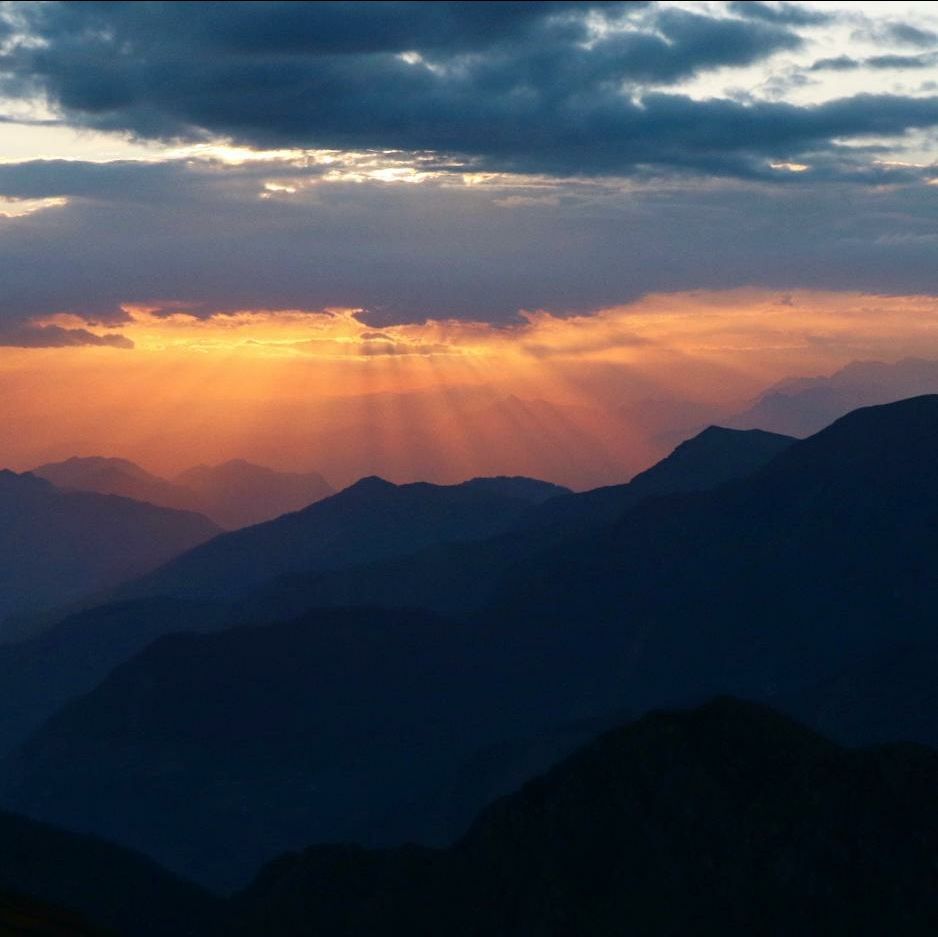 Day 6: Summit Day to Roopkund.
2:55am June 15, 2017
Bhagwabasa campsite.
The most awaited day is finally here. The day everyone's been waiting for, maybe since months. All the training is finally going to pay. Less nervous and more excited dreams are gearing up for something they call an expedition.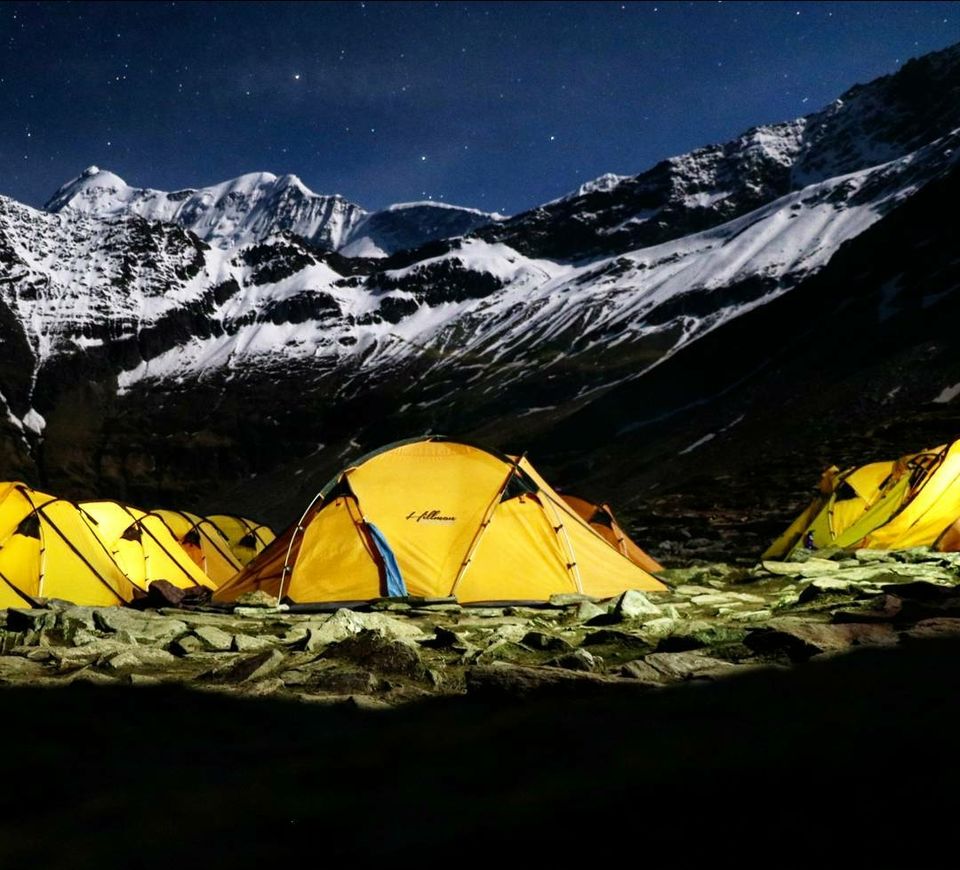 It's 3:55 am and we are attempting the summit.
We March towards our goal, taking baby steps, to ensure we don't get tired easily. With spikes on, it's still getting sloppy as we're walking on snow.
I'd be lying if I told you that I had an easy climb. I struggled to get there. I could feel my thoughts pulling me back. I just couldn't get math out of my head. For some reason, I didn't even try to. I felt like a failure, literally. I had drowned myself into a negative spiral which I couldn't move forward from, mentally and physically. But then I turned around to see how far I had actually come. How many days of efforts I put in to get here. My heart convinced my body that 500ft. more was just as easy as Justin Beiber's lip sync. And this beautiful sunrise, somehow gave me the strength to keep moving.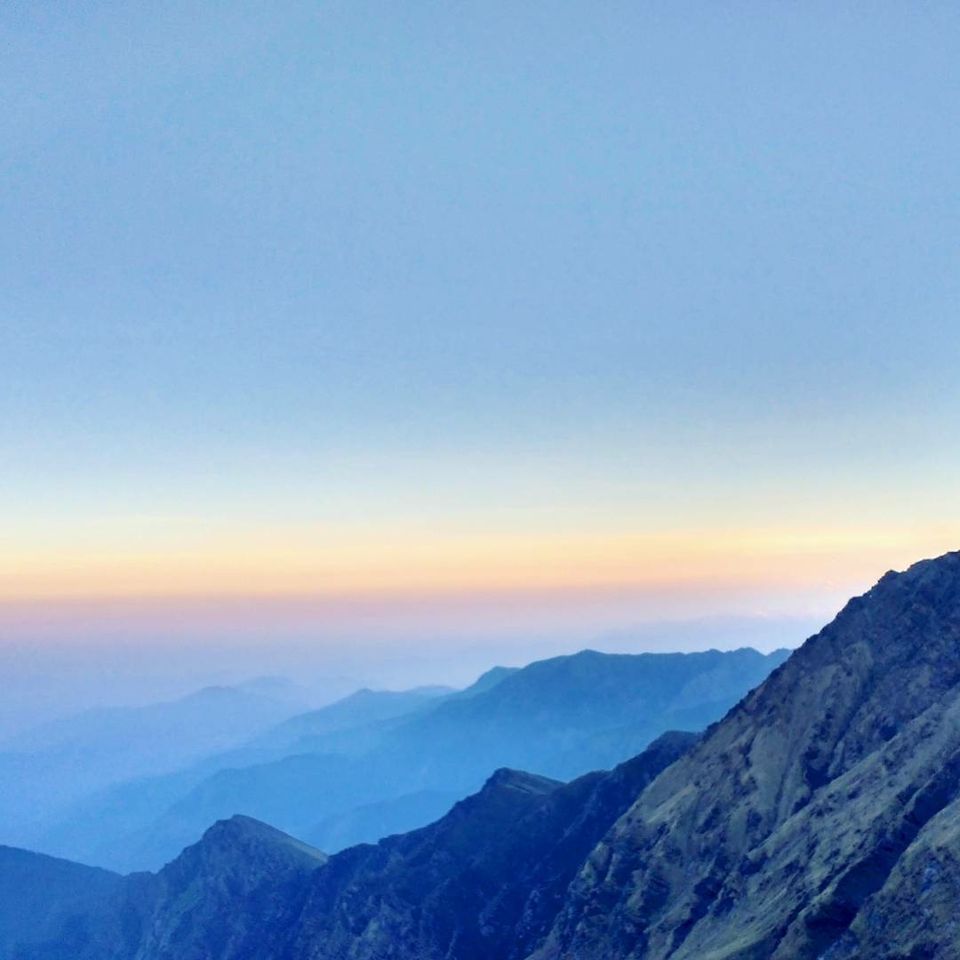 We made it. Our team made it. Roopkund Lake, the mysterious skeleton lake.
Scientists have proven that 1200 years ago a massive hail storm killed more than 300 people here. At a height more than one of Europe's highest mountain (Mt. Blanc), lies this mysterious lake piled with human skeletons.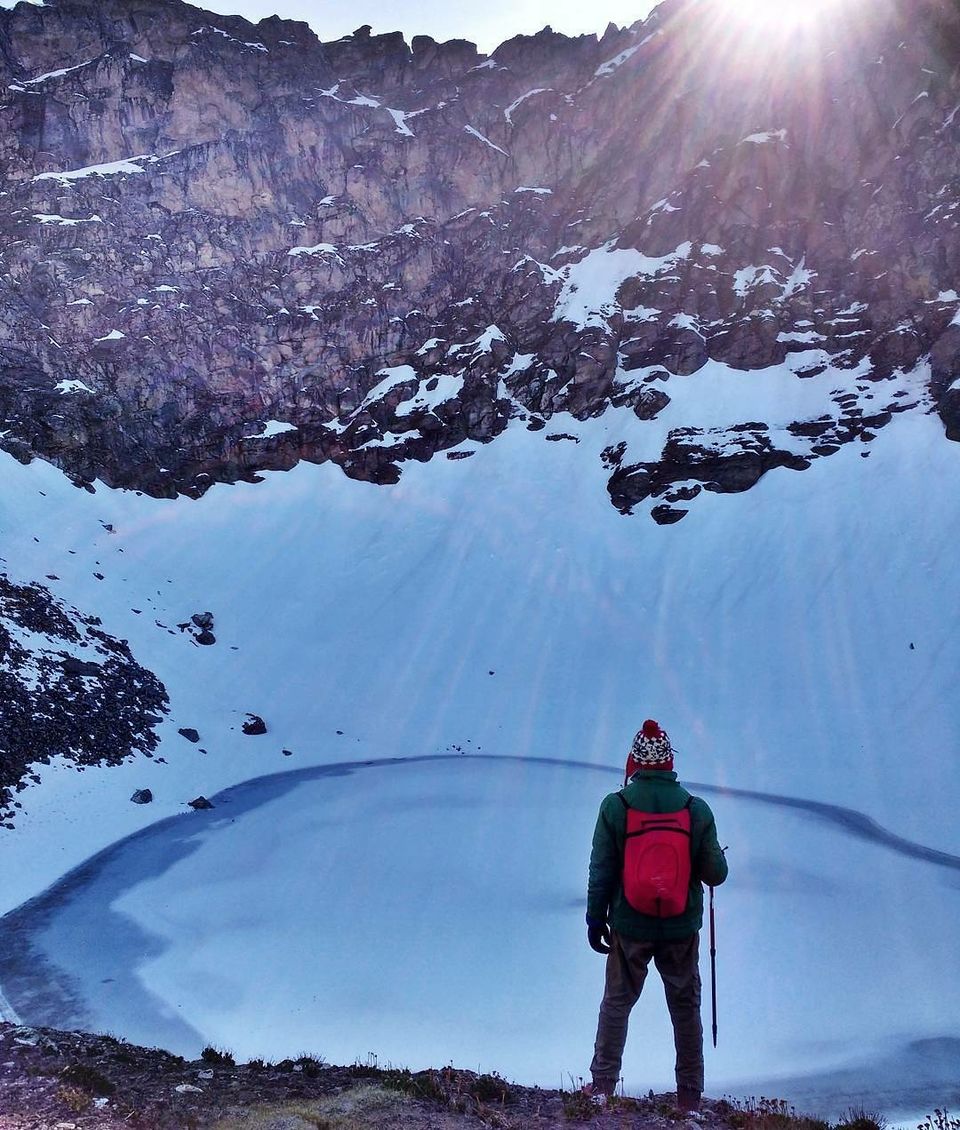 Roopkund from Junar Gali.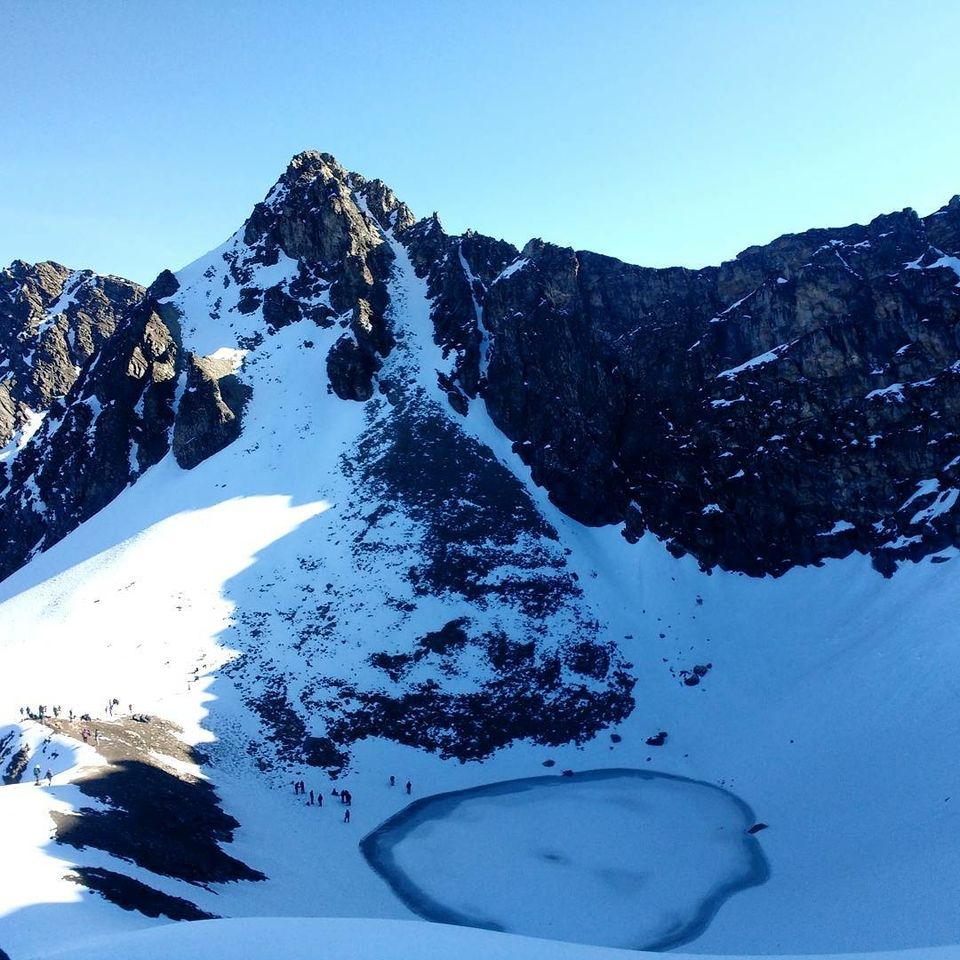 Theories, theories and theories. There are many of those floating (not literally) mysteries that makes Roopkund Lake so fascinating. Teasing and haunting scientists and travellers, the 300 odd skeletons discovered in and around the lake seem to have cropped up from thin air.
1.)The Angry Goddess- You can choose to believe in the haunting story that the locals tell you. In their words, "Once upon a time, in medieval ages, a king named Jasdhawal started off on a pilgrimage tour of Nanda Devi. He wanted to pay respect to the goddess, for he was about to be blessed by the birth of a child. While local priests warned him against taking a noisy troupe to the sacred site, he paid no heed. As expected, the goddess was infuriated by the gaudy show of festivity and pomp, thus, slayed them all. The king, his queen and their yet to be born child were killed on the trek, with the whole entourage." There's a stack of bangles and other ornaments that have been found near the remains, confirming the fact that there were many women in the group. So if you believe in the divine or supernatural, this is the story to stick by. Take a local or two along with you on this trek and hear the story at night time, as you sit by a fire at the lake side. I assure you of rapidly rising goosebumps if nothing else.
2.) Hailstorm- A research undertaken in the year 1942 shed some light on the mystery of the skeletons and corpses found in and around the lake. Going by it, a sudden, intense hail storm caught an unlucky group of trekkers, leading them to sudden, painful death. X-Ray and other tests conducted on the skeletons showed cracks in the skull bones, suggesting hailstones as big as the size of cricket balls! With almost no cover to run to even in current times and the last habitable village some 35 km away, you can very well imagine the plight of a group stuck in the melee. Going by those numbers, the death storm must have come around 850 AD, wiping the group off Earth's face.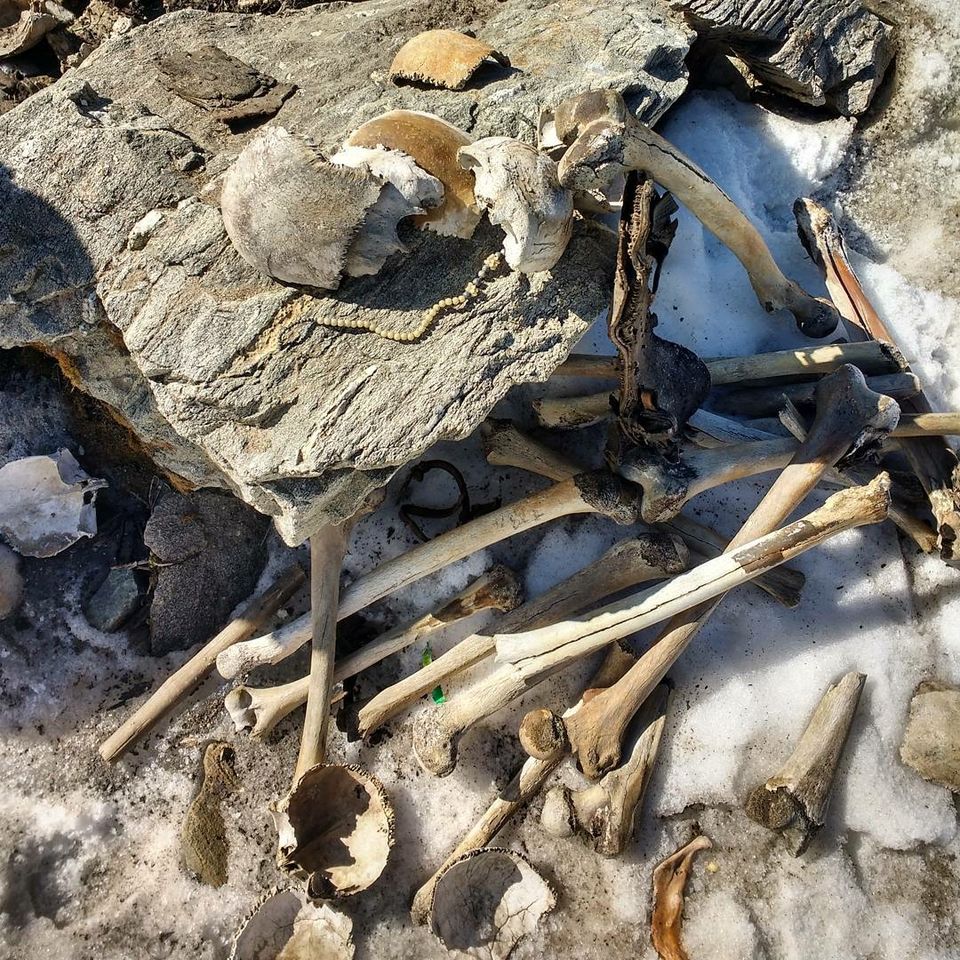 Junar Gali - 16,040 ft.
But the most compelling reason to go with a trekking group isn't the summit to Roopkund; it's going further up to Junar Gali. While this might be the toughest part of the entire trek, Junar Gali is a must-do if you're fit enough and up for the challenge. The short and steep trip up is doable with the right equipment and technical guides to help you with ropes on the trickier parts.
Junar Gali is the best place to view both Trisul and Nanda Ghunti – Trisul is, quite literally, right in front of you.
For you, it might just be a picture of some clouds and mountains. For me, it's that moment when I cried like a baby without breaking my heart. As I turned around to see how much I had come ahead, how much I had actually struggled to get there, my nerves gushed with ecstasy. Tired lungs filled with life. Eyes moist and nose wet. Hard to believe that THIS, was for real. With this simple frame composed with loads of memory, all I truly wish is that you feel what I felt at this very moment. Maybe someday, somewhere, with more magic in it.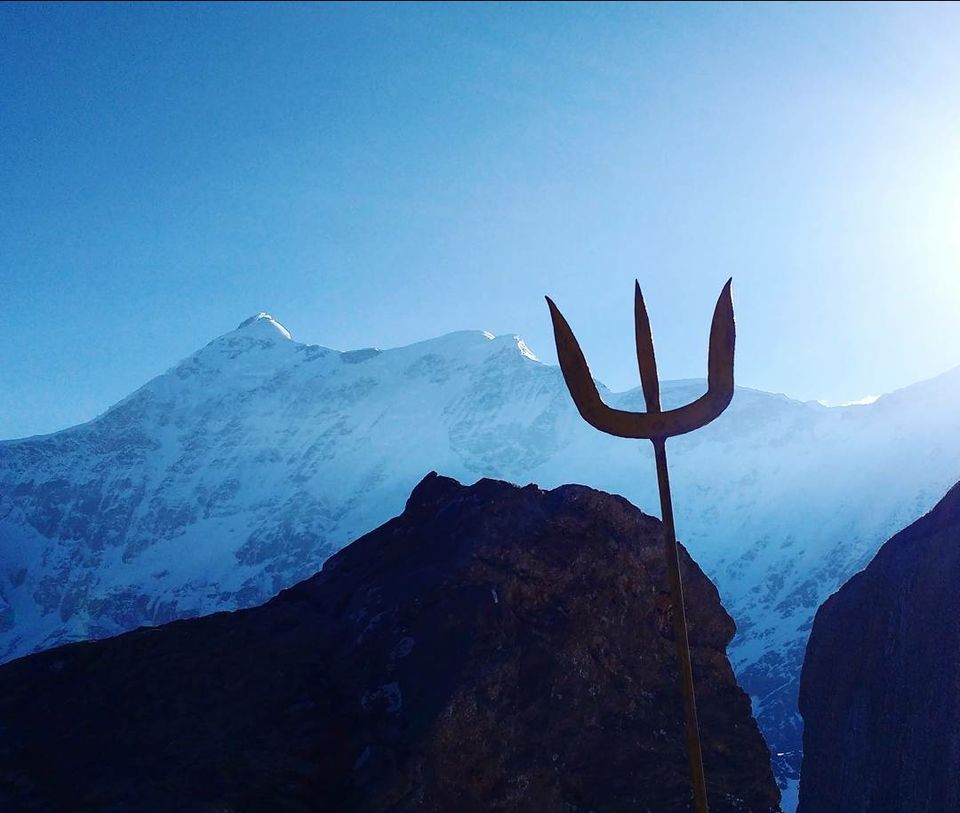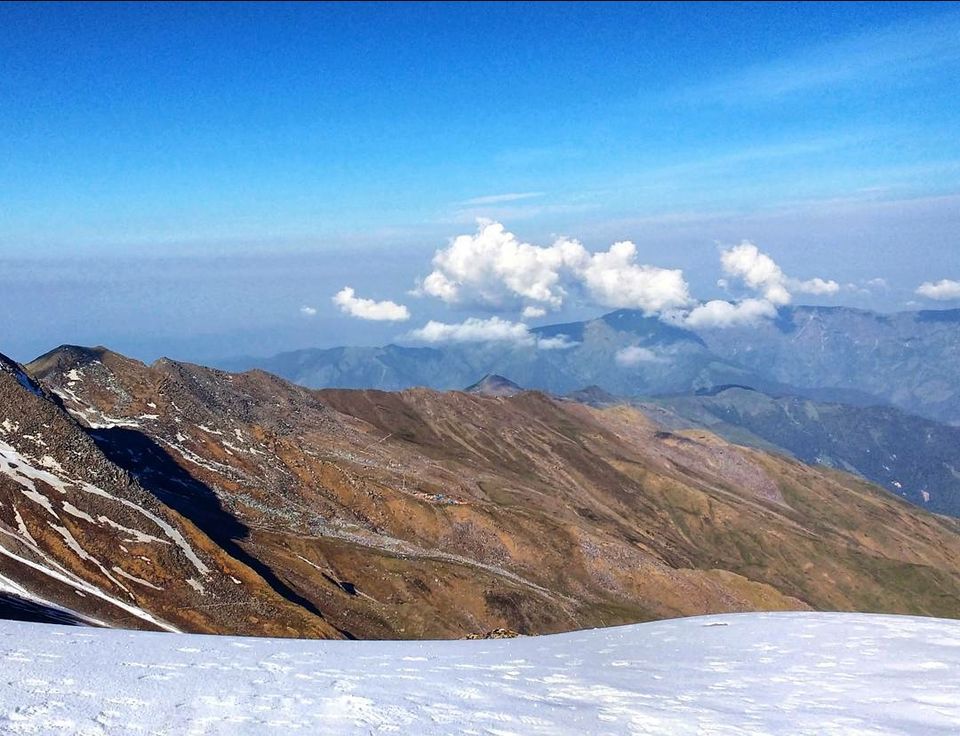 7:15 am, June 15, 2017.
Junar Gali - 16040ft.
This one memory from my childhood refuses to fade away. I vividly remember me and my blank page giving cold stares to each other, as I had nothing quite to say. Neither to write when the question asked 'What is your most memorable day'. No, its not romanticism. I cant, literally, see myself write it anyway. The most plausible reason is that maybe I don't have any, yet. Or maybe now I do. This man standing there has found his very true 'My memorable day' essay.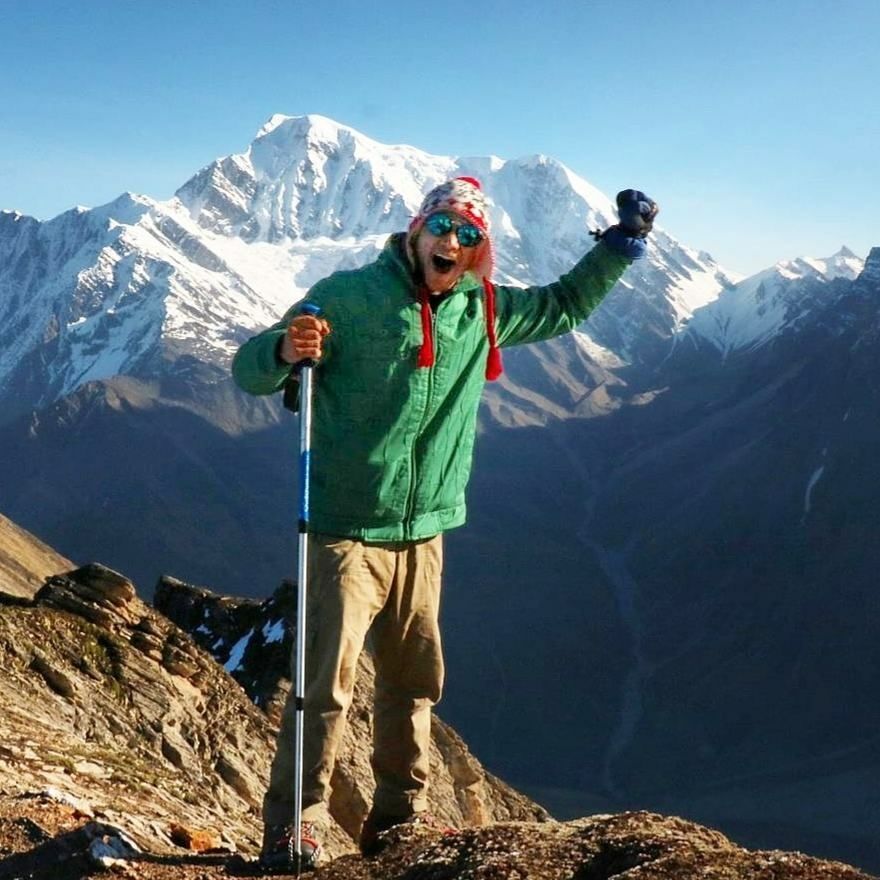 Also, I went on this trip with IndiaHikes.
For all the details regarding this trip
#TripotoTakemetoHimalayas