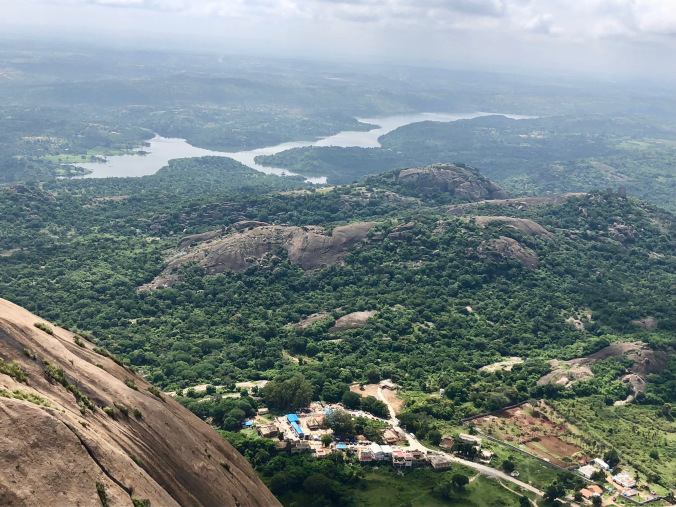 Ping !! What are you doing tomorrow ? I replied "Nothing planned", with a hope that RN would ask for a movie . "Wanna Come for a trek to SAVANDURGA!!" OMG. Didn't expect this. Nevertheless, trek was on my TODO list since past 5 years and with a hope of some adventure, I said Yes.
This was Friday evening and it was decided that we would start at 5 AM next day. Have never planned a trek in such a short notice. RR sent a link of must haves for a trek - which included energy bars and good trekking shoes. I had none.
Googled a bit about Savandurga - and am glad I spent just 5 minutes on web. Packed my trek bag with bare minimum essentials - a cap, windcheater, wallet, water bottle, bar-one, wet wipes and I was all set for a good night sleep.
The point I want to convey is - this narration shows the outcome of an unplanned mind for an unplanned trip and the result was fabulous.
Trivia about Savandurga - with 4220 ft above sea level. this is the largest monolithic in Asia and is approx. 60KM from Bangalore. Quite famous in the trek circle, an avid adventurer will definitely want to tame this beast once in his lifetime. This was our turn.
We started at 5:30 AM. WB was at wheels with KJ as his navigator, as always . Picked up RN and RR on way and started our journey towards SavanDurga hill.
For breakfast, we missed the Kadamba Veg on Rajarajeswari Nagar road, and had to satiate our hunger with Thatte Idly at Hotel Priyadarshini at the base camp. The small South Indian Dhaba was a family run business and the food was tasty and hygienic. The teenager at the counter also helped us with the route to top. "Keep following the electric poles and you will reach your destination. Don't be fooled by shortcuts. They can be alluring but will take you no where" . Haven't we heard that before.
The weather was perfect and the fog atop the hill just added icing to the cake.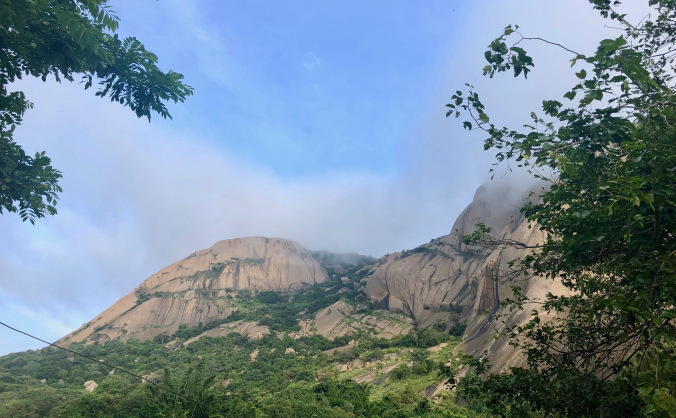 We started the trek at 7:30 AM.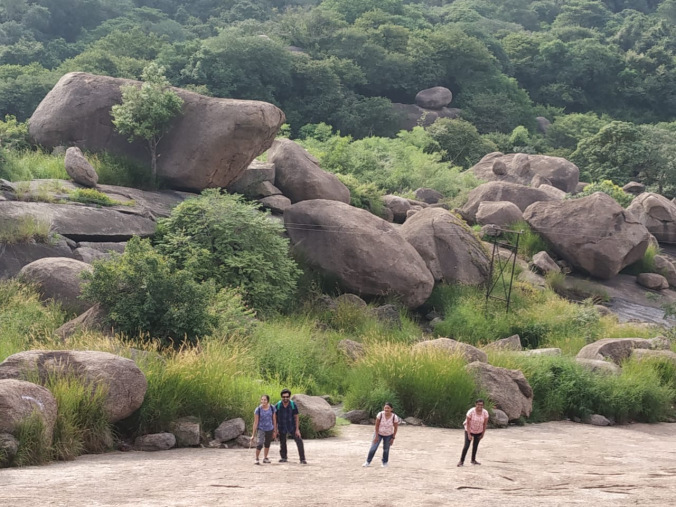 It was steep - literally. You need to balance and have a firm grip - Mind Over Matter - WB kept reminding to keep us going forth.
Ensure you are not here during monsoons-it will land you no where. We struggled with small creeks and tried our best to devise alternate routes to ensure we don't roll down.
Since there are no guides or boards around, keep following the arrows marked on the stone to identify the route, and follow them again during descent. And yes, the electric poles too. They are in sync.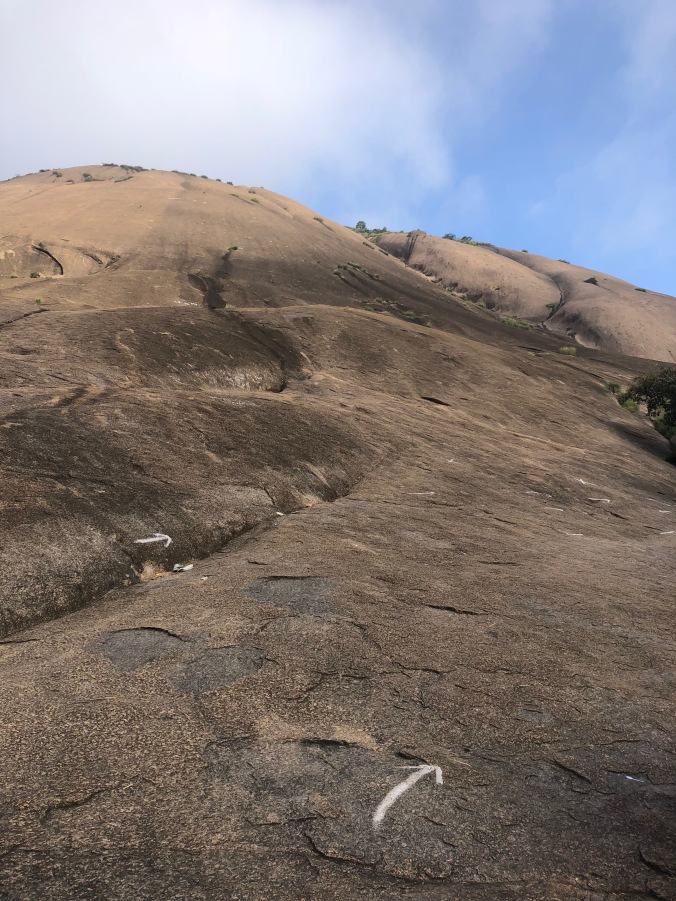 Keep in mind that stones can become very hot and in a place like Savandurga where at times we turned into 4 legged creatures, the result can be unpleasant, when you need to ascend in high temperatures. In our case, the weather was on our side and with perfect timing, we were hardly hit by harsh sun rays.
As you go higher, the view starts unfolding in all its glory.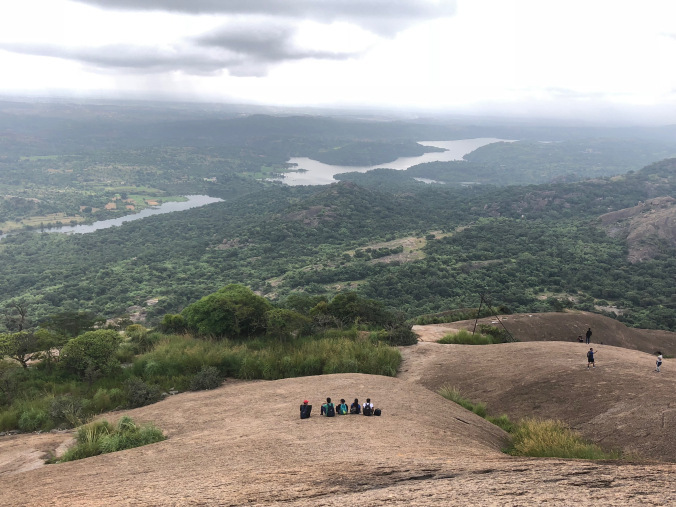 After about an hour, we reached a small ruined mantap - which now serves as camping site in the night. There was a tank nearby, man-made , natural not sure. Gave me some good shots though. Please note that all these are iPhone shots. You need to be a pro trekker if you want to tug along your DSLR.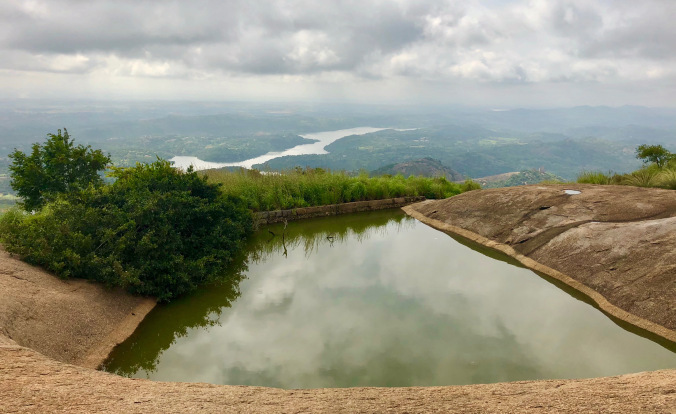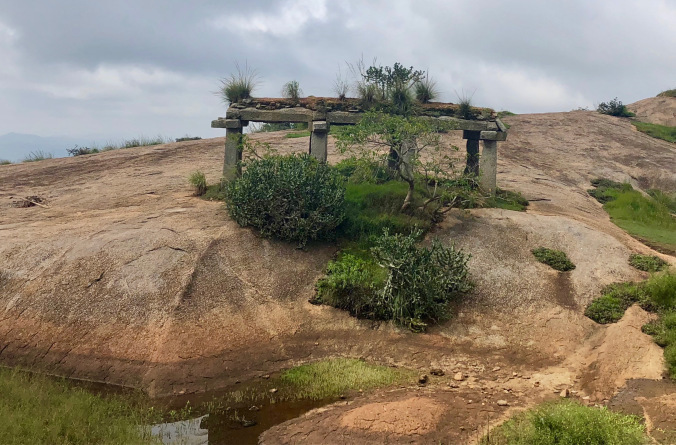 This is the place from where you can view the target. Nandi temple on top of the hill.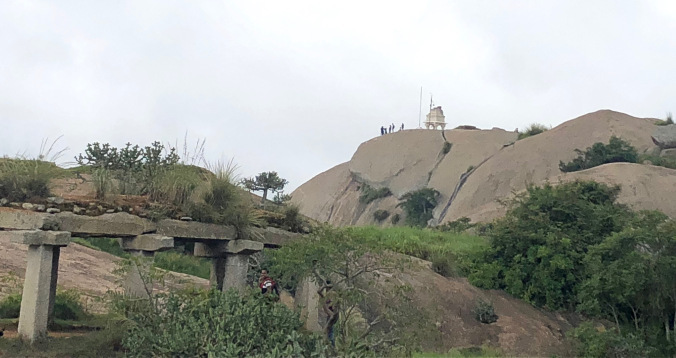 We were eager to be there. And clocked 2 hours to reach the top by 9:30 AM
If I remember correctly, the trek till this part is bit rough. Post this, I would call it easy , or probably by now your limbs are adapted.
Once you reach the summit, needless to say the view is mesmerizing.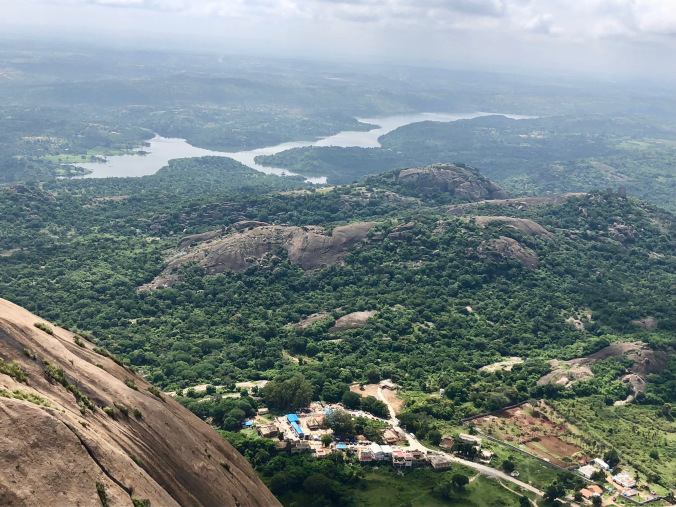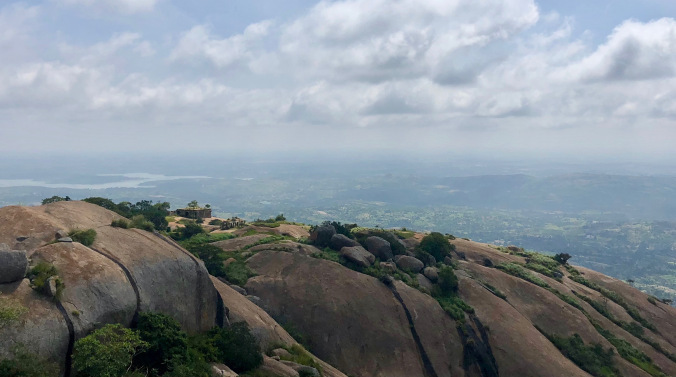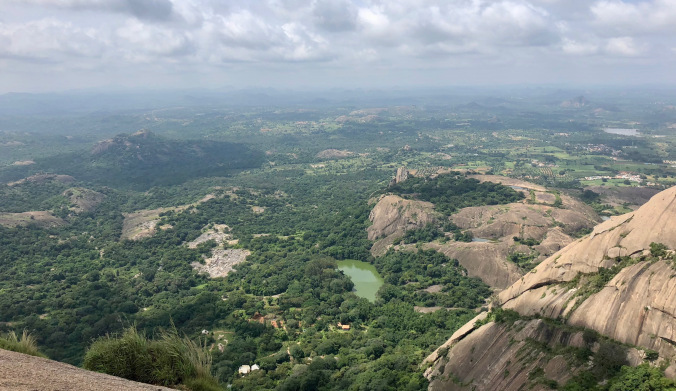 The Nandi temple itself is a majestic structure , probably one of the biggest Nandi statutes I have seen till date - the other 2 being at Bull Temple and Chamundeswari Temple, Mysore.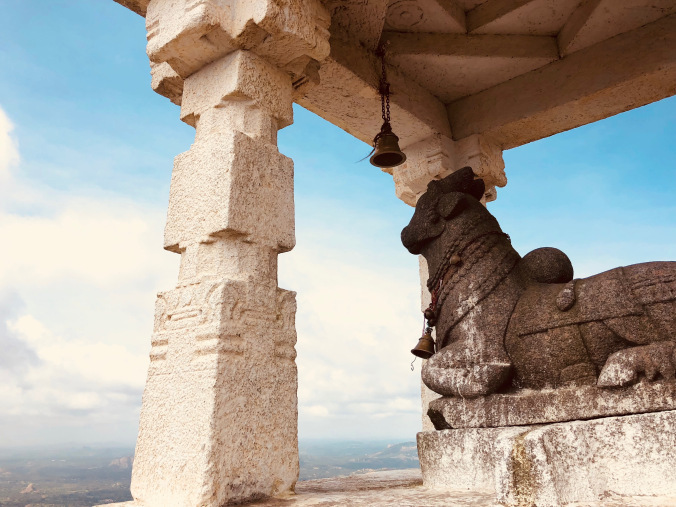 The atmosphere reminded me of a trek undertaken years back , with a dear friend and made me take this shot to relive those moments: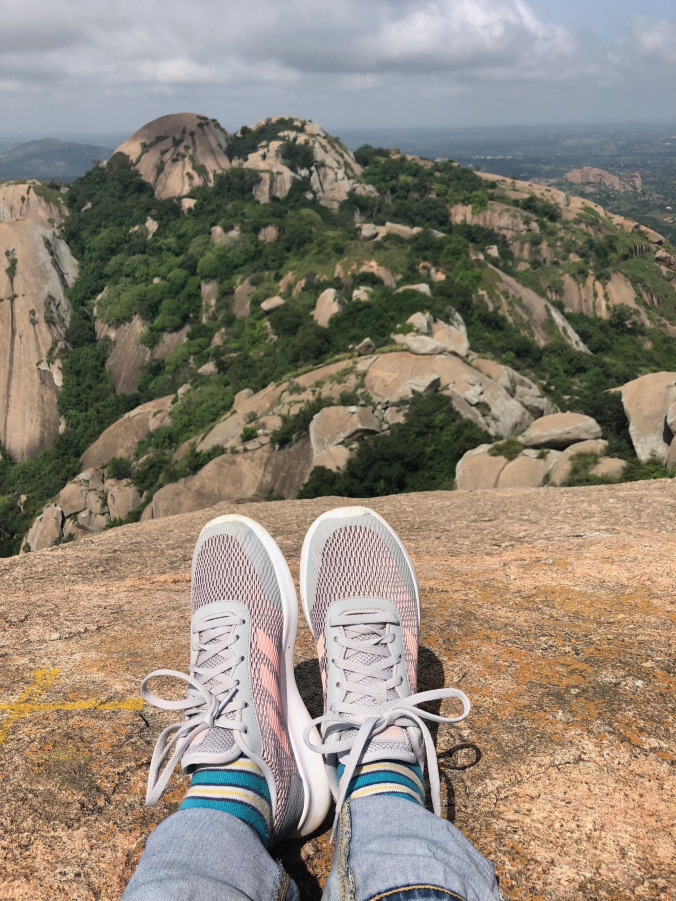 After spending an hour, we started the downwards trek. This is kind of difficult too, since you need to fight against gravity, with non trekking shoes and a feeble mind. The good part was I had great company, motivating, cheerful and helpful , they steered me down in one piece.
Couple of cool quotients :
People carry speakers and you have ample songs for company. You will find a juice guy on way which lets you have your drink with a view. Smiles on the rock makes you forget all your hardships and bring a smile to your erstwhile tired face.
Once at base, I was happy and elated to have conquered the "Fort of Death". We all were. There was a sense of achievement which made us question - Next Trek ?
Well, will keep you posted with the activities of these feet.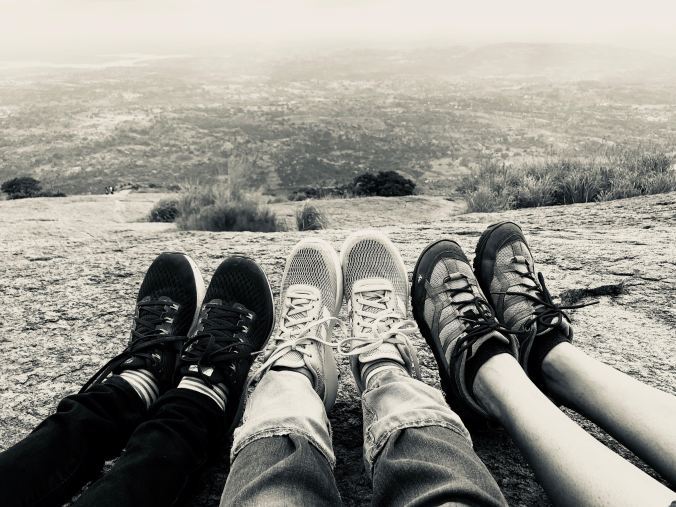 Till then, keep your spirits high and be alert ! Who knows, what adventure life has in store for you.