I stay in a hostel in Bangalore so I had just finished my trek on Savandurga Hills at 9:30 PM sharp around 5 of us went to rent scooters for the next day's trip since the outlet closes at 10 PM and opens at 7 AM . We booked 5 scooters since 10 of us were ready for the trip.dinner and was returning to my room, meanwhile a friend called me and said to plan a trek , find some location where we can go chill this weekend. We didn't know that the trek would be so tiring until next day .
So we decided to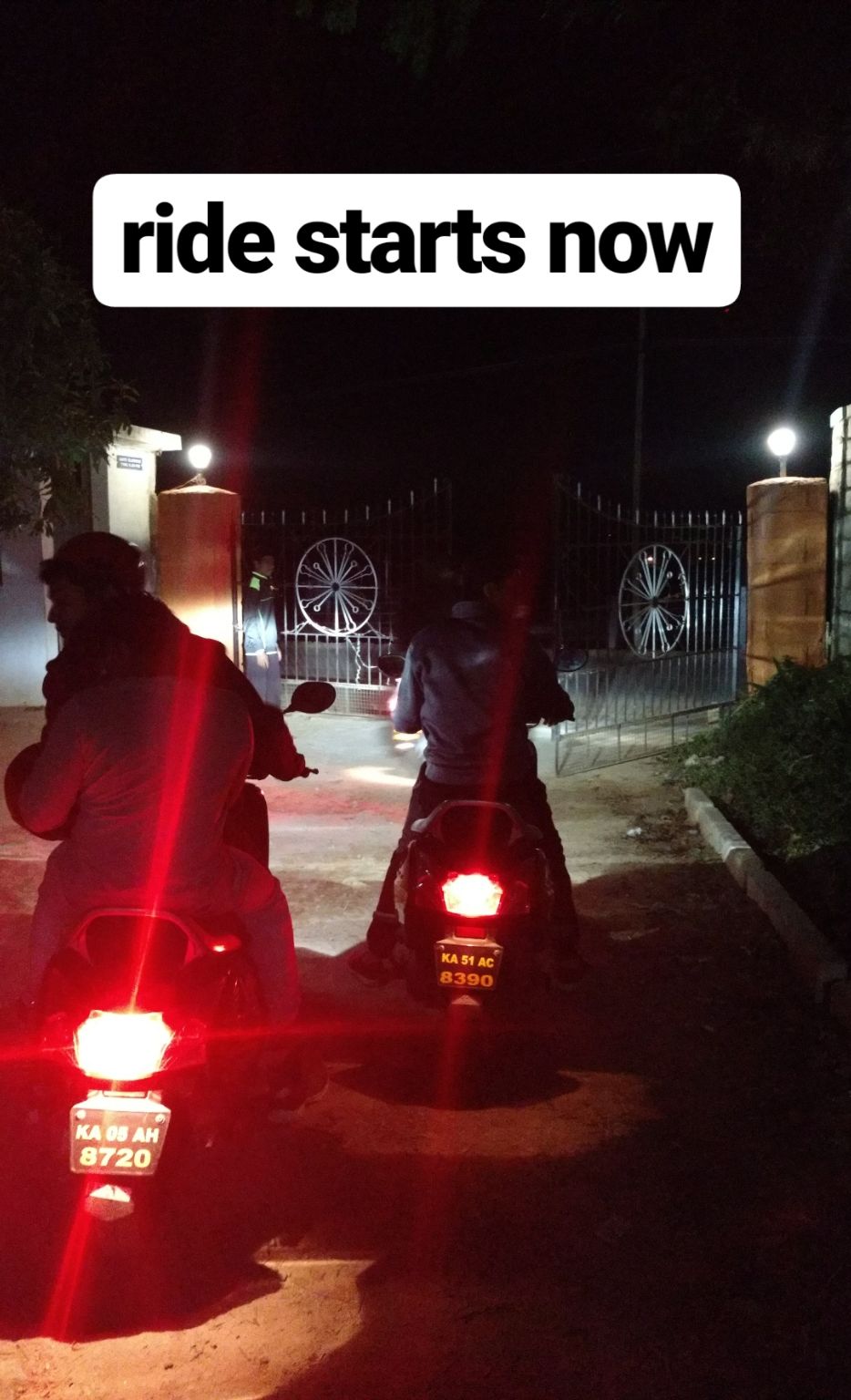 To be true I am always late for almost everything and laziness mode is always active but to my surprise I woke up at 3:00 AM ,thanks to my roommate's restless efforts. So I woke up brushed my teeth and I didn't bath since it was cold in the morning. So we were ready to leave the hostel at 3:15 AM ,I called the watchman and he immediately opened both the main gates. All of us gathered near our college and then we started the trip at 3:30 AM . It was too cold at that time,after 45 minutes of continuous driving we halted near the toll gate and had tea to heat us up then we took some selfies and again restarted our journey. Again after half an hour we halted as it was getting more colder. We again restarted the ride and then halted directly at Savandurga Hills. Before coming I even did a bit of research , Savandurga Hills is considered to be the one of Asia's largest monolithic hill and the trekking path was too steep to get a grip over the stones. Me and a friend of mine as soon as we reached we parked our scooters and straight away started running towards the Hill's base. We started walking to be more specific- climbing the hills and the view that we acknowledged was worthwhile , Sun was at its best phase it was enchanting to see the scenery out there.
As we started climbing the path got more steeper , we even gave up the thought of climbing to the top but somehow changed our mind and trekked to the summit.
On the trek we even met some fellow travellers who were IIT graduates and also some fun people. While returning I had to guide a friend as he wasn't able to maintain his grip with the stones out there . I held his hand and after half an hour we reached at the bottom of the hill. So this was it , we felt such good positive vibes out there and had fun throughout the journey.
So this was how an unplanned trek turned to be the most amazing trek this year.