When you think of travelling a place perhaps the first thing that comes to your mind is the landscapes on offer. What is the versatility of that place are add on. When we think about a country such as Thailand the first perspective that strikes our mind is beaches. When we travel we essentially look for something extraordinary in ordinary. You look for pastures greener, water deeper, history more gratifying and mountains whiter. There is endless assimilation which we evolve and when we experience it…………………………….it tends to mesmerize us.
Through my recent travel experience following are my favourite top five must-visit places from one of the most popular travel destinations in Thailand not only amongst the Thais but from people all across the globe.
Pattaya - Chapter 2 (Thailand Series)
1.The Sanctuary of Truth
The building is just 38 Years old and still appears like an ancient masterpiece. The complex looks gigantic, gorgeous and exclusive. As it was designed on certain ancient concepts because of which it gets this primitive appearance. Some of the sections are so finely crafted as if they are not real. The complete construction from the top till the bottom is through woods (Primarily teak, red and mahogany). The central structure has four faces, which is Buddhist sadhava faces which represent the state of mind and quality of being a moral person. It signifies the concepts of love, Kindness, Compassion and being fair to everyone.The base of the central structure depicts the Ramayana (Signifying bad, good, wisdom and ignorance).Also inside we can observe sculptures depicting the importance of family in everyone's life.
2. Art in Paradise
This museum is the first 3D art museum in Thailand and the largest in the world. There are 3D printing and digital graphics everywhere. Graffiti is some of the areas are so amazing that you will fall in love with them.You can make a pose and click some beautiful and unforgettable pictures there. This place gives the unlimited opportunity for enjoyment and happiness.
Pattaya has two viewpoints. First, of these are in Bang Lamung which also have temples and an approx. 20 ft. high sculpture of gold-painted Buddha. The temple is called Wat Khao Phra has many small sculptures of Lord Buddha in different postures. Another viewpoint is in Phra Tamnak Hill is the best viewpoint in Pattaya. You can visit this place anytime to get some spectacular panoramic view of the Pattaya city. During the evening when all of the groups of tourists go back to their buses the place becomes quiet and peaceful. This is the time when the sky is pink and gives the best time to click some stunning pictures.
4.Walking Street
Pattaya has amongst the best nightlife in Thailand. There are walking alley, streets and shopping avenue. Amongst all walking street is the most famous one. This place has everything for a party lover and a street shopper. The place is famous for Pubs, Clubs, Bar, Restaurants and street shops. You can have fun, enjoy with your friends, have a party and can make some good friends. All at just one place and if after all of these you are not satisfied then local cuisines and the seaside view will surely mesmerize you. You can also plan to buy local souvenirs for your family and loved one. Imagine walking through the lanes and cloud sea breeze pouring in. It's amazing, isn't it???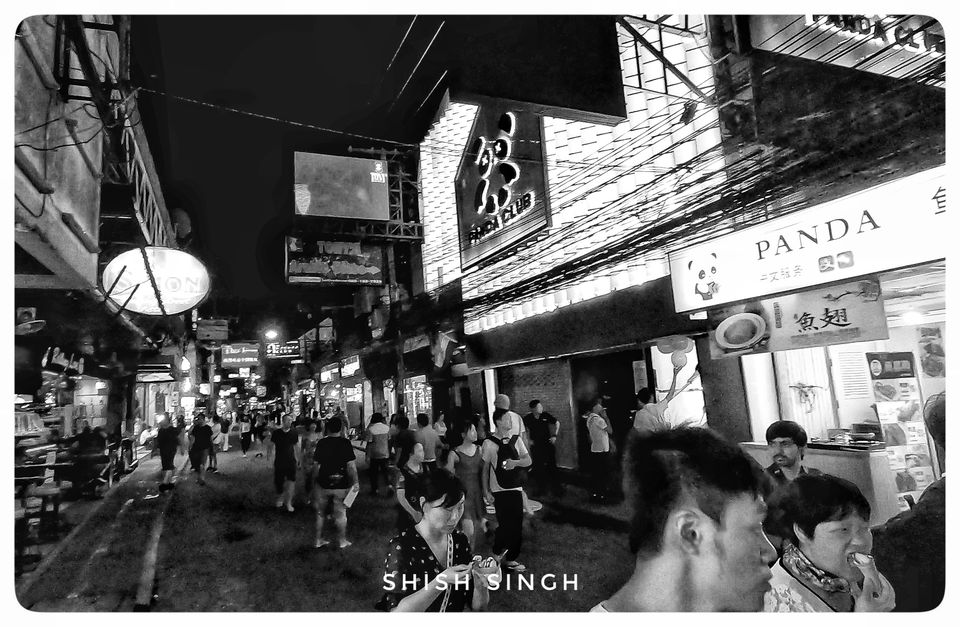 5.Khao Chee Chan
This place has an amazing Buddha image made through precise laser. It was the idea of Phra Yannasungworn back in 1996 to commemorate king Bhumibol's 50th anniversary of his majesty's ascension to the throne. People come here to pay respect and sit. These are some of the beautiful places which I felt other than of course the beaches of Pattaya.
PS: Though the beaches are very beautiful in Pattaya city itself I would recommend everyone to visit Koh Larn which is just 10 mins from Pattaya Ferry point. There are regular ferries though out the day till 9 PM either ways. Water is crystal clear and turquoise blue. Even if you don't want to bath just sit back and enjoy the sunset.
Hoping this will help you decide your plans for an amazing trip in Pattaya…In case you need to know anything further do let me know.
Keep Travelling… :)