Apparently we started out to see the Shivasamundram falls and started out in a car this time. The day goes like this we wake up early morning to the car waiting for us at downstairs. Five people all set for the journey waiting to pick up the sixth member from Manyata. Early morning came out of the house in a car, all decked up.
"bhaiyya music baja do kuch!"(Brother, play some music!)
"AUX cable hain?"(Do you have an AUX cable?)
"Nahi madam AUX cable kaam nahi kar raha hai"(No madam ! Aux cable not working!)
Oh Shit ! no music for the entire trip. Picked up the sixth member and started out towards Shivasamundram falls. With some mandatory chai and sutta breaks we finally reached the destination according to the map. Yes I get you want to see the pictures. Hold on, the walk is about a 100m form the parking spot from where the falls appear like this.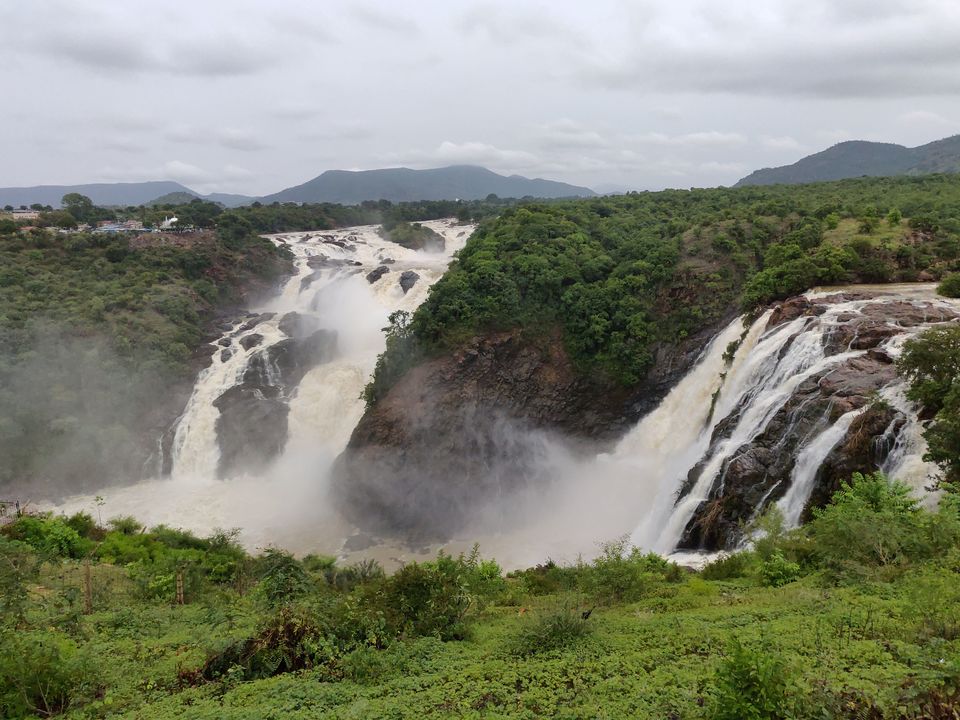 What we get to see here are the Gaganchukki falls which mean falls from the sky. Gagan-sky, chukka-falls. Gaganchukki and Barachukki falls together(some kilometres apart) make up the Shivasamundram falls.
We were done with this with some awesome group pictures and some memories for the lifetime. Next stop was the Panch Linga temples.
Panchlinga temples are five shiva temples which are submerged or underground due to a curse on the King who constructed those temples. There is a festival that happens every 12 years in these temples known as the Panchalinga Darshana. The town of Talakkad is brimming with festivous ambiances as millions of devotees come to pay their tribute to the lord.