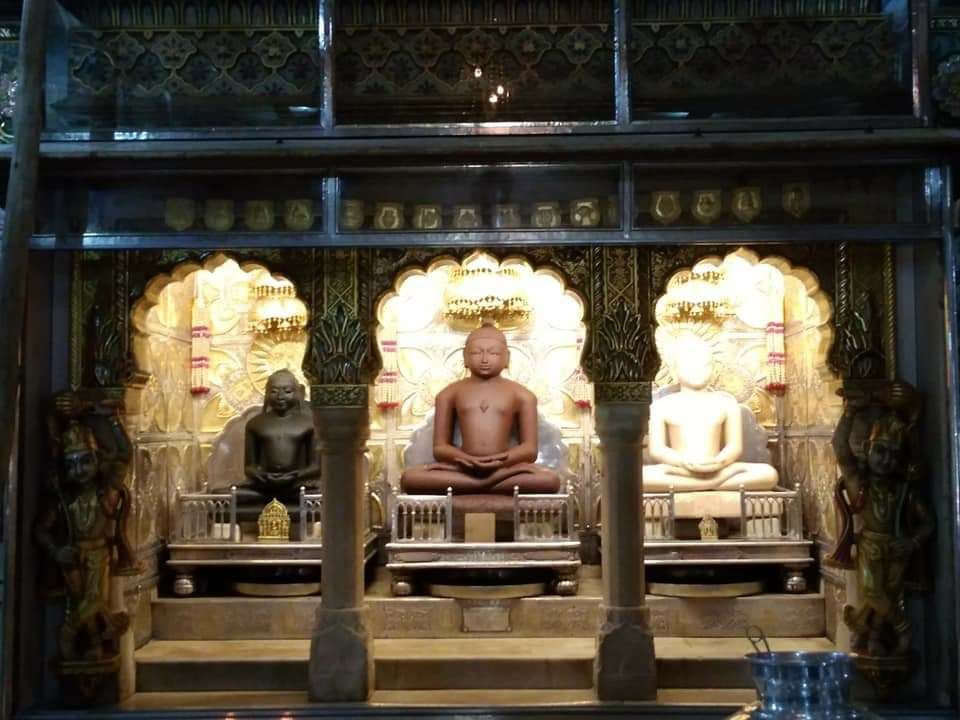 I Start my travel from Agra, Uttar Pradesh. I take a train from Agra Fort Railway Station. If you want to travel in 1 day it is the best option. I take train on evening 7:00 P.M. the train Name Is "Haldighati Passenger". They drop Me At Shri Mahabir Ji(SMBJ) Station at 10:40 P.M. The Train Ticket Cost Is Only ₹100.
After Reaching Station, I came out and see temple bus, from that I reach Chandanpur Village, Where Temple is Situated. From Station Is Approx 7 K.M.
After Reaching Near Temple I Book an room and go to rest. The Room cost is starting ₹25 to ₹ 3000. So,I took Deluxe Room that Cost ₹ 600. If you want to book room earlier, so I can visit website I.e.., shrimahaveerji.com where u can book room easily.
Sri Mahaveer Ji, Karauli, Rajasthan Is the most Religious Place For Jain Community. This Place Is Dedicated To 24 Teerthanker Lord Mahaveer. Few Year Ago, A Cow give there milk daily on a pyramid automatically. One Day His owner see this and get Shock and think how it's Possible. After that they dig here and found one very Miraculous Idol Of Lord Mahaveer . After that the Name Of Village Change To "Chandanpur" in now days Shri Mahaveer Ji.
Nxt Day In Morning 5 A.M, I'm getting ready and reach Main Temple. On 5:45 to 6:00 A.M The Abhishek/Prakshal Of Main Idol Done. There was around 100+ Idol in Diffrent Posture. There was also a Manastambh in which every direction has 1 idol, it approx 61 feet high. After Darshan I Visit Back side of temple There Was A Charan Chatri Temple, In Which Foot Print Of Lord Mahaveer Situated. People say that Main idol is Found here. After doing darshan. I Reach in Canteen And take Breakfast, in which they serve Poha, Kachori, Namkeen, Jalebi Nd Hot Milk in very reasonable Price.
After Breakfast, I take One Camel Ride and visit Next Temple I.e.., Kanch Mandir. It's belong to 23rd Teerthanker Of Jainism Lord Parshvanath. After doing darshan next I Cross the bridge Of River Gambhir . After that I Reach to Kamal Mandir, this Temple Belongs To Lord Chandraprabhu. It was Very beautiful Temple.
After that I Visit Newly Constructed Jain Temple Name, Panch Balyati Jain Temple, this temple Belong to Lord Mahaveer. After Darshan I Visit Kirti Stambh Ashram In Which a small Temple situated. In front of this The Next Temple was Shanti Veer Nagar Jain Temple. This Temple Belongs To Lord Shantinath.
In this Temple there was An Manastambh, and 3 More Temple. The Main Attraction Of This Temple Is 21 Feet High Statue Of Lord Shantinath In standing Posture. There was 24 Teerthanker, Shastrakut and the Idol Gems.
After Darshan I Go To KrishnaBai Asharam, In Which 2 Temple Situated and 1 Children Park also Situated. this Temple Belong To Lord Mahaveer And Adinath. In This Temple There was Idol Of Lord Bahubali And Bharat Also Situated In Standing Posture.
After Darshan I Come Back To visit Main Temple. The Time was 11:00 A.M. In this Temple there is 1 Meditation Centre where approx 100+ Jain Idol Which was made of Diffrent Stones like, Diamond, Ruby e.t.c . The timing of Meditation Centre Is 11:00 A.M To 12:00 P.M .
After I take Lunch at Dharamshala nd take Rest. After that I Reach Station The Tym was 2:00 P.M. And take My Train Name Avadh Express. From This I Reach Agra @6:00 P.M. The Train Ticket cast ₹140.
Approx Total Cost Of This Ride Mainly ₹1000-2000 Mainly.
All Pics Credit:-
Dhruv R. Jain
9650712880