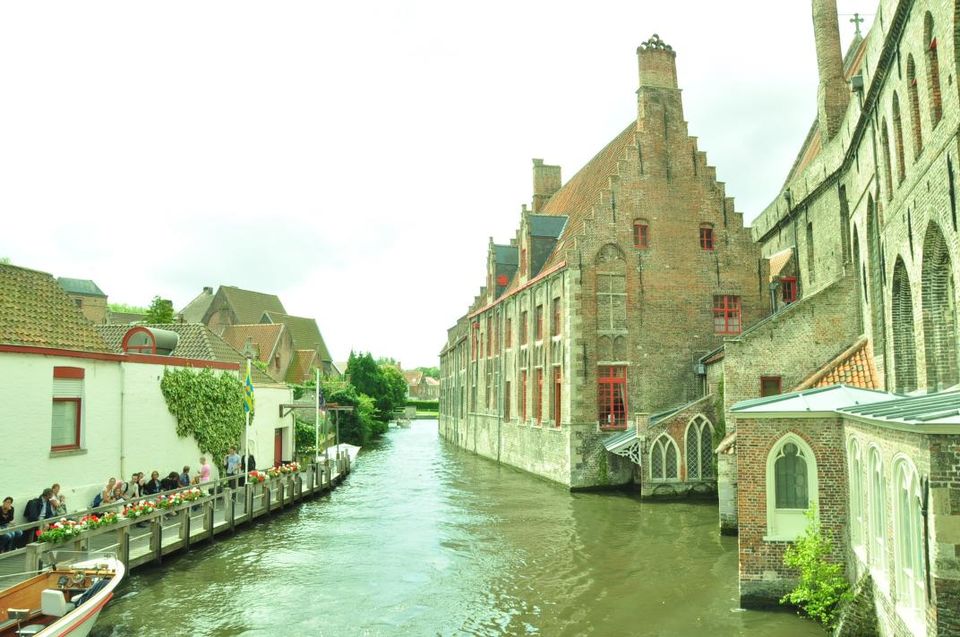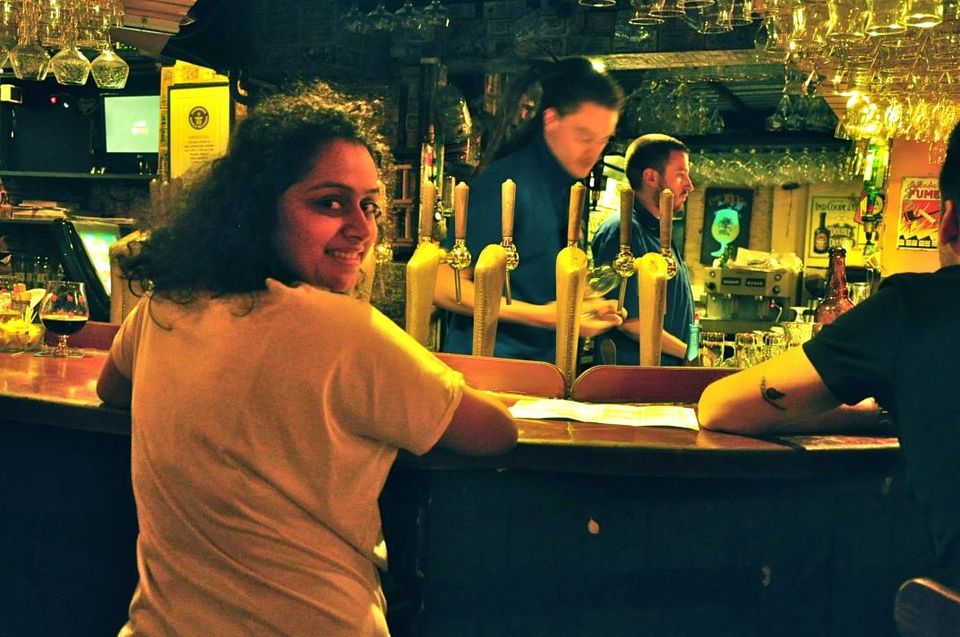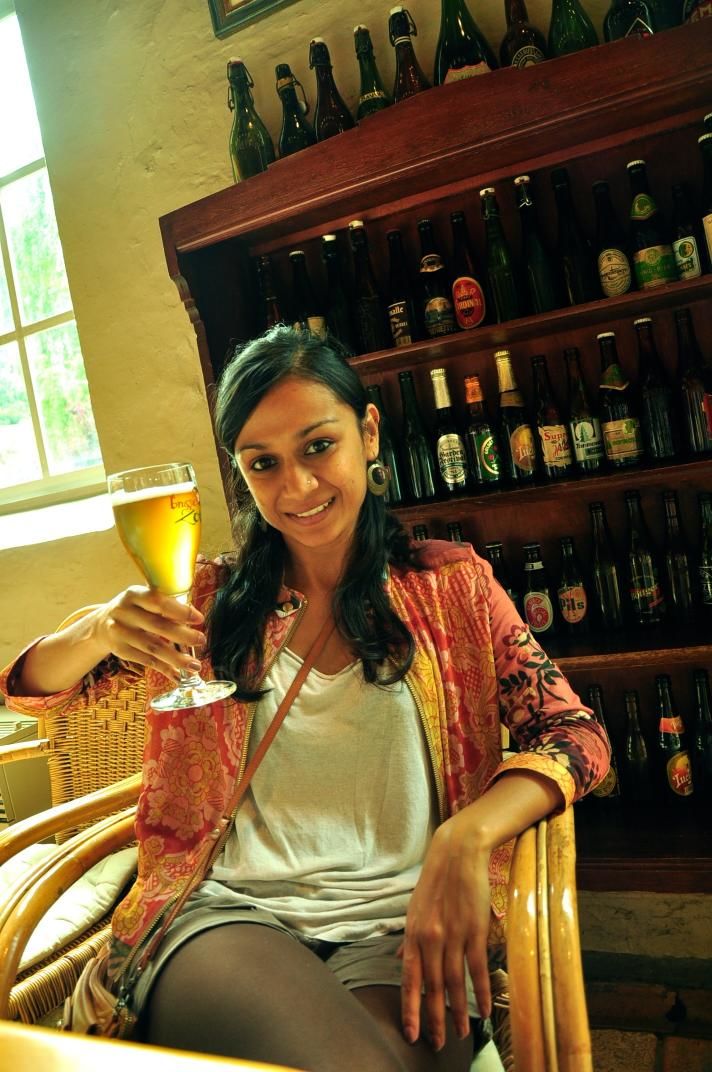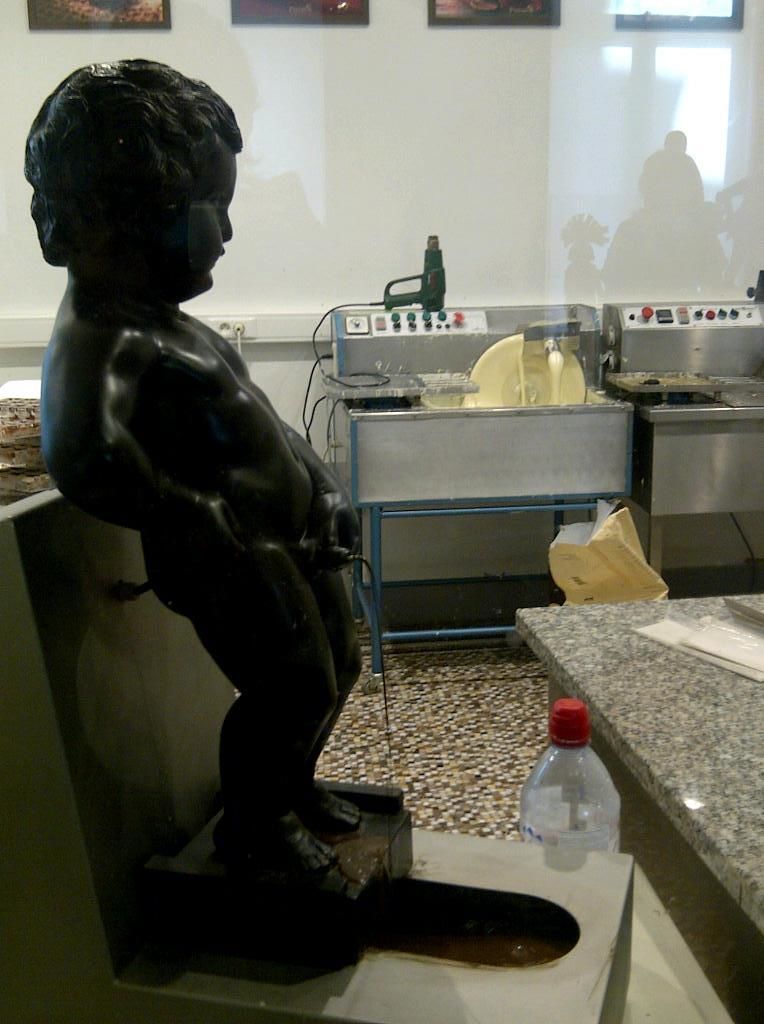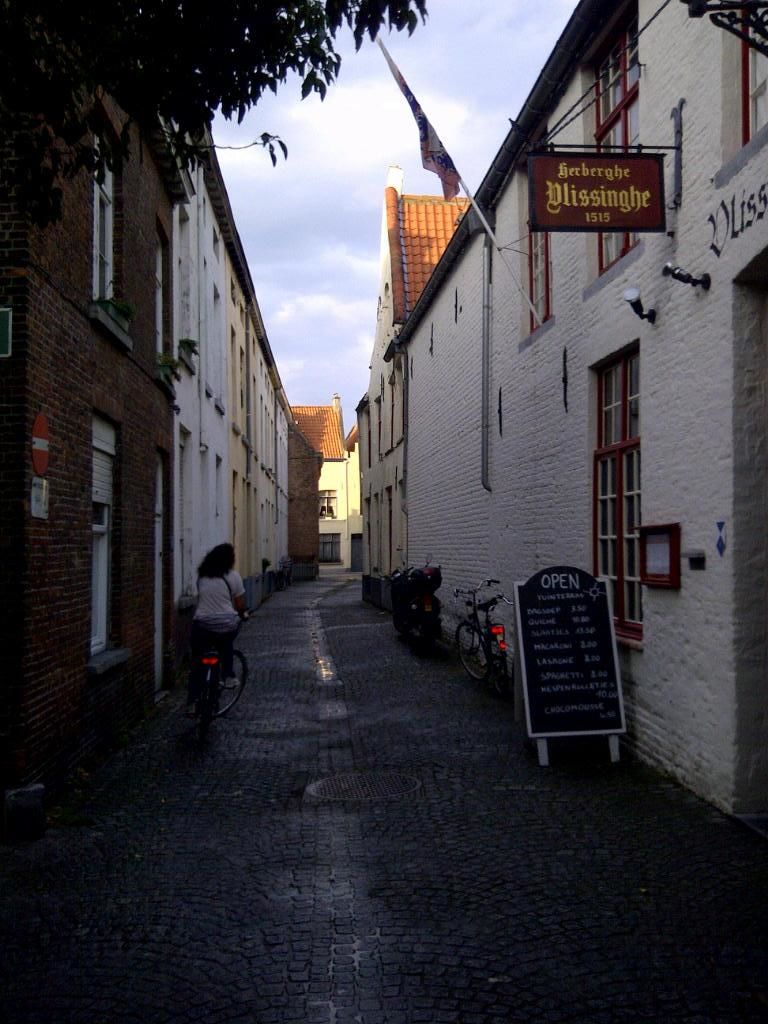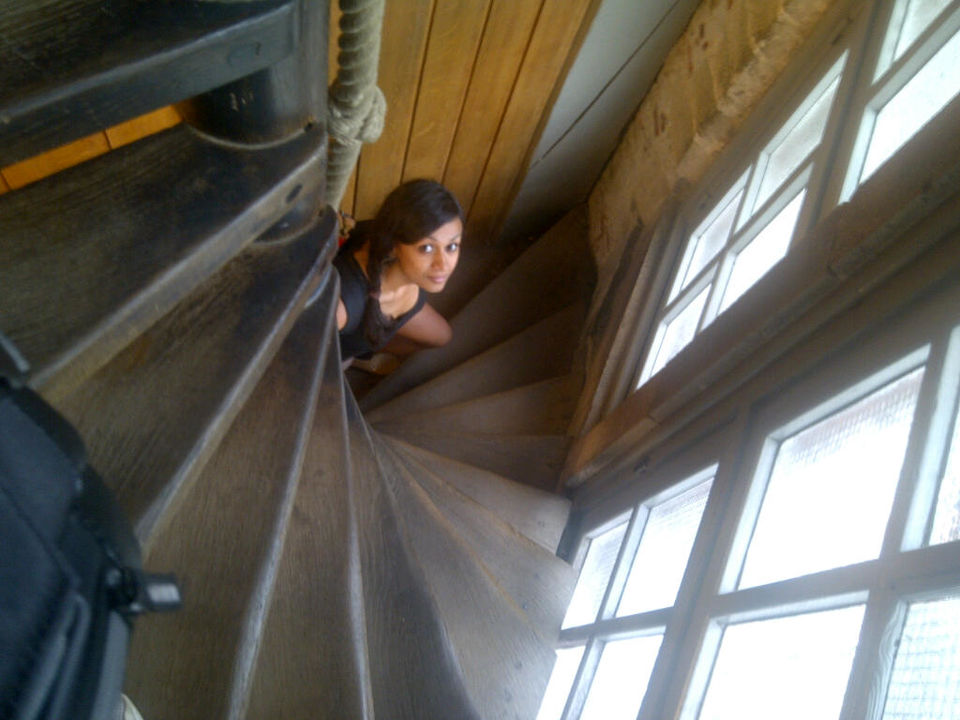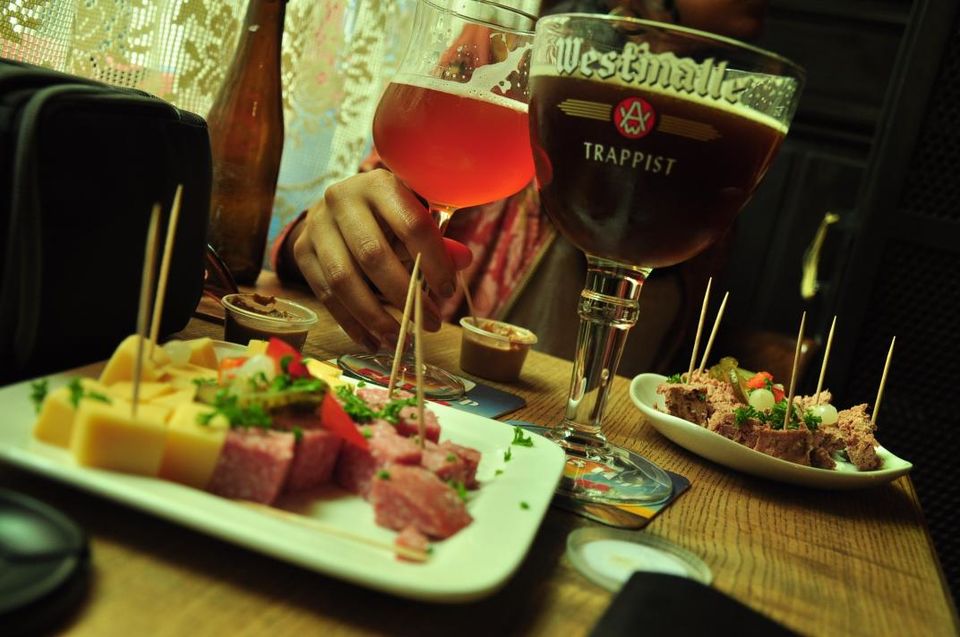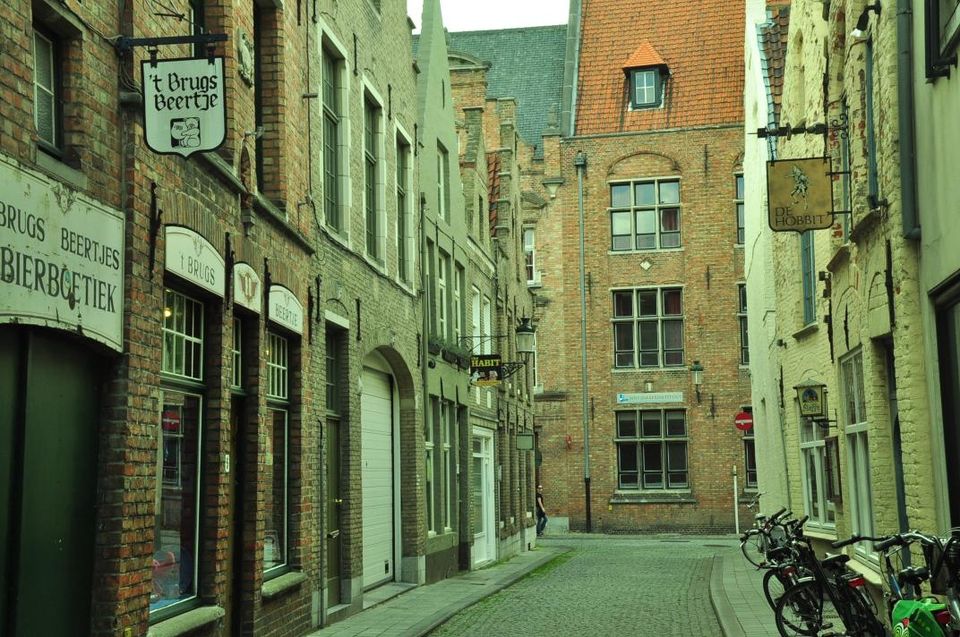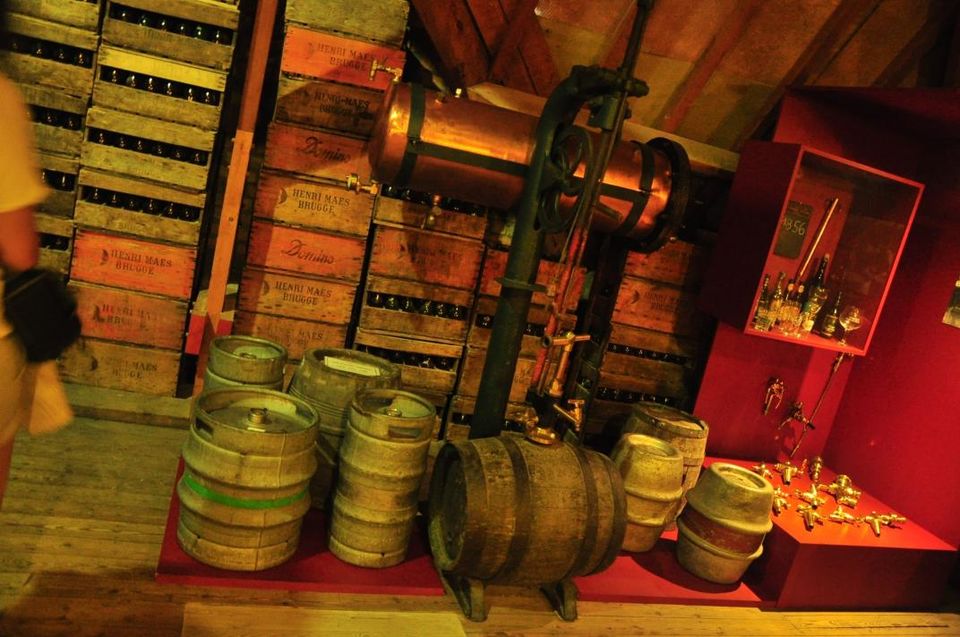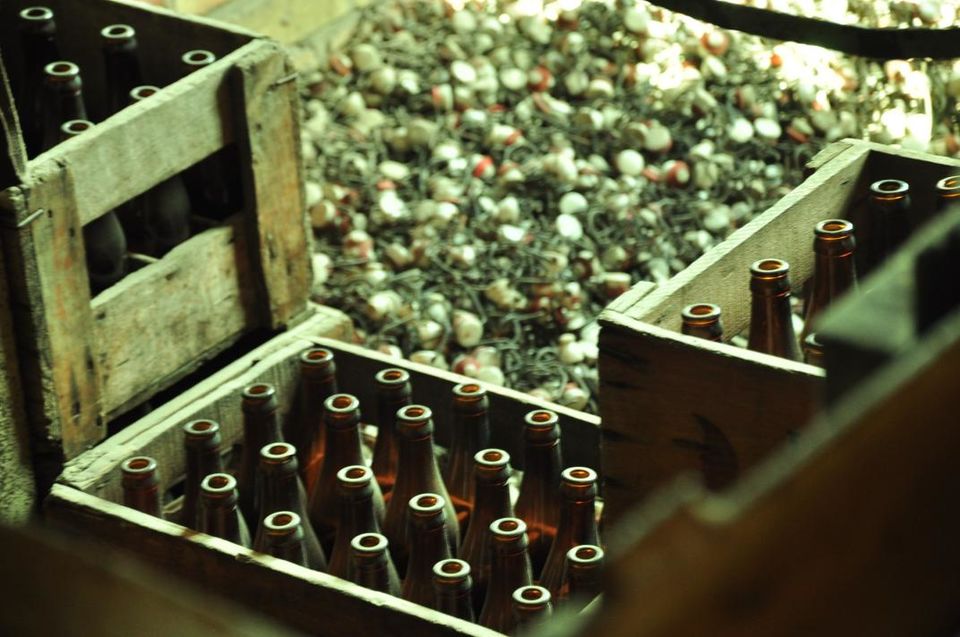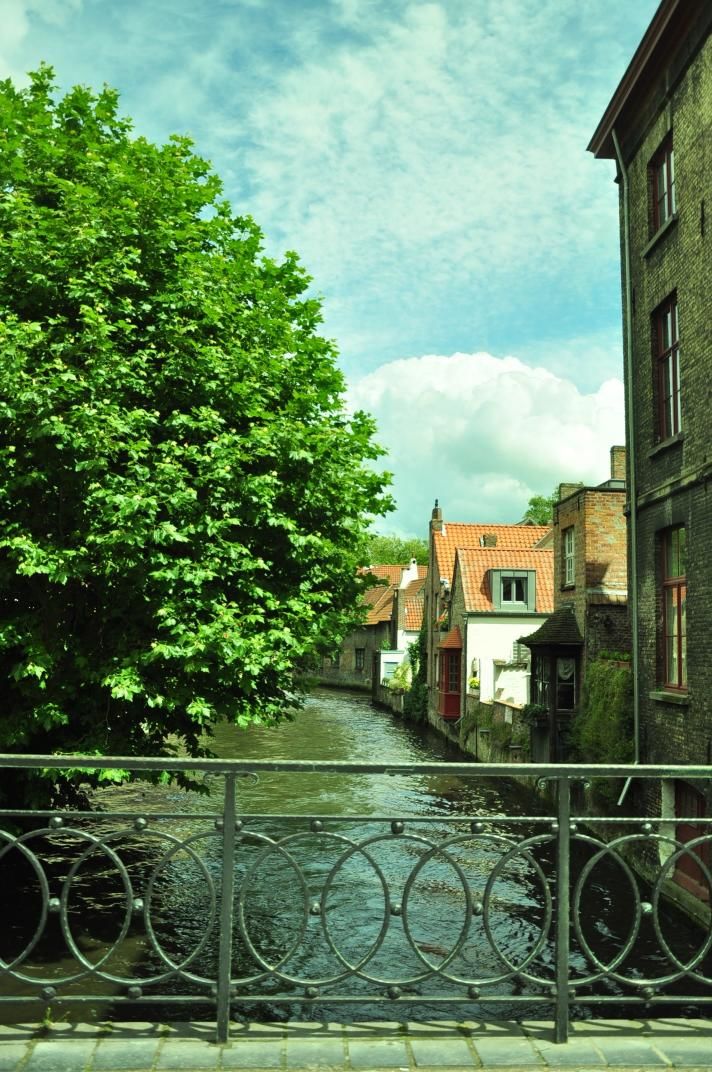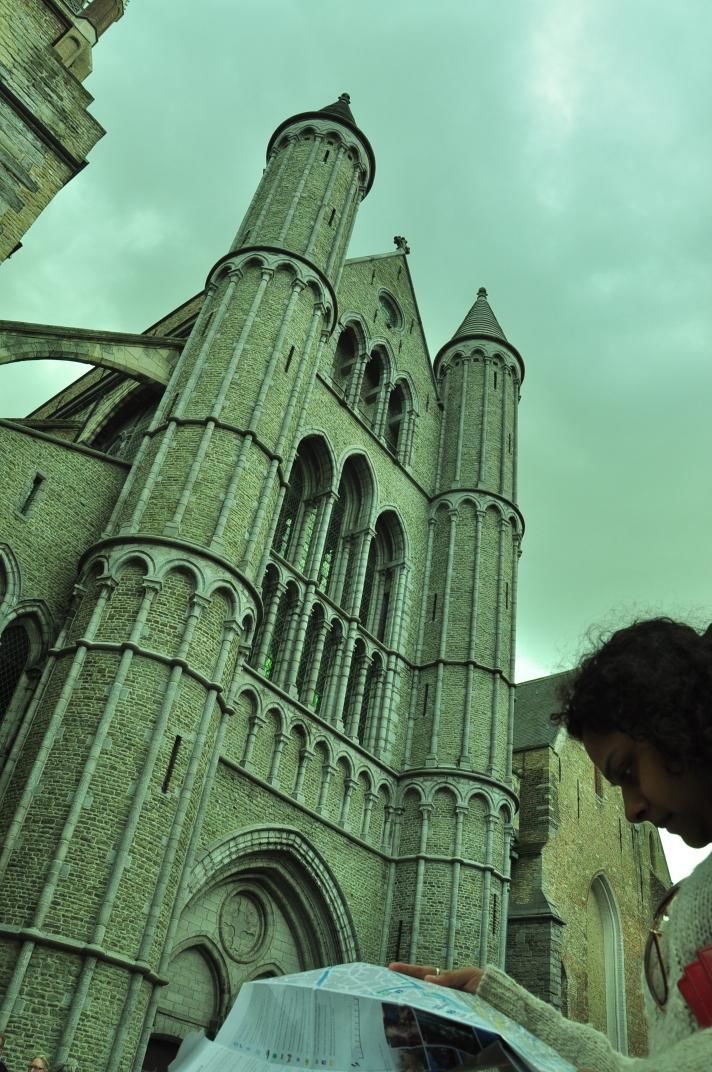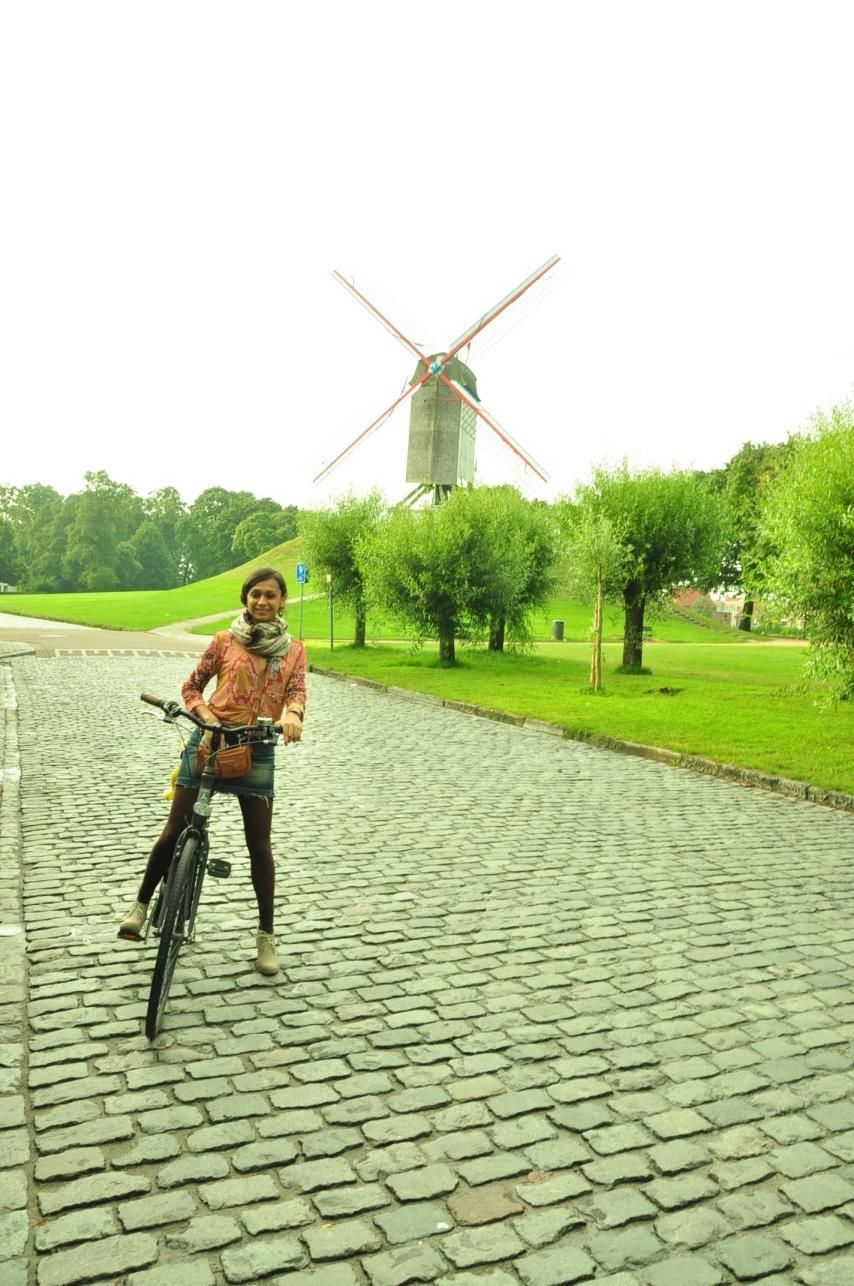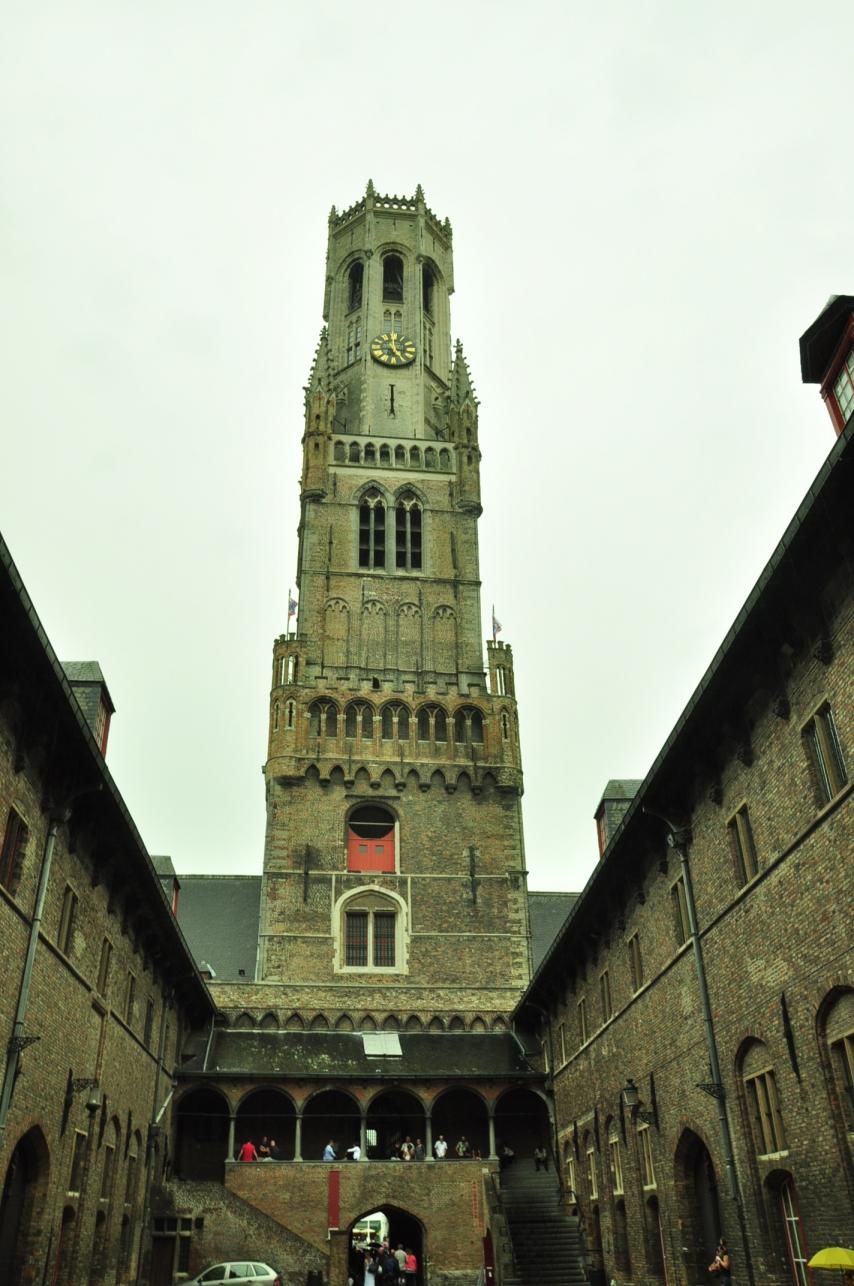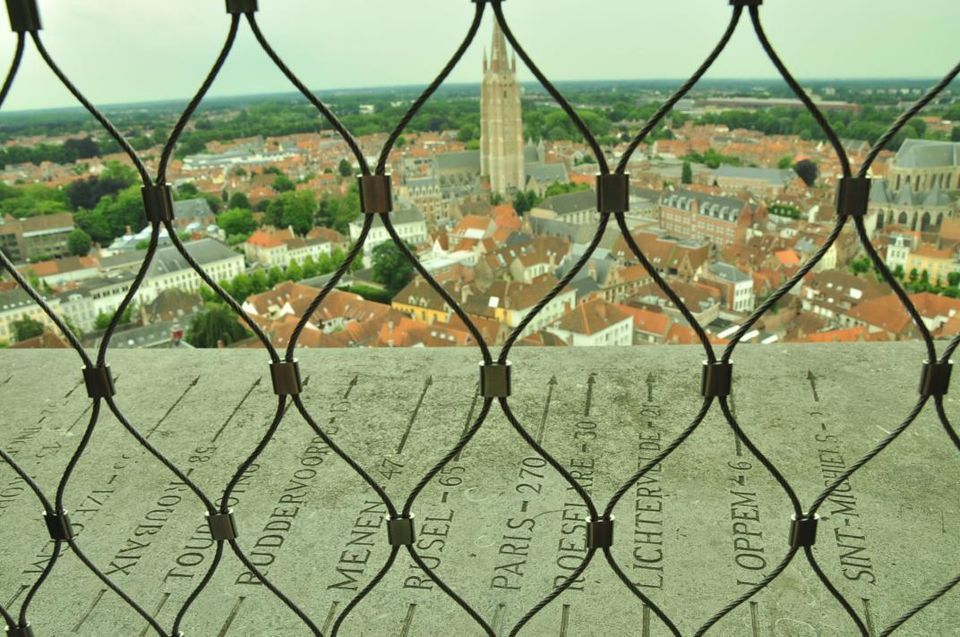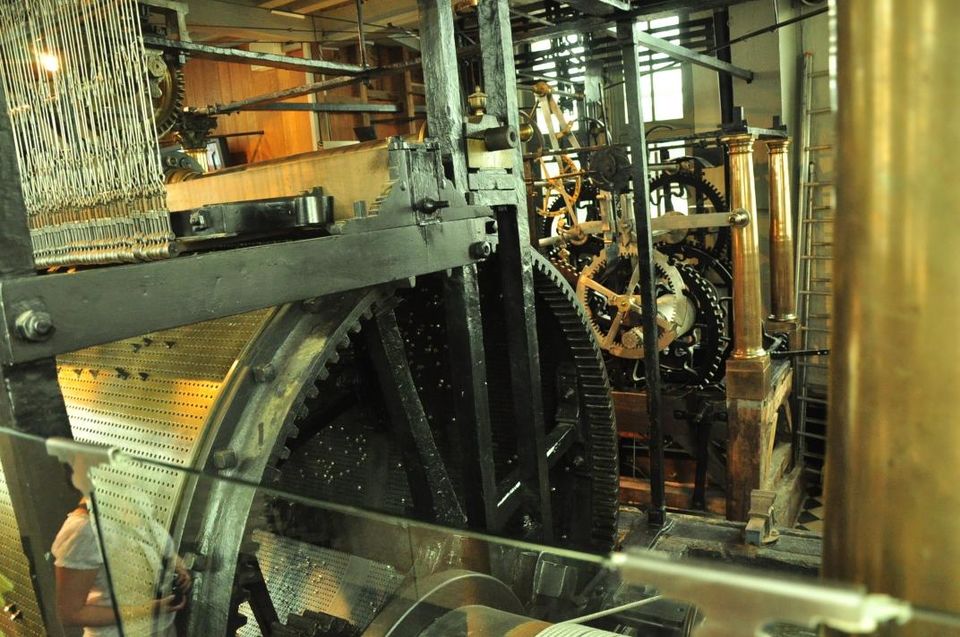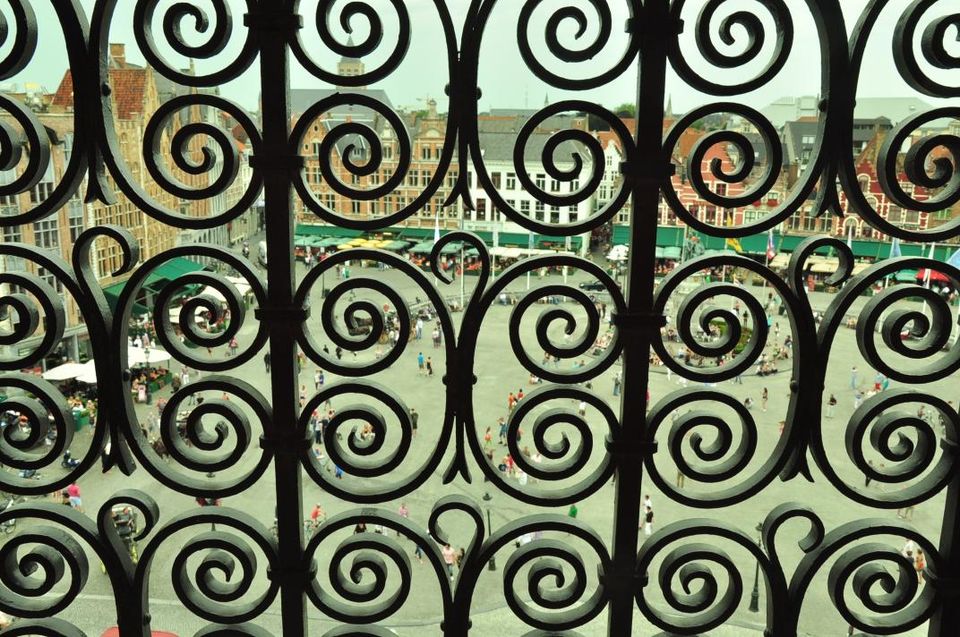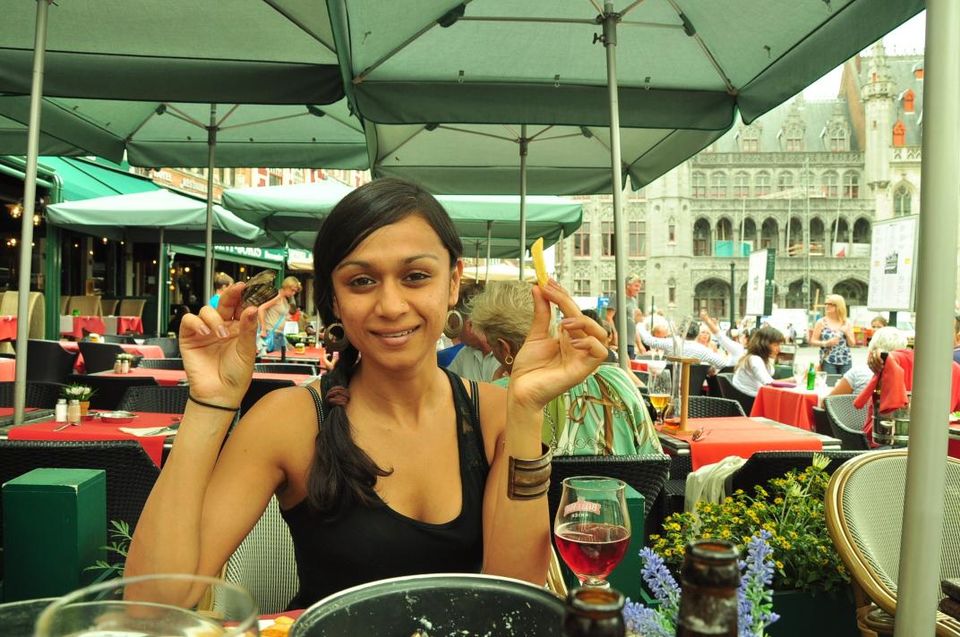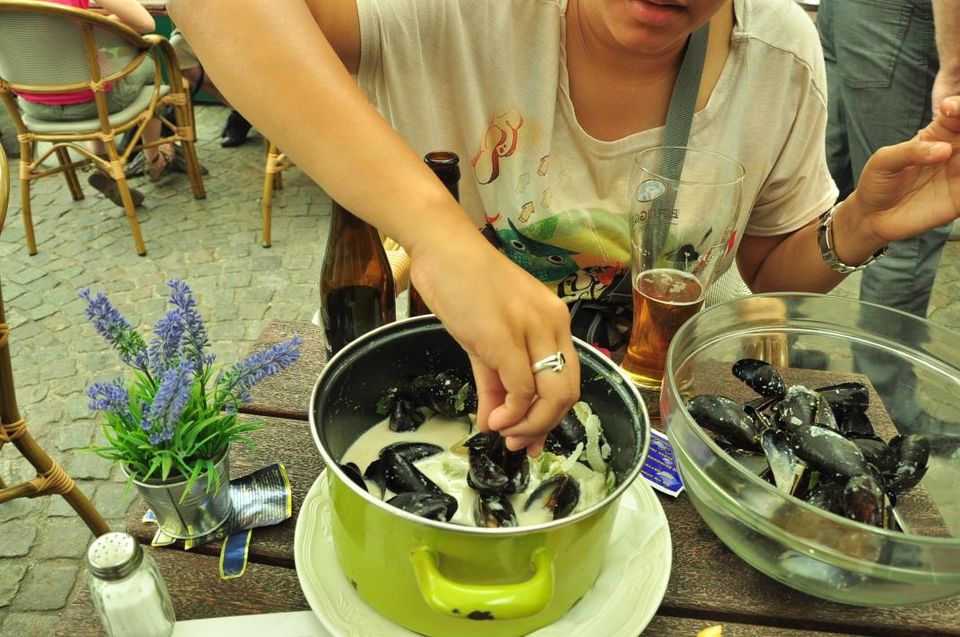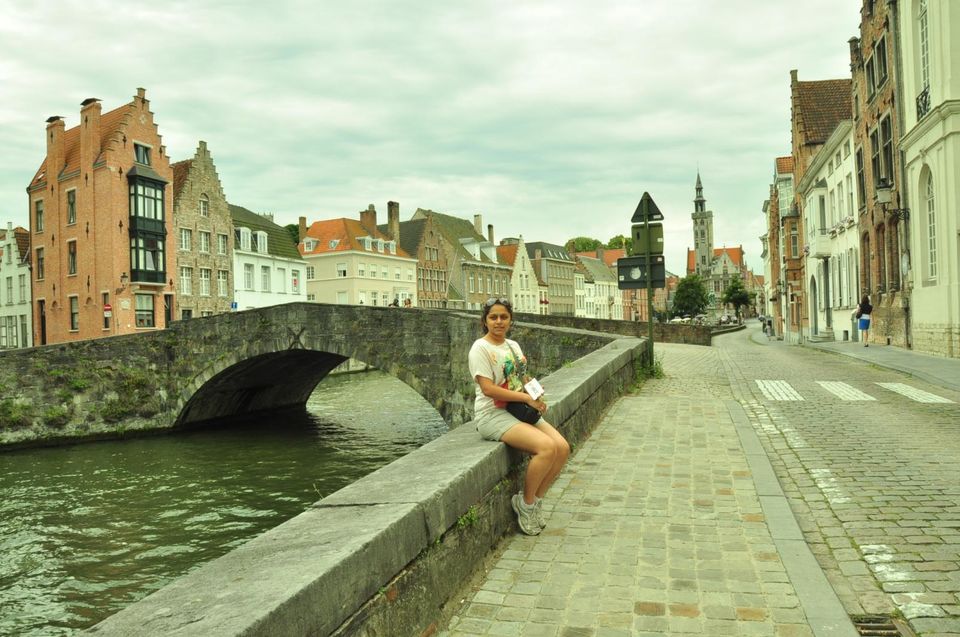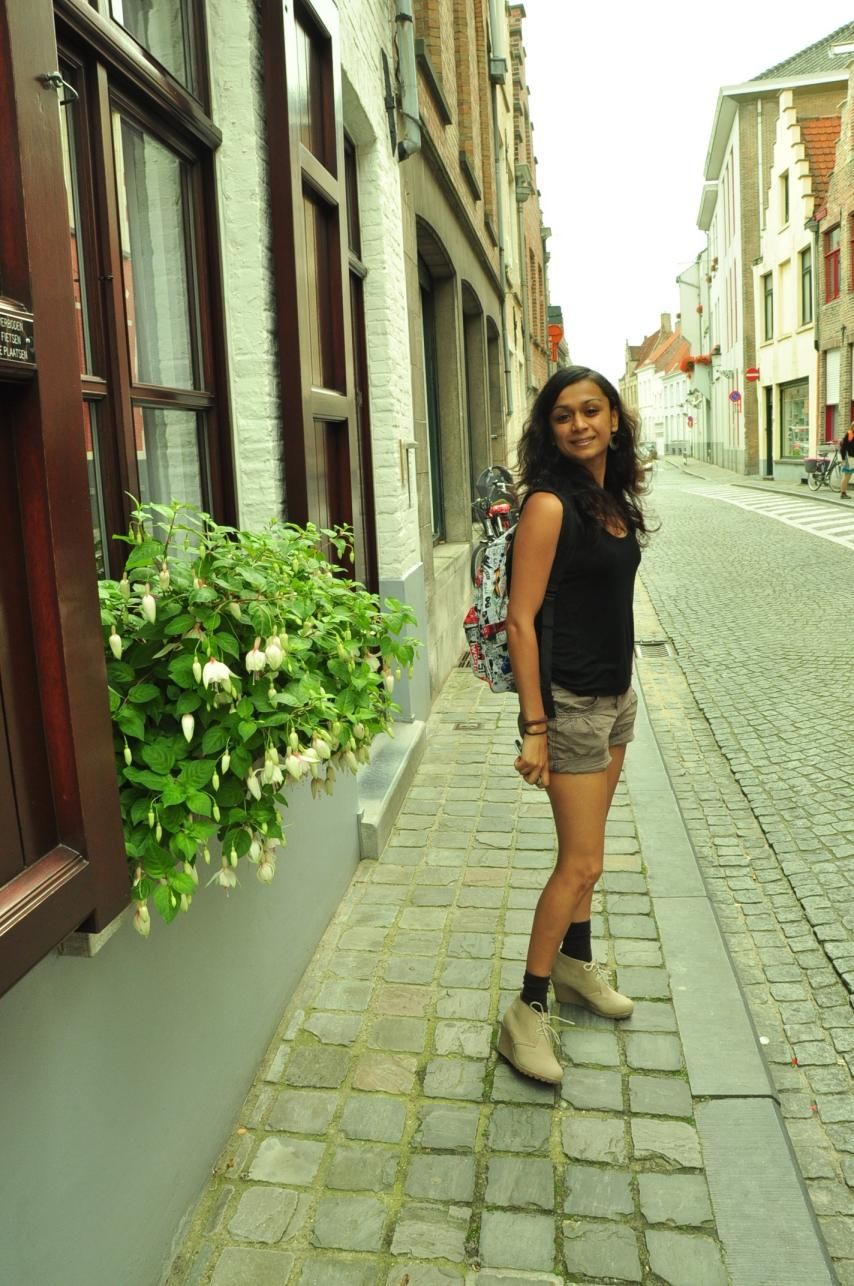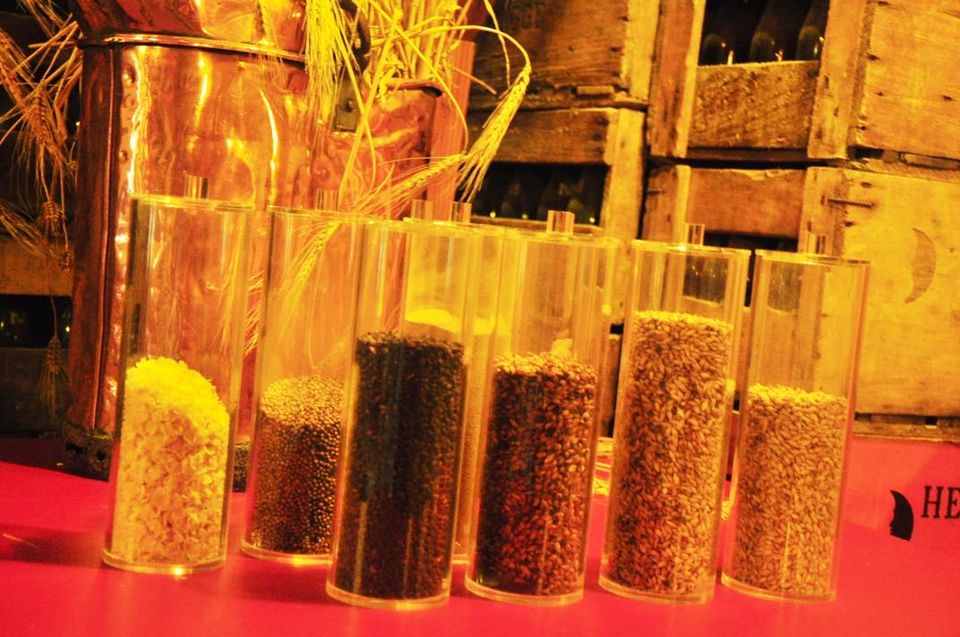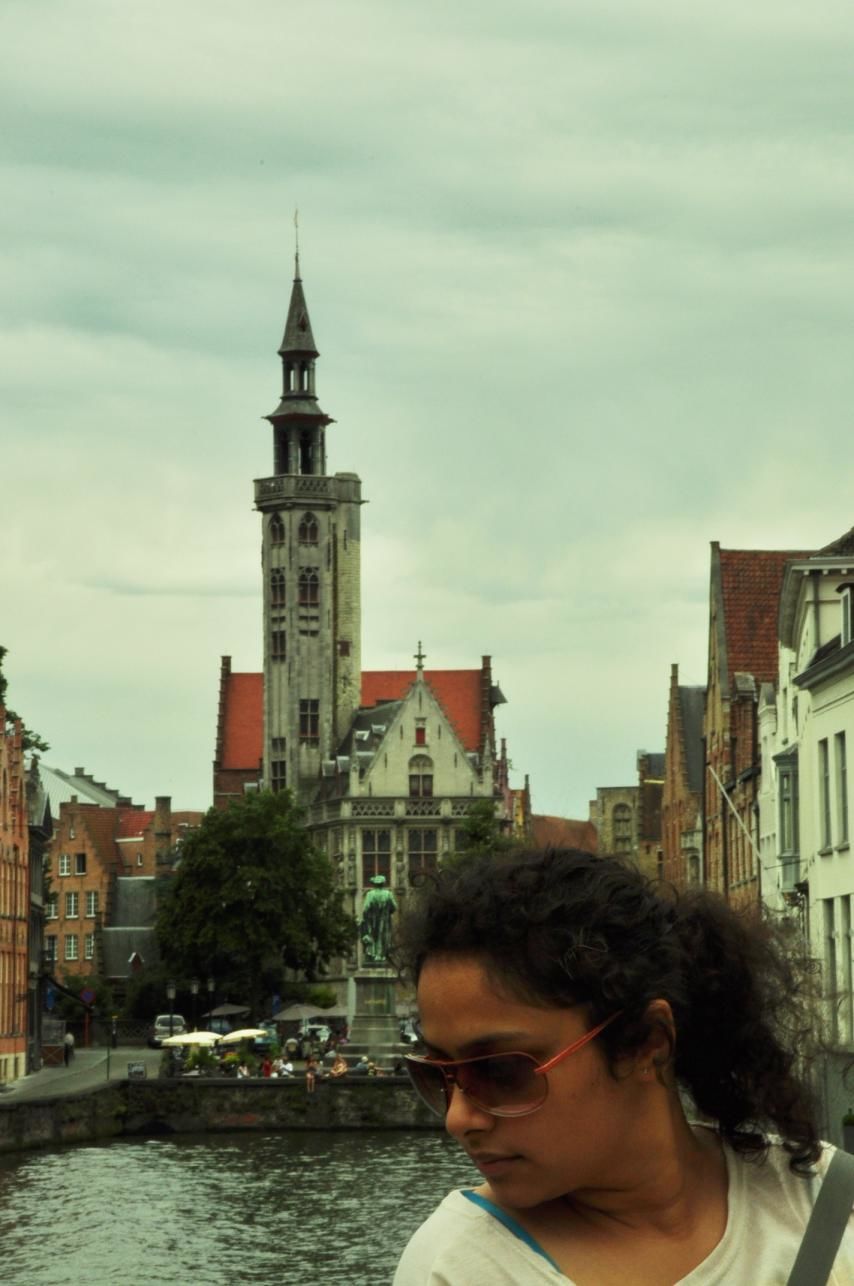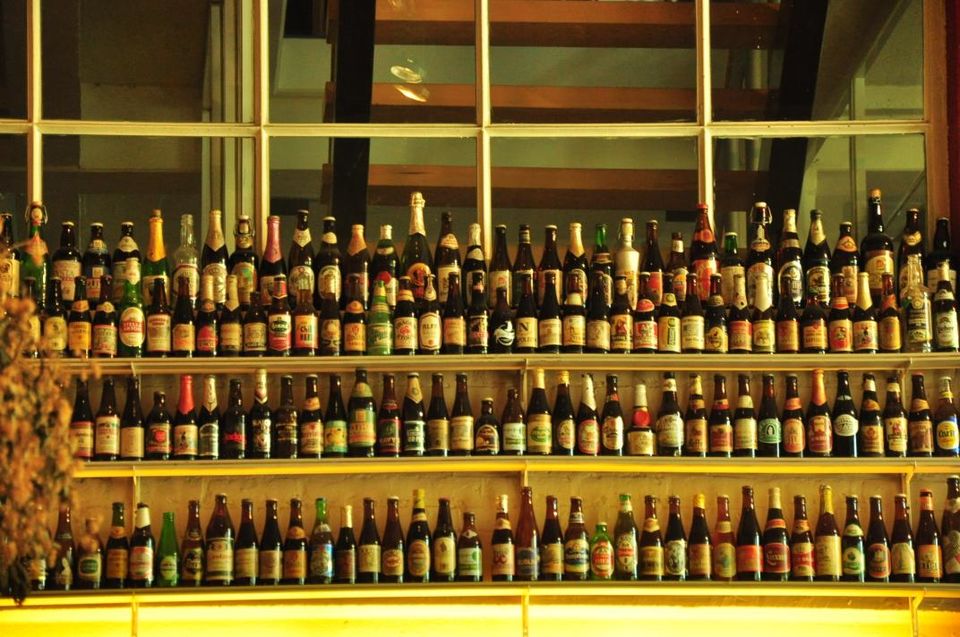 You know how we all end up making a bucket list some point in time or the other (and then keep adding to it) - of places that we'd love to visit. I haven't watched In Bruges. I don't know how or where I learned about the existence of this quaint town. But when I did, I picked up those 6 characters, and dropped them into that bucket. And August 2012, I visited Bruges.
My trip to Bruges started with an early morning train from Gare du Nord, Paris to Brussels Midi, that cost us about 50 euro per person, free wifi and breakfast on the train (because first class tickets and second class tickets were the same rate, the day I booked). With a 9-11 minutes stop over at Brussels, we (I was travelling with a cousin) made it just in time for our train to Bruges. 6 euro per person for that ticket. About three hours from when we departed from Paris, we were at Bruges. We paid 50 cents to get an utterly cute map out of a vending machine and took a local bus from outside the station to the town square, figuring that we could walk to where we needed to get thereafter.
Bruges in a few words? Old-fashioned homes and everything within a mile'ss walk of everything else. 
What didn't impress me about Bruges were the canals. Well, the canals were alright. But the motor boats that took people sight seeing were not something that I appreciated. You don't use motorboats in a pretty little town like this. But then, that';s just me.
We got to the place we had booked our stay for the night at - a bed and breakfast run by a homely Flemish lady - Officer's House.
We dumped our bags in our room and figured out our plan for the day. I had hoped to a reservation at Kok Au Vin, an authentic Flemish restaurant, but their website said that the family was out on vacation that very week! Tragic state of affairs, that! So, we head back to the town square, also called the Markt, where we rented out bicycles for the day, 12 euro each. We lunched at the square - mussels. Mussels in Brussels would've been ideal, but mussels in Bruges worked beautifully.
That clubbed with a Kriek (cherry beer, typical to Belgium) for the cousin and a Brugge Tripel, a very strong and delicious beer and Belgian (taste-just-like-the-regular) fries.
As far as food goes, Bruges is fairly expensive. We shelled out close to 50 euro for every meal - beers inclusive. I have no regrets about paying that kind of money for my food, especially when it tastes great and makes for cool blog posts.
We walked across the square and up Belfort, the bell tower at one corner of the square – 350 steps of a spiral staircase.
And at the top was a ginormous music box. No kidding! You know those little music boxes with a lever that you turn that moves keys over a tiny drum with ridges/pins to make pretty music? That's exactly how the clock of the bell tower went off every quarter of an hour.
I had a minor fall while trying to take some pictures of the splendid view of the town from the top of the tower. I fell off a bench, not off the tower… in case you were wondering.
On our way back, we stopped by at the Basilica of the Holy Blood, but it was closed to visitors (for the day), so we head out of the square. We cycled to the Chuch of Our Lady and the Burg and did our bit of sight seeing in Bruges. We, then, checked at Curiosa, to make a reservation for dinner. The man didn't seem too friendly. Or may be we were really badly dressed and we looked like poor, hungry Indians. And he was racist.
What had started off as a heavy downpour when we left the tower was now a mild drizzle, and we cycled to the far end of the town to see some windmills. Green patches of happiness, red and white and brown windmill, bicycles, it was all quite my idea of surreal.
We headed back to our room to freshen up and stopped by for a bit at Cafe Vlissinghe, the oldest pub in Bruges and only 5 minutes of a bike ride from where we were put up at.
At Curiosa, we had a carafe of their house wine and ordered the Flemish stew (an absolute must-have, when in Bruges) and some braised lamb which came with some delicious green pepper sauce.
We biked some more around town later in the evening, discovering more canals and fountains and all sorts of things. I even had a bad fall and fought with my sister and went to bed crying my eyes out.
I woke up with a badly bruised chin, a bruised arm and some blue bruises at several other spots. Bruised in Bruges was my joke for the rest of my holiday.
Day 2, we did a quick tour of the Fries Museum and the Chocolate Museum and then walked around town until we got to De Halve Maan brewery where we paid 6 euro for a tour of the brewery and some free beer.
The Fries Museum smelled of fries. It made me sick. Of course, there was a lot of information about kinds of potatoes (there are 4000 varieties in Peru alone!) and potato peelers, cutters, fryers and everything else that you've ever wanted to know (and couldn't care less) about fries.
The Chocolate Museum had a little chocolate making session and free tasting as well. And here's where I did some sight-seeing that I conveniently avoided in my 2 hours in Brussels. You'll know what I'm talking about in just a bit.
The ride to The Half Moon Brewery was beautiful. The weather alternated between drizzly and sunny. We stopped by at St. Salvator's Cathedral and the canal right across it, for some pictures. We walked around buying sweet nothings – pins for my bag, Belgian chocolates for the family and select beers and their glasses for friends.
At De Halve Maan, they make four kinds of beer: Brugse Zot at 6%, Brugse Zot Dubbel at 8%, a Brugse Tripel at 11% (also called the Straffe Hendrik) and the Quadrupel (some seriously deadly beer and a stronger version of the Tripel)
Our tour guide was a plump lady who made jokes with such a straight face, they almost had me crack up twice as hard. I learnt only half way through the tour that the guides had a script that they spoke out to us, because the group that started 5 minutes after us and with a French guide seemed to be laughing at the very same points in the tour that we laughed at. Bummer! Kinda! But the tour was brilliant. Every aspect of it. From how the malt is roasted and to what extent they need to be roasted for the right colour and flavour to huge cylinders in which need to be cleaned out periodically before batches of beer are stashed away in them to ferment.
Flip top bottles and their caps stowed away in the back of the brewing unit
The tour ended with all of us getting a glass of the Brugse Zot. They also have a store and a full fledged restaurant – the set up being a pretty garden in the back of the house that the brewery has been set up in, wooden benches, windows lined with creepers and red flowers, tulip glasses with beer, cheese selections, the works. But we needed to soak in a little bit more of the town, and by soak in I mean, have more beers before we caught our train to Brussels, so we head out again.
We thought we'd stop by at De Hobbit for a late lunch, I was told the spare ribs they serve are to die for. But it was shut (4pm to 6 pm). So we took four steps across the street into the 't Brugs Beertje, a pub that has lots of excellent beer – bottled and on tap.
I really badly wanted to drive around the country visiting Trappist monasteries and even almost made a plan with @musicaloud who was in Eindhoven, then. I had first heard of Trappist monks when I had my first Chimay a few years ago, with a boy who got me started on drinking good beers. Turns out my cousin didn't have a driver's license and me driving around wasn't something she quite appreciated (for whatever reason). Besides, she seemed pretty keen on me staying in Paris for most part. It was only after my two day stint in Belgium that she realize how awesome driving around would have been. That is when we hatched a fantastic plan. I've written about it at the end of this post. Back to Trappist monasteries and monks.
There are eight Trappist monasteries that brew beers: six in Belgium (Achel, Chimay, Orval, Rochefort, Westmalle and Westvleteren), one in the Netherlands (La Trappe), just a few kilometres from Eindhoven… Sigh!!! And one in Germany. I had beers from Chimay, Westmalle, Orval and Rochefort. And a half dozen other breweries, but 4 trappist brews checked off my list! Woot! Most of the aforementioned monasteries also make their own cheese. More reason to do that road trip!
I needed to get as many Trappist beers as I could in my system and I had already had the Chimays, so I went for the Westmalle. That, followed by a Rodenbach (nope, that's not the Trappist kind). While the Westmalle was a tad too strong for my liking, the Rodenbach was beautiful. The cousin went for a fruity beer called Passion Max and we ordered a farmer's platter – offal (new word because I'm reading Ruth Bourdain's Comfort Me With Offal!!! Innards and oh-so-yummy!!!), pickled baby onions, olives and cheese.
Following that, we dropped our bicycles off and took a bus to the train station. We almost missed our train to Brussels, had to buy new tickets because we forgot ours at Officer's House and decided we *must* get drunk at Delirium Cafe before we hopped on to our train to Paris. Needless to say, that is exactly what happened.
I wish we had spent more days in Bruges. I had been told that 4 or 5 hours would be enough time in the town. 4 or 5 hours? I could spend a week in the town and not be bored, one bit. Walking or biking around, drinking beer, eating good food, introspection, all that. Since our plan for Belgium was only two days, we ended up getting only 2 hours in Brussels – the time we had between changing trains. No Mannekin Pis, no Tintin Museum, no beer museum. Sigh. That only means one thing – another trip to Europe, Belgium in particular.
I did get a picture of the pee-ing boy (pee-ing chocolate!!!) at the Chocolate Museum in Bruges, though.
Delirium Cafe is the temple of the beer people. If there was one thing I wanted to do really bad, it was this. I might go to the extent of saying it was one of reasons I planned the Euro-trip to begin with.
So we did. And because we never got around to doing Orval, I decided to sample some of their beer. There's something about trappist beers that is quite bitter, quite strong and it takes getting some used to. I don't like the Chimay Gold. The red is just about ok. I like the blue. The Westmalle, like I mentioned earlier, was a little too hard-hitting for my tastes. The Orval, oh well. Fair enough. My cousin had some more flavoured beers, a coconut beer among others. I bought myself a couple of other beers AND a copy of their menu for 5 euro – 2500 different varieties!
Two hours in Brussels? Heh. Can I just paste that paragraph from above here again? I must visit Belgium another time. Soon.
Some day, when I'm very rich, I'll do a week driving around Scotland and tasting indigenous scotches… A week in Southern France, across vineyards… A week in Belgium, monastery hopping and tasting beers and cheese… A week in Germany, beer tasting (again)… And local food all along. I'm sure these holidays will be extremely fun, amazing learning experiences and tremendous amounts of happiness. I look forward to saving money. I look forward to earning more good money, doing better work, and being the kind of happy I like being. :)