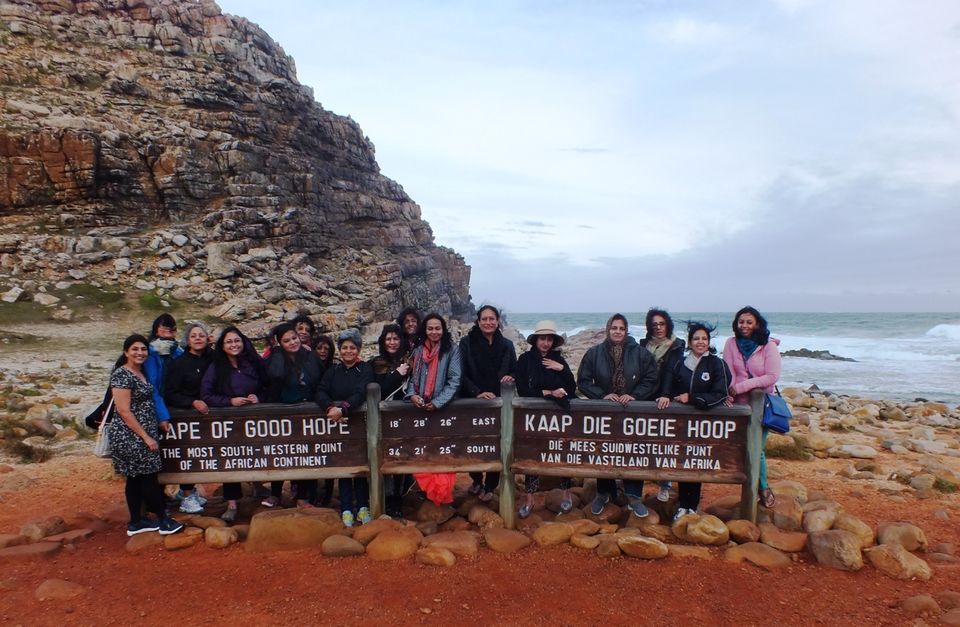 The Dark Continent is like chocolate cake – you never have enough of it. Egypt is ancient. Ethiopia is enticing. Morocco is mind-blowing. But South Africa is out of this world. Words cannot describe the wealth of experiences that this country has to offer. It's undoubtedly the icing on the cake. Scenic vistas, a mosaic of cultures, history and architecture, unique flora and fauna, exotic animals in their natural habitat -you have to see it to believe it. Whoever described the Garden of Eden must have lived here sometime in the distant past.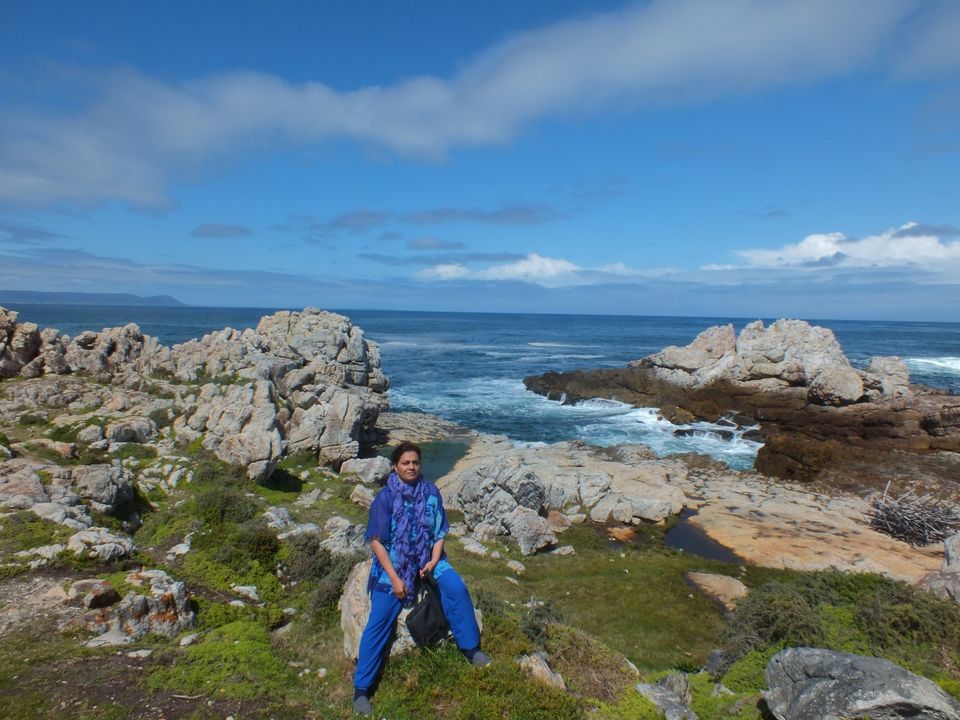 Cape Town
One of the most dangerous cities in the world said a 2015 survey report. But I can't help thinking it's also one of the most beautiful. The Table Mountain covered by swirling swathes of mist. The four seasons in a day, as our tour guide described it.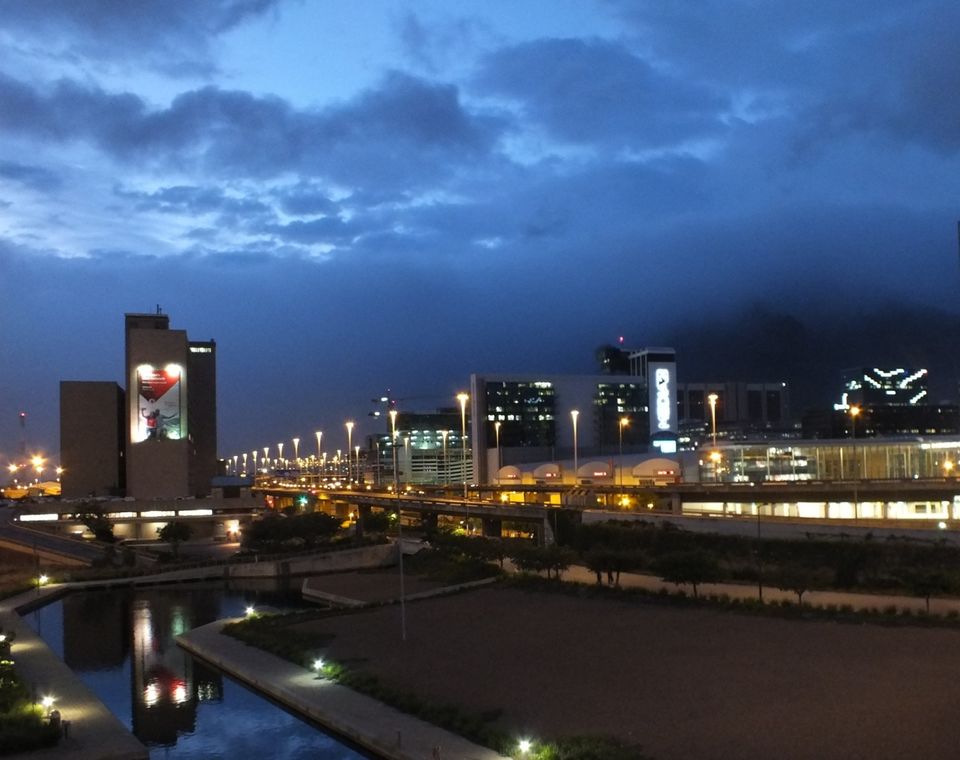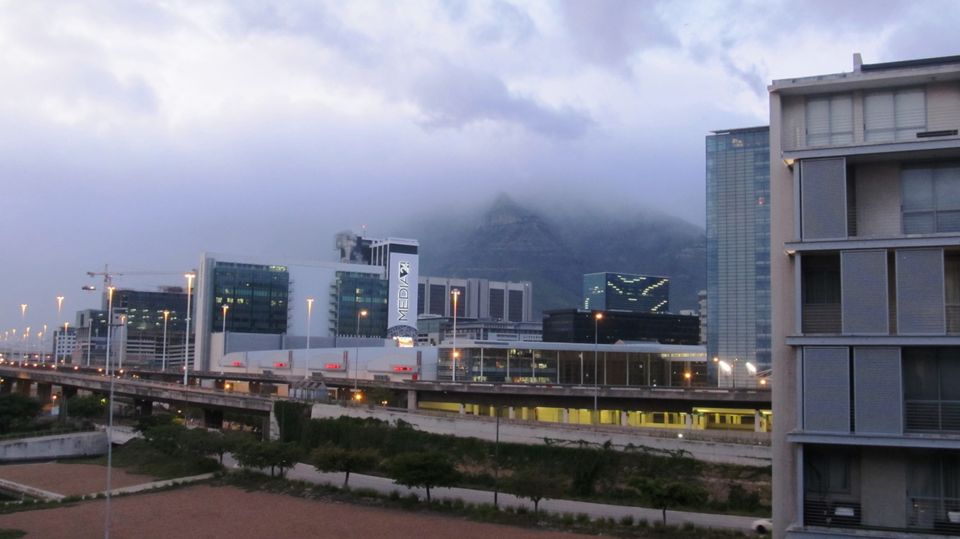 The Victoria & Albert waterfront.  Delicious seafood. Wines, liqueurs and Amarula cream for the tipplers. Boat ride to Seal Rock (or is it Seal Island?) Seals and seagulls sharing rock space, cormorants lined up on the jetty. Man, do the seals rock!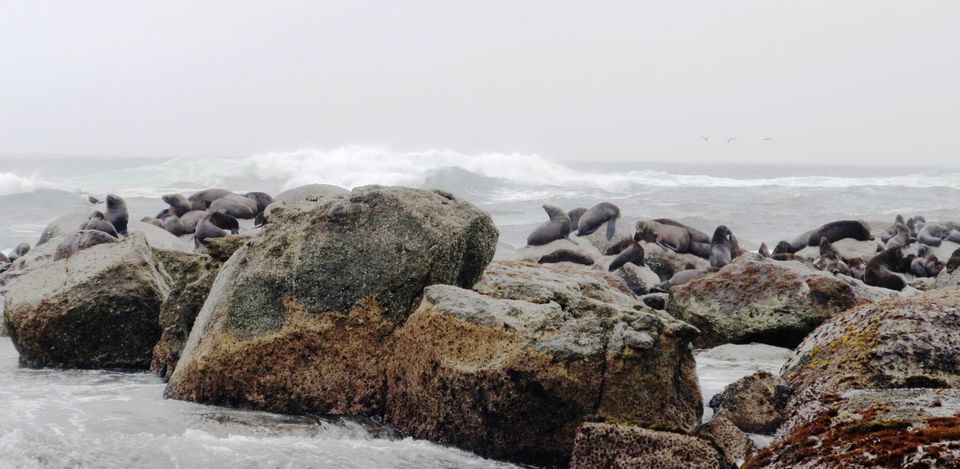 Robben Island where Nelson Mandela was imprisoned for decades is a major pilgrim spot. The Malay Quarter where the first slaves from the Dutch East Indies were settled now sports an array of multi-coloured houses.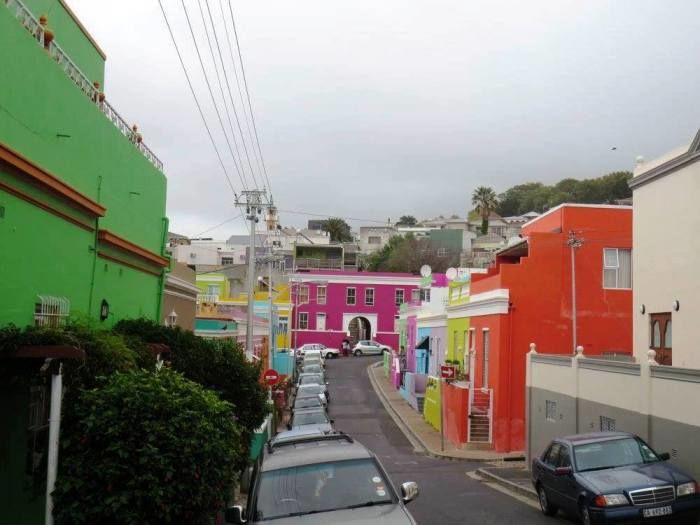 At 33.9° South, Cape Town is the legislative capital of the country and the playground of the rich and famous. I did ask about the property prices –honest! I'm neither rich nor famous, but my heart was effervescent with optimism. If I'm going to be shot dead someday, it might as well be here! 
The Coastal Drive
We set off from Cape Town on a cold windy morning and steadily drove south. At Hout Bay a magnificent rainbow welcomed us.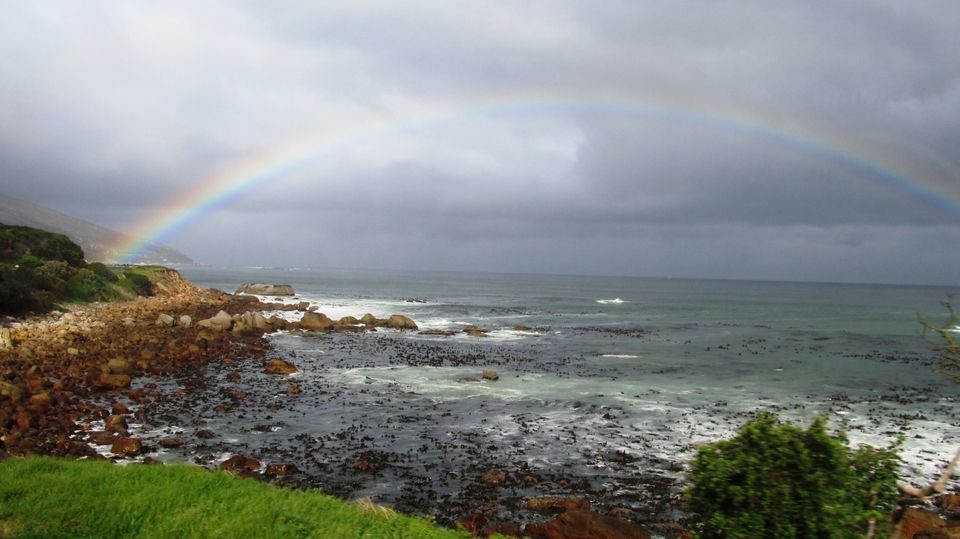 We drove through Simon's Town and had a mouth watering lunch at Fish Hoek Beach.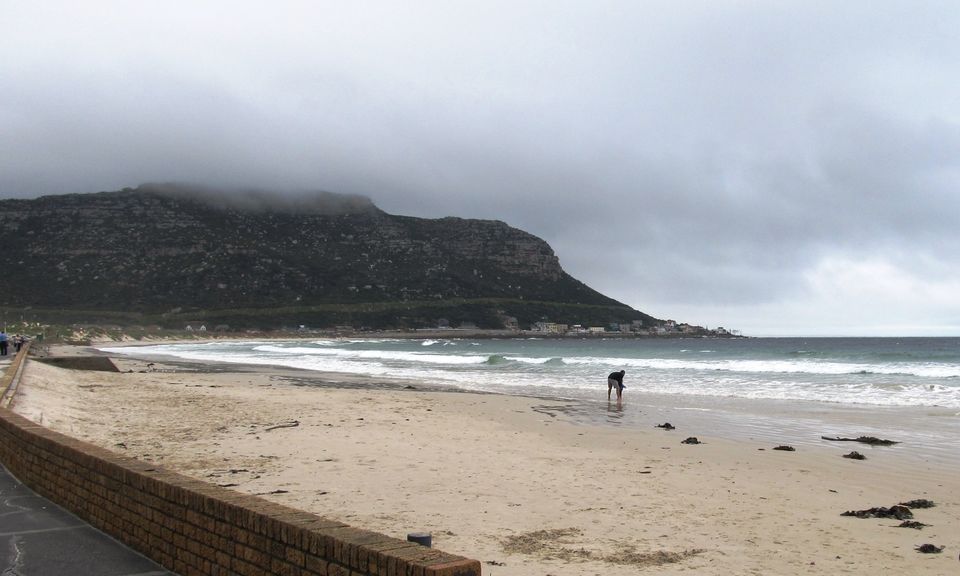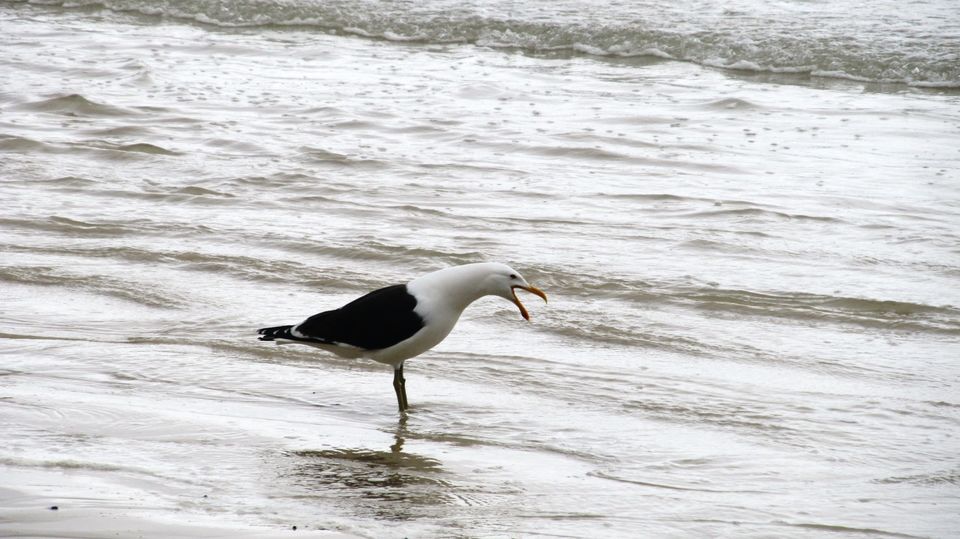 We saw Jackass penguins at Boulders Bay and lumbered across the boardwalk at Foxy beach taking pictures of the unusual birds that had made a home here in 1982.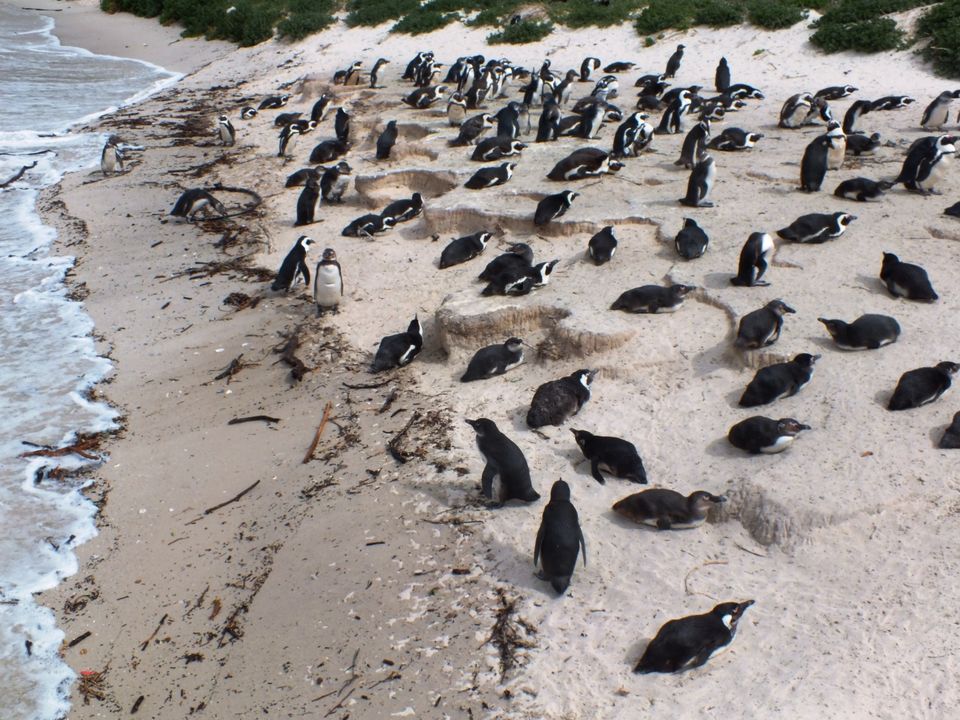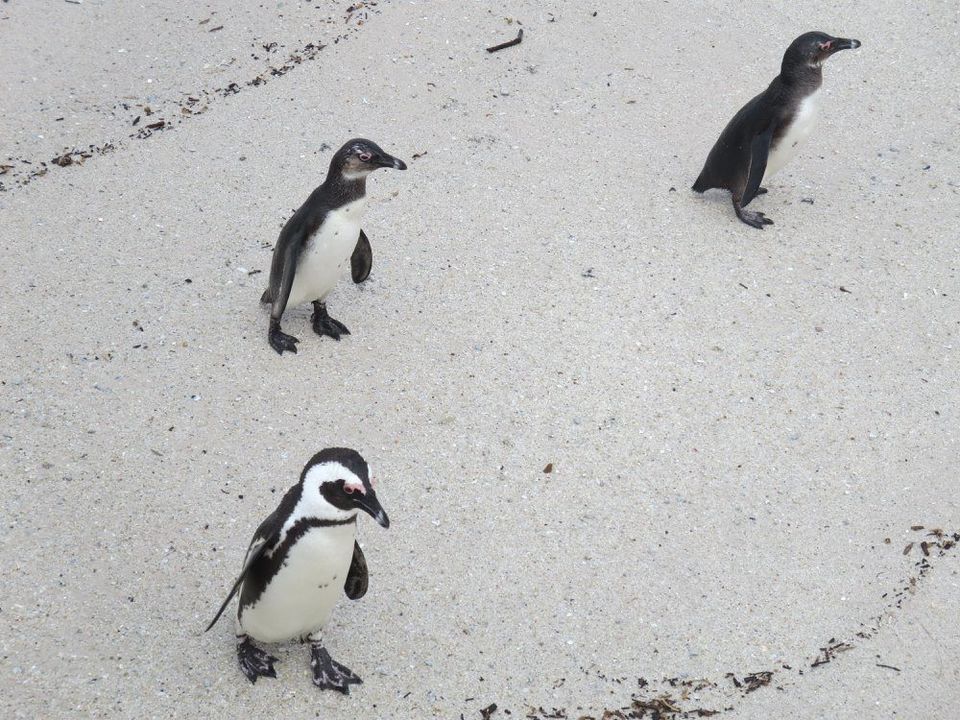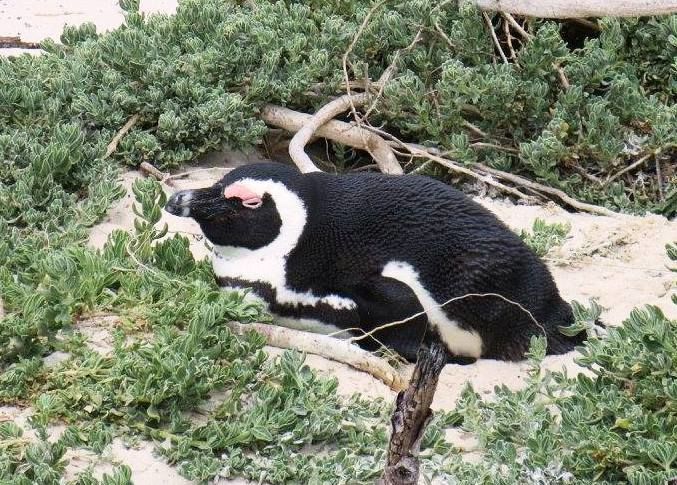 We went whale watching at Hermanus and shark cage diving in Shark Alley off the town of Gansbaai. We marveled at the sight of fat well-fed Cape fur seals, southern right whales and great white sharks in the ocean and wild ostriches and untamed baboons on the coast. 
Cape of Good Hope
The Cape of Good Hope at 34.3°South is not the southernmost tip of Africa - as many of us believe. That distinction is reserved for Cape Agulhas, lying farther south at 34.82°S, roughly 223 Km from Cape Town. Here the warm waters of the Indian Ocean meet the cold Atlantic currents at the meeting point of two mighty oceans. Cape Agulhas experiences fearsome winter storms and mammoth waves. It is said that around 150 ships have sunk around Agulhas. I was sad that we didn't have time to go that far.
"Baboons are dangerous wild animals. Do not feed them." We found such boards at several locations. A baboon pounced on one of our tour members but she had the presence of mind to stand still until it went away on seeing a white woman holding a sandwich. At the seashore we saw a family of wild ostriches – two males, two females and several newborn chicks hidden in the grass.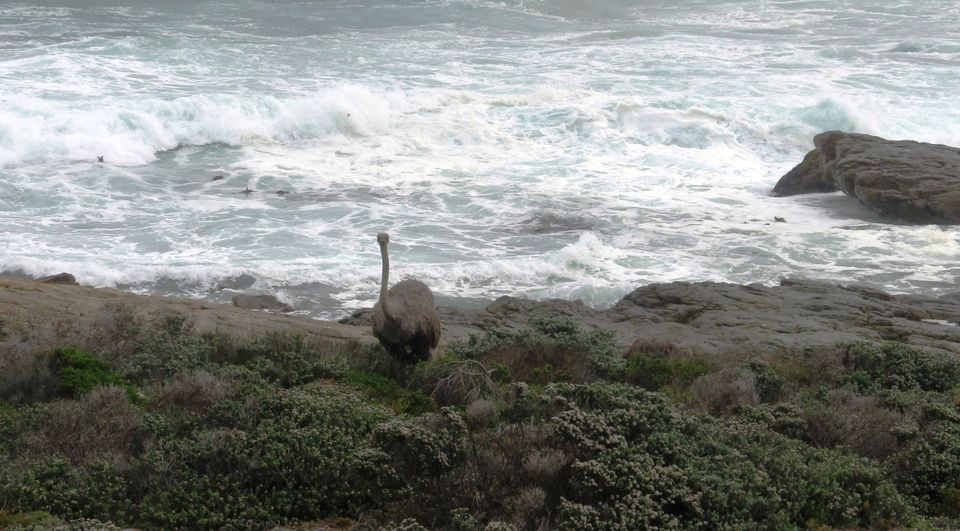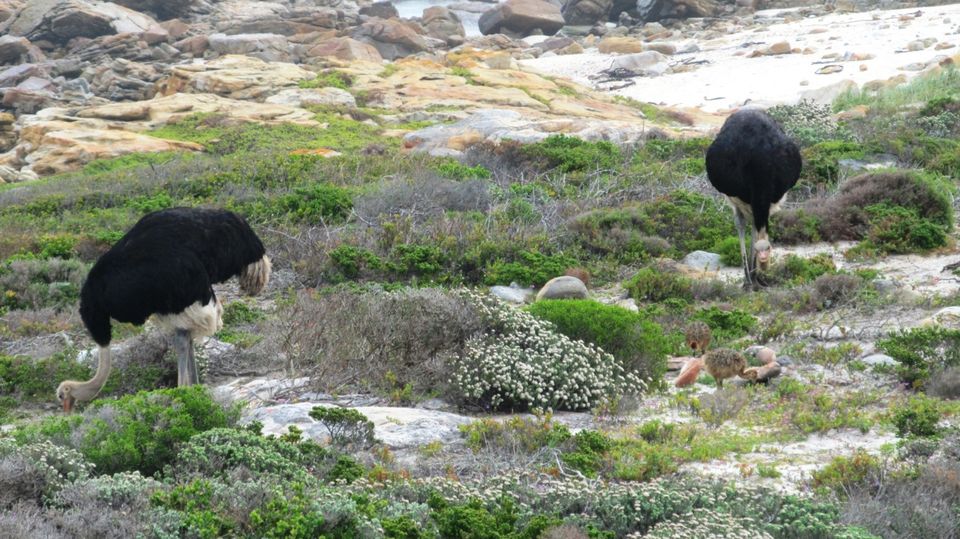 The Cape of Good Hope Nature Reserve has dive sites, hiking trails, 1100 indigenous plants and dozens of animals. A funicular railway took us to the foot of the steps leading to the Lighthouse Lookout Point. The view of Cape Point and the Atlantic was breathtaking. Cape Point marks the south western tip of the African continent where the treacherous cliffs rise 800 feet above the water level.  Between May and November whales migrate around this point. 
What I missed 
Kruger National Park was given the go-by. Our tour planners took us to Hwange National Park in Zimbabwe instead.  So my bucket list just got bigger. The port city of Durban is on my list too. It was here that the first indentured labourers from India landed in the mid-19th century.
Pretoria in Gauteng Province the administrative capital and Bloemfontein in Orange Free State, the seat of the judiciary were missed too. So was Pietermaritzburg, where a bronze statue of an emaciated, shirtless Gandhi commemorates his role in launching his own brand of civil disobedience against racist repression. 
We flew in an out of Jo'burg a couple of times and had just enough time for a city tour and a night safari.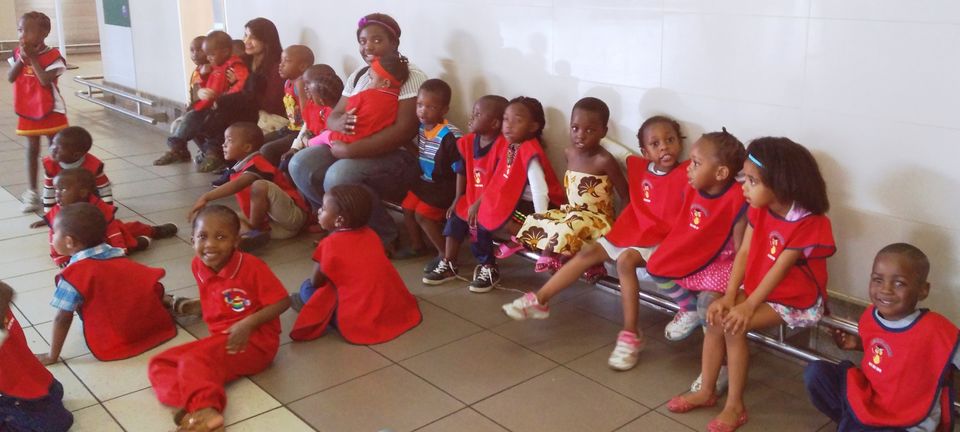 The southern tip of Africa at Cape Agulhas, the ostrich farms at Oudtshoorn, the 20 million year old Cango caves where man has lived since the Stone Age, the Cape wine lands - the names hold out countless promises. I'm beginning to understand what the poet John Keats meant when he said, "Heard melodies are sweet but those unheard are sweeter."