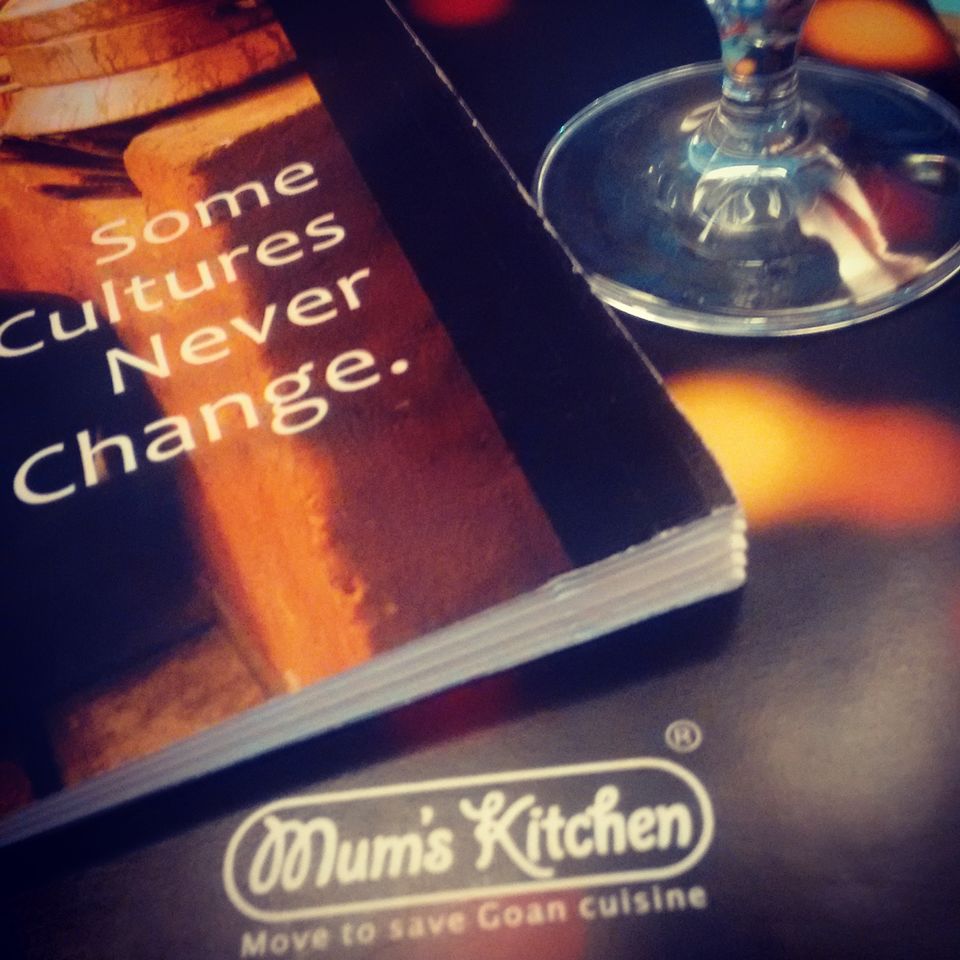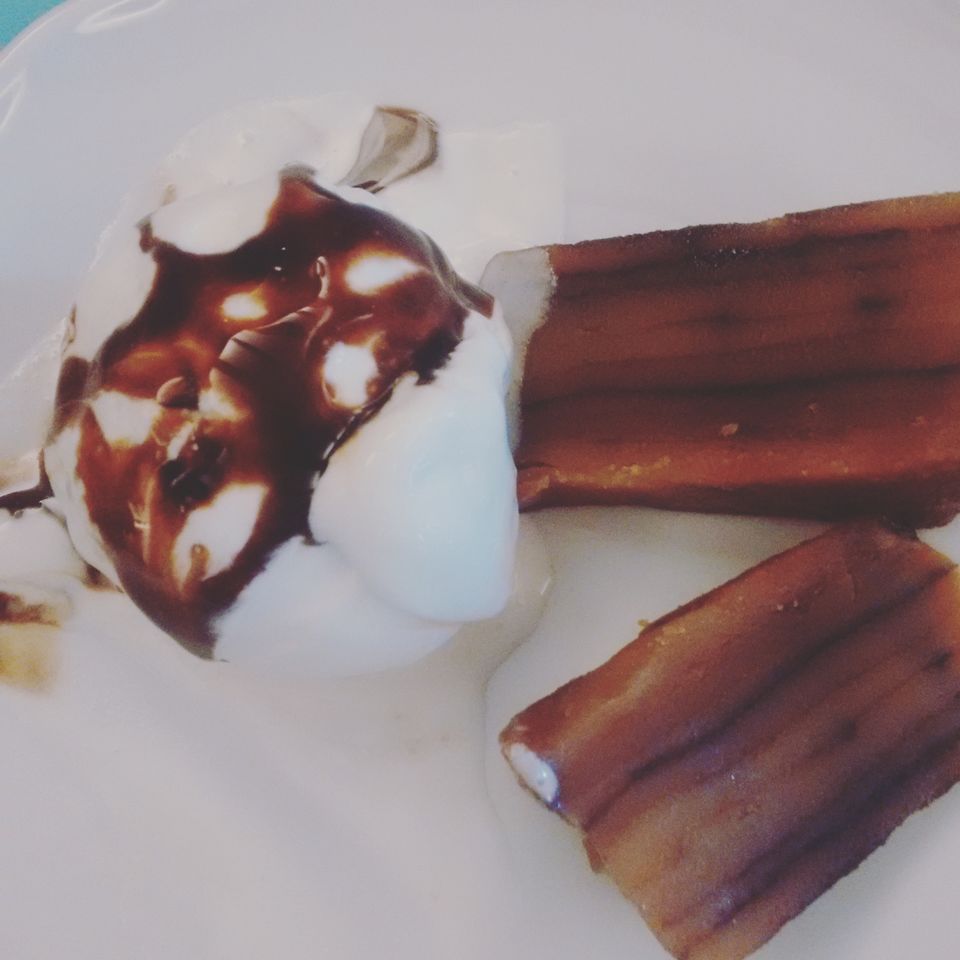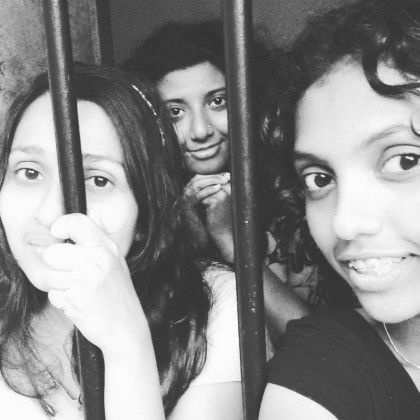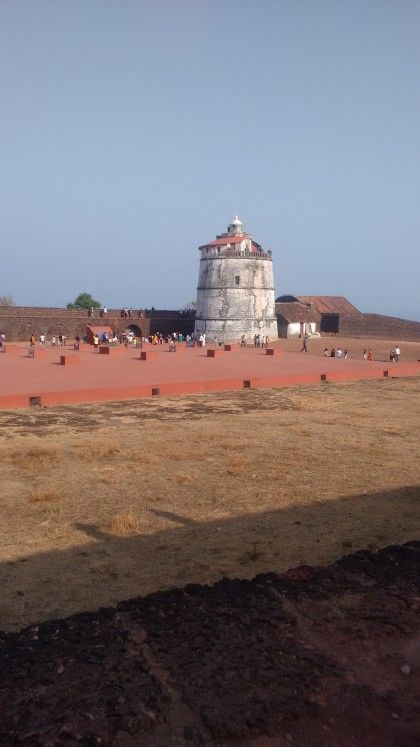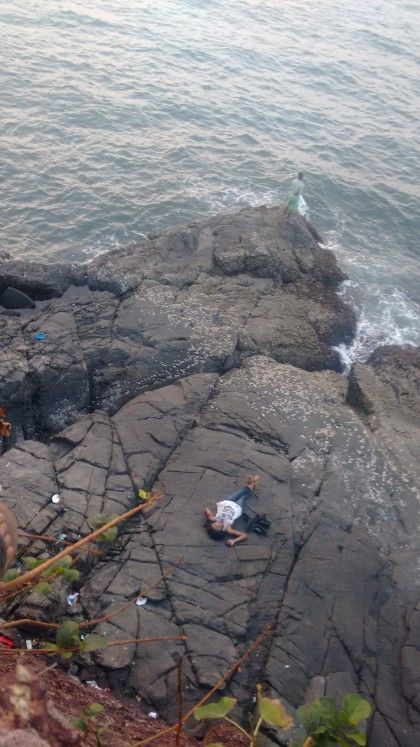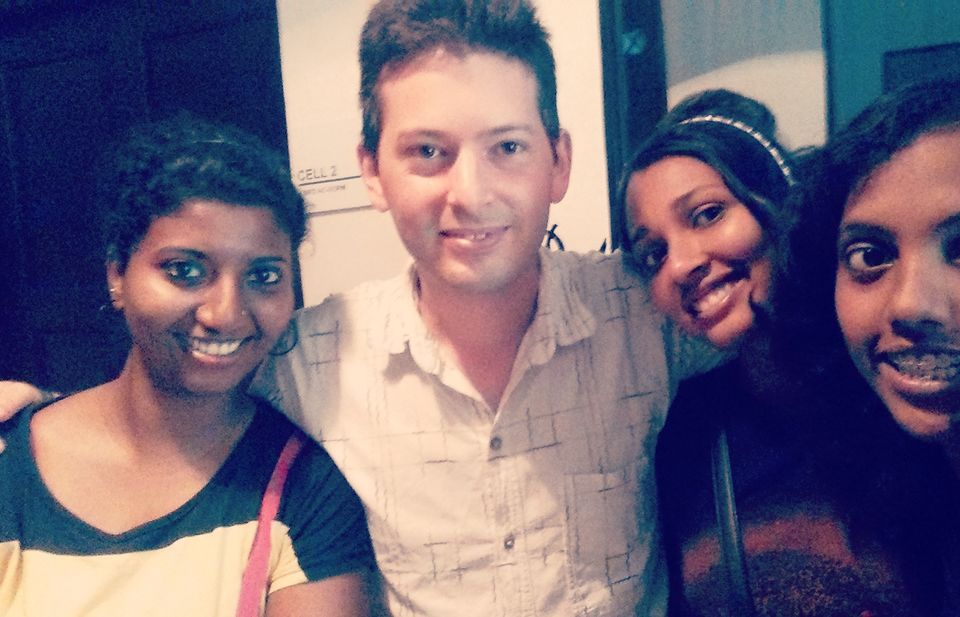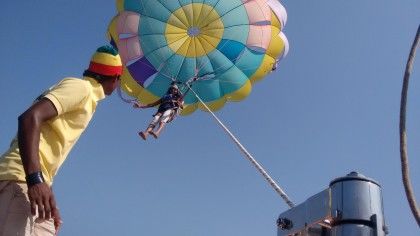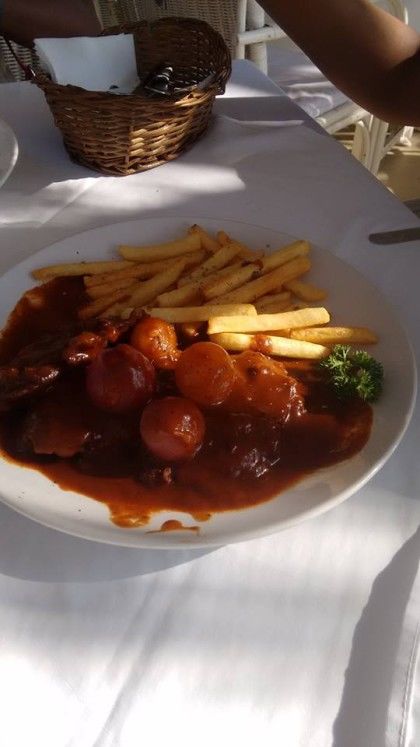 Our next destination, the sun-kissed beaches of Goa. After the Manali trip, we had been planning for next our trip.There was an overflow of options and finally, after the mighty mountains there was no confusion where to head next. Yes indeed, to the land of beaches, GOAAAAAAAA. But we got ourselves busy with our jobs and studies. As told before, the things we plan the most, remain plans forever. At a point we thought, even this Goa would stay inside the chat screens of our smartphones. We always discussed Goa whenever we got time. At last, we decided to go on 22nd of January for a three-day adventure in Goa.
We had thought of visiting Goa on the New Year's Eve. But later cancelled it because of the crowd and soaring hotel rates. So we started to pack our bags for 22nd of January. Nikki was so excited; she did all kind of research on our stay at Goa. She gave us the option to stay in a hostel. We were delighted since the rates were affordable compared to hotels, guest houses and home stays. Next hurdle was how to reach Goa from Bangalore and Kerala. We decided on Tatkal train tickets both ways. And we planned for renting out two scooters from Madgaon, so it'll be easy for us to reach every nook and cranny of Goa.
It was time for us to book our tatkal tickets from Bangalore and Calicut. We got two tickets from Calicut to Madgaon, but Unfortunately for Nikki, the train started the previous day itself from Chennai and yes you guessed it right, it left without her. Alas, a bus ticket was reserved for Nikki from Bangalore to Panjim.
Naina and Joolee boarded the train from Calicut at Midnight and Nikki at around 10 pm from Bangalore. Goa!! Here we come.
Day 1
We reached Madgaon station at around 11.30 in the morning next day, there was no delay in our train schedule, and the train journey was good. But for Nikki, it was a hell of a ride; she had to sit in the bus for more than 13 hours. But forgot all the pain once she stepped out of the bus. Yeah, we were finally in Goa.
The duo, Joo-Naina rented two scooters from two different places, one from Benaulim and other from Madgaon Municipality and then headed to Panjim from Madgaon on Edapally Panvel highway, the road was so smooth, and we felt like we were flying through Goa. Reached Panjim in around 60 mins, but Naina lost her way twice, first somewhere on the highway and second missed the exit to Panjim city crossed the bridge and had to come all the way back.
We picked Nikki somewhere in front of Panjim Bus Station. And yes we were back together, the sisterhood meets again. Joo and Nikki were totally unsure of the trip until they met each other.
Since we didn't have anything from last evening, we decided to go to Mum's Kitchen, a restaurant famous for Goan Food; we found this place on the internet. River Mandovi stretched on one side, with colonial buildings on the other side, the road to Mum's kitchen was really a good experience. The food at Mum's kitchen was sublime. 
We had ourselves few Goan dishes. To our surprise, the Goan food tasted just like our Kerala food. And we were delighted to see that they served boiled and unpolished rice, just like we Keralites do, and the curry had coconut paste too. So Malayalees do not worry, you will never go hungry here. Finally, for dessert we had bebinca, a traditional Goan layered pudding. It was so heavenly; we were literally fighting to have the last bite.
After the brunch, we were all set for "Prison". Prison Hostel, was where we had reserved our stay for two days. It's located at Flea Market Road, Anjuna. Anjuna is about 20km away from Panjim. We reached our hostel at around 4 in the evening. The advantage of booking a hostel is that you can check-in at any time before eight p.m. We had to submit our passports there which will be safely kept. We had booked ourselves a four-bed dormitory. The room was neat and clean; we made it messy.
At the hostel, we met Sumit, a guy from Mumbai. He showed us the way to 'Curlies' side of Anjuna Beach, famous for trance parties and psychedelic music. We spent an hour or two at the beach, had dinner and left for the Saturday Night Market at Arpora, also called Ingo market since it was started by a German named Ingo. Our hostel had arranged a bus @10pm to take the interested people there. We already had our scooters, so decided to catch the wind.
The market area was so crowded that we had a hard time parking our scooters. Here one could find all kind of merchandise from souvenirs to jewellery. Even a band was playing there. Well, things are way not cheap here as expected from a flea market We did small shopping and left for our hostel and then to the beach, where we were discussing our 'life goals' till 2 in the morning.
If you are going in a pack of girls, we would suggest avoiding 'Curlies' side of the beach. People will be in out of sorts. If you choose to spend time there, never try to get attention from people. People will come asking you out for partying and clubbing, but simply refuse the offer and don't create any fuzz. We reached our hostel at around 2 and slept together sharing all the things that had happened between Manali and Goa.
Day 2
As usual, we got up late and missed our breakfast, but the cleaning lady told us that we could make our own tea and coffee. So we made ourselves tea, and had ourselves an English breakfast from La-Franza Restaurant (restaurant opposite to our Hostel).
We changed, hopped on to our scooters and started to Calangute side of North Goa. Since we heard that Calangute and Baga were awfully crowded, we changed our destination to Aguada Fort.
One can see the river Mandovi meeting the Arabian ocean up from here. It was too much sunny so we didn't stay there for much time. All these places were bustling with tourists and we wanted a place where it was really calm so that we can sit and ponder.
We were fortunate enough to find a beach close to Aguada, Sinquerim Beach, near to Vivanta by Taj. But on the way, petrol in one of our scooters got finished. But luckily the scooter stopped in front of a house selling petrol.
Sinquerim was calm, but still little crowded. We found the part of some fort, or may be unfinished part of Fort Aguada. To our surprise, we found very few people here.
But the place has a serene atmosphere which holds you to stay there. We sat in one of the windows of the fort which overlooks the sea and waited there for the sun to set and stars to come out. We could see a lot of people engaged in water sports and few of them fishing at the beach. By the time it was dark, we had decided to head back to Anjuna.
The roads were crowded like hell, especially near the Calangute area, so somewhere in between, scooters lost each other and went different directions. Naina was riding without pillion and she went the wrong direction. But using Google maps, reached the hostel in no time. So always have Google maps while traveling as it is easy to get lost on these roads. To Naina's surprise, the other two were not yet in the hostel. After few minutes, she got a call to know that others were stuck somewhere near Arpora, with an empty gas tank. Naina had to ride back with a 1-litre bottle petrol to feed the thirsty beast. Thanks to Whatsapp, through which they had sent her the location and she was able to track them.
Again we returned to the hostel, and we headed to the beach and partied at the beach till 3 in the morning. Those are the times we realise how cool it is to have friends like this. The beach was still awake with more and more people coming, but we decided to retire, for we had one more day with us.
Day 3
Next day we got up early for the breakfast, at the dining we met people from all over the world, mostly Europeans. We got inspired from one fellow mate Eric, from Switzerland, who had earned enough to quit his job and see the world.
Those are the perks you get while staying in a hostel. To meet people with some serious travel goals and to know how they feel about traveling. Moreover, you feel like the home away from home. We had to check out for the day we could keep our luggage in the common room.
Well, for our last day what we had in mind was the water sports. Our cook, Mr.Francis told us to head to Vagator than Calangute or Baga as Vagator will be less crowded. He showed us the way to Vagator as his home was en route.
Little did we know about the effect of sea-sickness. We decided on trying parasailing first and the other activities afterwards. But once all of us got into the boat, Joo and Nikki became victims of sea-sickness. At first, only Nikki had the sensation, but after seeing her face, Joo also started to feel sick. Among us, Naina is the only healthy individual. 
But Parasailing was one hell of an experience. The view of the sea below us and the surrounding hills from the sky is a treat one cannot ignore. It's too bad we can parasail only for a few minutes. But hey, it's a memory to cherish.
After parasailing, both Joo and Nikki were not in a condition to try any other water sport, and they were feeling dizzy. So we decided to sit and get our blood pressure back to normal. Near the beach, there are many shops which sold souvenirs. Things are very cheap there compared to the night market. We managed to buy some items made of seashells. With the scorching sun above us, it was time for our lunch. And as someone said, Goa is incomplete without Thalassa. Thalassa is a cliff-top restaurant located at little Vagator beach. The view of sun, sea and the greenery from there was simply out of this world. Not forgetting the food, they serve continental. It burned a hole in our pockets but was indeed very tasty.
Thalassa is a must visit in Goa, the placement of the restaurant and the ambience gets a permanent imprint in the mind. We never wanted to leave only. But it was getting late as our trains were at 9 pm from Madgaon. Remembering the bitter experience of missed flight from our last trip, we immediately bid bye to Thalassa.
Back in our hostel, even after checking out, we are allowed to use the common room and washroom. So everybody freshened up, bid farewell to the fellow hostel mates and Goa. This time, nobody missed their trains. For us, Goa trip began as a bitter-sweet experience with all the uncertainties which could prevail, but once we got back to our normal life, all of us wanted to go back. Goa, you will be missed, and we shall undoubtedly visit you again.
This trip was originally published on wanderlustdiaries