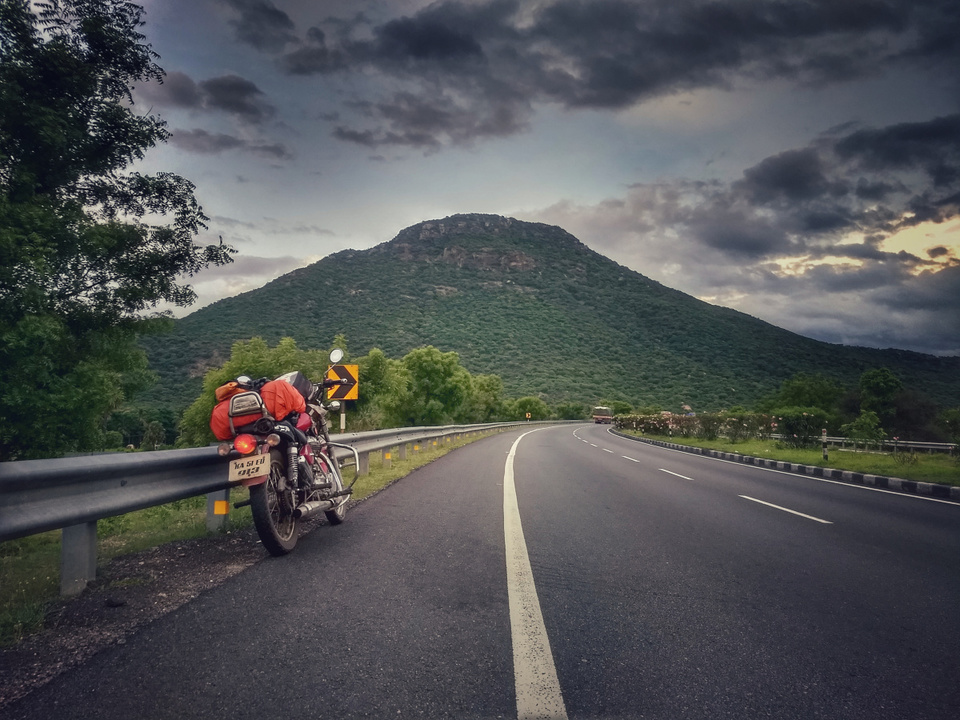 Kodaikanal in Tamil language means "The Gift of the Forest". True to its name, nestled in the U pper Palani Hills, which forms the eastern part of the mighty Western ghats, this quaint little town is your perfect weekend getaway place. The fresh aroma of the numerous Eucalyptus and Pine trees throughout the ghats is exactly what you need after a stressful week in the city.
Impromptu plan...
Since the time I moved to Bangalore 7 years ago, Kodai was always on my go-to list. Someway or the other, it never happened. Sitting at an approximate distance of 500 Kms from Bangalore, Kodai never was very far away. Sometimes no matter how much you want to visit a place or how much planning you do with friends, fate has its own sweet plans.
Past week had been hectic, both at work as well as on the personal front. With the dire desperate urge and need of taking a break at its peak, I knew I had to make the most of the morning shifts at work which made sure that I was free by 2 PM in the afternoon. The idea of going on a solo ride hit me last Wednesday and that is when i decided I had to head out of Bangalore that weekend at any cost!
Google maps has always been my trusted go-to app whenever I try to look for places to ride to. Browsing through it, my eyes suddenly lit up as I saw Kodaikanal on the maps. I knew it for sure, if i'm going, it has to be Kodai! Route plan was made. Days were set. Everything else was left to my imagination.
The Ride...
Friday came and throughout the day I had that smile on my face knowing soon I'll be on the road, wild and free. Wrapped up my work by 2 PM and headed back home to load my trusted companion " Red Devil", my Royal Enfield Thunderbird Twinspark 350 cc. The bike had gone through a re-hauling 2 months back, and was tested well on my previous weekend ride to Yelagiri, for India Bull Rider's 6th Anniversary celebrations. The only concern were the brakes, which felt little hard. Called up the mechanic to see if anything can be done quickly to fix it. Negative was the answer! It would have taken at least 1 hour if not more to put on new brake shoe and I was too eager to be on the road to wait anymore. So tightened the brakes myself and finally at 4:20 PM, I left home for this well deserved solo ride.
As had been the case with Bangalore's unexpected weather, my impromptu ride also started with rains. But that ain't gonna stop me now, can it?
Cutting through the usual traffic till Hosur, I finally got to open the throttle and rode till i could see sun shining again to take a break before my favorite place, Shoolagiri . But this time I skipped it and stopped somewhere randomly on the road ahead. The weather was just perfect with dark clouds and sun trying to peak through it.
Till now I had no set plan of where to stop for the night or whether I keep riding through the night and reach Kodai. With some classic songs to give me company I continued on the beautiful 6 lane highways. Another tea-break taken somewhere after Krishnagiri and this time I gave a serious thought to whether I should continue riding to Kodai and reach late night or take a night halt at Salem. With very less sleep the day before due to the morning shifts, I decided against riding through the night and decided of halting at Salem which is around 200 Kms from Bangalore.
The Ghats...
Woke up bang on time and was ready by 6 AM. Didn't want to waste any time in the city and wanted to be on the open highways as soon as possible so decided to have tea outside the city. After about 20 Kms stopped for tea and ogled at the hills I could see far away. The roads are absolutely beautiful throughout. With mostly 4 and 6 lane highways for company , its a delight for riders.
Breakfast stop was after another 80 Kms at an isolated Kerala restaurant, Hotel K.M.S bakery, on the highway. Although skeptical of food being available, but I was pleasantly surprised to find quite a good spread available. Food was served on banana leaves and water and tea served in earthen clay vessels. Even the food is cooked in pots. With the excitement of reaching the ghats soon, I pushed off after filling myself to the brim with the delicious food.
The best part of riding solo is you can ride at your own pace, be it fast or slow, its your decision. You can make a stop anywhere to stretch and give your bum a much needed rest or you can just stop because you just want to stop! As simple as that. Breezed past Dindigul and after a few such breaks I could actually see myself heading to the hills.
After Batlagundu is where the climb starts. After stopping to take a picture of the entrance board, I started with a big smile anticipating the ghats and what I'm gonna do with them .
The roads were brilliant with a few potholes in between due to the constant rains this place gets but these 50 Kms were an absolute pleasure to ride on. The leans on the curves is something I will remember for a long long time. The bruised foot pegs are a proof of the fun I had on these curves.
The road passes through some dense forest covering. The aroma of Eucalyptus trees greets you as you near Kodai. This scent has always been my favorite feeling of going to any hill station. It just gives me a feeling of belonging here as if the hills are saying "Welcome my boy" ????
The Stay...
Once you enter Kodai town, the first thing you notice and get sad about is seeing so many tourists in uncountable number of cars leading to traffic jams on the narrow roads. Madness I tell you!
Luckily the day before while browsing through the internet for backpacking places in Kodai, I found a website called tripprworld.com. This place has bunker beds and dorms at a very reasonable price, perfect for solo travelers and backpackers. I had made a booking with them the previous night and headed directly to the place. Now this place is at a higher altitude than other places in Kodai, I say this because when its raining here doesn't mean it is raining in other places of Kodai, trust me i saw this happening twice.
The road leading to the accommodation are in a really bad shape due to the constant rains. Good off-roading skills are recommended. But once you reach the stay, you suddenly feel you are in some other part of Kodai. The calmness, serenity and the haze hits you straight to the heart! I fell in love with this place in the first look. The icing on the cake is that this place is super neat and clean. The owner, Mr. Nayyam was a very nice and helpful gentleman. The view from my dorm was a sight to remember. Although it was all hazy and gloomy, but still I could feel the fresh air hitting me on my face. I have always felt very connected to the mountains and hills and this definitely felt like homecoming.
Around Kodai...
After checking in, I took some help from Mr. Nayyam for the places to see around the town. He made the perfect route map for me which covered most of the places in and around the town. After getting all geared up for the rains, I headed out with my backpack. About a kilometer from the accommodation the rains stopped. But as the weather in Kodai is unexpected especially in monsoons, I continued on with my rain gears.
First stop was Bear Shola Falls. Although very much in the heart of the town, you cannot see it from anywhere unless you park your vehicle and walk for 300-400 meters. To be honest, it was disappointing. There was a trickle of water falling down and that's all! A trickle of water! This place can definitely be skipped if you plan to visit Kodai.
Next stop was the Kodaikanal Solar Observatory. It opens from 9 AM till 12 PM and then from 2 PM till 5 PM. As you would have guessed, I reached here at 1 PM. Yeah yeah I know, wrong place wrong timing..!
Without waiting here, I headed on the 10 Mile road which takes you around Kodai and covers quite a few attractions. This road is an absolute beauty. There was a slight drizzle and there was dense mist and fog covering all the way. Covered with pine and eucalyptus trees, the ride here was a pleasure which cannot be described in mere words.
But as soon as you near Moir's Point, you suddenly realize how lucky you are for coming on a motorcycle rather than a car. There was a traffic jam of around 50-100 cars for this viewpoint. Cutting through the traffic I reached Moir's Point but there was more disappointment in store for me. This place was jam packed with tourists. It was a crazy frenzy everywhere. And not to mention the litter the tourists were doing everywhere. This all was enough for me to decide to skip this place and head for the next one which is Guna caves and the Pillar rocks viewpoint.
Every viewpoint had a traffic jam of numerous cars and I just did not feel like getting down and walking in this madness. Also the mist made it impossible to see anything from the viewpoints. Decided to skip Guna too and went till Pillar rocks. This is right besides the road and as expected, there was mist and you could see nothing. This place has an entry ticket of Rs. 5 which I don't think anyone checks. Waited here for 10 minutes and gave up to fate of not seeing anything in this dense cloud cover.
Next was the Pine forest which indeed was beautiful and serene. But again filled with tourists. Decided against going in and just took some snaps from the road and headed towards Vattakanal.
Vattakanal is also known as the Israeli village as October on wards it is mostly filled with tourists from Israel and other countries too. This place has this hippie vibe about it. With proper English speaking locals and some beautiful cafes, the crowd here itself was different from the touristy crowd I had been seeing at all the viewpoints. I ordered a maggi and just sat down observing people. This is the place to be for the happy people ????
The Dolphin's Nose & Echo Point are at a trekking distance of 2 Kms from here. As it was very cloudy and visibility was almost nil, I decided against the trek and thought of coming back in morning if only the sky cleared up.
The Kodai Lake was the next place I visited. Its a huge man made lake with a boating club for the people who fancy a boat ride on the lake. I loved the trail around the lake. They have bicycles for rent if you want to take a round of the lake. In my honest opinion, vehicular traffic should be stopped around the lake and only pedestrians and bicycles should be allowed, that would be totally worth it and would keep the lake and the surroundings serene and unpolluted. After roaming around a bit and clicking some snaps, I decided to carry some snacks and head back to my room and come back later in the evening for dinner.
The happy night...
When I went out in the morning, I was the only one staying in the 4 person dorm. Once I came back, got to know that 3 more guys have checked in. When I reached the hostel around 5 in the evening, they had gone out. So chatted a bit with Mr. Nayyam and then thought of taking a nap and heading out to the town at night for dinner. Never knew I was so tired that I woke up at 9 PM. Was not hungry so decided against going to the town as it was raining and extremely windy outside. By this time the 3 guys had come back. Introduced myself and sat down with them for some happy times. As I had not spoken much for past 2 days, these 3 guys were the much needed audience i needed. ????
Shahoor, Shreejith and Ajmal were from Kerala and were here for a leisure trip. These guys drove down to a village some 30 Kms away for few things Kodai is famous for. The videos of their drive made me want to go to this place but being solo and also the long ride back home the day after, I decided against it.
Trippr Kodaikanal has a separate room where you can play some board games and cards or read some novels if that interests you. But we didn't do any of that. We just sat down staring outside the glass door at clouds moving in on the mountains and the rains making it even more surreal. Listening to songs and just being happy is what we did.
Few lines from one of my favorite songs which was played on repeat and which reminded me how beautiful and lonely that night was :
"How could I slow down time As the waters climb Don't go I need you to be waiting for me Every time I'm home"
Song link : Groves - Benjamin Francis Leftwich
Called it a day by 12 AM as I had a long ride to home the next day and also had plans to see the sunrise if the weather permitted.
Way back home...
Woke up to the alarm at 5 AM and it was extremely cold just as it was the night before. It was still very windy and there was a slight drizzle. With watching the sunrise out of question, I took my time in getting ready. Was packed and loaded by 6:30 AM and thought of leaving early and stop in the ghats for sometime and take in the views one last time before I headed to the plains. Mr. Nayyam made some strong coffee which really did help in this cold weather. After saying my goodbyes to Mr. Nayyam and the boys and some snaps with them, I finally headed back to the ghats on the way home.
The brakes were acting funny and it was little difficult downhill. But when you see ghats, how do you control man! Stops were made in between to take some snaps which I missed while going up. Had a last tea break in the ghats and then headed to the plains.
As soon as you head down from the hills, the heat hits you! Although it wasn't so hot but coming down from 11 degrees, this felt like a furnace. Made a non stop dash till Aravakurichi before my tummy started its tantrums for food. Wanted to have brunch as it was already 11 AM and also wanted to have some nice non veg food. The search finally ended at Hotel Chellas . Had a very satisfying south veg meals along with Natikoli chicken (Country chicken) on banana leaf and a glass of butter milk and juice to wash it down.
The journey back home is always the longest. This, I have been proved to everytime I am headed back home after a ride. The highways feel like never ending and you get bored. Riding solo does have its pros and cons as like everything else. It gives you a lot of time to think and introspect. Gives you all the freedom when you are on the road or at the places you are visiting. But you miss that companionship on the road, that one person to talk to on breaks. The fear of breakdowns and stranded alone is always there when you ride solo, but ain't that one of the risky thrills we seek!
There were a few scares while I was on the road but luckily no breakdowns. has been my trustworthy companion on many of my trips and I hope it stays that way forever. This is the reason I call it #theonlyconstant.
Till the next time... to many more solos and many more happy trips... Cheers!