I would like to let you all know about myself.. This is Hrudai deep and I stay in Bangalore. I am a bike enthusiast and I love riding. I am crazy about bike rides.
I ride a Yamaha R15 v2.0 which was my dream bike when I was doing my engineering.
I waited for 4 years to own a R15 and which I finally got on 13 Nov 2015, but only after I got in to my first job.
As said, there is nothing wrong to wait for your dream to come true !!1
The blog starts ......
You might have had a guess about the blog by reading the title.
This is my first ever blog about my first ever bike trip to the place where you get the beautiful sunrise (i.e Kanyakumari). I was dreaming about a long drive on my bike from the time I bought it. Though, I was not particular about the place that I should ride to..
It has been 8 months that I have got a bike and not even one long drive except to my home which is 150 Km away from Bangalore.
It was month of june and started the hunt for places. Contacted few friends who I think will be interested in a ride. Few came up saying YES, and finally four people were ready and first place of preference being GOA.
The discussions went on about the route, places, number of days.. blah . blah.. blah.......
Leaves Were approved for six days starting from Aug 6.
As everyone know that monsoons in India starts from mid June till end of September. Couple of friends came up saying that it is raining heavily in GOA and all the beaches are under Red alert. Felt broken ???? as it was a plan of one month and do not want it to go in vain.
Something unexpected happened as one by one dropped back saying it is impossible to make it to GOA in rain and that too by bikes.
August 5, 2016 :
I was left alone with all my friends saying big NO for the trip. I started thinking which place can I make it as I was desperate about the long drive and also leaves were confirmed for 6 days.
Started searching blogs for suggestions and decided to make it to South and planned the above mentioned places.....Decided to make it alone !!
Packed my luggage in to the new Vieterra saddle bag, which I purchased from JC Road. You get a good bike stuff at this place.
August 6, 2016 : (Day 1 --- Bangalore to Madurai)
Finally, the day came up and was all set..... Very Excited !!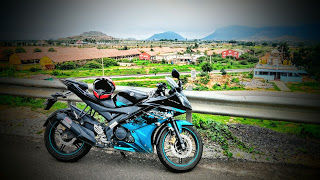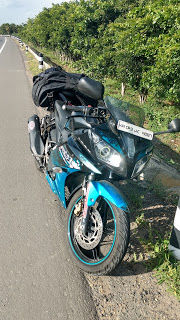 It was 1.30 in the afternoon.. Mounted the saddle bag on the bike and filled up the tank. The plan was to reach Madurai which is 420 km by 8.30 pm.
Prayed god that nothing should go wrong as it was solo ride and left at 2.00 pm from home....It was my first time on this route and it was a bliss to ride here and soon covered till krishnagiri in 1 hour as the roads are too good and smooth..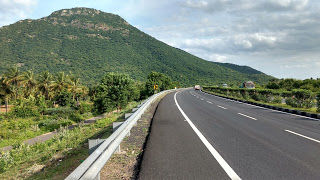 As I did not have my lunch, I stopped near a hotel after krishnagiri...That was a good place having some play area for small kids and food also was good enough.. spent some half an hour there and hit the road again. The clock was ticking 3.35 pm and started to cruise the bike at mid 120 kmph aiming to cover salem asap.
Once reached Salem, I was confused with the route as the road was bisected in to different directions.. Took the help of google maps and figured it out that I should take right turn under the fly-over towards Namakkal and Dindigul. With one small pit stop after salem, reached Karur around 7.00 pm...Which means I have covered around 300 kms and 120 km more to go..
As it was already dark, my speed got reduced gradually. As every biker is aware that it is so difficult to ride in the night time when opposite vehicles coming with high beam lights on.
My eyes started taking pain as I was continuously riding for two hours under same conditions. Then I got some idea to avoid the strain of highbeam lights... I started following VOLVO bus which was on a good 90's speed... After doing so for 30 mins and around 9.15 pm, I got to see a deviation in google maps from highway showing direction to Madurai and that was a real pain as it took almost 1.20 hrs for me to cover 50 odd kms as the road was going through villages and also completely dark..
Finally, at 10.45 reached and booked a hotel (Hotel Duke) on Make My Trip for a good deal. It was decent hotel with ample parking space and a restaurant as well.
As I was completely tired, I just had dinner in the restaurant available there and crashed in to bed....
August 7, 2016 : (Day 2 --- Madurai to Rameshwaram)
As everyone know what Madurai is famous for... Meenakshi Amman Temple ..
Woke up at around 8.30 AM and got ready and left room by 9.30 to the Temple which was 900 mts away and went by walk.
First glimpse of the temple :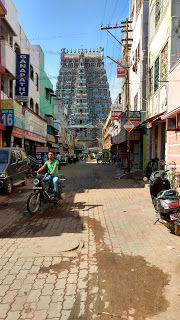 Reached near temple and there was a place where u can keep your footwear and baggage if any.. Entered inside the temple and believe me it was too hot that I was not able to walk on foot...
Got to see this as soon as I entered inside..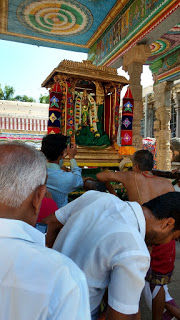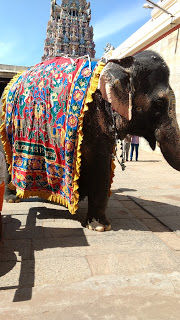 There is a token system inside the temple and took a Rs.100/- token for darshan.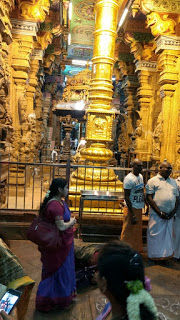 Golden Pillar inside temple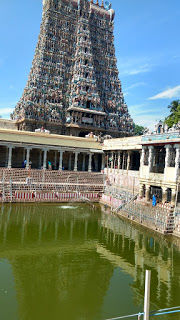 Came out of temple and headed towards hotel... As I did not have my break fast, I went to hotel restaurant and had Idly, vada... ????
It was 11.30 and checked out from hotel and mounted the saddle bag on bike as all was set to leave to Rameshwaram which was 180 KM from Madurai, but still a tough route as the most of the part was under expansion and a single lane road...
Switched on GPS to navigate me out of Madurai and left hotel at 12.00 pm. It took me through the streets and a canal route... finally after 30 mins I took exit from madurai...
Then the real task started which was very difficult to ride in a single lane road with huge vehicles in opposite direction...I wanted to be on the Pamban bridge to witness the sunset (i.e, within 5 pm).
Reached Ramanathapuram at 4.00 PM and took a break of 10 mins.. I have 50 mins left to reach Pamban which approx. 45 km.. As the road was wide enough and newly laid, I was speeding my bike.. As I reached a village Mandapam, I started to feel the I am nearing the destination. My heart started jumping, body started feeling the excitement and I got to see a small park before pamban bridge and continued ahead and then saw the first view of world famous pamban bridge..
I started screaming in joy and happiness.. I reached bridge by 4.45 PM and started feeling the joy and the view...
Look at this .......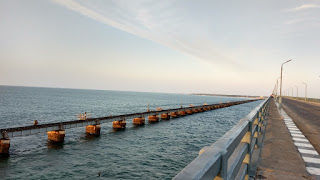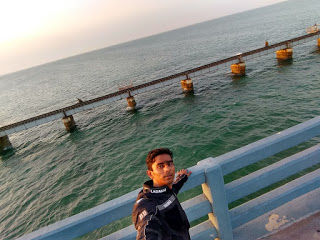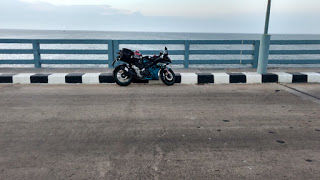 Bike resting on Pamban bridge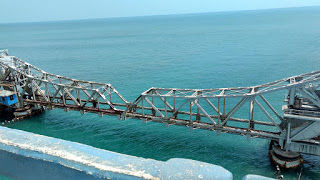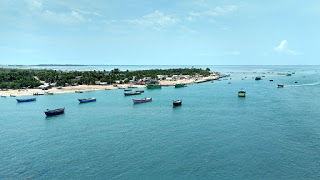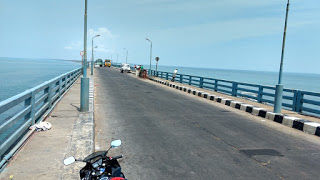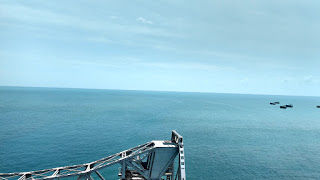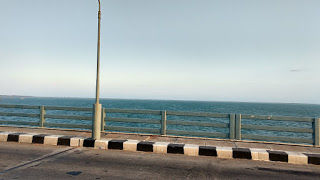 And finally after quite sometime, came the much awaited scene.....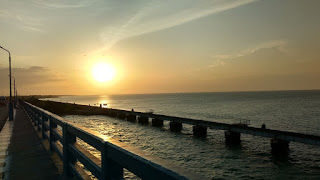 Look at that view.... just woww!!!!
Done 585 KMs from Bangalore to pamban....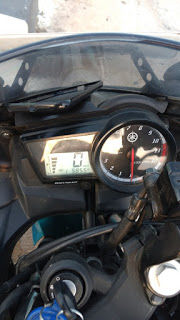 Spent some time till sun goes in to dawn and left from there towards Rameshwaram which is 12 odd km from bridge.. checked MMT for hotels and booked one again for a good deal.. checked in and had dinner, went to sleep..
August 8, 2016 : (Day 3 --- Rameshwaram temple and Dhanushkodi)
After having a proper sleep for 9 hours, I woke up at 8.00 AM, got ready and came out to have breakfast. I have decided to stay all the day in Rameshwaram only as I also wanted to visit Danushkodi which is 20 KM away from here.
Once done with breakfast, came back to room got ready went to temple which is one of 12 jyotirlingas. The temple is so huge with long corridors and tall pillars.
This temple is famous for its 22 wells which are located inside the temple premises. Saying is that taking bath with the water of these 22 wells will wash away our sins..
So, as soon as I went to temple I took a token of Rs.50 for bath and was standing out there as I am not sure in which way to go to those wells. Then I got to see a man coming to me talking something in Tamil... As I am unaware what he is talking , I was standing still.. Then he started explaining in Hindi.. Then I understood that he will take me to all the wells for bath as it is confusing to go alone but we should pay him extra Rs.50... I said Ok and went with him..
He took me to all the wells and was taking out water from those wells and pouring it on me also he asked to take a water bottle to fill the water of these wells and take it to home, which I did.
Once, I finished bath with the wet clothes on, I tried to enter temple and saw a board that pilgrims are not allowed to enter with wet clothes.. I was disappointed seeing that, coz again I need to walk back to hotel which is quite far... then I decided to go to hotel and come for darshan in the evening... I went back had lunch and had a nap for 1 hour..
Visit to Dhanushkodi :
Woke up at 3 PM and decided to go to Dhanushkodi. Took my bike out and headed to towards the place which takes you through a road which has ocean on either sides.
As per Ramayana, Dhanushkodi is a place where Hindu god Sri Rama has built a bridge to Lanka.
This place looks like an abandoned area as it was vanished in early 1960's (if I am not wrong)floods...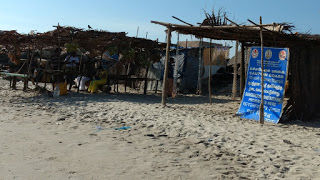 There is check post and I was not allowed to take my bike ahead.. If you would like to see Rama Sethu point, then you shud go in 4⤬4 vehicle which they will charge Rs.150/person.. I left my bike there and got in to vehicle.. That takes you through mud route where bikes can get struck. After seeing that, I got to know that no bikes can go through this kind of route.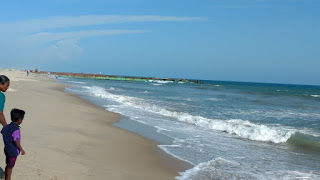 Beach on the right side with waves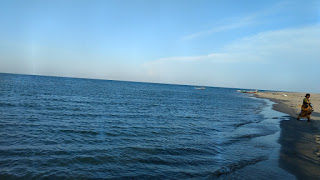 Beach on the left side without waves
Below are few pics from Dhanushkodi: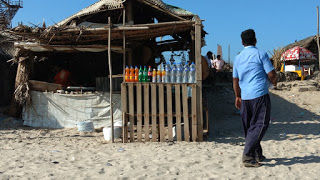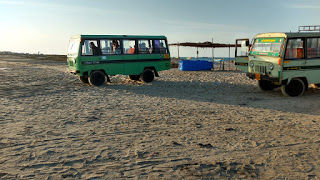 Vehicles that take you to Rama Sethu point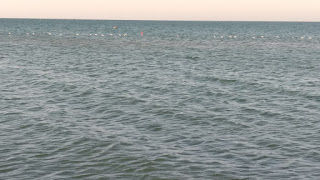 That red flag post is Rama sethu point where Sri Rama has started the bridge to lanka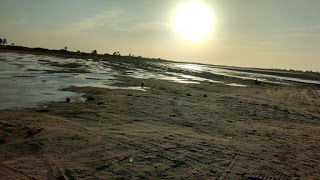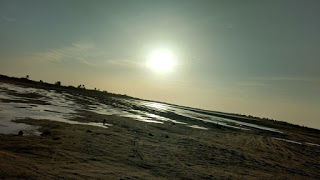 The vehicle takes from this route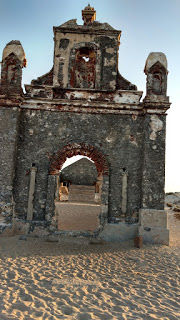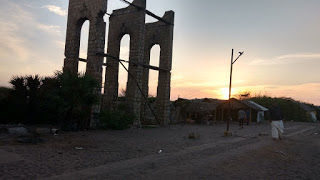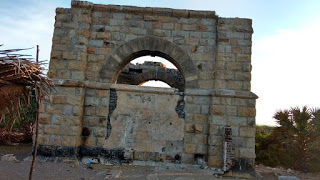 Remains of Railway station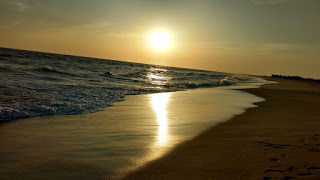 Sunset in Dhanushkodi beach (right side)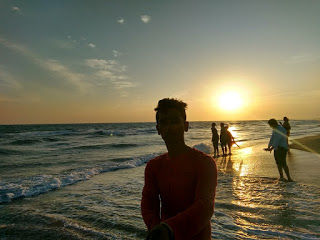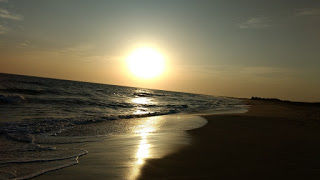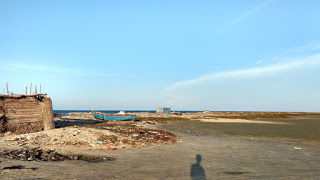 I had been there for sometime and returned back to hotel by 6.30. Roamed in the town for some time. Visited Dr. APJ Abdul Kalam house. Headed back to hotel and spent sometime watching TV. Dozed off after having dinner.
August 9, 2016 : (Day 4 --- Rameshwaram to Kanyakumari)
Woke up in the morning and visited to temple as I did not had darshan yesterday.. Finished in 30 mins and returned to hotel by 10.30 AM, mounted back the saddle on bike and checked out after a lite breakfast..
Took the east coast road(ECR) towards Kanyakumari which is approximately 310 Kms. Even though the ECR is single lane road, it is good to ride as it has less traffic.. Took 1st stop after 120 Kms and had a coconut water which you can see frequently on this ECR.. Missed to take diversion before Thoothukudi and went ahead for 10 Kms. Then realized and turned back to correct route. Had a lunch stop in Tirunelveli...
As one is reaching Kanyakumari, you can find hundreds of wind mills on either side of the road which gives you a serious wind blast..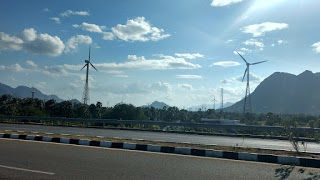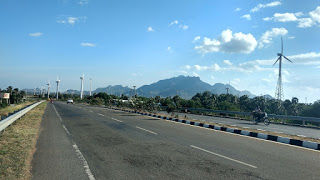 Stopped 20Kms before kanyakumari and booked a hotel (Seasun Residency).
Reached Kanyakumari by 5 Pm and soon left all baggage in room and headed towards beach (Tiruvalluvar statue) to witness the sunset. It was eye pleasing view....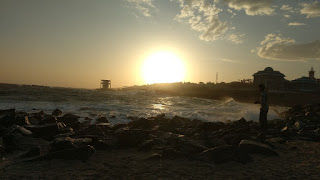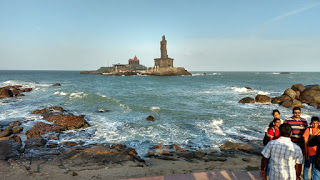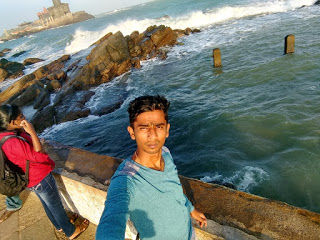 Spent sometime over there till it gets dark and roamed for some time in the streets and turned back to hotel... As the hotel is opposite to the sea, you can hear a huge sound waves. Ordered Some food from the hotel restaurant and went to bed as I want to wake up by 4 AM to notice the famous sunrise from the beach view point ...
August 10, 2016 : (Day 4 --- In Kanyakumari)
Alarm sounds @ 4 AM and woke up looking in to window to see if sun has raised out... Noo it was still dark.. Washed my face and left to view point by 4.30. Had a coffee as it was still dark and started towards beach. I was shocked to see so many people already waiting there so early... Found some place to sit and was waiting for the red blistering sun to come out of the Ocean. Yea, you can feel that Sun is coming out of ocean and not from sky...
This is how it was.... Let the pictures speak...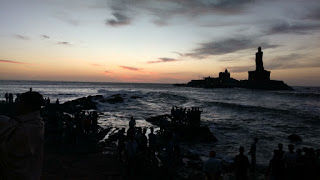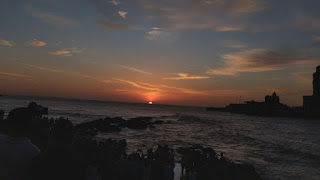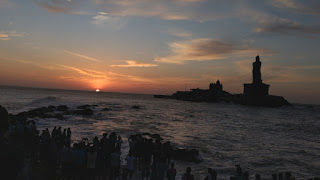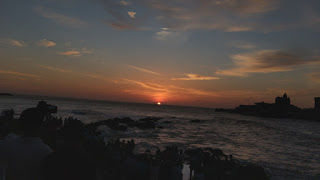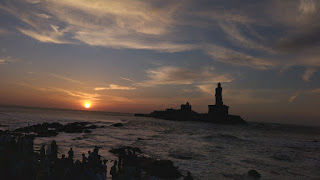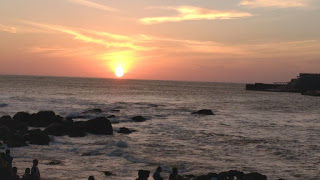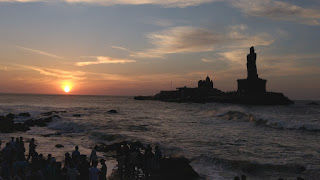 Later, went to ticket counter and got a ticket (Rs.34/-) for a ferry ride to Vivekananda rock memorial and Tiruvalluvar statue. Spent some 1 hour there with a beautiful view of ocean around you, with a feeling that you are in a place where three oceans meet. Was feeling sleepy as I woke up early, so returned to room for a nap...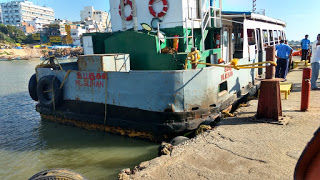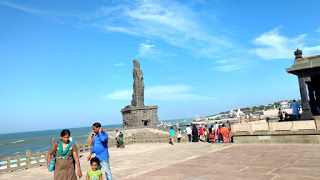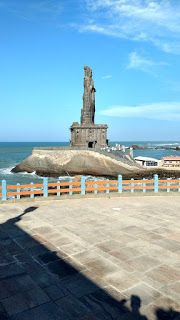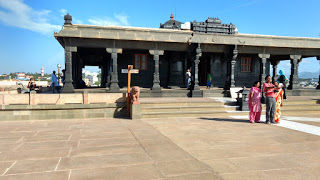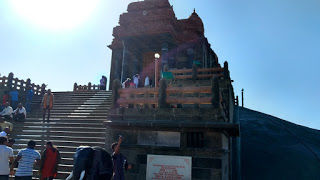 Evening woke up and went to the TWO HIDDEN BEACHES for sunset view and then shopping in streets of kanyakumari. As I should leave early morning, the next day.
August 11, 2016 : (Day 5--- Kanyakumari to Bangalore)
Woke up at 6 AM and was set to leave by 7... After breakfast, saddled the bag on to bike and set to leave thinking that I should cover 660 KM non-stop. As the highway was super smooth, was covering the distance with good speed..After two breaks including breakfast, I reached Dindigul by 12.30 PM.... I did not stop anywhere in between except for breaks and also no pics as well...
Decided not to stop till Salem and so I did....after lunch in A2B, left towards Bangalore...
Finally, Reached Electronic city by 6.15 PM.. As I was soo damn tired, that I did not even unsaddled the bag from bike and went to bed....
All Over this was an amazing experience with many memories... Hope You enjoyed this blog..see u in next blog.....