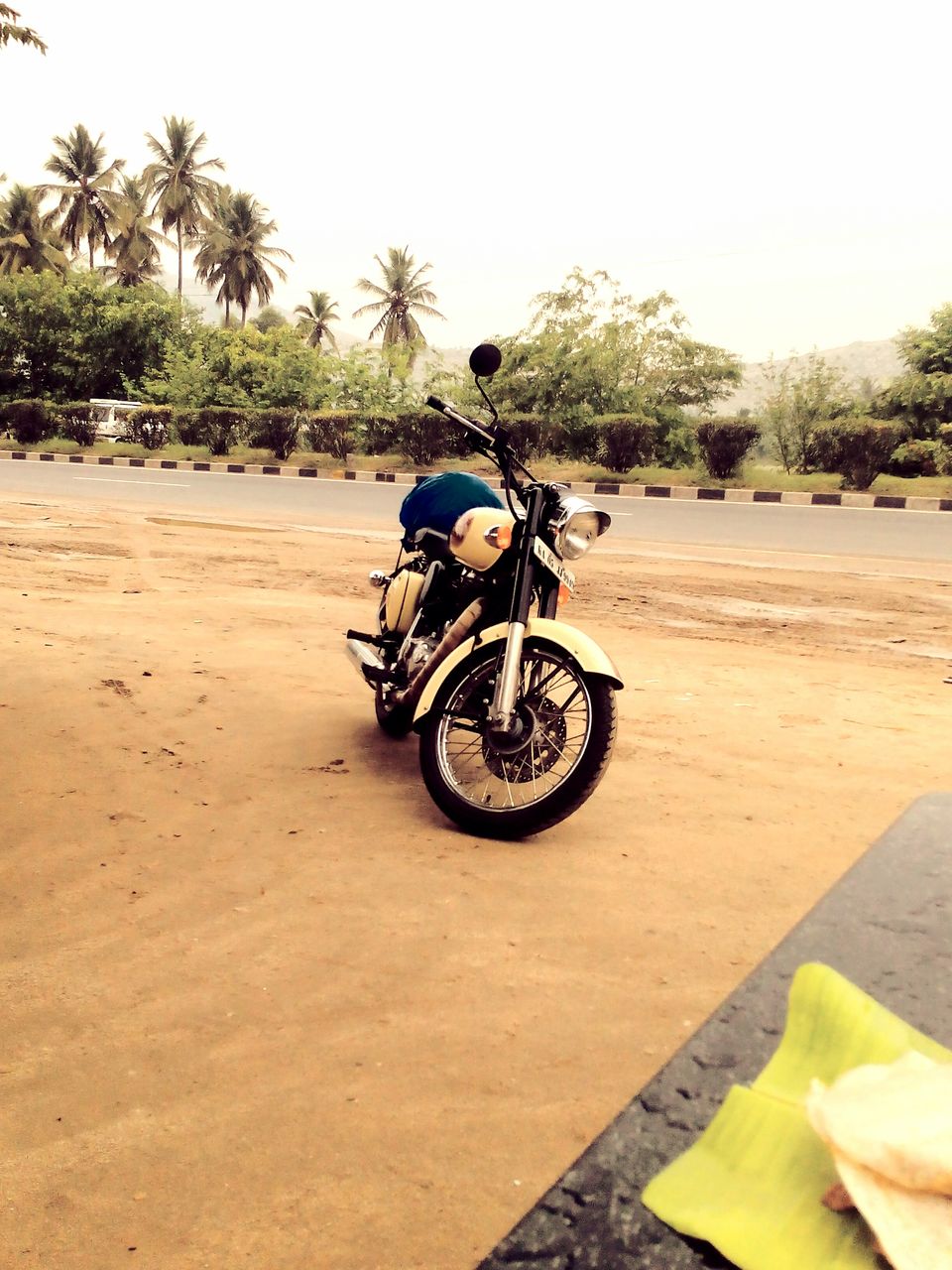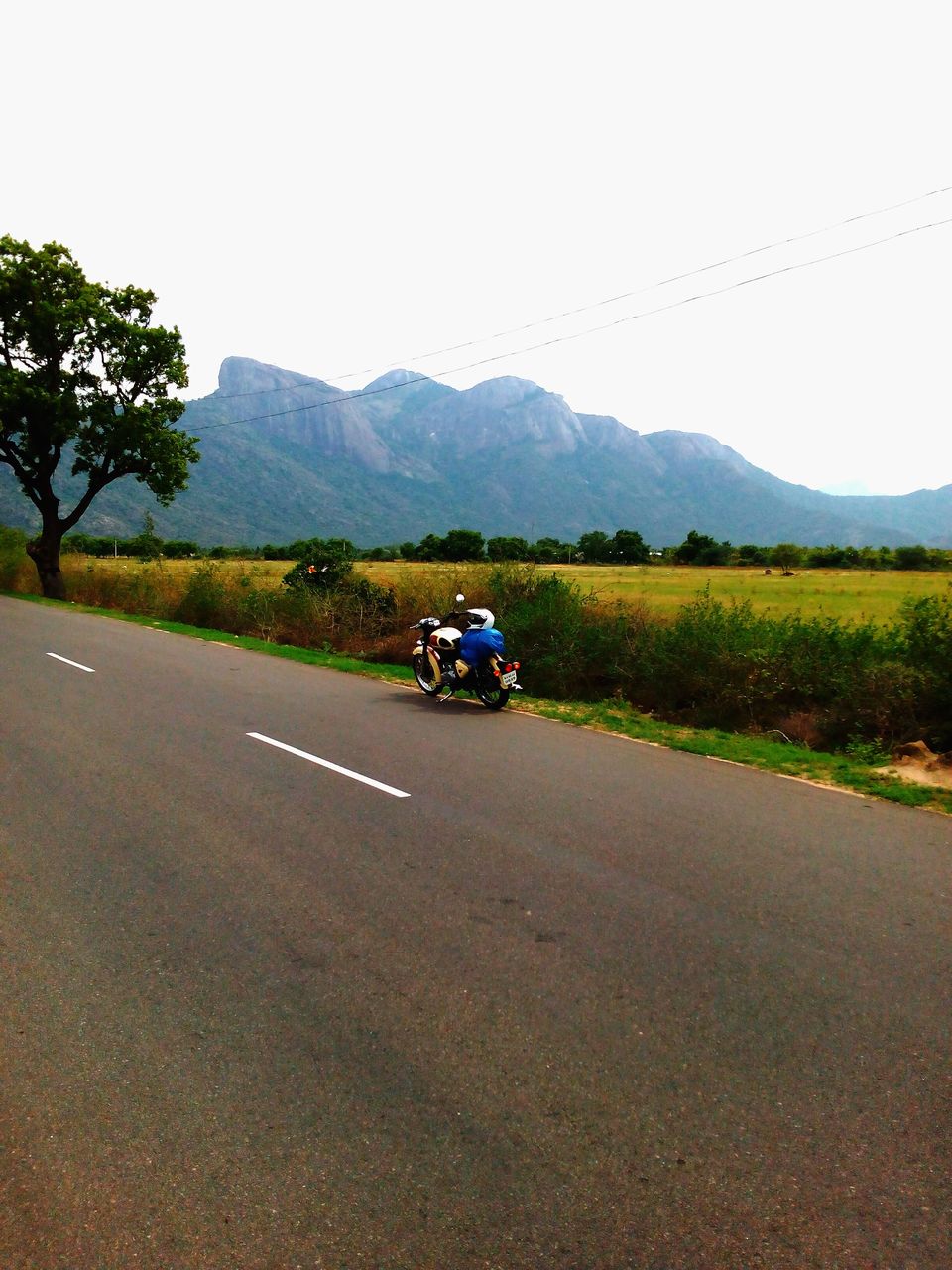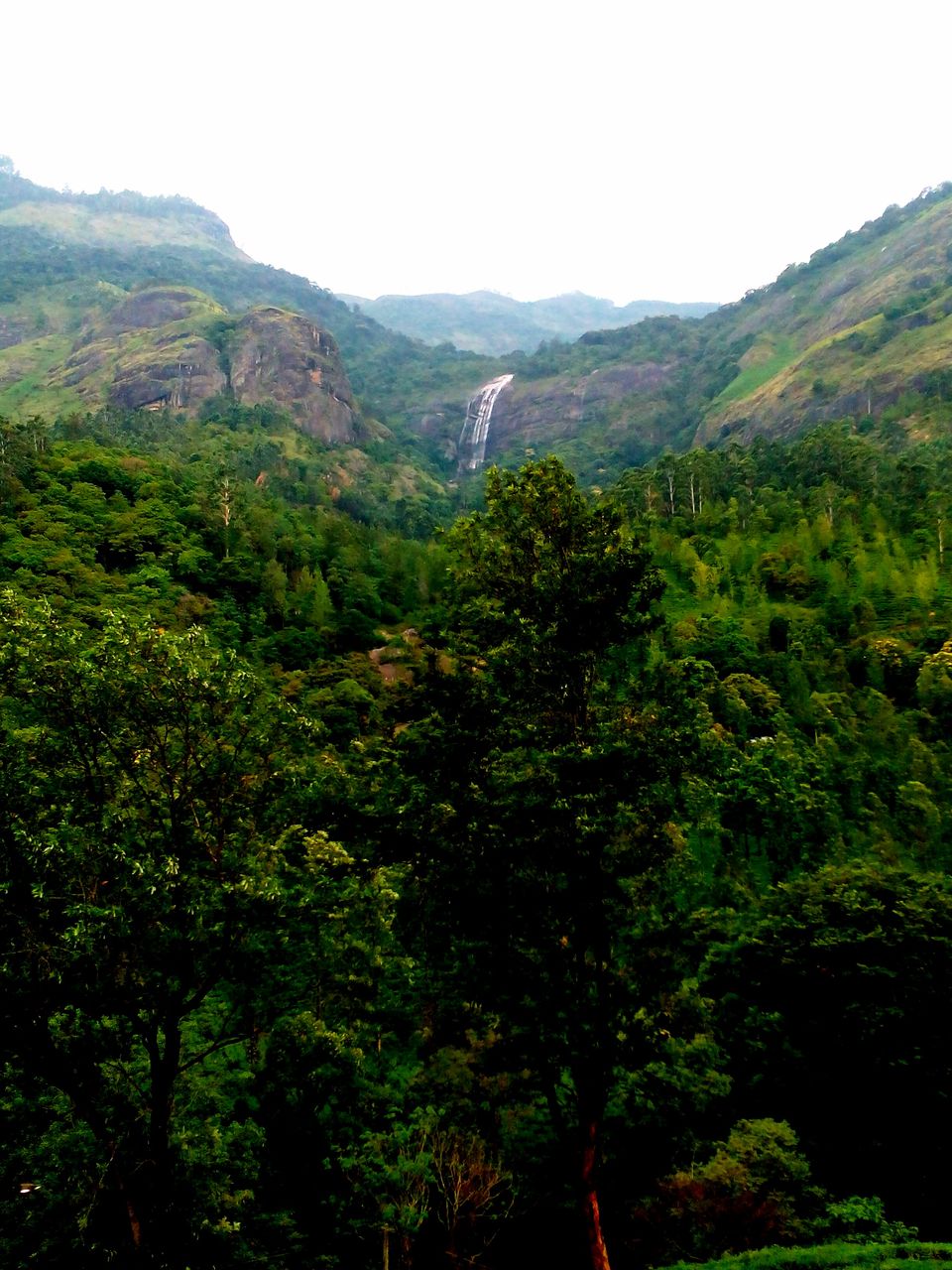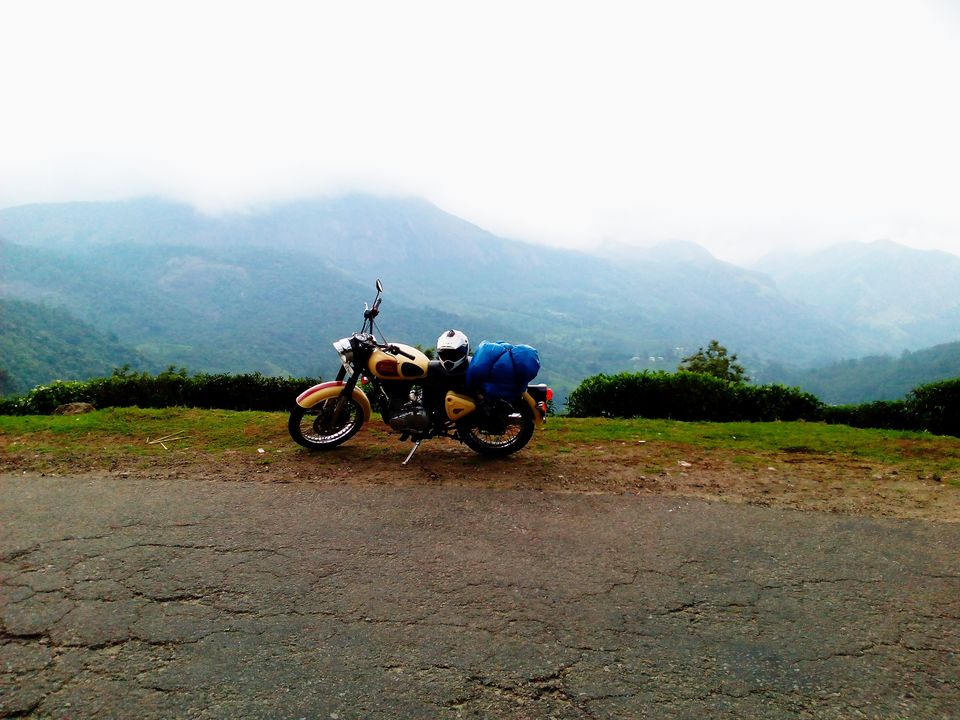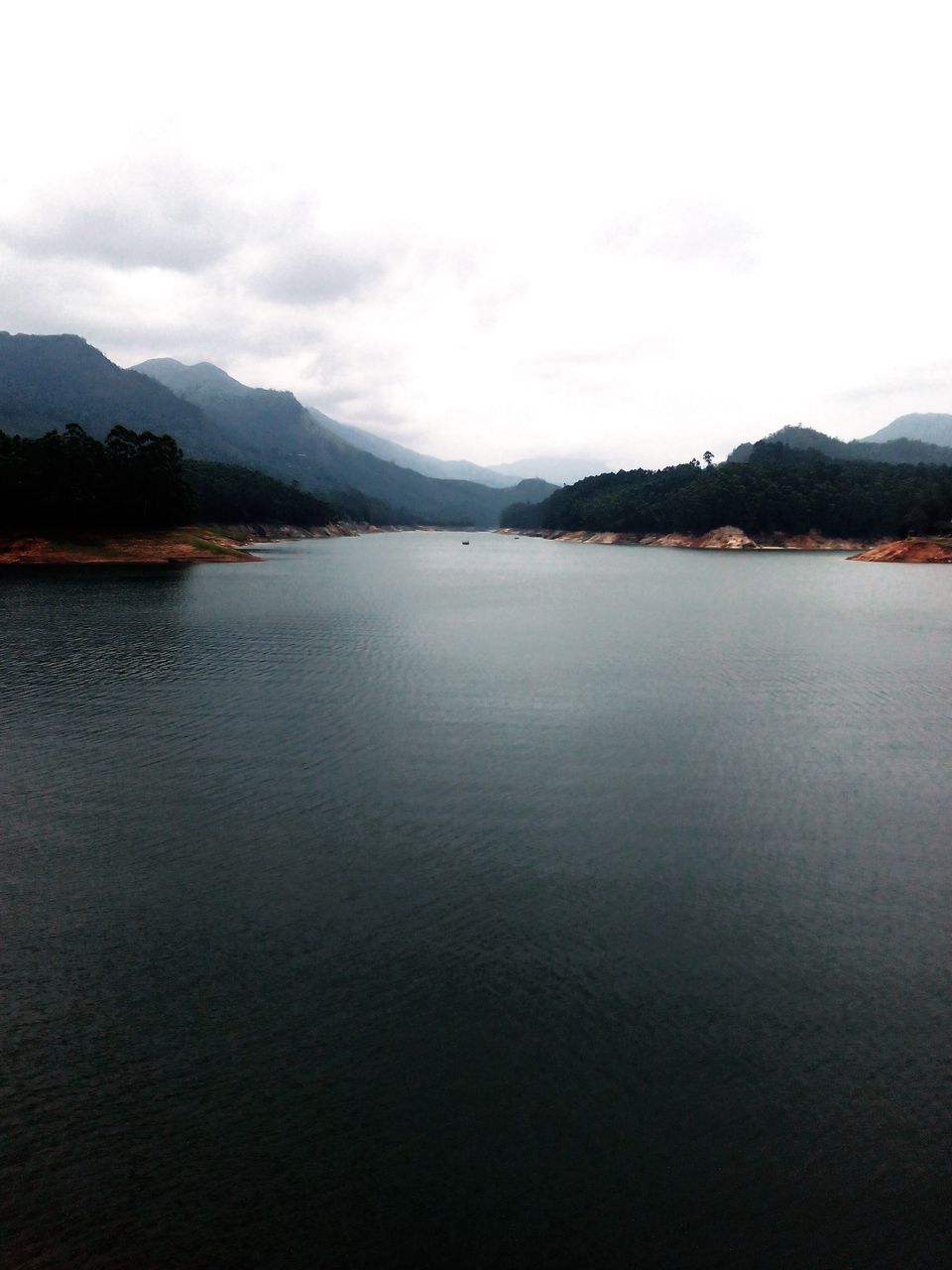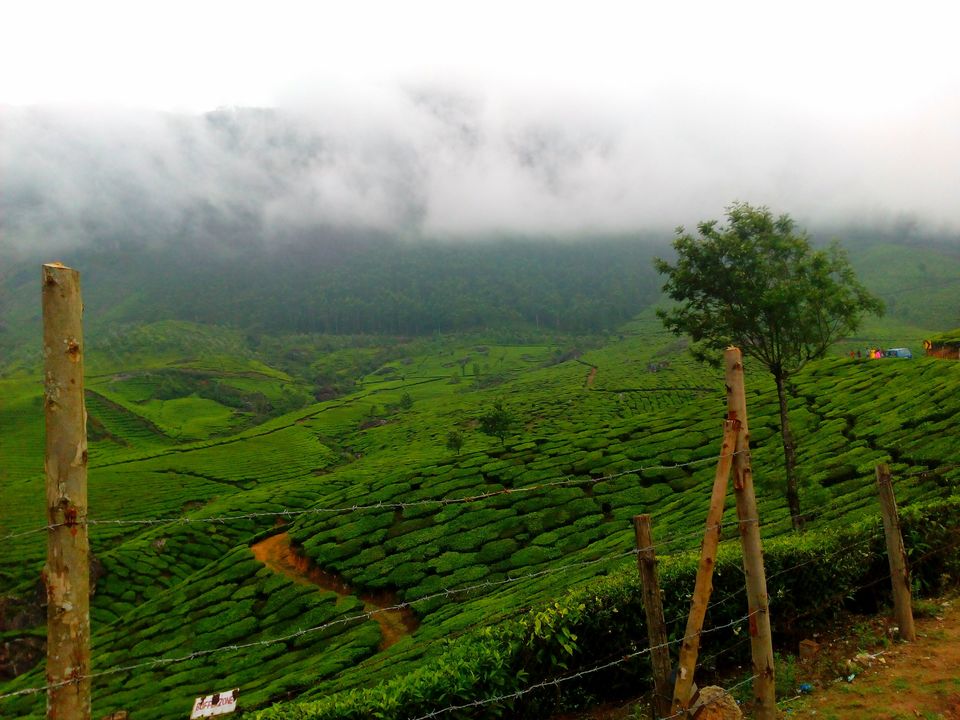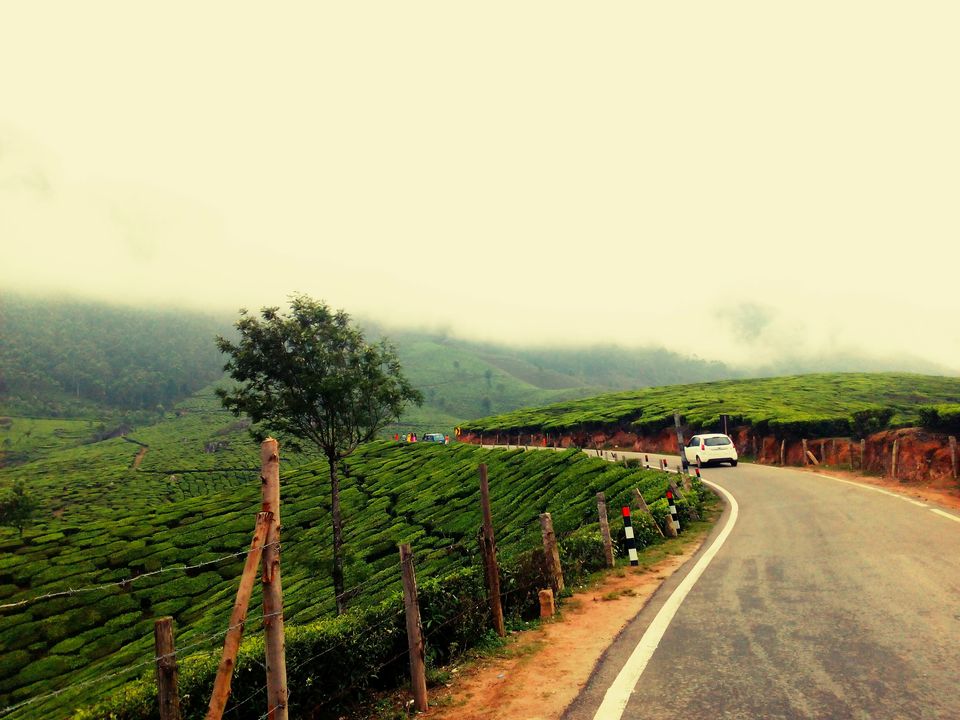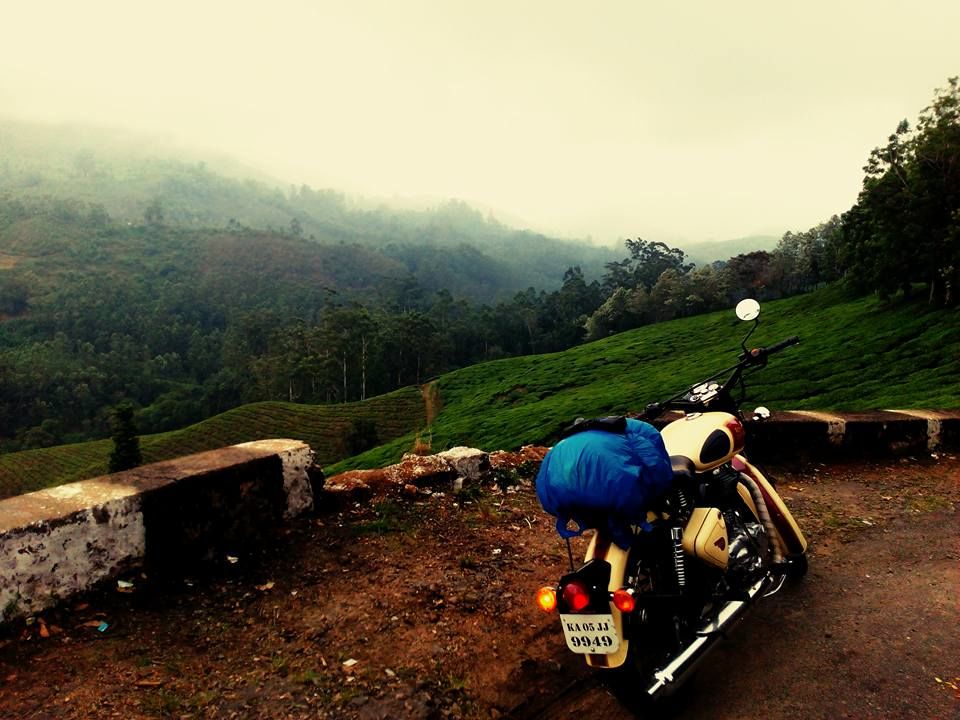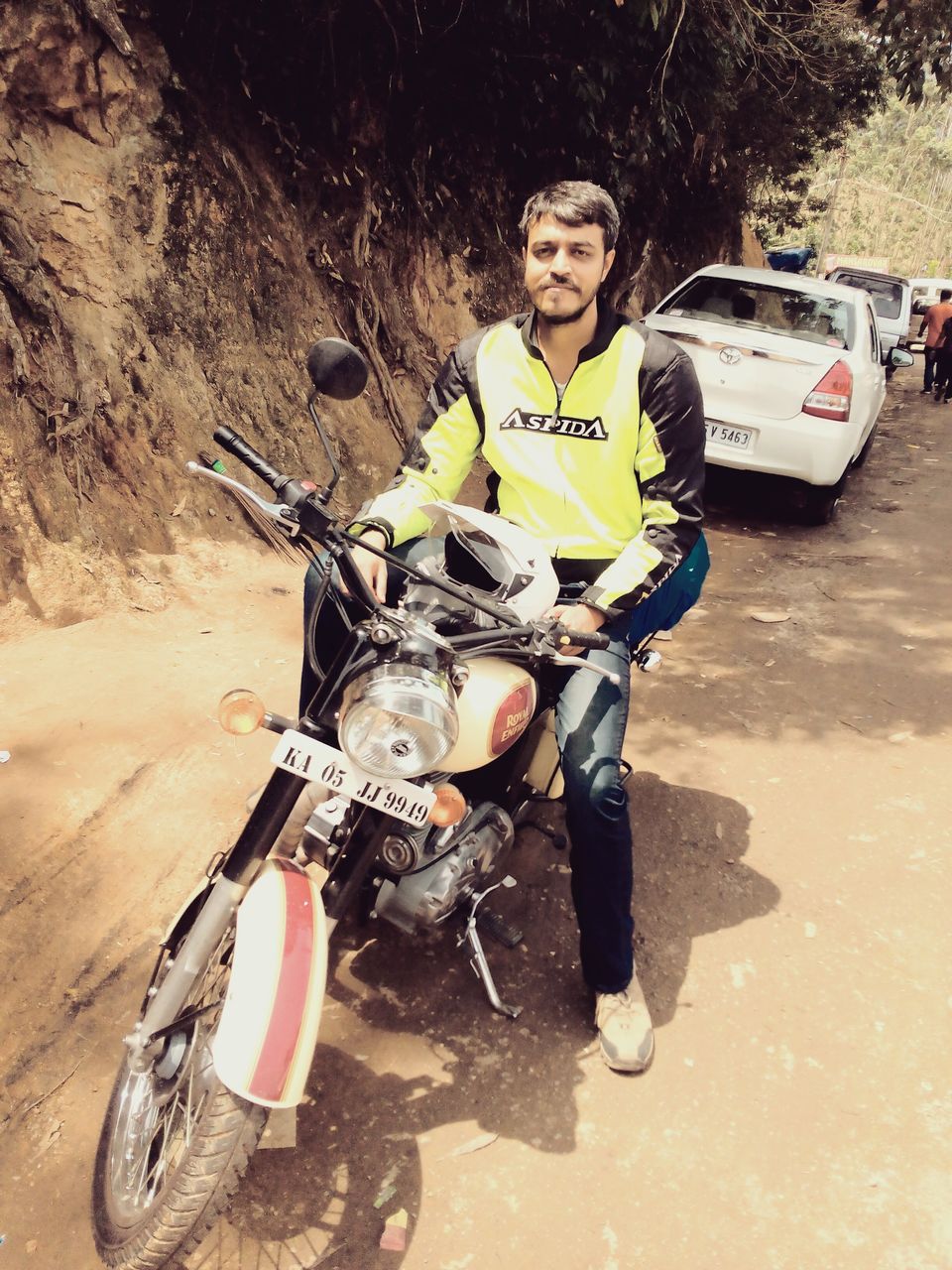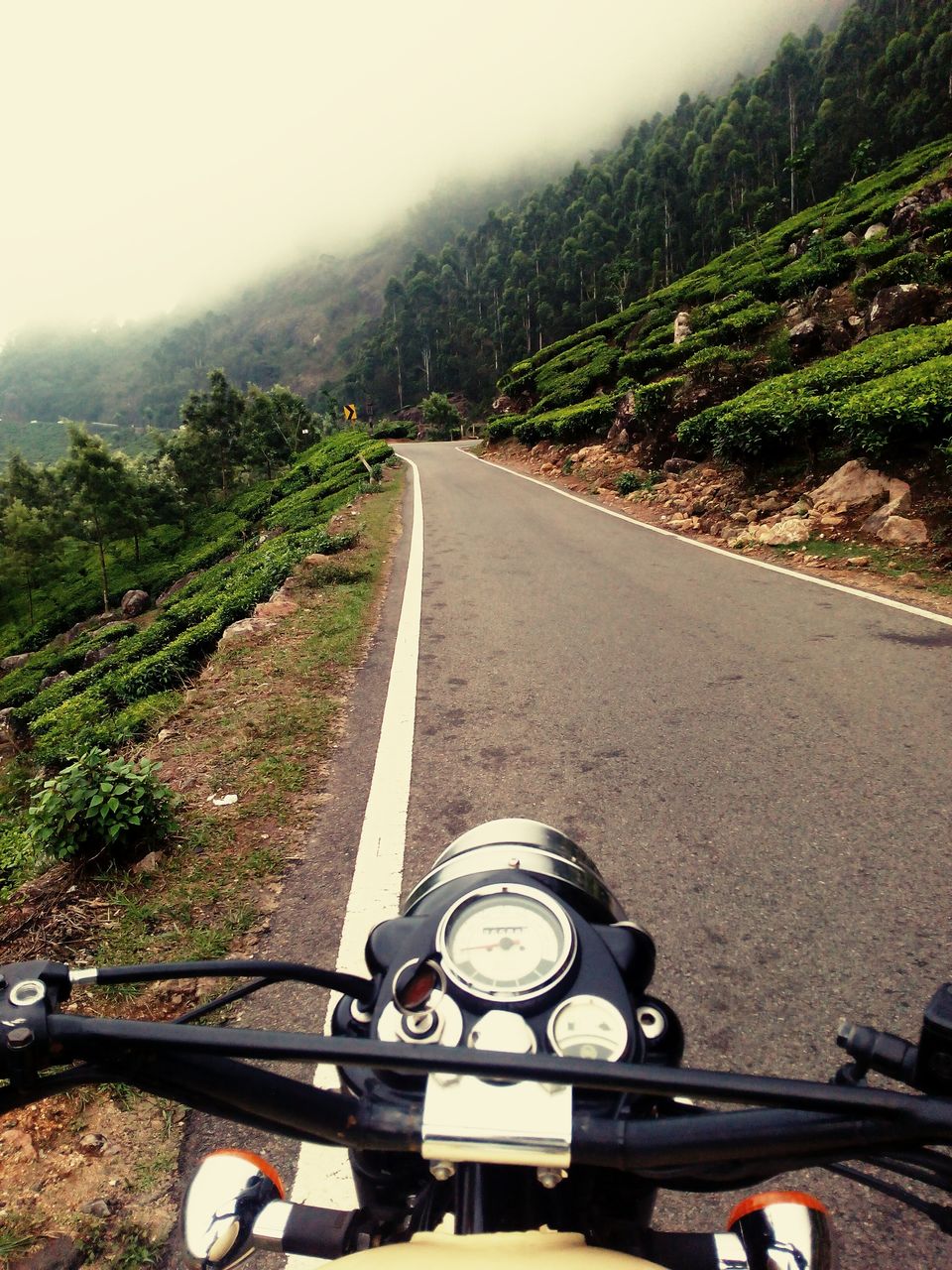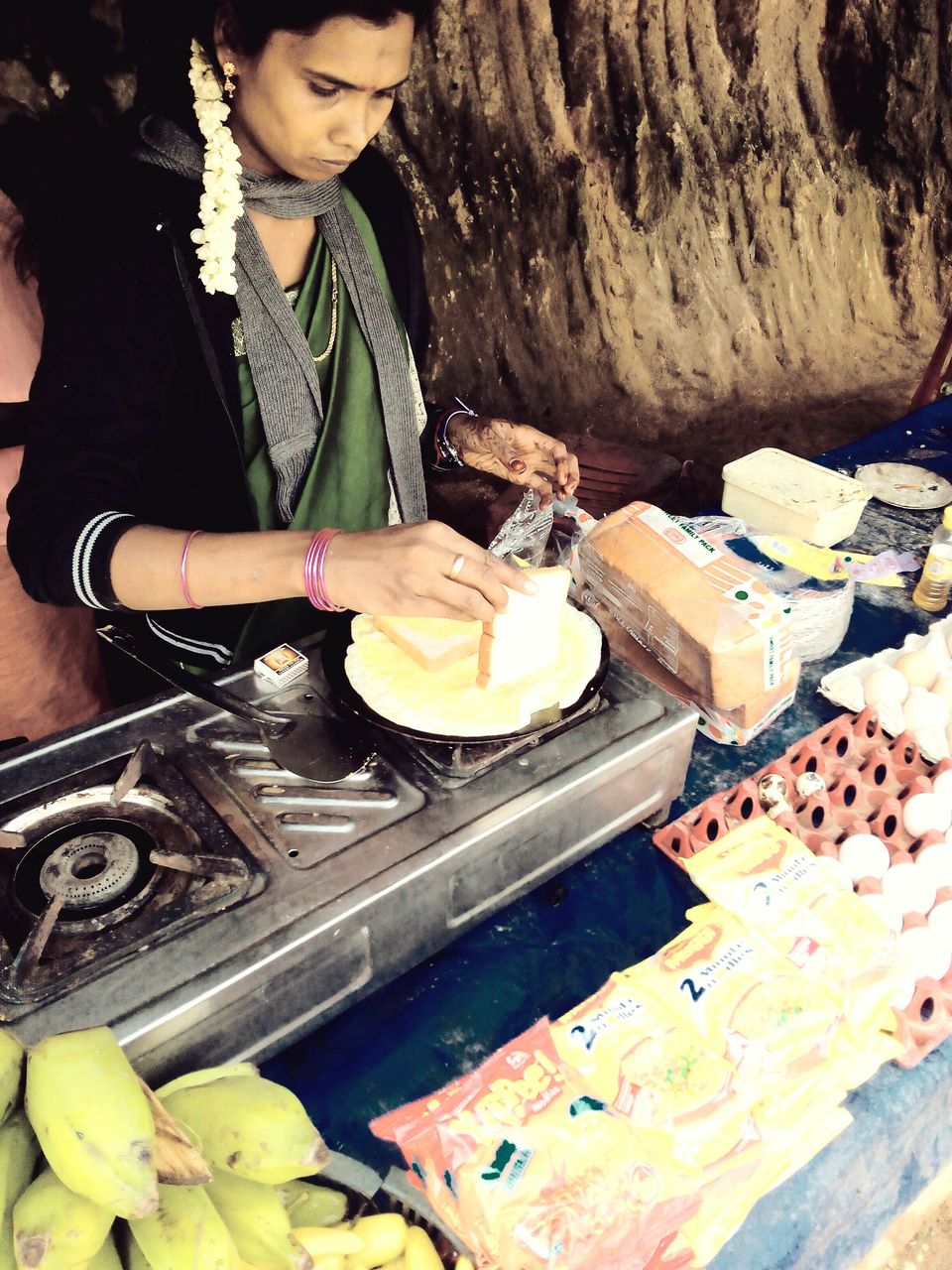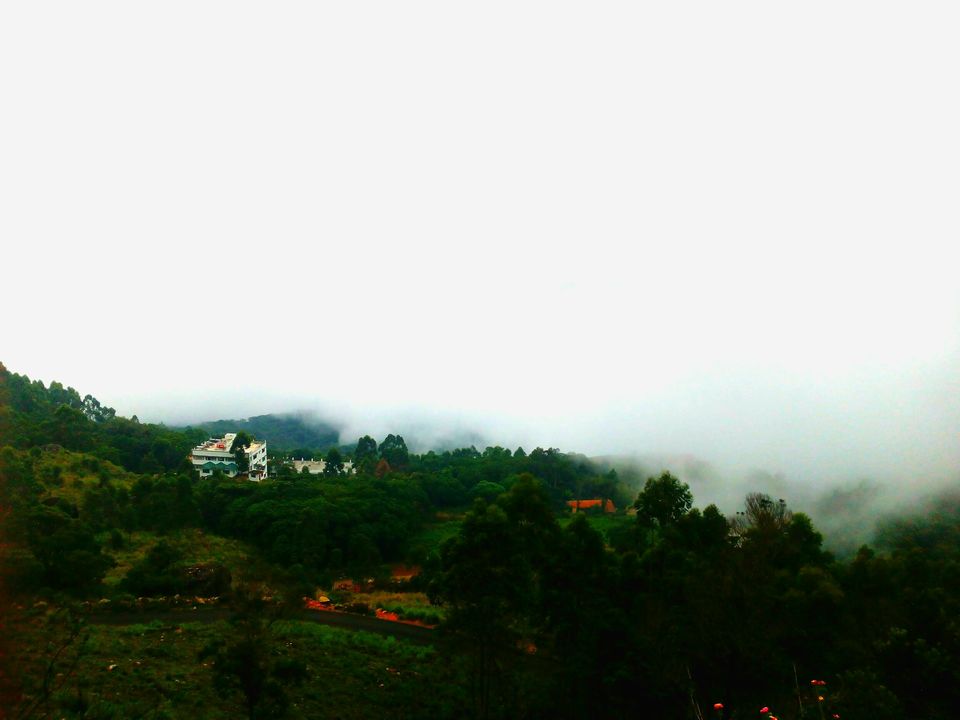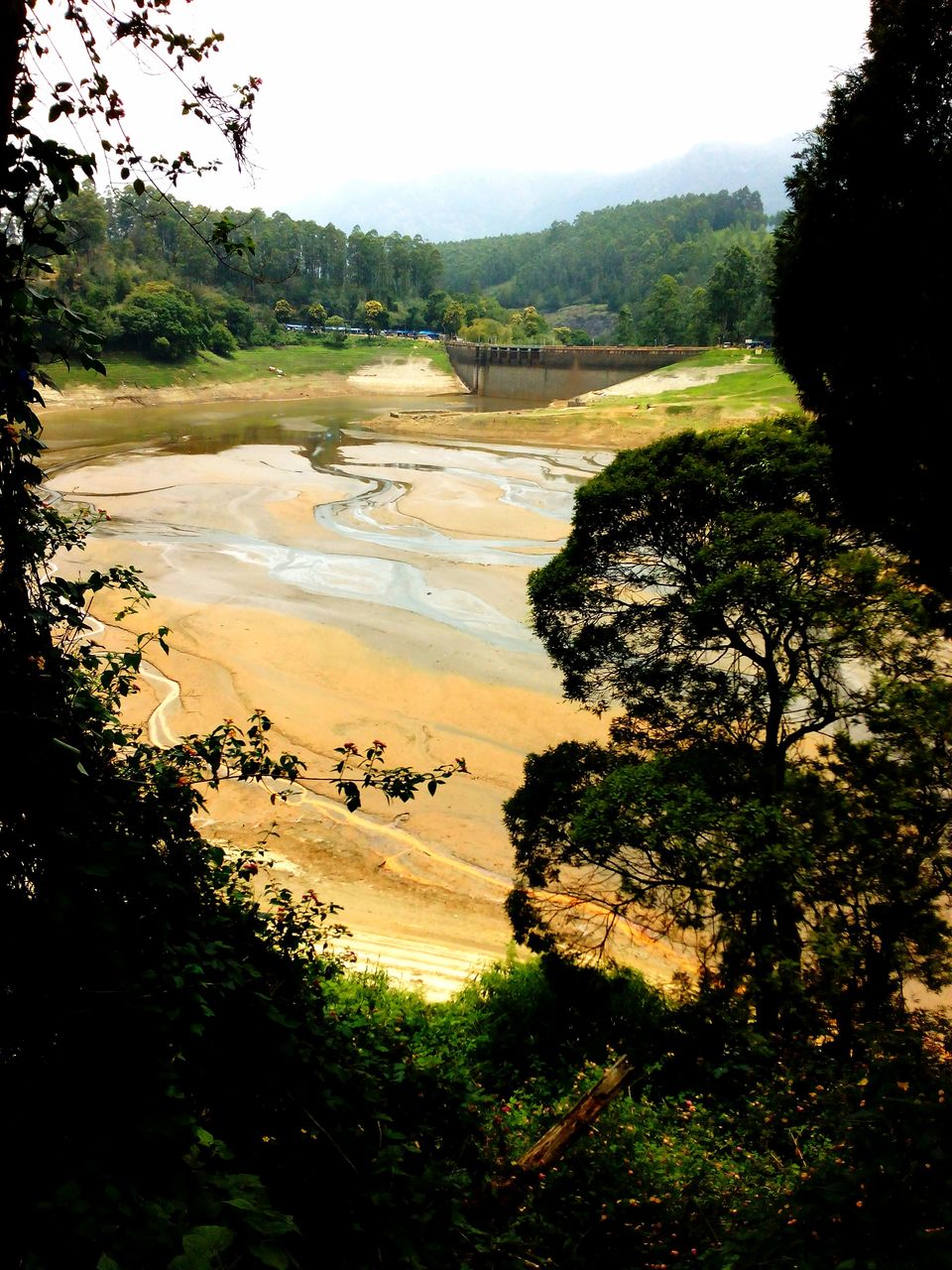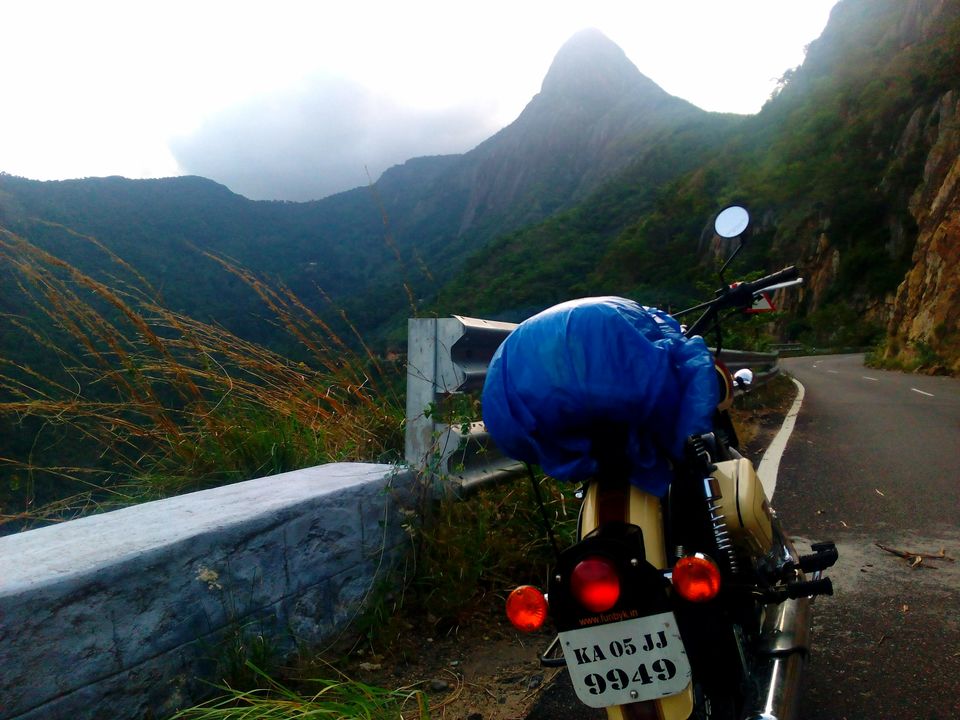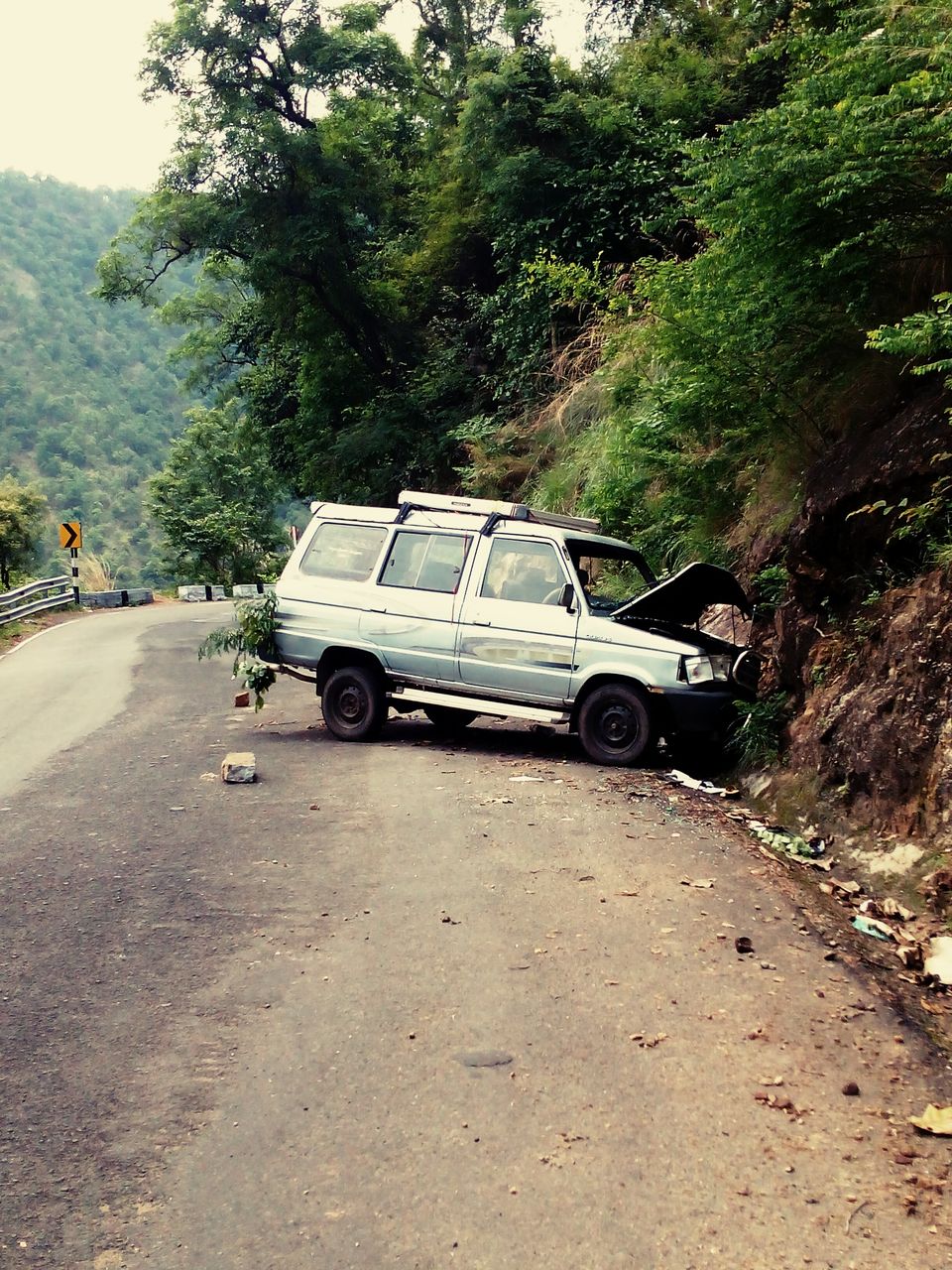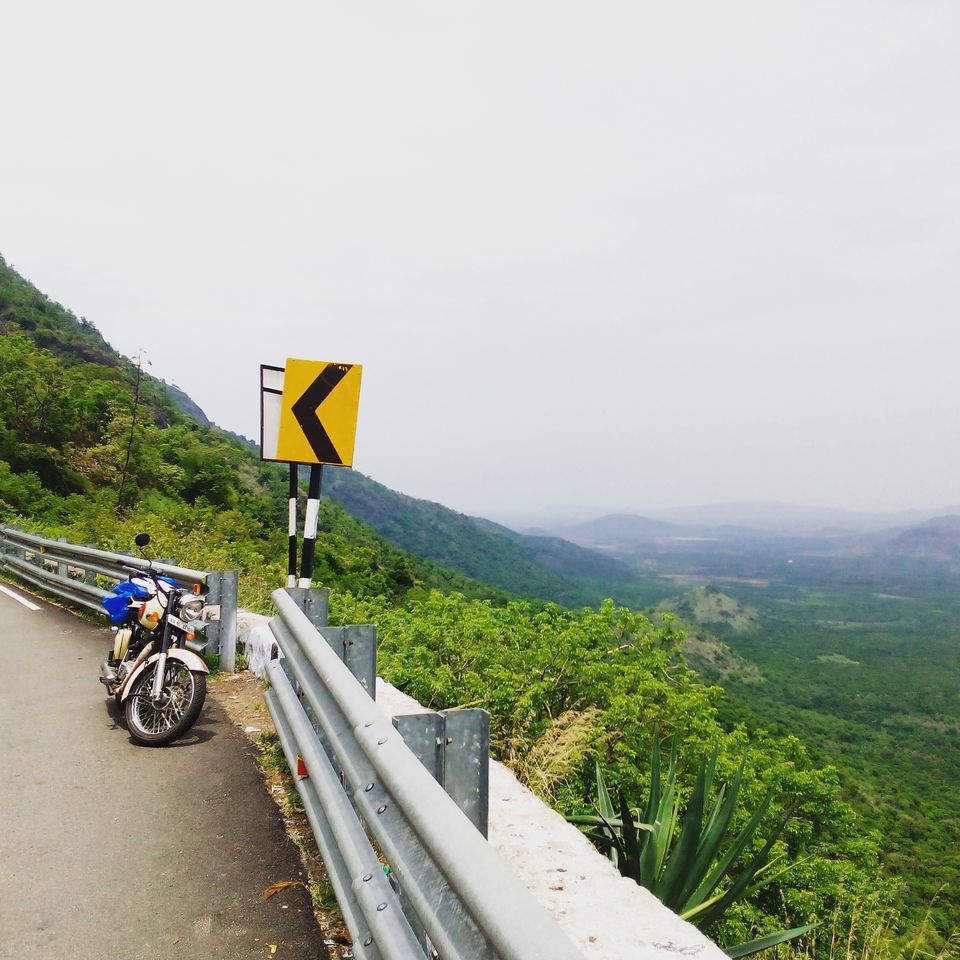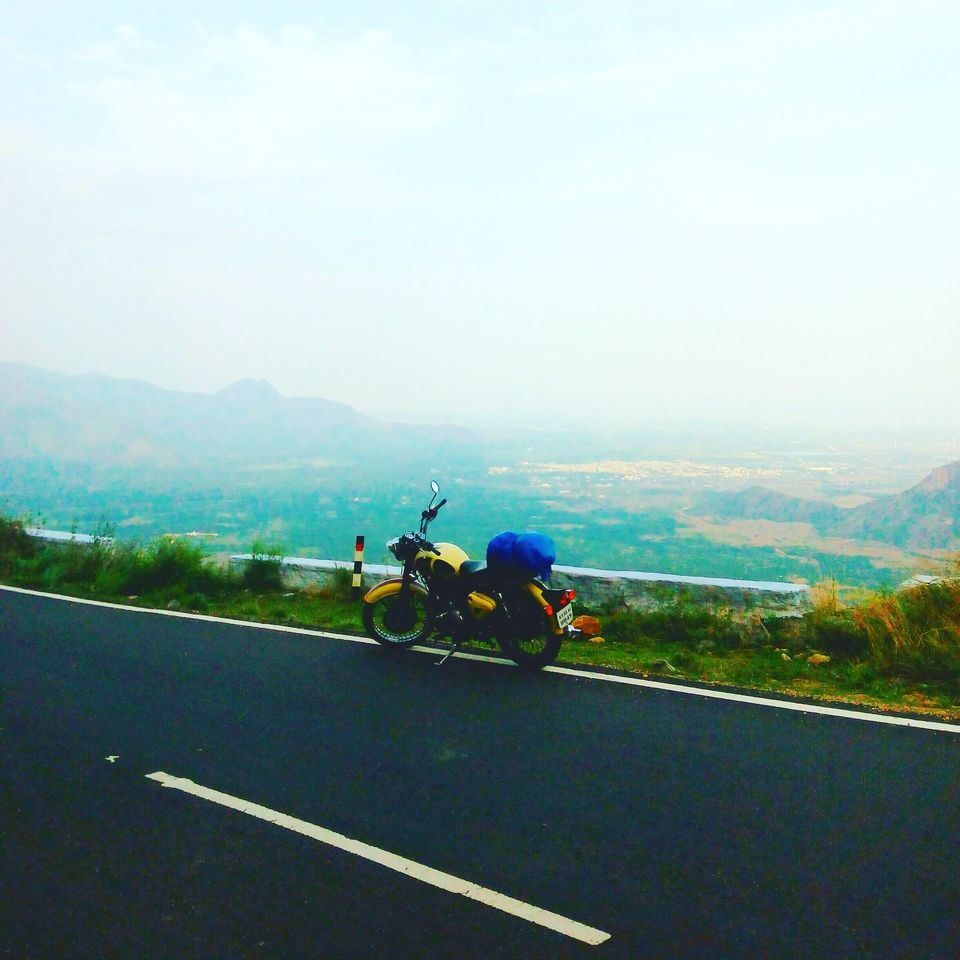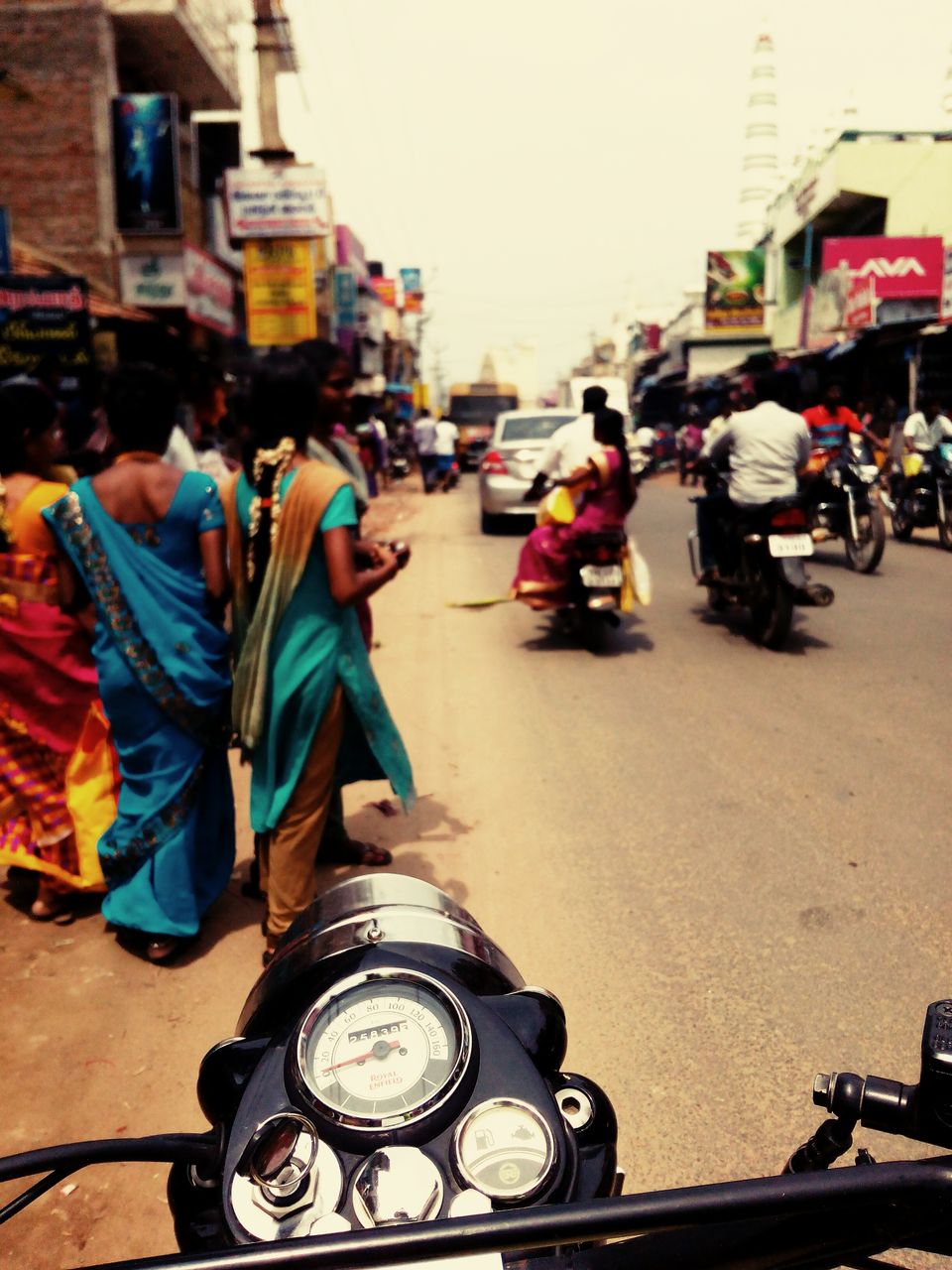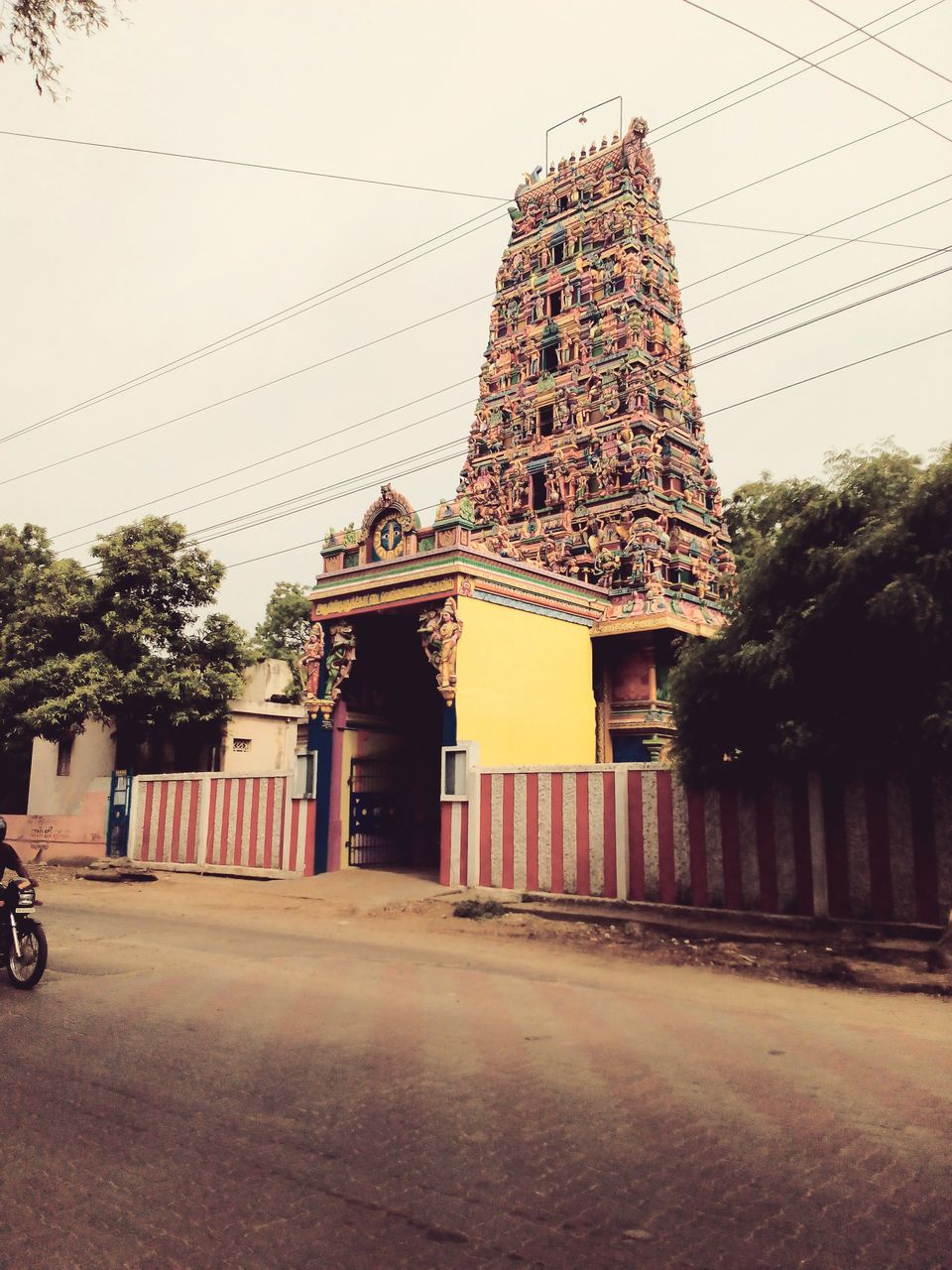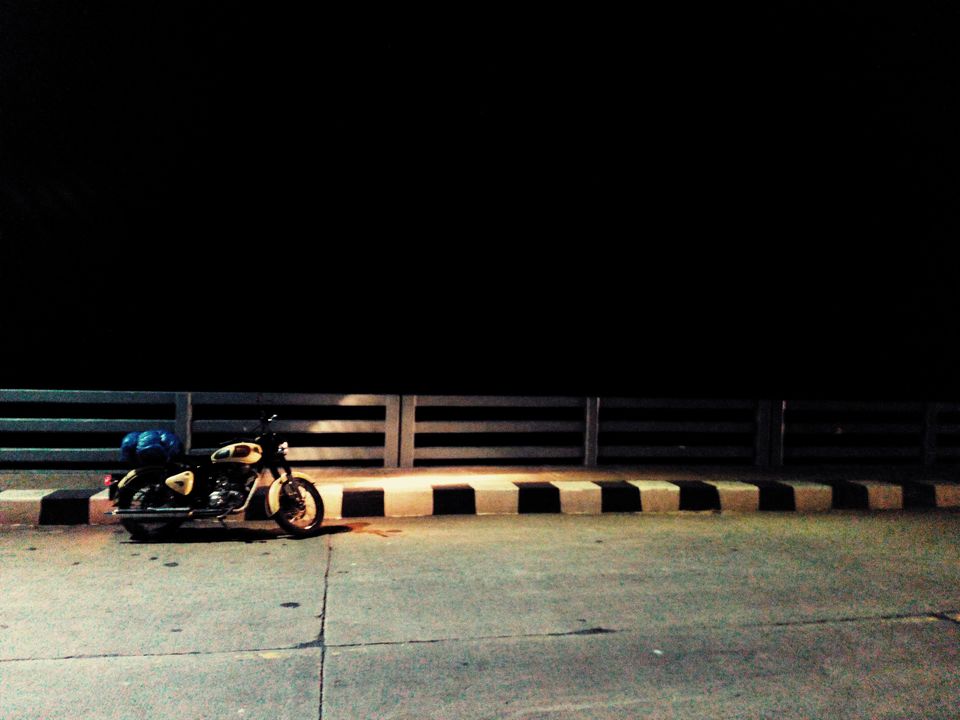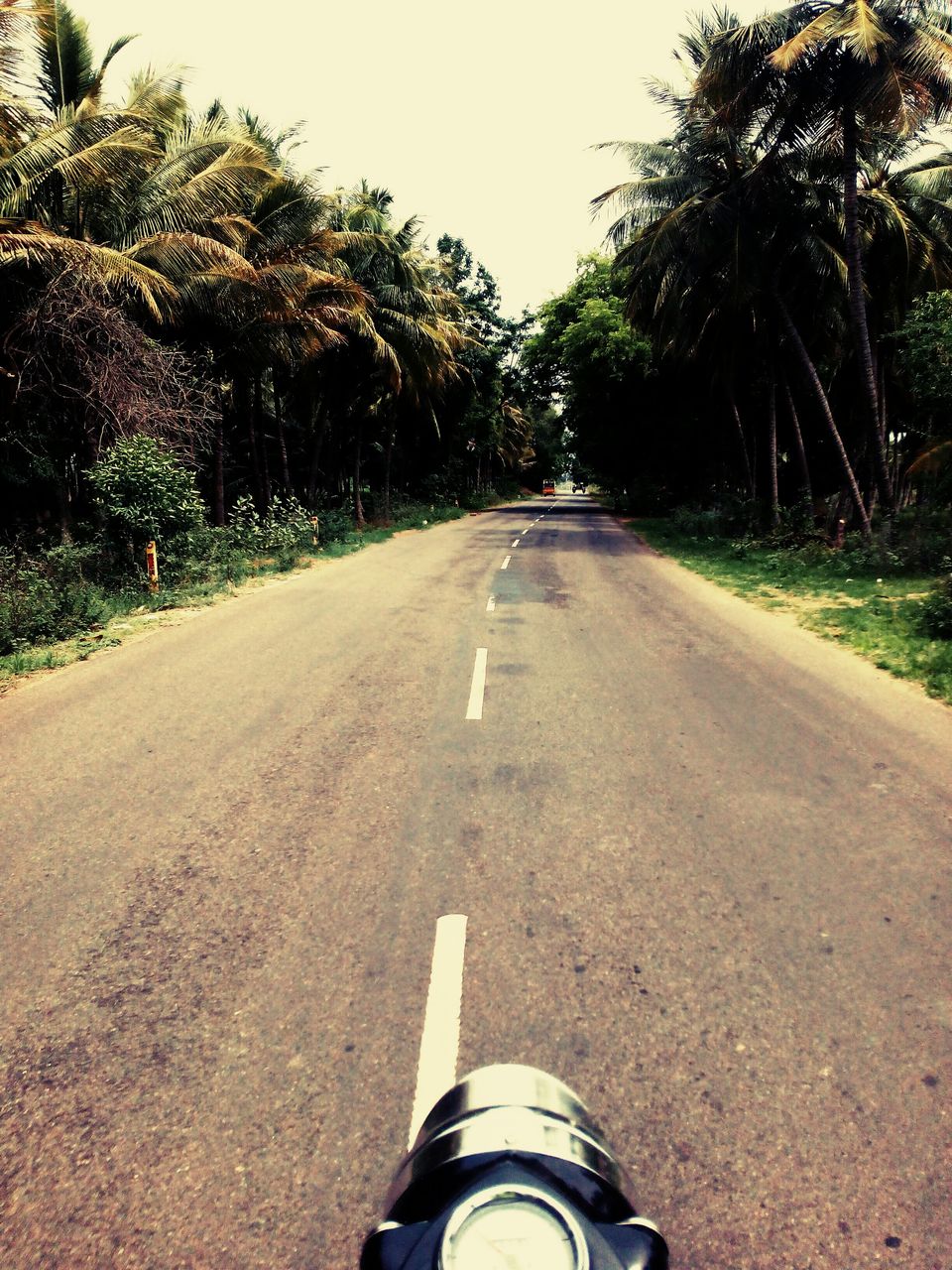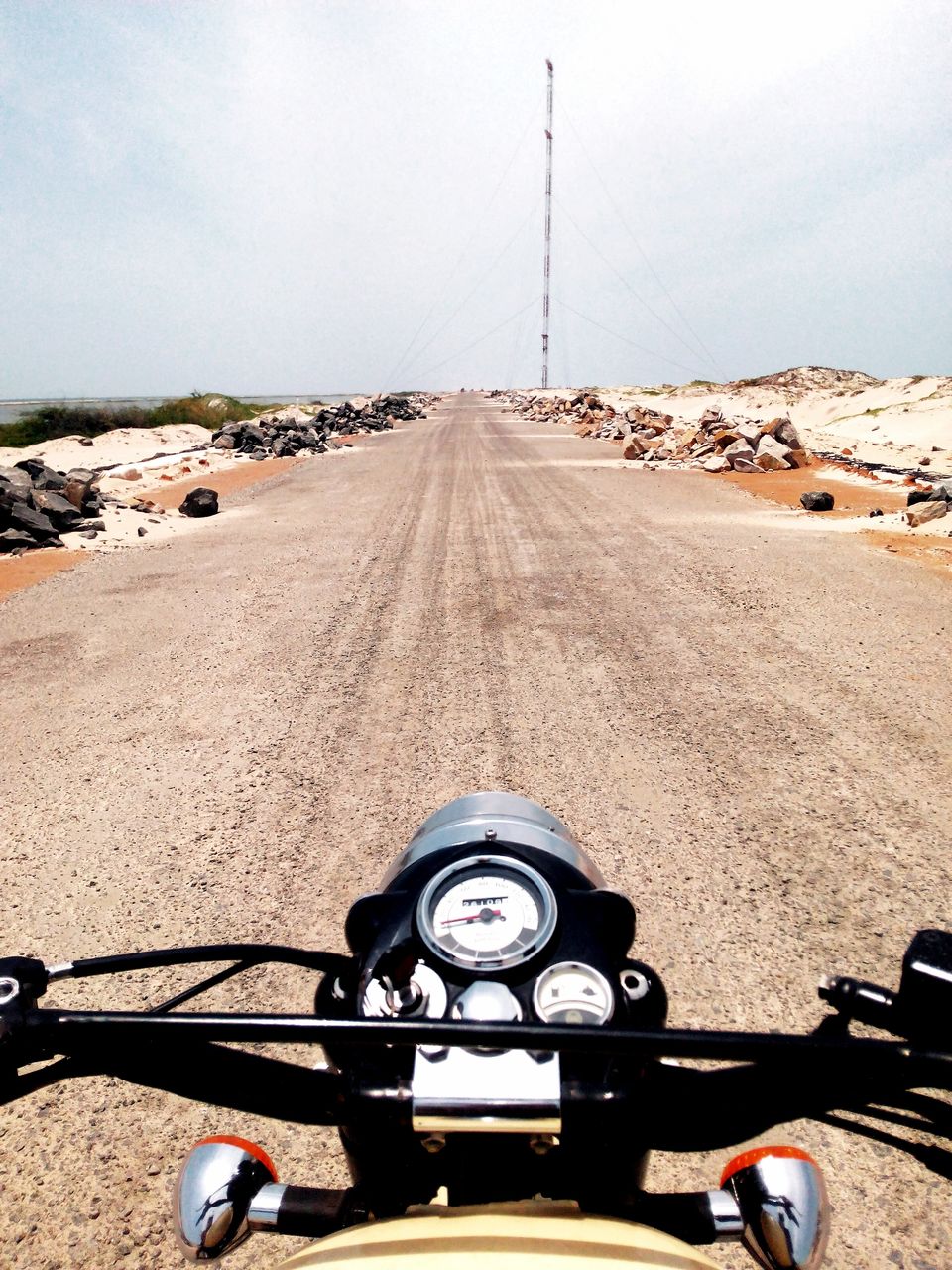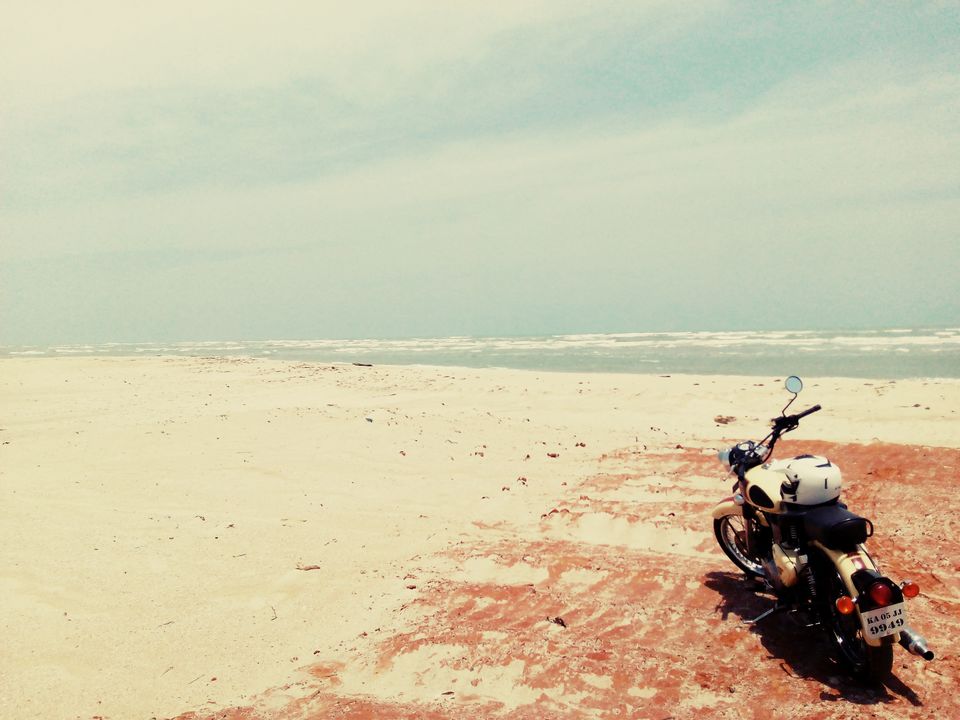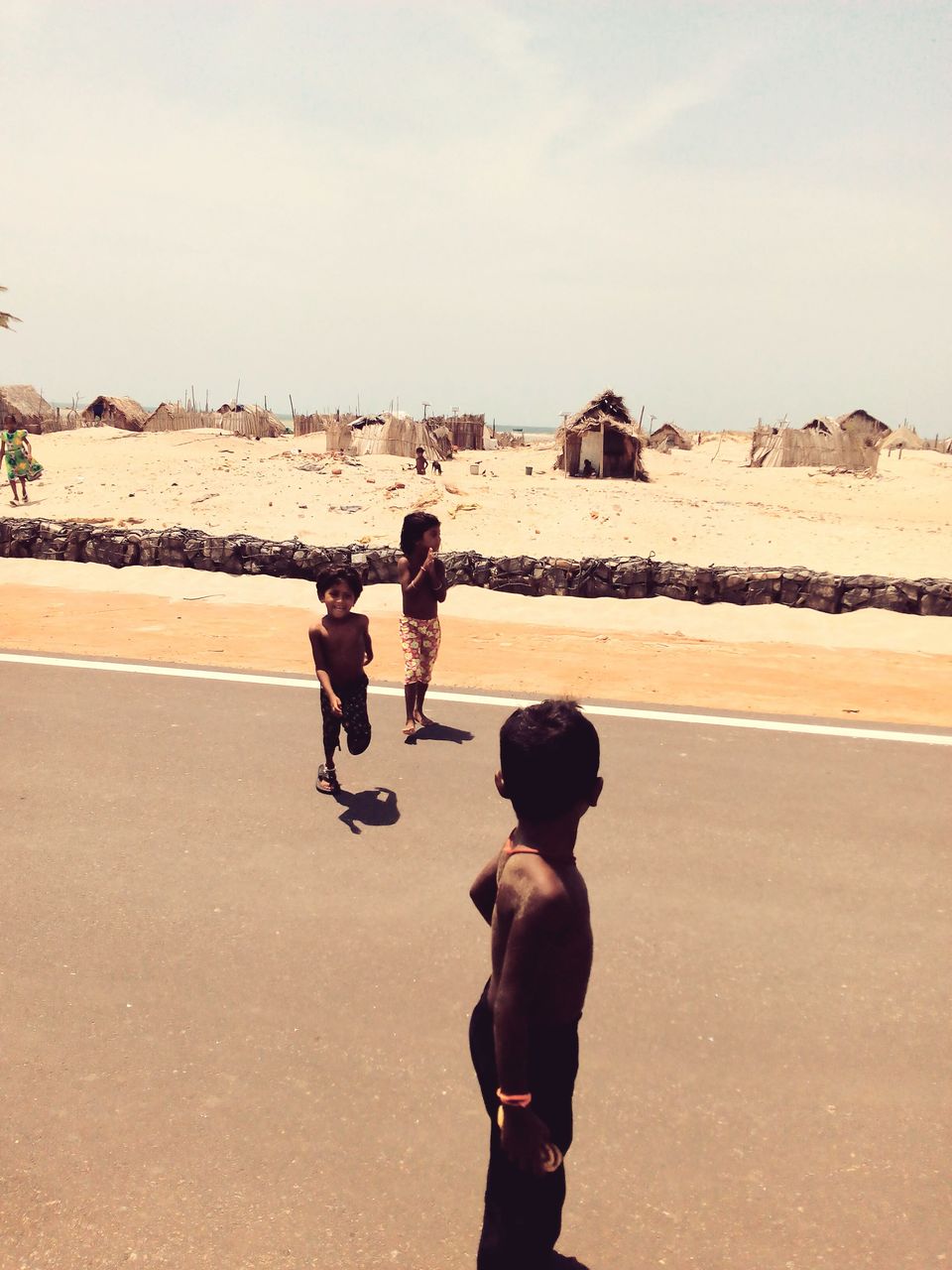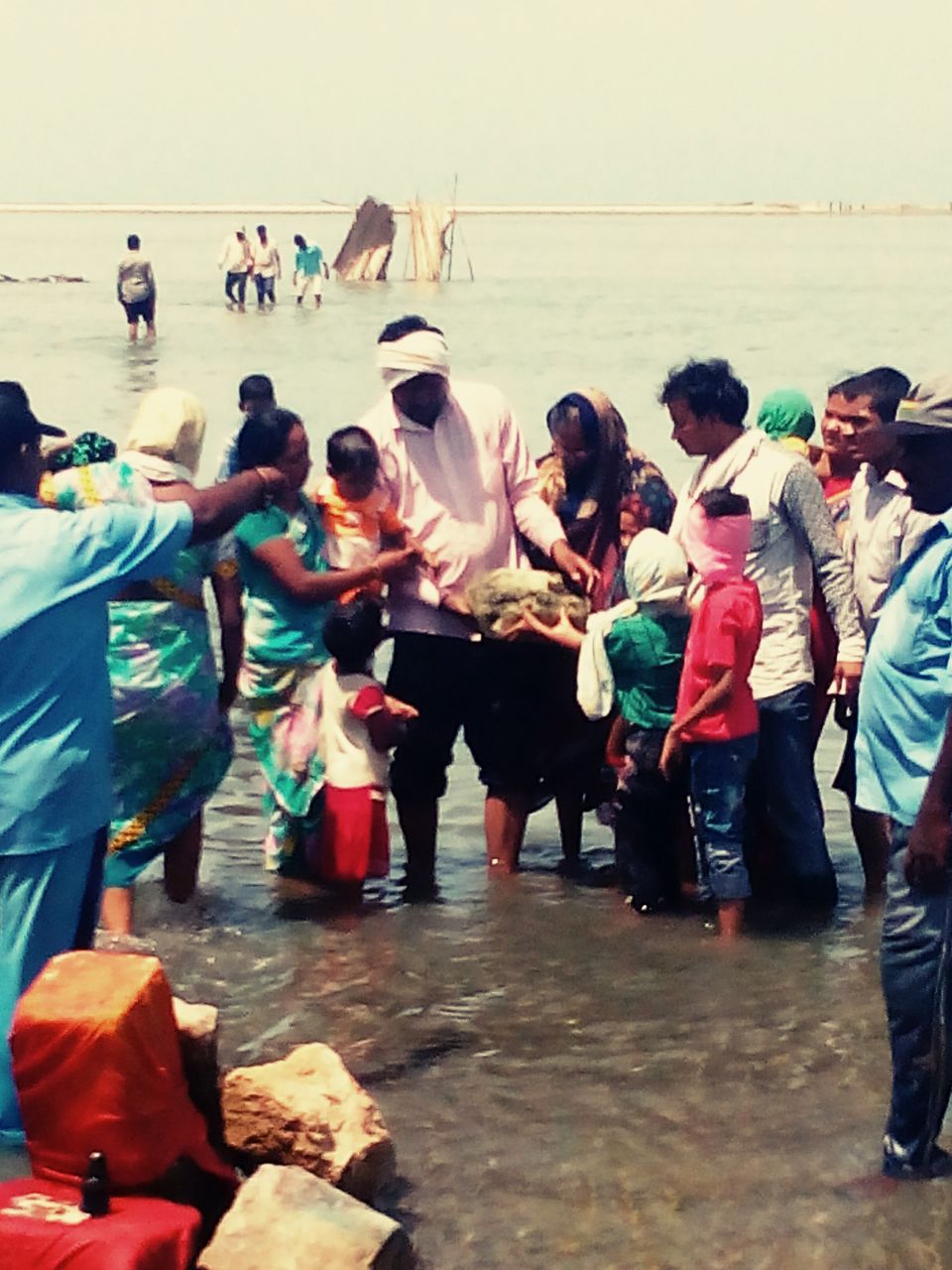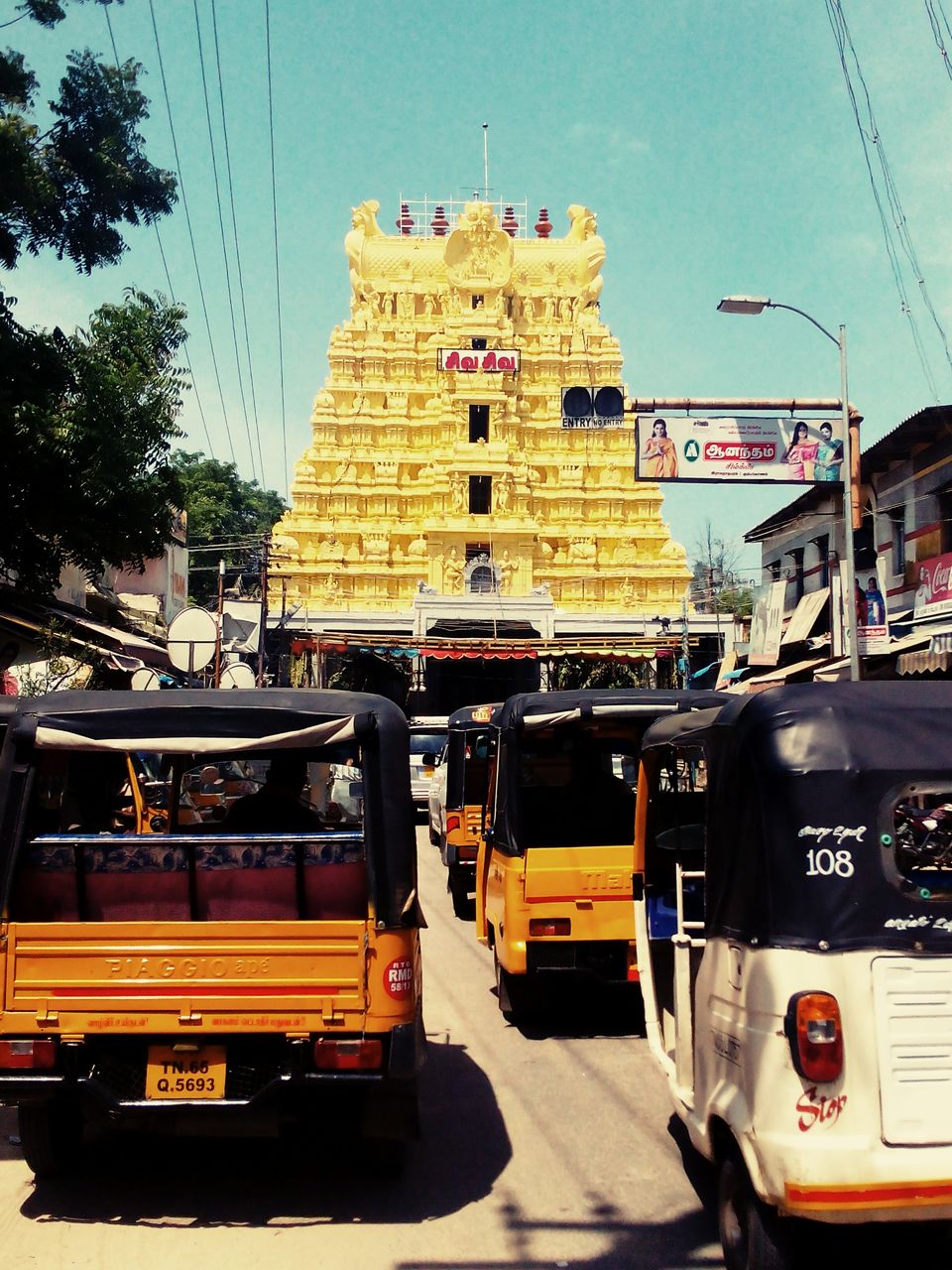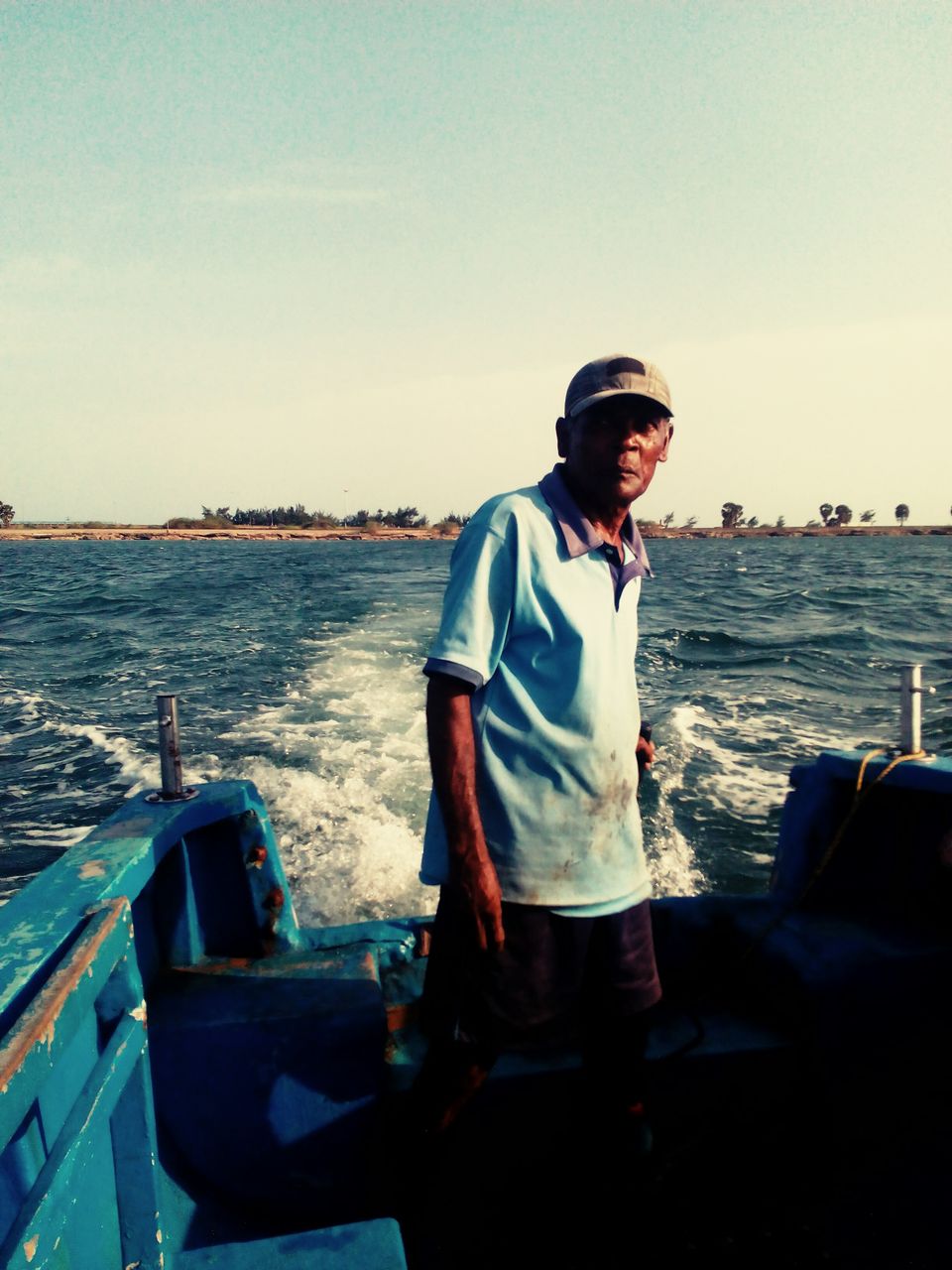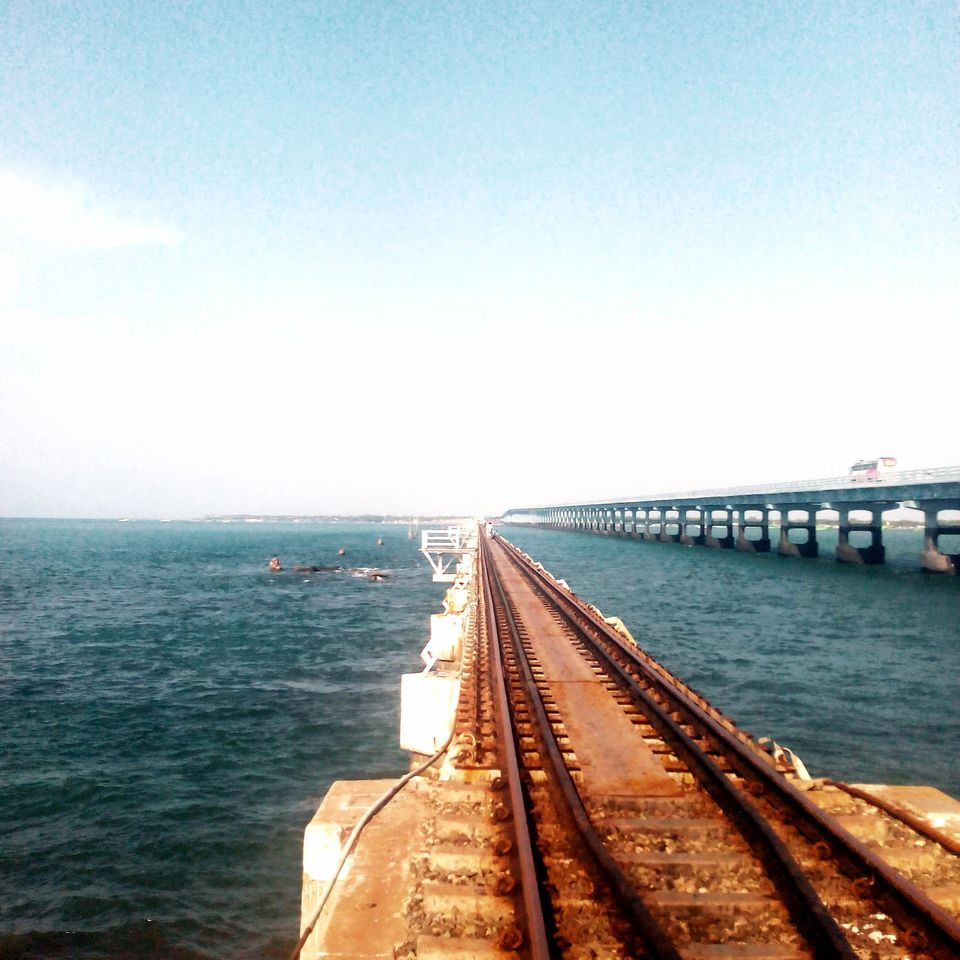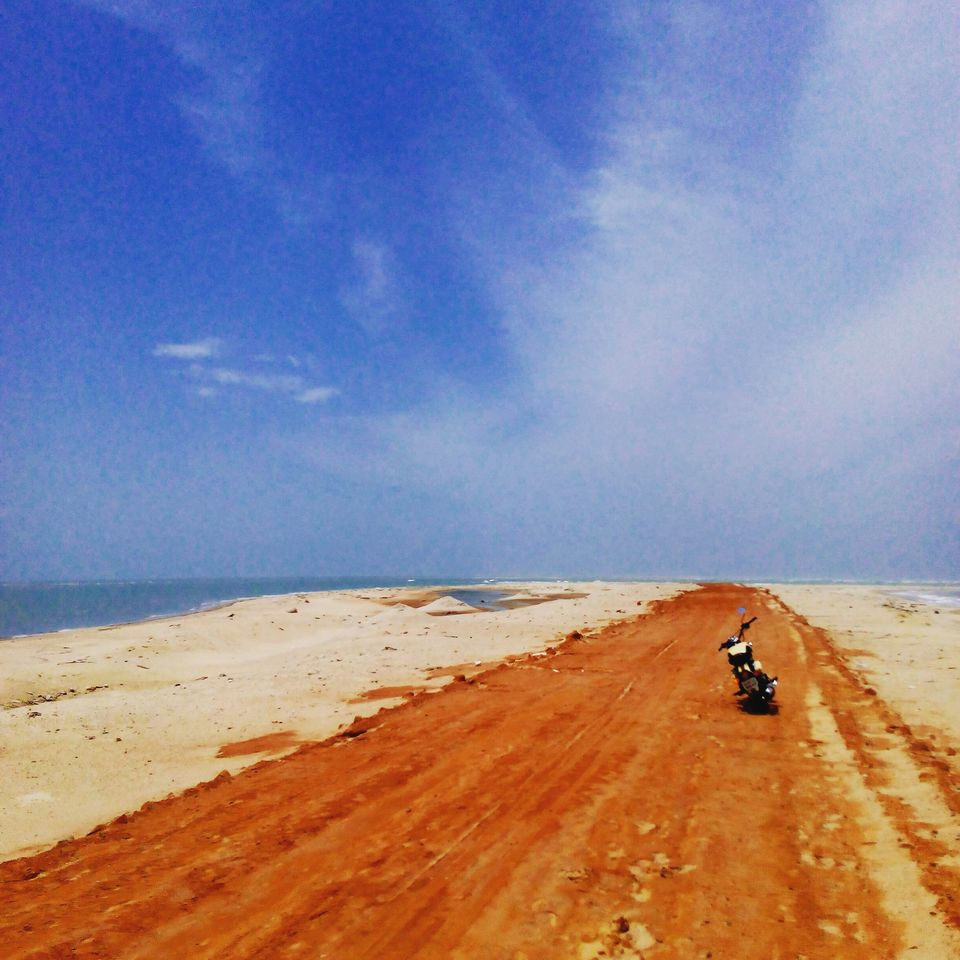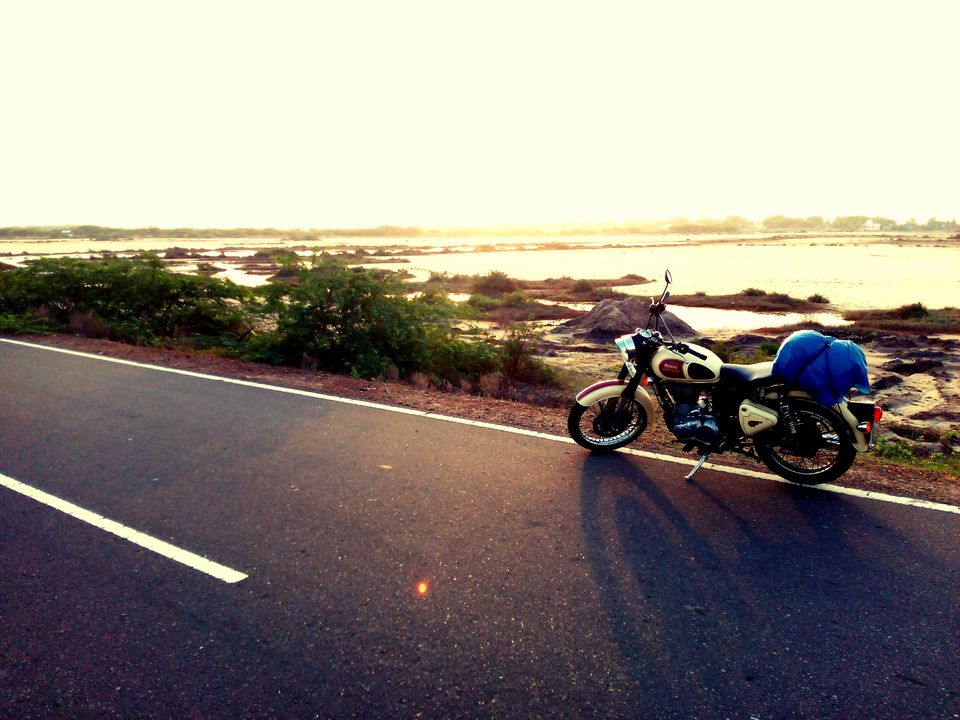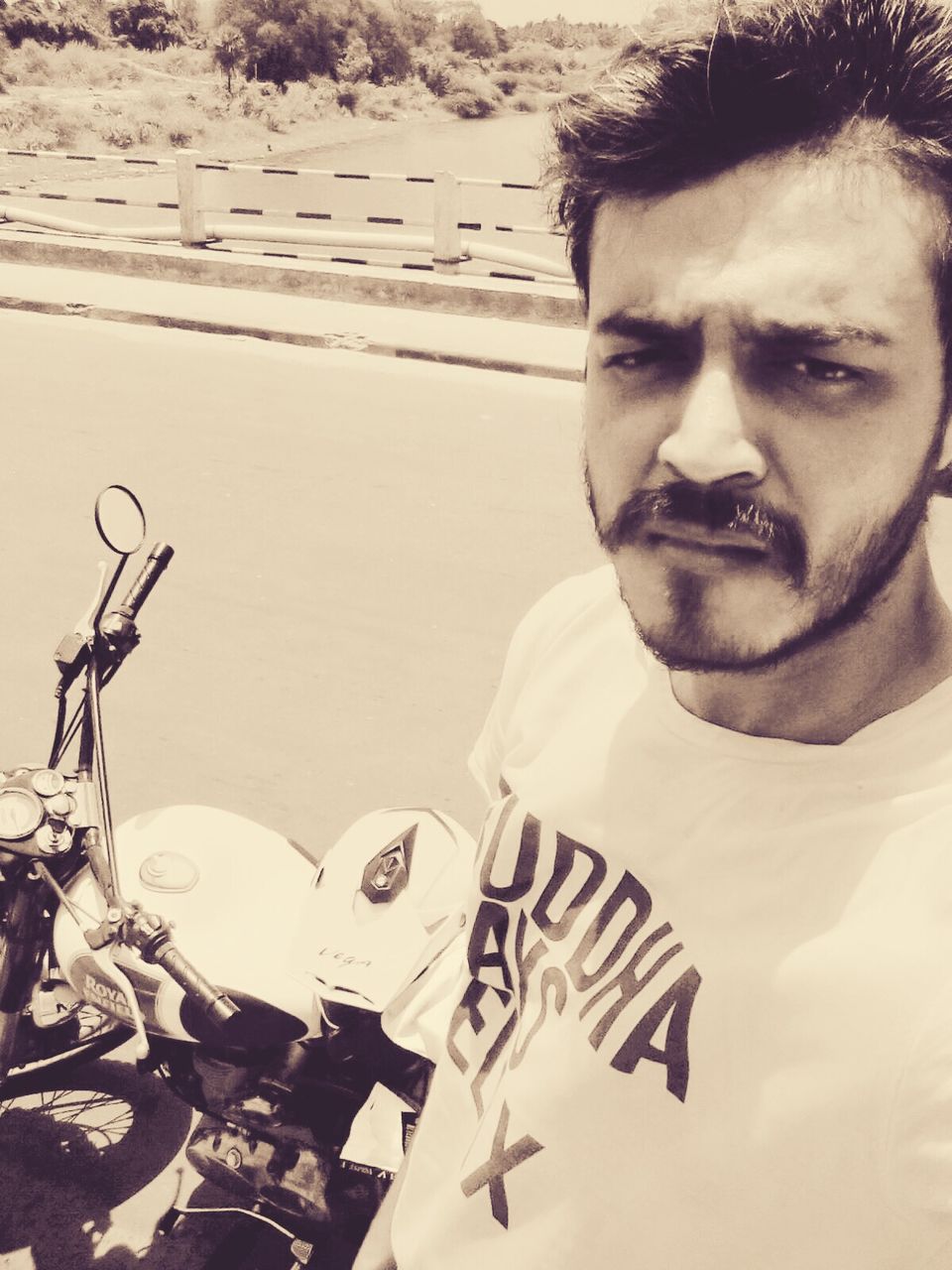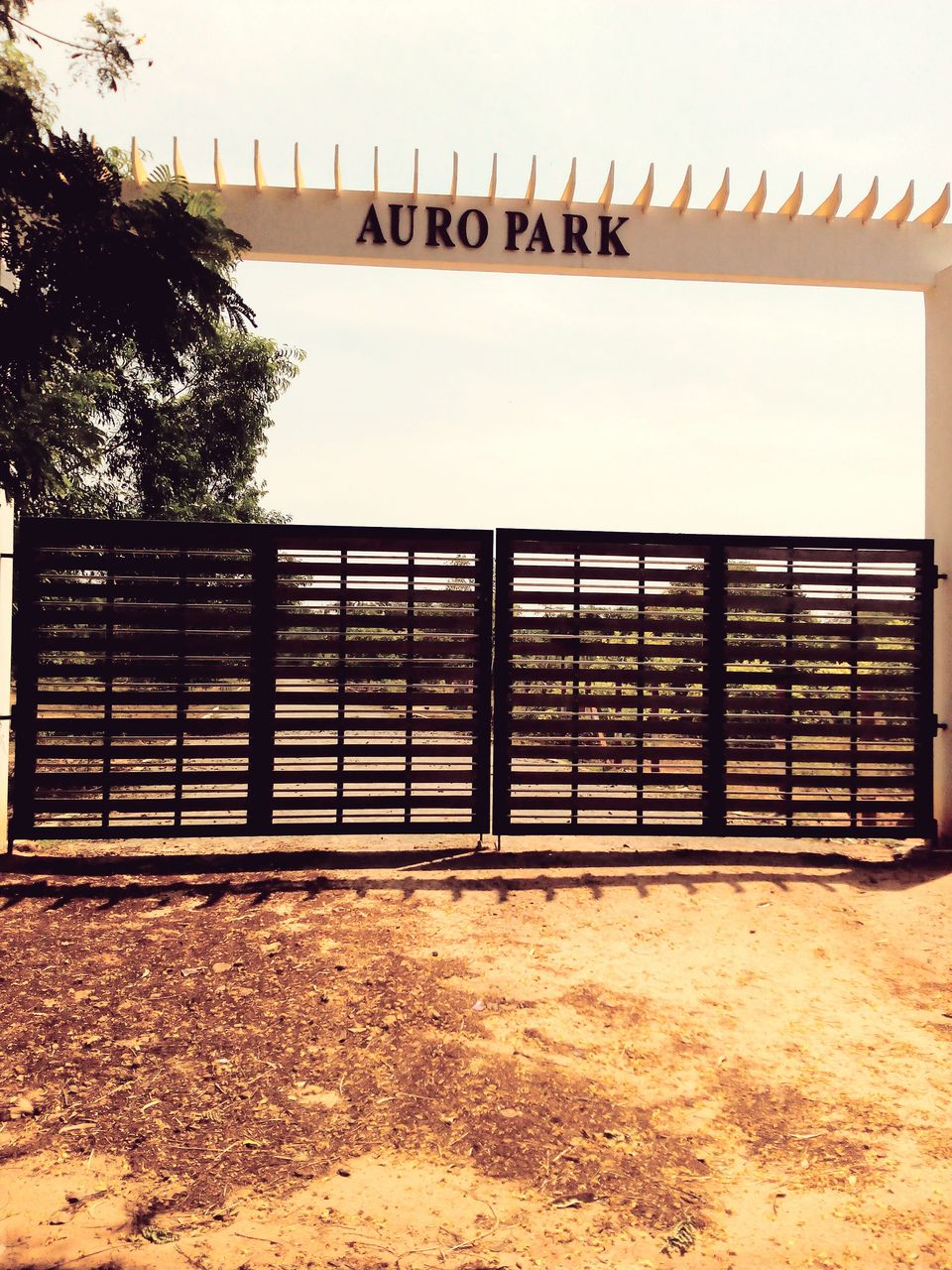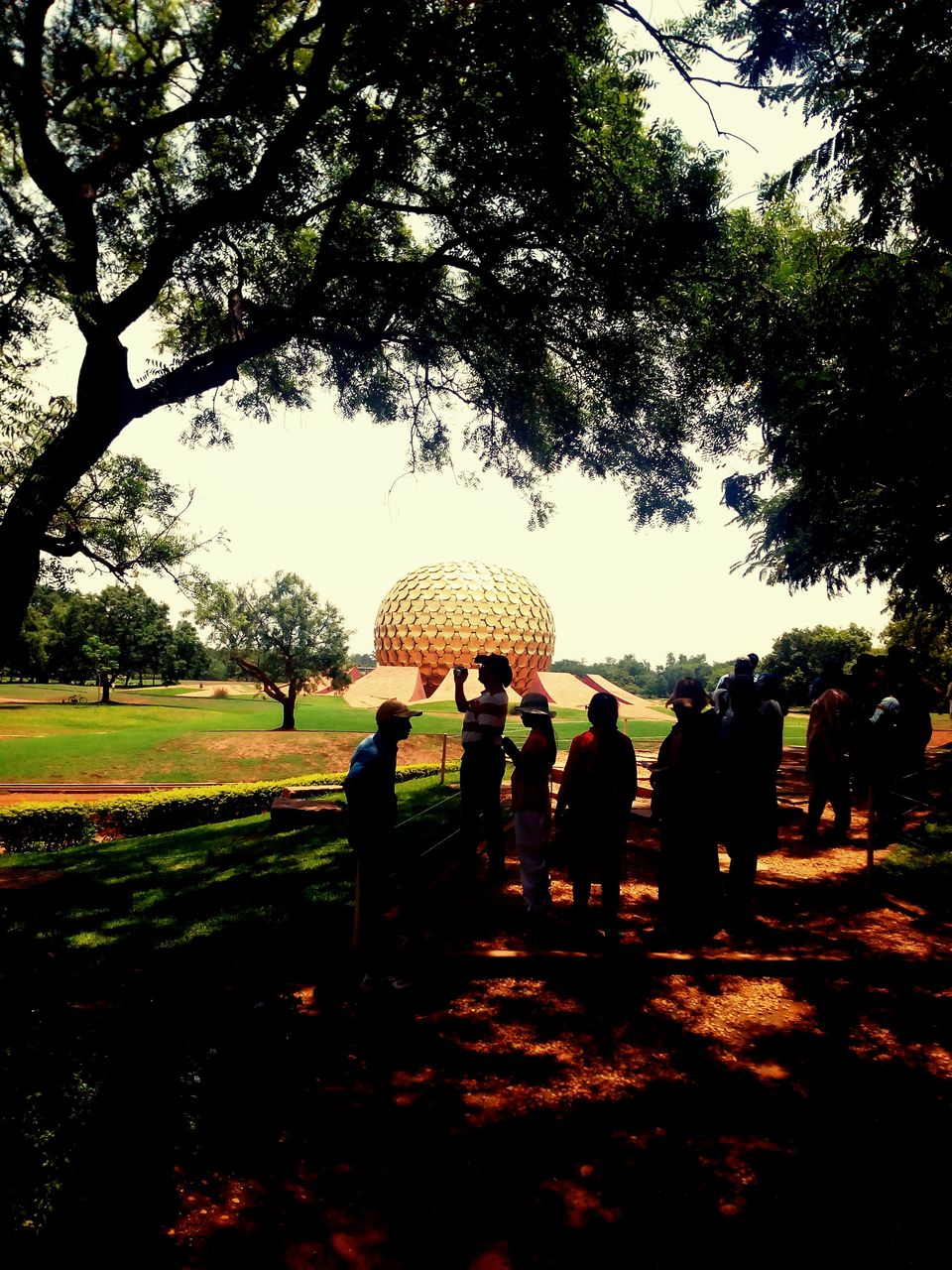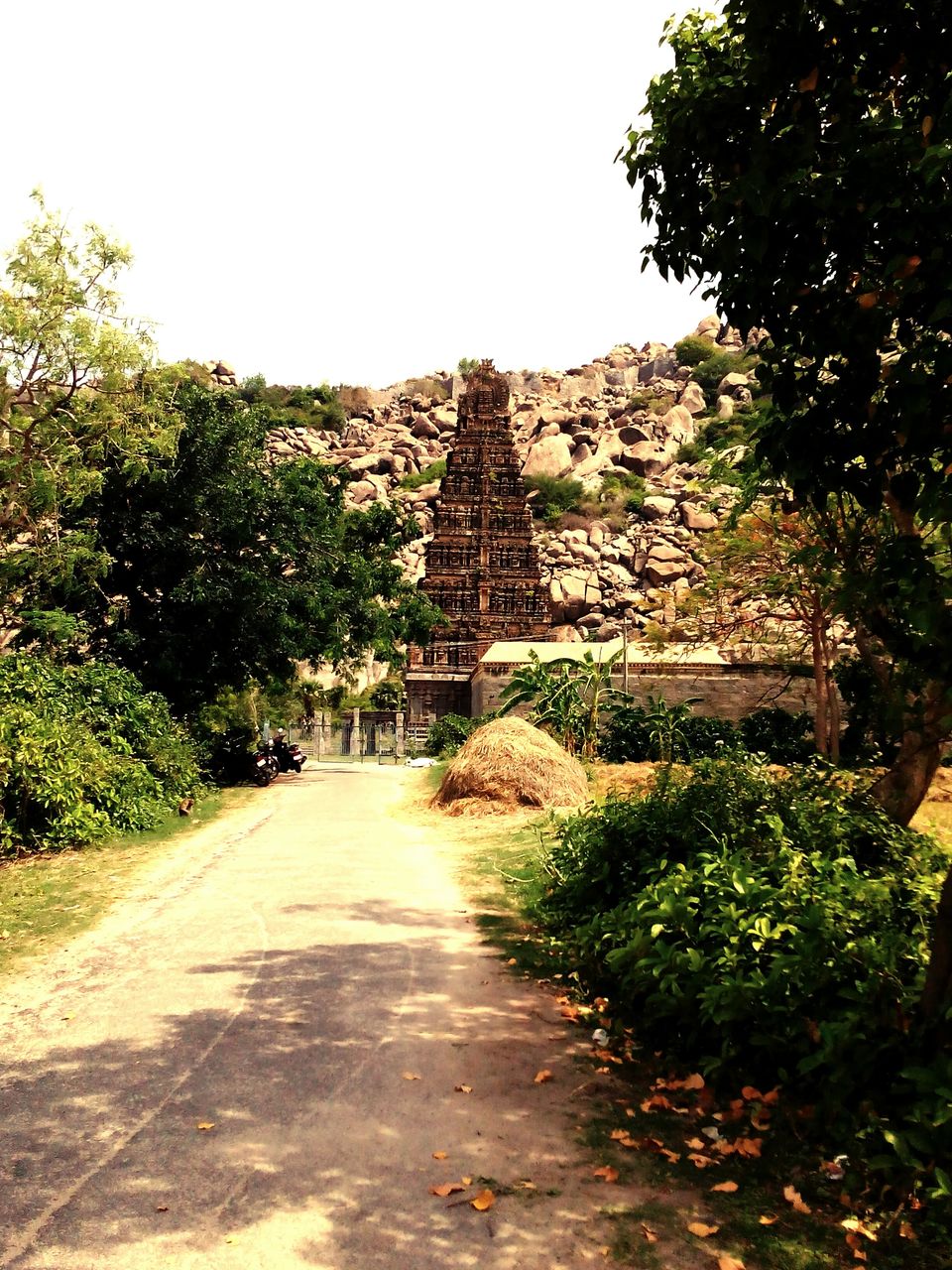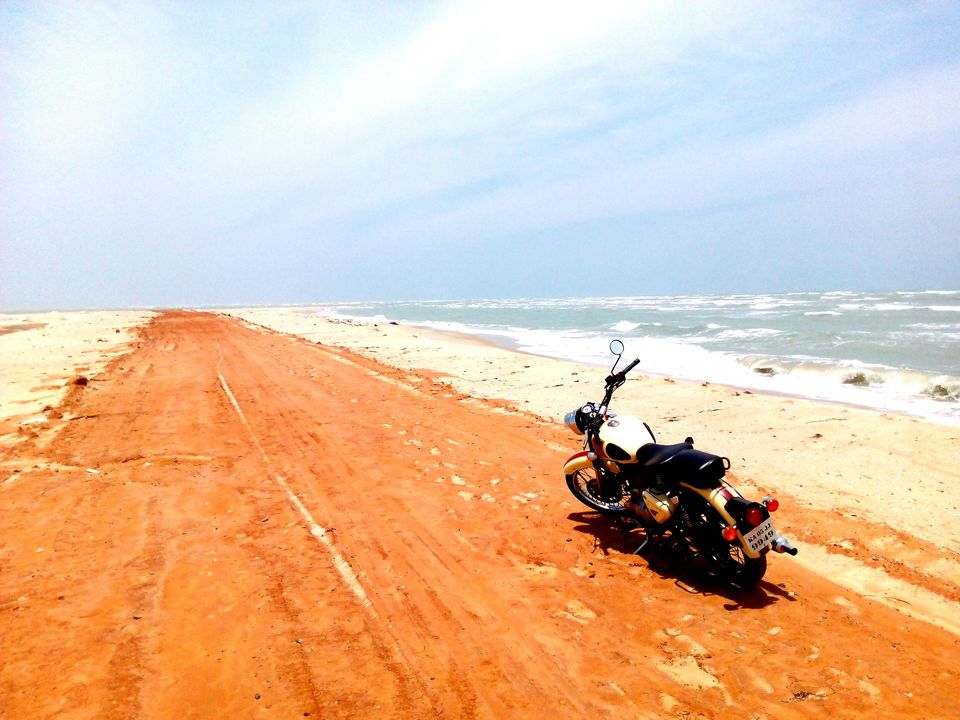 My mother had come down to Bangalore for a day, and we all gathered up at my sister's place. Mother was tired of the train journey from Pune, and why wouldn't she be. After all, it's Indian Railways we are talking about. As excruciating the train journey would have been, my sister was confident of the therapy she had in store for mother. Her new house!
Sister had moved into her new home very recently, which was now all set and decorated. And this reward was well received by my mother when she showed that utterly relaxed facial expression, as she threw herself on the bed. My brother in law Ashish, on the other hand had locked himself up in his bedroom, shouting at the Vodafone guys. A typical customer care call, where you see customer going nuts on the company executive, engaging into a rollercoaster of aggressive dialogue routine.
And where was my sweet tall sister? Yah there she was, making tea for all of us. 
The gossips started to fly, and we discussed wide range of topics. Almost all relatives, friends from close to distantly related were covered. We were getting all kinds of updates from mom, one after another 'breaking news'. We also talked about my sister's recent trip to Australia, and her time there.
This was the moment, when my mother and sister asked me about my next road trip, and I with a subtle tone (as if not a big deal), replied
"I am leaving tomorrow"
.
..
...
Everyone went quite for a moment, and looked at me with a smirk. My family would certainly be thinking this,
"There he goes again".
Mother continued,
"Alone?"
I said,
"Yes"
My sister looked at Ashish, Ashish looked at mom, mom looked at me, and this went on for some time with more cross looking at each other, until Ashish broke the eye drama that was happening, looked towards me and said.
"Bro…..(and the head nods)…..Lucky"
You know, I am beginning to believe in this very 'radical' notion (and many would label it 'weird'), that the best moments in life are the ones that are experienced…. alone!
(Except of course, when you are in a relationship or making love)
And this idea of being alone gets even stronger in your head when it comes to travelling. Most travellers will agree, wouldn't you guys?
And why?
Coz, travelling alone is a blessing in disguise! Yah, trust me when I say this
Though a large number of people will not completely submit to this idea, and reasons quite obvious,
Risky!
Lonesome!
Boring!
…
Wait...what?
Did you say boring?
Wo wo wo…now wait a second. That will be a big NO to the power infinity.
And I will prove it to you. Let me get straight to my travel story now. My 1 week bike trip in the Southern belt of India, which I did in the month of May 2016. I was saying goodbye to my mother at Bangalore Railway Station. She was heading towards Mysore.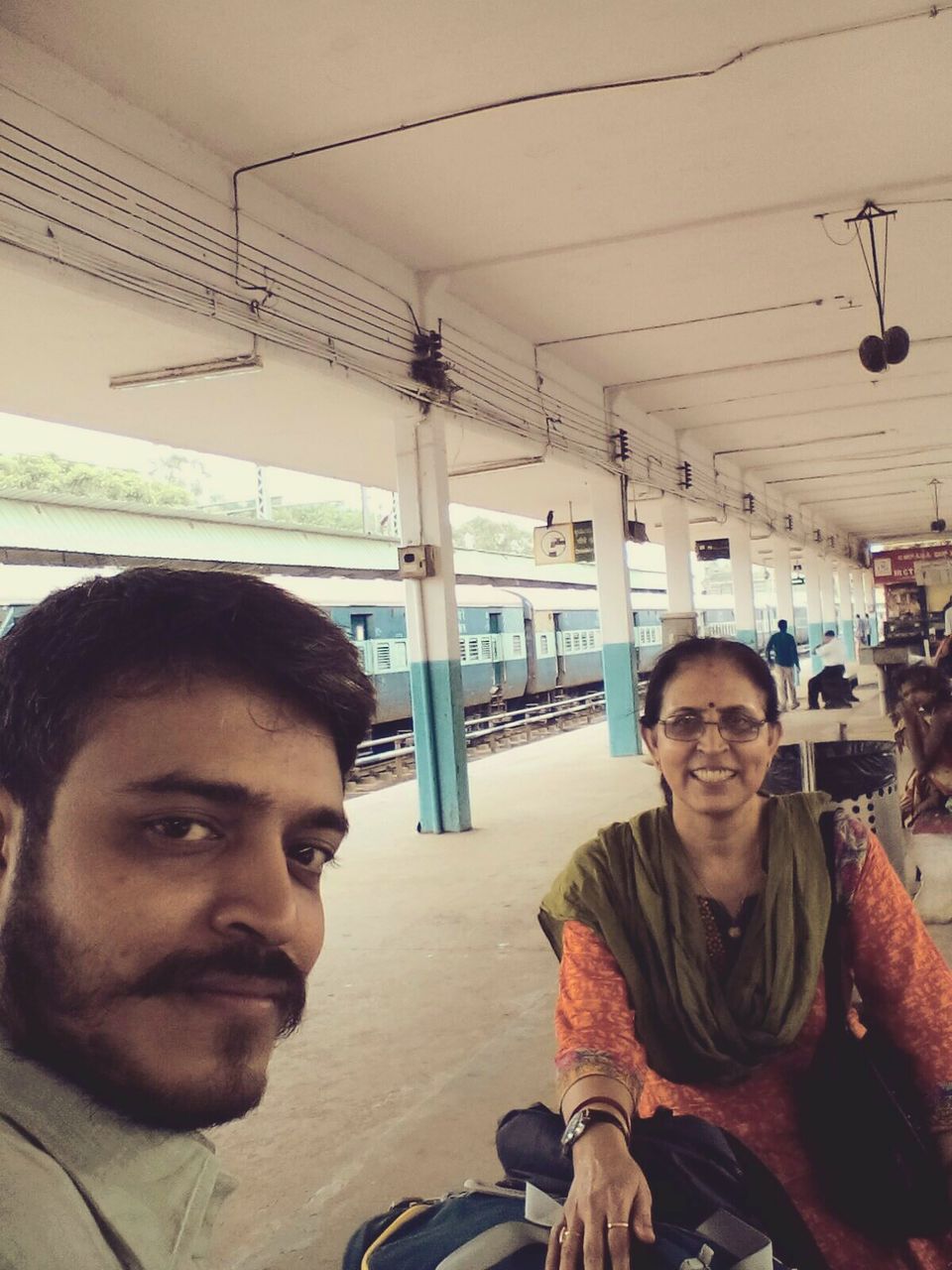 *My mother looked all happy to be joining a 3 week course in Mysore. She teaches in KV in one of the remotest places in India called Malappuram, located in north Kerela near Kozhikode. Very gutsy of her to leave a comfortable life in Pune, and go to a stranger place like such! Hats off Mom!
*Bangalore City Railway Station (code SBC), and this is where the Chennai-Mysore train was supposed to arrive. My mother had a seat reserved in the AC chair car there, for next 3 hours. SBC is the main railway station in Bangalore, located in the area called Majestic, which you would have guessed, is a super busy place with people, auto-rickshaws, cabs and buses all around. It's a ruckus, what else can I say! Well, the platform was surprisingly 'clean' and the slow moving train in front looked quite appealing
My mom had left, and….now?
Tadaaaaa! I have to prepare myself for the road trip. Wooohooooooo!
I immediately left the station, and went HSR layout to pick the bike, arranged some stuff like rain cover (to protect my bagpack from rain), bungys (the elastic rope which is used to tie up the bag), riding jacket, etc, and then hit the bed in the night for a 5-6 hours nap. My alarm went boomla boomla boomla the next day, at 4 am in the morning, and within no time I was all geared up to leave Bangalore on this epic trip.
Below was the route I was to follow, and believe me I had no idea of the surprises that were waiting for me :)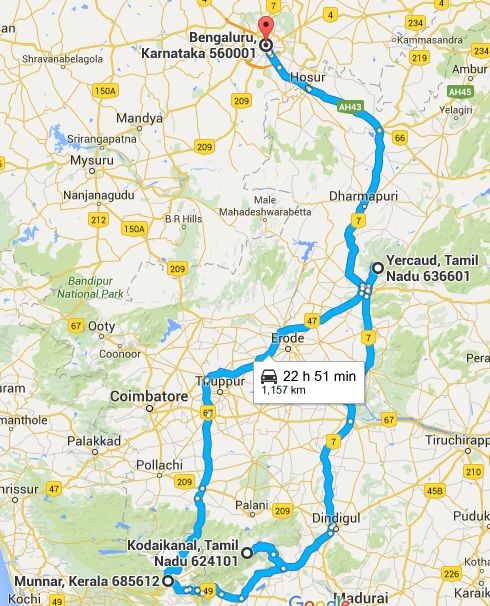 *My initial route plan : Bangalore – Salem – Munnar – Kodaikanal – Dindigul - Yercaud - Bangalore
Days planned - 4
I had planned for 4 days when I started, but I ended up doing 7 days. This happened coz a lot of impromptu decision that I took while on road. One of the powers you have when you travel alone ;)
I. Road to Salem, Erode, Tiruppur and ahead – Straight highway ride, smooth and less traffic
But wait, first a picture of the style statement that I was about to be a part of-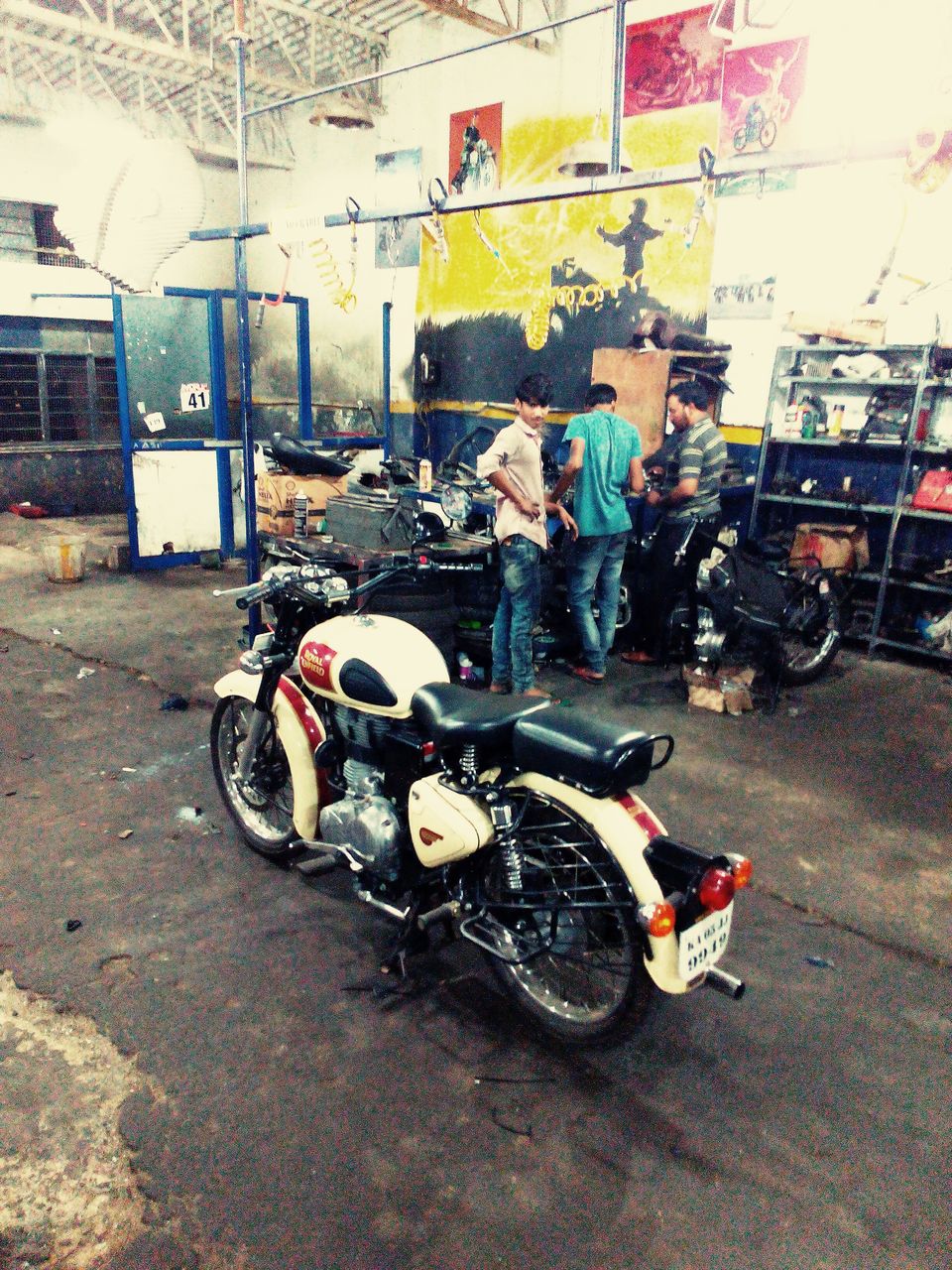 *Royal Enfield Classic 500, my bike for the trip. I had taken it to a service station near Adugodi area, and the moment I looked at her I knew, a gala time was waiting for me
I had pushed off from my home at around 4 am in the morning. I crossed MG road, Koramangala, Madiwala, electronic city flyover, and then hit NH7 towards Hosur and Salem. The ride at this time was quite a different experience, as there was hardly any traffic on the road. It was dark and street lights were on. The silence that I saw was a rarity, something that is not seen otherwise in Bangalore. Brought a certain stimulation!    
I kept moving, and well that was the agenda. This time was the time to just ….ride!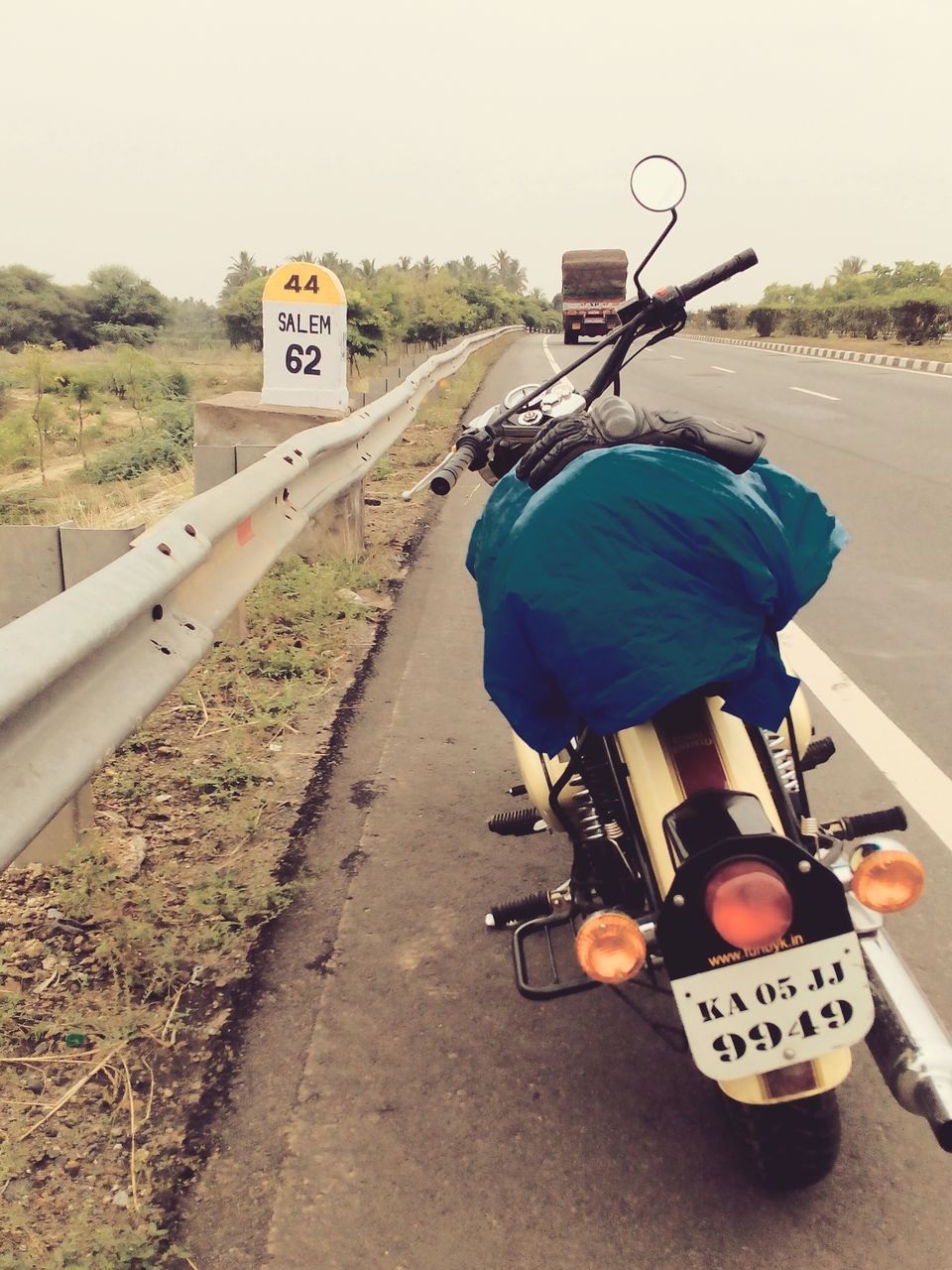 It became a bit cloudy and sunny, as the day progressed. I had covered quite a distance on NH7 and moving fast towards Salem. The plan was to reach Munnar before sundown, another 360 kms more from here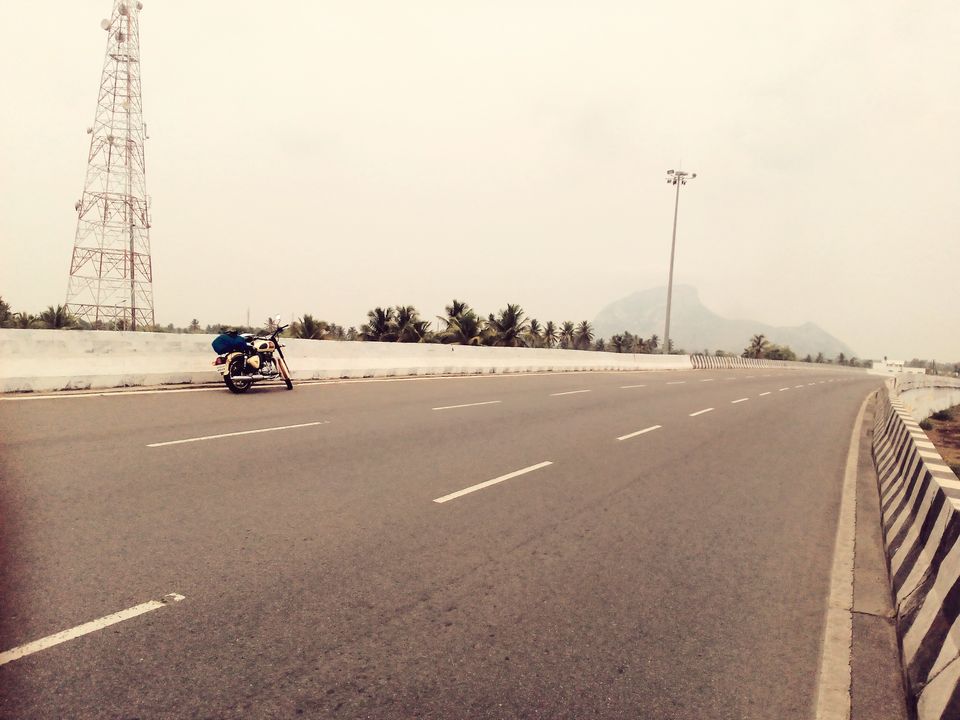 Stopping at one of the bridges in NH7. Let me come clean on this now, "Yes, bridges are my weakness".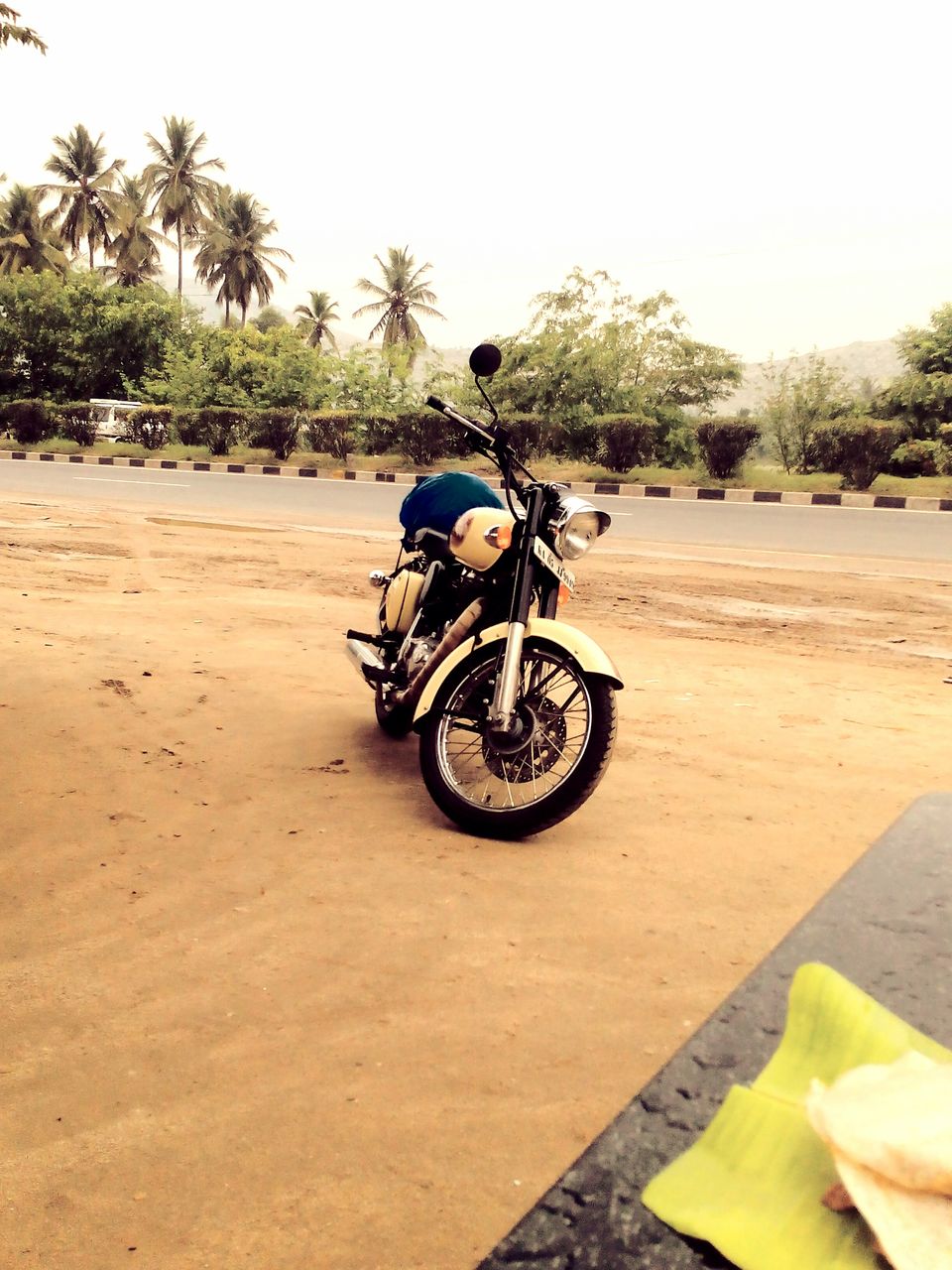 Egg dosa, sambhar and coconut chutney was on the menu! And, look at her! Not ready to quit, are you my dear?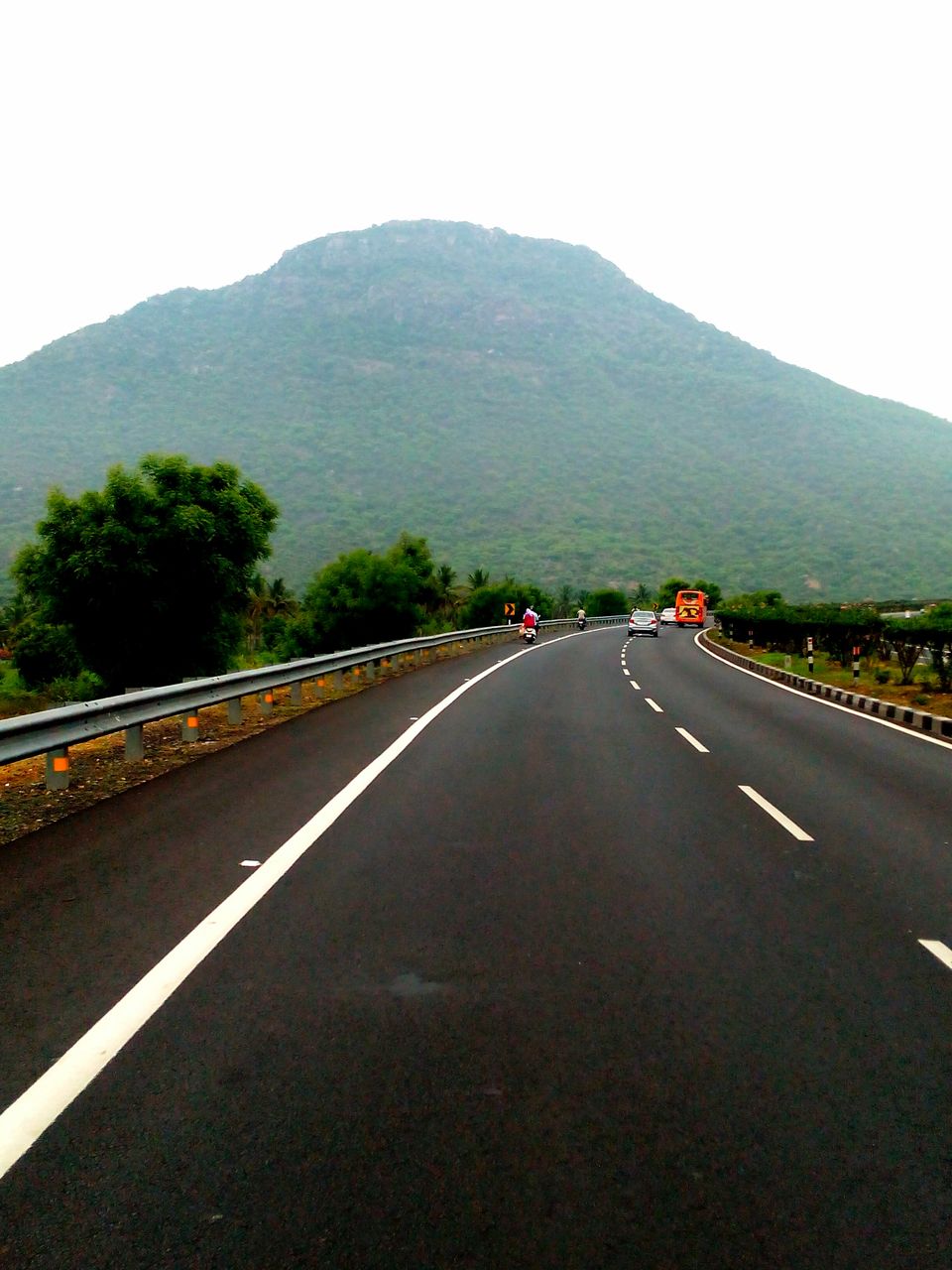 The road was soft like a butter, my bike cutting it like a knife. And then I saw that hill. My heart started beating fast. What a delightful scene to watch
It would have been around 10 am, when I reached Salem which was almost 200 kms from Bangalore. The weather was a bit warm by now and I was beginning to wonder when the hilly region would start. I was eagerly waiting for it. But,
There was still a lot of road to cover, before that could come. I had to do another 200 kms crossing Tiruppur and Palladam, before I could enter the Western Ghats. I remember taking a right turn from Salem, towards NH47 where I crossed places Erode, Avinashi, Tiruppur (another busy town with people and cows all around), and then finally entered the road which was leading straight to Munnar and Western Ghats.
Finally that moment was close for which I waited almost 10-12 hours.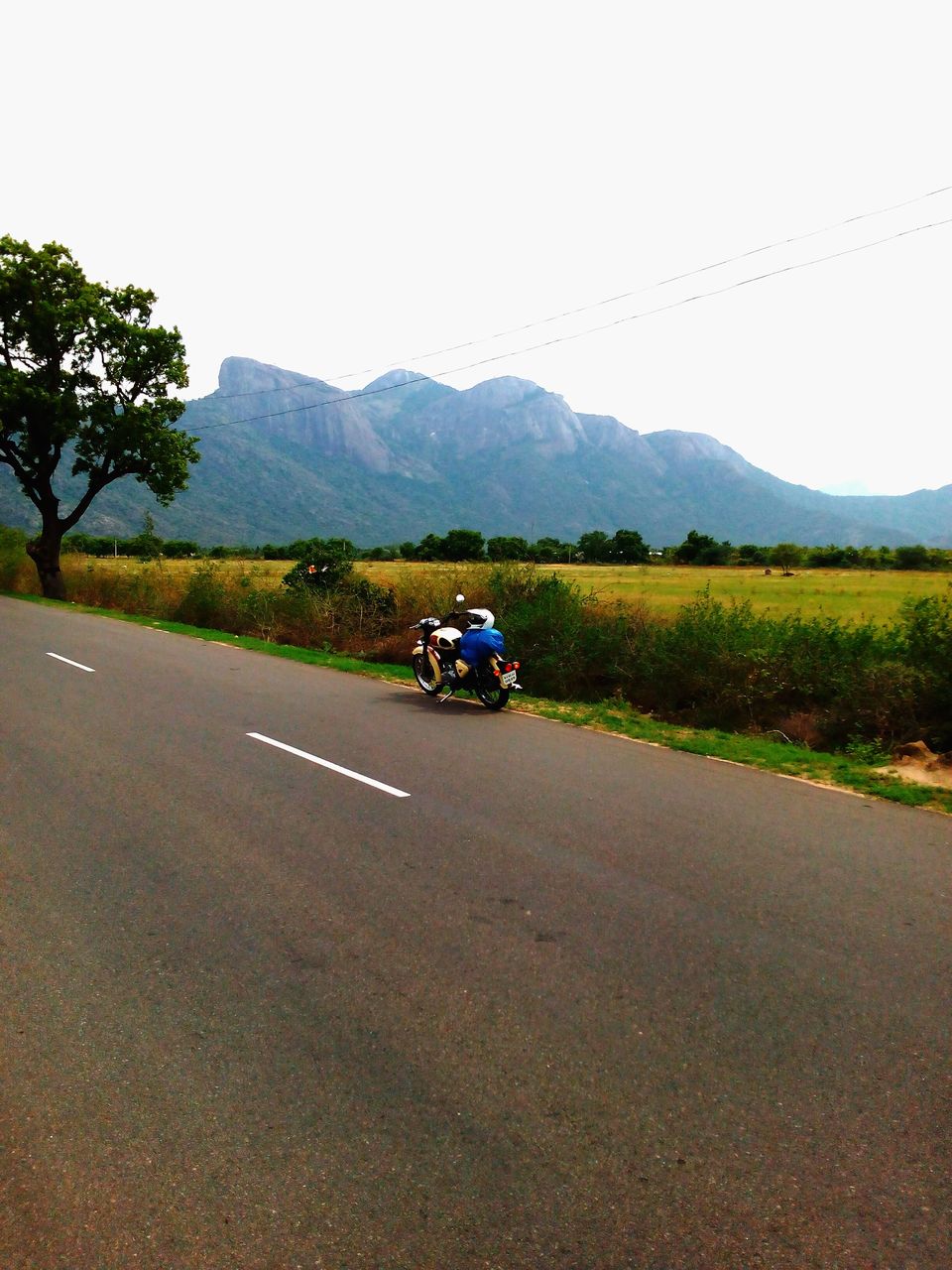 Very close to now entering Western Ghats and Munnar. Mountains started to appear closer now. Lot of them at this point.
Crossing Chinnar and Marayoor tiger reserve on my way to Munnar. Did not see any tiger though. Same reason. Bad luck!
II. The Western Ghats of Kerela, Tea Gardens & 'Queen' of hill stations in the southern belt 'Munnar'
Well I mentioned southern belt, because the title of the 'queen' in the northern part has been claimed by Mussoorie. I still have to explore the north-eastern region of India, and the west. I heard the Aravalli range in Rajasthan is worth watching. Maybe someday
Having said this, Munnar is not a soft player and scores better than most hill stations in India. Well it houses the top most peak of Western Ghats 'Anemudi', so there is no doubt. But when I say Munnar, I seldom mean the place, but rather emphasize on the 25-30 km stretch of magnificent scenic road that you have to cover before reaching there. As a matter of fact, the road is so picturesque and beautiful that by the time you reach the place, your cup is already filled.
Which is exactly what happened to me!
After reaching Munnar at around 5pm, when the hotel manager suggested me to 'not relax' as I can go onto see some spots nearby, I reacted very seriously and said, "pet bhar gaya sir, aate waqt bhaut dekh liya" :)
(English translation)
"My stomach is full sir, have already seen a lot while coming here"
So i was cruising, and had entered the ghat section now, seeing almost everything that nature had to offer.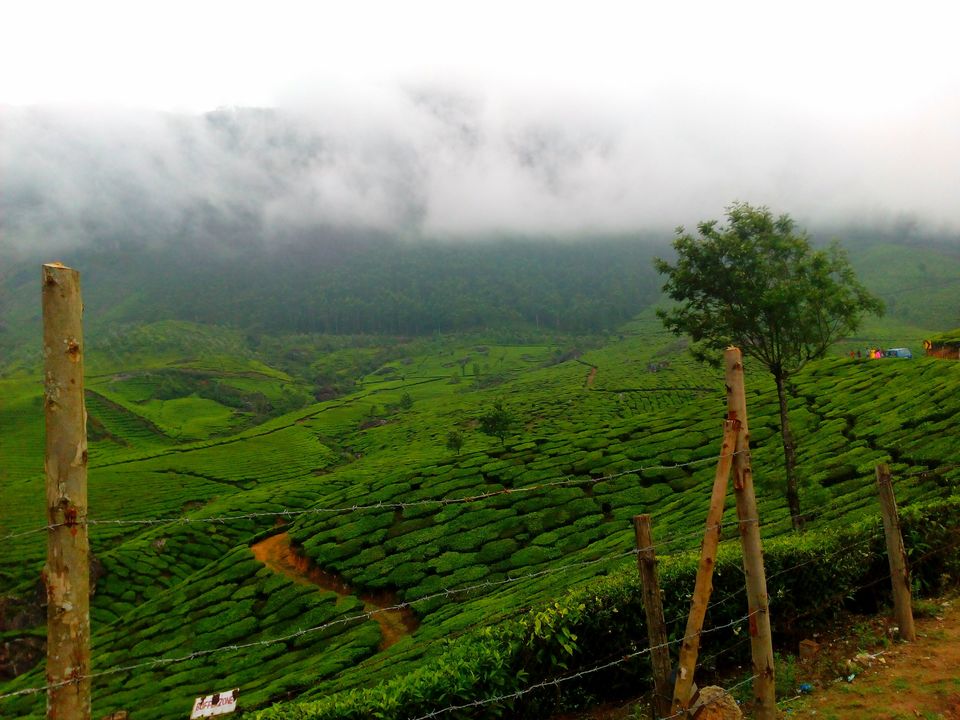 Western Ghats and sightings of tea plantations. An irresistible scene. And there was this very strong yet pleasant aroma of the tea leaves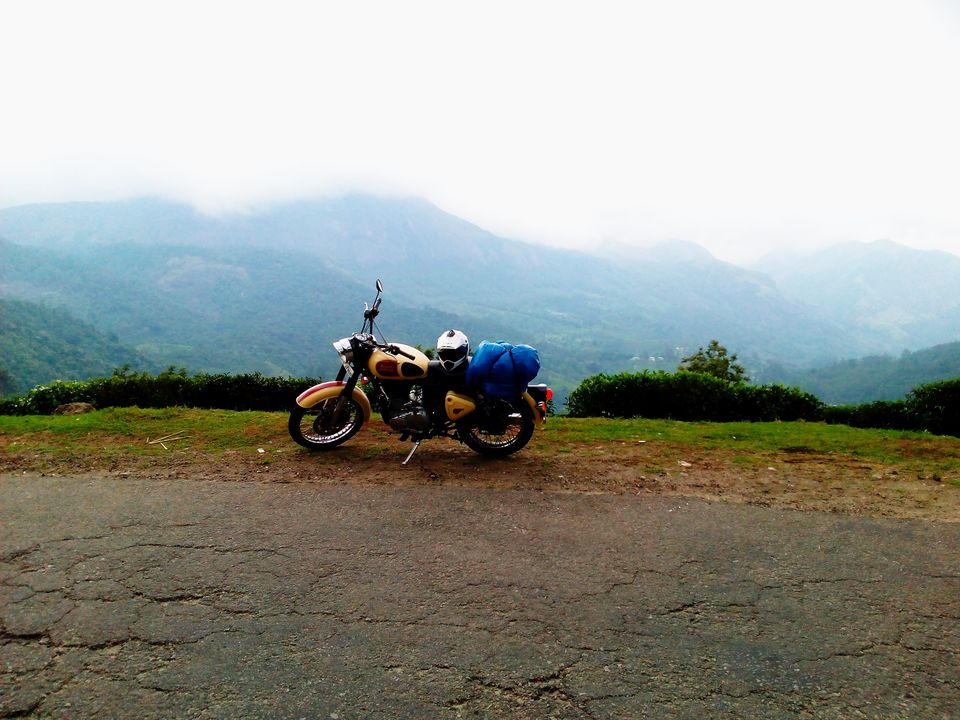 The top portion of the hills were covered with clouds, and here my bike asked me to take a shot of her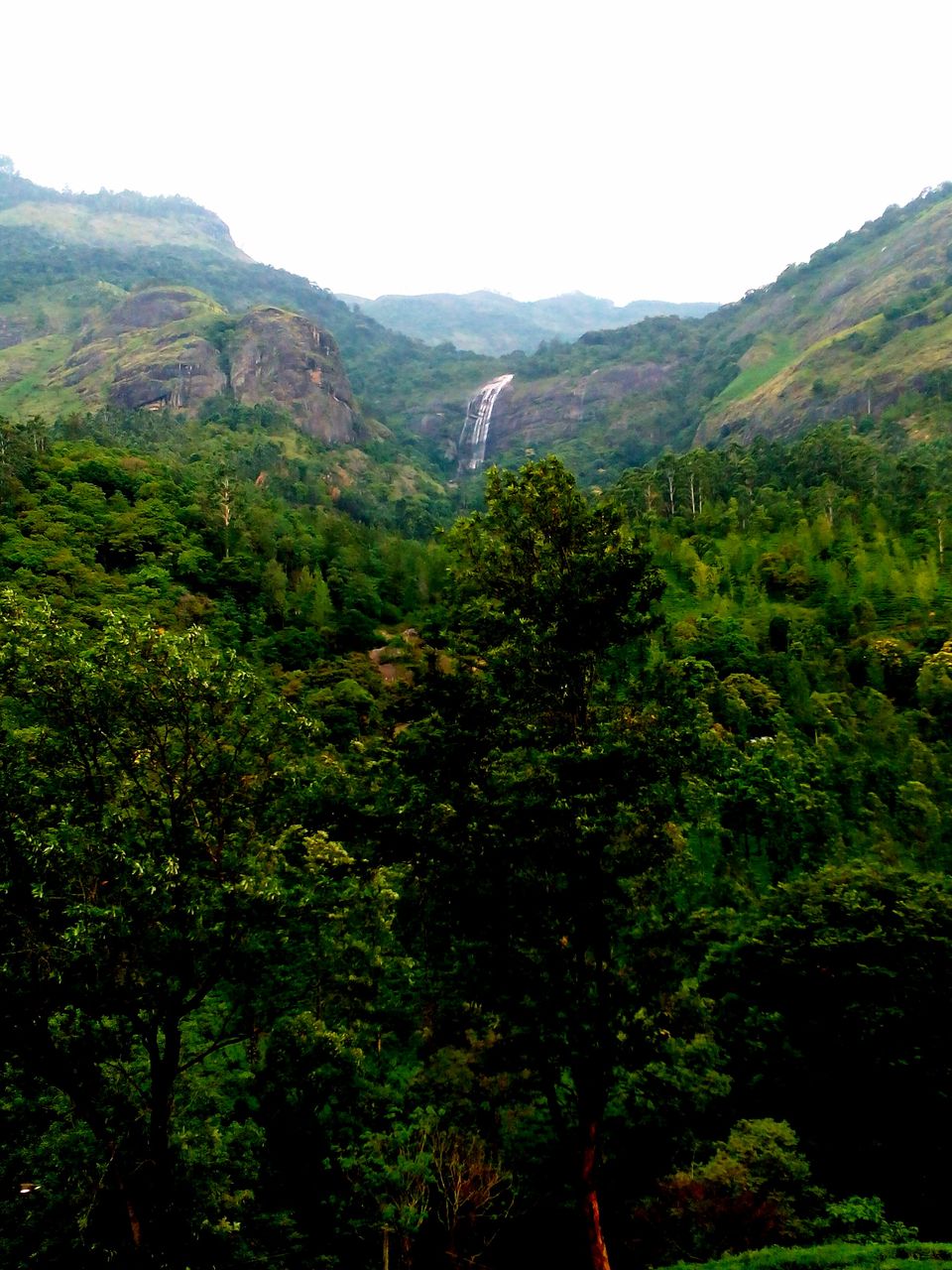 And then I see that mysterious waterfall, far away at some point. Totally inaccessible, untouched and serene. My eyes couldn't believe of the sight. It was that breath-taking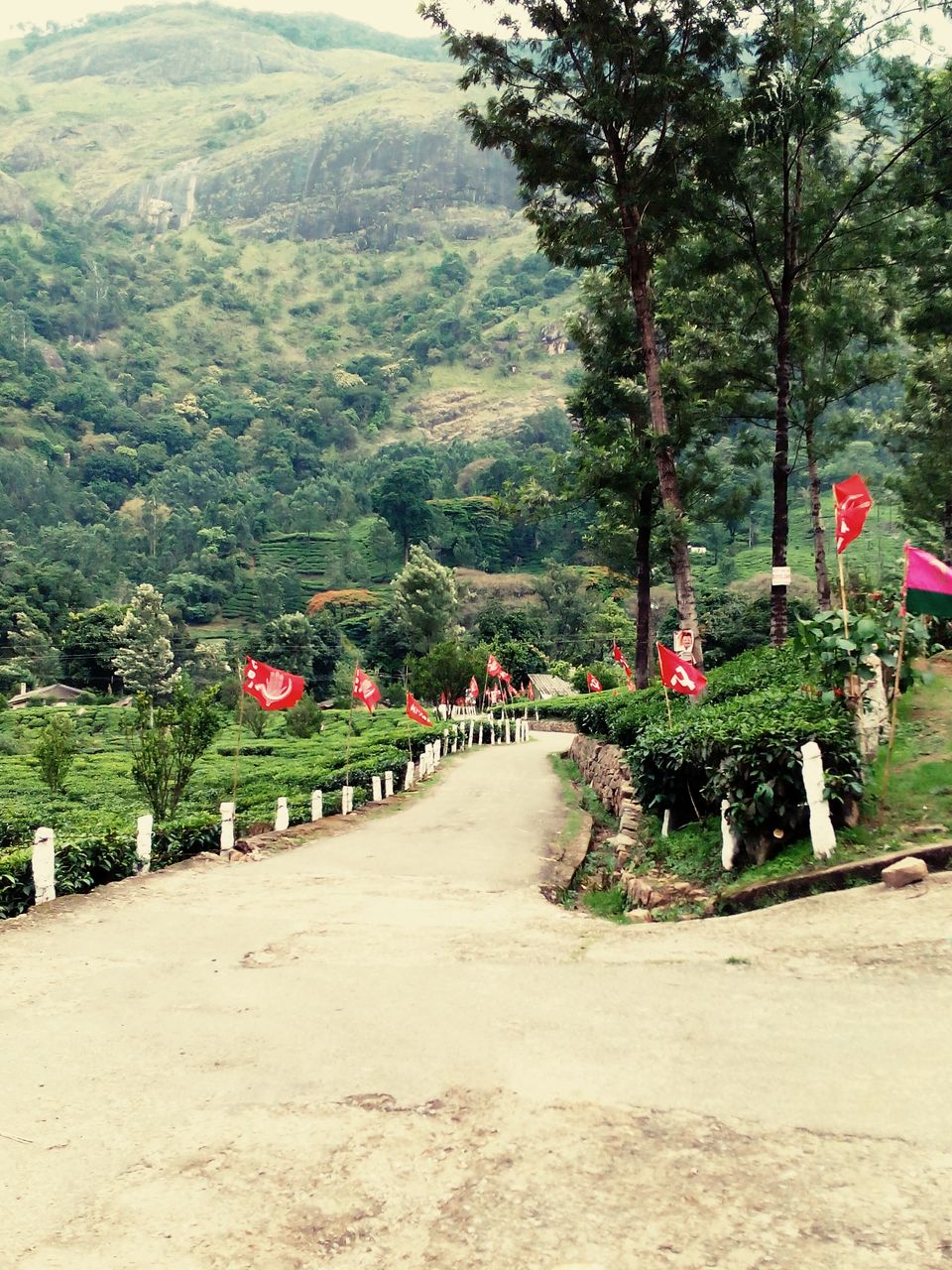 These flags represented some political party, maybe CPM or congress. Who gives a fuck! Also the trees were full of posters of the winning political candidate, who would have recently participated in the assembly elections and won. He had his typical 'i will change the world' kind of fake smile. Anyways, little that i bothered, my eyes were hooked onto the beautiful plantation and trees for all the time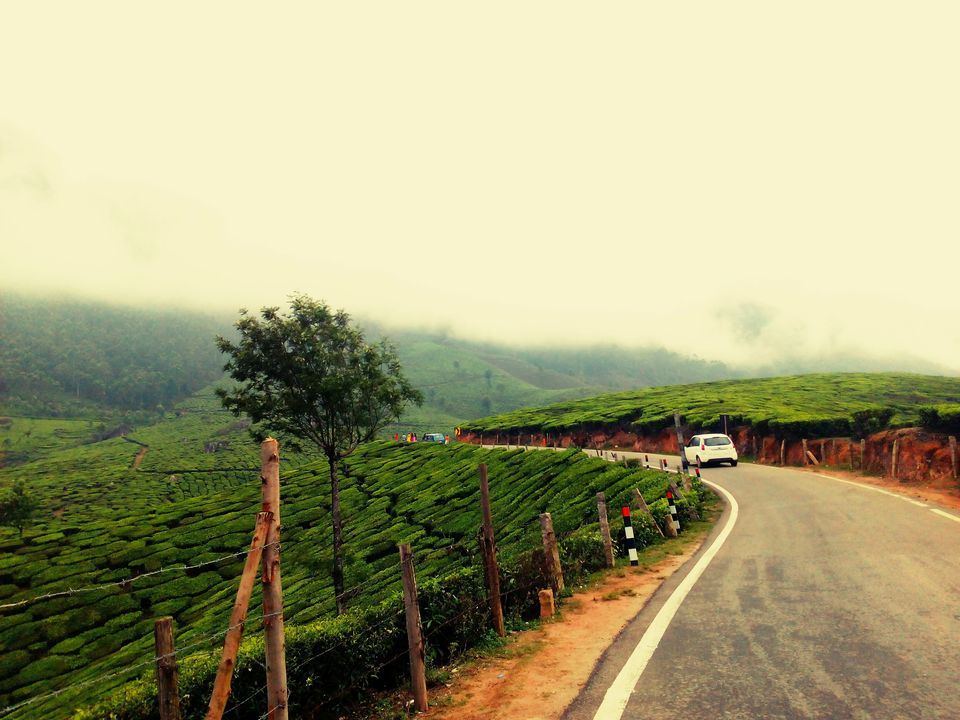 And the road showed some great curves.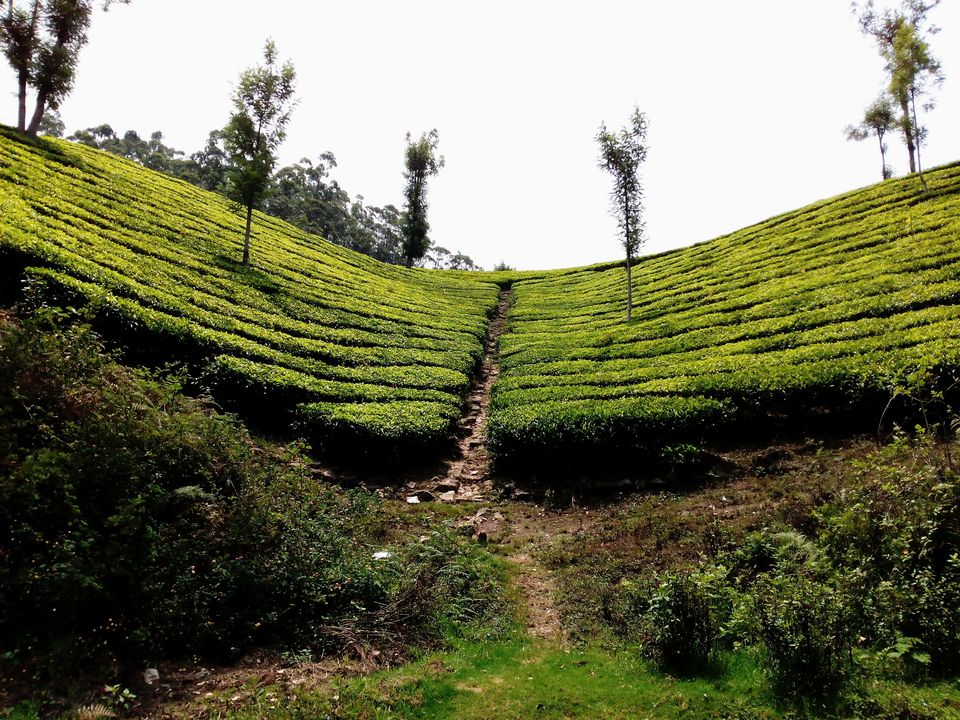 A very close look at the design of the gardens.
And after a mesmerising ride through the hills, I reached Munnar. The town was occupied with buses, trucks and cars. People had come over in large numbers, and were all over the place. It was drizzling, was a little cold and I could see the white mist gesturing on the hills. I reached a hotel where I unloaded my bag and parked my bike. It was time to fresh up, and head out to the main market for an evening stroll.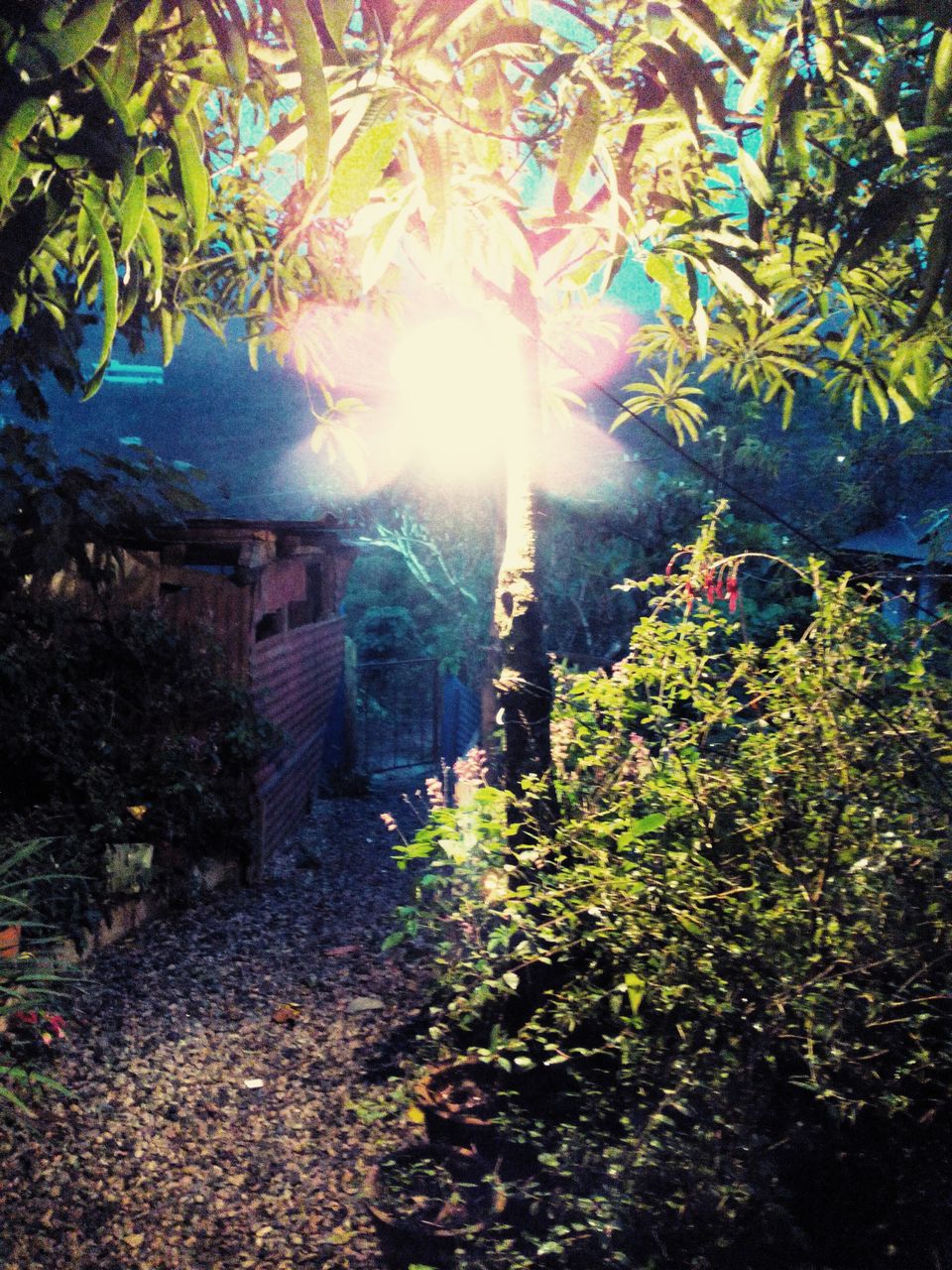 The jungle resort where i had put up.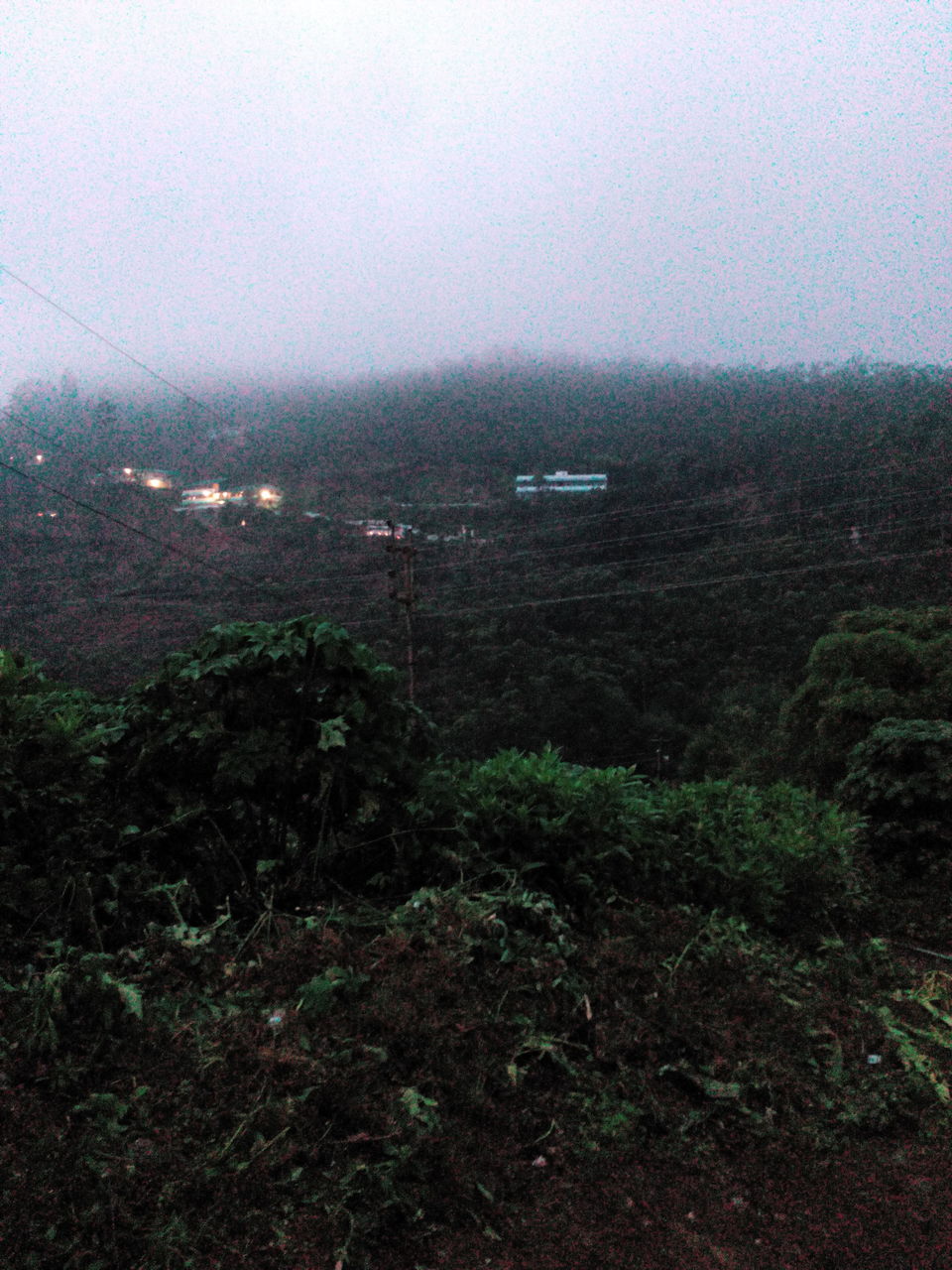 *Wo…wo….wo…wo…..Is that the view from my homestay? Holy mother of….. The feeling was scary and haunting. The area was absolutely silent, there was no one around, it was dark and the hills in front under the moonlight and covered with mist looked secretive, as if some dark magical spell is hidden behind those jungle clad hills, guarded by demons of Western Ghats, and one wrong move can unlock the secret spell, and unleash the dark force upon you…Phew! Pretty interesting sequence of thoughts were getting into my head
And my inner voice started talking to me -
My inner voice - "Deb (is that what you are called by many when they look up to you). Let me ask you a question. I am shit scared, ok!. What are you planning to do now?"
Me – "Hmmm….. Let me think. Da da da……da da dadada ….."
My inner voice – "What a mess. Dude, I am getting nightmares. Hurry"
Me – "hmmmmmmm……… da da da…..dadada…."
My inner voice – "Dude, hurry…that piece of mist is coming towards me I think…Hurrrrrry"
Me – "I got it bro, let's hit the market, and see some people around. Maybe we will start to feel comfortable?
My inner voice - "Hmmm…not bad bro. Phew, you almost got me killed there"
And as I finished this crucial discussion with …….myself, I did not waste an iota of time and walked towards the market.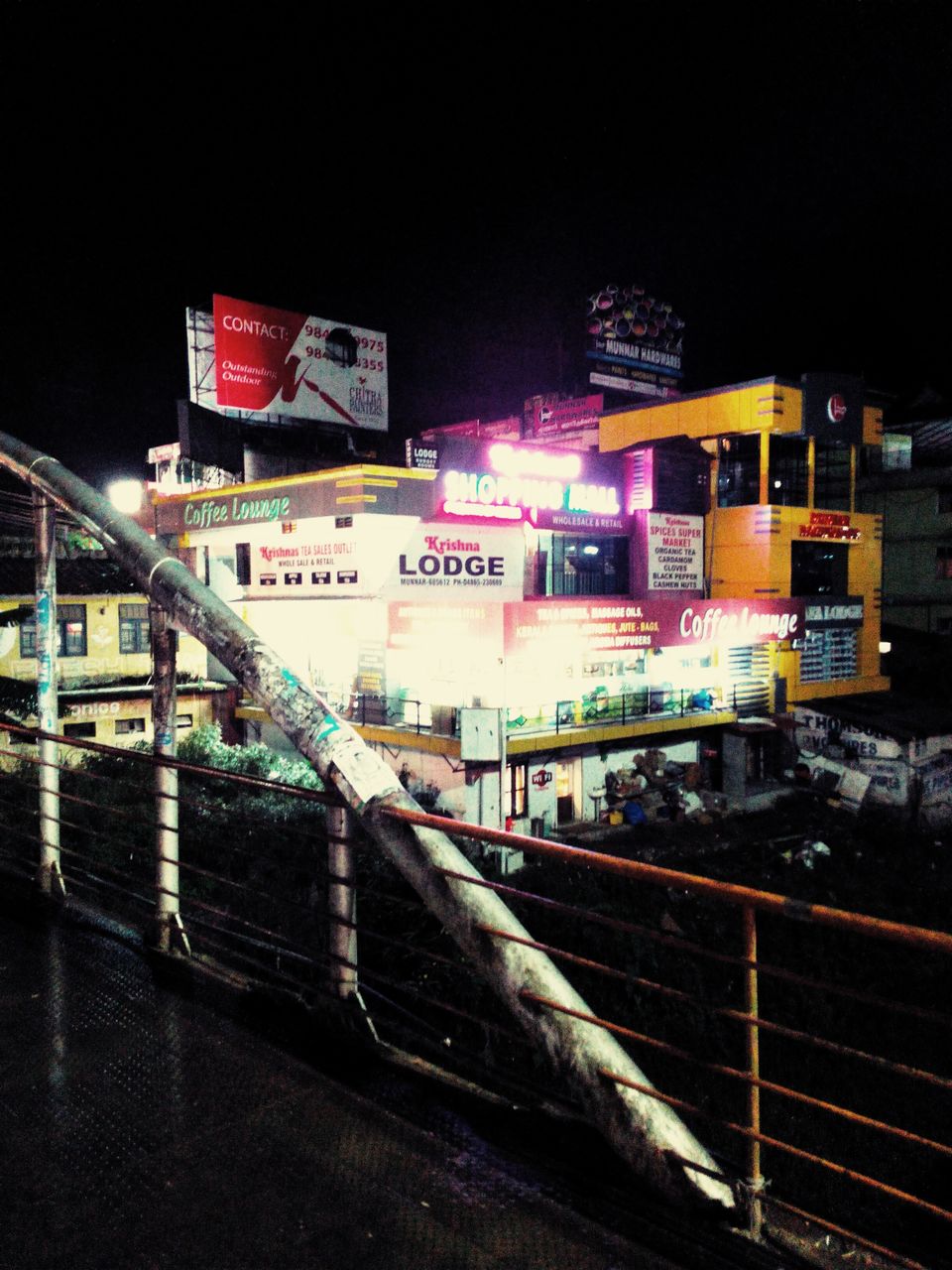 And I am so relieved right now. Entering the main market.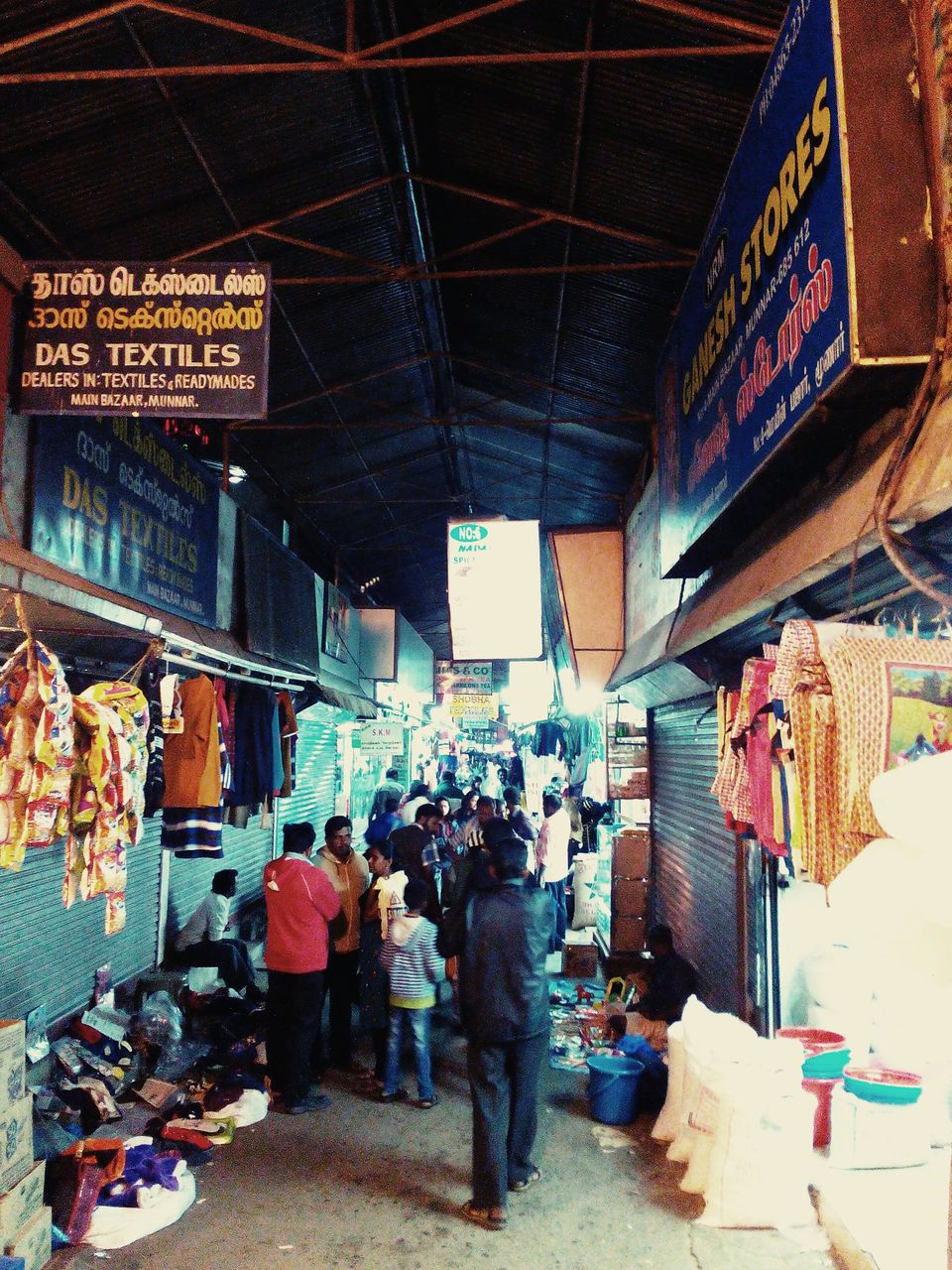 Munnar is specialized in providing products like tea, spices and homemade chocolates. The main market is full of them everywhere.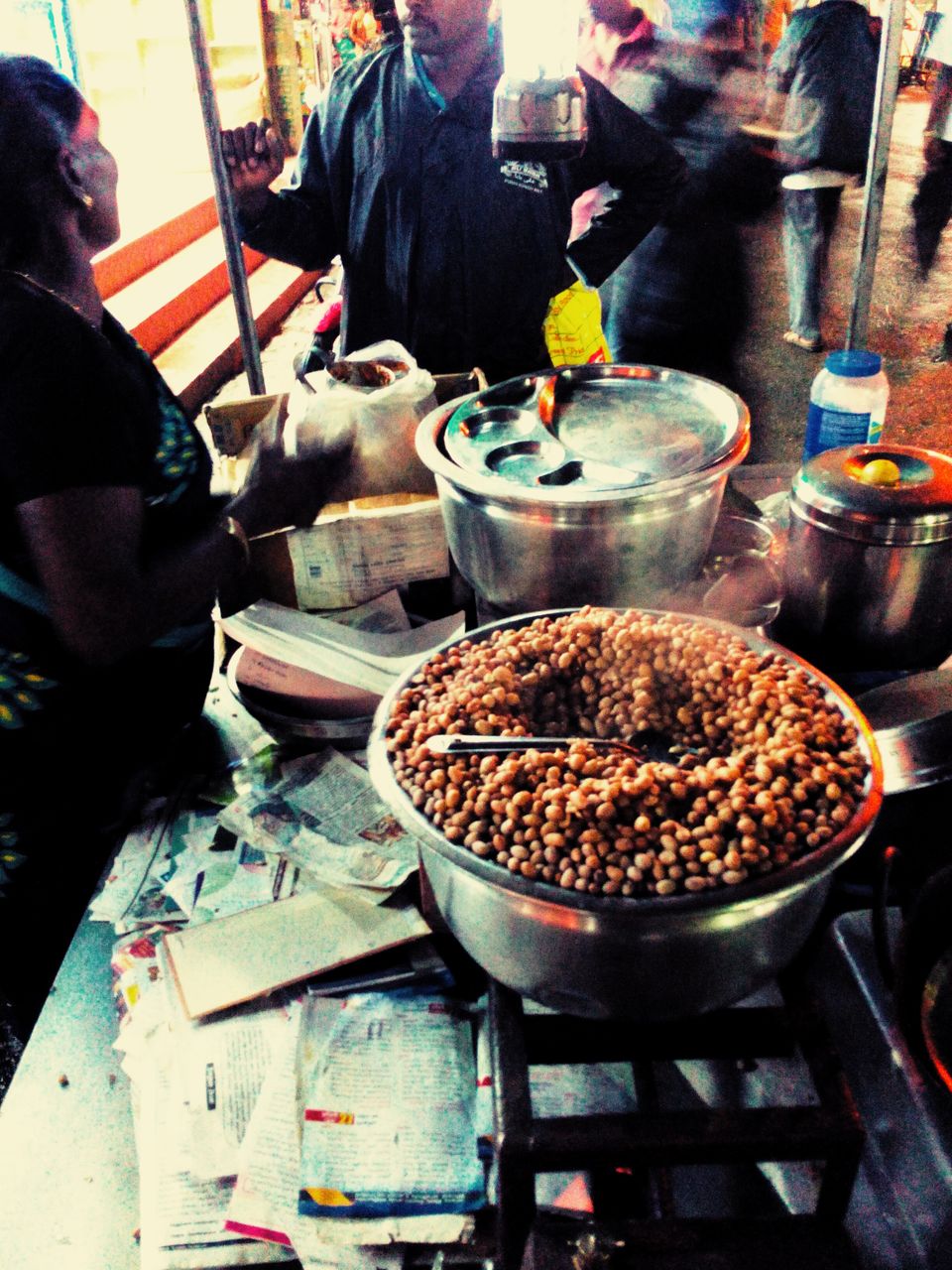 And of course some boiled peanuts. Damn I am hungry!
Well I had packed some of them, and was on the search for some…….guess?
You guessed right, beer!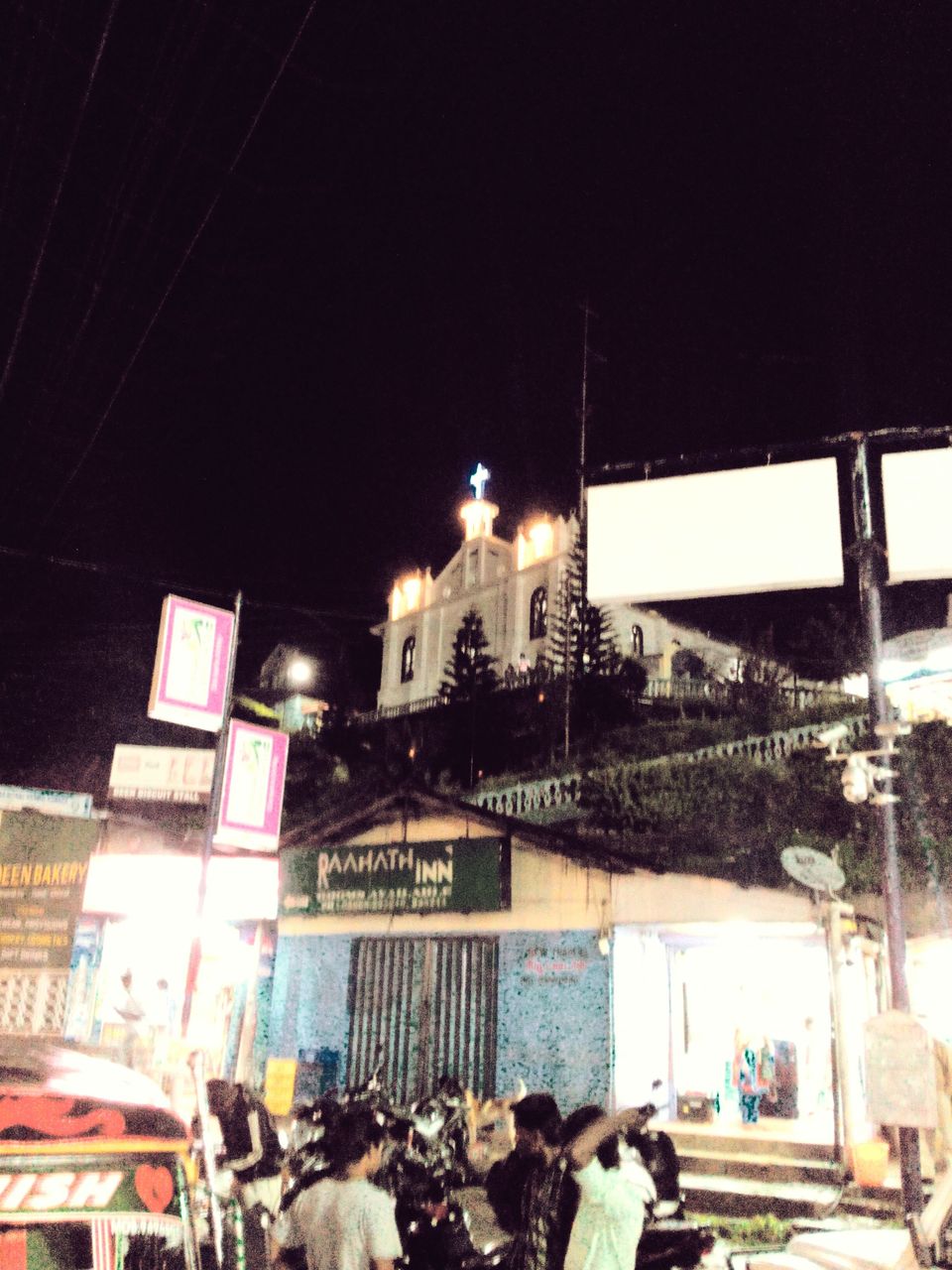 Excuse me Jesus! Can you just take a timeout from all the prayers that you receiving right now, and put your focus on me? I need some urgent help here, and this can't be delayed. Can you point me towards the liquor store, or any kind of bar? Its' been one hour, and I don't seem to find any
Hmm..that looks exciting! The famous Kerela Parotha in making. Felt like stopping here and eating, but I had different plans
Beer where are you? Wheeeeeeeeeeere?
I knew Kerela would pose problems when it came to alcohol. It's against the law these days. But I was adamant.
After walking for about an hour around the market area, after buying some spices, and after eating some chocolates, I finally saw a big hoarding showcasing this - "BEER AND WINE".
Alas!
Run Amigo…Run. Run towards gloryyy …..
 Shall we? Cheers!
III. In and Around Munnar, and the magical spell of 'Lock Heart Gap'
The next day, I had planned to cover Mattupetty lake, Top Station, Lock Heart Gap, Devikulam, and then proceed towards Kodaikanal. I was pretty much on top of my route plan which was,  
Munnar -> Kodaikanal -> Yercaud ->Bangalore
Yup!
Reaching Kodai by evening was very crucial, as I had done no advance booking of hotel room, and couldn't have taken risk of reaching late night, and getting stranded on the road as everything would have got closed. So I was supposed to start early next morning.
But before that...
The beer is not finished yet….hick!
Gulp…gulp….gulp...
Hick!
(Bhaiya, ek aur bottle laana)
Why the hell am I drinking another? And what's the time?.....
Damn, it's 10. Shouldn't I wrap up now, and call it a day?
Nah!!!!
I am enjoying this, don't I?
Gulp ……gulp ……..
…..
…..
"Bhaiya, get one egg bhurji"
…. Gulp …….hick…
….
….
Why that fan is looking so hazy?
…..hick……
And ok….three strangers have appeared from nowhere and sitting with me here. Wow!
Why didn't I realize that before?
….
…. hick …..
Is that French couple looking at me constantly?
They look quite judgemental about me.
Hmmm….
I think I should leave now …. ??
…
…. Gulp …….gulp ……..
Yah …I should!
And where the fuck is my Egg bhurji? Damn, did he even…..hick …… listen to me?
….
…
Chuck it! Let's go
I don't even remember how I settled the bill, and got out of there. It would have been quite a struggle. But I do remember the walk back to my hotel through the dark silent road and listening the sounds of night flies all the way.
I was no more scared!
The next day came, and I was surprisingly feeling fresh. Maybe it was the weather. I loaded my bag onto the bike, and without wasting any more time, hit the road. Yuhooooo!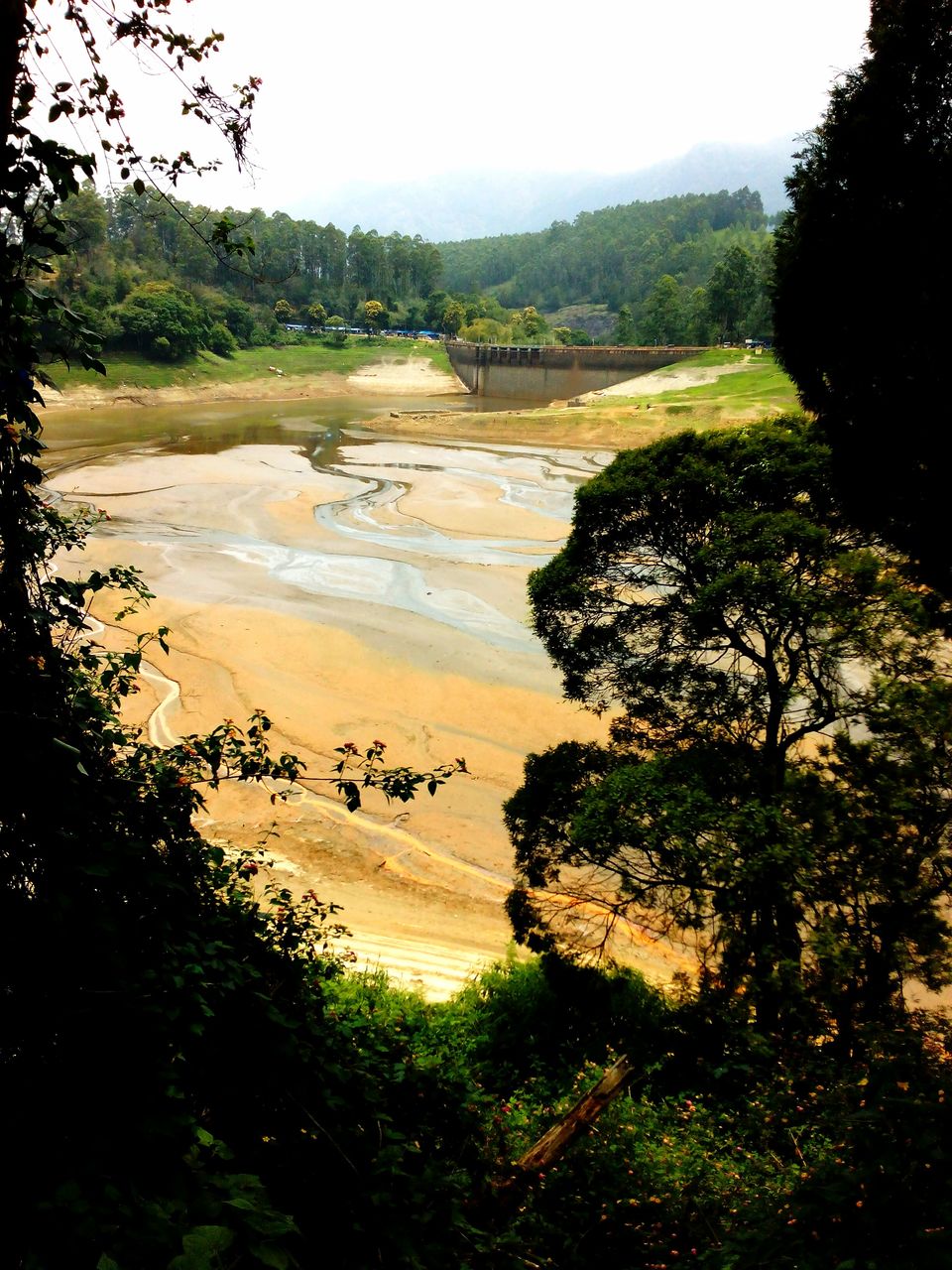 *On my way to Mattupetty lake. The lush green surrounding and the dam in front, was giving a 'high' better than yesterday night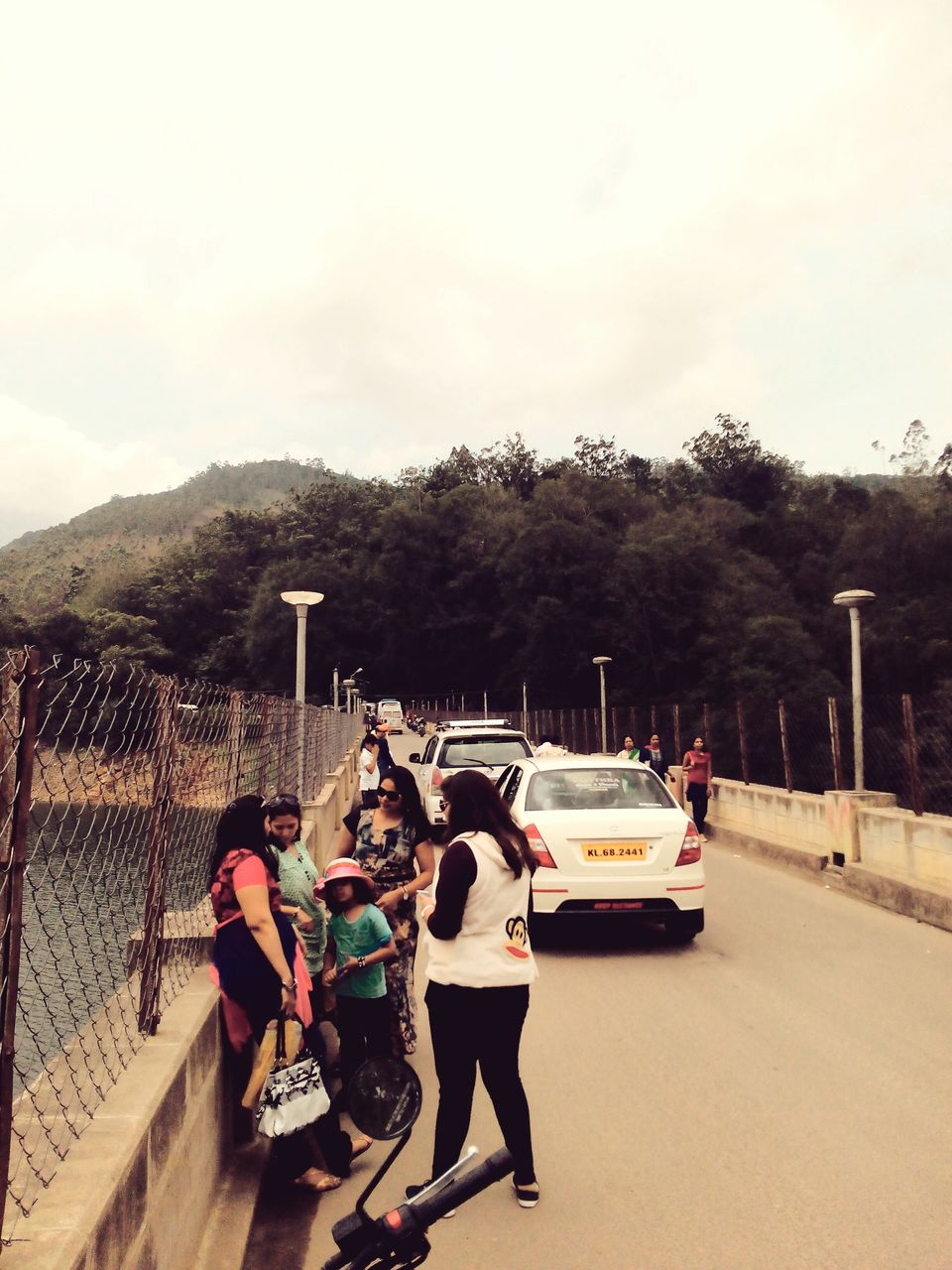 *Reaching Mattupetty lake – located at about 13-15 kms from Munnar, uphill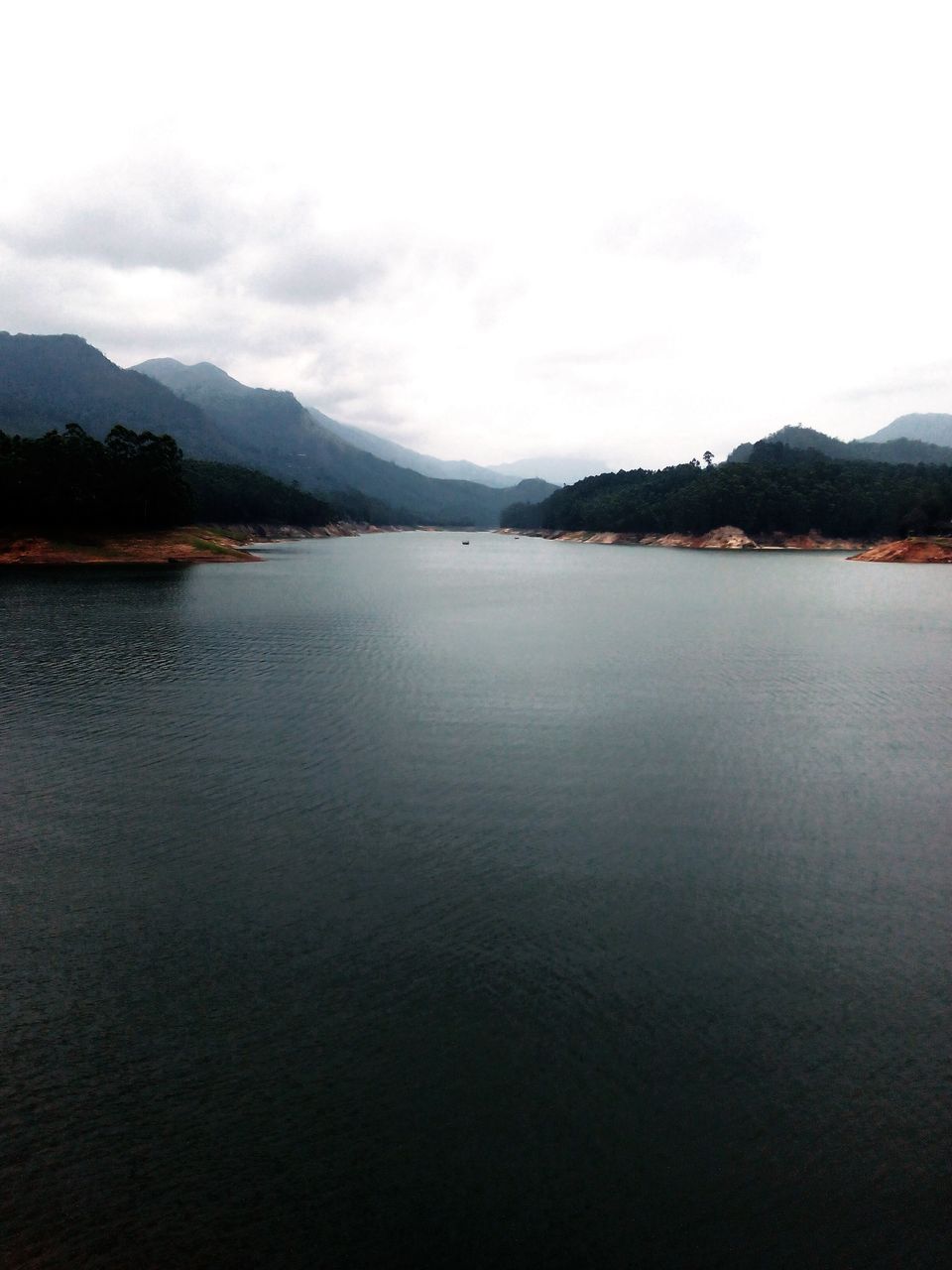 And I was flabbergasted. @Matupetty Lake. P.S – You can boat here as well.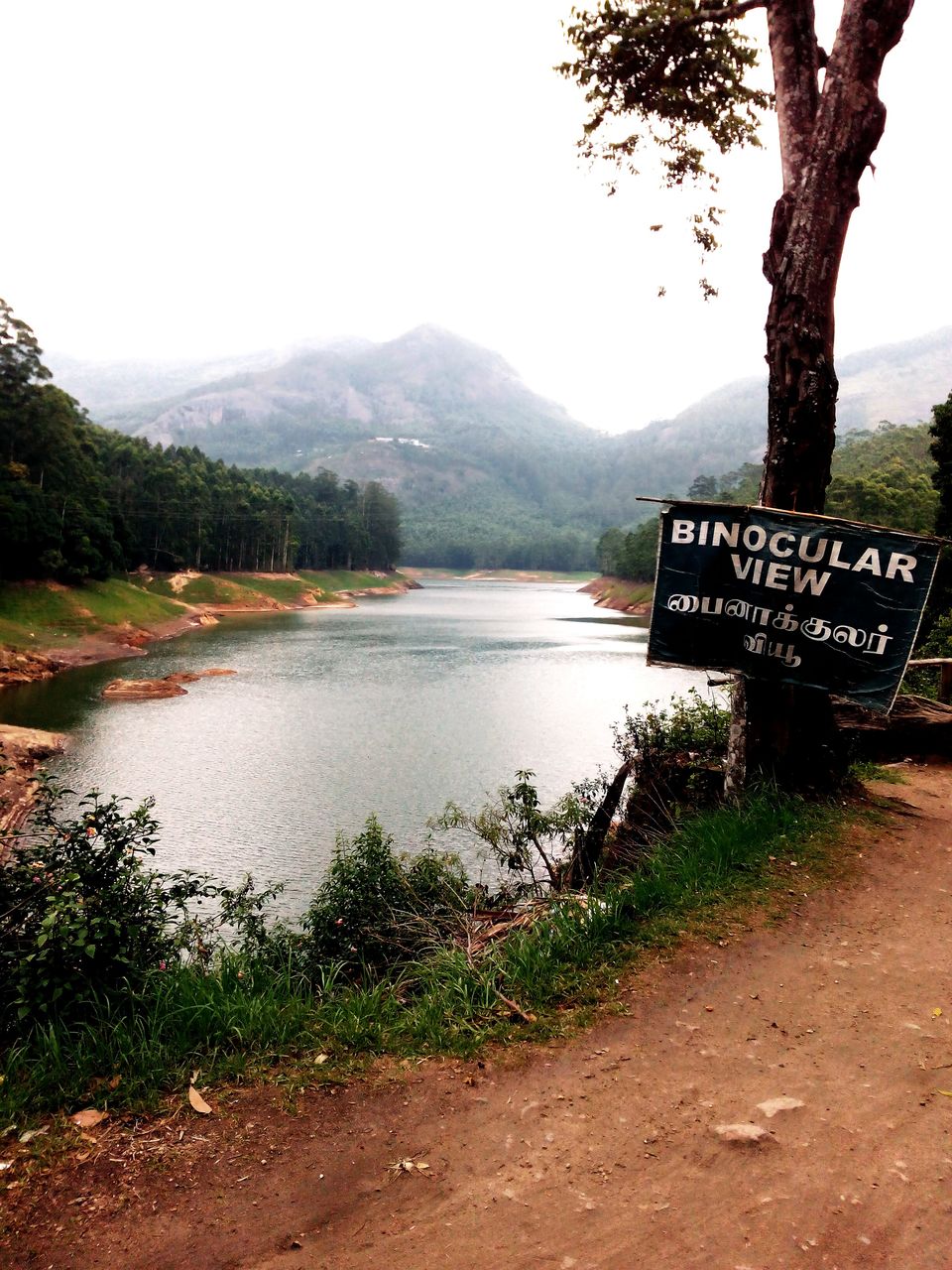 Wish I had binoculars.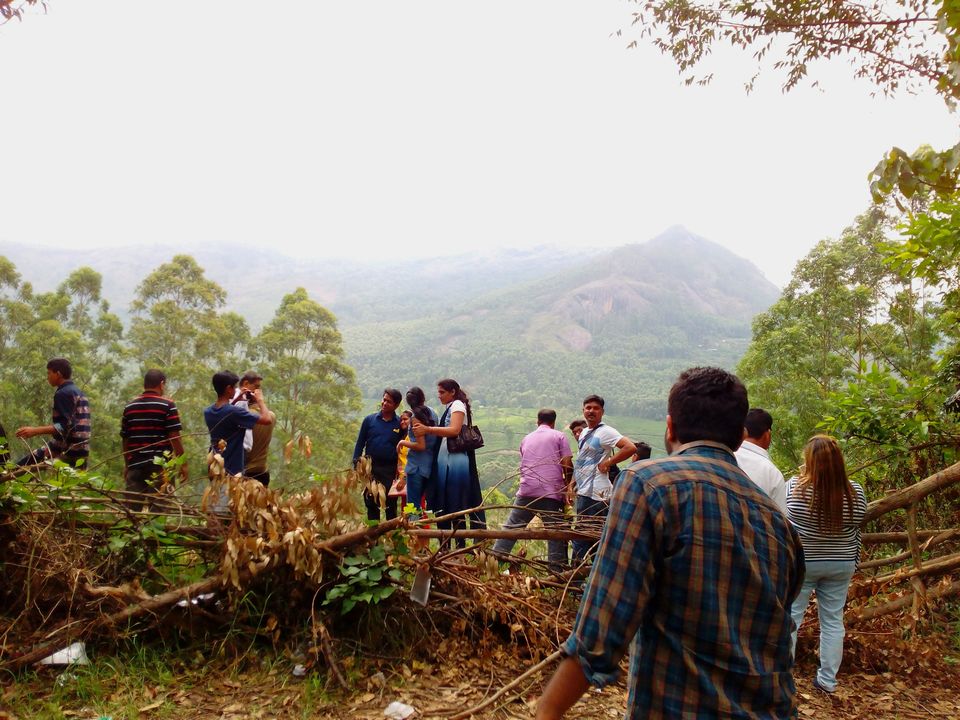 Enroute Top Station. Some elephant spotting being done here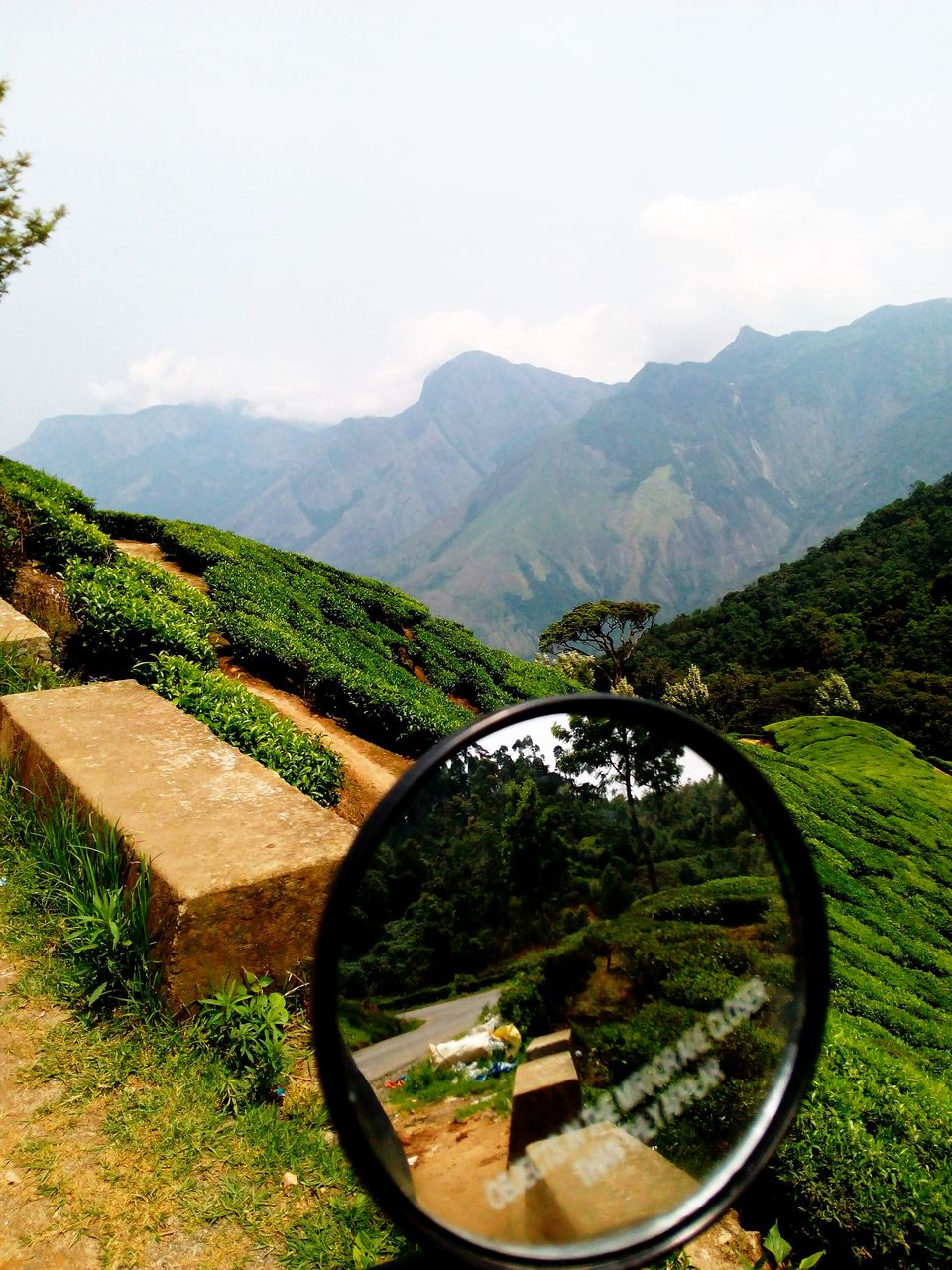 Reaching 'Top Station'. TS is the highest motorable point and about 30+ Kms from Munnar. The view of that mountain lump here was breath-taking, and of course I was getting used to the tea garden.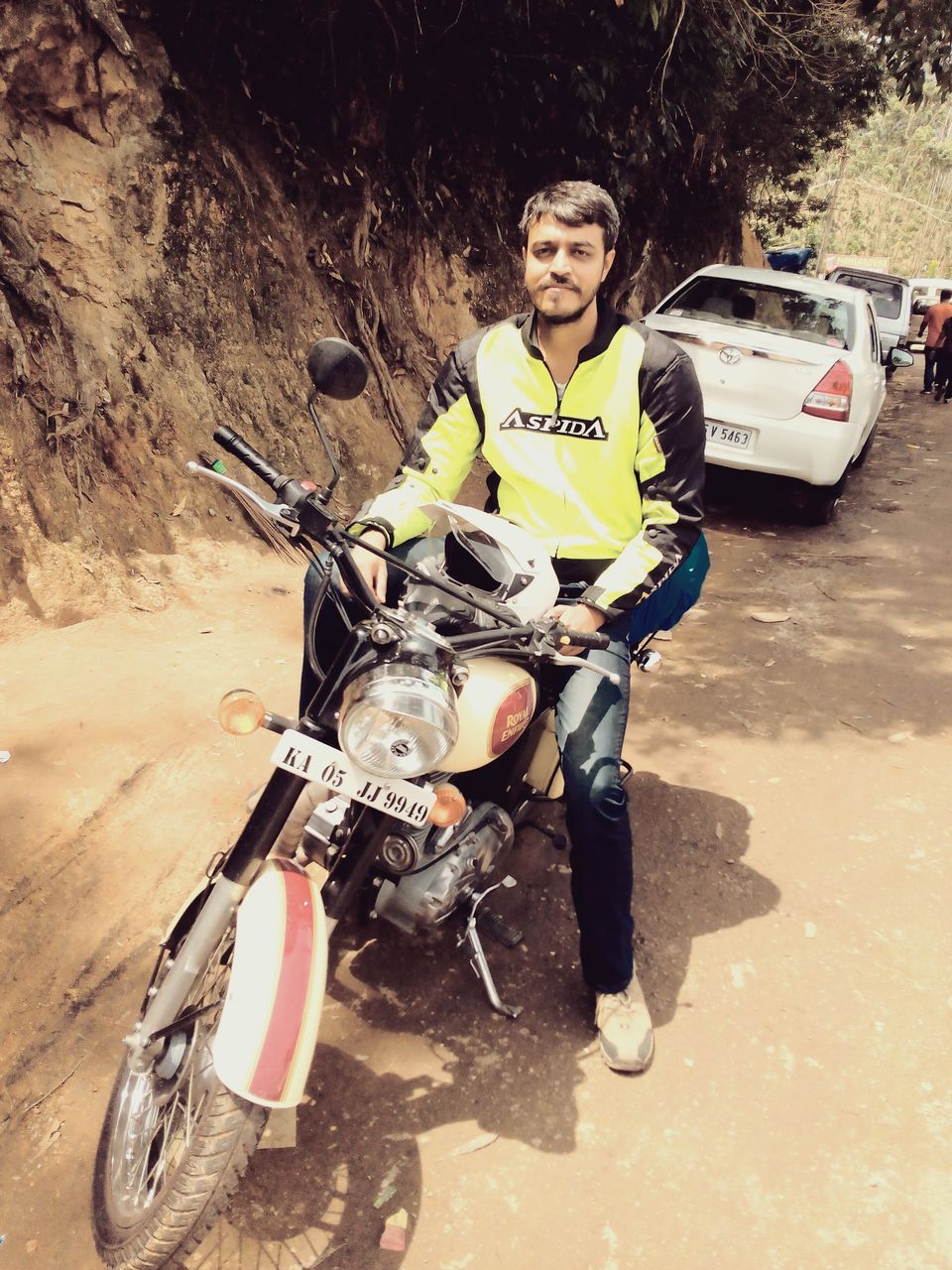 At Top Station. It was quite some time since I clicked a self. A perfect occasion for this one, I guess.
*Time for some maggi, omelete and mangoes. Yes, this outlet had all of it. Lucky me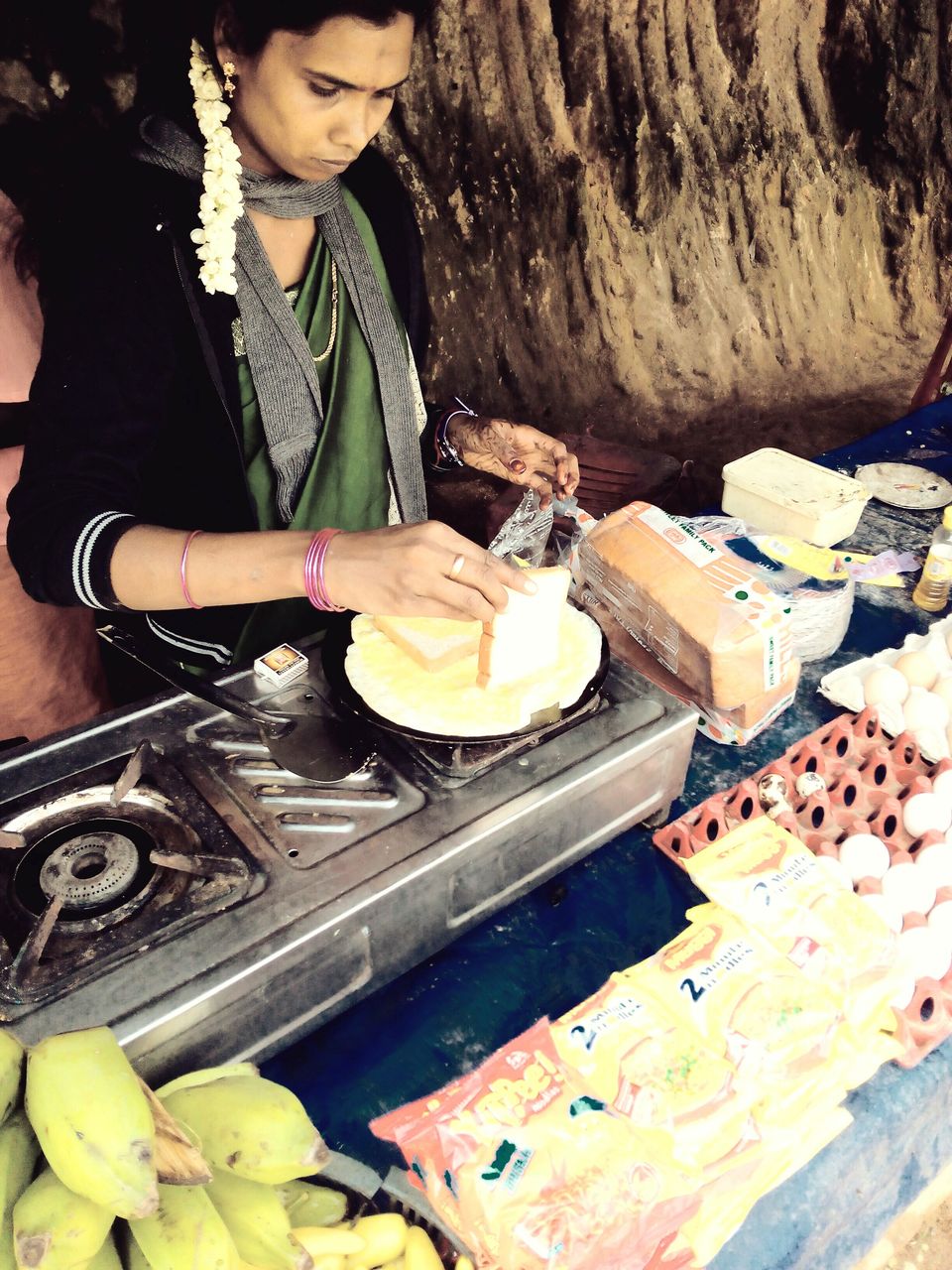 The lady was quite good at this. Yummmm
After spending some time at the top station, I started for Kodaikanal. About 180 kms from here, it wasn't supposed to take much time to reach.
But it did!
Coz, I had no idea what I had in store for me on the way to Kodai. The 'Lock Heart Gap' and it's just divine. I would have spent some good 1-2 hours there. Check out the pictures,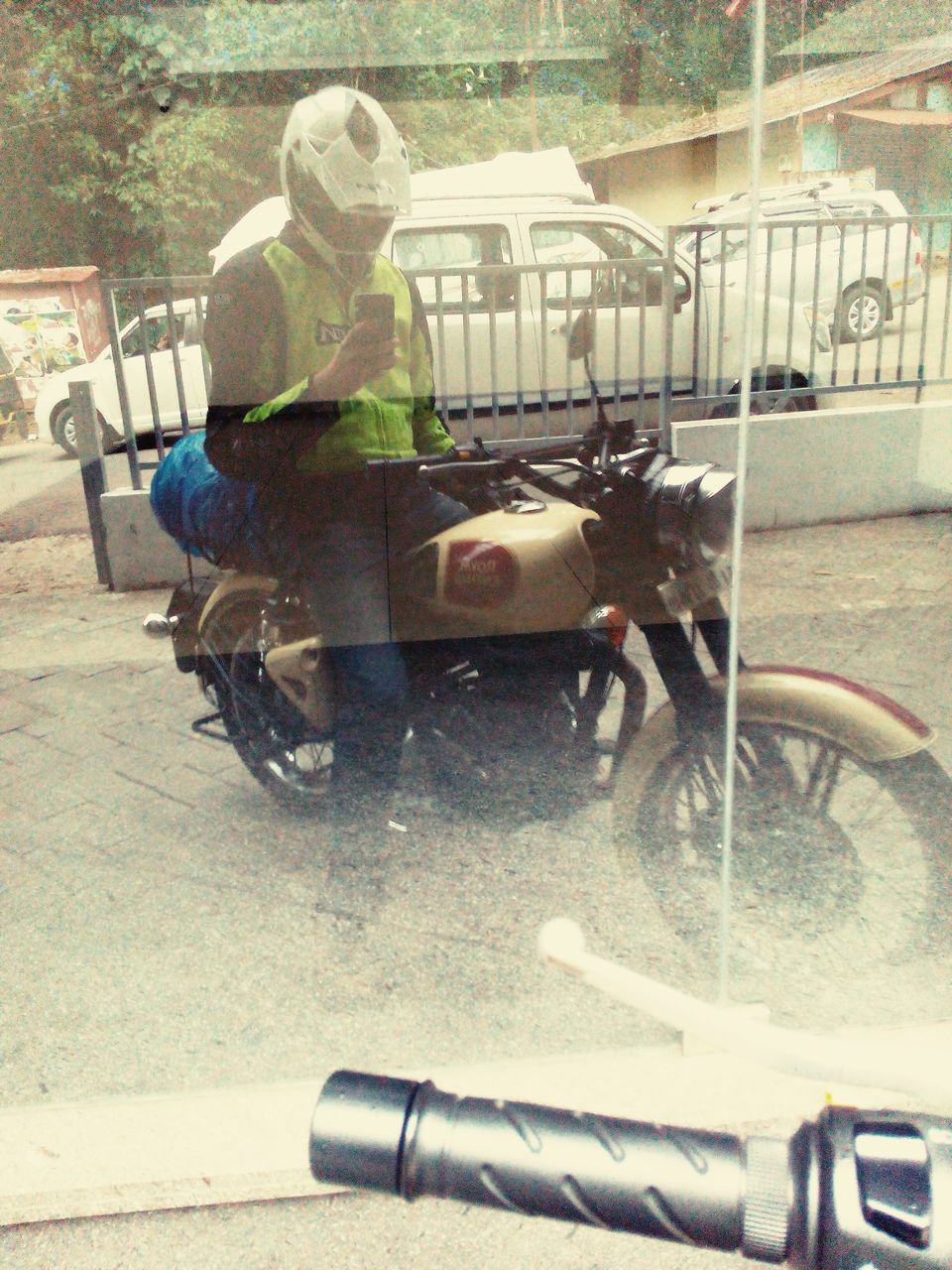 Oops, that's not lock heart gap! That's me again :) I think a little bit of self-obsession is ok, especially when you are on a solo trip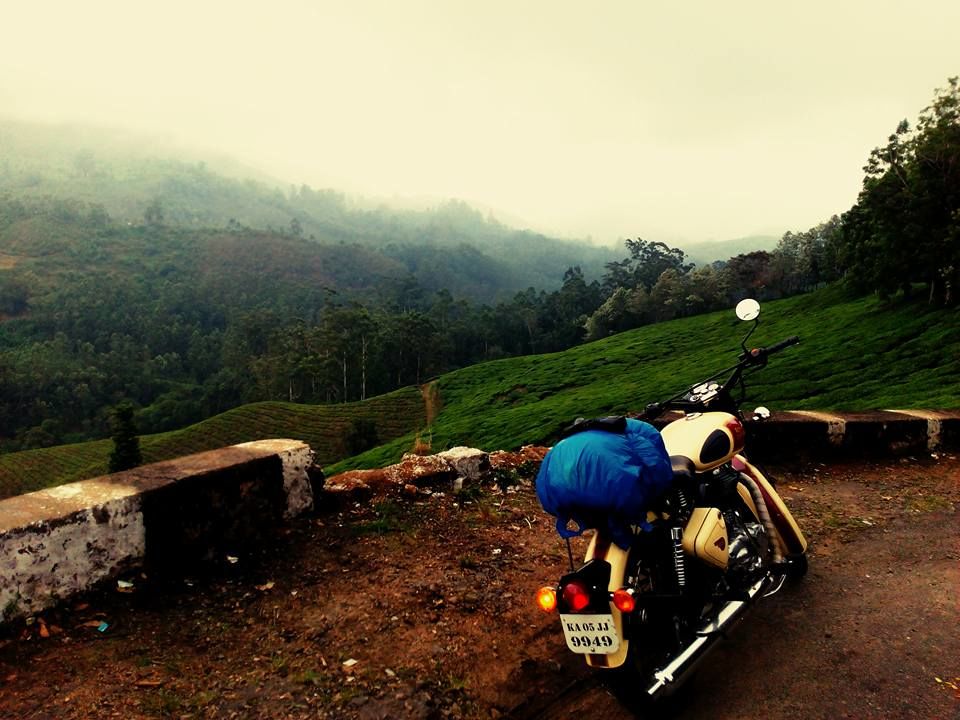 *Enroute Lock Heart Gap, and I was getting some cue of what I could be seeing on the road ahead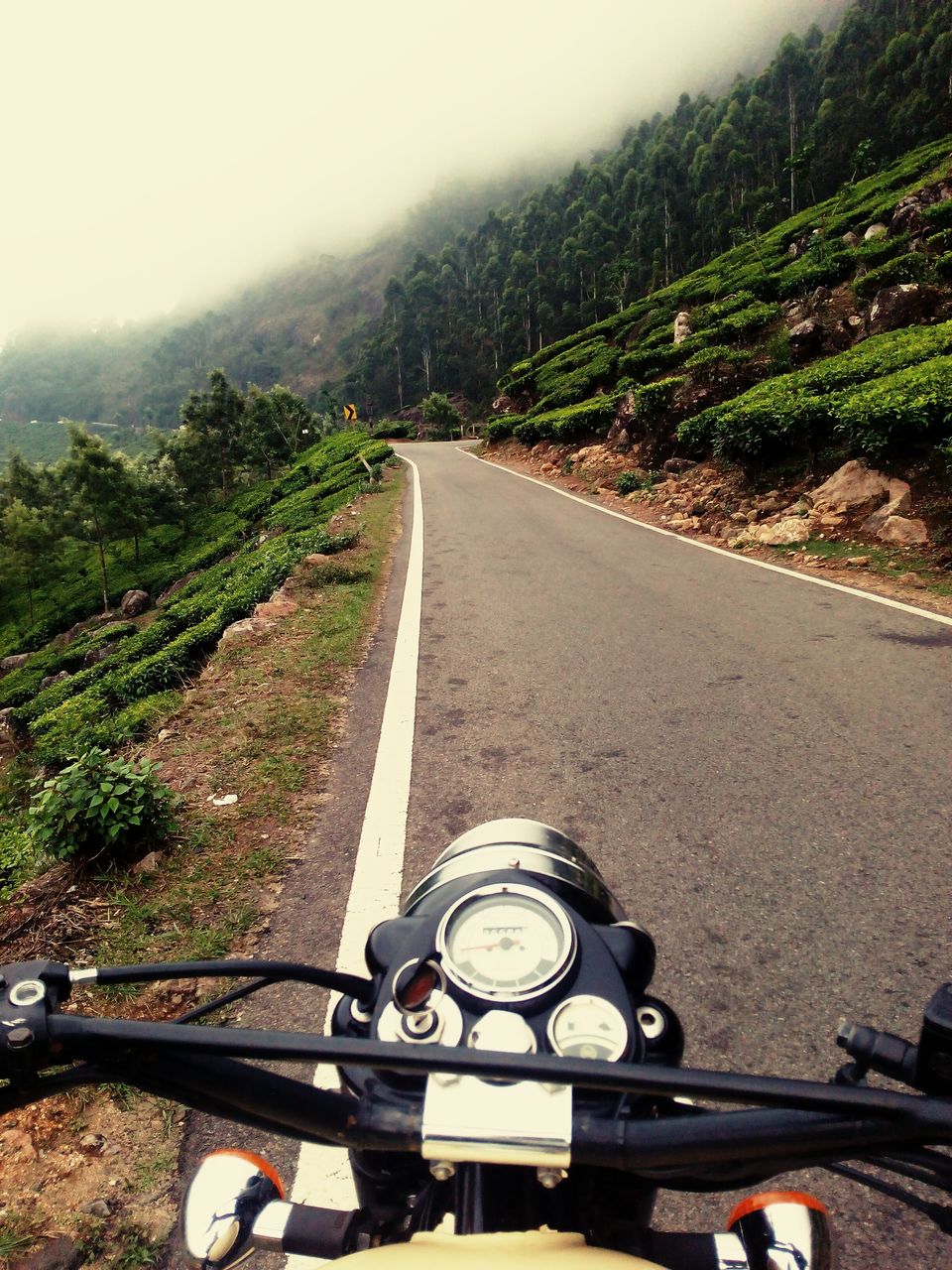 *I knew it. A place wrapped by fog and mist. It looked like some dream world coming to life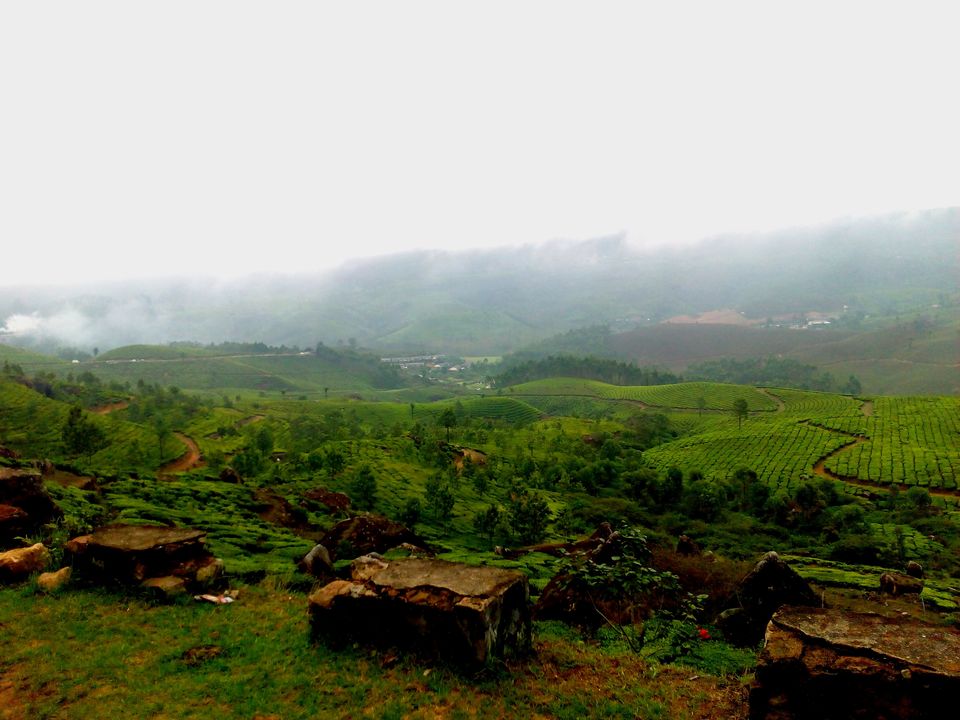 *After riding a bit more, this is what I see. An unbelievable sight of the valley covered with clouds. I had reached Lock heart gap
*I am above clouds, literally and I envy the people living in those houses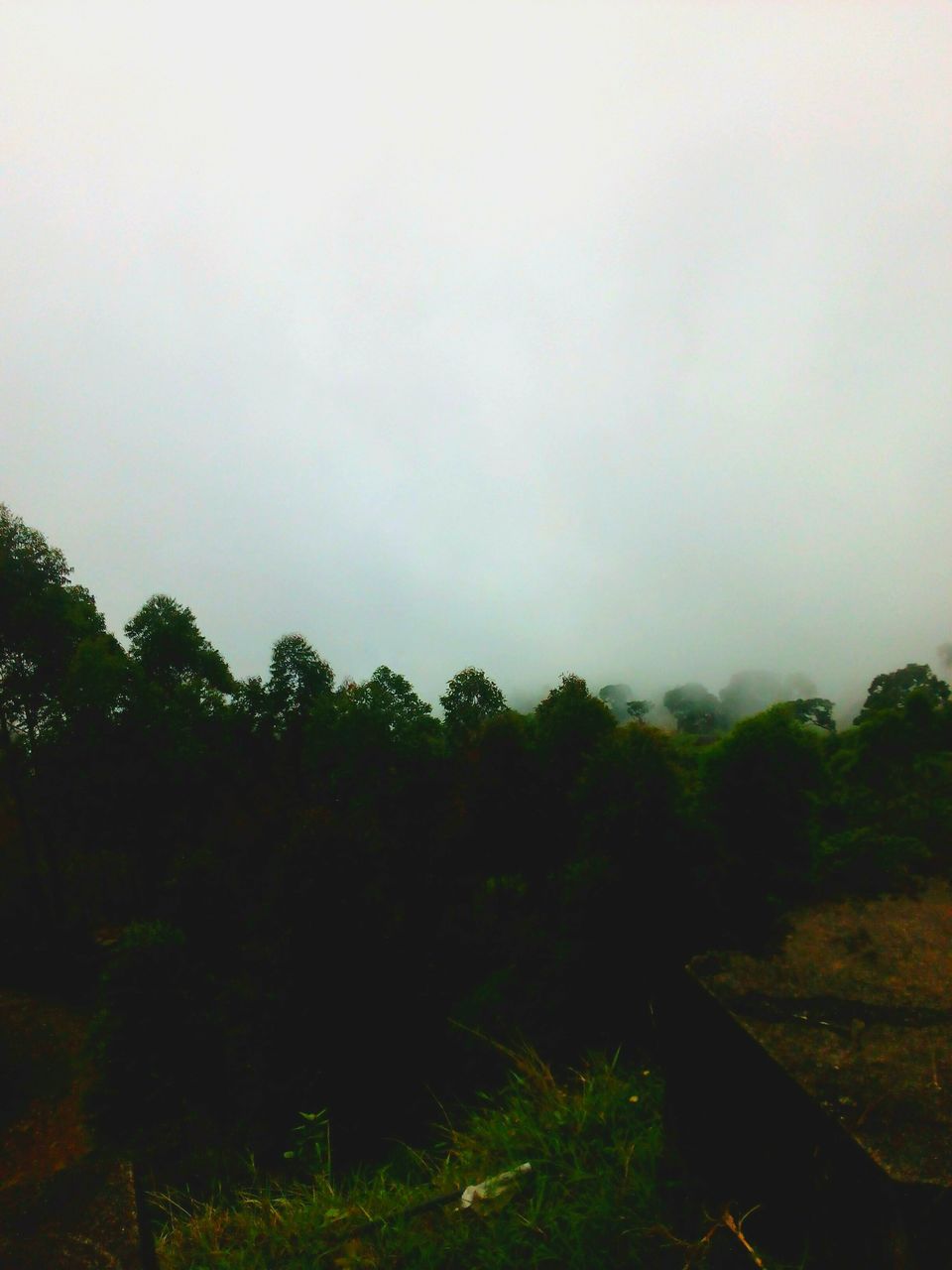 *Please caption this. I am out of words….Sigh!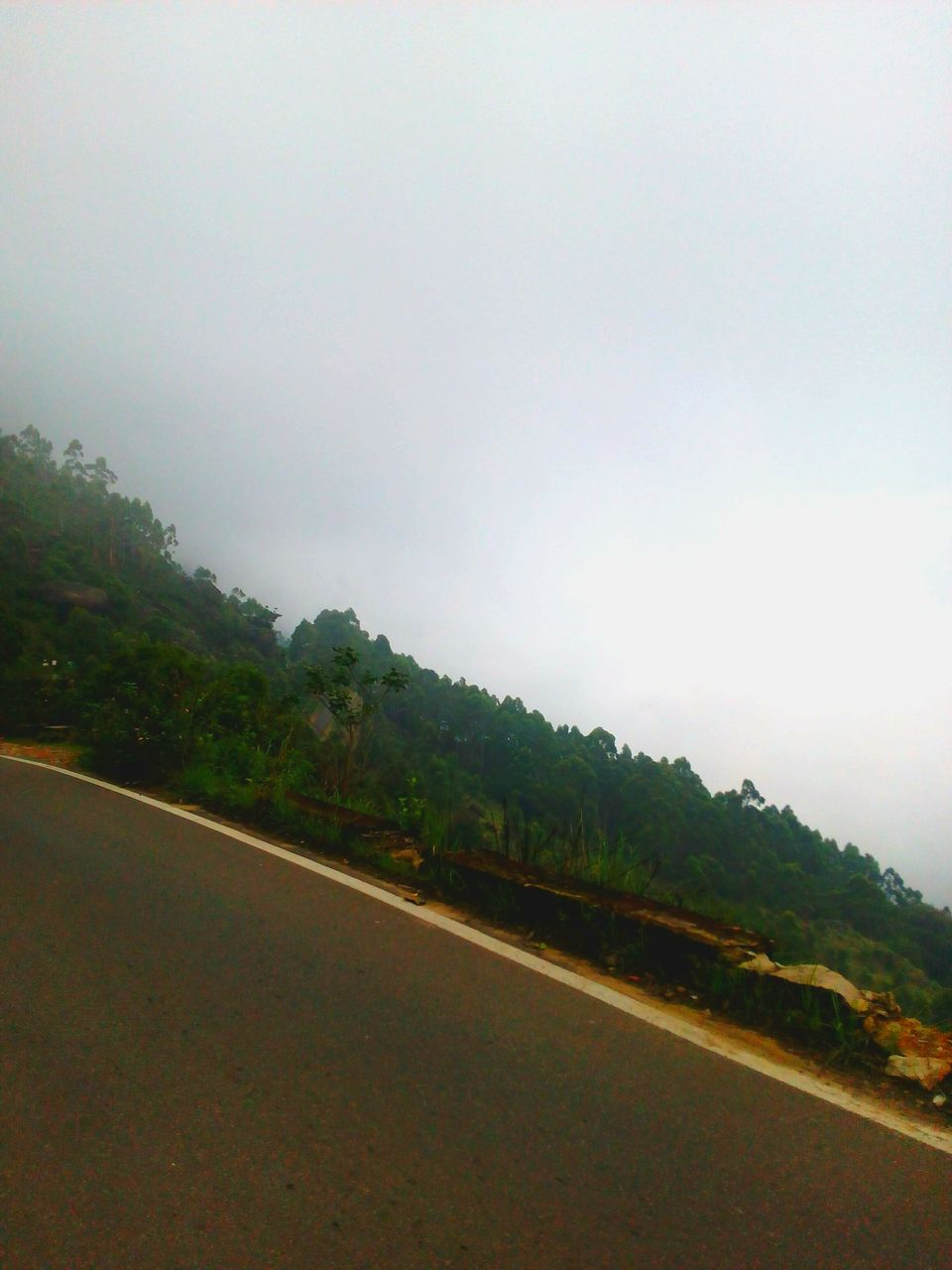 *Lock Heart Gap, a cloud struck, 'misty'fied encounter
IV. Road to Kodaikanal – "The kiss of the green valley"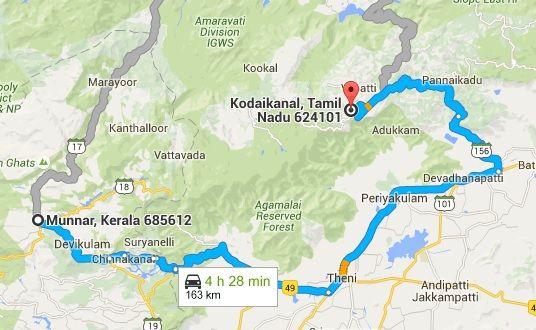 Lock Heart gap was too mesmerizing. And I couldn't shake it from my head yet, after having come out 50 kms from there. The only way to get distracted was, to watch something equally or more enthralling.
And ....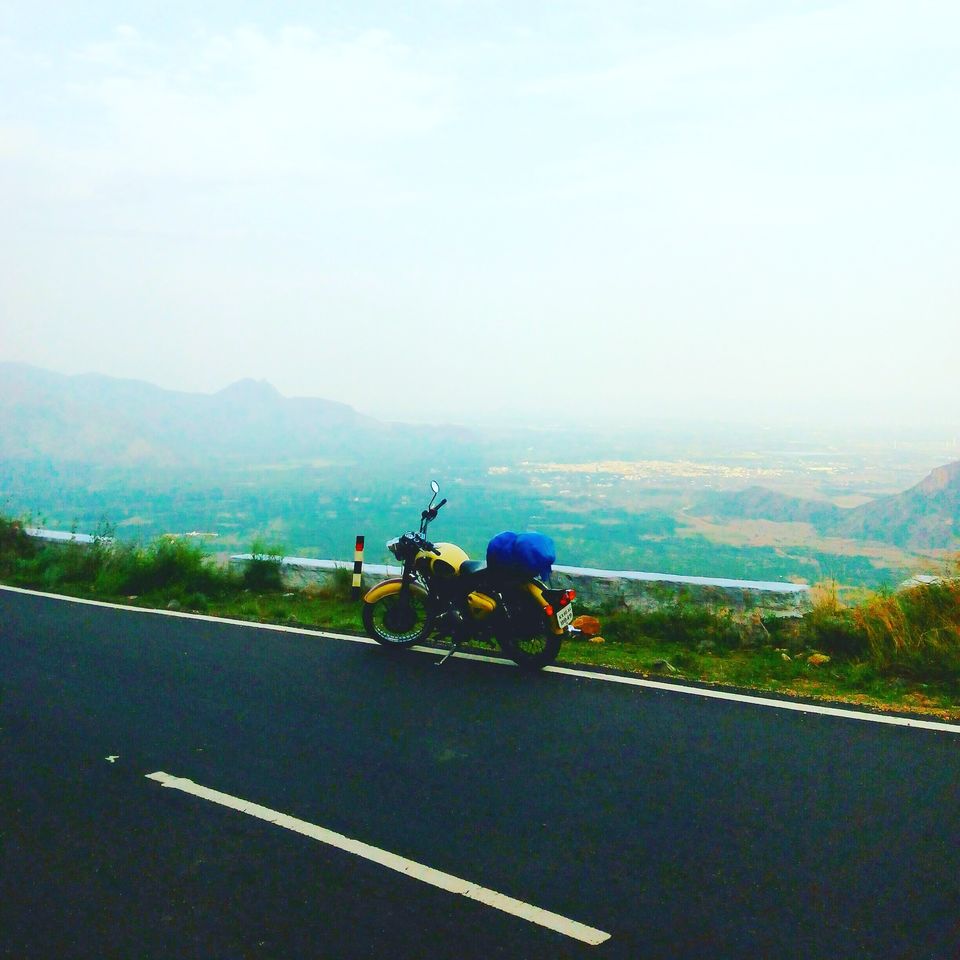 *This is what i see. A big valley where I can't see the end, and the wind fast hitting me from all directions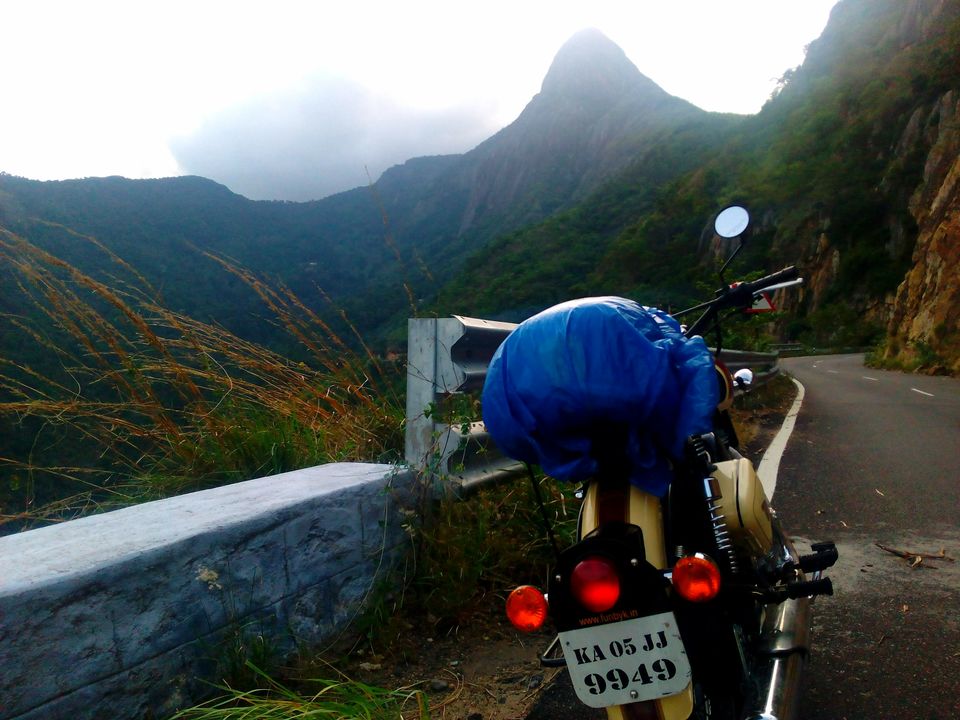 *Another 150 kms to Kodai. But hey…I am not in a hurry you know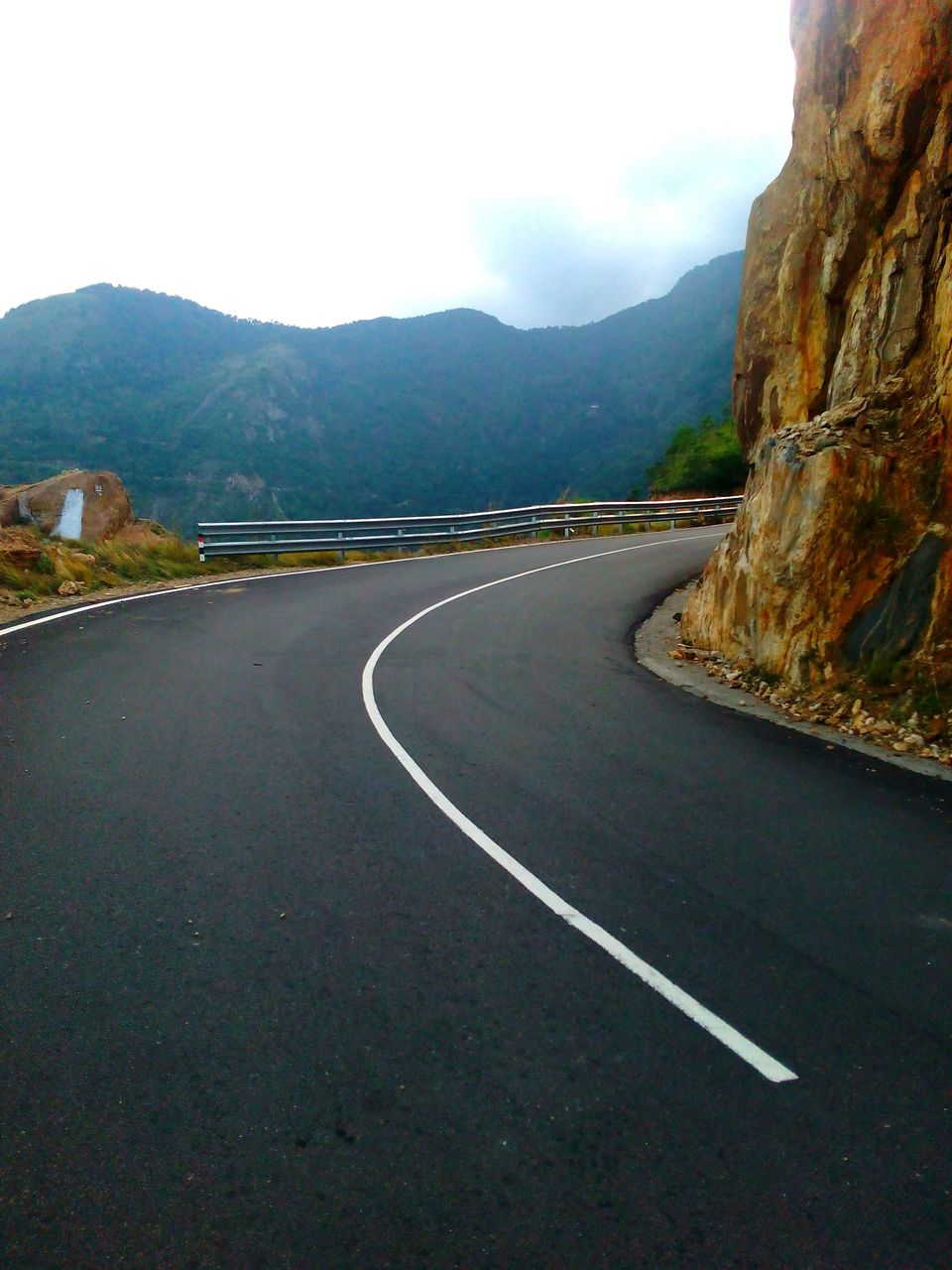 *I must say this now. I did not see a single pothole in the roads. Very well maintained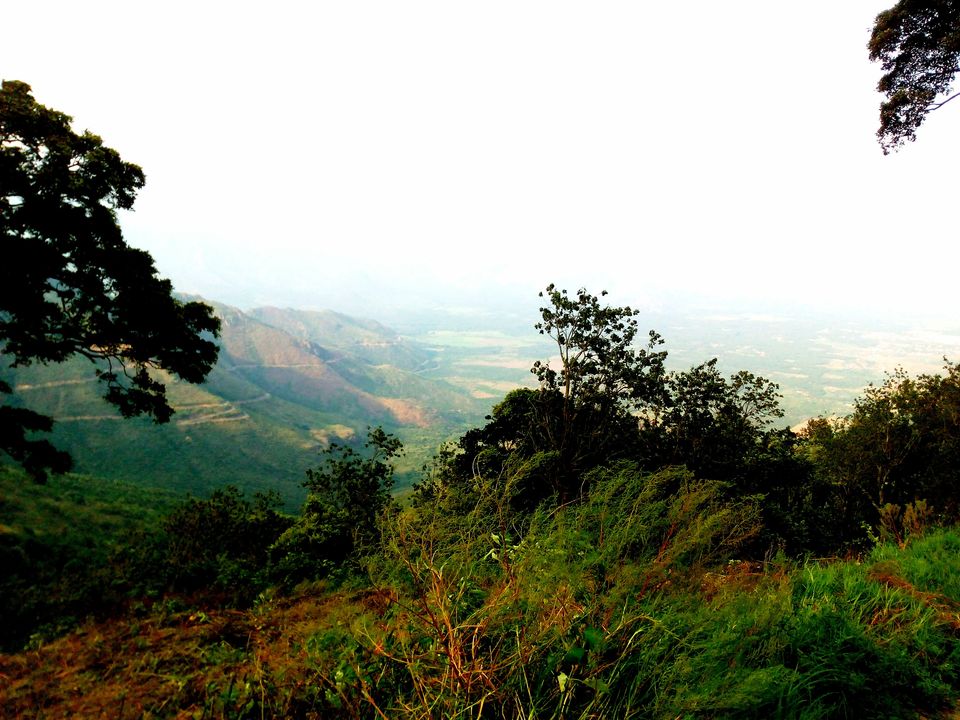 *Green overdose! And the huge valley was getting difficult to grasp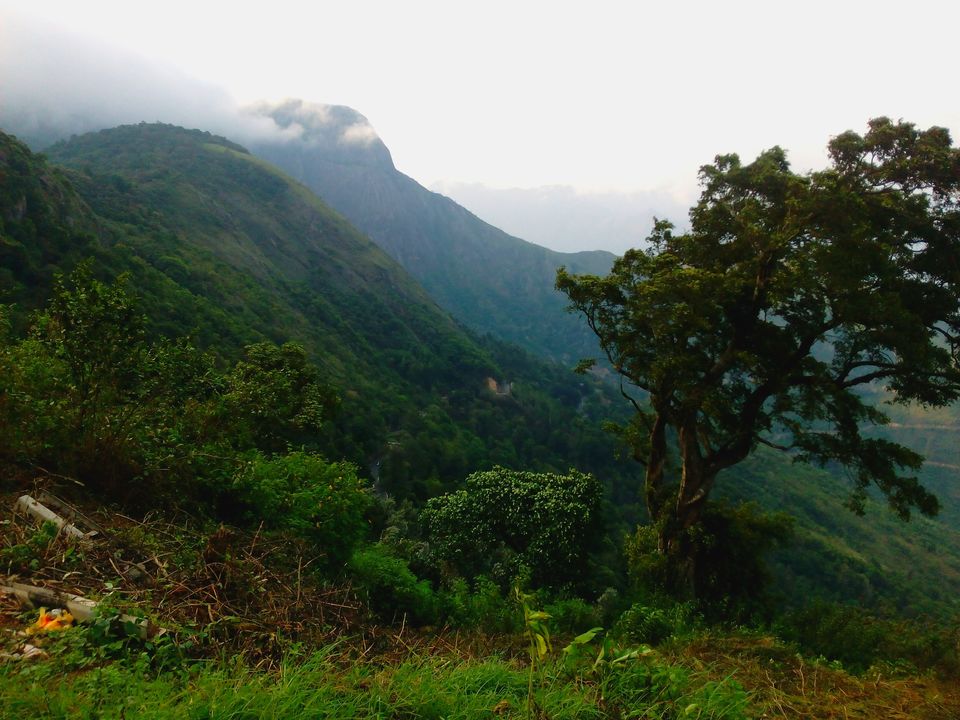 *Planet Earth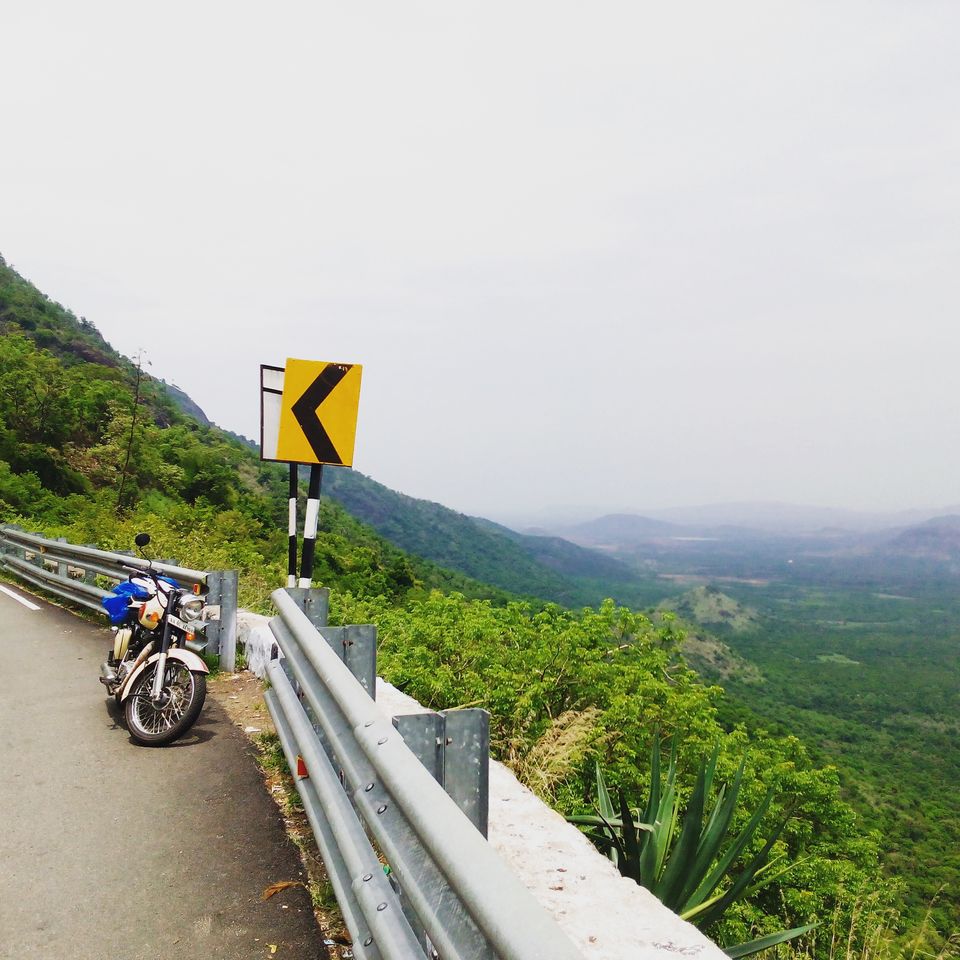 *It was 6 in the evening already, and I was trying to absorb as much nature I could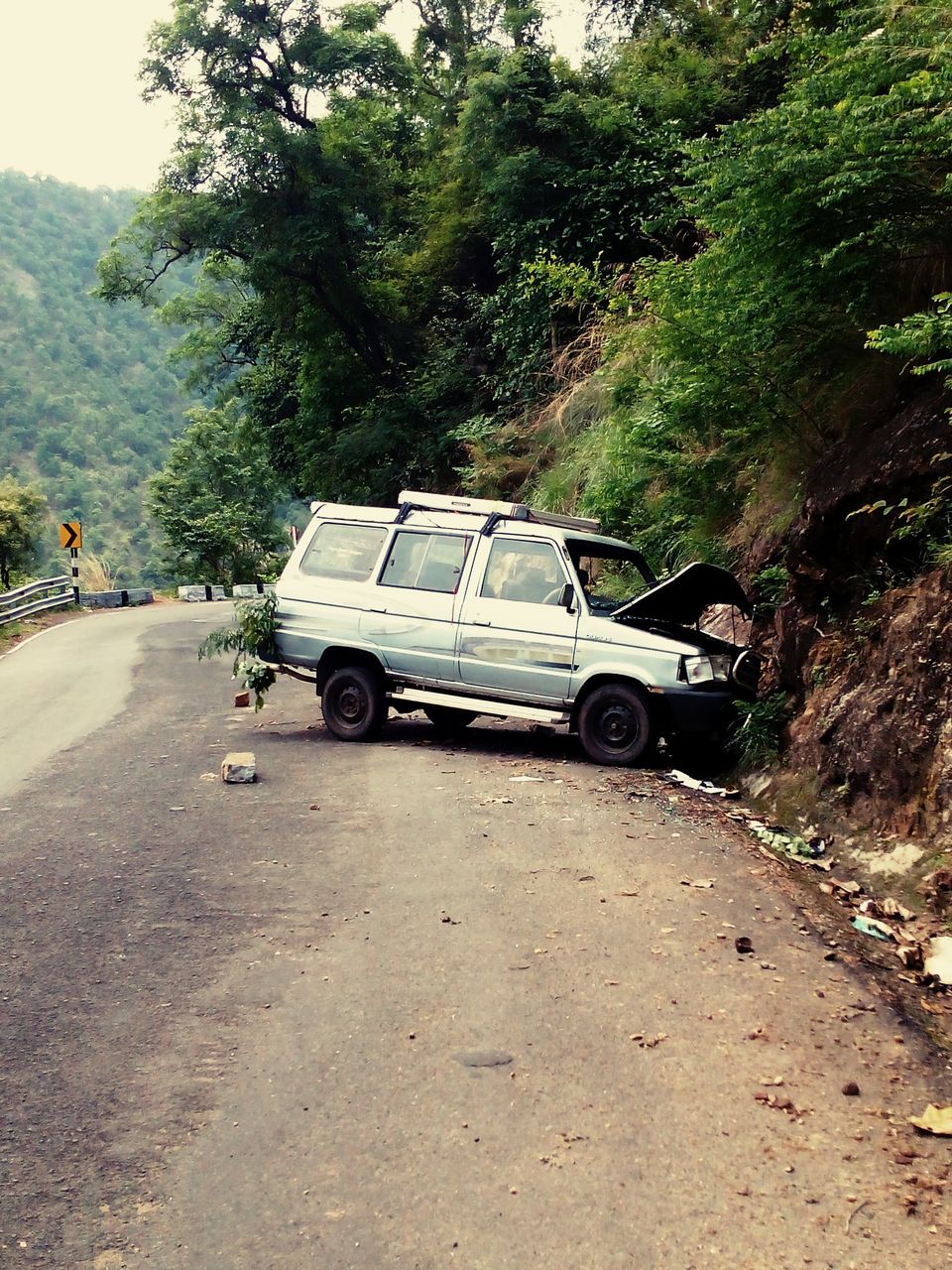 *Drive carefully on hills, otherwise …..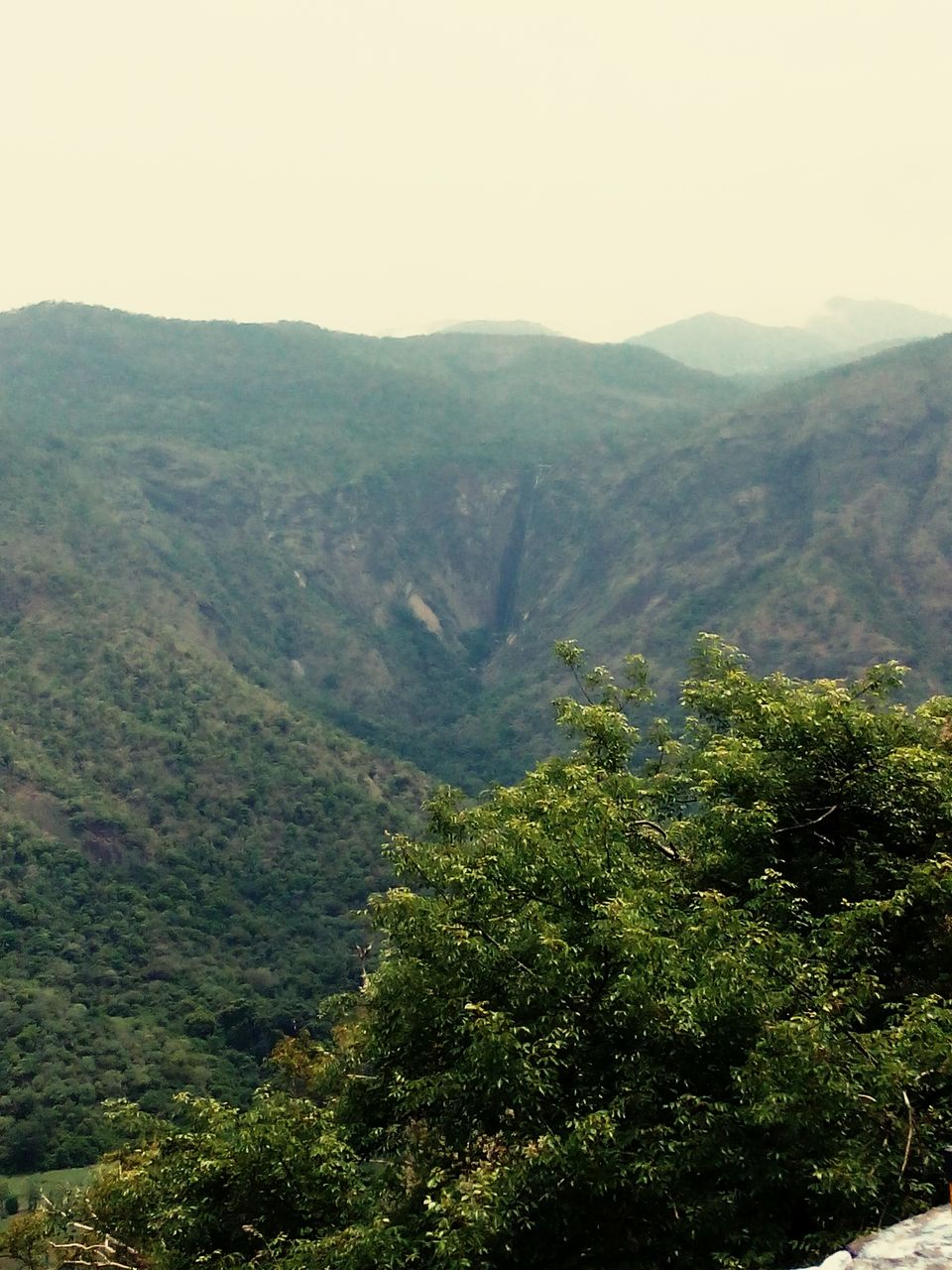 *A perfect scene from here!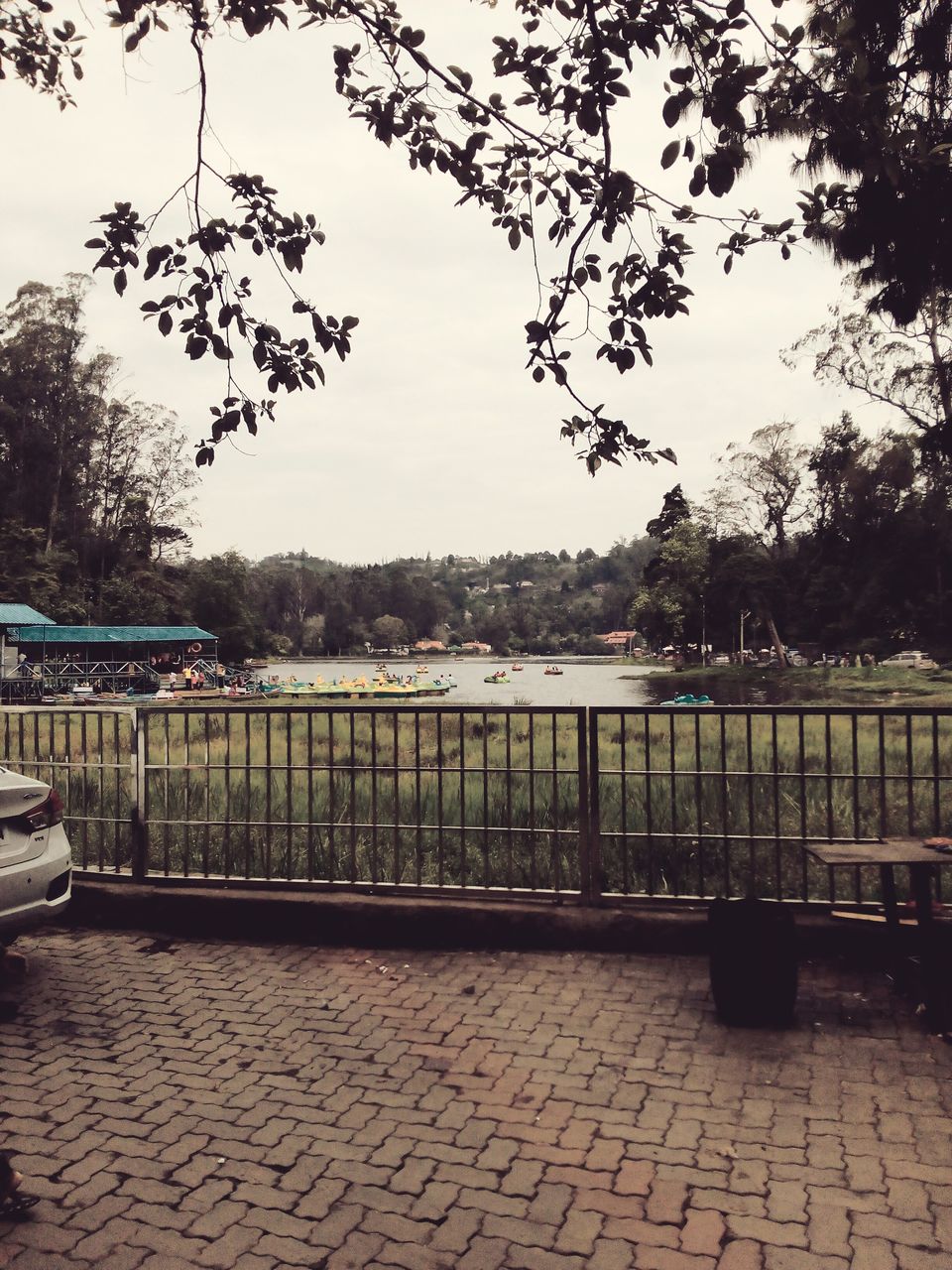 *Kodai Lake. The main tourist attraction
So I reached the main town of Kodaikanal, which is placed at some 2100+ m above sea level. Kodaikanal ranks 11th in all the peaks of Western Ghats, and is quite a loud place. A big line up of Hotels and resorts, vehicles honking and blocking the road, people walking everywhere, Shops hustling all the time, Temples all decorated, and whole lot of other arrangements that perfectly defines a typical commercialized hill station.
As far as I was concerned, I was tired and all these noises made me rush towards a hotel even faster. It was not easy though. Hotels were high on tariffs, and I had my budget constraints. But eventually I managed to get a decent reasonable place to stay put for the night.
The dinner was getting served at the kitchen upstairs, and I couldn't stop myself. Not kidding, I literally ran.
And I managed to get this…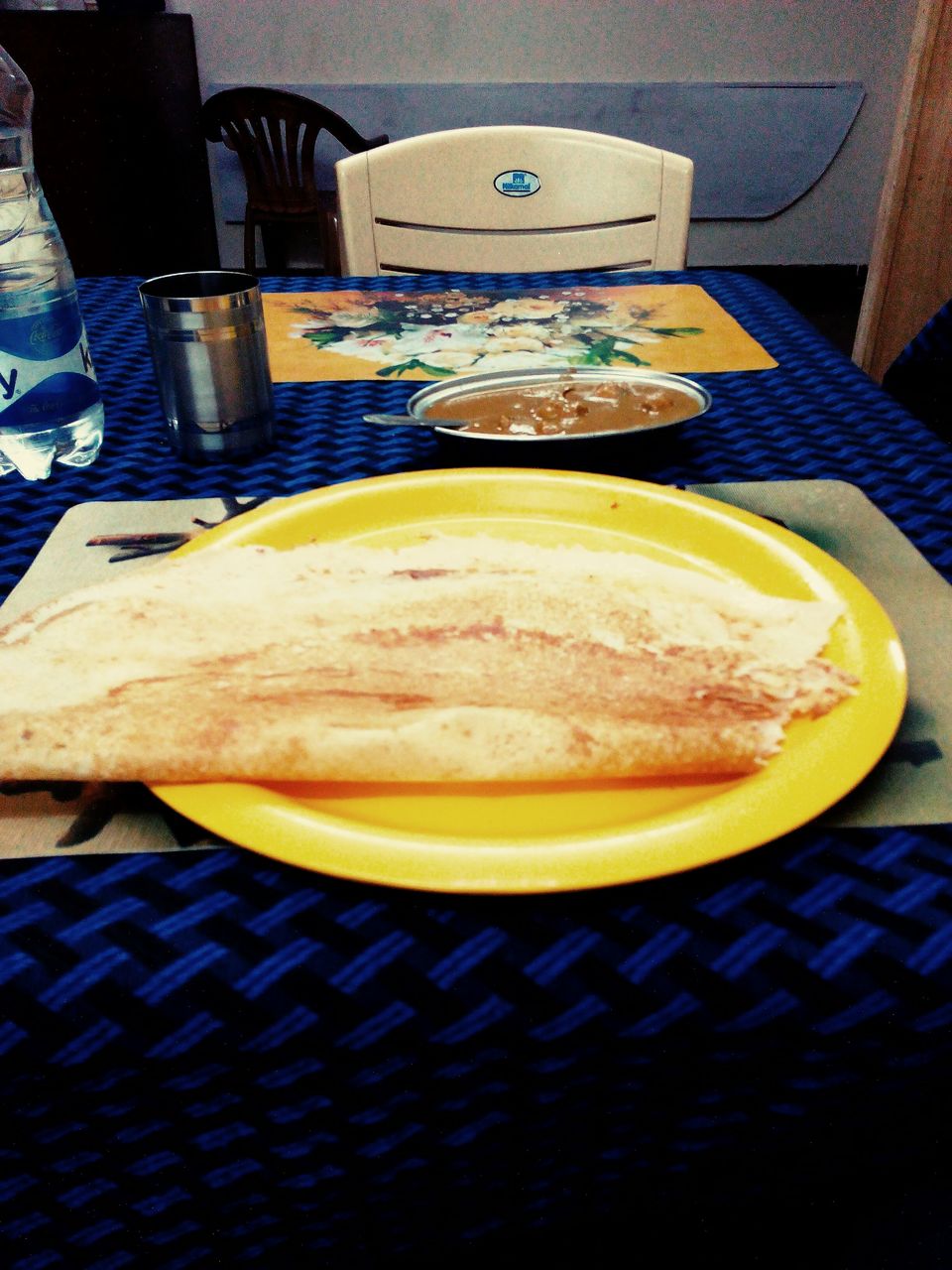 *Dosa you would have understood, but can you guess which curry? …….No? …… That's fresh chicken cooked and spiced up in a brown thick gravy, and served hot for me. I went all nuts looking at it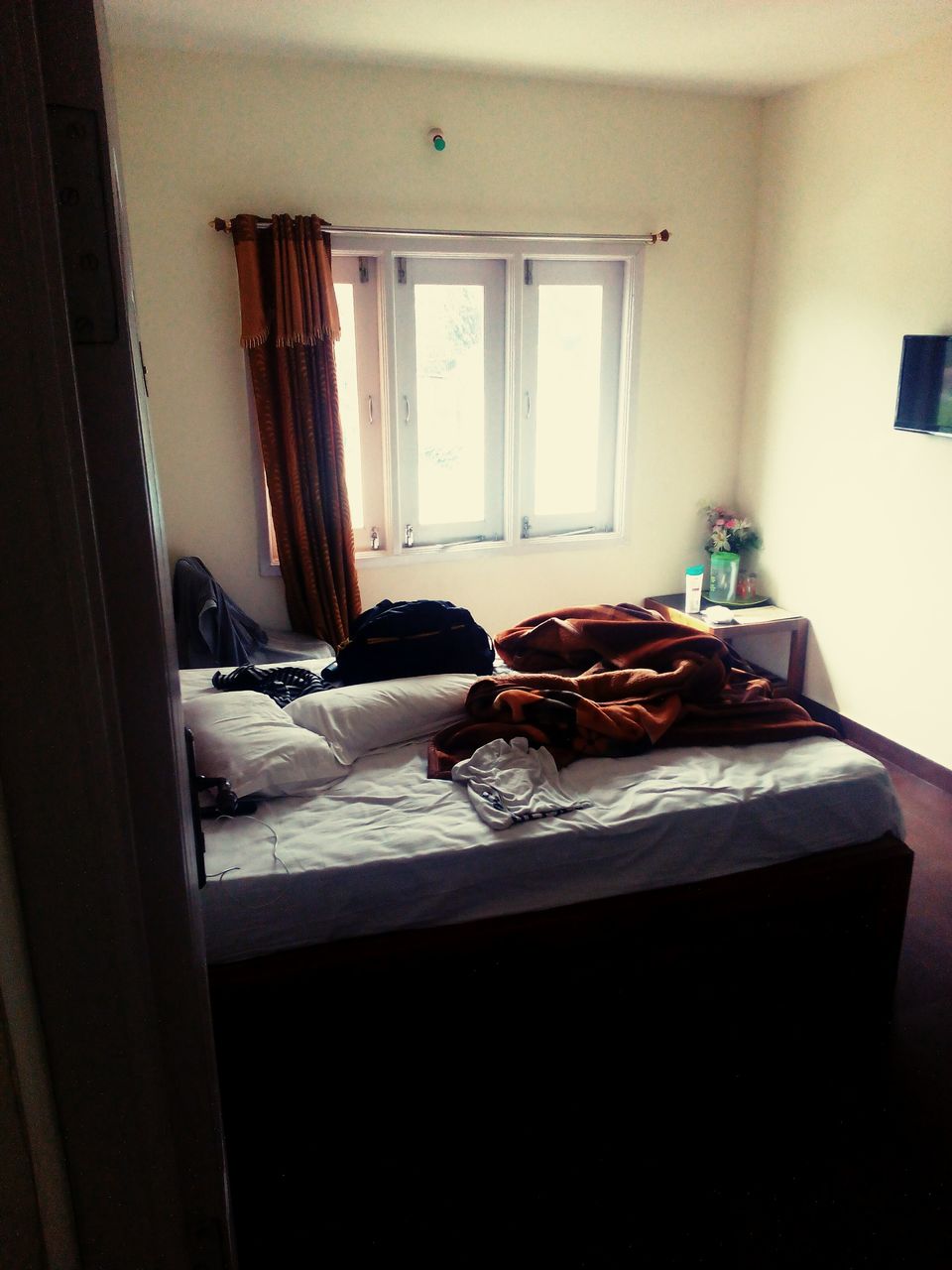 *Next morning and what a sleep I had
Kodaikanal was heavily crowded as usual, with people occupying most of the part at the lake, Bryant park and Coaker's walk (that's a walking lane with breath-taking view of the hills)
I decided not to be there for long, because there was a change in plan now. Kodai was the place from where I was supposed to head back to Bangalore via Yercaud. But here I used my imaginative skills, of reaching out to few other places… like,
Rameshwaram?
"Yeah, why not?"
"But, I have to reach back Bangalore in 4 days, what about that?"
"I know, but I think I can extend it. Shouldn't be a challenge"
"Hmmm…in that case…..Let's hit Rameshwaram pal. Why not!"
After this small self-talk, I extended my trip and accommodated Rameshwaram in it.
And why Rameshwaram? That you will get to see in the pictures soon. :)
But first,
The Road to Rameshwaram - A 300 km of bike ride from Kodaikanal under a blazing sun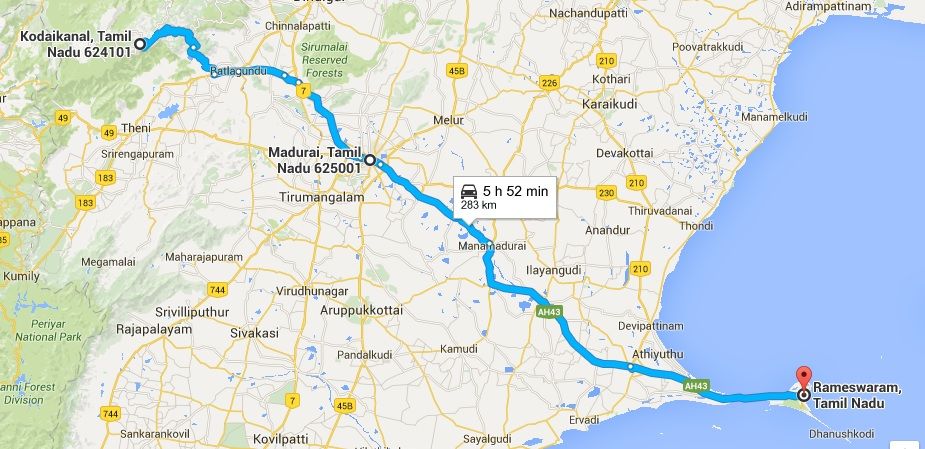 The heat was terrible, and make no second guess. We are talking about Tamil Nadu in summers, guys. And trust me this combination is not to be challenged with. Only one word, brutal
Luckily I had my protective riding gear, which saved me from a lot of such extreme conditions. I kept riding towards Madurai and then Rameshwaram, and did not stop much.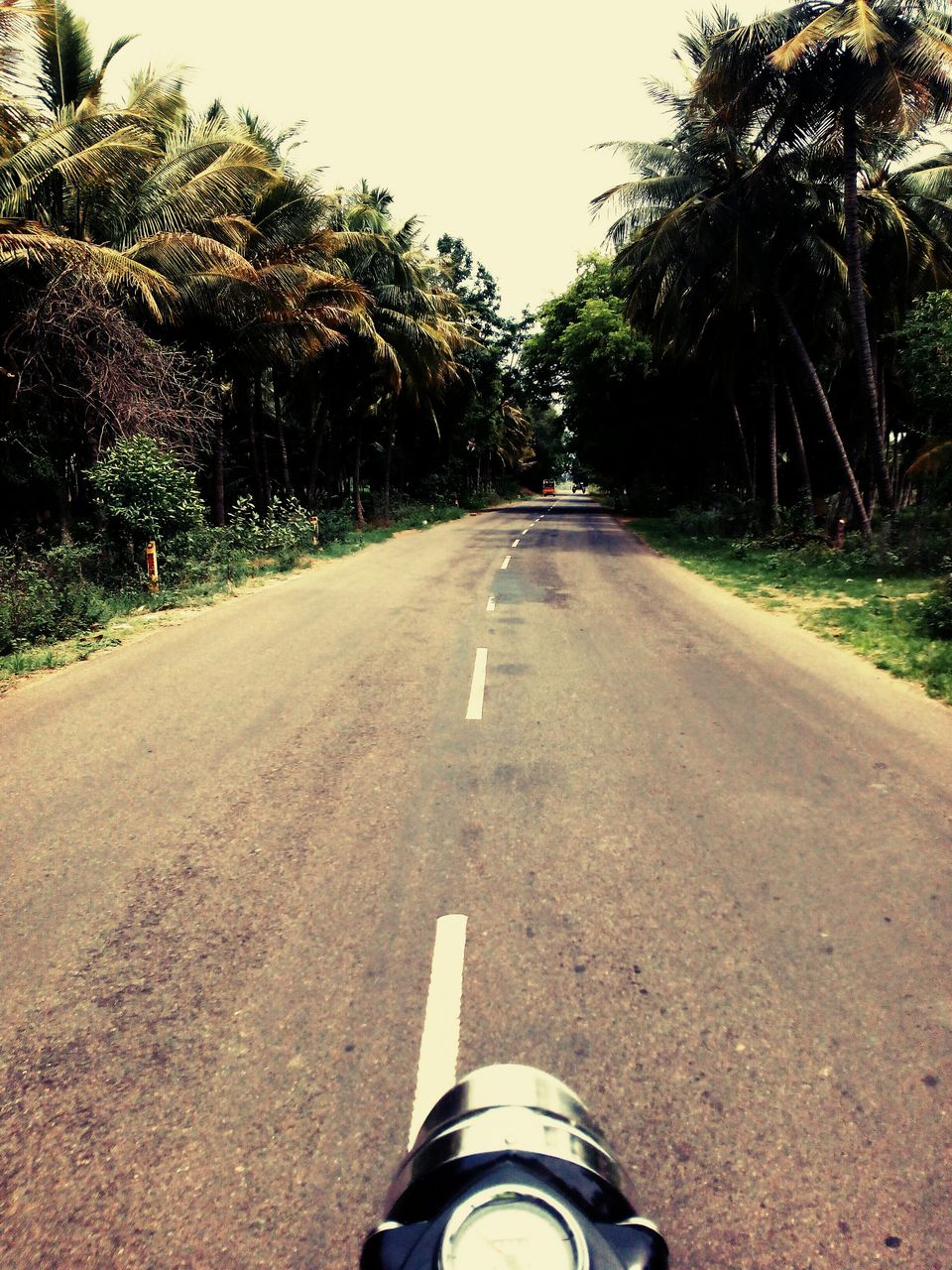 *Enroute Madurai. The heat was strong, but I had my eyes on the coconut groves which were making my ride quite pleasant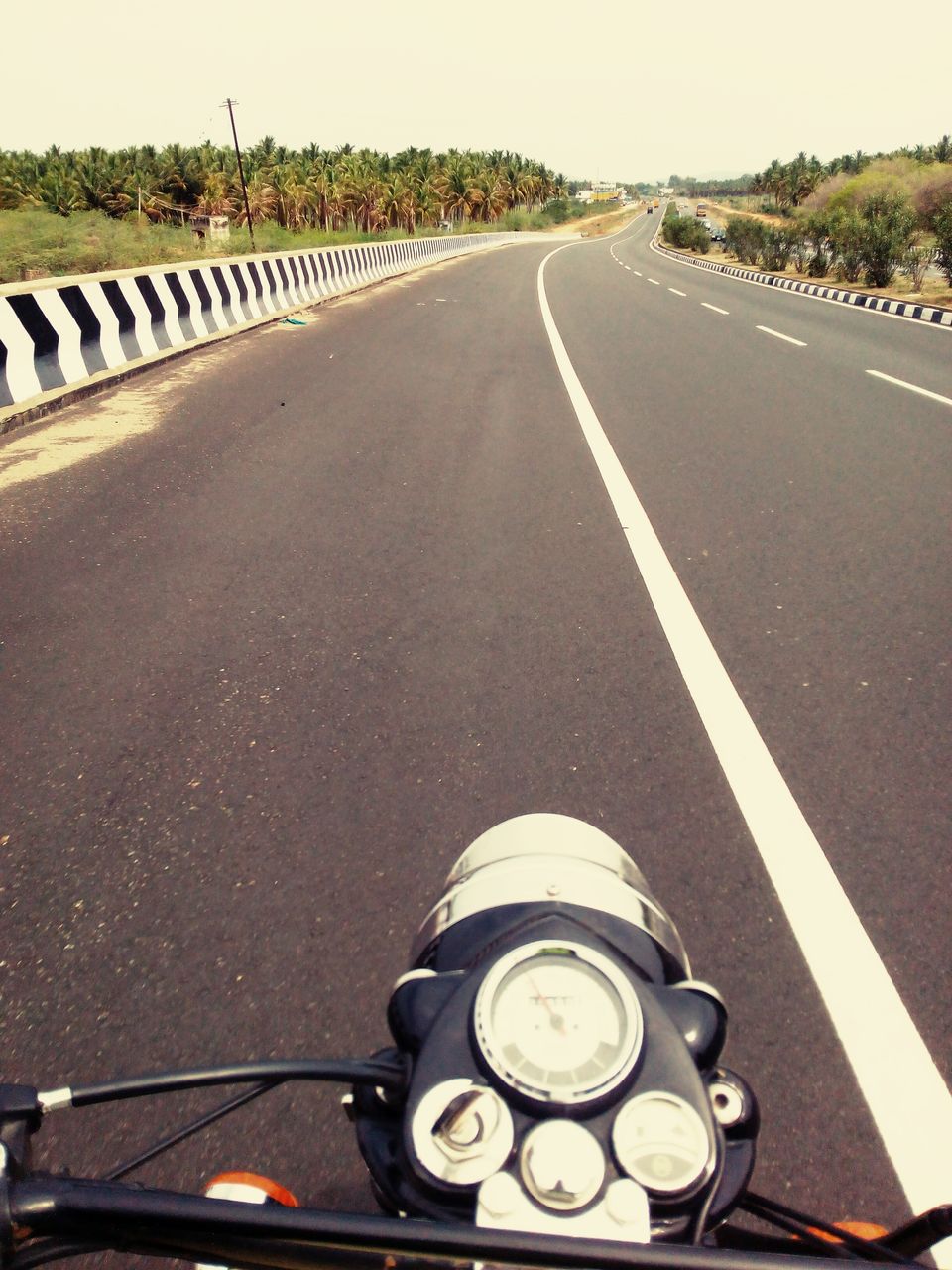 *Catching the NH7 back. I had left this highway after Salem, when I turned right towards Munnar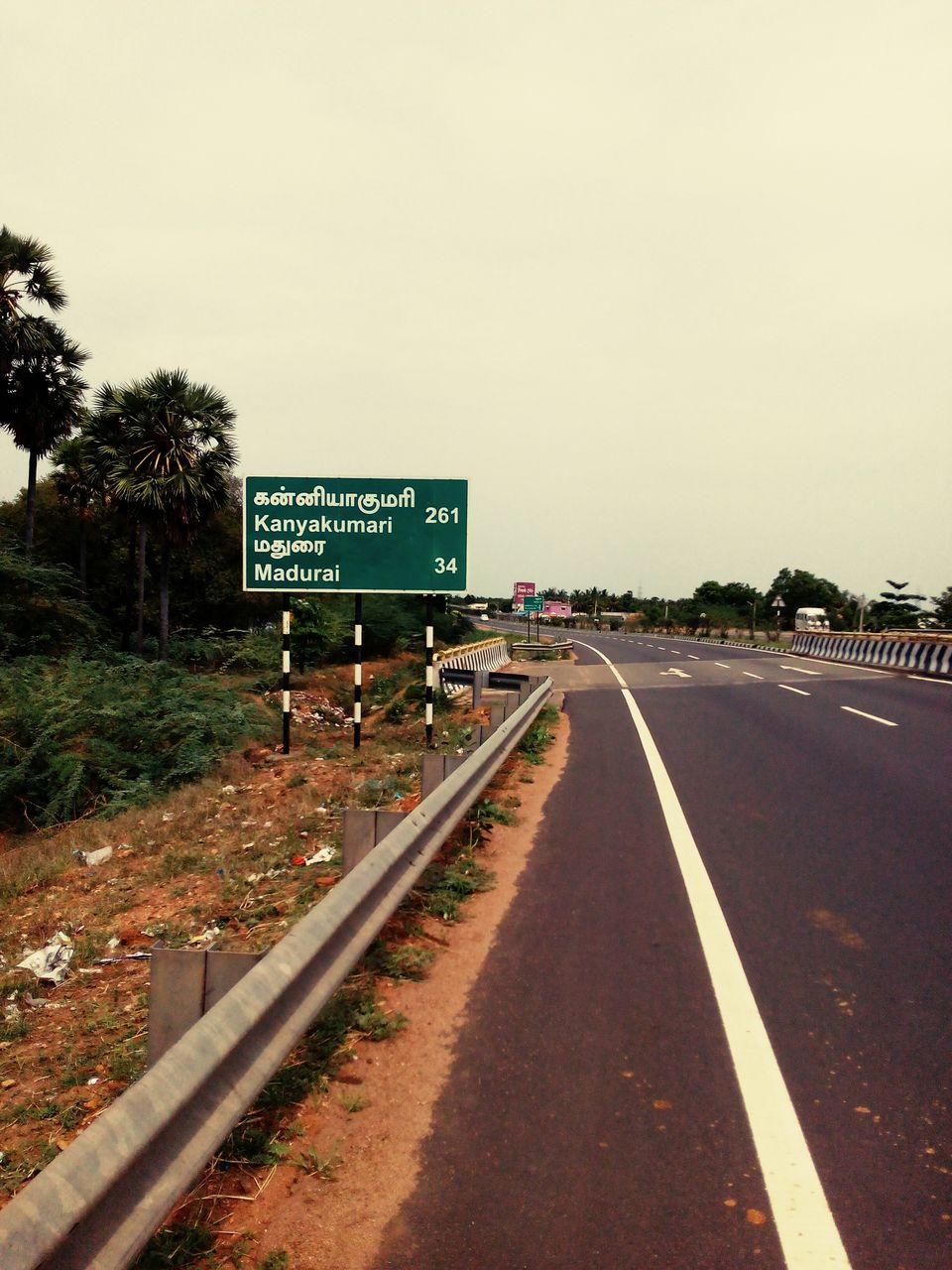 *Some more distance to be covered before I reach Madurai. And look at that. 'Kanyakumari' han! What to do..what to do? Nope, Rameshwaram it is. Let's go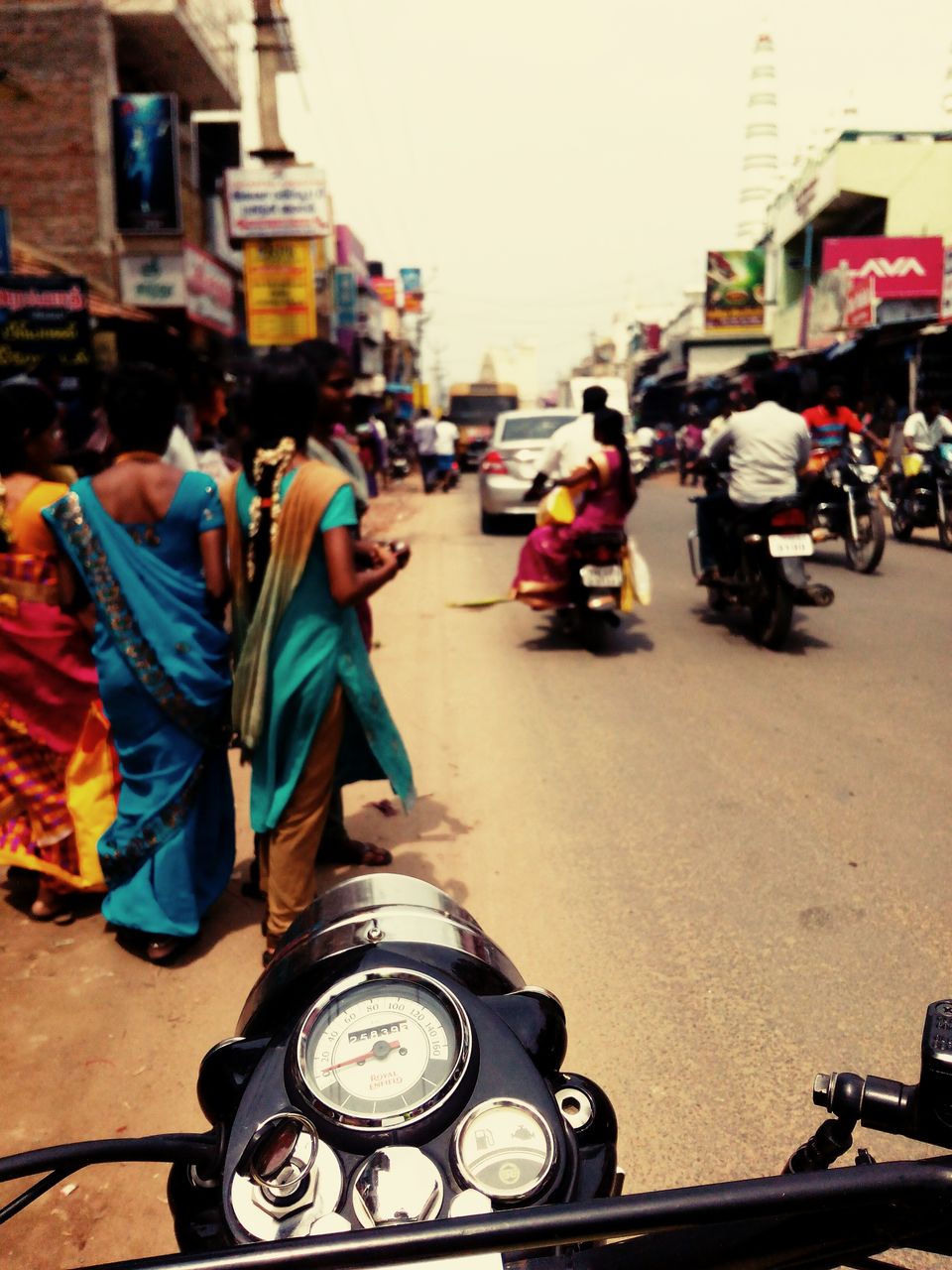 *Crossing some busy town before Madurai. I was sweating, the sun was on top of my head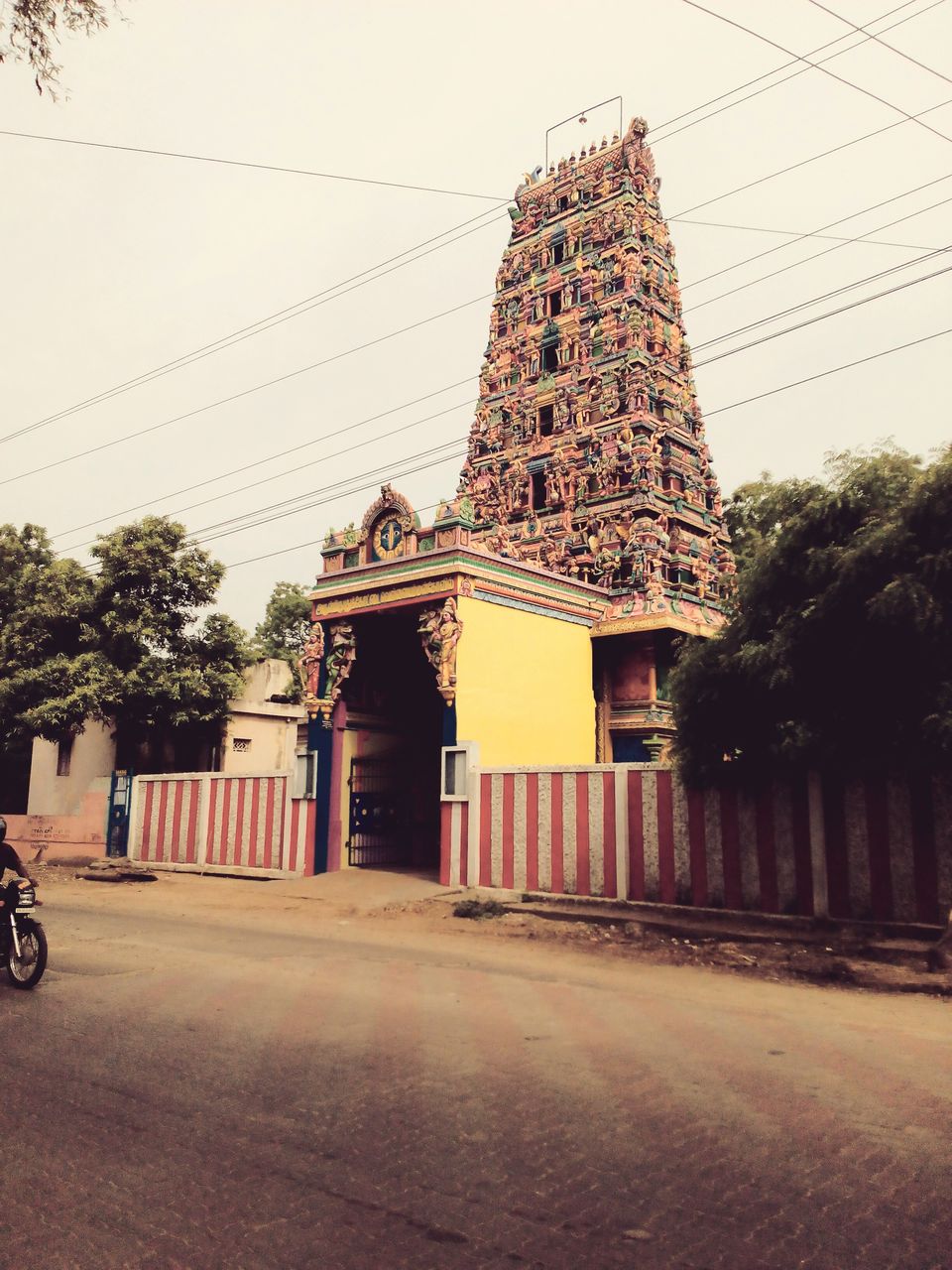 *And finally I reached Madurai. My eyes were looking out for the famous Meenakshi Temple, but couldn't have done a detour for that. It was way too hot and crowded, for me to attempt anything unplanned now. So I kept following the road to Rameshwaram, but crossed a lot of temples nonetheless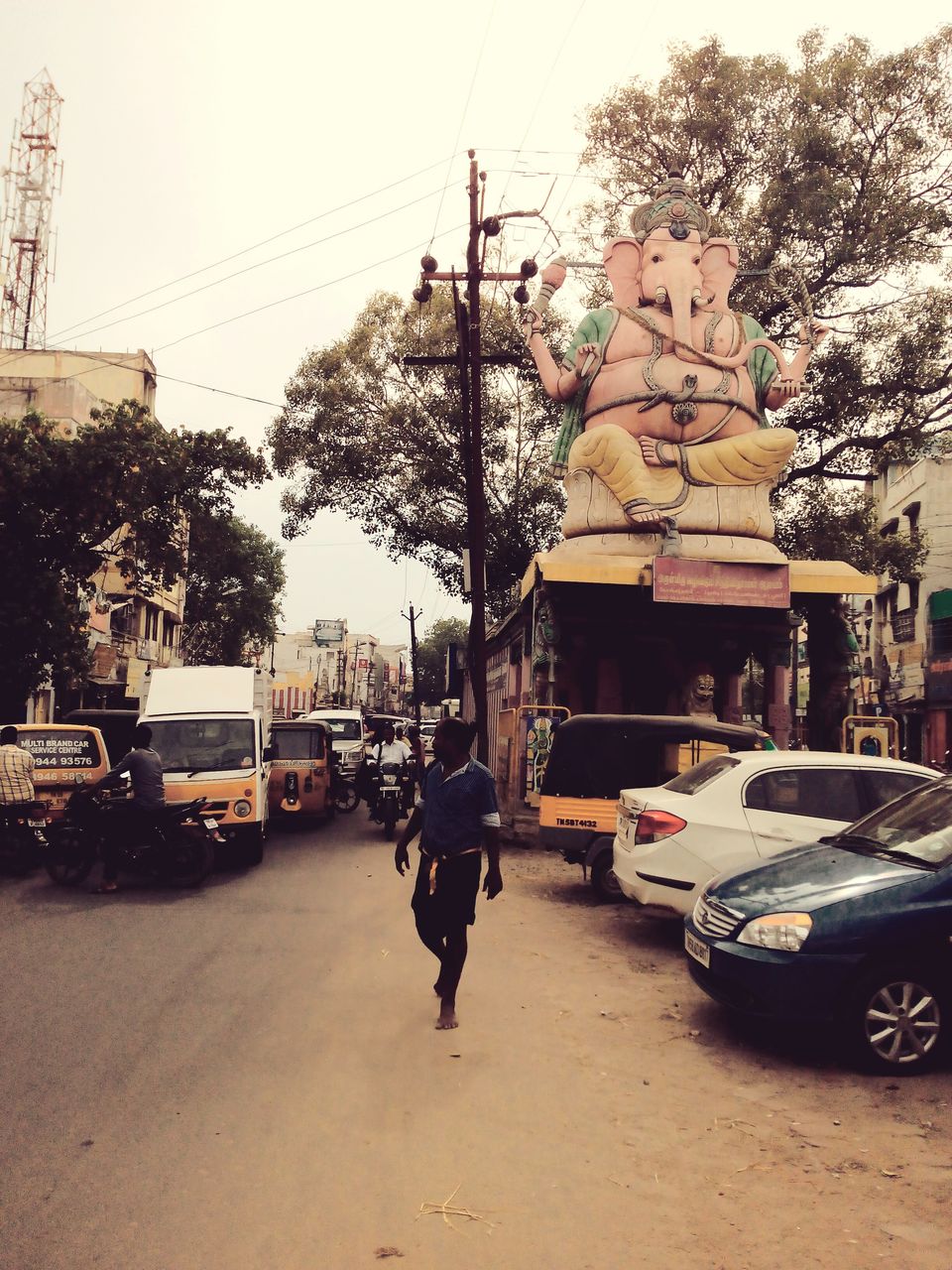 *Lord Ganesha. You look charming. Only one help, can you save me from the traffic…. please?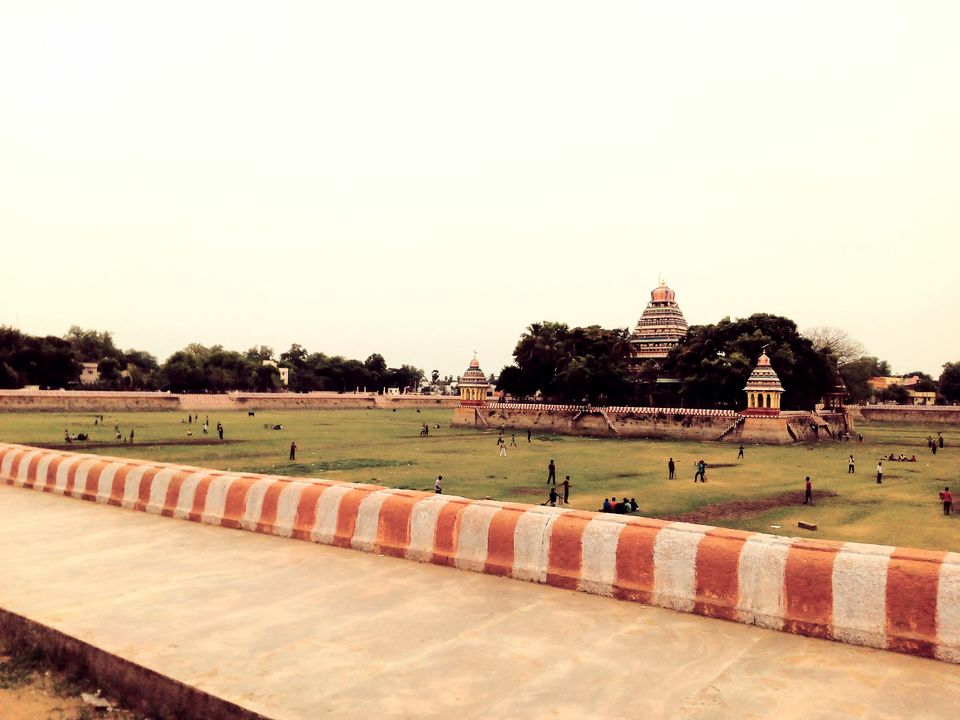 *One more temple on the way. This one had a huge premise, and people chilling on the ground as if there was no tomorrow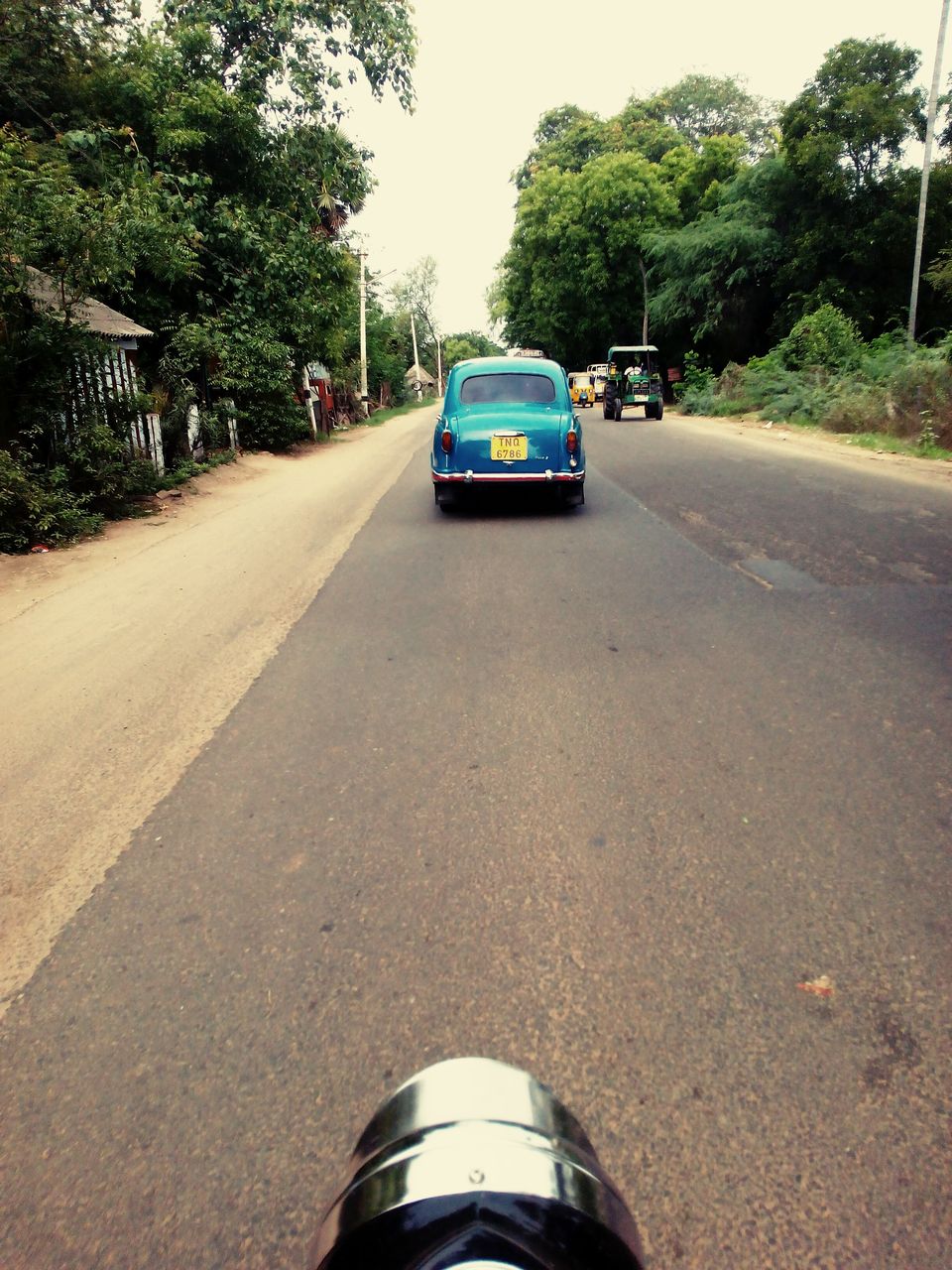 *Rameshwaram was still far, and I was keeping myself amused with scenes like these. A blue colored ambassador. As far as I remember, I have always seen this car in white. Had to click this one
I kept riding for the longest of time I think. It was tiring to the core, and Rameshwaram was not appearing anytime soon. Though the sight of the Pamban bridge at Rameshwaram kept me going, but this time I was hungry again and was looking out for a restaurant desperately.  
I remember reaching this place called Ramanathpuram where I had my meal.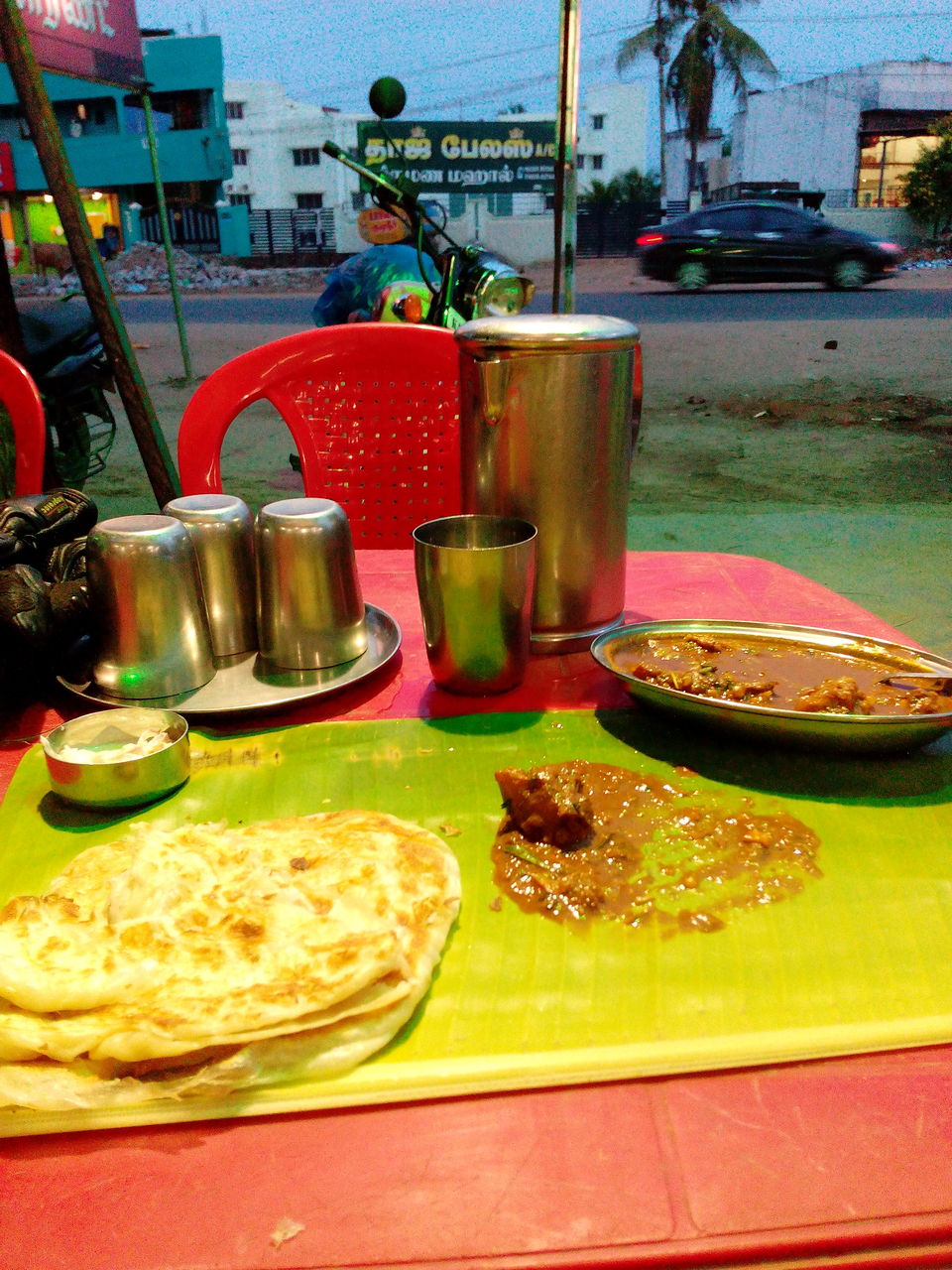 *Parotha and Chicken curry. This is how you eat when on a solo ride. Period!
As I rode further, I started to feel the breeze getting cooler. A bit surprising, as all this while I was getting warm wind.
What could have been the reason?
I was in a confused state for a while, until I heard a certain sound. Sound of ……water waves?
Yes……… most definitely it was 'waves' sound and I couldn't wait to see where it was coming from.
I stopped my bike, removed the helmet to have a more clear view.
And after some 30 seconds, I could see it but very vaguely. Indian Ocean on both sides of the road.
So that is why the air got cooler!
Wow!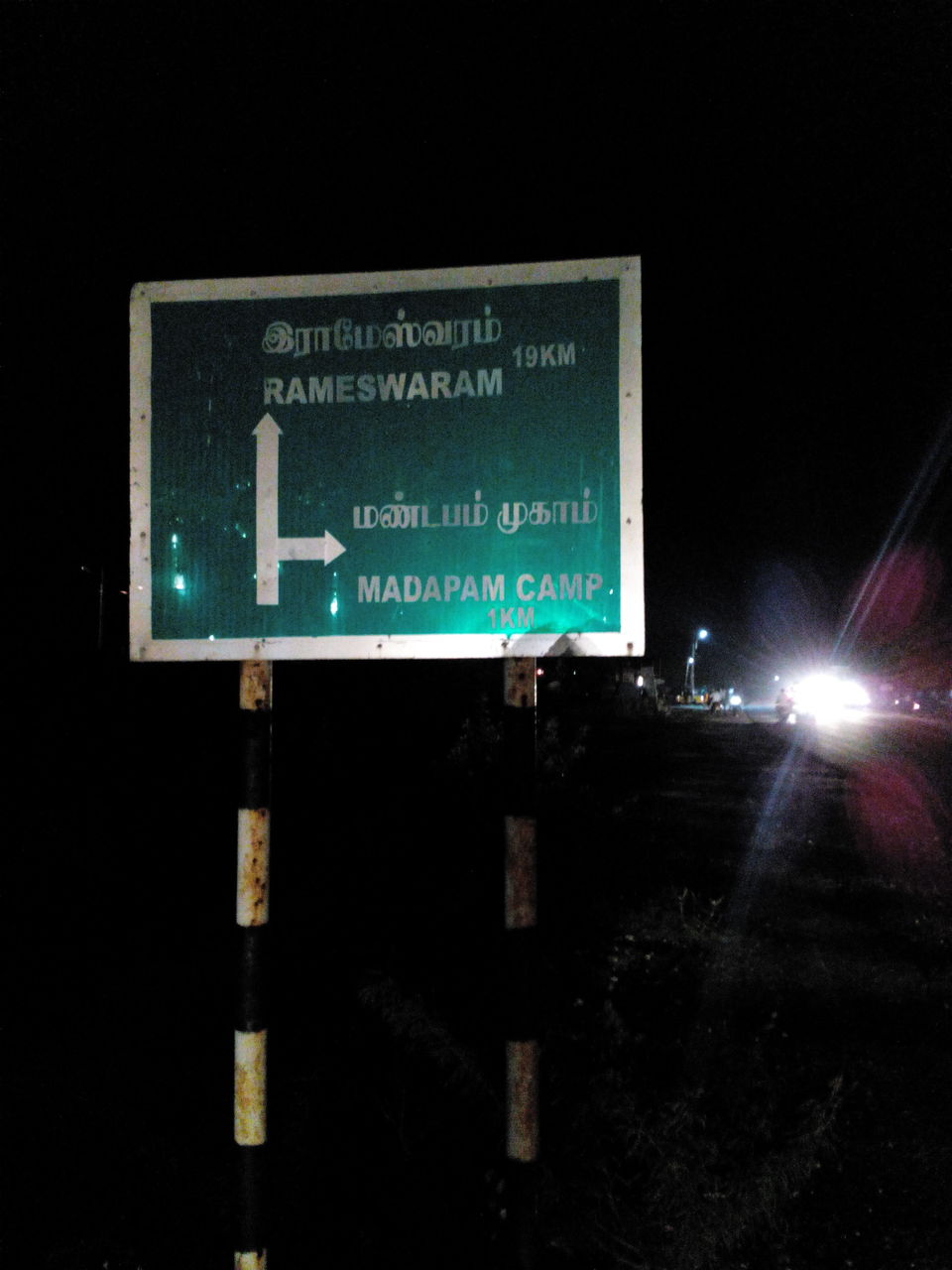 *Very close now. Pamban bridge I am coming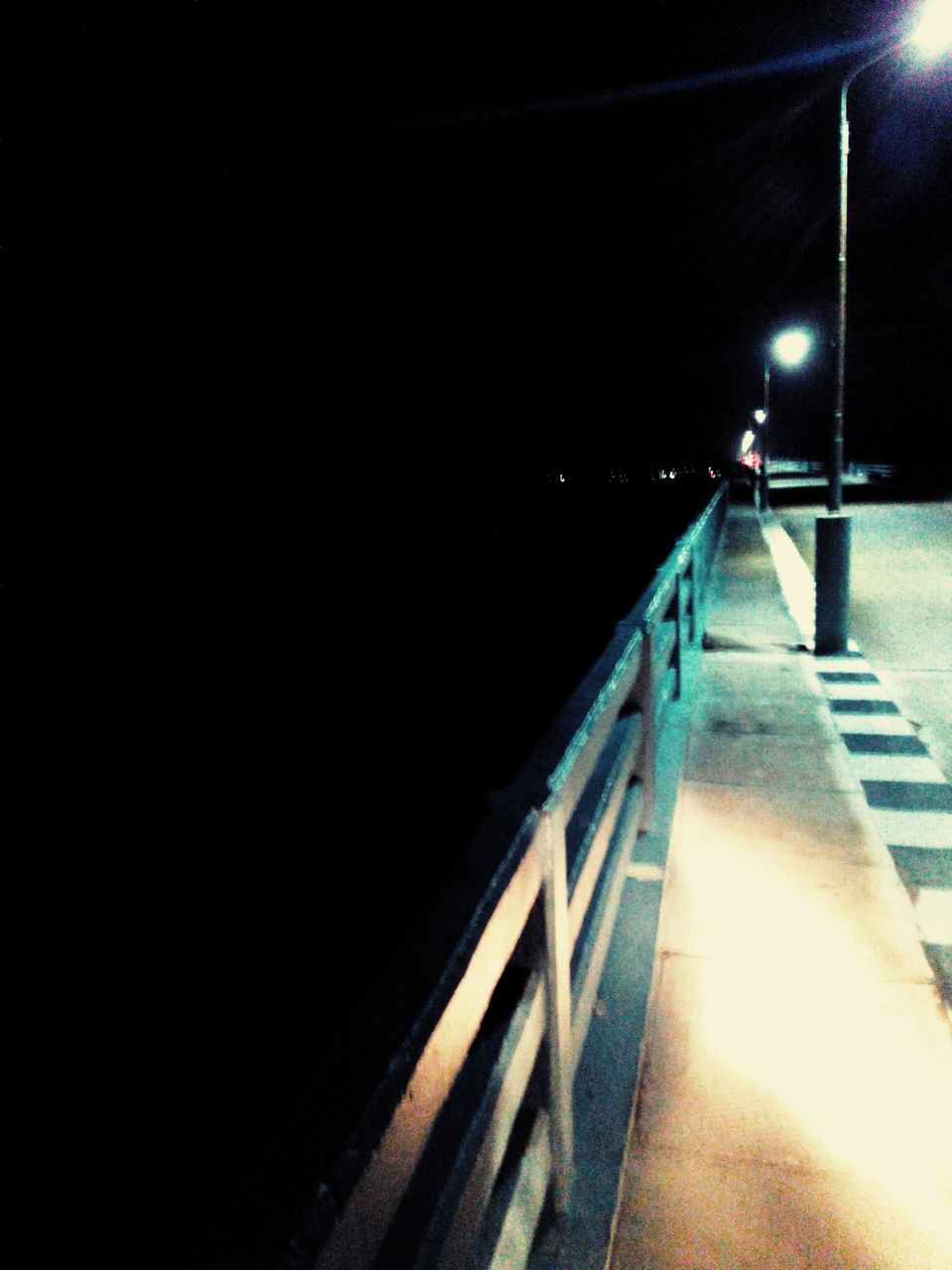 *Within no time, I entered the Pamban Bridge which is the entry point to Pamban Island, Rameshwaram. But wait a minute, where's the famous rail bridge? It has to be besides this road bridge. No, I can't see it. What the fuck? After some eye rolling, I again looked at the sides and very hazily I could see it. A bit disappointing as I wasn't able to see it in its entirety. I thought the lights would be there, but my bad luck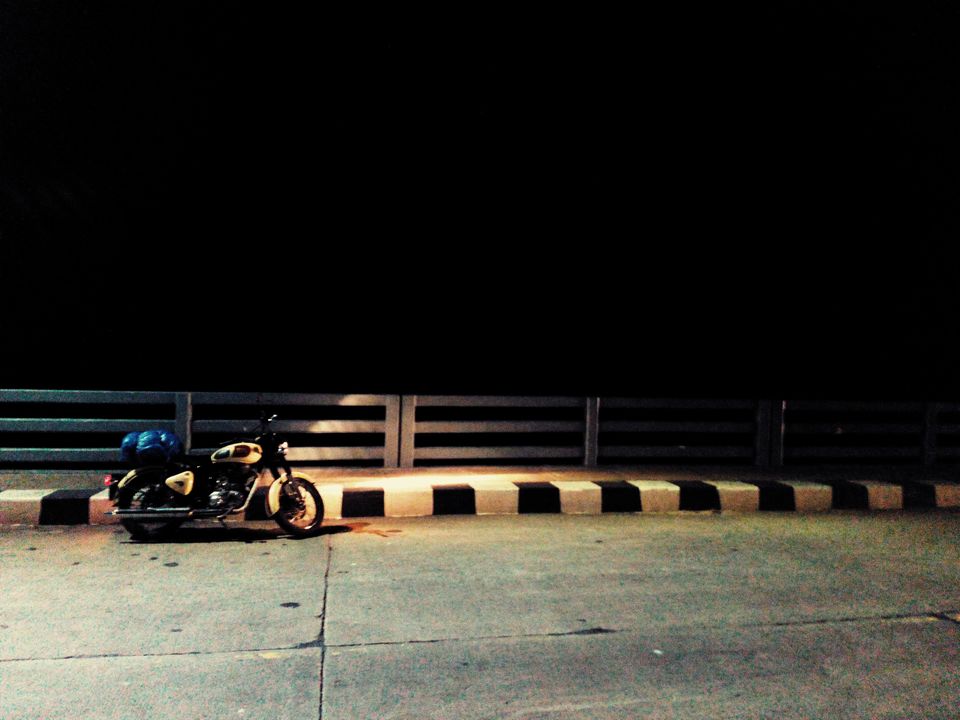 *Anyways, forget about the rail bridge. Let's create a beautiful shot here itself. What say?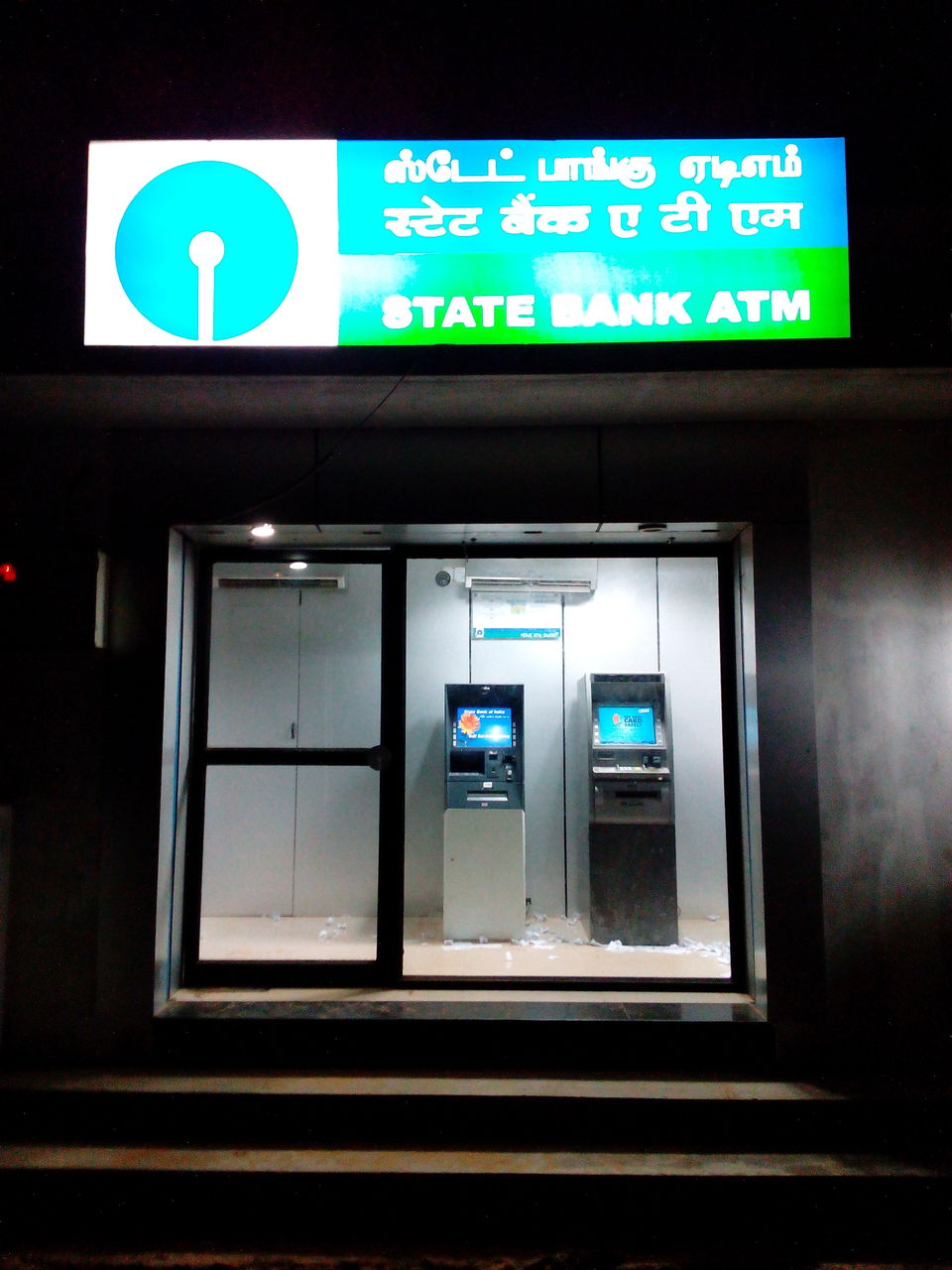 *Thank you for showing up. I needed some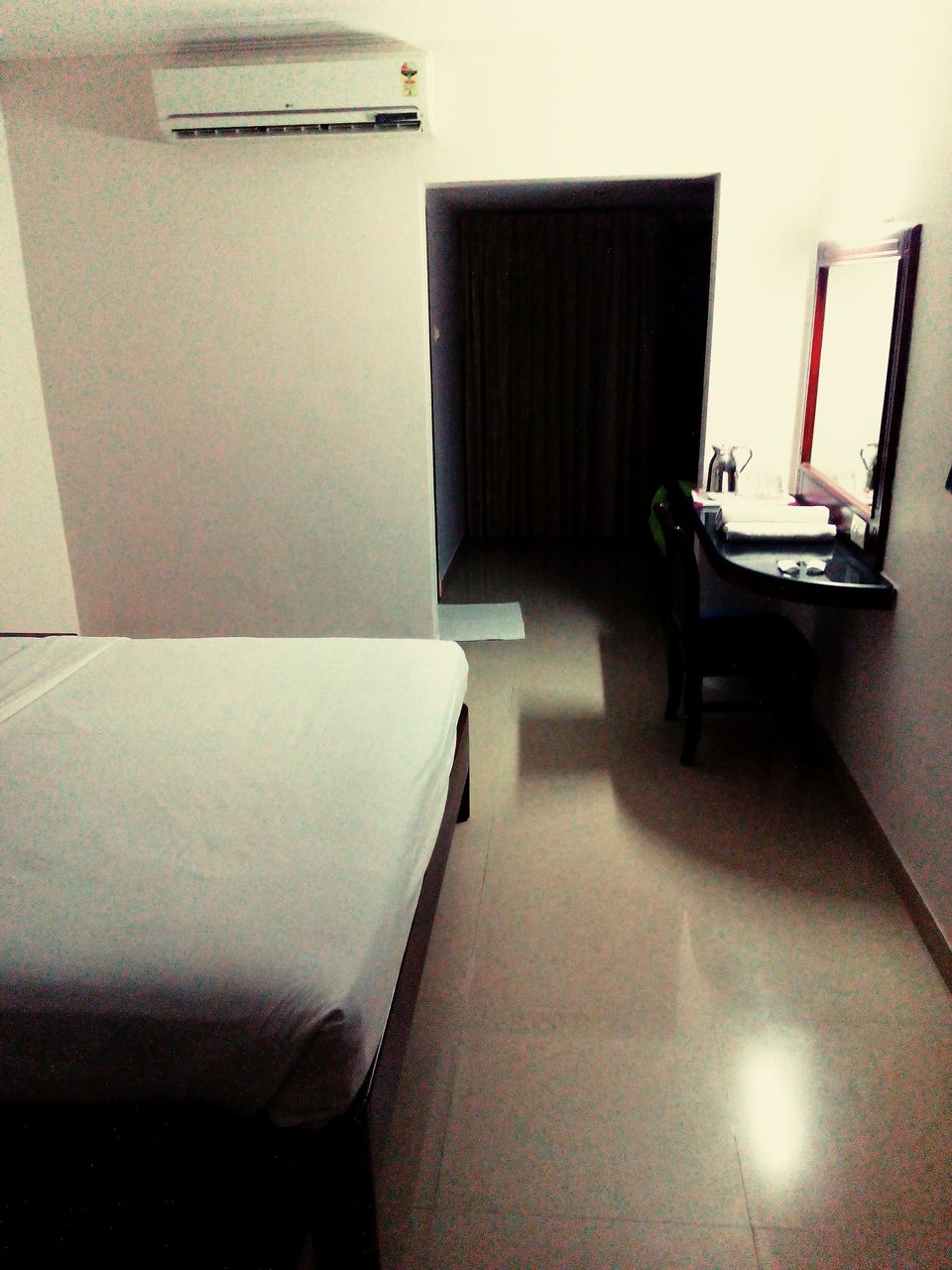 *My room for 2 nights in Rameshwaram. Tired, fatigued, hungry and sleepy
V. India's pride and home of Lord Ram – 'Rameshwaram'
Rameshwaram comprise of white sand beaches, lone islands, coral reefs, flying eagles, temples, Bridges, long rail tracks, coconut groves, sea food, some delicious local made ice creams, and also happens to be the place where the epic war of Ramayan took a launching pad.
Some great line up there, and I managed to cover almost everything,
Except,
The Krusadai island, which is a small island near Pamban facing the Indian ocean waters. I learnt in Rameshwaram, that this island is not accessible to tourists. Earlier it was open, but now the fisheries department has stopped giving permits. Only allowed are students, marine researchers and biologists who come there for studying the marine life inhabiting the sea water, for their journals and research papers.
I was wanting to visit that island which is reached using a ferry from Mandapam, as I was here at the place now. But then my hotel manager convinced me that it will not be possible and I may end up wasting my entire day.
So, I decided to chuck it.
But the good news was that there were thousand other places in Rameshwaram, which would have been as mind-blowing as Krusadai island.
And one of them was the incredible Ram Sethu point!  The last walkable and motorable land on the Southern tip, closest to Sri Lanka. After this point, there is no land. It's the ocean and its vastness. Check out the map below for its incredible geographical position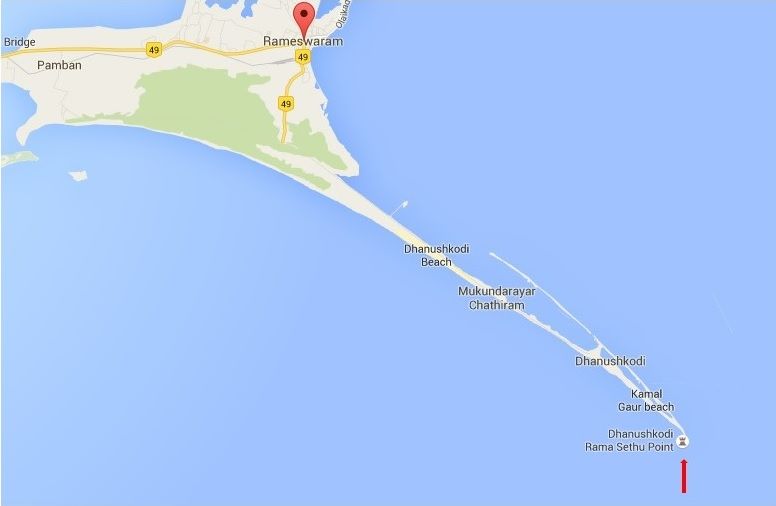 Rameshwaram Part 1 – Ride to Dhanushkodi and Ram Sethu Point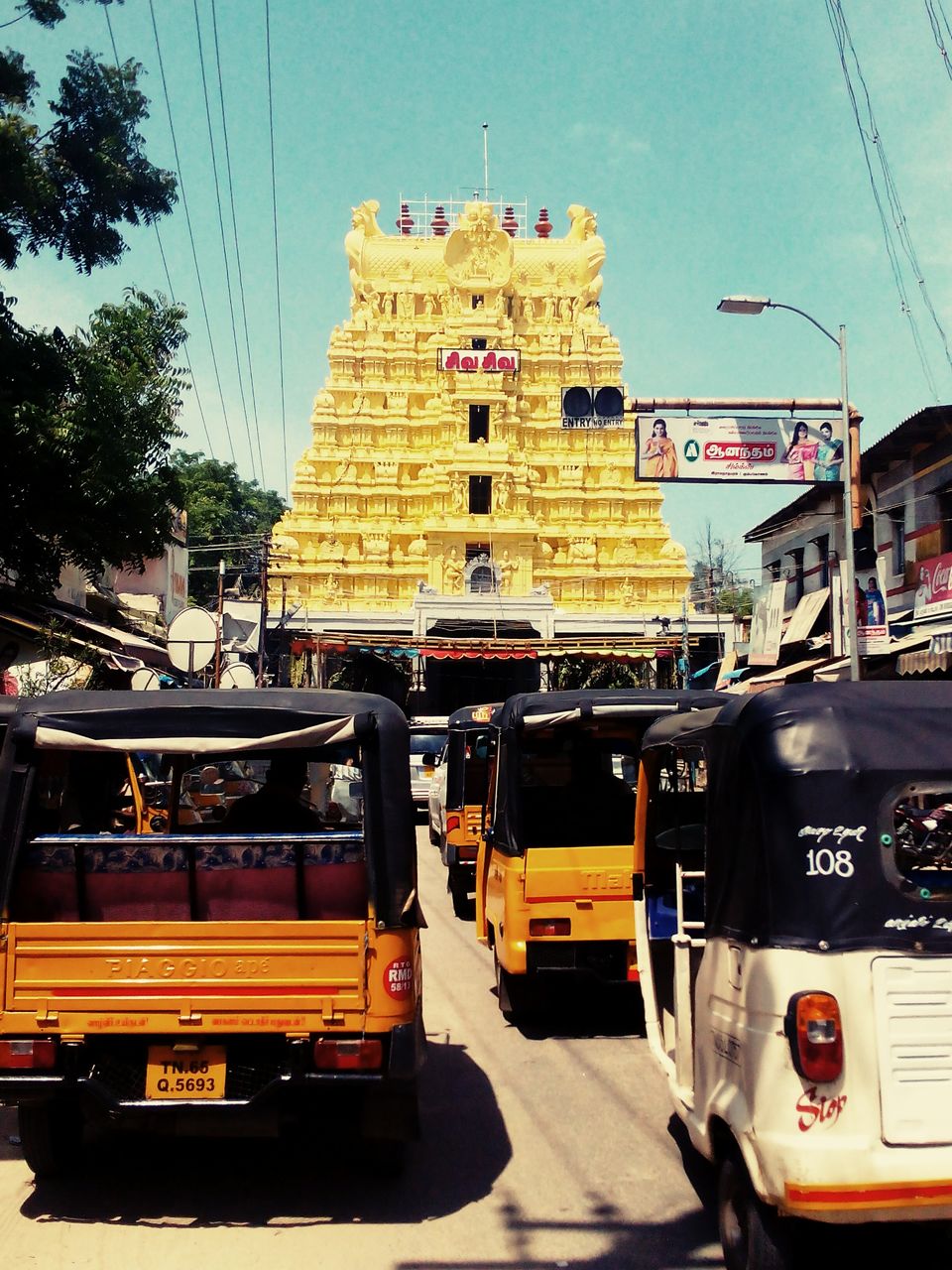 *On my way to Dhanushkodi next morning. Crossing one of the temples in Rameshwaram. Beautiful architecture! I wanted to see the interiors, but couldn't dare to do so as it was heavily crowded.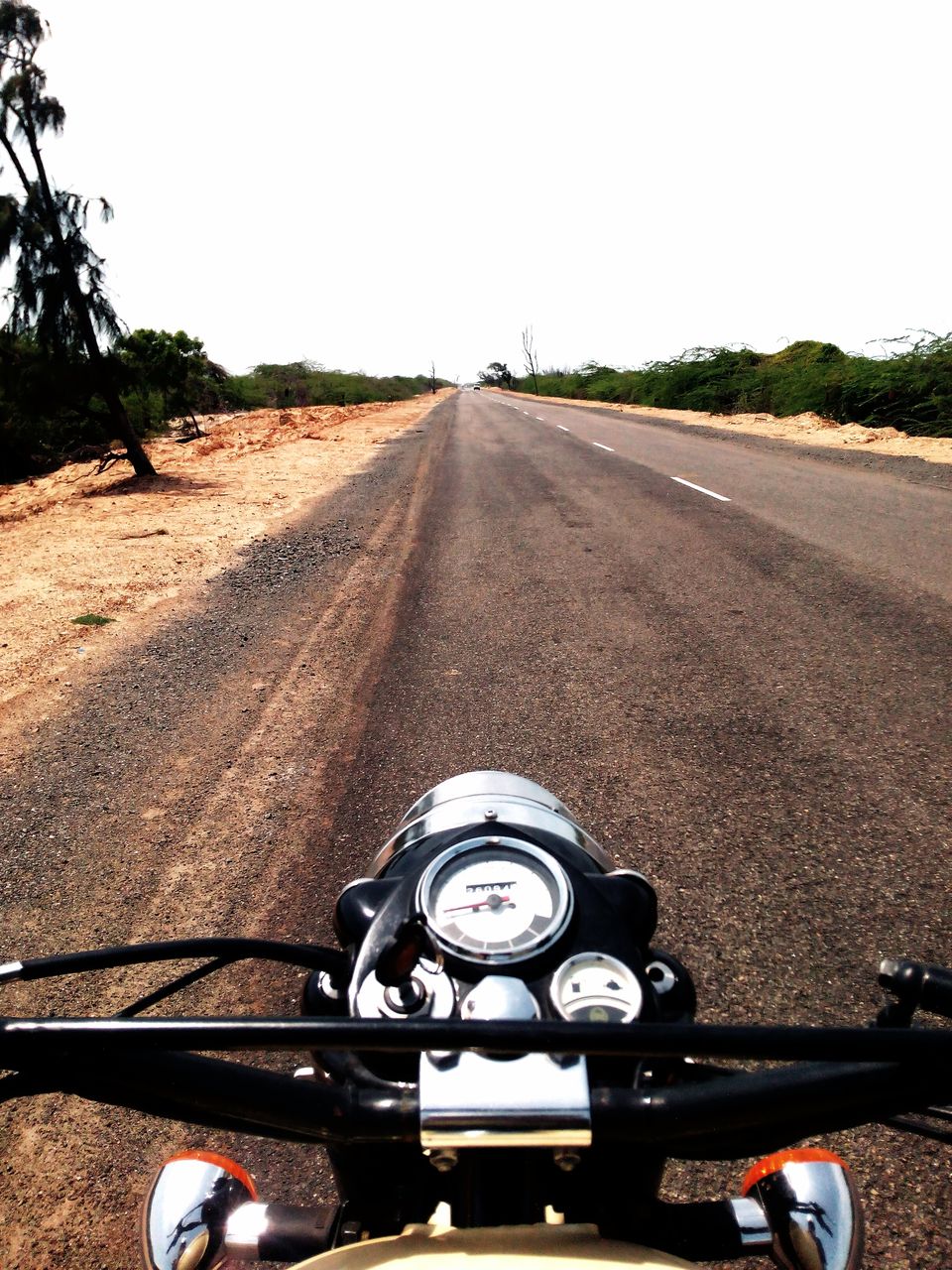 *Soon i was out of busy market area, and reached an isolated patch of road. The road was straight, covered with gravel, sand and wild plantation on the sides. There was Indian Ocean on both sides. A delightful riding experience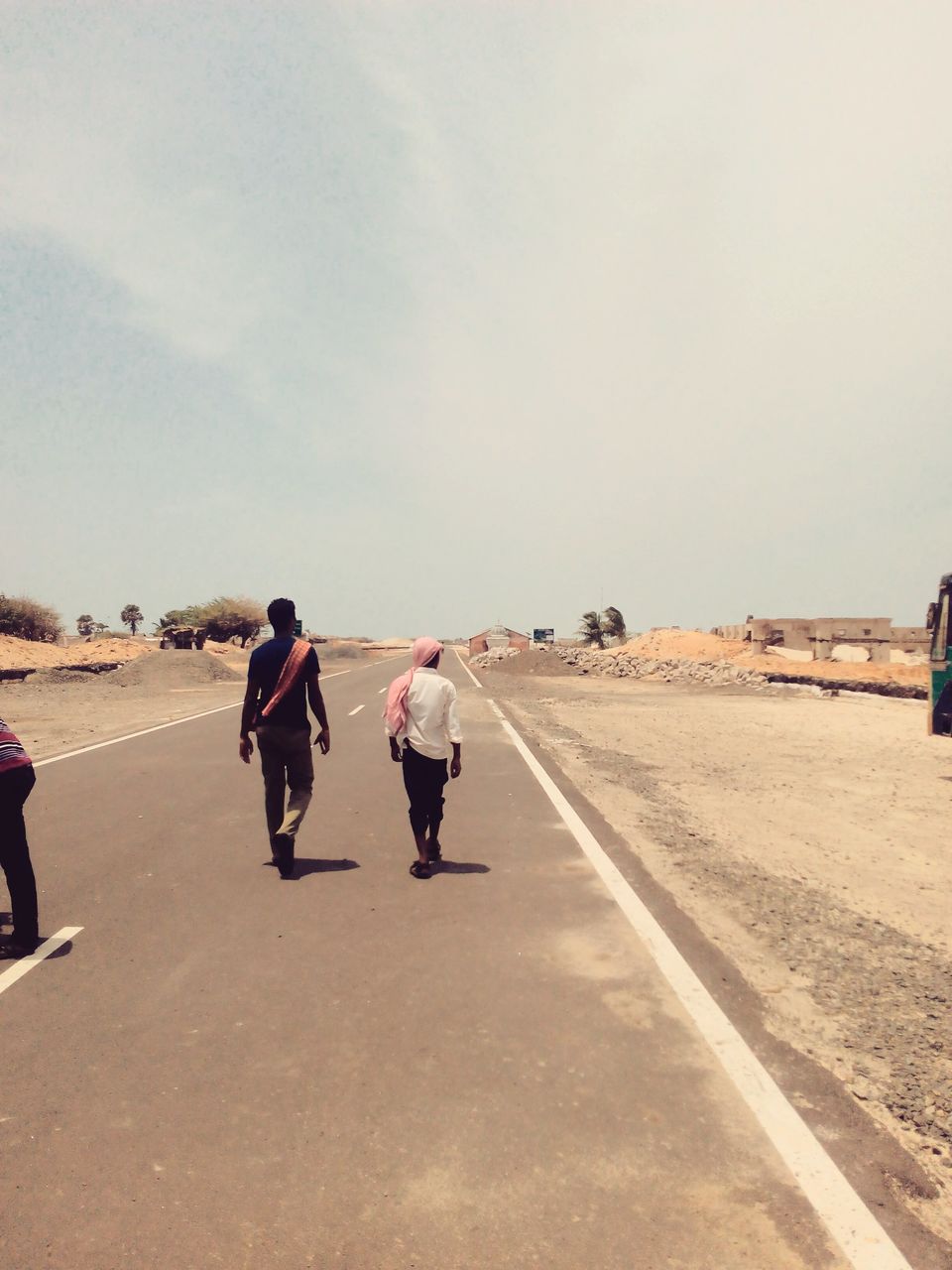 *Crossing Dhanushkodi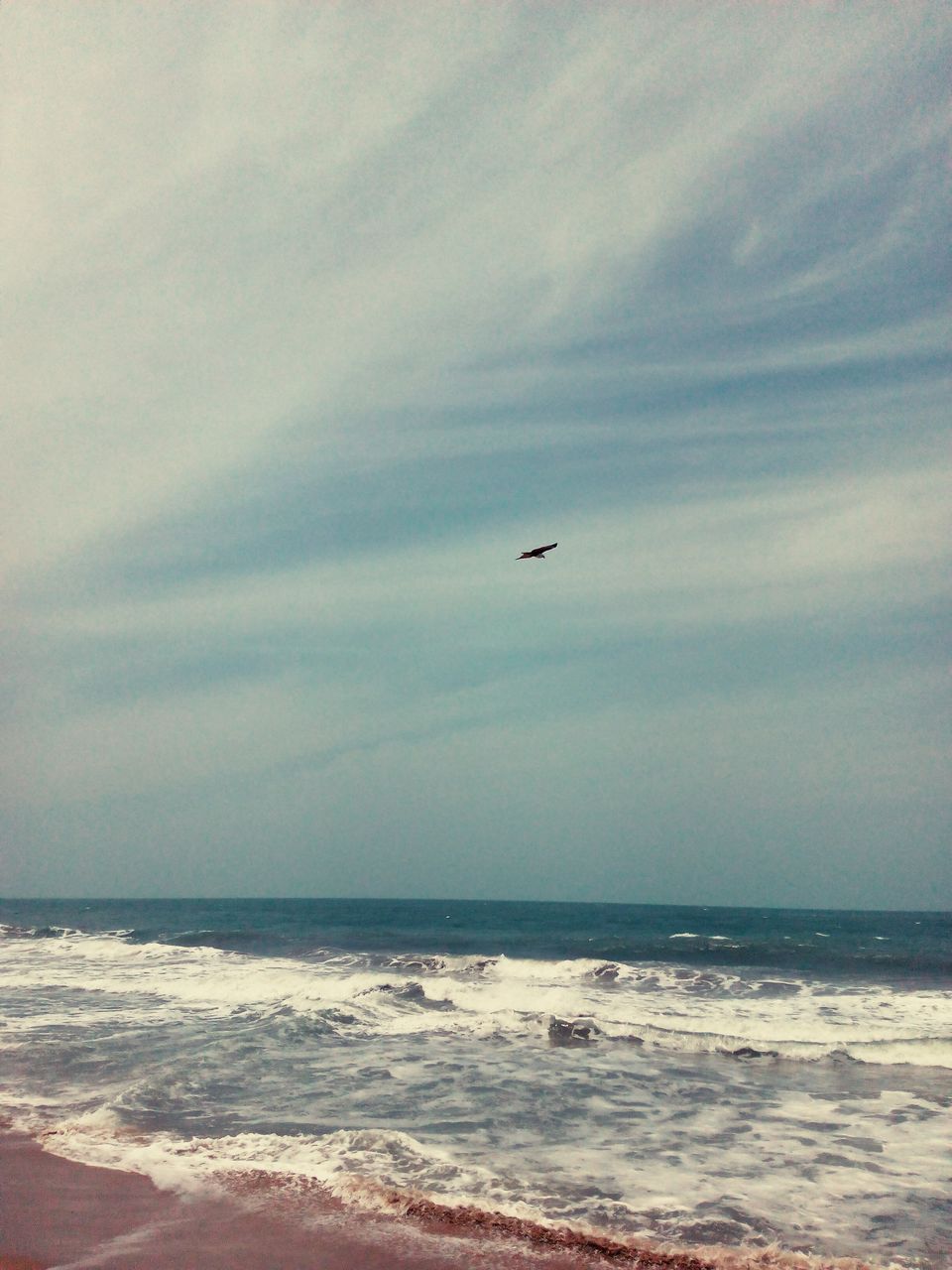 *A desolated Dhanushkodi beach. The area was overflowing with eagles, flying candidly over the beach area. I thought they were eyeing on some prey here in this area, but after having a close look I learned that they were flying away and back towards the ocean, just to enjoy the breeze and view. Something common I found in the eagles and myself ;-)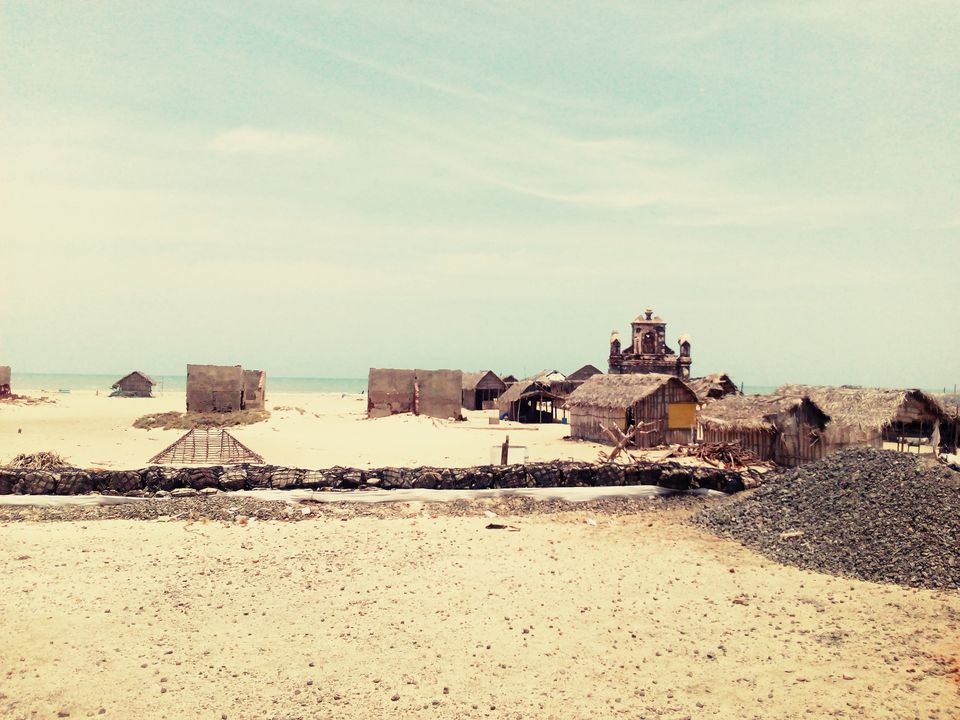 *Crossing local market at Dhanushkodi beach area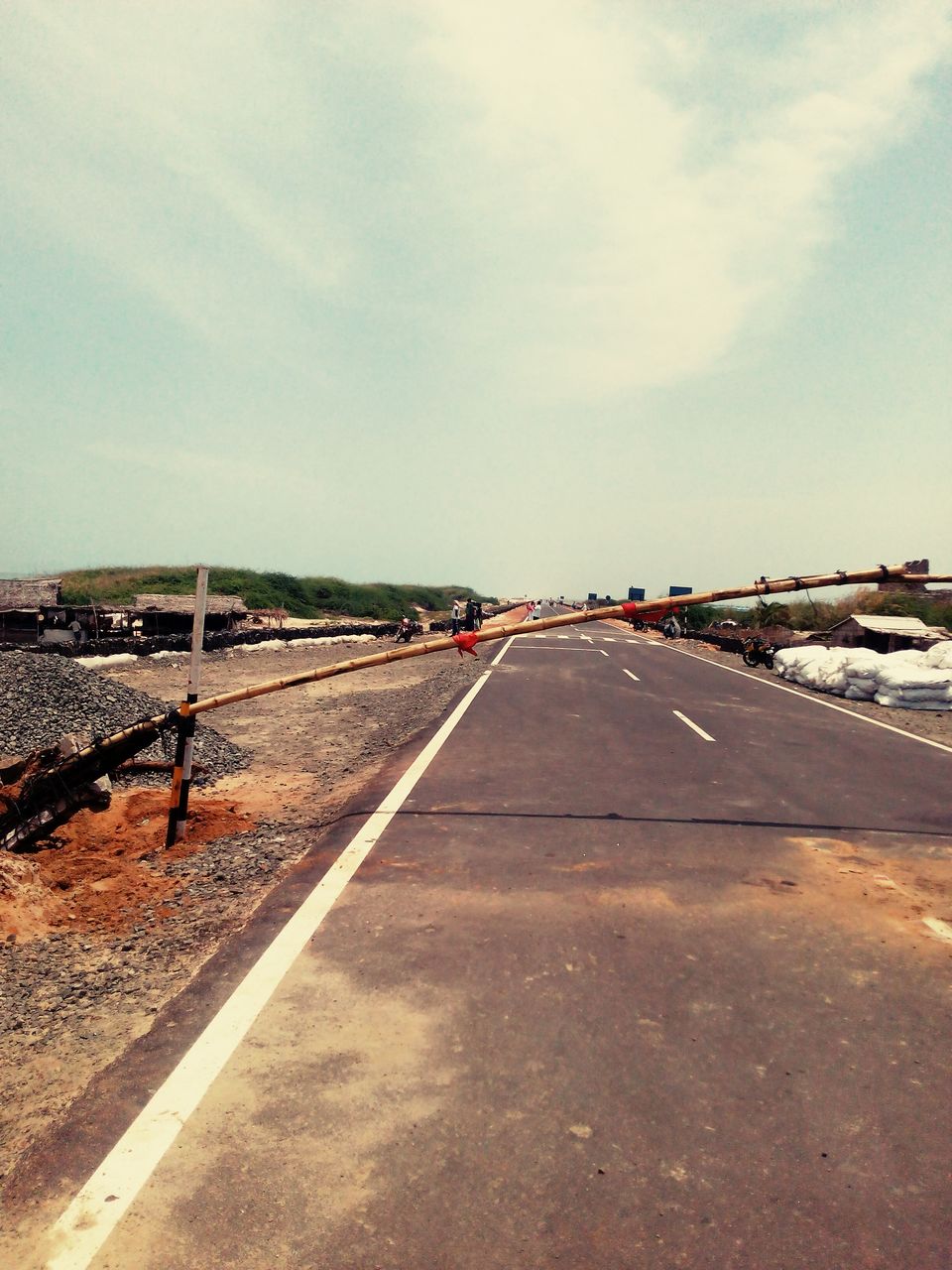 *A blockade on the way. There was no one to operate this, but I think I had some head room to just make it through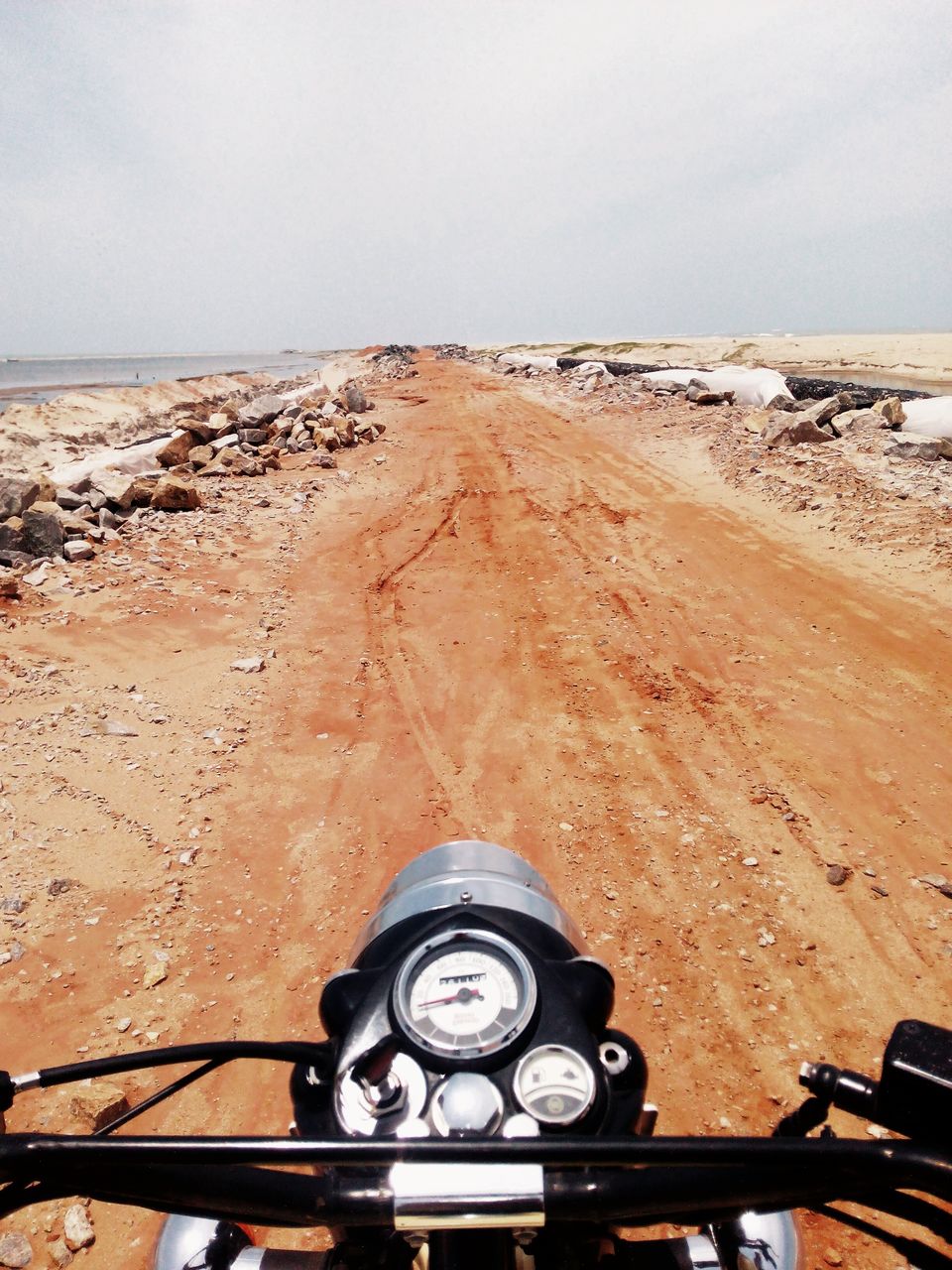 *And, there is no road here. Interesting!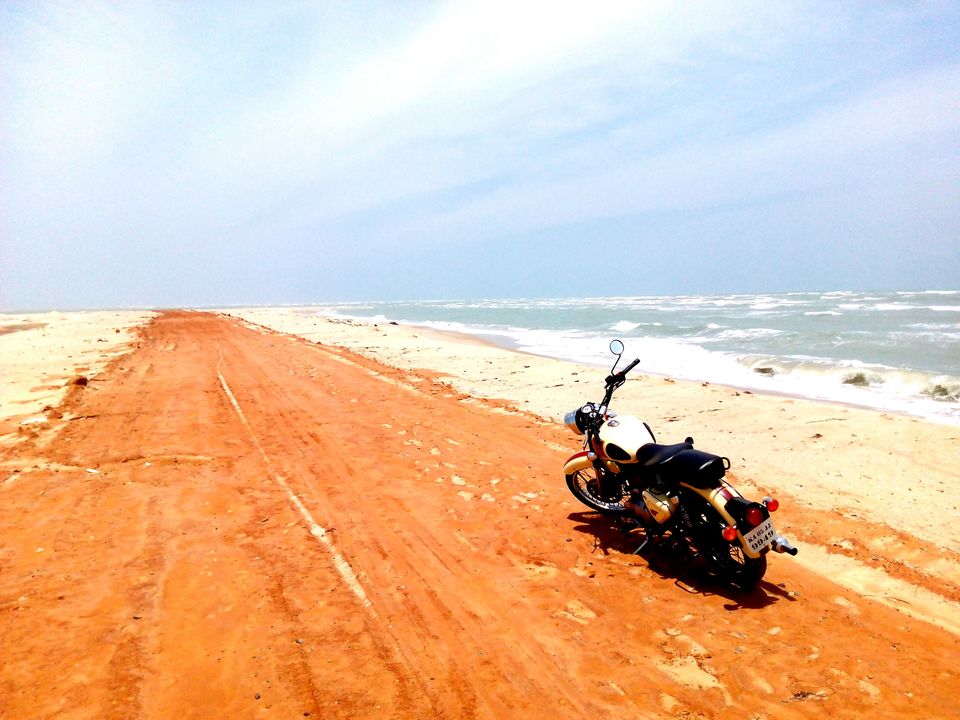 *Ocean was converging from all sides, and the road would finish any time now. Inch by inch, meter by meter, I was reaching to the famous Ram Sethu point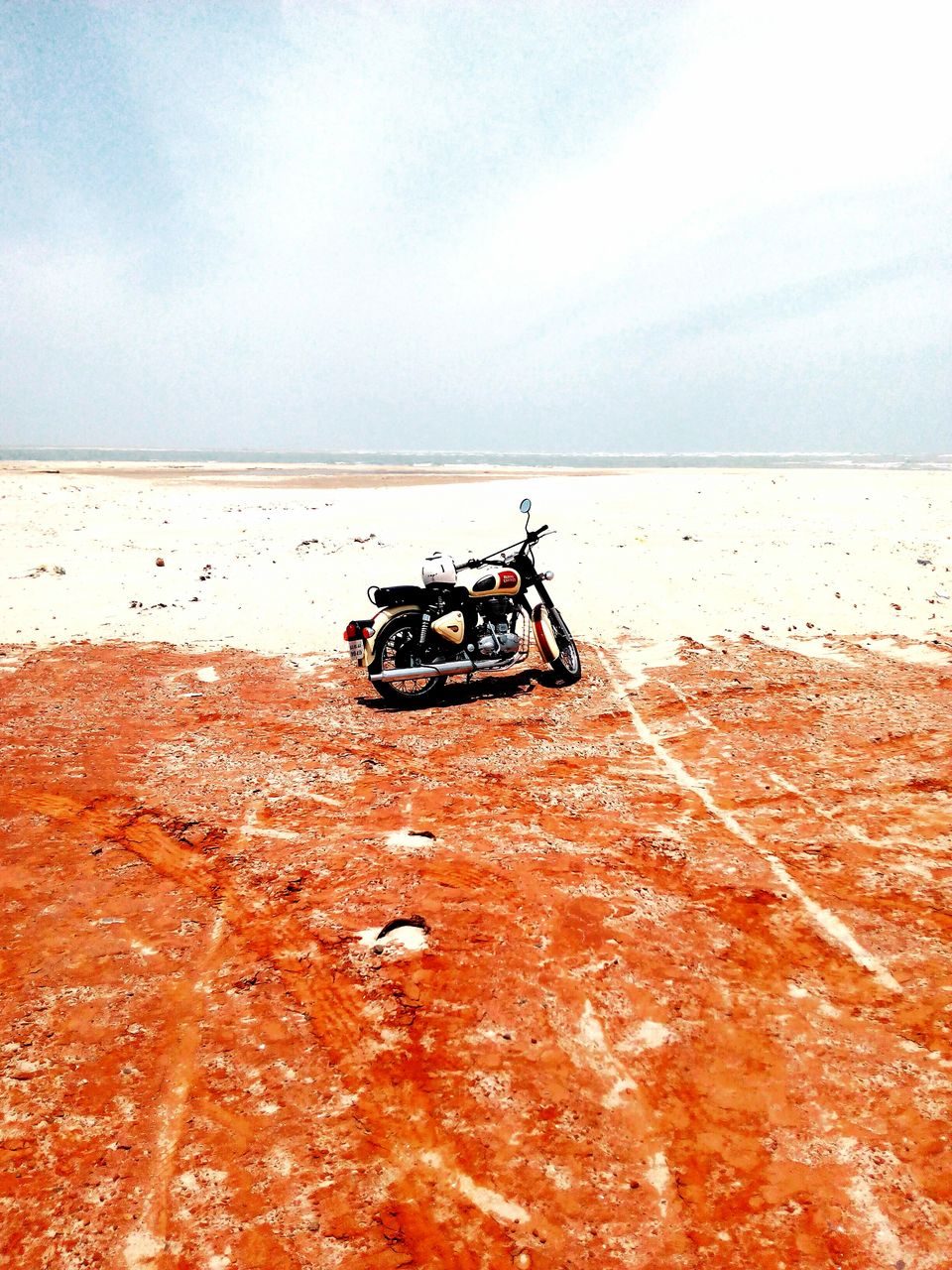 *And the road ended here. This is 'Ram Sethu point'! Deserted to the core. Not a single person could be spotted. Where's the famous bridge but, which Ram got constructed to connect to Sri Lanka?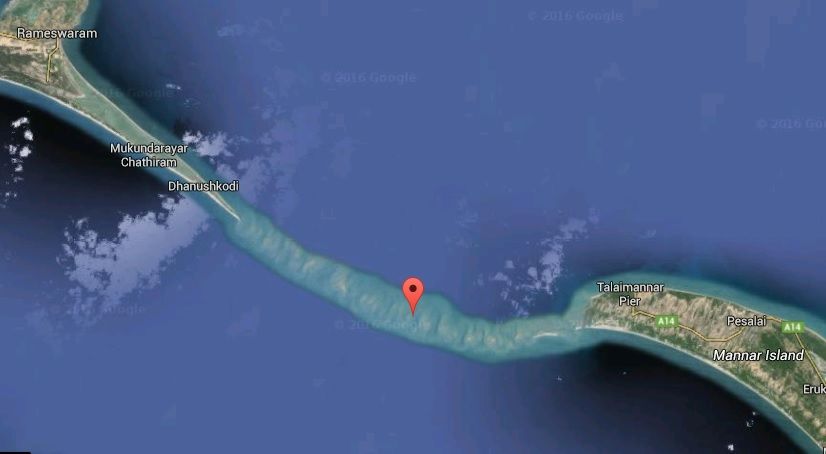 *But it can be seen in the satellite view. That means the bridge still exists, maybe submerged deep in water? Anyways I wasn't going to dive underwater to look for it. :-\
After spending some 30 mins there, I started back towards Dhanushkodi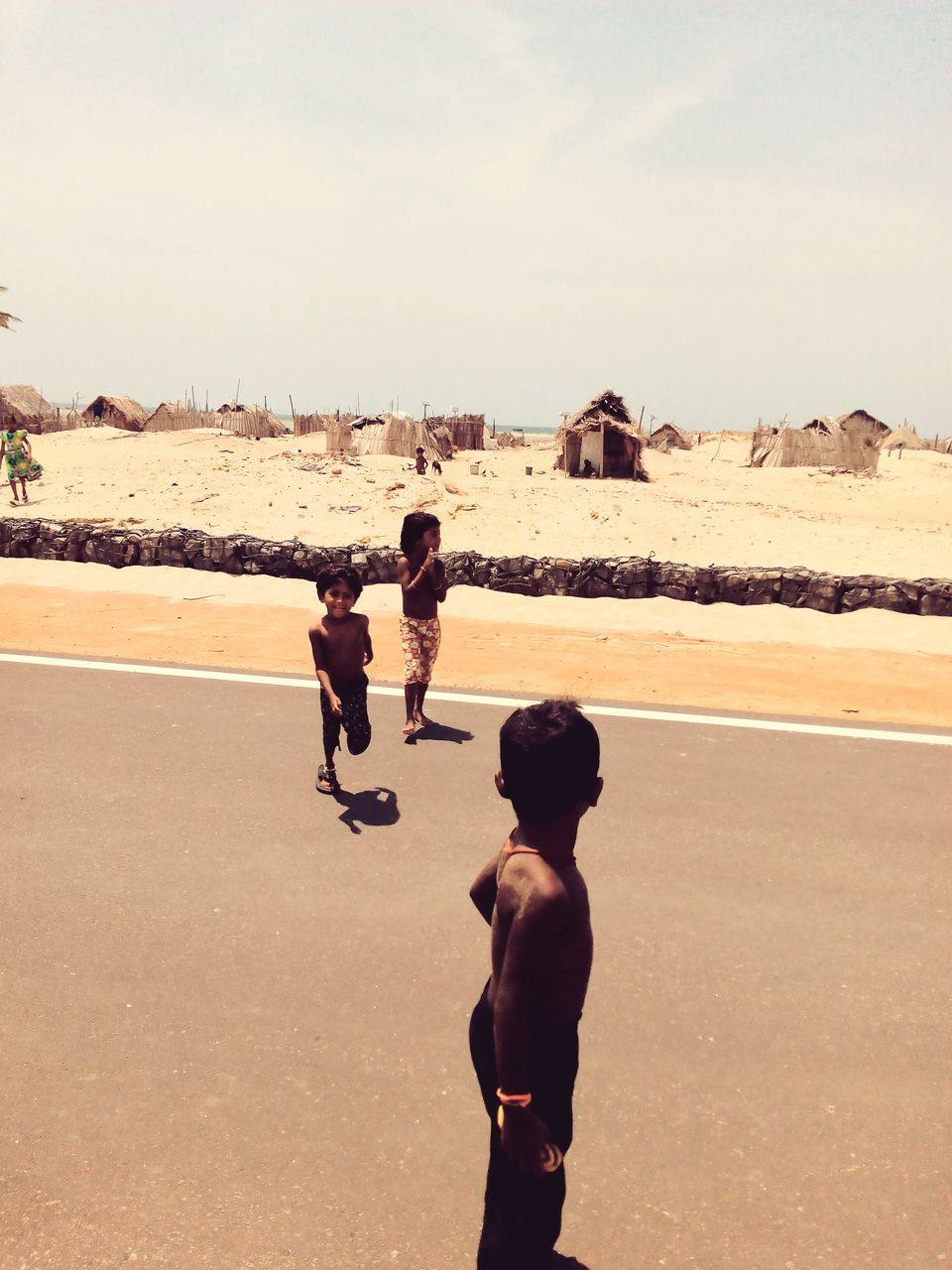 *On my way back, I saw some local kids running towards me! I think it was these kids, their courage to live here, and the playfulness that was in the air, which added a certain comfort level to this area, otherwise the place looked dreading in every aspect. The atmosphere was a furnace in day time. The air was cyclonic in nature, and there was a risk of flooding with ocean water all around, worst case a Tsunami. And people do have witnessed all of this in the past, and lives have been lost. So, Hats off to the 'fearless' local inhabitants living there now!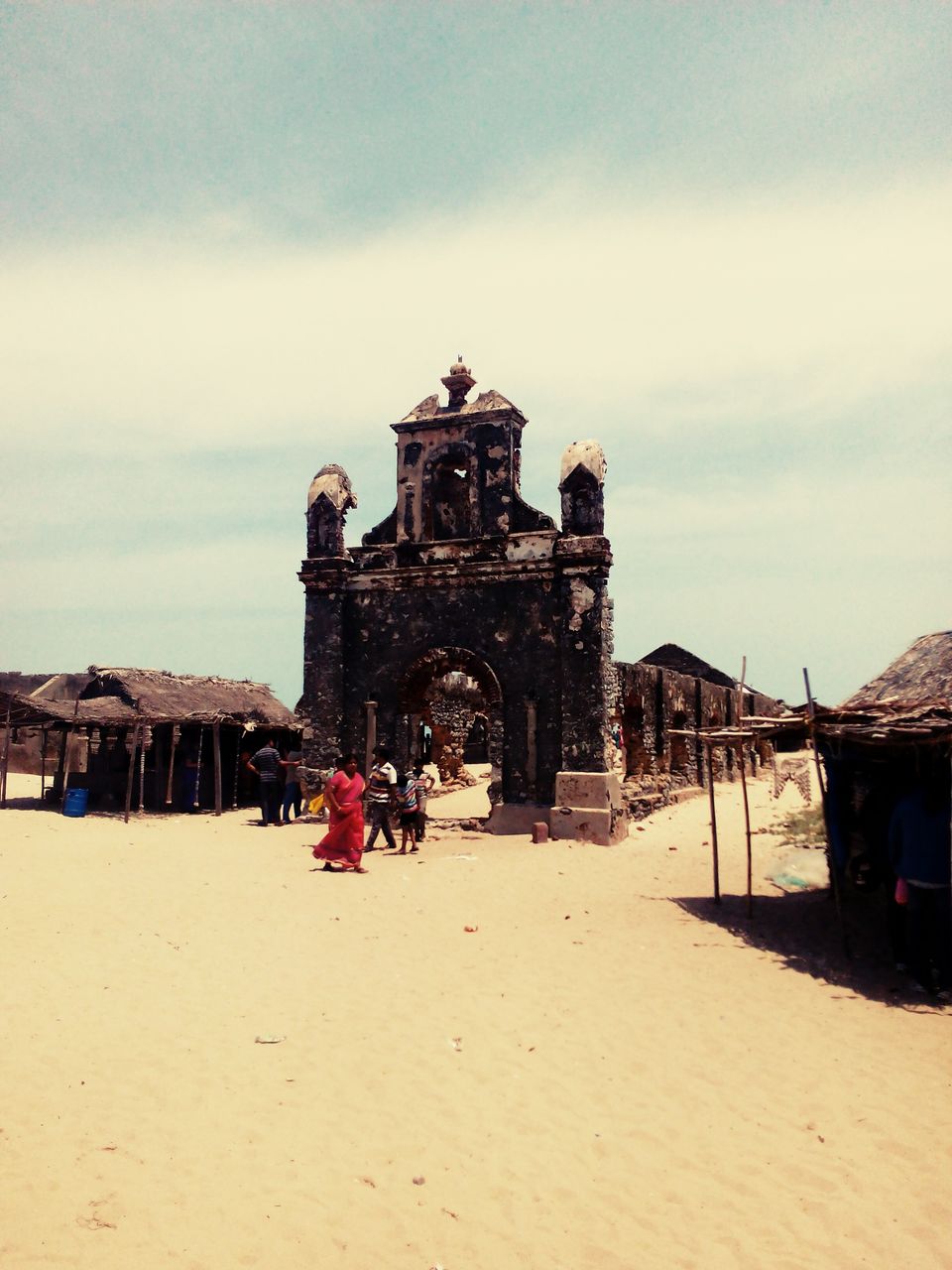 *The marketplace and ruined structures at Dhanushkodi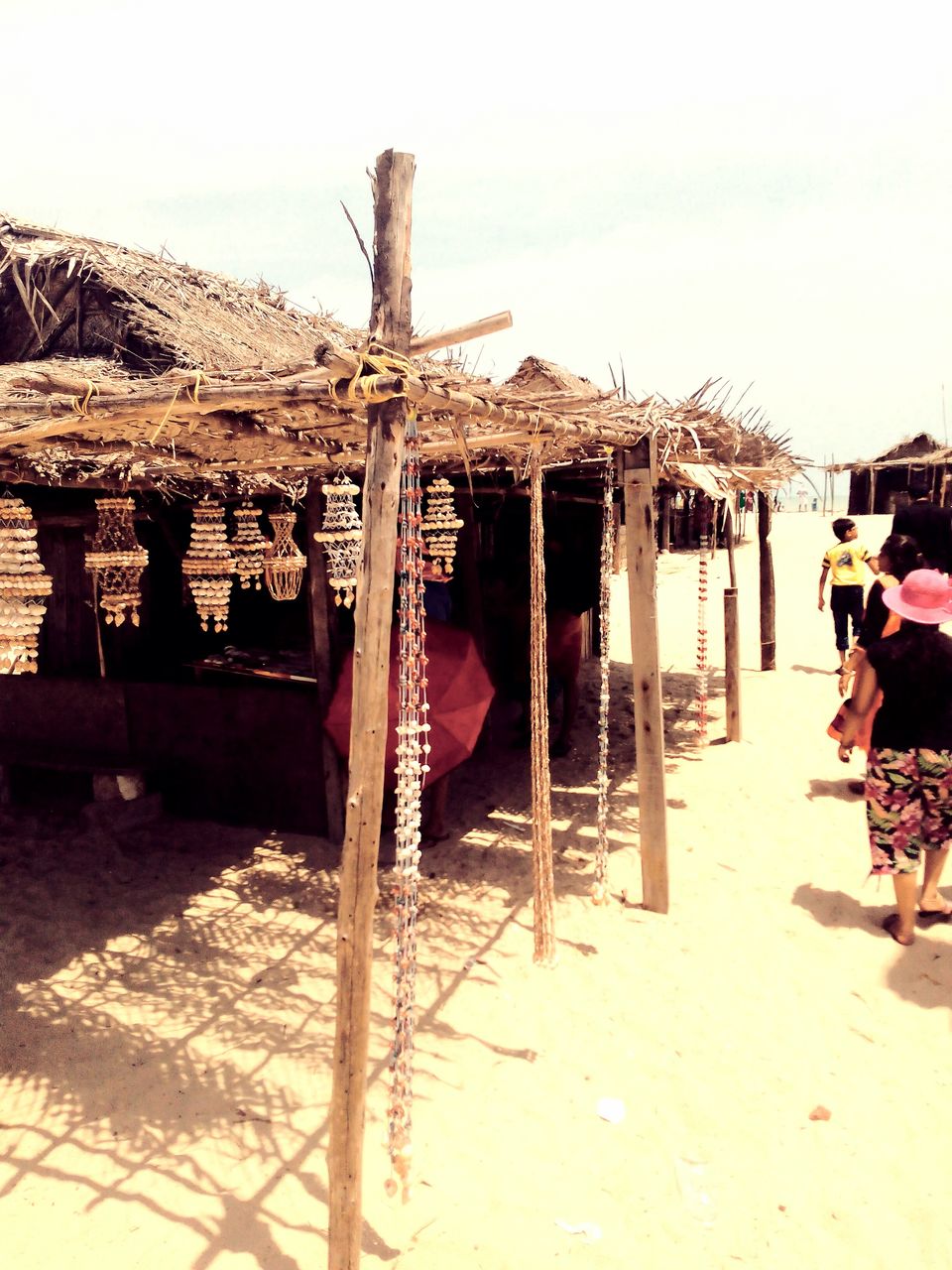 *These hanging decoratives, are made up of 'sea shells' stitched together  
Rameshwaram Part 2 – Floating Rock and the unbelievable Pamban Rail Bridge
As I was riding out of Dhanushkodi and towards Rameshwaram, I came across a local asking for a ride. I nodded and he hopped onto my back seat. I stopped because he looked drained under the hot sun, plus I thought will get some Tamil interpreting done for my Hindi. A very big reliever indeed, as in most of the village areas in Tamil Nadu, Hindi is not much spoken. But nonetheless, I had learned some important words like Tanni (water), saapad (food), and mitakkum parai (floating rock).
Mitakkum Parai,
That is what I wanted to see now. Had heard so much about these floating rocks in Rameshwaram. People said, one was kept inside the main temple in Rameshwaram. And then there were some, who said that such floating rocks can be seen scattered in the ocean bed, which have been detached from the bridge long time back. My local guide cum well-wisher who was sitting with me, plunged in and said – "Sir, turn right!" We both could now see a temple far away on this road. The 'Kodanda Rama Temple', which he said was known to have the floating rocks.
And I quickly rushed with my bike.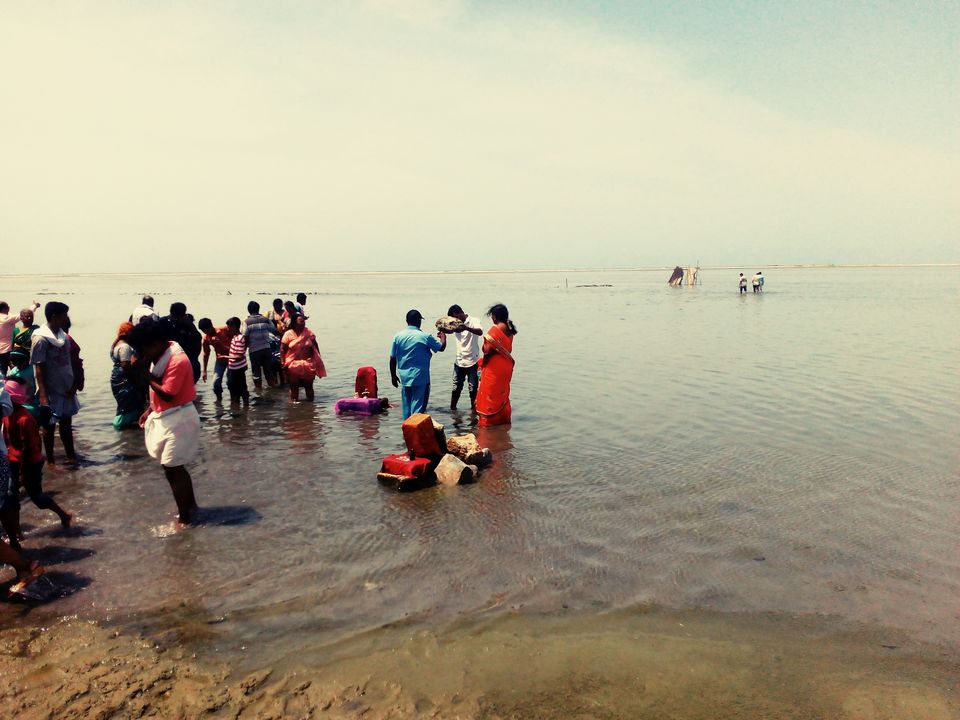 *And we reached here. And...... the floating rock.....is right there. Yes! Can you see the guy with a white shirt on the right most? He is holding it. Can you see?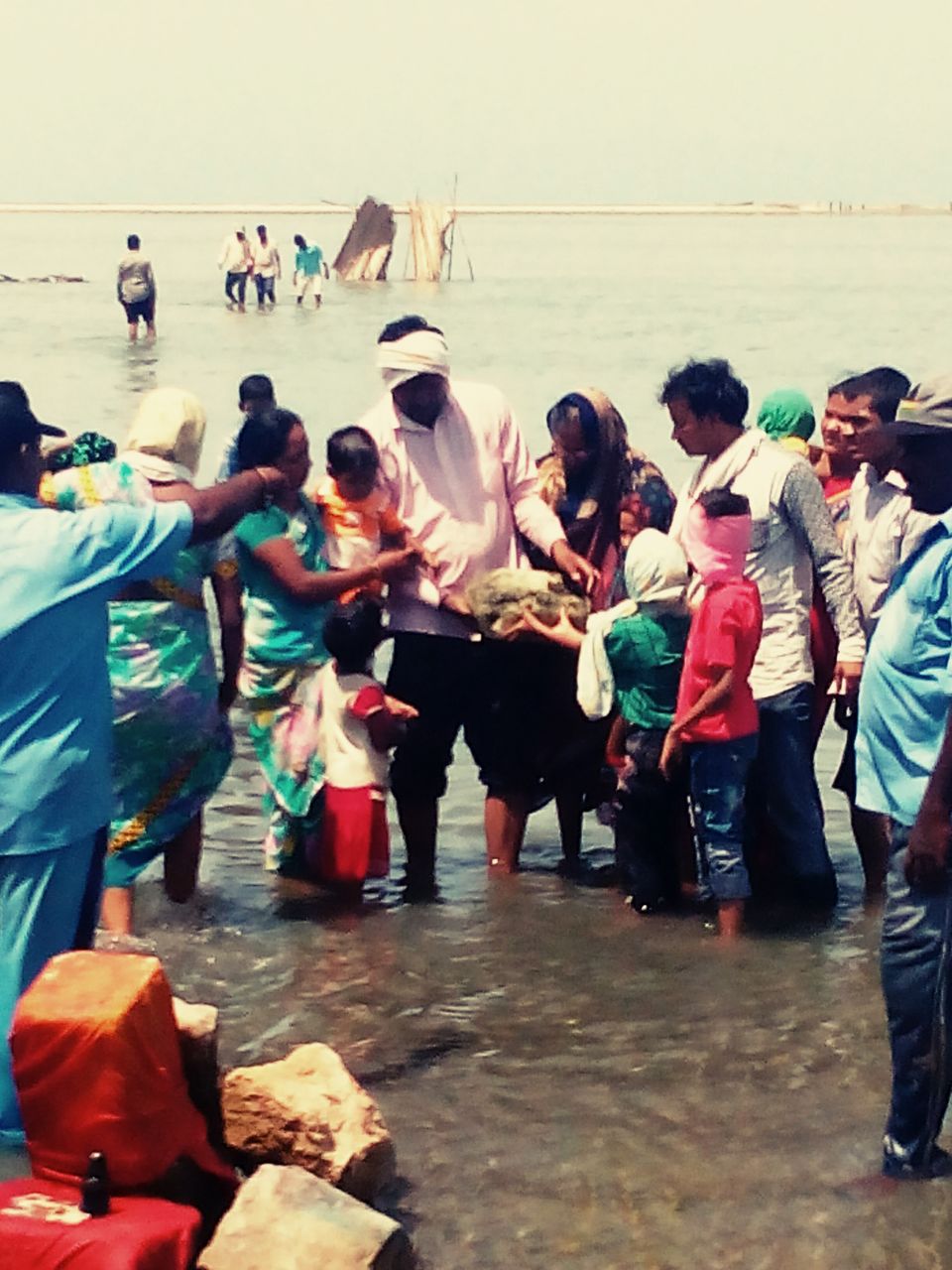 *No? Let me give you a closer look. Now, can you see?
The local guy who was with me, asked me to go inside the water and touch it. But I dropped that idea, as it was crowded with people, who were going all crazy and mystified and excited and trying to play with it, touch it and see if it's real or not. The rock was floating as well, and it was making people all the more crazy.
Well, they would have been wondering that this is one of those rocks which was inscribed with the writing 'Ram', and then started floating. Hmmm…..! Let's get out of this insane logic guys. The scientific logic which has been given behind these rocks is that they erupted out of some volcano as lava carrying air and water inside. And as the lava cooled to form a hard rock structure, the air got trapped inside. Most of the space in such rocks is occupied by air. That is why they are light in nature, and float in water. They have a name as well, 'Pumice Stones'.
Well, the above logic is also debatable but at least earns some weight due to some logical reasoning.
All I can say that, Ram was intelligent to see such rocks around him, and then use it to build a bridge. That's badass!
Anyways, where am I with my bike right now?
Yeah, I am on the road again guys. Speeding back towards Rameshwaram and the world famous Pamban Rail Bridge which I could not see when I reached here yesterday night.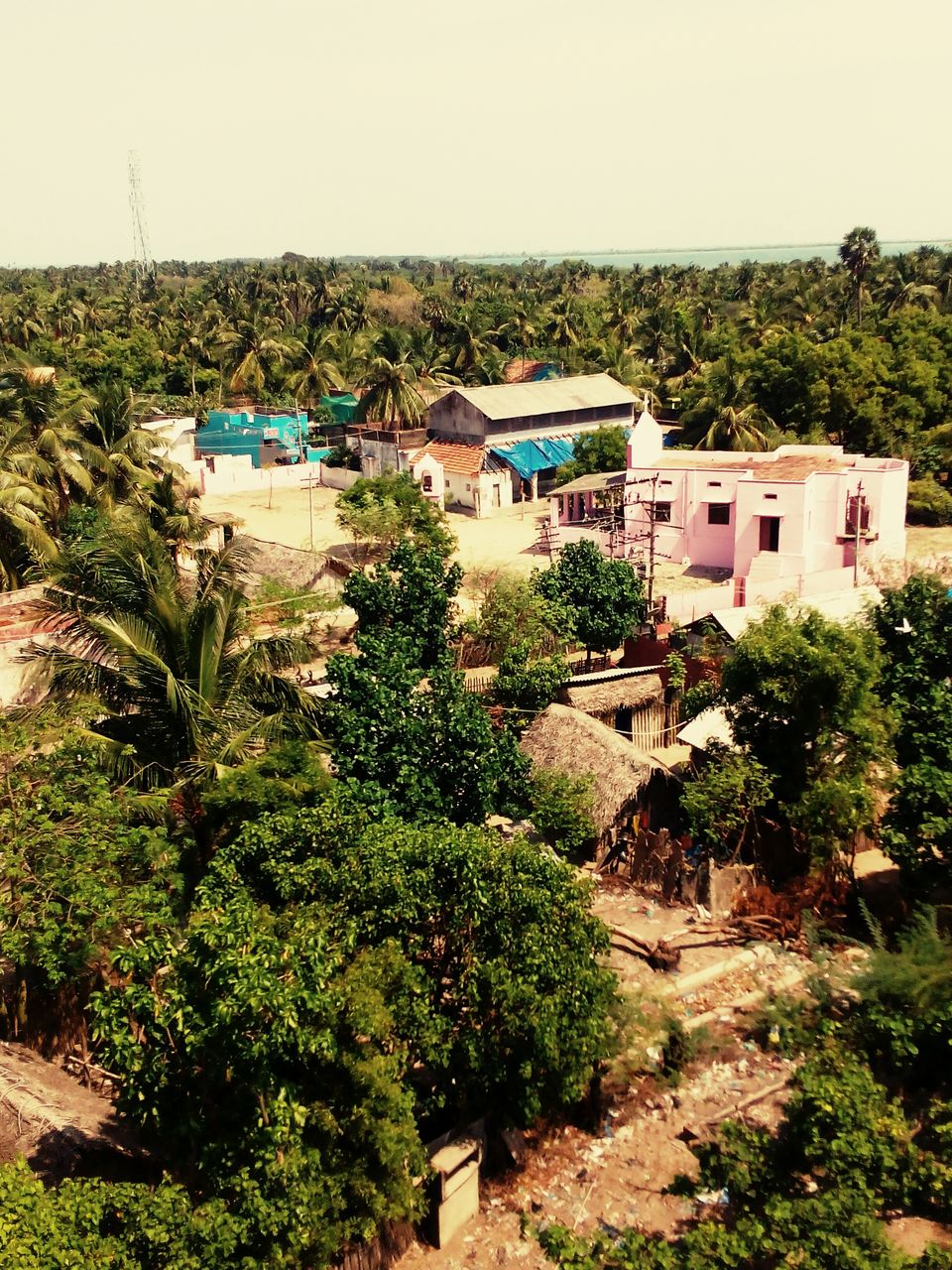 *This is how the people of Rameshwaram dwell. A view of the town from the Pamban bridge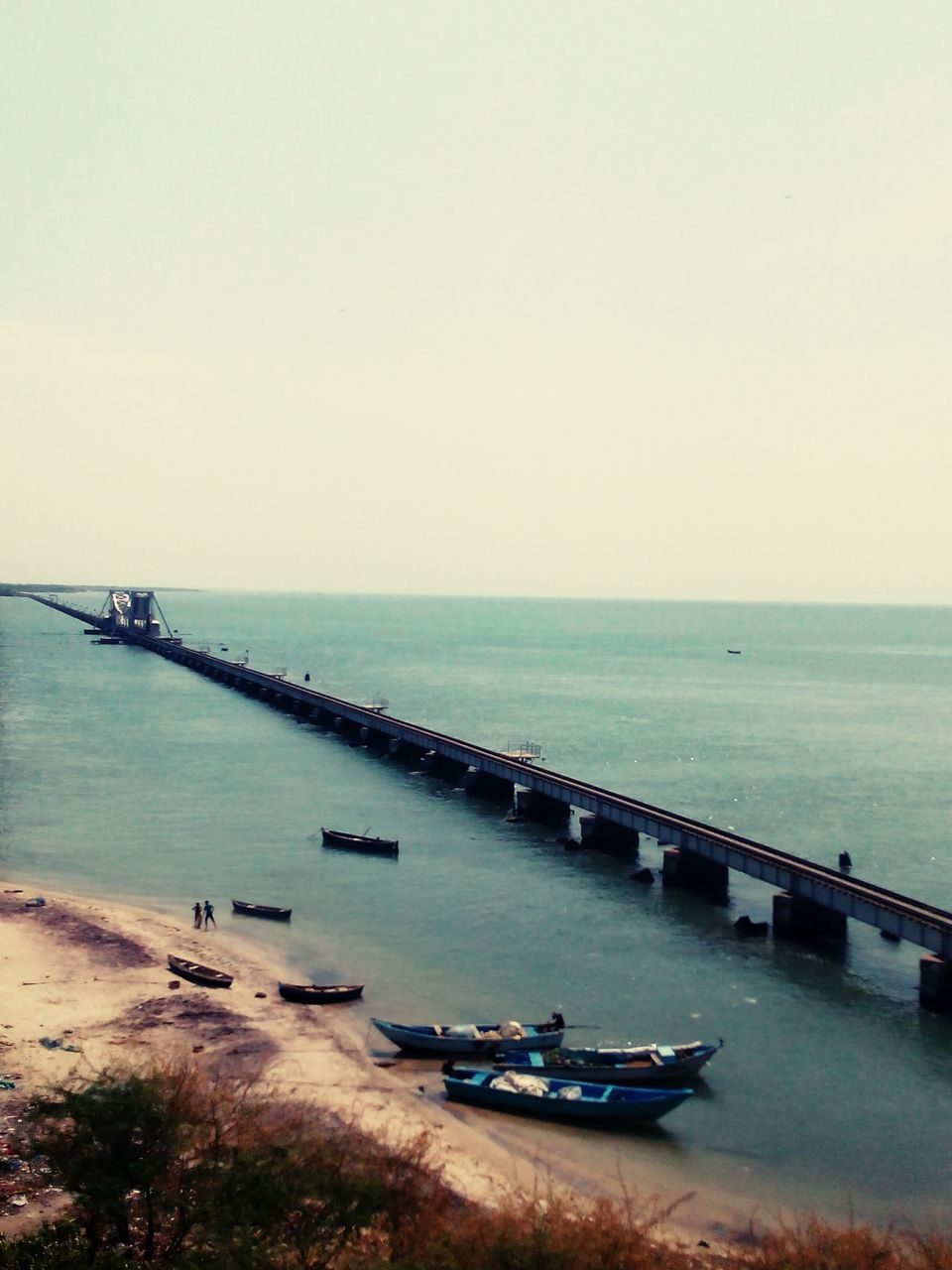 *And finally I look at you. What a stunning view of the 2 km long Pamban rail bridge placed over the Indian Ocean connecting Mandapam to Pamban island at Rameshwaram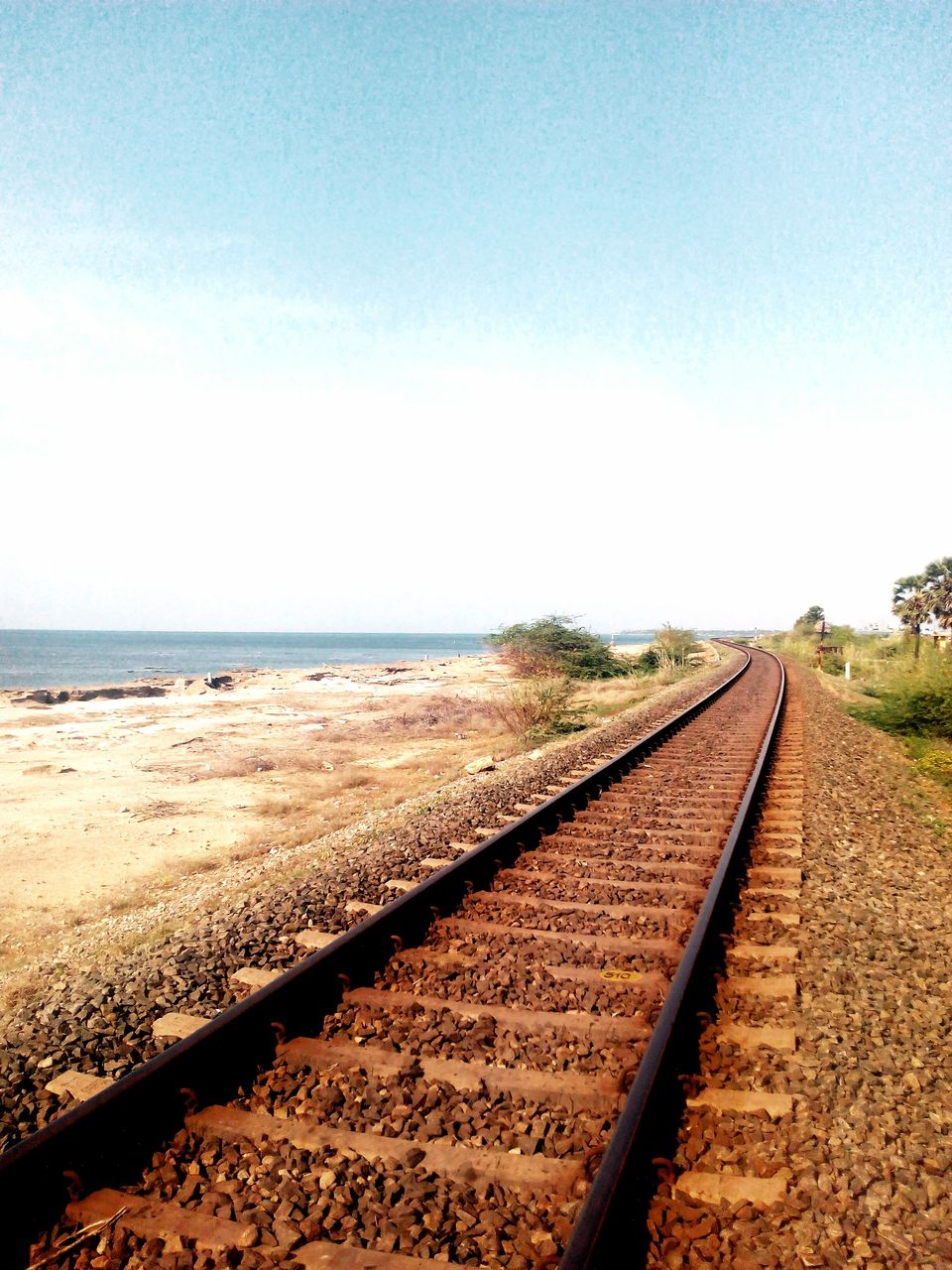 *But I am not done with you. Want to do a handshake with you if you don't mind. See these tracks? They are going to lead me right next to the bridge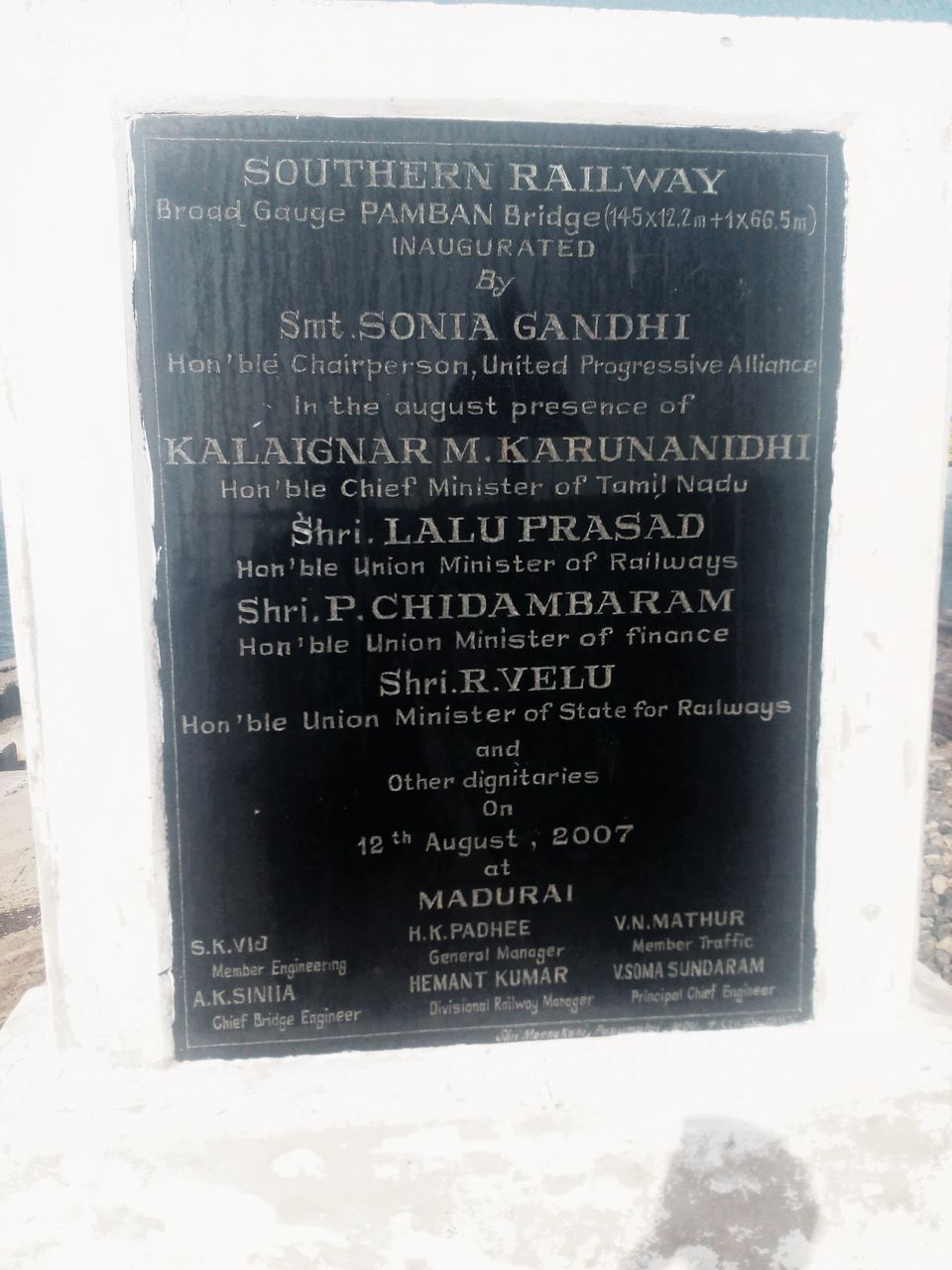 *Hmm....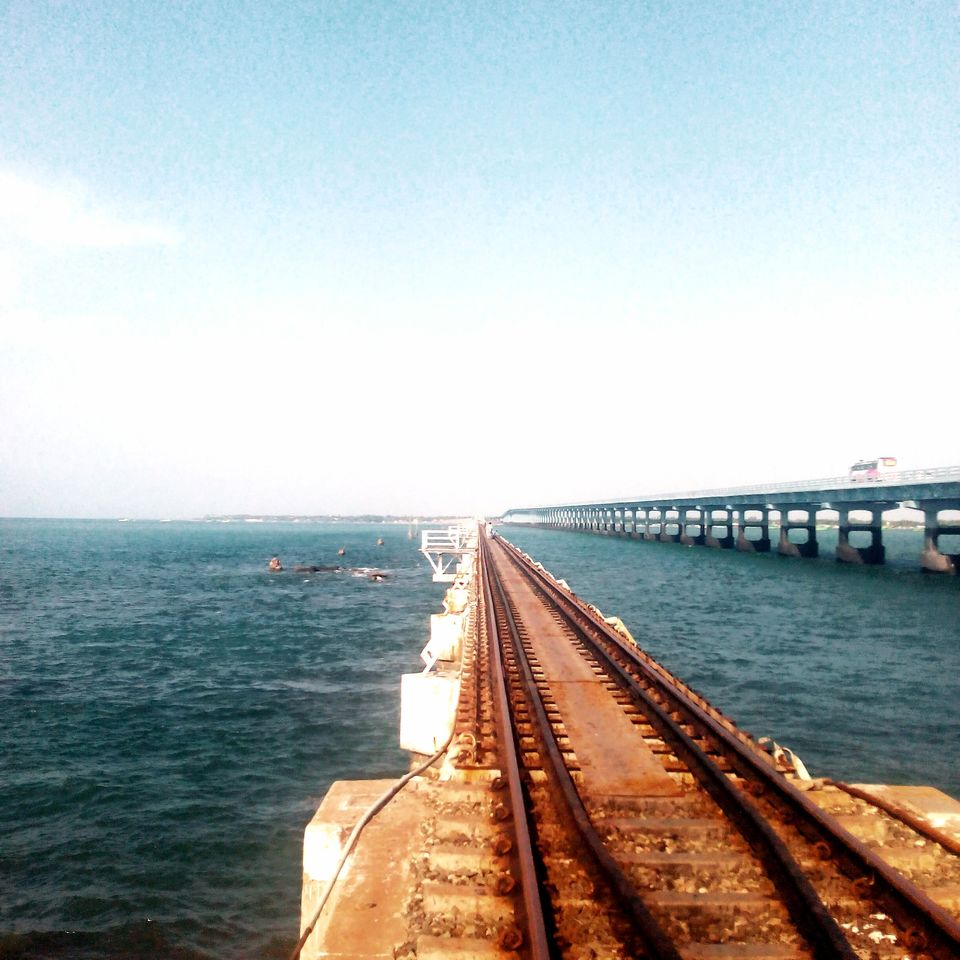 *Hello there. Shall I walk any further?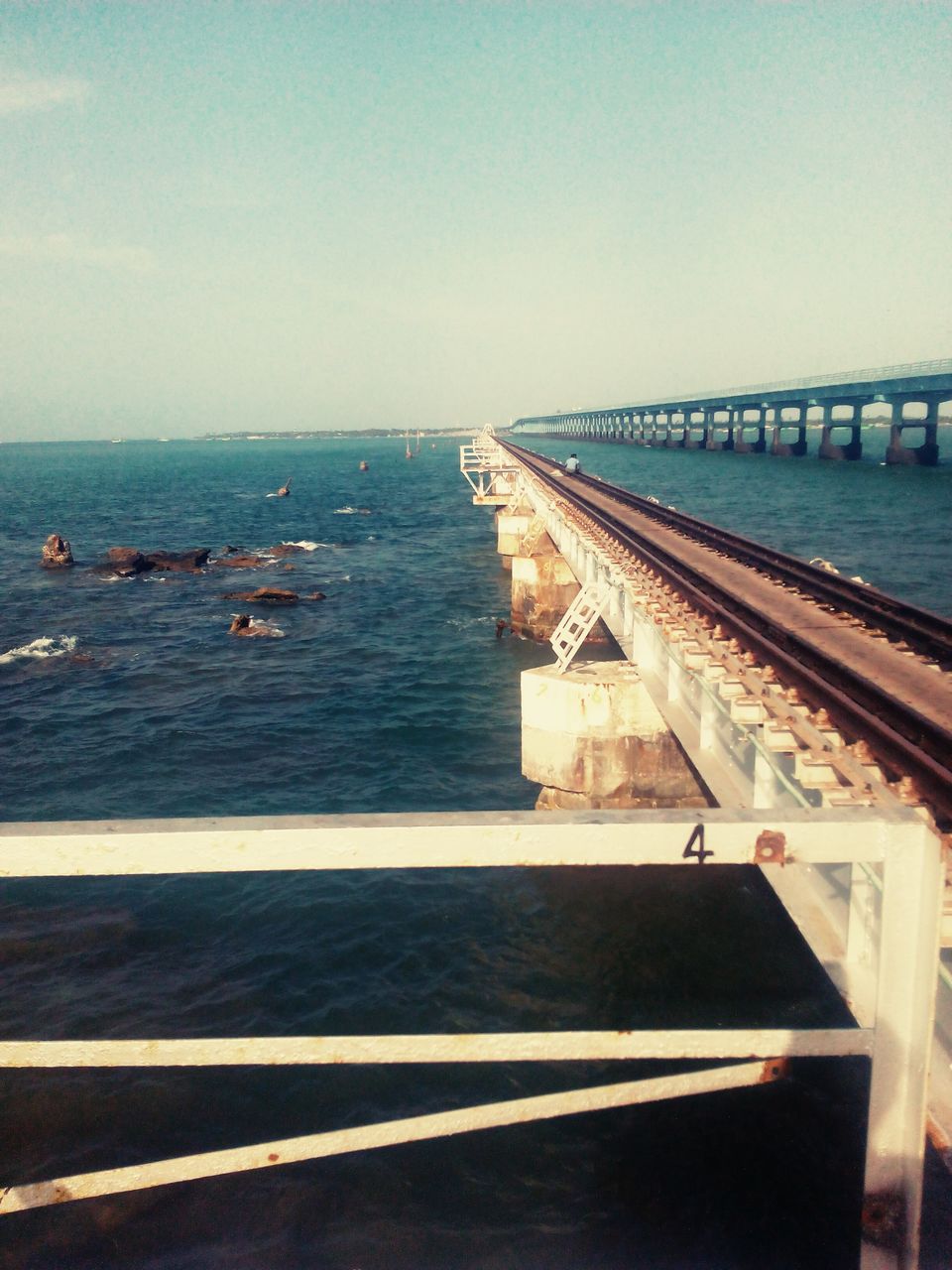 *Ok, I have walked further towards the side pedestal. And my heart is pounding faster than a bullet train. Btw, I am not the only crazy here. Can you see that guy sitting on the tracks casually, showing his back side to the tracks as if this is his second home
Rameshwaram Part 3 – Speed boating, Coral reefs and Aryaman beach
Ok, what else can I do in this area?
Maybe I can ride little bit ahead and .…….. wait a second! Is that a motorboat?
Looks like!
(A kilometre from the bridge, and I see a boat parked at the bay of the ocean)
Should I do this?
Is it allowed?
Can't see any tourists out here, maybe it's for private use.
(There was a guy sitting there, and so I enquired with him. He said, motor-boating can be done but I need to get a pass from across the road)
Well well well, how difficult would that be a task? :)
Quickly I had the pass with me now, and was ready to jump in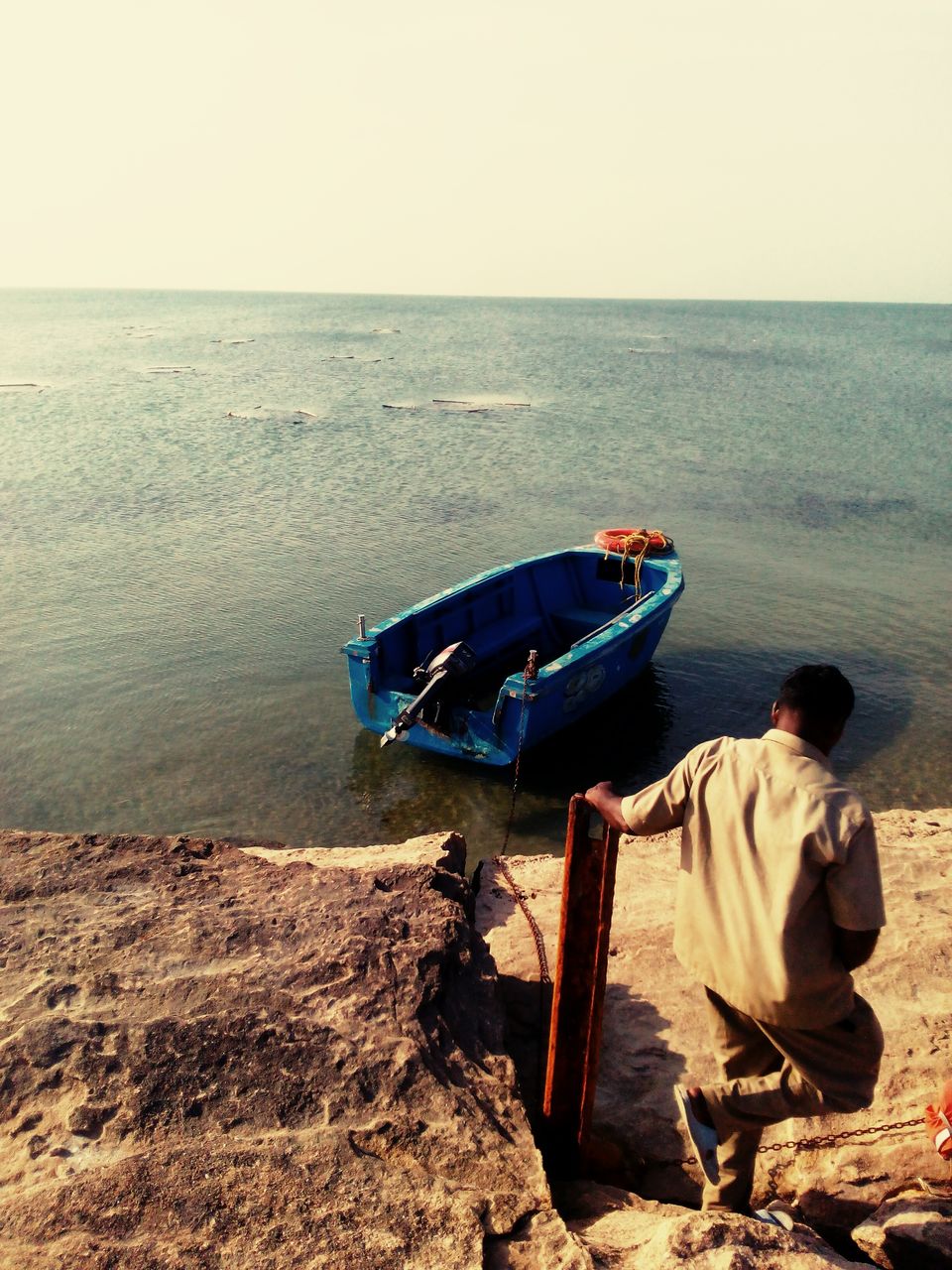 *The boat and the ocean behind looked like some portrait from Picasso. I was excited to be doing this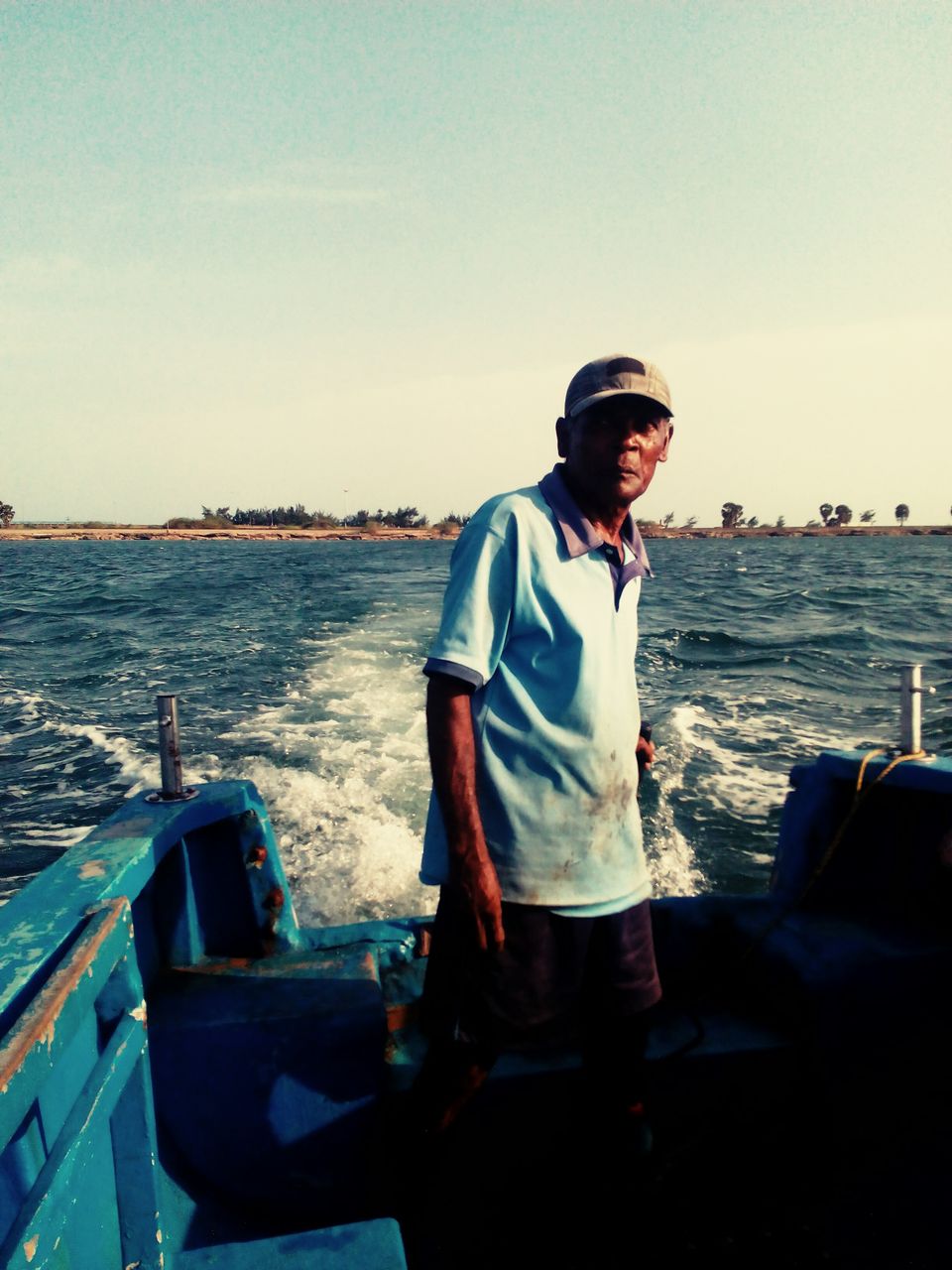 *Soon I had left the bay area and into the India ocean. Adrenaline had started to kick in. The operator was the guy in the picture, who I remember told me to lose my beard, coz I may look cooler without it. Well, I did not take him seriously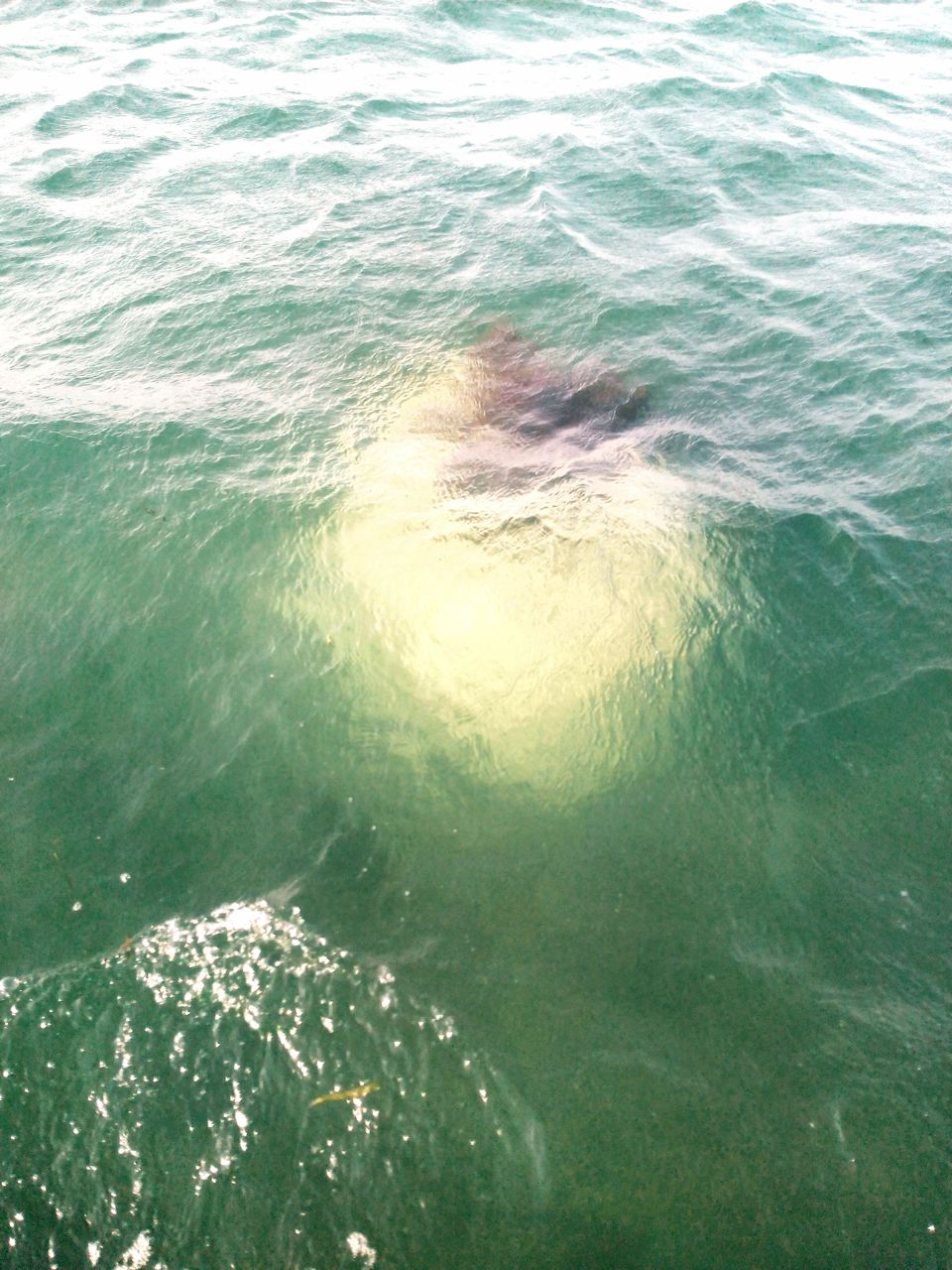 *And the thing for which we came so far in the ocean. Bright shining Coral Reefs. They were all around
After I got over with boating, I went ahead on my bike towards Aryaman beach that I had heard about a lot from people. You will see a signboard of Aryaman beach towards right when you are heading out of Rameshwaram. After some 20 km of ride, I took that right.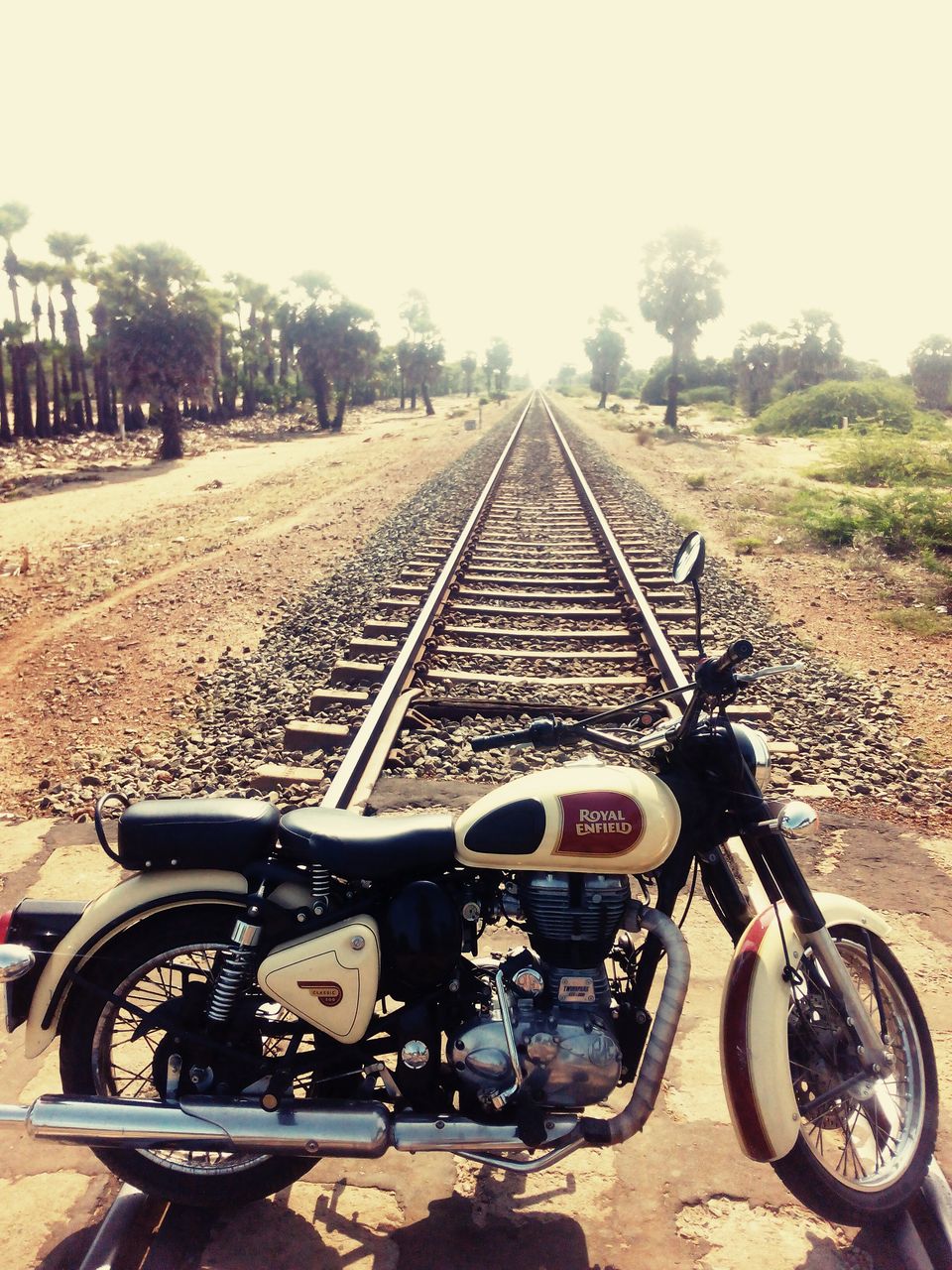 *On my way to Aryaman beach. These are the tracks which lead to the Pamban rail bridge. How's the shot?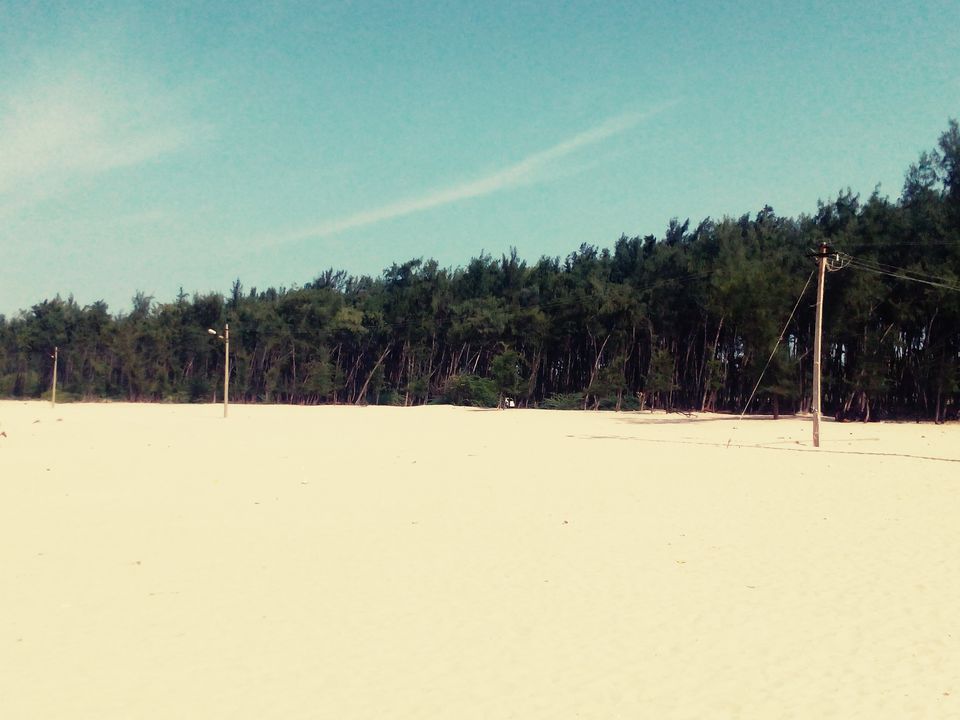 *At Aryaman beach. Less crowd, and lot of trees
*A decent clean beach. Evening is the best time to come here
After two nights stay in Rameshwaram, it was time to head back to Bangalore.
But no,
A made a slight change..........again!
The night before the day when I was supposed to leave, I was in my hotel room and all that I was figuring was a route to reach Bangalore. Below was the route that I had in my mind and which I brutally cancelled –
*[C A N C E L L E D   R O U T E]
Feels good to write 'cancelled' in bold. I was so proud of my decision.
Below revised route is what I did -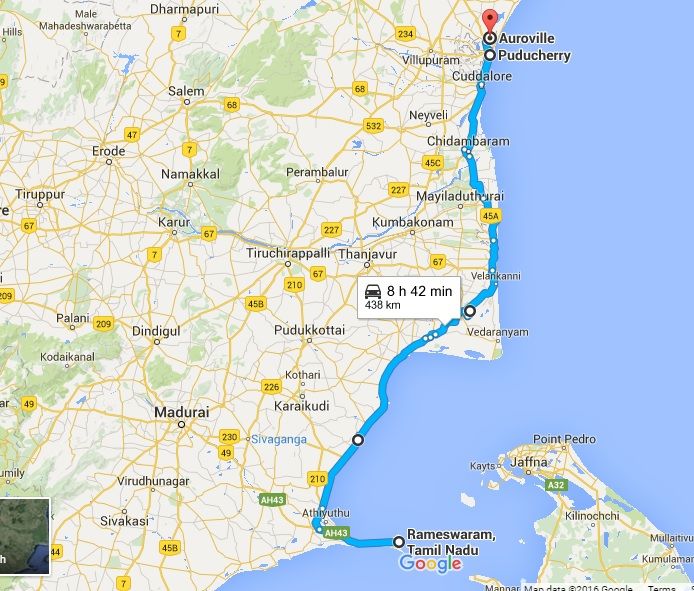 Yes boys and girls, I thought why not make a circle and then reach Bangalore. And so I decided to hit Puducherry and spend the night in Auroville.
Another random decision and I was feeling good about it!
Next morning sharp at 4:30 am, I left my hotel in Rameshwaram. There was no one in the reception and I silently sneaked out without disturbing the staff who were having a nice tight sleep.
The road to Puducherry and the spiritual vibe at Auroville (Last leg)
Empty road, silent gulley's, dark and moonlit ocean water. And me riding at a speed of 60-80 kmph through this overwhelming scene, getting out of Rameshwaram. One thing I can certainly declare, (now that I have a good amount of riding experience) –
"Early morning rides are not to be missed".
After crossing Ramanathpuram, I took a right towards Thondi and Nagapattinam.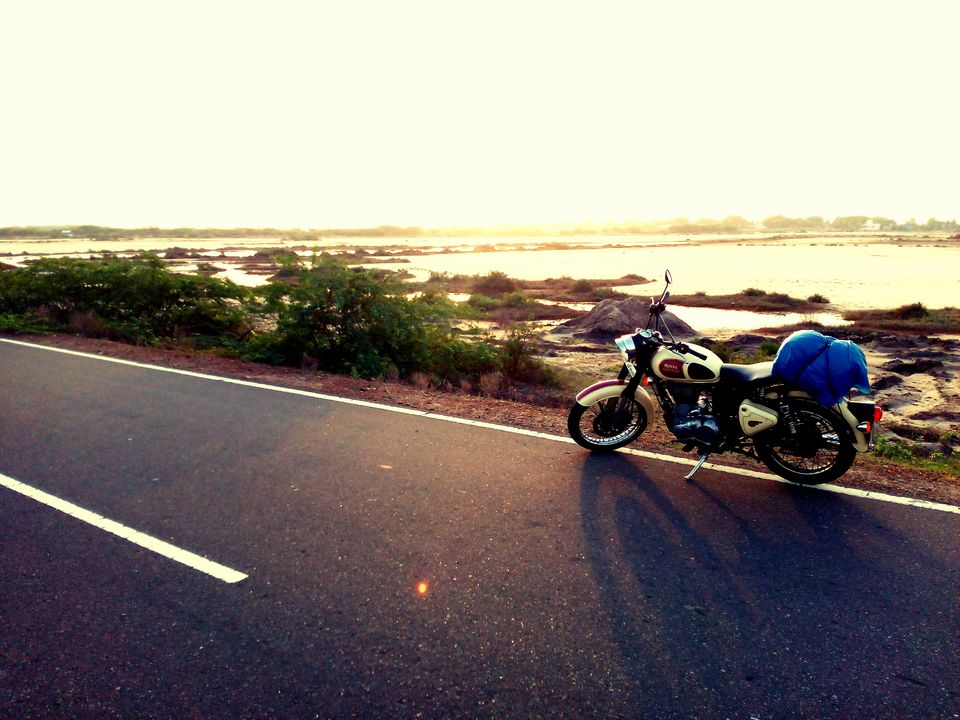 *Reaching Thondi at Sunrise. Should be around 6 am. I was a bit hungry now, and couldn't seem to find any food outlet opened this early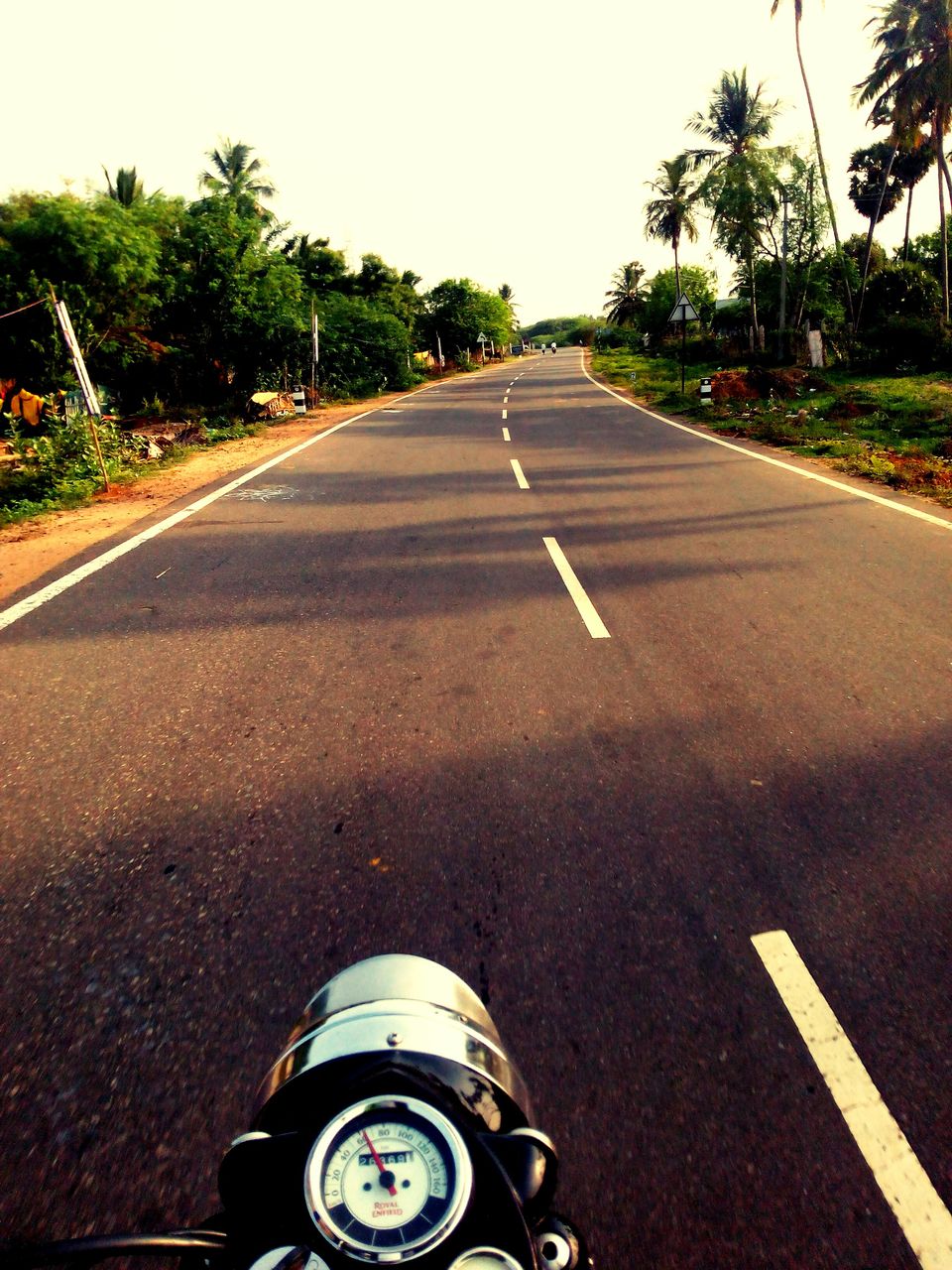 *This road from Ramanathpuram to Puducherry was pretty scenic. There were farm fields on both sides of the road, coconut trees, small villages on the crossings, back waters. Also saw brief sightings of sea shore on my right. The only problem was the sun, which was coming hard upon me. Anyways, my riding gear was protecting me from the heat to a good extent. And I also kept having water, ice cream, juice, and whatever that I could to keep me cool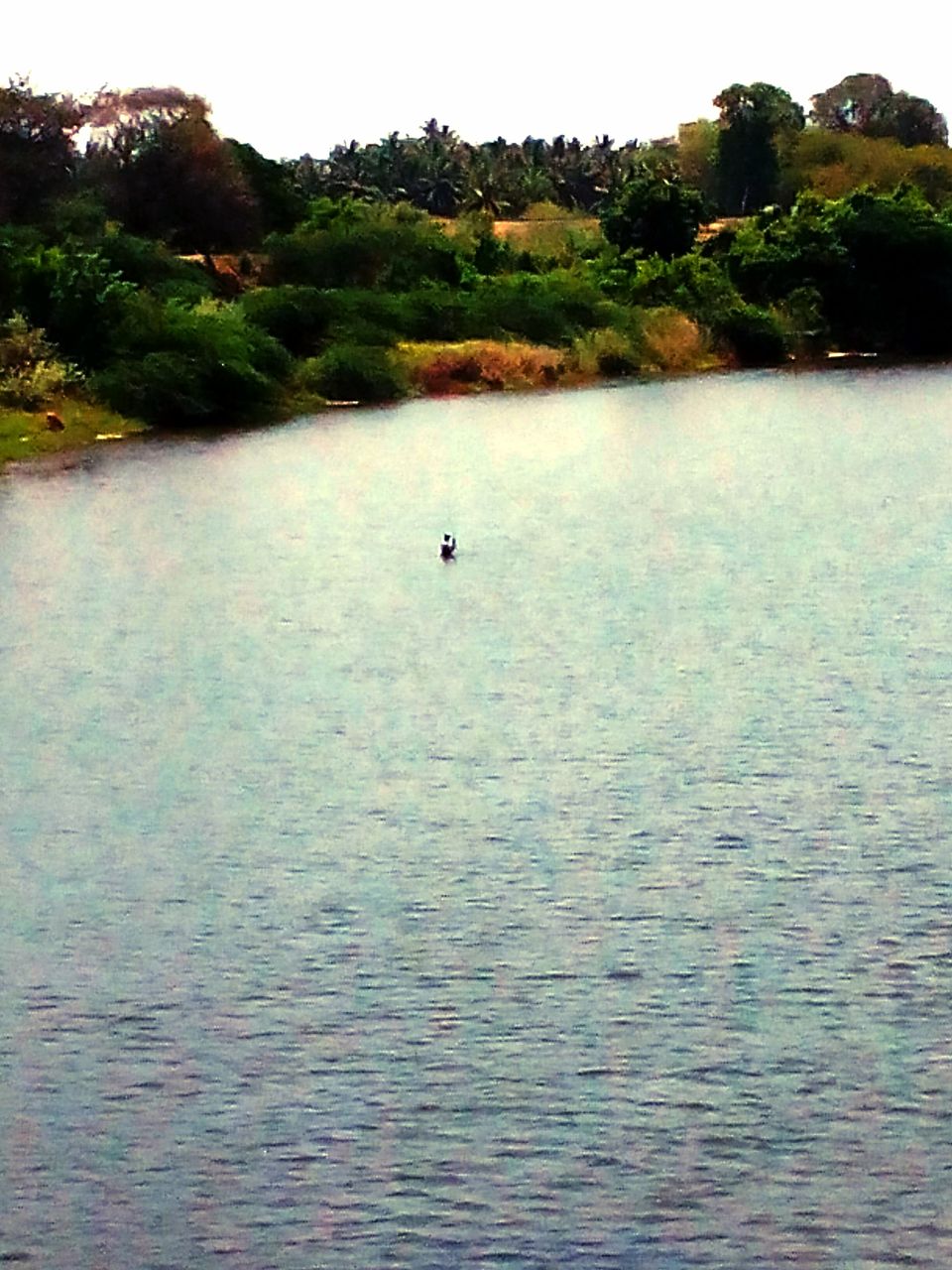 *A lake on the crossing and ….who's that? Morning prayers in the lake water, pretty cool dude!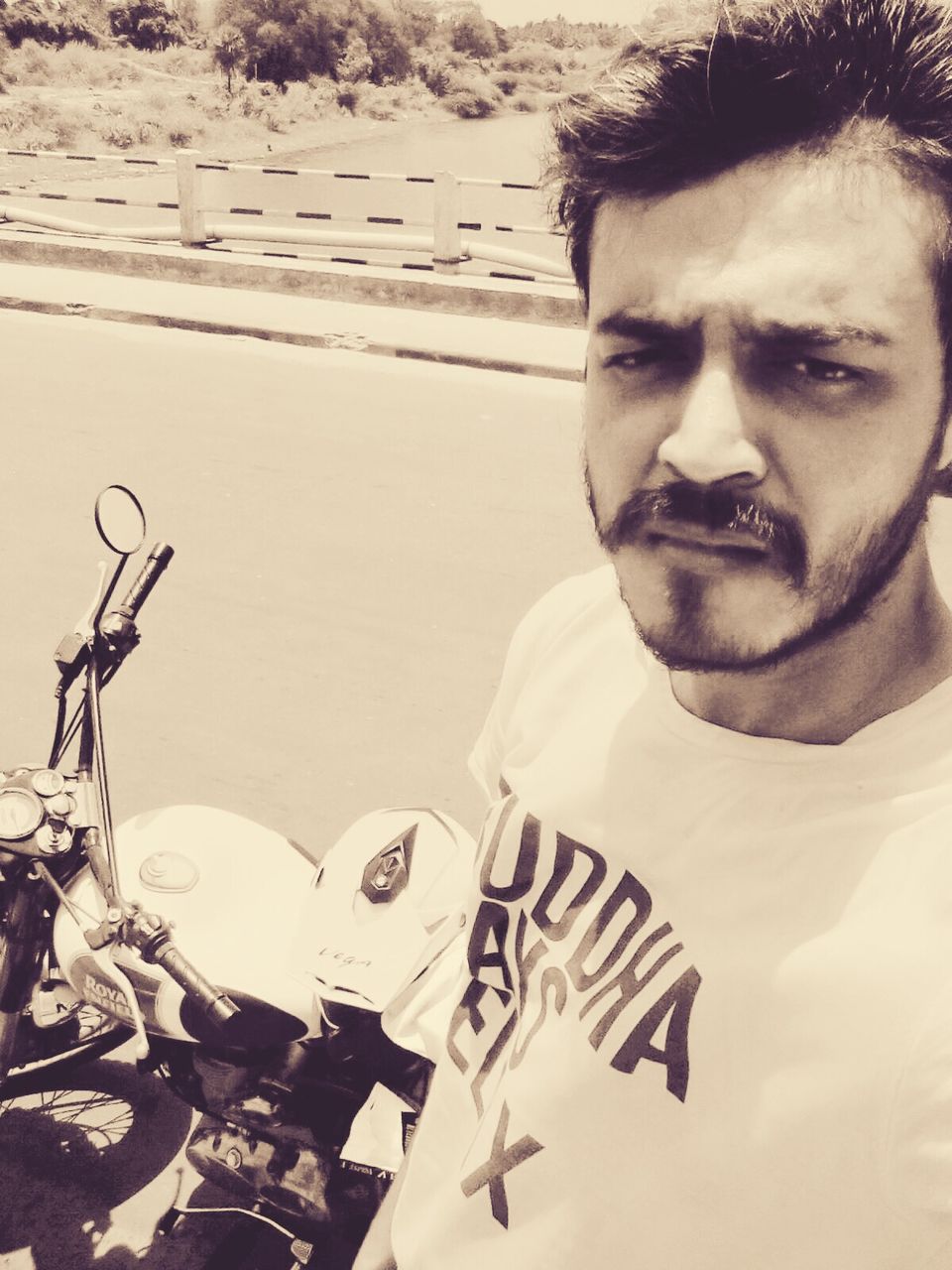 *Pretty long since I took a self-shot? The heat was tremendous, and I was getting dehydrated and tired every half an hour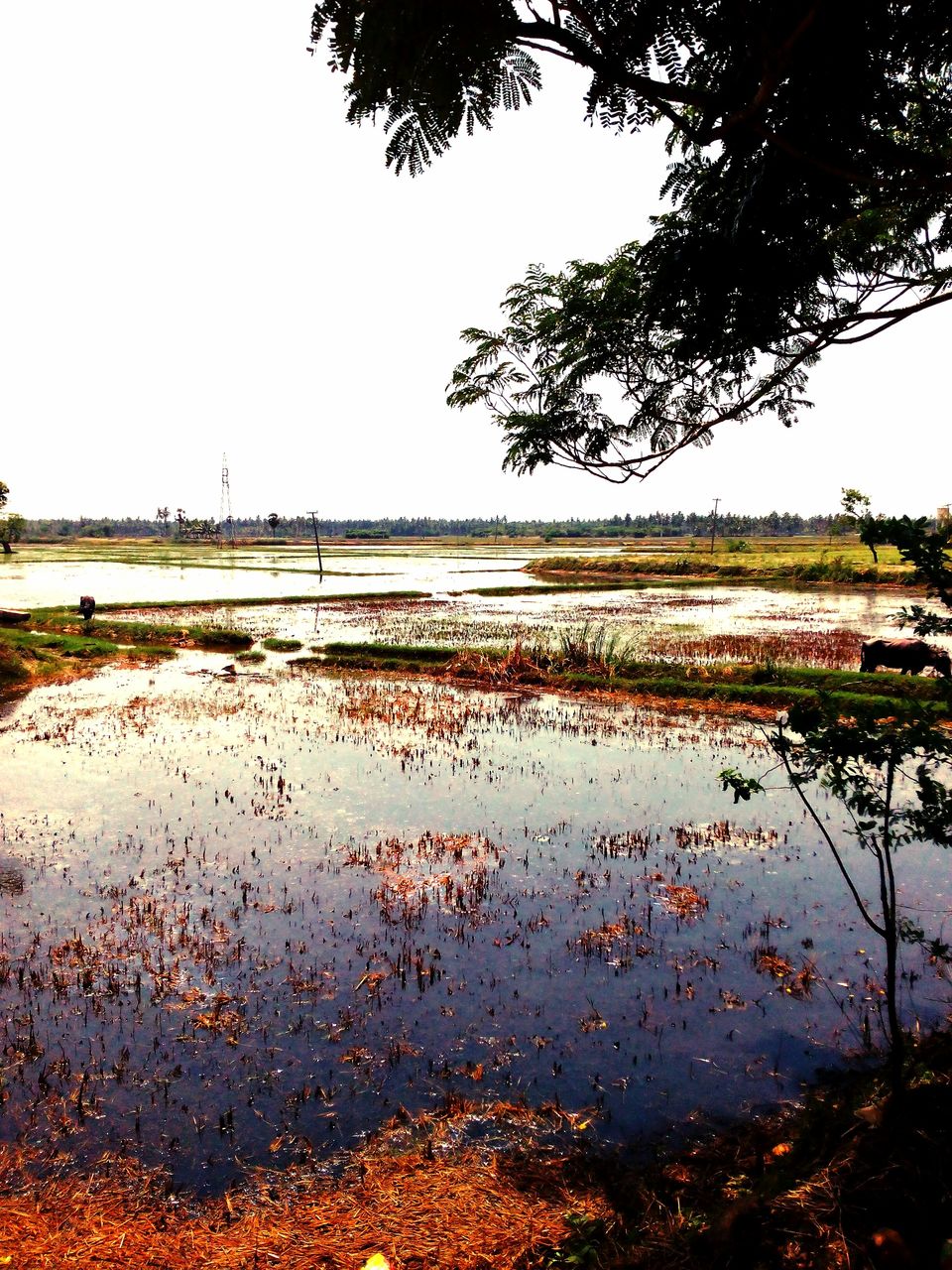 *Farmlands with back water. They were everywhere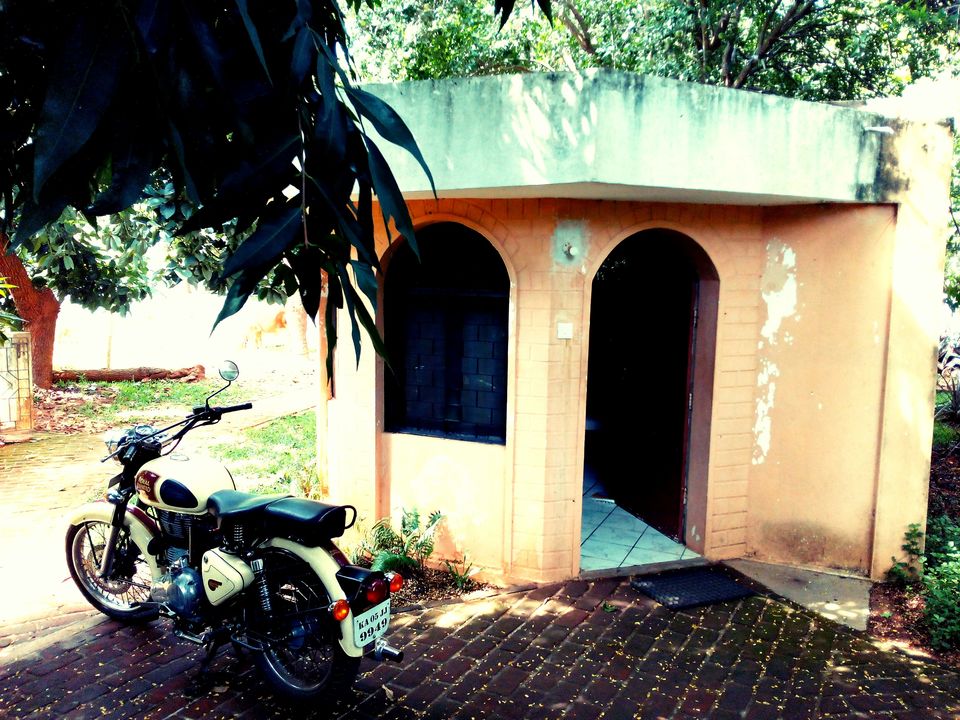 *After some 9 hours of time on road, I finally reached Auroville and unloaded myself in one of the guest houses there. Yup that's my room for the day.
Auroville is a small town near Puducherry, placed inside a jungle and inhabited and managed by numerous French communities. They call themselves 'Aurovillians'. The township is running on renewable energy sources, and believe in pollution free environment. Some kind of a parallel system that is opposed of, ways and governance we see in any typical city.
While I was there in Auroville, I also learnt that people from outside can volunteer and contribute in the upliftment and development of the township through various programs like organic farming, child education, healthcare, and various other low profile activities. Apart from this, you can participate in various meditation/yoga programs, seminars, musical events that keep happening there. The place also offers a line-up of some mouth-watering bistros, French/Italian cafes and eating joints.
An atmosphere of calm, peace and chill is what Auroville has to offer, and nothing else. A truly captivating place!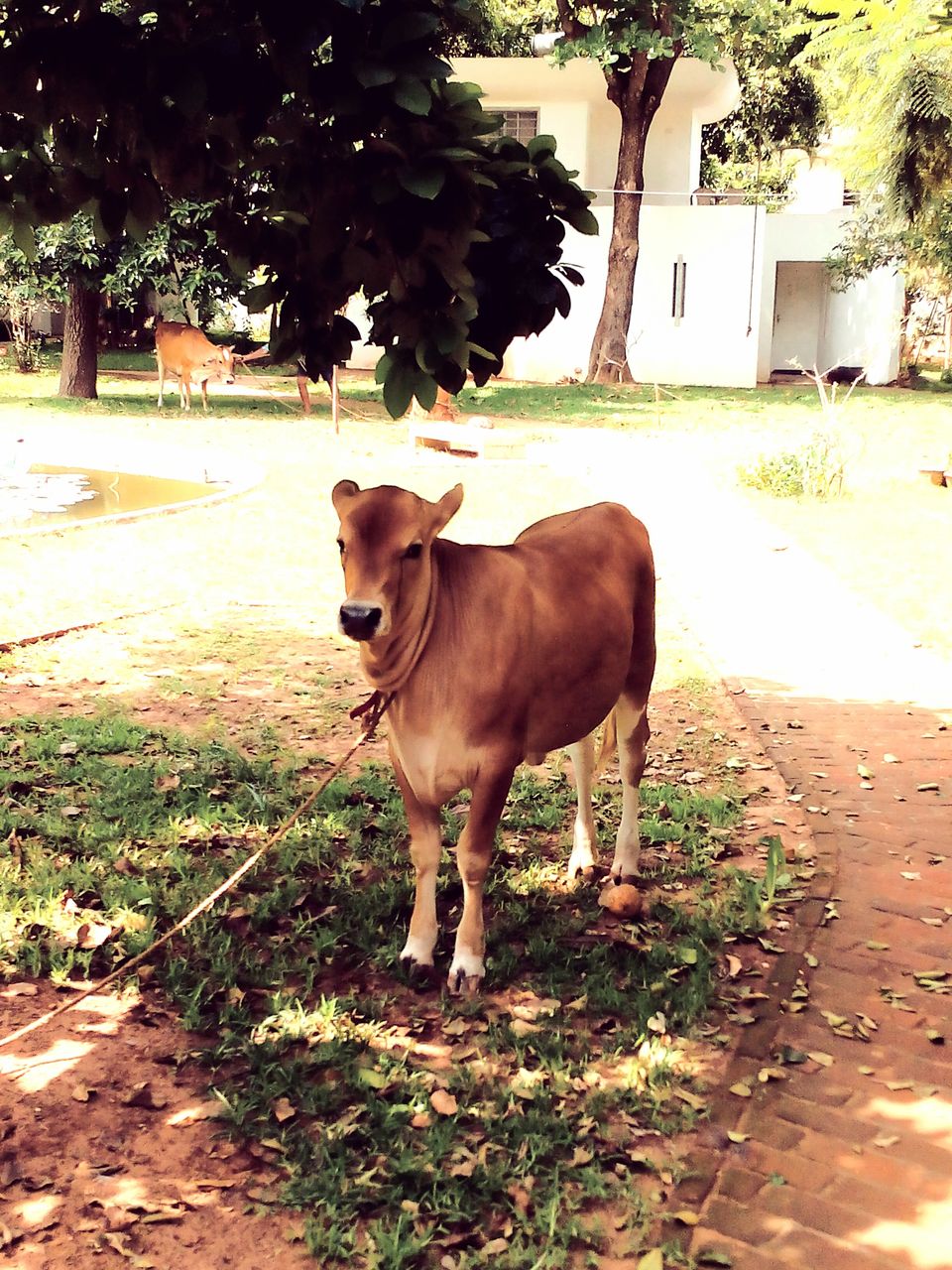 *Holy cow!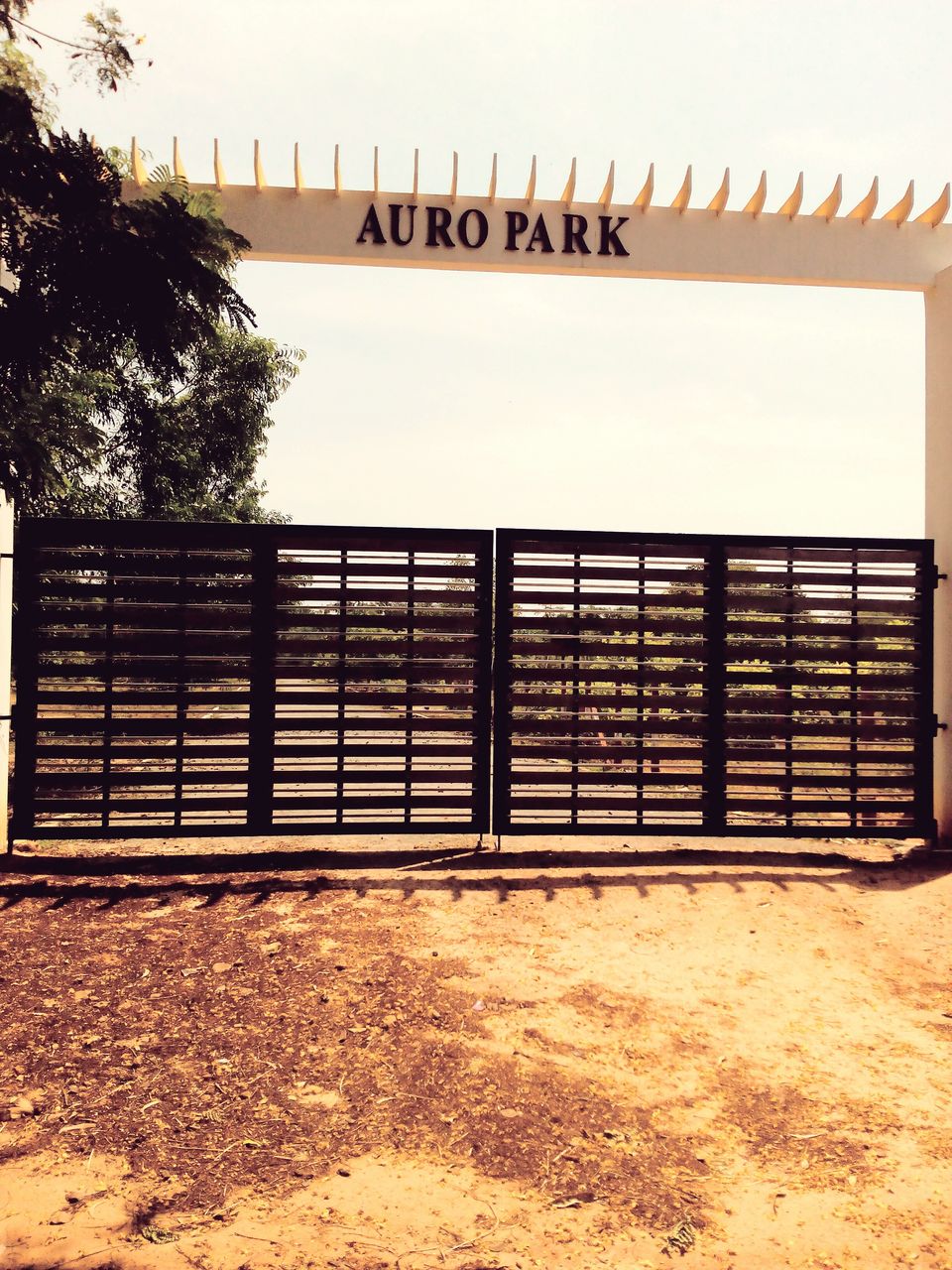 *Couldn't go inside as the gate was locked. Most of the places in Auroville are privately held, and you just can't go inside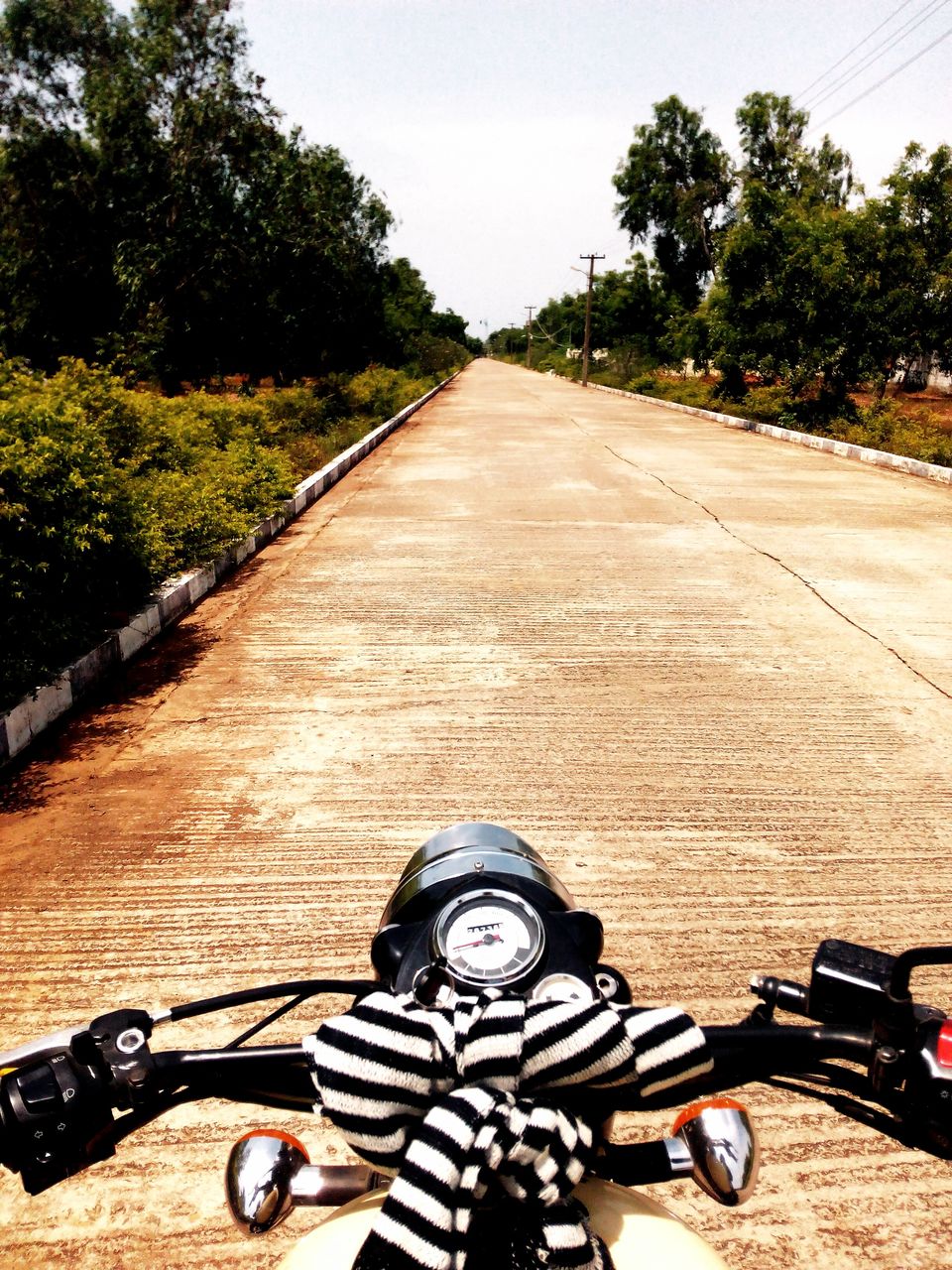 *Wandering and exploring Auroville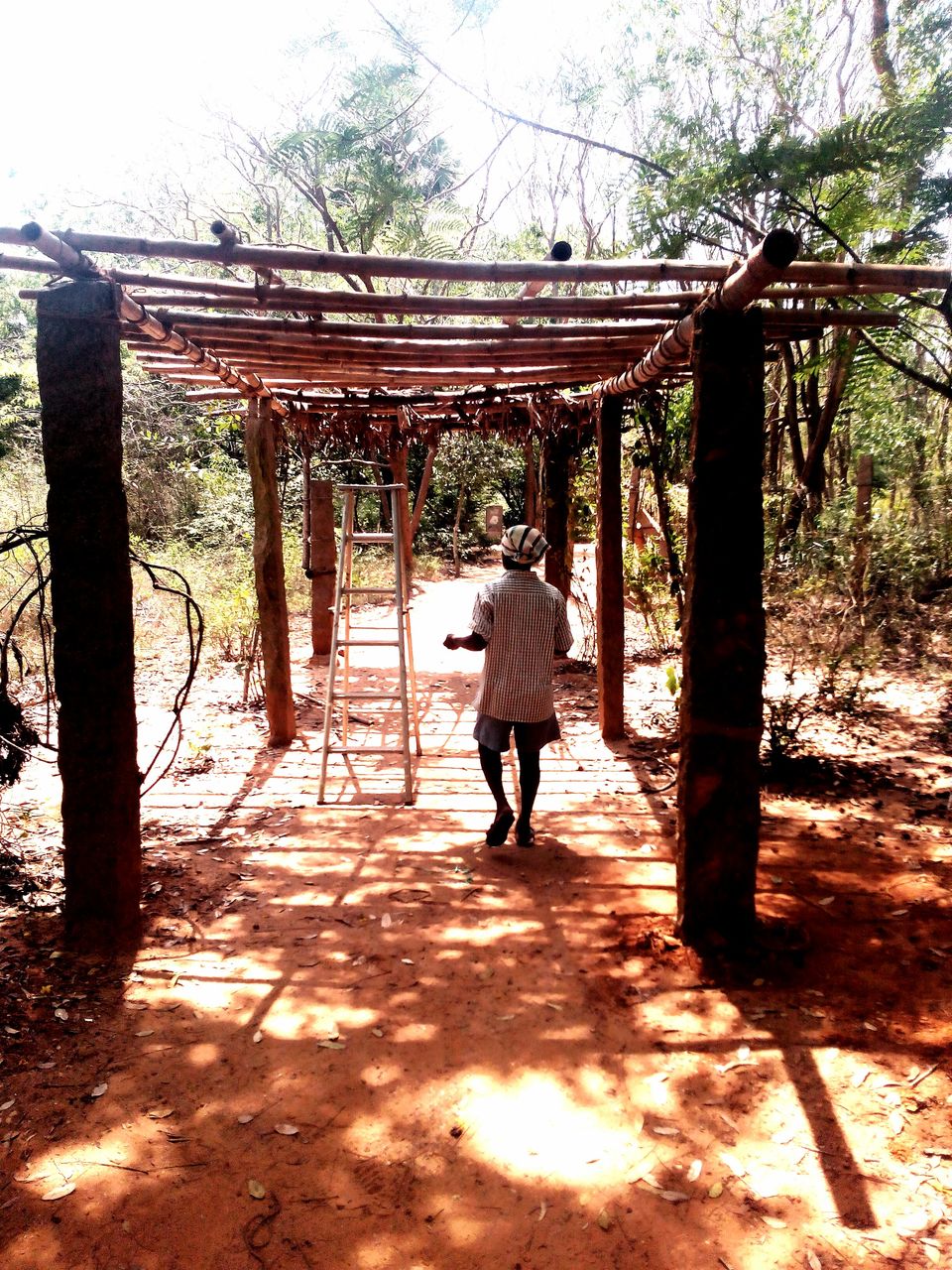 *This road goes to the world famous Matri Mandir. A road through trees, red sand and rocks inscribed with spiritual texts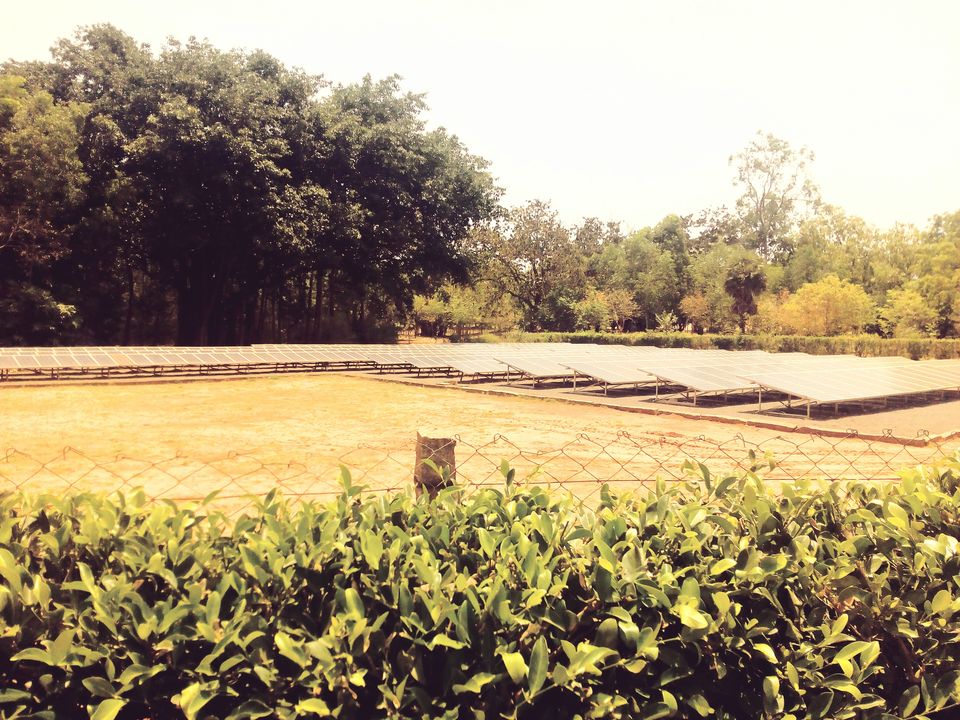 *Solar Panels on the way to Matri Mandir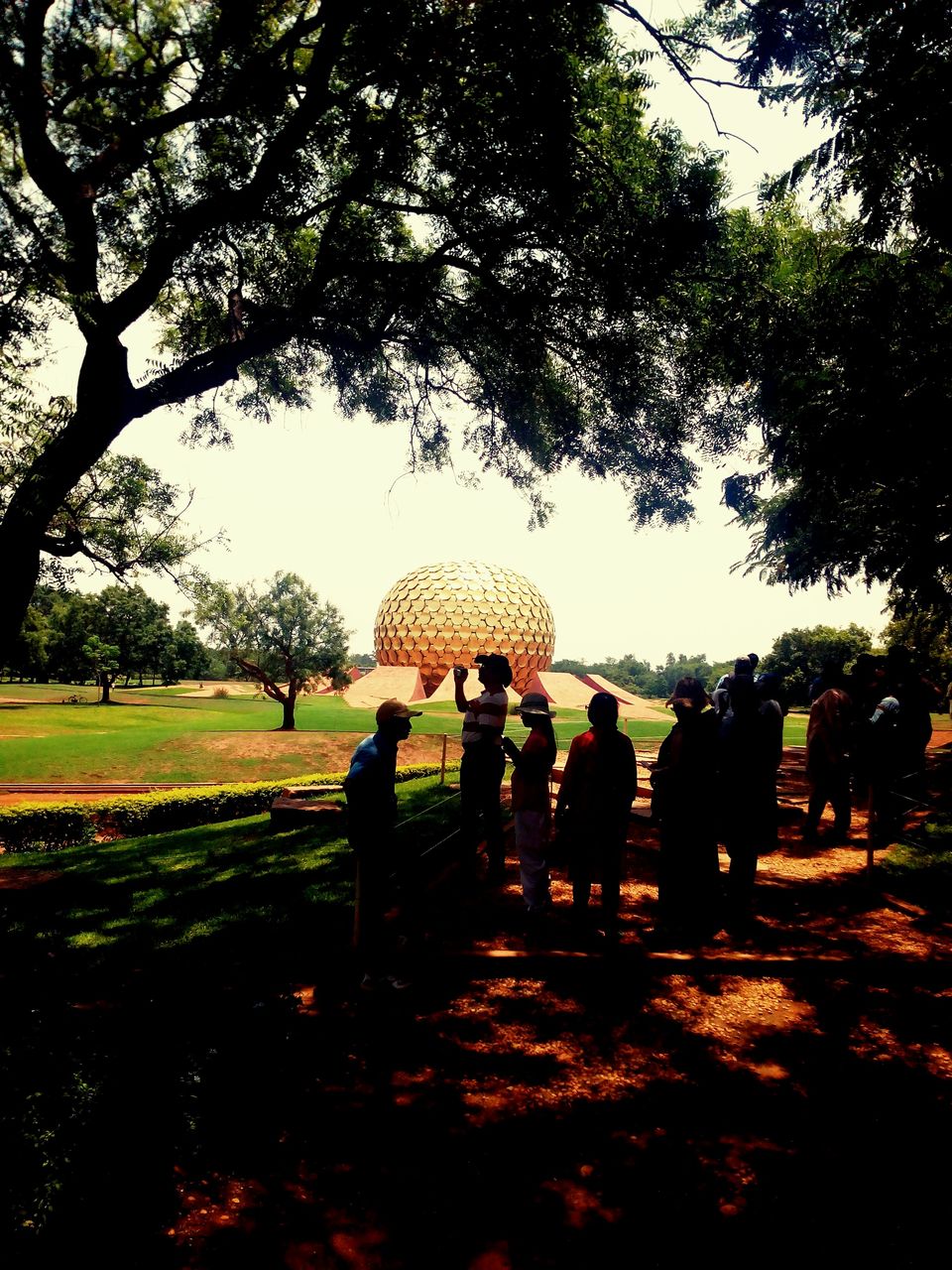 *Matri Mandir. A place for meditation and the most talked about structures in Auroville. Can't go inside without permission
I had spent some considerable amount of time in Auroville now, and was ready to hit the road. Time had come to move back to Bangalore. And with a heavy heart, i accepted the fact that my one week of road trip and timeless experience in all the incredible places that i lived, was over.
Soon I bid adieu to Auroville, and rode ahead in the scorching heat towards Bangalore.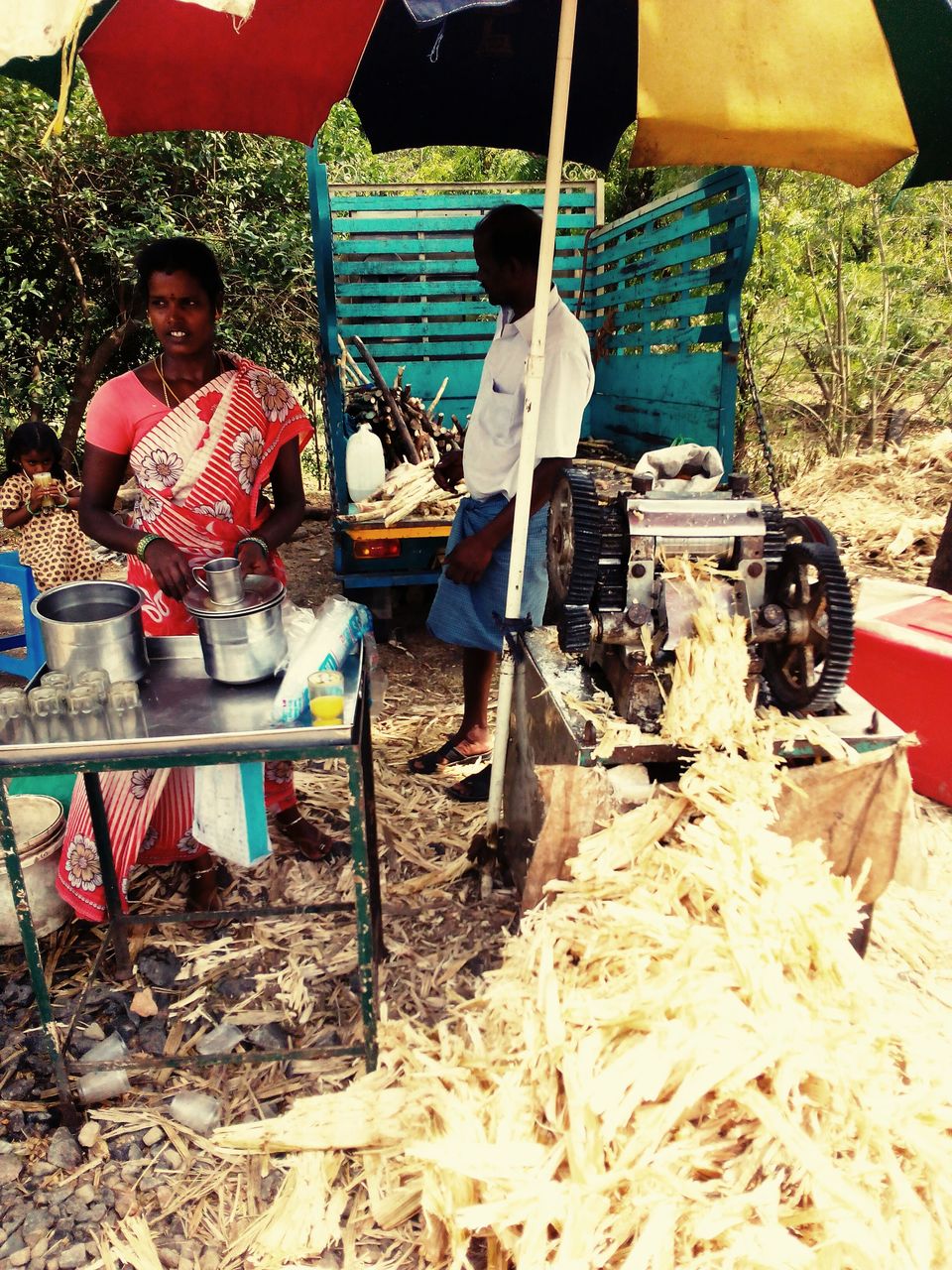 *This one came as a surprise. Couldn't spot it anywhere till now. Sugarcane! The heat is killing so maybe.... couple of glasses of it?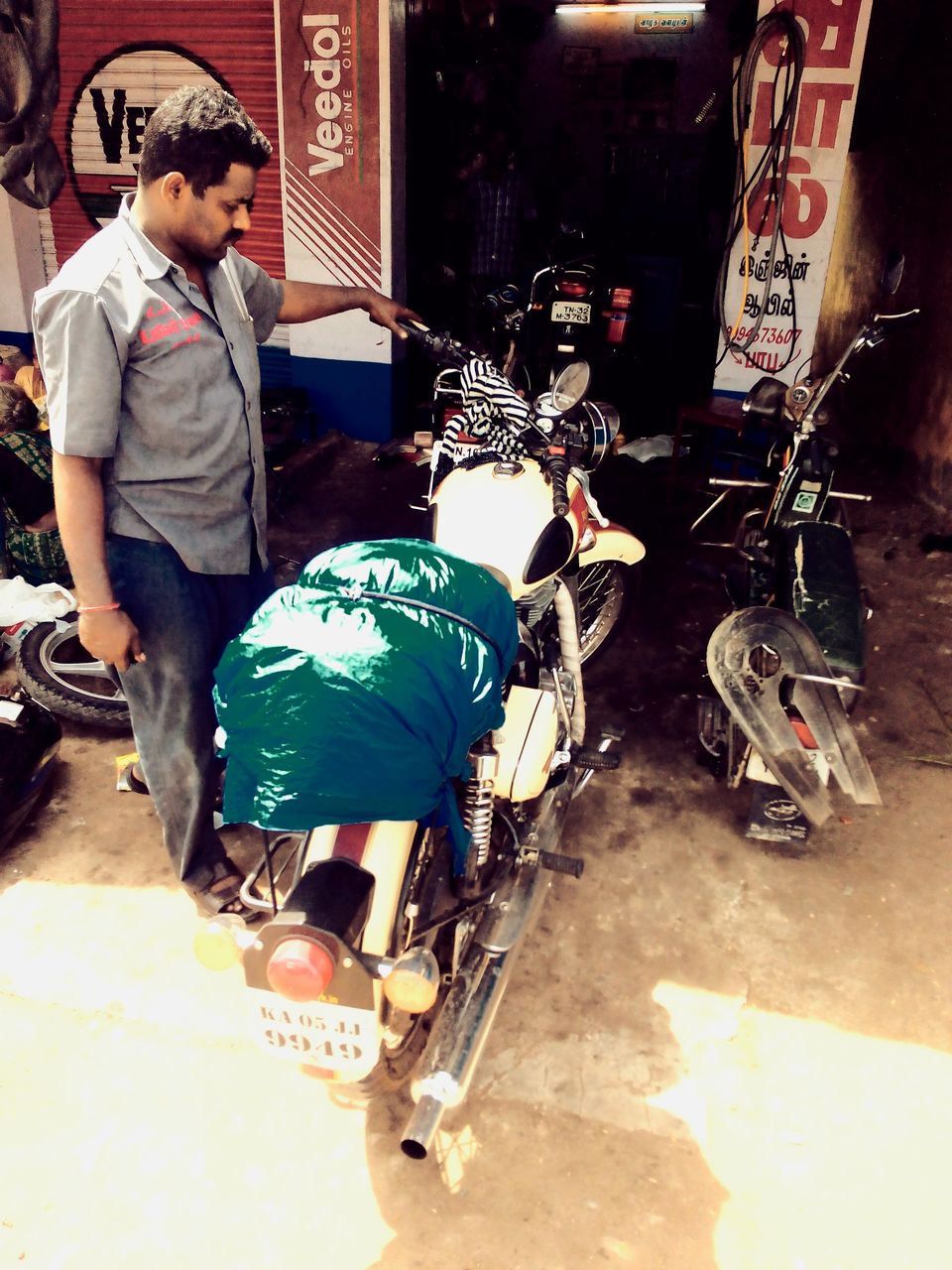 * A thing with classic 500, you will have to keep lubricating the chain every 600 kms
*On the way to Bangalore, came across an old mosque in Gingee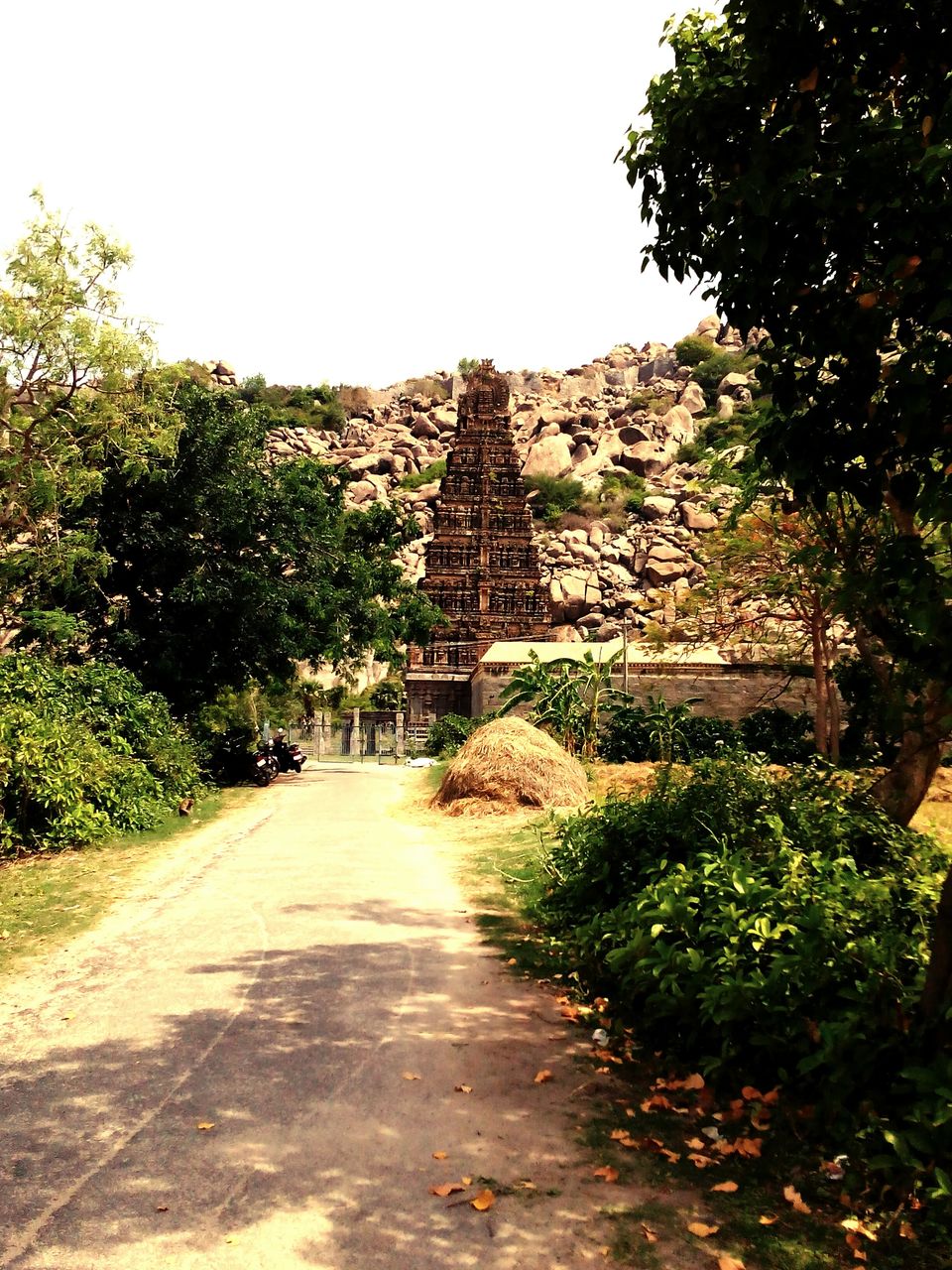 *And a temple surrounded with rocks and boulders. Gingee had some history to showcase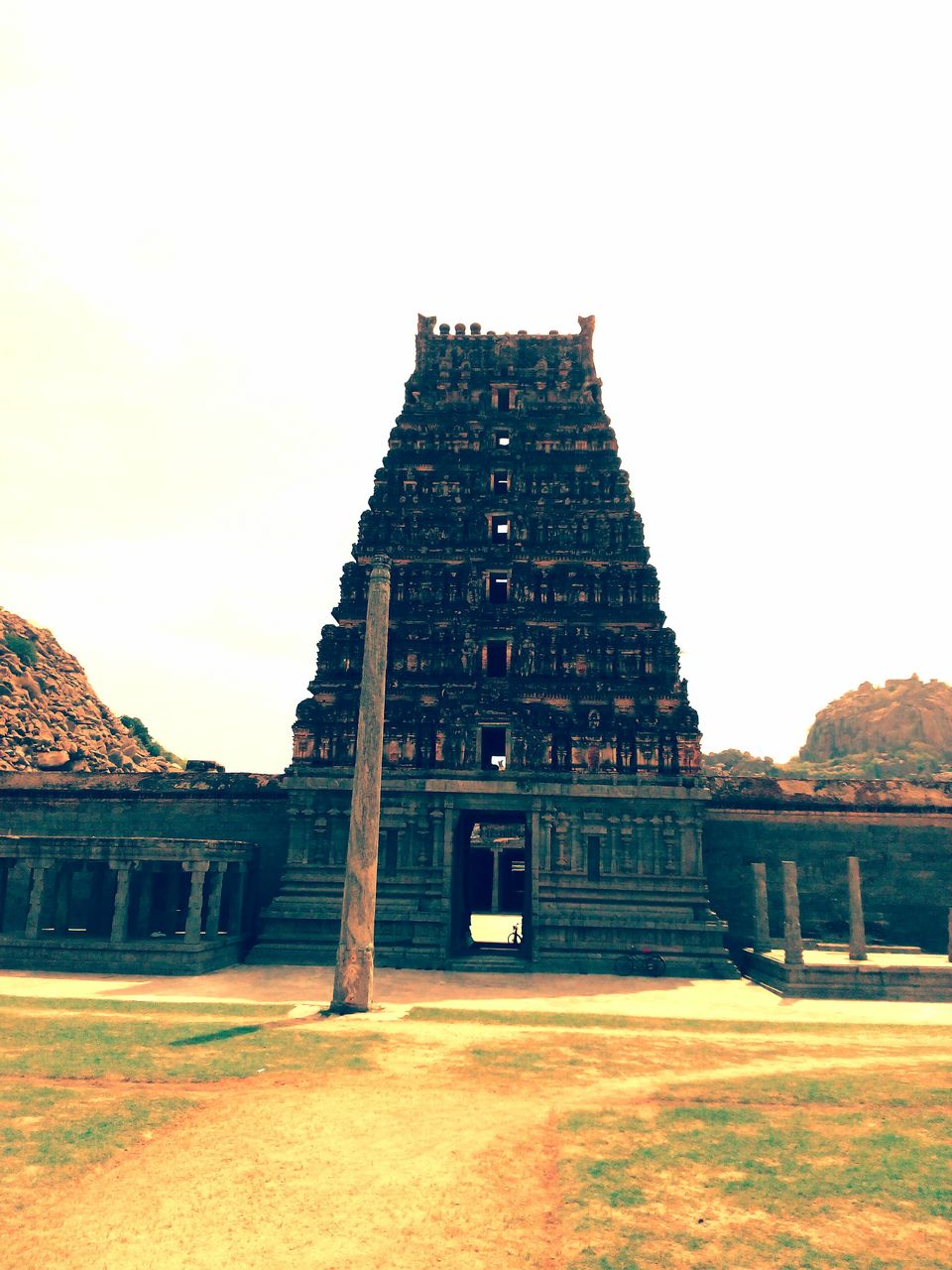 *The giant temple @ Gingee
After Gingee, I kept on moving on the road. My next stop was Tiruvannamalai where I decided to stay put for couple of hours at some hotel. I wasn't able to take the heat of the day, and thought would be better to halt for some time, and continue riding in evening.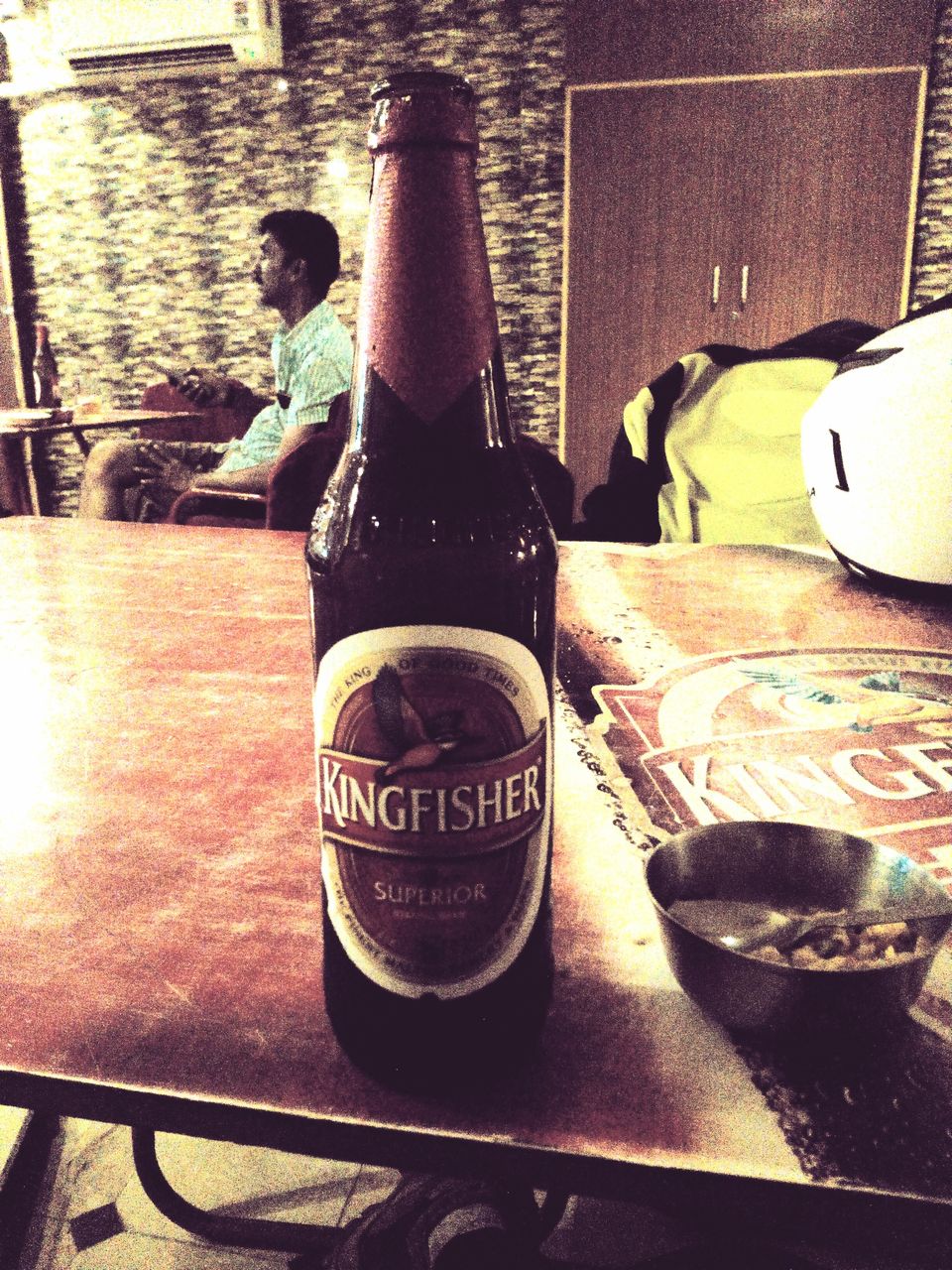 *And sitting in a AC room, what better than to spend time with this thing right here! I was all set for another 2-3 hours. My last beer of this amazing road trip! Btw, see that guy in the picture. Had a long deep conversation with him on spirituality and Hindu gods. He was a Tamilian, settled in Tiruvannamalai. I think, I will skip writing about the conversation, it may fill up pages. lol ;-)
This is it! I was back at Bangalore at night 10 pm. And couldn't believe that I actually made it back after covering so many places in South.
A road trip that will remain forever in my memory now., and keep inspiring me to travel more!
Before signing off, let me put up the complete route that I executed, and ask the question which i have been wanting to ask all my fellow travelers :)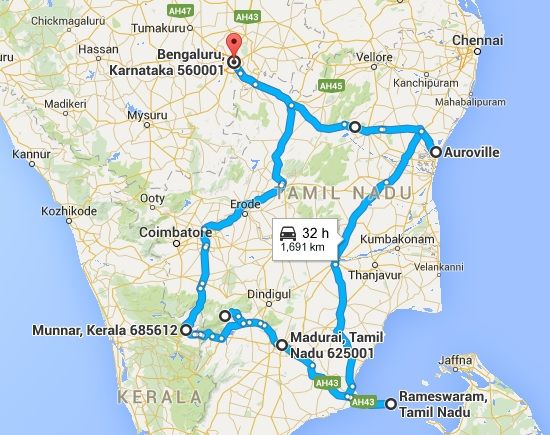 *Total kms done – 2500
*Time – 6D/7N
*Cash spent - INR 22,000 /-
*States covered – Karnataka, Kerela & Tamil Nadu
The question - 
"Can we call this route the 'golden quadrilateral' of south?"
Could be a wrong entitlement, as i did not touch major capital cities, but i did experience local villages, culture, dialect, food, nature and places with historical significance. 
Your views?
Signing off!
P.S: Please like my page -> https://www.facebook.com/RubberandTorque/?ref=bookmarks
And register for upcoming 'Bangalore-Munnar' road trip event if interested. Thanks much xx