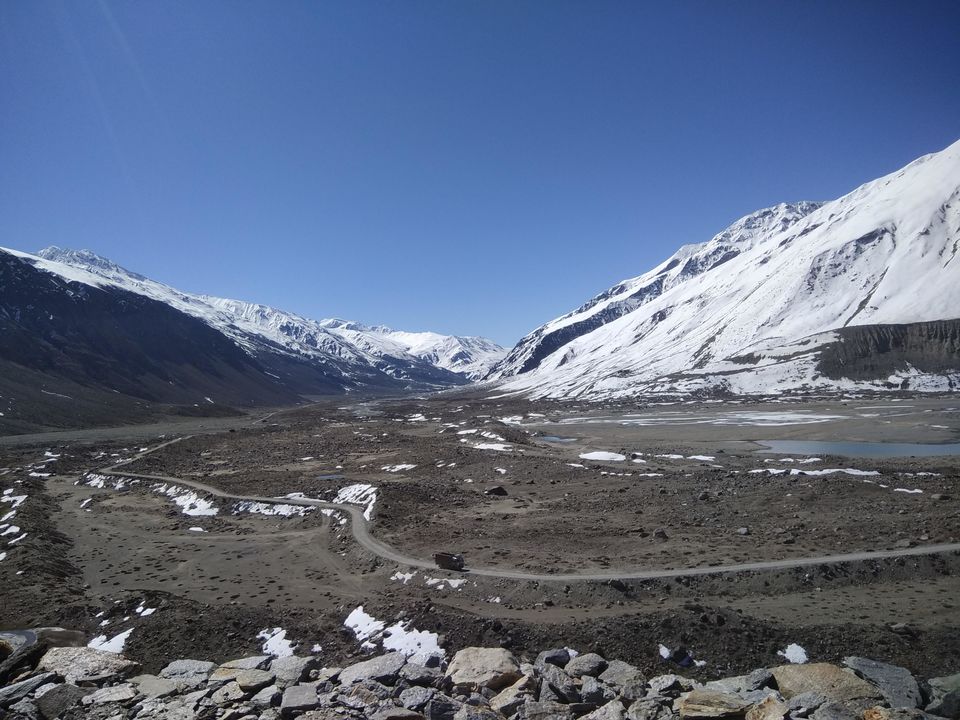 Extreme Ladakh – May/Jun'19
Having kept the feeling of a tough drive or a ride to the extremes of Ladakh for about 7 years from my previous motor-cycling ride way back in Aug'11, I was eagerly waiting for my solo trip for so many months. Though 7 years may be too long to stay away so I'd flown once in October 2015 along with family which can be even considered as more comfortable kind of as I'd neither drove nor rode anytime during the week long trip.
The preparation for this solo trip was for quite long as initial plan was to combine the Extreme Ladakh with the charm of Spiti. The trip finally came out shorter or rather much shorter but nowhere was short of highlights and the experiences.
My preparedness was good in terms as I'd planned to go on my 2 wheel drive DUSTER instead of Motor-Bike which might have space issue, car duly serviced before the trip, Tyres just around 10 k old with Air inflator, towing rope, Extra Mats, Puncture kit, Fuel cans for spare over 25 liters etc. Also carried cycle with me as I wanted to bicycle wherever I could stay for 2-3 days and can help me to move around with more convenience.
Day 1 (Delhi/ NCR to Srinagar, 835 kms) – The day of consistent drive
I wanted to start during late night making it easier to reach to a far-off intermediate stopover point well within the majestic Himalayan range. Though with strict NO from the family I still was able to manage to start as early as 3 AM on a Monday morning after a comfortable weekend spent along with family. I got up at 2 AM and was ready before 2:45 AM and ready to leave for the much awaited trip. Though it's always difficult to part-off from family since the trip has lots of uncertainties within itself but that confidence with my family that I will manage things well is the earning I've gained ever since my first trip more than a decade back.
So I was on to the road at sharp 3 AM and I felt very fresh and did not wanted to loose anytime for an unnecessary halt anytime. I have never been a fast driver on road but the one who continues consistently for over hundreds of kilometers tirelessly. So the first break was only for fuel at Singhu Border as I entered Haryana where I tanked up and almost topped my spare cans for over 20 liters. I could have stopped at various lavish Dhabas (the local restaurants) at Murthal like Sukhdev, Gulshan, Haveli or for that matter Garam-Dharam for a mouthwatering Punjabi style breakfast. But with the early morning drive a place close to Ambala was more optimized where I had a quick Parantha-Curd breakfast and tea later. The next stop was only at Mansar Lake at around 1:30 pm where I wanted to have Lunch besides spending sometime at the Lake side watching fish in abundance. I could see a lot of tourists feeding the fish which was good to watch. The first little shock was at the Lake side while I got my Sun glasses broken which I did not considered in spare. The sun was more than shining bright here and it was scorching hot at this area and was the first trouble of its kind. No matter I had lunch as Dal-Roti though not relished much but was only a good break in terms after a long drive. The road was not good either but this road from Mansar Lake is a good short-cut and avoids Jammu for an obvious reason. I remember it was also our break point during our first Ladakh trip along-with TJ (my college friend). Then was a little early time as we started from Pathankot in morning and were able to spend much longer time at the Lake side. Anyways, I started my journey again with little extra sun-light into my eyes. On this road I was able to connect to Pakistan FM channels and just enjoyed listening to their side of stories & also the contents from across border was giving me more information. As I was crossing Udhampur I was asked by traffic police to divert due to road closure ahead while traffic was allowed from Srinagar to Jammu side only for the day and I had to take right towards the city side. But though I did not really understand the reason of it but drove for about a kilometer and then I tried to check with locals around. While it was something that roads are not closed but traffic police want to diverge the large numbers going towards Srinagar and be a little easy for them. He guided me to tell the traffic cops that I have to go towards Patnitop and then they may allow you for that. The trick worked for me, thanks to the different cop I faced this time and he allowed me. Then it was just ON and ON towards Srinagar but in between there was lot of trucker's traffic from both side which spoiled the freshness of such drive to a large extent. I crossed the new Patnitop tunnel (tunnel that sets to avoid Patnitop) and the Jawahar tunnel and then tried to speed my way towards Srinagar. By the time I reached Srinagar at around 9:15 pm and had no idea on where to land. I was approached by a House boat person who had spent about 15 minutes to persuade me for overnight stay. I got hooked with it and decided to stay for overnight and spend a day out at Srinagar to see the beauty. I had a quick dinner at a nearby Dhaba with a Kashmiri gosht (meat) with Tandoori Roti. I relished the food as based on my request they prepared a little non-spicy kind of food which goes better with my taste. I was back to House- Boat and took no time to sleep.
Tip for the Day:
- A consistent drive can make you reach far-off destinations
- Carry spare sun glasses, sun scream, cap etc when on hill station or high altitudes location.
Day 2 (Srinagar & Around)
I tried to sleep for little longer but was again hooked by the birds chirping and asking me to look around for the beauty of Dal Lake. I spent good time there to see things around with a cup of Tea. I was sure on missing the company of my family here as it could be a perfect place to be there in summers. I got fresh and planned for breakfast at the House-Boat itself with Parantha, toast, omelet and hot cup of Coffee. I enjoyed food and planned for some sightseeing around the City like Nishat Garden, Shalimar Garden and watching Dal Lake and majestic mountains all around. Srinagar has Gulmarg in West, Pahalgam in East alongside river Lather & Sonamarg in North that entire things make a good package for someone looking forward to visit the place. I preferred to spend time at Srinagar and to prepare myself for Sonamarg and Zoji La pass the next day. I slept early to have a pleasant and fresh next day for a more adventurous drive.
Day 3 (Srinagar to Kargil, 202 kms)
The next morning was quite fresh with a good sleep from last day which is very important if there is rough terrain planned for the next day. We need to understand the uncertainties at high altitude mountains as Land slide and delay for traffic issues at narrow turns could take toll on time and your schedules so more advisable to start the day early. I was again on road at around 7 AM for journey towards Kargil I wanted to have the first halt at Sonamarg. On the way I took some time to move all fuel from spare cans to the fuel tank as the journey further would have lot of jerks and it's better to have fuel in tank only. I reached Sonamarg which is surrounded by lush green majestic Himalayan range and this could be right destination for spending the day or more when with family. The place has picturesque locations and with so much greenery all around it becomes like Heaven on Earth. But I spent about 2 hours there and also could find the right place for the breakfast before looking forward to proceed.
Just about a few kilometers ahead and I was able to see warning lights from the dashboard which I did not understand for its reason but seemed these are not from anything related to oil issues which could be very serious for all reasons. The car was not able to pull itself on the incline and to do so I was using the 1st or the 2nd gear while other cars seemed much faster. I stopped on one side of the road and while it was about 8 AM I tried to give a call to the Service engineer. The Mobile network was weak there and I was finding it difficult to make a contact and while he asked me to send the Whatsapp image of the warning lights on dashboard I could not even send him that. I drove back a little to reach Sonamarg again to catch the network and upon clearance from him that there's no need to worry I started again for the journey. Again a few additional kilometers ahead with the warning lights I was finding difficult to crack the issue I again had to stop on one side to examine the situation. I was getting afraid as I got the feel that there's something critical with car and thus not allowing to climb up the hills. I drove back again to Sonamarg since taking car towards the Zoji La pass will be an big mistake and I may land up in a bigger trouble for me and others. I spoke with Ritu (my wife) at around 9:30 AM elaborating about all issue and updated her that I may plan to come back if the similar conditions continues for some more time. Meanwhile I also wanted to have a word with any drivers around as there are many experts and can provide much better advice. I just approached to one driver for a Tavera who was busy washing his Vehicle. The person was keen to listen as I explained issue with my Car, he told that generally this condition was due to Clutch plates issue but post initial examination he was clear that this might not be an issue. He advised that we must go for a test drive to a similar stretch as that of Zoji La and if we could do the same it's possible to take the car up-hill. I drove the car along-with him and to my surprise the warning lights were not there and the car was ready to take any incline it seemed and then he drove on return and it was the same comment from him. But during our discussion I guessed that I was taking it too easy and wasn't using the motion or momentum of car. I spent little more time and we introduced well about himself that he belonged to Kangan which is in between Srinagar and Sonamarg, but his piece of advice boasted my confidence on car again and during that period the car got time to cool itself. His name was Imtiaz and he gave me his number to talk again on any issue and was in-fact very genuine kind of a person.
Over to the road again and I was in no time on the road with a fresh confidence and the car behaving well too and no warning lights. I used the motion of car and climbed much faster this time. Unfortunately I consumed a lot of time on this useful experience on knowing my car's behavior on high altitude and I had to face the jam caused due to Land slide ahead and it took almost 2 hours to get cleared and till that time it was an inching drive (moving ahead Inch by Inch) or long stops. But fine as I was able to check things around and could see and understand the route of Amarnath Yatra point "Baltal' from one of the drivers. Actually due to my looks as Kashmiri I was mistaken as Kashmiri and many start the dialogue in Kashmiri and then I have to share my real identity as one from Delhi but by then I have already initiated my discussion and could understand a lot of my doubts about the place. Again on a similar stage I met one more solo traveler 'Bhanu Pratap' and a few gentlemen talking about me (due to my Car's appeal with lot of stickers of our Motor-Bike group) and as Solo Traveler we got engaged into lot of likeminded chat. But it was Bhanu and me which we were more interested and he was very open to ask me to spend time at Leh, his home town details in Jammu and possibilities about our work in future besides understanding my passion and my work prospects. Fine it was as we drove close by and he shared with me his Car Mobile Charger as I was facing difficulty doing that. We cruised ahead and passed by Zoji La top and Zero point but did not halted anywhere while I was looking forward a little. But somehow we pushed ourselves ahead and we decided to have food just before Kargil and in between he has some work. We moved much faster after crossing Zoji La and we took a break at some village where he wanted to buy a hen. I checked his Car 'Alto' which was full of Flower pots, Rice and food for Hen etc. I also spent time with him and we entered the Gateway of Ladakh passing through Dras and Kargil. We had food together, Rajma-Roti-Dal and were full in no time, I called back home and shared the details with them and I was cruising well on my trip.
As we started from the Dhaba his car rear tyre got flat and exchanged some discussion and he guided me to Ice Berg, the freshly built Guest House very much at the start of market with space available for Car parking just opposite to it. It had reasonably & clean room to stay with hot water. And in no time we'd the other family also reaching to same place and it was much comfortable. I exchanged number with Bhanu and soon he was on way to Leh which was another 210 kms or more. The time now was around 7 PM. I exchanged more info about the family which belonged to Noida and with 4 kids they we daring to such travel location in Swift car. Wonderful and amazing and bold people all over. I ordered for Tea/ Biscuits and then preferred to take bath. I did no wanted to go for dinner as I had a late lunch at 6-6:30 PM and was feeling much better without dinner. I just checked the pics and shared some on the social media, had phone call with family and then wanted to take rest for the day.
Tip for the Day:
- Do not lose momentum on inclines but be cautious, it is what that makes you reach heights.
Day 4 (Kargil to Padum, 236 Kms)
I got up around 7 and wanted to start my day little late to go towards the Zanskar. Having enquired from the Ice Berg about the non-requirement of permit to travel Zanskar made things much easier and I can be on road in no time. I did take some further details from Arvind Singh, my friend who was currently at Leh and had been to Zanskar a number of times. Though he cautioned about avoiding travel as Solo and be kind to the vehicle as terrain was very rough at most part of it. I had Tea/ biscuits in morning before I was again on road at around 8:30 AM. Since Padum has doubtful availability of fuel so it was important to tank up my vehicle on it and then perhaps no need to think on its availability. The fuel station is on Leh highway and I went ahead on it and again was on the Zanskar road. The initial road condition till Sankoo and Panikhar was very good and I could see Suru Valley/ river flowing along-side/ beautiful scenery and small villages on both sides of road. I could see a lot of children going to schools and many of them asking for a lift, with my car full on with my bags and a cycle I tried to regret almost each group with my actions. Meanwhile I just saw 2 Motor-Bikers on sides of road and having a drink perhaps Tea which they carried along-with and enquired if all ok and they said that all ok and they're proceeding for Leh. I was surprised and immediately told that this road does not lead to Leh and instead this one goes to Zanskar. They looked at each other and they said that they perhaps missed the turn to Leh and asked if how many kms they have crossed it. I told them that easily 35-40 kms they have come in wrong direction. They thanked me and immediately planned for a return. I mean to say that with absence of sign boards it is MUST to check on route related to avoid loss of time, fuel and energies.
Meanwhile a few kilometers further I got myself registered at Police Check post around Panikhar and proceeded further. It was about 60 plus kilometers on my odometer and I started to feel that road condition getting bad and in fact no road onwards and that means I will have to slow down my pace. I had to check with people coming from other side if this is the road to Zanskar since it was passing through very narrow and zig-zag stretches and created doubt at many times. I could see a few bikers and on other SUV and with doubt in mind and urge to check I kind of had a little word with most of them if they're getting to Zanskar. Since I was doing solo and it was necessary to keep on talking to people and have a little enquiry, could be they need help or if I need something at this remote place. I continued my journey and at one point I was stopped by one person and asked for lift in I can, looking at my car he said that if I can accommodate behind and he's ready to pay me also. I asked to sit behind and for me it was a company with whom at least I can ask a little about the route and no-way miss any road. Anyways we cruised well and we had some chat going on for the route and shared that some work is already getting started for connect between Padum and Manali-Leh highway and may take a few years. But currently the locals trek on these routes and sometimes take about 2-3 days to cross. I was meanwhile imagining about the routes in future while Zanskar may become more approachable.
Meanwhile I saw a Ghaziabad registered number place there on road for Ford Aspire and I just stopped my car besides them and enquired about them, 3 guys and a gal and belonged to Crossing Republic, an area nearby to my place there and they were on a 2 week Ladakh journey, one of them seemed to be the Story teller and carried a good Camera to capture the scenery. We took pictures of each other and we continued our journey and reached Rangdum, the so called mid-way point between Kargil & Padum. I had Dal-Roti and then tea, the Salt Tea which they say is good to have it there. I did not liked much but it was necessary for me to try almost everything while at Ladakh. Soon I was able to see the Ghaziabad Car group also there and then I was able to talk more with them and shared about myself. Back on road in no time and again and now the guy behind me in the car suggested some quick short-cuts which were good to save a kilometer or more while I was also able to enjoy a little different route. Fine we were again road and he took me to some further beautiful terrain and made to pass through 1-2 water crossing and a sharp incline of easily 45 degrees but since it wasn't a longer one so I could manage with my SUV. But surely it would not have been possible with any sedan/ hatchback. In about an hour we were on Dorung Drung glacier which was on top of Penzi La pass at altitude of 14,000 feet. It was a big glacier and could be seen on both sides of road. We did not stop much but I took a few videos as this was the most adventurous stretch for about 3-4 kms, really rough with fully few meters snow cladded on both sides, sharp turns on both sides of the pass were not that easy to manage. I could easily sense that perhaps I may not be able to see anything more roughly than this in this trip. I continued to use the motion of car and the guy with me telling about the mountain ranges ahead which we need to cross before reaching Padum.
Coming down I thanked God that it was all safe and we were back on better No-Roads again. We reached Padum around 6:30 pm covering a distance of over 230 kms and I was looking for a right place to stay. The last 10 odd kms was very nice road newly built and I was much relieved with it and this was true for the Vehicle too. Though I could not see much places around but negotiated on for a room, moved my important stuff and got myself freshen up in about an hours' time. I reached to the restaurant and was trying to observe other people around and understand if there are good places around. As I could understand that there is a palace at Zang La and Karsha monastery around 10 kms here which I wanted to do the next day while I was more interested for the treks around which were not open due to heavy snow this year. Anyways I preferred spending time with the restaurant Manager and one more person with whom I tried to get to some information on the Valley. The other person was Stanzin who was a local and seemed a good literate but on my discussion I understood that he is doing Ph.D from IIT Chennai while he did his higher schooling at Leh and graduation at Delhi University. I was amazed to know and he was a nice person to spend my evening. He shared that he is reaching Chennai in another 10 days and he has girl friend from Bengaluru who is ignoring him for a small reason and he wishes to reach back to Chennai and fix his issues immediately. I could understand about the tough life at Zanskar, their family values as closely knitted, people not taking study seriously and on direction to get into tourism as more tourists flocking to Padum now. He also shared on a possible treks available for Twin glacier Nun-Kun which are just about one hour drive from Rangdum and are worth trekking. We did dinner together while continuing our discussion & he was also waiting for one of his friend and he was late by about an hour and I was able to spend a nice evening and understand about the Zanskar. I went for sleep at around 11 PM while I was feeling much colder and slept with cap, socks and jacket to feel much warmer. I could get the BSNL network just at this place and I was able to speak to my family behind to update on things better for me now post my yesterday's poor experience on my vehicle.
Tip for the Day:
- Be sure on road for the route and keep checking in between since no sign-boards at several stretches.
- Need to be soft on tough stretches as it may damage your Car if roughly handled.
Day 5 (Karsha and Zang La, 50 kms)
Today I started my day late and wanted to spend what Padum has to offer. I visited the Zang La palace and Karsha monastery and spent time with Stanzin and his family. It was an interesting day to see the beauty of this remote place and was back to Hotel much early.
Day 6 (Padum to Kargil, 235 Kms)
I started little early from Padum around 6:30 AM and moved quickly towards Rangdum. Post crossing the first Check post I saw the Ghaziabad group again and we spoke for a sometime and they shared about getting a flat tyre which took quite some time to fix and since it was quite late so they decided to stay overnight at Abran and continued for another day at the Home Stay to see things around. I remembered the short cuts and thus was much faster on the way back. This time I wanted to cross Penzi La lot more smooth but it wasn't much getting possible as there were too many craters on it making it yet again a tough drive there. Finally I reached on Penzi La top and with so much snow I took a few pictures. The pressure drop outside was such high that few of my chips packet blew up inside with a bang. At one point at Penzi La top I got out of the Car to take a few pictures and reaching back I saw a single warning light on my dashboard again. I sensed some risk and without wasting much time I started to drive on further with better motion and momentum.
I reached Rangdum and spent about an hour there with Maggie and Tea. I started my journey again and see the Twin glacier point. Very soon I was there at Nun-Kun View point where I saw a small restaurant with same name and I stopped there for a break and enquired about it further. The Camping point is 3-4 hrs away and a porter can be used to carry necessary stuff but can sound more interesting and reasonable. So kind of a good trek if there's group some other time. On the way back I sensed that my waist bag was missing in Car and I doubted the other guy with me for he might have taken it hoping to get something useful or Cash in it. I drove back last few hours with doubt on the character which was quite a surprise for me. I reached Kargil at around 5 and thought of taking some advice from the Guest House person before proceeding further to Dah/ Hanu. The first thing that happened to me on reaching the Guest House was he told that I had left my Waist bag the day before. I was nicely surprised and doubted my own thoughts for the other person whom I gave lift yesterday to Padum. The things were intact in it like the Swiss Knife, few other items etc. A little ahead I was and then I was able to see the Warning lights coming over again in the Car as if it was not ready to pull off on the incline, I tried to cool off the Engine on the way just ahead of Kargil. But seemed nothing worked well that moment and after consuming about 90 minutes I thought of returning to the Ice Berg and plan the next day. I placed order for Chicken curry, Roti & Salad for the dinner. I was back with fresh energy and planned retiring to bed a little early today.
Tip for the Day:
- People are quite honest in such places and we need to extend courtesy further.
Day 7 (Kargil to Leh, 219 Kms)
I wanted to start around 8 AM from Ice Berg G/H but to my surprise the Warning lights in Car persisted yet again in the morning and I was skeptical if I could make it for Dah-Hanu again today. I tried to warm-up the Engine with idle running but nothing could help the lights to go off but still I tried to move ahead towards Dah and reached to the same conclusion as vehicle was no ready to pull itself at the incline. I took a deep thought and to decide which way I should proceed. If I proceed to Leh somehow with some effort crossing the Namik La and Fotu La (the high altitude passes between Kargil & Leh which are not difficult to cross as roads are very smooth) I will get a good help at Leh and I will sort out the issues my vehicle is facing. I proceeded with it as no other roads was possible.
My target for today was to reach Leh somehow and ignoring the few places in between for the day like Magnetic Hill etc. Magnetic Hill is place on Leh Highway where upon parking your Car or Bike on a particular slot on road gets a pull from Hill around which is likely to have magnetic properties. I cruised slowly towards Leh and faced some challenge at passes by 1st or 2nd gear yet could manage without any help. I could see few other DUSTER on road who were finding much easier to cruise the incline, anyway by now I was sure that there is some issue with the Car. While I was very fortunate to not to find such issues while on way to Zanskar/ while coming back. I stopped over at the Indus-Zanskar river confluence point 'Sangam' and took some pics and video and memorized well on the visit last time along-with the family. I also called up Bhanu Pratap, my friend at Leh that I shall be reaching him a day before (since I missed Dah-Hanu) and would need his help. I stopped over at the Gurdwara Patthar Sahib for rest, getting my car cool off a little and have 'Langar'. I checked up there with a Driver of a SUV about the issue and he assured that he had drove DUSTER earlier and he did not faced any such issue and I can get my Car checked at Leh as there are good mechanics available though no Authorized Service Centers. Now Leh was just about 20 kms so it wasn't a tough task for me. I had 'Langar', tea-snacks there and rested for another 30 minutes as I had little extra food as I did not wanted to waste a grain of it and then wanted to digest well before moving.
So I started again for reaching the 'Hall Of Fame' as Bhanu's shop was very close to it. I reached the Indian Army Transit Camp parking and called on him, Bhanu was there in no time and together we moved on to his place. He has his shop for Air Ticketing, Mobile handsets and recharge at Army Camp and what a place it was since I was at Camp with all respectable Army staff all around. I felt respected and just cherished the time there. Bhanu advised me to have a Jio SIM Card as infra for it is fast improving at Ladakh and would be a good help for the business and travel convenience. Bhanu spoke with Mechanic at Leh and told him that we shall reach him later in evening for a check. Though little late to start from the Camp as he had to wrap things up from 2 shops and then I moved with him to the Mechanic. It was pitch dark at the Auto Market at Leh and the mechanic was waiting for us. I took my Car on the ramp and he did a scan on my Vehicle to find out blockage at 2 out of 4 Valves and leakage at Inter-Cooler down under. He asked if there was an accident. No Accidents as such but way back about 8 months back I had to drive on some sand on my way back from Ahmedabad and perhaps that time the Inter-Cooler got pushed back due to excessive sand content and got damaged due to a screw behind it. Anyway it was clear by now that we need to repair on these 2 areas, and plan was to do the next day.
We came back home hardly 500 mtrs further and parked the vehicle. We immediately went for freshen up and they got started for food. They planned for Fish in dinner and RUM to take off the tiredness. The team was fully engaged to prepare food while checking through the recipe from You Tube… great it was as they prepared the 'Chutney' from Radish, Green Chilies and what an effort to prepare good food. We enjoyed the food which took a little longer time to prepare but was relished much. We talked for some time and were ready to go for sleep in no time.
Tip for the Day:
- Be kind to Vehicle anyway on road and any accident or untoward incident can have its toll later.
Day 8 (Leh, 25 kms)
I spent the day with Mechanic and workshop and got my Car done with it. We did trial in evening and fortunately the Car was over its troubles.
The Inter-cooler was repaired by Aluminum Welding, good job done and all the Valve cleaning done to avoid any issue further. The Air Filter was cleaned up there.
Day 9 (Leh, 25 kms)
Since the Front Bumper was out for work I thought of having it repaired from a nearby Shop for a crack from a previous incident. Again it took a few hours but the job was done nicely. I was satisfied with the work and then planned to move to the Leh market to spend time and enquire about the tours and pricing etc.
I parked the Car around the Market and preferred to walk around. I felt quite refreshed and took time to spend chatting around at few shops, did shopping for few Fridge Magnet, Key rings, other souvenirs etc. Had food at Wazwan which was referred by Bawa, my biking friend. I enjoyed the food there along with the ambience and again went on to spend time there in market.
Later in evening as now things were again on mark I thought to move ahead on my journey the next morning. And also as gesture to thank back Bhanu and Team I invited them for dinner outside. They came a little late after wrapping up things at work & we went for dinner to a nice restaurant very much in Leh Central Market. We had some drinks and Non-Veg snacks and to my surprise Bhanu did not allowed to pay for it and seems a few thousands Rupees but was entirely paid up by him. I can never pay back on it but was only replied back from them that if they visit Delhi I will get full change to return the gesture.
We reached back home and Bhanu introduced me with Gulzar who was also staying there as tenant on ground floor and recently returned from Border area post a good number of days spend at Indian Army Camp. Gulzar has been running Cabs and has good network with Hoteliers, Travel Agents besides having a good knowledge on routes etc. He spent time with me to set up the route for the next couple of days and which places would be must and which may be avoided.
Day 10 (Leh to Hunder, 124 kms)
The plan was to get the Inner Line Permits in support from Gulzar in the morning. I completed packing all bags/ stuff into my Car at early hours and was ready post my breakfast at Bhanu's place. I and Gulzar were ready to leave by around 9 AM. We reached the Travel Company and provided my credentials for updating for the ILP (Inner Line Permit) online and then taking the print-out reached the Office for it at 10:40 AM. There was large queue and we tried for about 15 minutes but then immediately moved to the DC Office which also can stamp the ILPs quickly. I got my ILP stamped in about 10 minutes there and it took me about 650 Rs to get all needful permits. Also to update here, it is required to update all particular villages in ILP to get access to all locations like for Nubra, For Pangong, For Hanle and For Tso Moriri etc.
I took the permits and leaving Gulzar at a planned point moved towards the Indian Army Transit Camp where I'd planned to meet Bhanu again and get the Jio SIM for further connectivity. It was done within about 30-40 minutes and then I went for the tank-up fuel in my vehicle to the neck and carry a little in spare as the plan is to do Nubra, Pangong, Hanle, Tso Moriri and reach till Tandi on Leh-Manali Highway. There is no guarantee to get fuel anywhere in between so it is necessary to carry as much in spare. So getting all this done I was ready to leave Leh by around 12:45 PM. And with Khardong La as next destination I started towards it. The road to K.La was nice now and at distance about 39 kms. I was checked for my permit, my Car registration and Driver License for common name in all the three, the place is about 10 kms from Leh. The road was quite clear till the top of the World (Khardong La has been considered as top motorable road of the World at 18, 530 feet) and not much traffic either. I tried to remember the place where I was first time with my friend on Motor-bike and he'd the flat tyre from where we took long to repair and reach the top of the pass by evening 5:30 pm. fortunately no troubles this time of any sort and by 2 PM I was on pass. Had a quick Maggie and coffee and took a few pictures before planning to move towards the Nubra side. It was a mixed day with little sunshine on the Leh side of the mountain and as I started to proceed the other side we were (like along with other vehicles) were stopped as there was road getting cleared on other side and there were Army Truck Caravan on other side. We waited patiently and in fact I locked my Car and went on other side to have a look of the things. I tried to take a video for which I was objected to do so, with an honest feel I sorry I stopped for it as it could become a serious matter. It took us about 30-40 minutes for the wait and we were again on roads. I saw a lot of Motor-cyclists and many from Delhi and spoke with a few on their plans. Generally most of the group was planning for Hunder as my plan also and then proceeding for Pangong Tso Lake the next day. Anyway I drove towards the Hunder which was around 80-85 kms ahead of K.La top. It was an easy terrain for one who just did the Zanskar & Penzi La. I remember to check the turn towards Shyok on right before reaching to Hunder by evening. I checked on the fuel station which was just ahead of Diskit and before Hunder to remember to top up my tank in morning to be a little safe feel on journey ahead. I moved around a little and then came back and could see a Camping resort by name of Double Hump nicely located and ample space inside for parking and moving around. I saw a few family inside along-with a solo Motor-Biker. I got inside and enquired about it, camp was available but I insisted for food & toilet service and I might sleep in my Car keeping my Bicycle outside. But finally made up mind to get into a Camp and relax.
While I was getting my bags to the Camp I me this guy Sudheer who was from Andhra and was a solo rider. Anyways we decided to meet in evening and then discuss in length. I took my cycle out and then decided to ride around to check things. It was good and I was able to stretch my body a bit post a comfortable drive over the last few days. While I was back, this guy Sudheer called me up from one side while I saw sitting along with a family. I reached to them and we introduced each other for few minutes. The family of 2 friends/ their wives were from Mumbai and were on a weeklong trip to Ladakh. We were soon into a good chat and all seemed to be good keen for discussion. As time passed by we decided to have drinks together at the group's Camp and all of us had good time and thanks I was able to start and finish my bottle in no long time. But it was fun and quite enjoyable while we exchanged each one's life's plan and why they chose Ladakh for the trip. Sudheer was teacher turned Traveler and into hi Love Marriage with no plan for kids while they are quire happy-go-lucky couple. He'd quit his work for the sake of his wife and now was in long travel. Lot of other discussion it took place and we were able to close our day with a lot of exchange and respect for each other. Late in the evening post our dinner we continued our discussion on Bonfire and enjoyed the late night.
Tip for the Day:
- Make attempt to meet people, join groups at places where you see people, you will come to know their experiences and will be able to share yours. Make friends.
Day 11 (Hunder to Chushul, 218 kms)
Together with the group and Sudheer I finished off with breakfast of Puri-Choley at around 8:30 AM and in no time with exchanges on Card with all I started off my journey towards Pangong. I tanked up my vehicle with a little fuel which I consumed since starting from Leh. I continued my journey towards Shyok side and it was a nice drive through-out and I enjoyed it the most. I took lot of pictures & videos as I was like road less travelled and crossed a river bed. For all good reasons I did not face any troubles with drive or from the Car and by around 2 PM I reached Pangong Tso Lake. I saw the highest number of tourists there and enjoying in big groups taking pictures from various angle etc. I spent about half an hour there and decided to proceed for Man-Merak for the day close or even Chushul for that matter. The road went alongside the Pangong for a good number of kms and it was really one of the most beautiful journeys till date as views all around were great with magnificent mountains in different shades and Lake with blue-green-grey shades of Life.
As I approached the Man and Merak villages, at many places I had to wait and check with someone on the right direction and there were many roads and of that I needed to get to the one that goes further to Merak & Chushul. It was bad road but the only charm was of it going on shores to Pangong and at many places I'd to get down and take pictures of a good scenery. And there was a good song from Film 'Dil Chahta Hai' which I was running on where the road is close to the river and it's quite hummable for the right reasons there. I knew that the road will slowly leave the Pangong shores and move towards right. I proceeded on while I could see that there was very loose sand all around the roads but I had to follow the built tracks. As I passed post Merak I could not see any inhabitant place or even a person there and no vehicles as well. But not dreaded on the fact I proceeded to my direction. At one point I just left the road for little right on the lane as I saw some small craters on road, misjudge the excessive sand on one side with one of the front tyre landed into a crater on road and with a little try the tyre further got inside the soil. I waited to think as if I try more it may further go inside and it may become more difficult so the better idea was to wait for some vehicle and use towing rope to come out. It was around 4:10 PM in the evening and I'd plenty of time before the dark. I tried to get the soil out from hands but due to sharp stones in soil I got one of my nails broken and little bleeding from the same. I held myself further and used one of the frying pans I carried along with me. But it wasn't that easy and it was slowly seeming difficult. So again on the same idea to wait for any Vehicle and save my energy, I was fortunate to have some eatables, water etc. for keeping myself safe. I waited for over an hour and then I saw a lone person coming my way, seemed local and as he approached me I asked for possible help available. He told that he was coming from Chushul and going towards Merak and from there he will try to send some vehicle but it might take an hour to reach there and then additional time to manage and some to reach here. At least someone there, so I gave him 50 Rs. to just inform someone there and pass on some help for me. Again I waited further but could not see anyone passing through.
About 30 minutes further I saw one Fiat Linea Car coming and seemed with a family inside. They stopped on my request and the people came down and without much ask understood on the issue. They were a group of 5 with husband-wife and a son of 8 years and grand-father of about 70 years & a friend. Very eager to help they were and quite confident that we will support and will easily be able to get the vehicle cleared. They even took all initiative to clear the soil from underneath the car and asked for mats to put under the tyre enabling friction between sand and tyre. But with some unfulfilled efforts the Car tyre got further into and was still not ready to come out. Together we tried for about half an hour before making an all people effort to push the car but unfortunately nothing worked out well. No worries and they asked me to join in their Car and reach Chushal and then can try to work-out for help. I locked the Car and joined them and while on the way we discussed on each other for the bold trips being planned. They belonged to Ambala and usually carried such trips together and were happy to assist. They mentioned about the message they got from person on one car being stuck in sand and thus sort of completed his responsibility.
Finally we reached Chushul which was about 16 odd kms from the stuck up point and it took us an hour to reach. It was the 'Last Restaurant' before the Chinese border and it was in Camp. We asked for help and the people readily to provide help were with me in no time to join in their Pick-up and their equipment to clear sand under the Car. We reached back to the place again within about 40 minutes and by that time it was pitch dark and they used their Mobile torch to check things. Initially due to excess sand their Car tyre also got stuck up but soon realized they managed to clear off their Pick up quickly. So they tried to pull with Towing rope but still could not manage. They wanted to make the 2nd attempt successful so they found stones from around and put under the foot mat under the tyres and cleared off a lot of sand from under the Car and then with that attempt the Car slowly to come out and with more pull from front it got cleared. It took us about 45 minutes in the whole exercise and without them it wouldn't have been possible. We decided to move immediately and reached the Chushul in another 40-45 minutes. And to our surprise the family was still there and they told that they wanted to wait for me but later mentioned that the check post ahead did not allowed to go further as at night there are more chance for any issue and it's no road with even difficult to find the tracks.
The group decided for having drinks and offered me as well and it was important as it was very cold and entirely open surrounding. They provided us Chips and omelet with it. We asked the Camp Leader to help us with food there, they took a little time but prepared delicious Dal-Rice for us, we enjoyed food. Finally with space constraint there they offered the husband-wife and son to sleep inside the Camp and we slept in our Cars which was quite manageable. We could see millions of Stars there watching us and we enjoyed seeing them in the full sky. It was very cold and we had to take blankets to manage the cold. We had a little interrupted yet quite a peaceful sleep.
Tip for the Day:
- Be sure on road and follow the tracks if no roads available.
- Do not wander away from tyre tracks near to Lake Areas and if you're stuck don't lose hope and hold your patience as help could be available nearby.
Day 12 (Chushul to Hanle, 130 kms)
We got up early around 5:00 AM while it was cold chilly weather and already bright. I remember Sunny, the friend warmed up the engine of the Car almost 2-3 times at night as he tried with number of selves to start the Engine. We spent some time to freshen up ourselves while it was little distant toilet though were little clean and kept specifically for the Customers. We paid off to the restaurant at night itself so were ready for proceeding ahead with 5:30 AM on clock. The plan was to reach Tsaka first which was 40 kms from Chushul, the road or track we can say was very bad and we really thanked the Check post to hold us and asked to stay at Night at Chushul. We had to take many such typical off road stretches where one has to think for a while before getting on to do. I led the way as I was little more sure being on SUV with a better ground clearance and I was able to suggest the group with better road tips to take. I had the Uncle with me from Chushul as our journey for next 1-2 days was to take a similar route/ destination. The road condition from Chushul to Tsaka was very bad with almost entire stretch typically off road. Tsaka La is a pass in between Chushul and Tsaka though not a high altitude one and also passing by Rezang La War Memorial on our right for 1962 War with China where almost 60 soldiers were martyred. Post Tsaka there was little better road and at the Check post we got information that Leh-Manali highway is open now, we were happy to hear and wanted to proceed accordingly.
The next point to reach was Loma from where we need to take access for Hanle after showing our permits. The road ahead was metal road though an averagely built but it was good relief from the last stretch. The distance about 26 kms took us about an hour or little over and we were there at Loma. I did not had my permit while the group had for them. But we managed to go as group from the check post. From Loma to Hanle, the road was good with many curves and bumps through-out the distance of over 50 kms. So it was very important not to flow with road and land up to some problem. The beauty of Hanle is that it has a terrific topography on all 360 degrees and we always look forward to see such places. We did not see more than 1 or 2 vehicles on that distance and it seemed to be a cool place to be there. We were there at Hanle in an hour's time and planned to stay at some Home Stays as we did not see any other stay options. We tried at Padma Home Stay which was not available for 5-6 people and we got option to stay at a nearby Home Stay without a name and a very decent, clean place. We got it for a reasonable amount with Lunch, Dinner and a breakfast included. We took about 1-2 hour's to freshen up and post a cup of Tea we moved to check the Observatory. The Hanle Observatory was built in year 2000 and was the No. 1 high altitude one at that point of time. Now stands 2nd after one new at highest altitude at Chile. We visited there and understood its importance while we were told that this is remotely handled by scientists sitting at Bengaluru. We spent time at Home Stay and relaxed ourselves. Also it was a good experience to spend time with family and together we were able to spend good time. The couple from our group tried with dressing up in Bride-groom dress-up from the host family and got some pictures clicked. Perhaps a good way to remember the day spent at Hanle. They had an infant of about 4 months in their family and it was really fun to see on how that take care of the same and their behavior and expressions etc. I got pictures with family and the infant to remember them as they were very nice and hosted us with complete care. We had a good Lunch and Dinner served well into the Dining room attached with their kitchen. Earlier we had a session of drinks with lot of experience sharing and understanding each other. We had a peaceful sleep.
Tip for the Day:
- Home stay can be perfect place to understand locals, the warmth in relations and can get good food at reasonable costs.
Day 13 (Hanle to Leh-Kargil, 674 kms)
We started our day at 7:10 AM post a good breakfast with Parantha, Omelet, Curd and tea. The idea was to reach Tso Moriri first and then move towards Leh-Manali highway via Tso Kar. As we started we could see a lot of Bikers (may be 20-25 nos.) proceeding towards Hanle which was good sight to see. We proceeded for Nyoma and while the eight year old kid with us had stomach ache we wanted to get him checked at Army hospital which was about 8 kms from Loma. The Army hospital was the highest altitude hospital and we saw Indus River flowing just adjacent which further reaches Leh on the confluence point called 'Sangam'. We got chance to speak at length with Army Jawans and they mentioned that during winters when the river freezes they walk over it and get pictures. And the weather conditions are very rough and they also get reluctant to get such postings. While sitting with Army docs he mentioned that weather are such rough that he has still not dared to get his family to this part of the Country and kind of respected our boldness. The Medial Officer came at 10 AM sharp and we were through within 10 minutes with dose advised for AMS. We also got ourselves check for B.P. and oxygen levels. Basically our body gets much needed oxygen with the consumption of Water at such altitude levels while the oxygen available outside is much scarce. So plenty of Water is something our body needs there to stay active. We saw all Army Jawans were carrying Luke warm water in bottles with them. We proceeded immediately after and after crossing Nyoma proceeded to Mahe Bridge from where we need to take turn for reaching Tso Moriri. We were updated from the Check post that Leh-Manali road is not yet open but we went on our preset notion that it is already open and may be having a little trouble initially. We saw many foreign Motor-cyclists there probably just coming from Tso Moriri and going towards Nyoma. We spend a little time to share our ILPs and upon checking the road condition further started to move towards the Lake. The distance from Mahe to Tso Moriri was about 56 Kms passing through a narrow road and track on most occasions, we saw Thaksang La pass and Thaksang Tso Lake on the way and good Camping locations around it. We did not wanted to spend time and rather moved ahead for Tso Moriri with a descent speed, we had metal road as well at many portions. Not did not see more than 4-5 vehicles coming from Tso Moriri through-out the way and finally we'd the distant view of the Lake. At one point we saw a well paved road but as we reached close we saw that this takes you to the Army Camp while the continued off-road was for Tso Moriri. The 2nd Car was well behind and I and Uncle continued our journey till the start of the Lake. At one point the Lake looked so beautiful and we wanted to wait for our group and I took my car just off from the track and little closer to the Lake and I could find a similar situation like the Chushul where I saw my Car stuck up again into the sand. This was my foolishness as why I got my Car so close to the Lake. Anyways still we can avoid getting into any mess and cleared the underneath sand with the help of the pan. Situation seemed much better and Uncle wanted to wait for his family and then do the next effort. But I on the contrary wanted to be right-up before they arrive. Fortunately we'd one Car coming our way with 2 people inside and we asked for a little push. Having cleared the sand from underneath and a little push from both of them was just required to clear the Car again and I parked it on the tracks again. Meanwhile I could see with Car windows opened in that area we had lot of guests in our Car, I mean that lot of typical flies from around the Lake were inside our Car and that too in few hundreds. Together with Uncle we spent all our time to manage them out of Car for next 30 minutes and few even after that a few hiding here or there. Meanwhile our 2nd car was there and we told them that this is Tso Moriri first wider view and if we go further to Karzok it will be another 2-3 kms and did not hope to get any better view we will need longer time. We decided to turn back now and the route was to take a left turn from Sumdo which is a few kms before Mahe Bridge. We did not wasted much and within next 90 minutes we were at Sumdo post a refreshment break mid-way, verified about the route and proceeded. The road from Sumdo to Tso Kar is not much travelled so was a tough road and thus was required to follow the tracks. Not much to see around as it was rocky all around and not much inhabited. We saw a few Army Trucks with them we verified on the route to Tso Kar as a few points there were road divided into 2 and one not too suitable for smaller vehicles and chance to damage the underbody. We'd a small pass to conquer before we saw a distant view of Tso Kar Lake. The Lake did not seemed any bigger and seemed on way to extinction very soon as banks were shrinking. We did not find much people around to see except a group of 3 at the end where after having a word they mentioned that yes the Lake is fast shrinking but still hopeful for a Camping point if we can reach another road that takes you little closer. The point here is that there was no means to get any close to Lake from this side due to sand all around and one road that can take you there is little away. But the Lake did not gave the appeal that Tso Moriri or Pangong Tso could give and we proceeded to our direction. This road takes you to the Debring point on Leh-Manali road with a seemingly good road with extra-ordinary bumps at many portions did not allow to cruise any faster. We saw a Biking group of over 20 Nos. coming from opposite directions seemed proceeding towards Tso Moriri with Lights ON and that seemed a varied view and something to enjoy. Soon we were on the Debring and took the direction for Pang which were mere 42 kms from there. So it is now More plains to cross and to my amazement the road is just another highway and we could cruise as fast as 80 or 100 km/hr but with right amount of caution as the road has its portions of issue at many points and good to be fast but cautious here. And not to a big surprise that we did not see any Vehicle coming from opposite side giving us the alert that Leh-Manali highway is closed but right information can get only at Pang. Less than an hour and we were at Pang and with information by the Dhaba owner telling us that Road has not yet open and no expected date in next 1 week. We relaxed for some time, did take snacks and break-fast & tea and decided to get a more authentic advice from BRO (Border Road Organization) team which was just opposite the road. But as per them there is good amount snow at Baralacha La and no chance to clear in next one week without doubt. It was senseless to wait to Sarchu instead we decided to move back to Leh. We reached Leh from Upshi at around 10 PM. It was necessary for the family to take the overnight stay at Leh and for me I was alone and decided further to reach Kargil and take the overnight stop. With a consistent but careful drive I reached Kargil at 2 PM and slept in the Car opposite to the Ice Berg G/H.
Day 14 (Kargil to Indirapuram, 1062 kms)
Started my day early again to reach home by the day end or as early as possible without an overnight stay before reaching home. The target was over 1050 kms. Fuelled up at Kargil and immediately proceeded towards Zoji La so as to clear the challenge most portion as early as possible. I did not take much time but Zoji La pass was at its Worst best as it perhaps was not made for smaller vehicles and we had a few small cars like Alto with a break down on road. The road was ultra-bad and huge craters on road making it very difficult, the only good point was that not many vehicles on road helped to choose on a possible zig-zag drive to make it little kind to the vehicle itself. I do not know when I crossed the Zero point & Zoji La and very much on the Sonamarg where I saw a lot of tourists and long distant Travelers going towards Zoji La or ahead for Kargil. I continued my journey towards my destination of the day with Srinagar, Jammu highway, Pathankot, Jalandhar, Ludhiana and then took my break at around 12 AM at Rajpura. I took a little nap and strolled a little to be active again and continued further. The next break was near Karnal where I felt a lot sleepier and had a cup of tea with doing a little walk around. That is it and moved towards Delhi for the final STOP at Home at around 5:30 AM. I wanted to take off the entire stuff from Car including the Cycle to home, putting the most of it to desired places and went with morning routine as usual including the shaving and bathe. I had some Chai-biscuits before going for a long sleep by 6:30 AM.
Tip for the Day:
- A long drive at the fag end of trip with needful breaks can be a good fun and can bring destination in a nice manner.