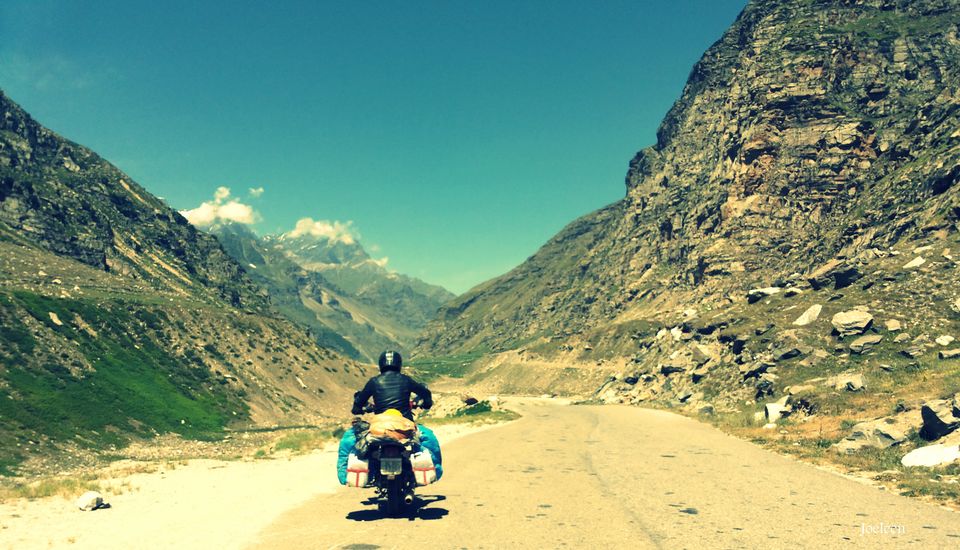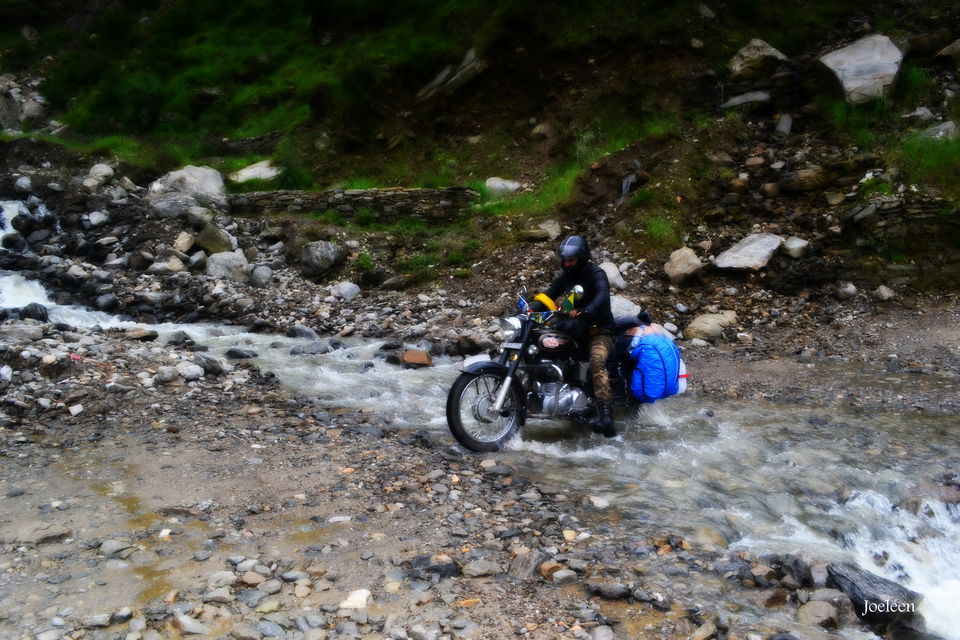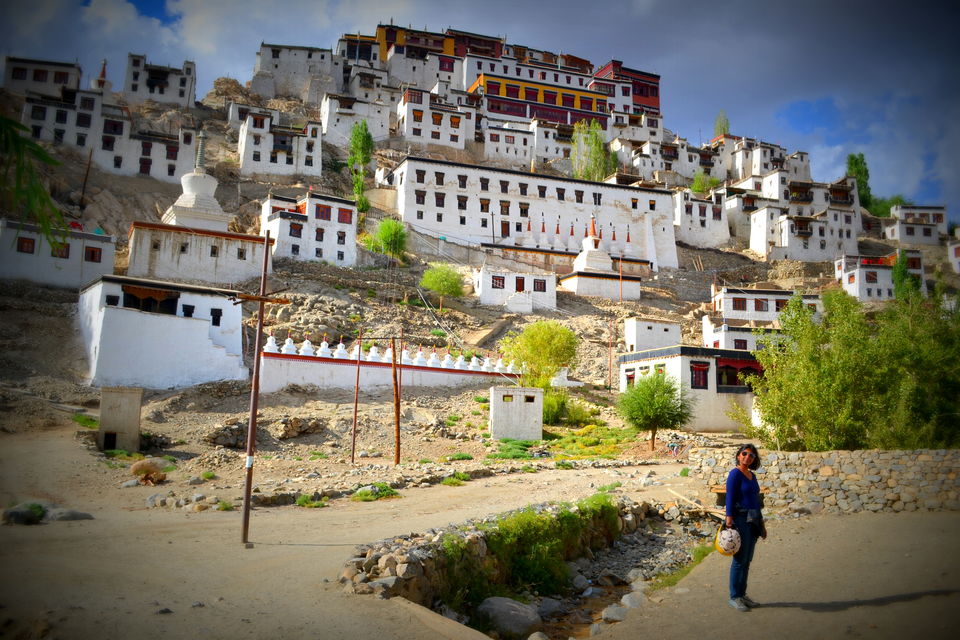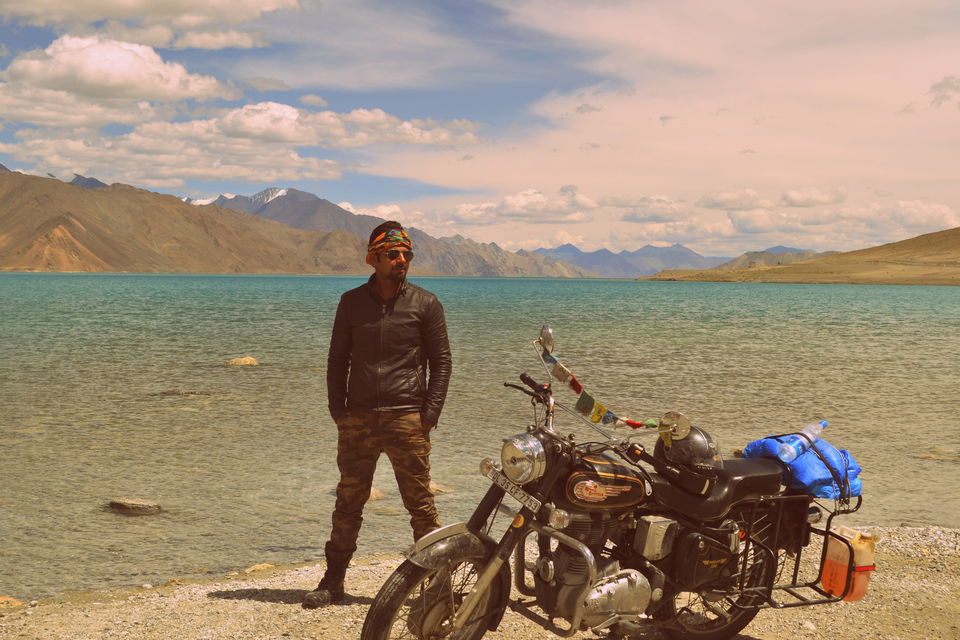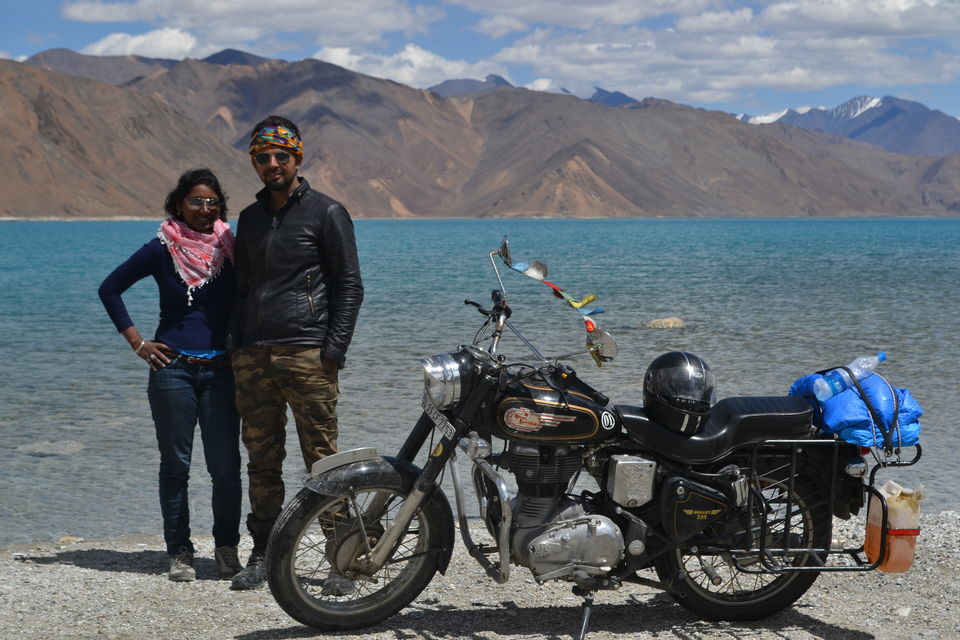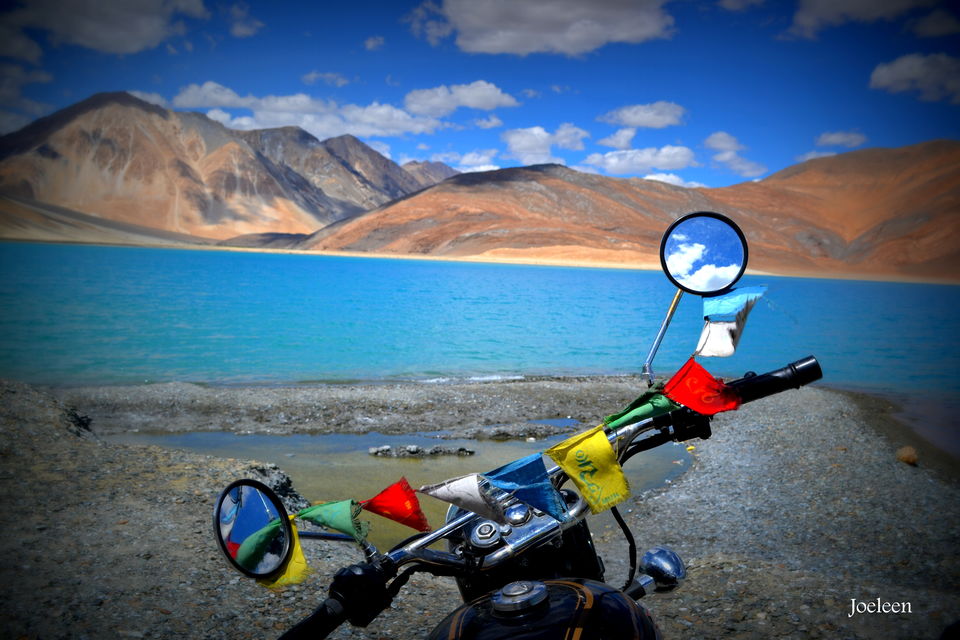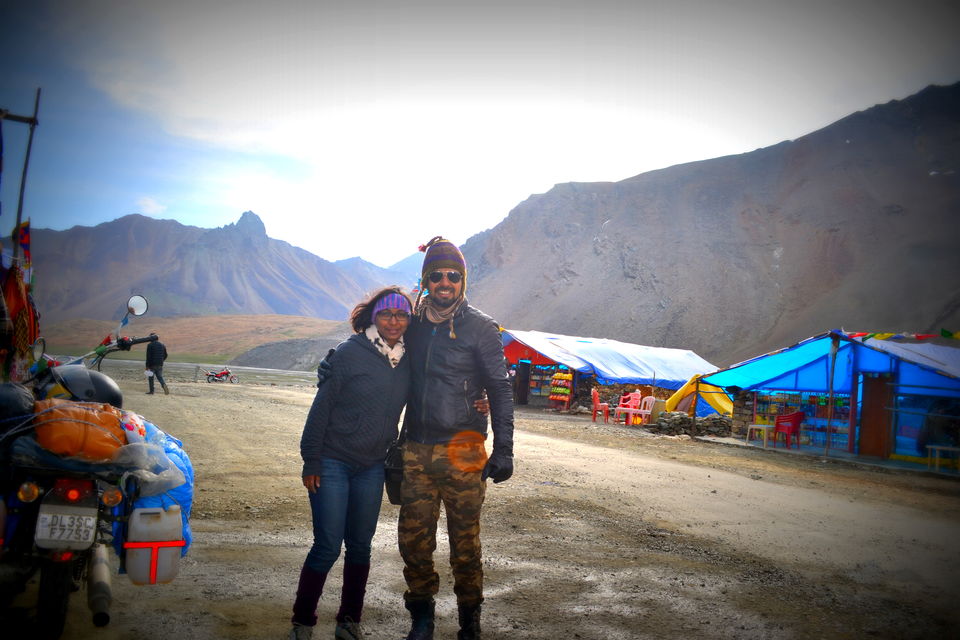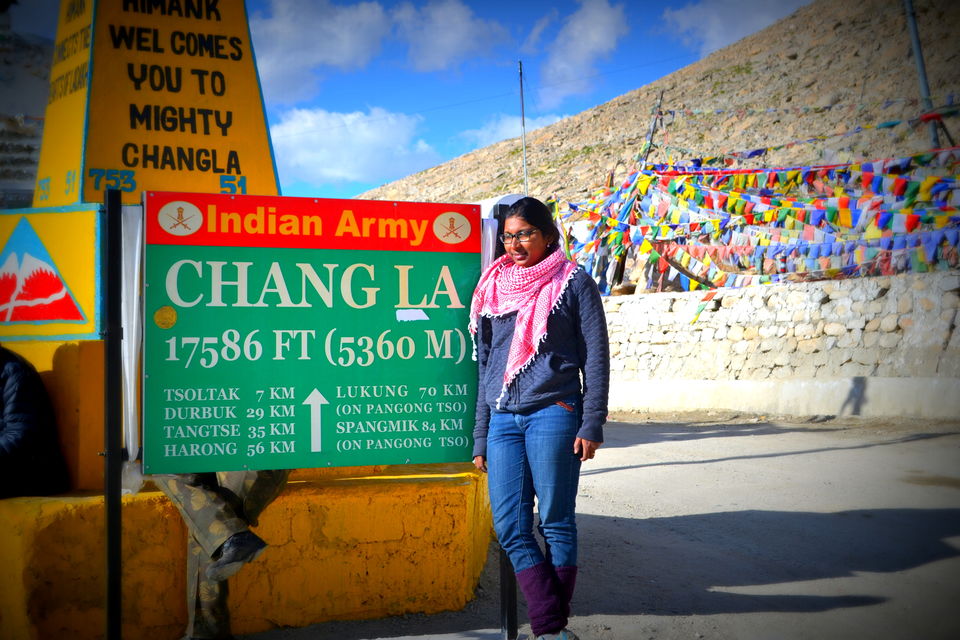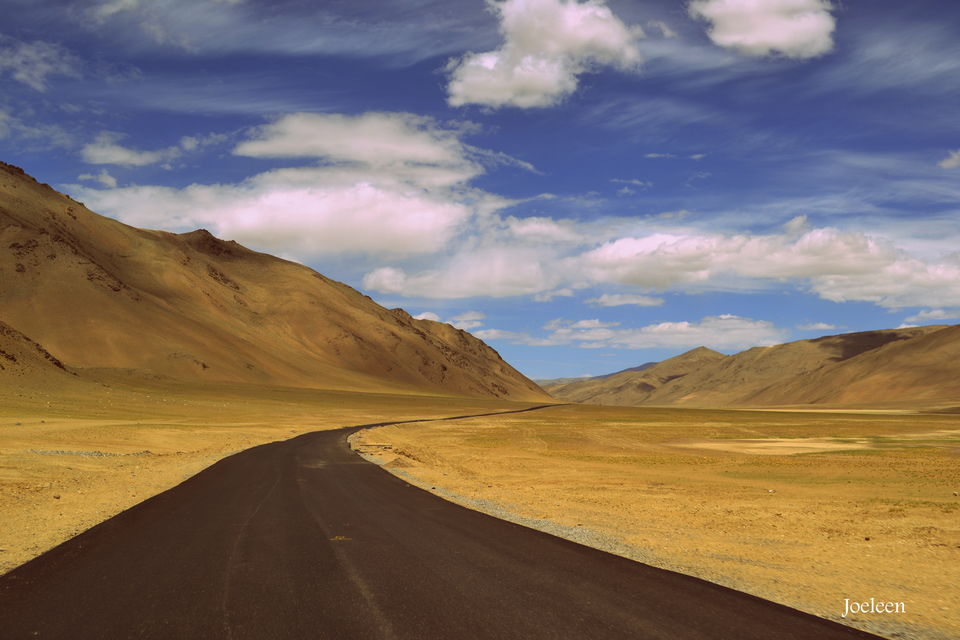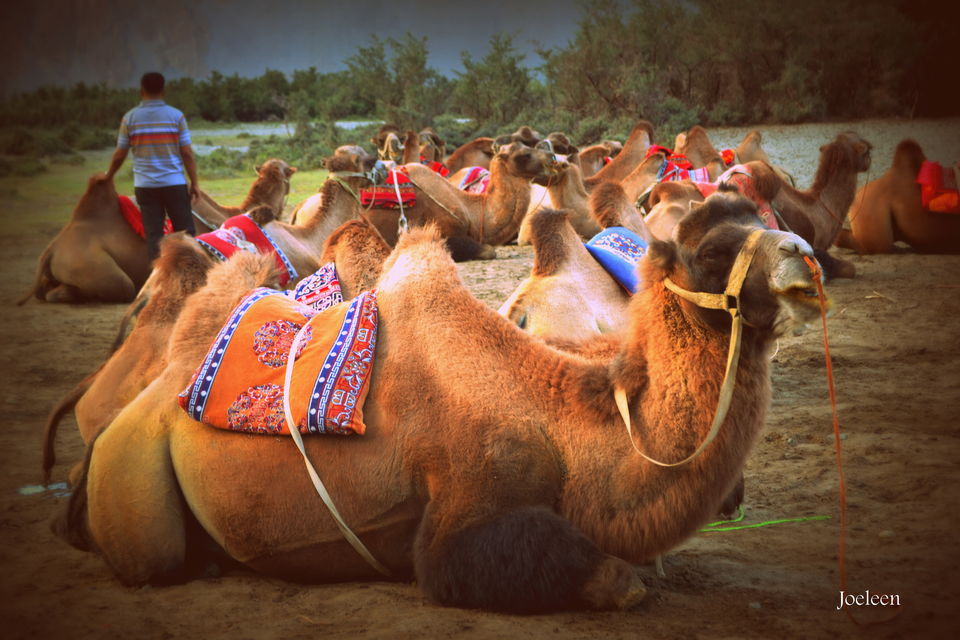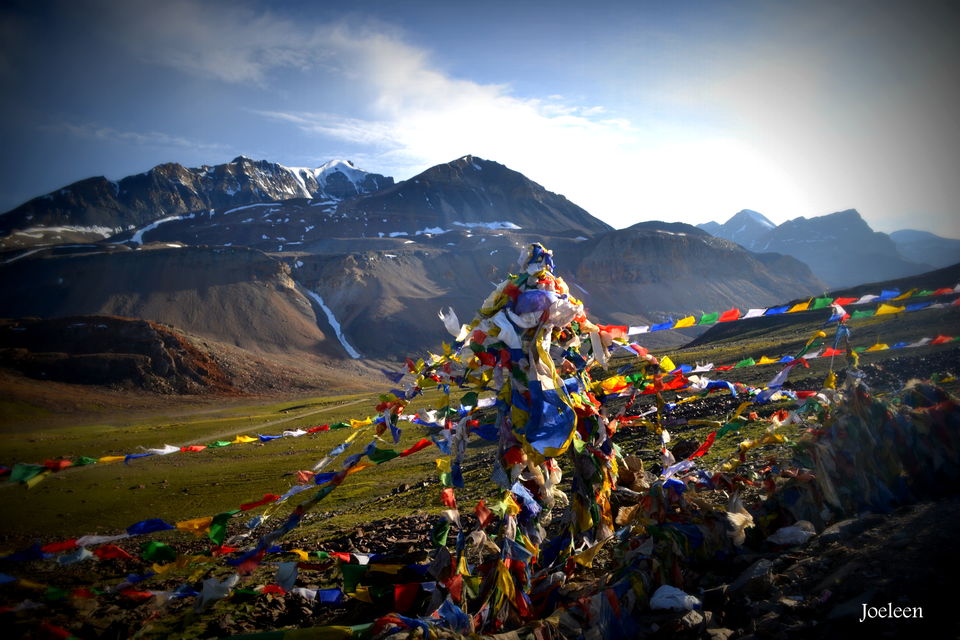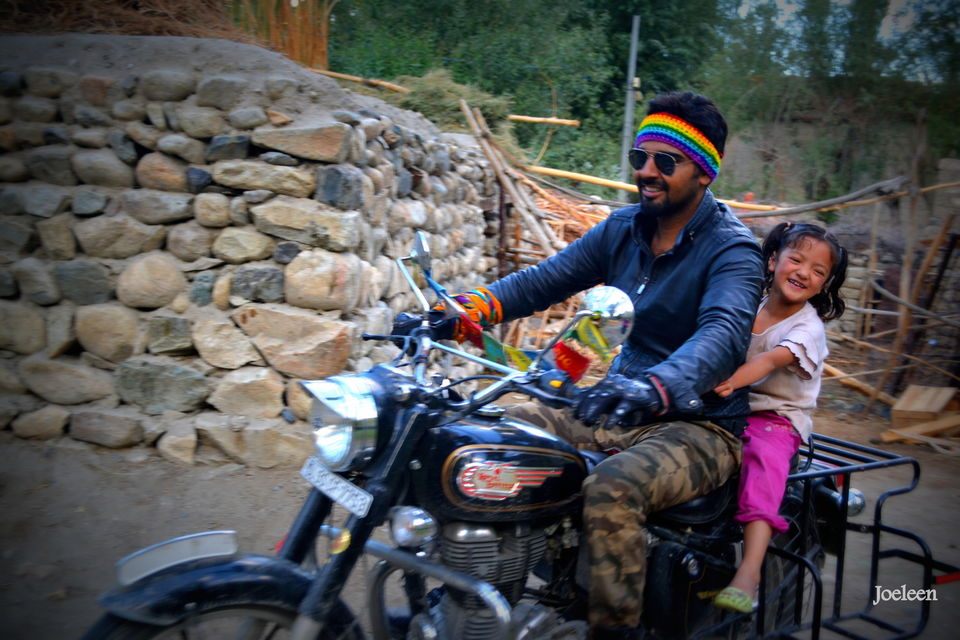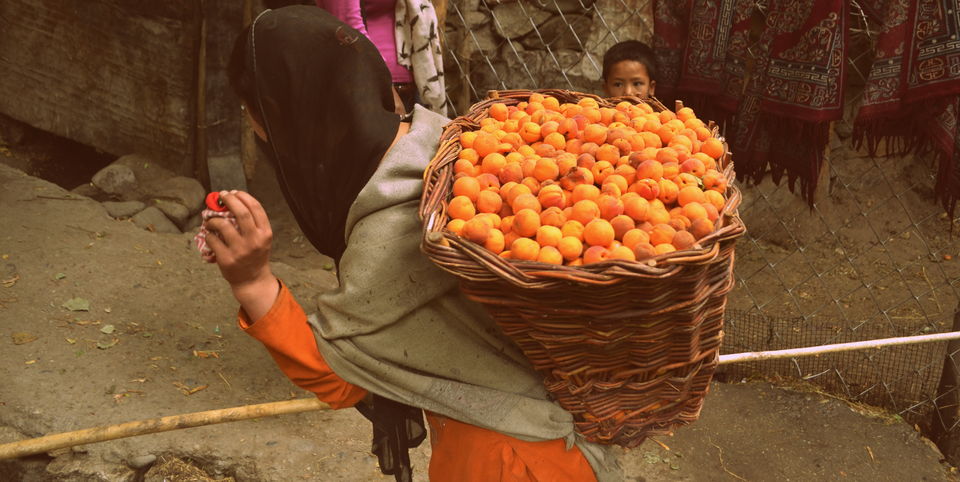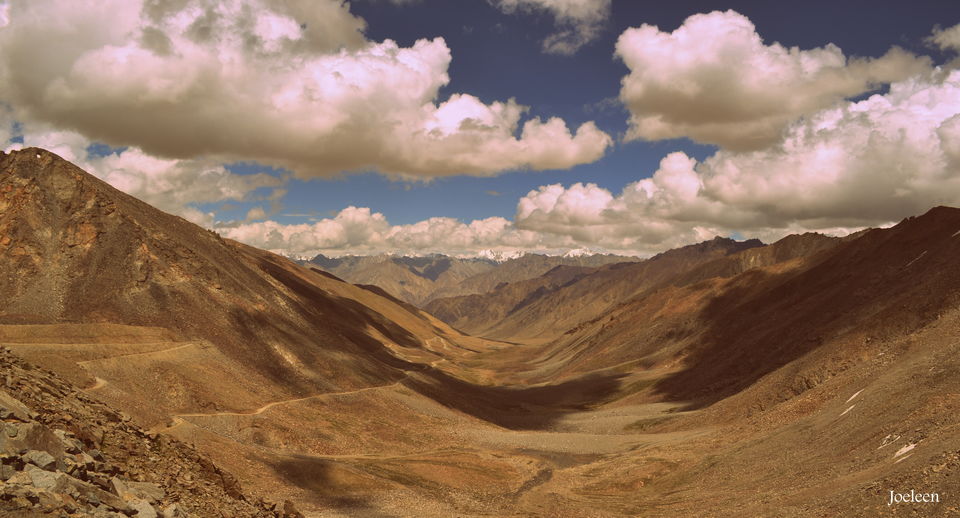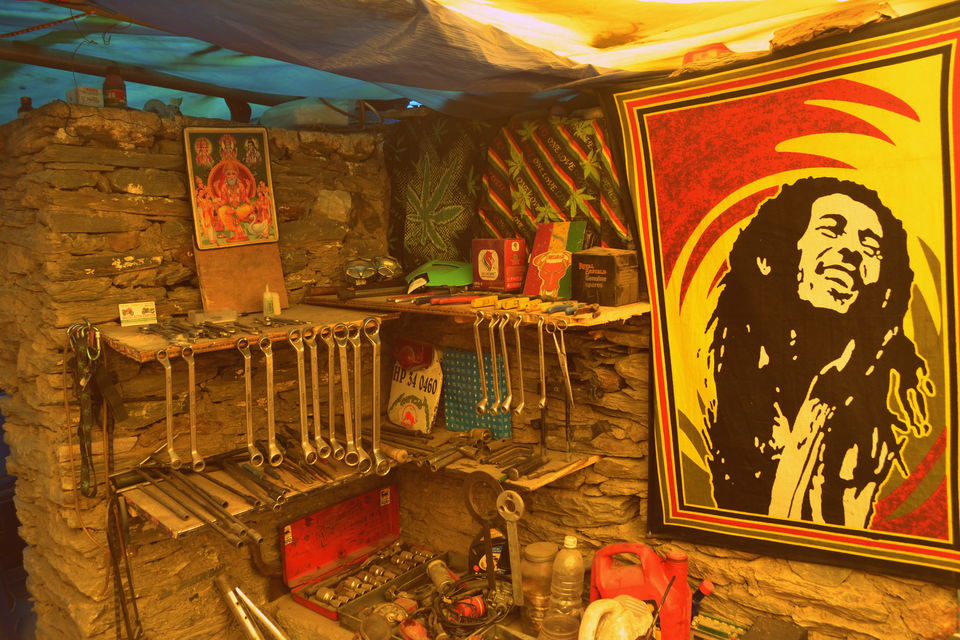 Day 01: 27 July '13 (Saturday)        Delhi/Shimla     380 Kms 
I was all set for the coming 17 day road journey and woke up at around 6 in the morning (ok.....at sharp 6, thanks to my alarm clock) only to find out that it has been raining. After a moment of disappointment I crashed back until my phone rang, I knew this must be Joe (the brave pillion....as I call her). From her voice I could guess she was half asleep as she enquired "when I am going to pick her up"?? I got up and as usual did all the packing by throwing all my clothes in the backpack (although I kept all the stuff ready previous night at a single place). After a very little breakfast (half cup of milk and two slices of brown bread) and loading everything on my motorcycle, I experienced something very Indian. My mother was standing next to me with pride, also I could sense some fear in her eyes too and my father was checking if everything was tied properly on my motorcycle. Also standing next to me was my cousin brother. After taking their permission (now... that's getting too much) I kick-started my bike and with the thump, cruising through the narrow streets I reached the place where I was supposed to pick up the pillion. I called her up and within no time she came out of the building with her backpack (Ohhh... I have to mention this... I really liked the backpack... it was a red coloured puma bag). After loading all the stuff and wrapping tarpauline sheet all around, to protect it from dirt and rain, we were up and cruising at around 8' o clock. After 10 minutes of the ride, we saw the eternal sunshine of the spotless mind (....I mean sunlight), there was no rain and the sky.....bright. And in no time we crossed Karnal. After a while I felt like having some fresh Mosambhi (citrus limetta) juice but couldn't find any shop or vendor and then I sighted a 'ganne Ka juice wala' (sugarcane juice vendor) actually there were many and as soon as I powered the brake, all of them became active and did their best to attract us to their respective stalls. We stopped at one and ordered two glasses of fresh juice without ice. As soon as I lit a cigarette, the guy came with two huge glasses of fresh juice. We both looked at each other and started gulping the sweet syrup. Somehow we managed to finish it but I was sure (at least me) that I am done with sugarcane juice for this season and may be for the next too.
After paying Rs 20 for a glass we started again. By this time the pillion was getting irritated  with the brand new helmet I brought for her (actually it was in no ways somebody could call it a helmet.... very old with visor or you can say no visor) so we decided to stop at the next shop on the way and buy a new one. For many kilometres we couldn't find any shop with helmets but there was a Mc Donald's on the highway where we stopped to munch something (what something.... as usual Chicken Mc Grill and Coke). I liked McDonald's though... I dropped the entire meal on the floor and quickly went to the washroom to clean and when I returned there was this guy standing with everything hot and fresh. It was really hot outside and we felt it as soon as we sat on the motorcycle that was parked open in the sun. Just closeby was a shop with variety of helmets and Joe chose a bright yellow. We continued with our drive and reached Kalka where we witnessed hills suddenly coming out from nowhere. Riding into the pollution free and picturesque hills was our reward after hot and dusty highways. We were only 40 Kms away from Simla(our stop for overnight), when we encountered heavy rainfall, short though. We kept on riding thanks to our raincoats. We stopped in between and took shelter under a small fruit vendor's temporary shed as it was raining really hard. We took this opportunity to call Prasun, my friend in Simla, also our host for the overnight stay at his place. We reached Simla at 5 in the evening and somehow met Prasun at 6pm after braving all the traffic in the beautiful town of Simla. While waiting for Prasun at the Old Bus Stand, a lady came to us with a small snake in her hands, asking for some money and I was so amazed when she said "Delhi wale to bade dil wale hote hai" (people from Delhi are very rich by heart). How does she know we are coming from Delhi?? May be she noticed the number plate of the motorcycle or may be because of our clothes or accent.... I dont know!! Very surprizing!! We met Prasun after following his instructions over the phone and asking local people at every turn. Then we followed him all the way to his house and once settled he did everything to make us feel home.... Thanks Prasun!! 
Day 02 : 28 July '13 (Sunday)    Shimla/Manali(via Jalori pass)        260 Kms
Shimla – Fagu – Theog – Narkanda – Kingal – Khanag – Aut – Jalori pass – Bhunter - Manali
Again it was the alarm clock that woke me up, it was 7 in the morning and I could see bright orange sunlight on the peaks right from the window of the room. Prasun was still sleeping with the laptop in his lap. In spite of repeated attempts to wake him up, he was like a dead man. So I wrote a thank you letter and left him to enjoy the leisurely pleasure of sleeping on a Sunday morning. Everything was loaded on the motorcycle and here we were..... again on the road. We stopped at the very first gas station to top up fuel. From Shimla to Narkanda, the roads are wonderful with lot of vegetation and the fresh morning air fuelled our lungs too. We stopped at Narkanda to fuel our stomach too and ordered bread omlette, parathas and ofcourse masala chai (tea). It was a 'Nepali Dhaba' and a very beautiful girl (I guess from Nepal.... as appeared from her appearance) was preparing meals and her husband (again I guess) was doing plates and at the same time taking orders. After a heavy breakfast we asked our way to Aut and after an hour and a half we entered Kullu district from Rampur side and crossed river Sutlej by a bridge from where started our 'Great Escape from Jalori Pass'. Anyone going to Manali from Shimla takes the highway route and only a few go through Jalori Pass, even Prasun suggested to take highway and said it is a very dangerous route with landslides, high gorges, no roads but I took him lightly. I also wanted, from the initial days when I started planning for this trip, to take the unconventional route which many dare not to follow. Our real adventure started while crossing Jalori Pass. The straight road from Luhri took us to Tatapani. After riding 20 Kms we reached Ani and another 25 Kms to Khanag. It was from here the slope increases and after crossing our very first Nallah(Stream of water) of the journey we entered a dark zone. It was like a movie set which was scary with very less visibility, it seemed someone was using smoke machine to create some kind of special effects. Slowly and gradually we managed to reach the peak. Now it was the time to descend. The caution board advised to go down in 1st gear only. I turned the engine off and started descending down the hill. It was all stones ...... small and big and there were more stones. We slipped atleast 10 times but none of the fall was fatal. These falls were result of uneven ground and also the weight of the motorcycle that was carrying two of us plus our luggage, spares. But many of the times it (the weight of the load) proved to be advantageous as it gave motorcycle the grip on the ground. My brakes were giving me a hard time as the front wheel brakes were getting hard and after regular intervals I have to stop and loose them manually. With pain in my fingers because of constantly using clutch and brakes forced me to stop. We stopped at a small shop that offered home-stay also. A kid ( I think his name was Bobby) was there and we asked if we can have something and he quickly replied with 'maggi and chai'. I went inside and crashed on the table to rest for maximum time in the available minimum. In the mean time I listened to a few songs on my phone while Joe helped the little child to prepare maggi & chai.After driving for 11 Kms down the slope we reached Jhibi, a small Village. 7 Kms further down we reached Banjar. Banjar is a small beautiful town along side the tributary of river Tirthan. This small town has a burgeoning population of residing foreigners. The town is very calm and quiet and is lush green with surrounding trees and forest.From Banjar we started our journey towards Kullu. The Banjar road joins the Chandigarh- Manali Road at Aut ( Banjar-Aut-24 Kms). Aut is famous for Larji Hydro electric project and this road enters the 2.5 Km Long two way tunnel on the NH 21. The road after the tunnel is a straight road which led us to kullu. This road is along the Banks of river Beas all the way up-till Kullu and from Kullu to Manali. Just before entering Manali we were charged a one-time entry fee of Rs 100. At first I thought its some kind of a spam but realised when a local police man standing next came forward and opened the rope block to let us know. We reached Manali around 6:30 pm and it was at this entry point, a man asked us if we would like to have permit to Rohtang pass and I wondered how can he arrange for a pass so late at such hours. I again sensed some spam and preferred get going as it was getting dark too. We reached Old Manali and I can fell the vibe of the place while riding in the narrow lanes. I called my contact Raj and met him near the Manu temple parking. He came on a bajaj motorcyle and told us to follow him. I asked him if we can go uphill to the guest house on a motorcycle and he happily said 'Arre sir, bullet hai aapke paas phir kyun tension lete ho'( you are riding a Royal Enfield Bullet, so no tension). We reached 'rocky guest house' and checked in on the first floor of the hotel. We orderd a lemon-soda as we were very thirsty and tired too. We decided to have food at the guest house only and after taking hot shower I came down to chat with the hotel staff. It was here I met Tamar from Israel(the guy Joe fell for), Tom from Poland(another guy she fell for). There was also a couple staying two rooms next to us who looked Indian but Raj (the guesthouse owner) said that there from a foreign country which after much brainstorming  cant recall. We ordered 'aloo gobhi' (my favorite), dal, rice and some chapati. The day ended with a sumptuous meal.
Day 03 : 29 July '13 (Monday)       In Manali
No alarm for this day but still I woke up early in the morning. I think there is something in this air as every time I am  in Manali, I wake up early (as far as I remember). During the planning of the trip, I also thought of practising yoga every day to do some soul searching and stuff..... as it was only on the very last days I was confirmed that someone will be joining me, I wanted to do this trip solo, but now after completing the trip, it's difficult to imagine how it would have been without a company. Anyways, I was not alone. So i tried giving yoga a shot, and it was ok ok... then I remembered what my father always said, to experience the power of yoga or meditation you have to be patient and most importantly , you have to give time to yourself, to your body, to you soul. (Too much gyaan now....) As per our itinerary, this day was reserved to arrange permits to go beyong 'Rohtang pass', small trek to 'Bijli Mahadev Temple' and fix brakes of my motorcycle which were giving me nightmares. A dip in the hot spring at Vashisht was also on the cards but considering the moderate temperature we thought of going in the evening or not even going. After a breakfast of bread, butter and masala chai and of course chocolate milk (as I don't drink tea too much) we went out. We went straight to the SDM Office in Manali for obtaining permit to Leh. Permit was obtained easily by paying a fee of Rs 100 for both of us (may be because it was only 1 motorcycle) with a copy of driving license and registration of the motorcycle. 
I was expecting a pleasant weather but instead it was really hot. After sipping a glass of fresh pineapple juice we were on the motorcycle and reached Kullu in no time. From Kullu, after crossing the bridge, we hadto drive another 20 Kms uphill. The narrow road  boasted of infinite apple and Indian pear orchards. The fruits were incredibly sweet and fresh  and when you have so much of them in abundance you  dont feel like eating them. Finally we reached the starting point of the trek to Bijli Mahadev Temple. We were pretty excited to walk uphill but all the excitement was washed with the sweat that started flowing like water from a river. It was a very steep climb of 2 Kms (I guess the stats were wrong) as it seemed it will never end with pine trees all around. I tried to keep on walking with very few stops, but it was Joe who seemed really tired, so I decided to leave her on her own and continued walking. Finally I stopped at a small shop and waited for joe to come and then I saw her coming up with a group of young girls and boys who were also from Delhi and were coming there for the 4th time. They also told us (I mean Joe... who later told me)about the story of Bijli Mahadev. According to legends, a long shaft on the temple top attracts atmospheric lightning and destroys the lingam at regular intervals. It is believed that divine power saves the world from destruction by absorbing the lightning. This lingam is then put together using butter as an adhesive by the pujaris(or u can say local caretakers of the temple). We reached at the top and the view of Kullu valley on one side and Manikaran Valley on the other side was breathtaking. I decided to take some rest as I was not interested to go inside the temple complex, so Joe went with her new friends and returned after sometime. We went to one of the numerous small shops and had some refreshments to walk down and then rode all the way to Manali. We reached Old Manali at 7 in the evening and it was about to get dark. The Old Manali road in the evening is quiet happening. So relax, you're back in the swinging 60's in the charming hippy heaven of Old Manali. As we entered our guest house next to our room, we saw a couple sitting on the chair and sipping hot masala chai. Their backpack was untouched and it seemed that they had just arrived. After a round of introduction, we sat together. They were Omar and Shani(yes..... shani) from Israel who just returned from Spiti Valley covering entire Ladakh. They were quite interesting as they shared their stories of Great Indian Adventure. On the table was placed an autobiography on Gandhi, Omar was reading Gandhi and was very influenced by his ideology and asked many questions related to caste and religions in India which somehow I managed to answer. Most of the Israeli came to Manali for the very famous 'Malana cream'(mariuana, hashish, charas..... there are many names) available easily in these parts.We ordered our meal as we were very tired to go to a restaurant and eat. After sometime Anup (.....Oh I remember the name now) came with the food. We took others permission and went to our room, had food. I put my earphones and I don't even remember when I slept listening to music.
Day 04: 30 July '13 (Tuesday)       In Manali
An easy day..... I woke up late and gave yoga session a miss (I think that my yoga stint was only for a day as far as I remember). After an easy breakfast I washed my clothes and when I went up on the terrace to dry them in the sunlight I realised how hot it was. It was pretty cool inside the room though as you did not  require a fan or anything. We relaxed at the hotel enjoying the views. 
Day 05 : 31 July '13 (Wednesday)         Manali -   Bharatpur       200 Kms                                            
     Manali – Rohtang – Koksar – Tandi – Keylong – Jispa – Darcha - Baralacha La - Bharatpur   
Fun time was over and we were ready for the drive to Leh and beyond. We started early and in order to lose some load I gave a pair of riding gear to Anup as we were carrying two pairs and I was not sure whether we were going to use them or not. After crossing Solang, the traffic was very little and we had a good ride to Rohtang with lovely views of surroundings and mountains all around. Vegetation slowly starts disappearing and you start reaching altitudes higher than 3000 m. At some places, the road was very bad with mud and water making the driving condition very bad. On the way we crossed couple of places such as Marhi and Kothi. There was no one at Kothi to check our pass. To my surprise, there was no snow and no tourists at Rohtang, it was like a vast empty land. I went there last year and it was all snow everywhere and thousands of tourists, I was amazed at this and I dont know why for the first time a negative feeling came to me. Have we chosen a wrong time to visit?? I dont know.... but we carried on without a stop. Presence of loose mud on the mountain was not helping however; it was a thrilling drive until we reached Khoksar where we had to stop for a police check who just wanted to note down our vehicle number.
This point onwards towards Keylong, the road was quite good, although winding and times a bit risky as you would expect on mountains. The brakes of my motorcycle were giving me a hard time and making noise similar to a truck makes when brakes are applied. We reached last petrol pump on the way to Leh at Tandi Pul, 10 km before Keylong and I got my motorcycle checked at the only mechanic there. He checked and advised to get the brake shoe changed. Without thinking much I agreed and quickly the brake shoe was changed. Since it was the last fuel station for the next 350 Kms I got the tank filled and also took out the 2 jerry cans I have been carrying. We got enough fuel to reach Leh now. We reached Keylong in the afternoon and I was still feeling very fresh and strong. Even the town of Keylong didnt look so appealing so we decided to move ahead to Jispa to stay overnight. Even Jispa was not 'THE' place we had in our mind, so we skipped Jispa too and moved ahead. Soon after is a place called Darcha which is the last town with possibly 10-20 people living there and a little shop. After crossing Darcha, there is a steady climb towards Baralacha La. It was already getting dark and cold and Sarchu was another 25 Kms, so we decided to stay at Bharatpur. The place is very windy with wind velocities possibly approaching 40-50 Km/hr making the temperatures feel subzero despite actual temperature being about 5-10 degC. Here, no one lives permanently except a few Army settlements and few small dhabas providing some basic accommodation. We found a camping site cum Dhaba where we stayed. These camps serve you food and bedding and some of them also provide toilets which is indeed a luxury at this place (exposing your bum to morning frost is no fun. We had to use all our woollens here due to cold weather requiring us to unpack the tied up stuff which was the hardest thing in a cold and windy evening so we decided to leave everything as it as we had to move in the early morning. The place was very windy and also the AMS often bothers people who make an overnight stay here. We were no different. I had to wake up many times in the night because of the cold winds and breathing problem at such a height. Two more bikers coming from Leh stopped(may be seeing our motorcycle) and stopped for the night there. They checked in at the adjacent camp. They were from Hyderabad riding all the way to Leh and were now heading back. I could see there tanned skin(which scared me a little) however their motorcycle looked clean. Later they told me that they got their ride serviced and washed and recommended 'Tashi' in Leh for any motorcycle service and repair. After dinner and some chit chat with the lady owner and other staff around a warm heater we retired to our beds. Inspite of having two quilts we were feeling cold and couldn't sleep well the whole night.
Day 06 : 01 August '13 (Thursday)       Bharatpur -  Leh        290 Kms                                               
Bharatpur – Sarchu - Gata Loops(21) - Nakee la - Lachulung la – Pang - Tanglang la – Rumtse – Upsi - Leh      
It was not a good morning today. There was a feeling of sickness, thanks to the miserable weather. Today, we will be riding to Leh and it is likely to be the most challenging one of them all. It was so cold and windy outside that we didn't bother to brush our teeth. We had a hot breakfast and moved to Sarchu. Sarchu is on the border, after crossing which we had entered J & K. Kullu valley is green and lovely; Lahaul is beautifully brown and barren except for some green patches; but the Ladakhi terrain is hauntingly beautiful. There are lovely views and reddish brown hills. There are also dark gray ones. And the rock formations at places looked like someone had sculpted those! It was nature the sculptor at work. And barely 10km after Sarchu, we're faced with quite a task. It's a rock crawl with flowing water down a steep slope.We(I mean...I) managed to cross it with some water getting into my shoes.After Sarchu it was ascent again; we started climbing the Gata loops - a coiled-up stretch of road with 21 hairpin bends. I did not even realize that after climbing all the loops we were passing through the passes Nakee la (15547 feet) and a little later Lachulung la (16600 feet) until after we had crossed them. Hours and hours on the road, but the numbers on the milestones we drove past hardly seem to change; it's as if the distances were measured as the crow flies, that's because the changing terrain and the mountain climbs constantly slow our pace. We reached Pang and there's more great driving roads around the Pang pass too, albeit not all of them are fully finished yet, and because the weather is so good, we really get to revel in them. And of course, there is wild scenery like you can't imagine. There is also an army camp at Pang—the highest transit camp in the world according to the sign there. After Pang, it was ascent first and then descent and then surprise surprise we reached what seemed like flat land at an altitude of more than 15500 feet. We were surrounded by hills that look very intimidating. At this plateau called More (Morey) plains, there is enough flat land to accommodate an entire town, but there was not a soul. The place was barren and hostile. It's a more or less straight road for 40km, but most drivers avoid the road and make their own roads leaving a trail of dust behind. For about an hour, we drove at a constant speed. After that, pleasure was over, the road climbs steeply up--really up. And the road is bad again! After a hard ride we are at the highest pass on this highway, the Tanglangla pass. Situated at a height of 17580 feet (5359 meters) on the Zanskar range, it is considered the world's second highest after Khardung la. The horrible road upto Tanglang la was a ride which I will not forget easily . From the top of the pass you can see from where you came and you knew again you will be down somewhere and then look at the high passes to reach them. Down from here road was bad but after few Kms it started getting better. We hit the tarmac again, the road recently done and it was a smooth ride. We crossed Upshi and I was already started feeling tired. I put on the music and it was the very good road that got me going. Mud brick houses and some greenery along the way on the Indus River were a welcome sight. We stopped at the village of Rumtse, had tea there(I had a cup of coffee). I liked the small village with houses made of mud. After this small break we moved ahead and reached Leh in no time where we stopped to register at the check post. We entered Leh in the evening and asked our way to Fort road. I called Mr Sangey(I am still not sure of his name......although all the time I called him with this name only), our contact in Leh, met him at his cousin's restaurant. He is an old man with lot of experience and runs a travel agency in Leh. He called at few places and arranged a guest house on the Fort road. We checked in at the 'Atisha Guest house' for Rs 500 per day. We took a hot water shower and went back to 'Summer Harvest restaurant' for dinner. To our surprise it was full with tourists and there were no tables. Luckily we got one and ordered our meal. We met Mr Sangey again and he joined us. We enquired about places to visit around Leh and how to get permits. Mr Sangey told us that he can arrange for the permits but being with a travel company I wanted to do it myself as I wanted to know how and where to get permits. The food arrived and it was amazingly nice. We went back to our guest and at night discussed further plan and also decided to change the guest house tomorrow and look for a cheaper option as we have to stay 4 more nights in Leh
Day 07 : 02 August '13 (Friday)        In Leh
We woke up around 8 in the morning and rushed through the whole getting ready and breakfast ritual. The first thing was to get our permits for the Nubra Valley and Pangong lake and to get the motorcycle checked. I first went to the SDM office to get the permits and found out that there is some holiday and the officials will turn up only after 1 in the afternoon. I then went to Tashi at his workshop down the fort road and get the brakes done. It took two hours to open the rear Tyre because of the carries attached (and ofcourse to the new royal enfield stardard model where they have very less space for tool to work on.... thanks to the R E engineers). The brake shoe was not completely gone and it was cleaned and fixed back. I liked the honesty of Tashi – the mechanic as he didn't change the entire break shoe, it would have been someone else, I am sure would have gone for a new one. After paying him for the work done I went back to the guest house, took Joe along and straight went to the SDM office. We very having all the necessary documents, filled a form, paid fee of Rs 300 each and got our permits quickly. As suggested by the officials we got 4-5 copies of the original permit. Our next target was Leh Palace. We drove all the way to the Leh Palace. The palace wasn't what you would call a masterpiece of architecture but I liked it, there was something about all the wooden palace. I saw lot of travellers trekking up to the Tsemo Gompa, it seemed tough so we drove along the road to the palace to take road through the Leh streets and 500 year old houses and then along the steep and dry hill climbing on to the relatively smaller hill on which  the Gompa were located. Finally the view of the Leh town from the top were so amazing that it worth the ride. We spend some time on the serene hill top and clicked several pictures.
Day 08: 03 August '13 (Saturday)   Leh - Khardung la – Diskit - Hunder (Nubra Valley)       140 Kms
After a good night's rest, the plan was to head off to Nubra Valley on Day 10. Around 150 kms from Leh (6 hours), the route goes through extreme ups and downs. The famous Khardung La pass is on the way. We started early in the morning to cross Khardung la as early as possible to avoid huge Nallahs created due to melting of ice in the afternoons.Leh is at an elevation of approx. 11,500 feet. And Khardung La is at 18,500 feet. The distance between the two places is just 40 kms. So, you gain an immense amount of altitude in a very short span of time - the fastest way to get altitude sickness but luckily we managed to reach unharmed. The view is breath-taking and the air just keeps getting thinner and thinner. The roads are pretty decent till South Pullu, but after that it's the highway to hell! By the time we reached Khardung La, Joe had started bearing the brunt of it - nausea, throbbing headaches, breathlessness (I know I am not painting a very good picture, Joe is going to kill me for this). Just when we were supposed to reach Khardung la, road maintenance began and we were stuck at that high altitude for 2 hours. It was very cold at the top. There was an Innova parked right next to us and there was nobody in it. I took this opportunity and got in and sat next to the driver's seat. As I closed the door, there was a voice from behind 'Hey, who are you??'. It was Thomo, a guy from Japan working in Bangalore with an advertising Company. We got friendly after sometime and he even asked me to call Joe into the warm car as it was furiously cold outside. Taking this opportunity I called her in and after few minutes the BRO guys signalled to move as the road was cleared. In mountains, it is the traffic going uphill always gets the way first, so I quickly kickstarted the bike and moved ahead.
Khardung La is supposedly the highest motorable pass (sure felt like it!), but someone mentioned that Tibet has a higher one.  Nature floored us that day. First, with its ferocity, and then with its beauty. We saw the might of human spirit too, so many people who cycled their way to Khardung La! After what seemed like forever, we finally started for Nubra Valley. The moment altitude decreased, ears popped and sanity was restored. After riding a few kilometers we were stopped by a lady. As we approached them (Mike and Annette from Germany), we realised they had a flat tyre and were looking for some help. I was carrying spare tools for such a situation and tried to help the old man in his late 60's. He was carrying the adhesive to fix the puncture but we were not able to paste it after repeated attempts. another rider passing by stopped. He was going back to Leh and was carrying a spare tube (even I was carrying a spare tube but I could not offer my tube to them as it was for our only option in case of a flat tyre). Mike purchased the spare tube from him and in few minutes we were ready to roll. Mike and Annette offered us to have lunch with them at the very first dhaba on the way. We stopped at a road side small shop and ordered fried rice as Mike rolled a cigarette. The rice looked awful but was not that bad. In the meantime, the German couple told us that this is their 14th visit to the mighty land of Himalayas. It is the spirit of such travellers that really get me going. As a courtesy they went to the shop owner to pay for the food, I immediately went after them and paid for our lunch and thanked Mike for asking to pay for us. But I asked him to roll a cigarette for me if he really wanted to thank me. After few talks we were on the road again. It was a bad day for the German couple as after few kms their tyre got busted and was beyond our repair. They called the royal enfield company(or the owner of the motorbike from whom they purchased the motorcycle....I am not sure) and he promised to come next day in the morning to fix it. We bid goodbye to them and moved ahead to reach Shyok river in Nubra valley. Smooth roads followed and we reached Diskit town by 5 pm. We decided to move ahead to Hunder
The one thing that stands out about Hunder is sand-dunes! Right in the middle of those snow-capped mountains! Its such a jaw dropping sight. We initially thought of staying overnight in Diskit but after looking at the small village of Hunder we searched for a staying option there only. We were lucky we found 'Mehreen Guest house', a homestay in the middle of the village. We were given a huge room with carpets, curtains and bed in an amalgamation of Muslim and Tibetian artifacts. We simply loved it. The very special Mehreen, a small, naughty girl was there to entertain us and ofcourse her brother quiet and intelligent Noman. After a brief rest and a cup of Ladakhi tea we went to enjoy the open sanddunes. An entry of Rs 20 was charged.
The Bactarian Camel ride was what Joe wanted to do and I had no rights to stop her (although I didnt want to do it). The owner of the camel also told us that these double hump camels are found only in Nubra Valley and Mangolia. In my opinion, just skip the smelly ride and let yourself go on the dunes! Exactly what we did after Joe was done with those camels. We rolled in the sands, danced, ran, clicked many pictures. Few hours there, and then we headed back to our homestay for the night. We returned back and asked the leading lady at the homestay to prepare a meal as we were dying to eat some fresh vegetable grown right in front in the complex of the homestay. We sat altogether and after giving some teaching lessons to Mehreen had our meal, it felt just like home, it was giving us a feeling as we are on a visit to a relative. We all had dinner together and shared some stories and listened to a few too. Another beautiful day came to end and it couldn't end better than this.
Day 09: 04 August '13 (Sunday)   Hunder – Turtuk Village - Hunder     160 Kms
Next day our major attraction, as planned, was Turtuk – the-village-which-was-once-across-the-LOC. After a sumptuous breakfast, we started from Hunder around 8 in the morning. Within no time, through the smooth roads and the ever-charming and gorgeous landscapes, we came near to THOISE.THOISE is not a village – it is a Transit Halt Of Indian Soldiers Enroute and arguably the highest military airbase in the world. The place was fully inhabited by the Indian Army and full of military installations. For reasons not unknown, Photography was strictly prohibited of these installations. Once we crossed THOISE, it was a straightforward drive towards Turtuk. Through the rugged mountains and keeping the Shyok river besides, we drove towards the LOC. The landscapes were us usual too mindblowing to be missed.
We had to submit our permits at a checkpost while nearing Turtuk. Turtuk was still around 25 Kms from this checkpost. The feeling was inexplicable – we were spellbound by the victory of the Indian Army, while we realized that Pakistan was no different from India on the other hand, as far as the natural beauty was concerned. Nature does not bestow its generosity based on the barriers of the countries. All through the road there was heavy presence of the Army, which was no surprise. We reached Turtuk in the afternoon. The village was small and could be covered within an hour or so on foot – in fact the village is situated on such a hillock that even a motorcycle cannot enter inside the village and one has to roam around on foot. We went to a small restaurant and had fried rice and started to explore the village on foot. The overall look and feel of the village was different from the usual Ladakhi culture – the people too. Most of them speak a language called 'Balti' and the region is called as Baltistan in local language. The ethnicity of the people was also different from what we can see in other areas in India.
Turtuk village is nestled on a flat valley over a hillock and surrounded by high mountains. The village was small as we could cover it within an hour on foot and we reached to the bottom of the hillock through a series of steep stairs. The village is famous for its apricot which were sweeter than any other place we tried on the way. 
Day 10 : 05 August '13 (Monday)    Hunder/Diskit/Leh via Wari La         150 Kms
Diskit – Khalsar – Agham – wari La – Sakti – Karu - Leh
Nubra valley, is a very common and known to all destination in Ladakh. One needs to cross Khardungl at 18,380 feet and reach Nubra valley and we did the same. I didn't want to follow the same route to go back to Leh. So after consulting few local drivers in the morning while visiting Diskit monastery we decided to conquer Wari La.
We woke up early, after a quick breakfast, bidding good bye to our hosts and a brief meeting with the guy from Poland (when I suggested him not to visit Turtuk village as he was on a bicycle and going and coming back on the same route for 160 Kms in a day or two will be very monotous), we left hunder and stopped at Diskit to visit the famous monastery where they have a mummified body of a Mangolian warrior and a 32 metres statue of Buddha on the other side. After the visit we moved to Leh via Wari La. I wanted to do Wari La but I was a bit scared too by various questions asked from local drives like – Are you carrying spares??, Do you have food with you?? There is no network as one of them said. Thinking positive we left Nubra Valley and crossed khalsar with good road conditions. Just after crossing Agham bridge you see 2 routes. The route on left is to Shayok which opens up at Durbuk on Chang La–Pangong lake road. From Durbuk, Pangong lake is about 40kms. But this route is under heavy construction this year (2013), with river Shayok taking over the roads at many places making it a very difficult choice for motorbike riders. However, a good 4 by 4 with a risk taking driver must try this route. If you take right after Agham bridge, you will start ascending towards Wari La, the very secluded pass in Ladakh. It is very common not to spot any vehicle or locals on that route except road construction workers and who else can tell this better. The road to Wari La involves good amount of off roading with almost no road and a lot of water streams on the way. I am sure, any motorcycle rider will love this route. It is amongst my favorite trails in Ladakh(and the scariest too) as there are very less people, almost zero tourists, not at all developed, no roads, no Dhabas, no BSNL signals, no shops, no villages. Only you with some wild mules, horses, yaks, sheeps and a few distinct birds of Ladakh and the adhoc mountains with blue sky in background and cold water streams under you on the path or trail leading to Wari La. While ascending to Wari La, a dust storm started far away. And sun rays were filtering in through the dust. We not only turned, but stopped, got off the motorcycle and took in the view in awe. It started raining and the wind was blowing not normal. We were going very slow because of the bad road and ofcourse motorcycle was not able to pick up with load and ofcourse the steep elevation. We reached the top and kept moving towards Sakthi (or Serthi as on sign boards). Road became smooth and we crossed sakti and finally reached Karu where we stopped and ate. The was very good though the dhaba didnt look nice or may be we were too hungry to judge the food. From Karu, Leh is 35 Kms and roads are pretty smooth and well done. We reached Leh in no time and went straight to the guest house. I felt some dryness in the motorcycle and went to Tashi for a check up. He did some oiling and gave a thumbs up to the motorcycle for the further riding till Delhi. I returned happy to the guest house, took a shower and then we went to have dinner. We went to a local restaurant named 'Garden Restaurant' and after some waiting our order came. Food was wonderful as always and we returned back and crashed after a tiring day.


Day 11 : 06 August '13 (Tuesday)         Leh/PangonTso/Leh         275 Kms
Leh – Shey – Karu – Shakti – Chang La – Durbuk – Tanksey – Lukung – Spangmik (Pangong Tso) and back
We planned to stay at Pangong, actually at a village in Spangmik at a homestay. We started with such a mood. It was a pleasant day and our spirits where high as we were going to witness the very beautiful and majestic Pangong Lake.
Come morning alarm at 5 i am damn sleepy! I was wide awake the same time the previous day when i could sleep for hours! Any way after quite some snoozes i pull myself out of the bed and though fuel was done the previous day it still took lot of time. Some last minute stuffing and breakfast at karu made sure that we left only by like 10 am. I had just one main concern for the day, the dreaded Pagal nala near pangong lake. But i was assured that with the dull weather there would be less water by the time we made it there. We reached Sakti village pretty soon as the roads were good and start the accent to the Mighty Changla. Hardly 3500 meters and the motorcycle already started struggling. I see mountains and mountains with a line higher on each successive one. Slowly I relegated down the gears one by one. At around 17000 feet I was down to 1st gear. We did Khardungla and WariLa in the same state of tune. Soon the road was completely gone and the pavement ends and its all offroads and small stream crossing and quite a few rocks. couldn't  maintain the momentum here and slowly made it to the Changla pass. We Kept on going and the other side is even more worse. Looks more steep and really bad surface for a few Kms. Just big stones some places. Its was kinda nasty till I get down to the pavement. Its not very smooth but still its pavement! With Changla negotiated, I was just concerned about road ahead. Every day in Ladakh has been different experience and though cant explain in words the landscape was interesting. We reached the town of Durbuk kind on a plain in the valley floor and road towards Tangtse town. The ride from Tangtse towards Lukung was very nice as well. Wanted to take lazy breaks many places. Kinda riding in between steep valley.We came across a Nallah, the water level is very less says the GREF workers who are now building a bridge across! I offroad down to the crossing and its kind like one feet for a few feet. But I was in no mood to get my shoes wet. I took my shoes off, rolled my trouser upto my knees and rode through feeling the cold water on my feet. It was all rocky and very cold water. Somehow I got across and thank God for not falling into the icy cold water. Well my shoes are dry you know! I hurried up to ride out and witness the majesty as soon as possible. A couple mins and there I see the lake for the first time and what do you know, the sun was shining on the lake and its vivid blue color. I got excited and ride out to the lake and see the ECO huts to the right. With sun escaping from the clouds and shining on the lake, the first thing I wanted to do was to take some pix of the lake and ofcourse pose. I went to the remotest corner of the lake and clicked some really nice pictures.  After that we went to the Eco huts for some food. We were done with the food, photography and it was only 2 by the clock. I was thinking what we will do the entire day so after consulting it with the pillion, We decided to return back to Leh. We followed the same route, crossed the same nallah same way (crossed more Nallahs) and reached Chang La at around 5, that was quite a feat. I had a celebratory cigarette while Joe went to the tea shop and returned very happy with a complimentary tea in her hands. We met 4 rides from France who were going to Pangong Lake and they asked me how much time it will take to reach Pangong. They were late. Pangong was another 3-4 hours away. One of the guy was having a problem with his motorcycle, I checked it but couldnt make out why It was making a lot of noise. They moved their way and we moved ours. We reached Leh around 8 in the evening and it was for the very first time that we reached a place in the dark. Now I so much needed fluids and food. We went to the nearest restaurant and had a good meal. After dinner on the way going to the guest house we met thomo again(the Japanese guy from Bangalore). I looked at the sky and it was all stars, I was so amazed and had  not seen such a clear sky in a long time. Could make out the Milky way galaxy as well. We knew this is going to be our last night in Leh. So we gazed at the stars all the way.
Day 12: 07 August '13 (Wednesday)        Leh/Kargil         220 Kms
Leh – Nimmu – Lamayuru – Khalse – Kargil
As it started, the ride felt like it was going to be run of the mill, uninteresting highway riding through decently nice surroundings. The magnetic hill was the first to show its face. Then came Nimmu and we proceeded to Alchi. And all of a sudden there it was Lamayuru Gompa. Quite impressive, the gompa is beautiful and quite visibly an important one in the gompa hierarchy. By the time we left Alchi, the wind had picked up and there were dark clouds at the horizon. This was not good news. The weather was not something I want to confront. I see droplets on the rear view mirror. My fears were being realized. For the first time in the last 10 days, I was scared (ok... for the second time). Not just worried but quite literally scared out of my wits. We stopped to put on our raincoats. The wind was so strong that at one point we thought it will take us into the skies. We continued hoping that the rain will stop by the time we cross the next visible hill. I also wanted to see how it feels to ride in the rain and high winds. To our luck rain stopped but the roads were slippery and there was mud all over the road. That could be dangerous.
I glanced at my watch. It was 2 in the afternoon. Another look at the clouds and we continued. We didn't have to wait much longer. Fotula was the first thing to arrive. We even noticed a doordarshan (prashar bharti) tower at the top. We stopped for about 15-20 mins, empty the fuel in the jerry cans to the tank of the motorcycle and decided to move on. As we touched the valley, the next phase began. The dark clouds were almost touching the slopes barely 6 feet above my head. First a few droplets arrived and then it started pouring heavy. We didn't want to stop and continued and suddenly on a turn we were down on the road. I didn't understand what on earth just happened. I checked Joe, she was alright, I checked Motorcycle, she was also alright. Then I recounted the entire incident. It was mud and water that caused the fall. We were not going fast but roads are very slippery during rains specially on turns. I can count those 5 seconds when we were sliding on the road. We  didnt get hurt because of the water and mud. We were all wet and muddy. One of the bungy had broken, there was mud in the camera, and everything was messed up. Luckily there was a village and we stopped at the very first shop. It was still raining and we managed to clean ourselves. I fixed the bungy cord as it was really important to hold the baggage. We had some maggi and chai at the shop.
But then, like all bad things, this ended too. Sun was out again. I could breathe again free. By the end of it, I was feeling alive again. We took out the camera to capture some pics with the shopkeeper who was very kind and helpful. We were on the road again. Slowly and gradually we moved uphill and reached Nameela. Namkeela was the worst pass I have ever passed. No, not because of the height but because of the muddy and slippery road. But it was over. We reached Kargil by 6 in the evening. We went to the main Bazaar area and started looking for accommodation. We checked one guest house but it looked very deserted and creepy. As we were looking around, we saw some motorcycles parked inside a small compound and as we enquired there was a room available and the owner also agreed to provide hot bucket of water (that too without additional cost). We settled in and desperate to clean ourselves we went to bathroom turn by turn. We were hungry and decided to go out to eat. We went to a nice restaurant (as suggested by the owner of the guest house), had our meal and came back. The moment we entered the guest house, we all the owners of the motorcycles parked were there and chatting. We introduced our self and joined them. These were people from all over the world. Tom and one guy from London,  A girl and her boyfriend from Chile, people from Israel, Germany and now of course from India too. They all were individual travellers but slowly turned into a group of 11 motorcycles.(now twelve including ours). They were leaving for Srinagar next day and we decided to travel together. After a round of Jasmine tea, some joints, everybody went to their respective rooms. It was decided to be ready to move around 8 in the morning next day. We also went to our rooms and there were no beds. Ground bedding was provided and the rooms were clean with warm carpets on the floor. I was tired and couldn't care as long as I had a bed. I went inside and crashed.
Day 13 : 08 August '13 (Thursday)         Kargil/Srinagar      210 Kms
Kargil – Drass – Zozi La – Sonamarg – Srinagar
After a good night sleep and a bright morning everybody was ready to leave for Srinagar. Our breakfast consisted of some mango juice only. We all left together dodging curious onlookers from Kargil. Early progress was fast. Super cool roads and very sparse traffic. The curves didn't worry us despite the warnings from BRO ("Be gentle on my curves" and "Darling, I like you but not so fast"). In no time we arrived at Drass - the second coldest inhibited place on earth (I think the first must be somewhere in Serbia). We were the first to reach and thought of having a breakfast there. We had paratha and tea. We took almost half an hour of break but we couldnt see anybody crossing. We decided to wait for some time.
Then there is Tiger Hill. Arguably one of India's most famous battles ever, Tiger Hill was shining bright. There are stories of the lady who was doing the recce for Pakistani forces, About Musharraf's briefings just behind Tololing, Of why the army never found out about the intrusion, About the herders who finally sounded it out, About the delay by the air force, About how it all ended and about how things have changed since then. Its a very very interesting and engrossing story. Most of all, it opens one's eyes to what the ground realtity of Kargil War was. The terrain in mind boggling. The air is sparse. What it means to have position of height to have tactical advantage becomes immediately clear when one stands under the mountain. We also saw a couple of helicopters doing a recce in the mountains. As we saw none we decided to leave Dras.
The next few hours from Dras to Zozila were spent battling the road. The road was really bad and we were moving very slow. We were singing songs, cracking jokes and laughing until we were stopped at a checkpost to enter our names and other details. As we turned around we saw two motorbikes coming and surprize it was Tom and the other from London. They told us that others are following too, it was a flat tyre of one of the biker which forced most of them to stop. Three of us moved ahead and after crossing Kargil memorial we were again forced stop by a huge landslide. There were many stranded vehicles lined up, we went to the very front and stopped. We were informed that it will take 3-4 hours to clear the mess. We had no option to wait. After half an hour every body arrived and there were 2 more bikers like us who were from Pune and going to Srinagar. We chatted, shared whatever we were carrying with each other, some slept on their motorcycles, some on the rocks. After 3 hours of work by BRO, the mess was cleared and we were signalled to move. All the motorcycles on the front started their engines and the sound of so many royal enfields was thrilling. Zozila was a mess with no road and only dust. We went down hill and reached   clear road. We were about 12 motorcycles riding back to back, I loved this ride as it was for the first time during our journey we were joined by a group. The views looked spectacular too.
This, really is the essence of motorcycling. This is life on the road. We reached Sonamarg and stopped at a small shop for tea break. After tea we all went our own ways and moved ahead after bidding goodbye. Soon we entered Srinagar. Now we entered the green zone. It was very hard for me to believe that I was in srinagar after riding so many kilometers. We headed to Dal Lake and started our hunt for a houseboat. We managed to find one within our budget. It was a creepy one but on the banks at the back, and very quiet. We checked in and quickly got ready for our dinner being hosted by Majid(Joe's old friend). He promised to pick us up at 8 pm. He came on time and took us to maximum places in