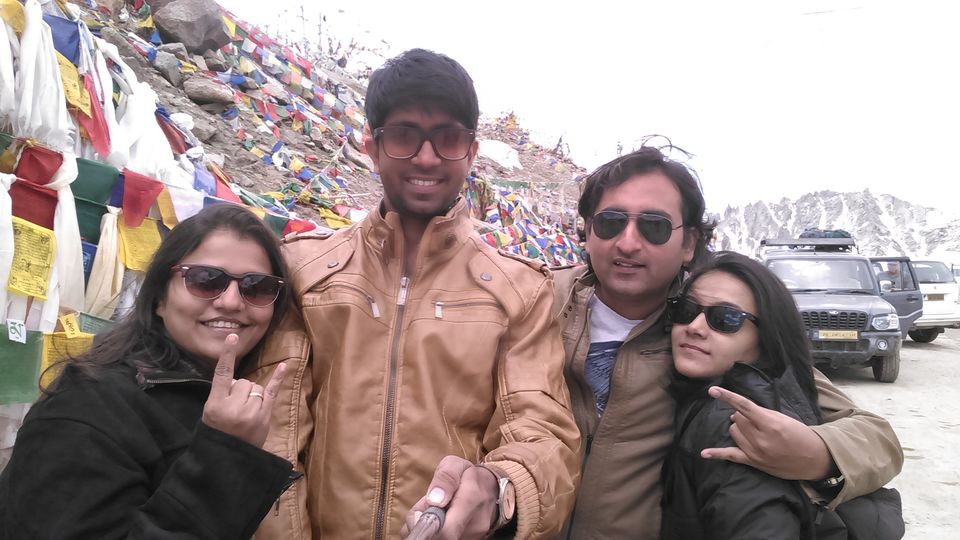 Hie travellers,
This is my first blog that I am sharing it with you guys, this blog of mine is a detailed story of my adventure trip to Ladakh. This blog has got a story of how fours friends survived together during the difficult but the best 10 days of their journey, this blog is little longer as compared to other blogs on Ladakh. I have also managed to note down all the expenses occurred during our trip. We managed to spend less than 28,000 INR for food and accommodation for 10 days for 4 persons. My blog has got necessary information about the places we visited and our personal experiences at those places. I hope people will get required information about the Ladakh trip from my blog. Suggestions and feedbacks will be appreciated.
And they left us. 15th August 2015
It was 5.40 in the evening we all landed to Mumbai from Delhi flight and Me and Manali rushed to clear securities and board the flight to Rajkot which was scheduled at 6.15 PM. While running towards security check I had a look back and saw Pandey and Vidhi also running behind us. We had a final goodbye after a 10 day long journey. Though none of us wanted to get separated after life changing adventure journey to top road of the world, we now had to get apart. From sea level to 18380 ft above sea level we had a company of each other with no connections to the existing world, with no network in our phones, at the rough roads with very low level of oxygen at few highest passes of the world, where there was no civilization for hundreds of kilometres but only snow covered mountains, deserted mountains and more mountains, we ate what we got and stayed at the camp sites in middle of nowhere where we had tough time to breathe and sleep during night, during all these difficult episodes in last 10 days we had a company of each other.
We hugged at the security counters and our eyes thanked each other for getting Leh'd together. Pandey and Vidhi left us and we boarded the flight to Rajkot. We were already missing them. We were looking for them in the flight if they are still there with us. At the silliest laugh also we were looking for them in the flight to share the joke with them. We had a good tasty food in our last flight but it lacked the company of Pandey and Vidhi. Manali didn't had non vegetarian plate because she didn't had the company of eating it with Pandey. We were badly missing them. We reached Rajkot, Mom and Dad were there to pick us up and had a great sense of happiness on their faces to see us in one piece after spending last two nights at Kargil and Srinagar respectively, they were relaxed after seeing us in proper condition since we boarded the flight from Srinagar on the Independence day of India on 15th August 2015.
We reached home, got fresh and started to narrate the story to Mom, Dad, Ba, Dada and my sister from first day after boarding the train for Ambala Cantt from Rajkot Railway Station.
Adventure begins. 5th August 2015
(Rajkot to Ambala Cannt by Train – 26Hours)
Last two nights were tiring and sleepless too as there was lot of planning included in packing our bags; I used to come home from work at around 12 in the night, used to get fresh, eat food and then start packing. On the night of 3rd august we sorted out things to carry and on the night of 4th august we packed our bags and slept at around 4 AM, next day we had to wake up at 5 AM, we had a train scheduled at 6.30 AM from Rajkot Railway station, we had only one hour to sleep. After few minutes we heard mom banging the door, it was 5.45, I thought its 6.45 and considered Leh trip is over, but we had around 45 minutes to get ready and reach station, and we made to the railway station on time.
It was now evening, we had some snacks and I get a call from two of my different friends informing me that the Manali – Leh highway is closed due to landslides and advising me to return home. Meanwhile I also got a call from Padma from Leh whose Mahindra xylo was booked by us from 7th august to 14th august. As the taxis from other states are not allowed in Leh, one has to book the local taxi with JK – 10 RTO passing only. Padma's driver with his JK-10 xylo was supposed to drive down to Manali from Leh and pick us from Manali and take us to Leh. Padma confirmed the landslides at the village near leh, and couldn't leave from leh to reach us to manali, but to my surprise he arranged another car from manali which will drop us till karu (karu is a village 35 Km before leh, and a road for pangong lake goes from karu village). He assured us that within two days the road will be opened for tourists and till Sarachu road is already in proper condition. Sarachu is half way on the manali leh highway at the height of around 14,500 Ft. I called up pande and informed him about these things. Pande and Vidhi had a flight next day from Mumbai to Chandigarh and there we were supposed to meet them. To my surprise Pandey didn't even thought of cancelling the tickets.
Me and manali made some sandwiches from the things we were carrying.
Ambala Cantt – Chandigarh Airport - Manali. 6th August 2015
We reached Ambala Cantt railway station at 8 Am. We went out and an autorikshaw driver approached us, I told him to take us to a guest house where we can get fresh and leave for Chandigarh airport. We reached a guest house and I made few calls to hire a taxi to drop us to Manali, I had saved few numbers which I had found on the internet. I called up a taxi rental company at +919729064340 and he sent me a car in 15 minutes. He agreed to drop us to manali via Chandigarh airport at 6000 rupees.
We had breakfast and left for Chandigarh airport, Pandey and Vidhi were supposed to land at 12.15 PM. We waited at the airport for around 1 hour and then they came. We were happy to see each other and left for manali. Vidhi and manali were meeting for the 1st time after official meet at Mihir's Wedding, but they both got mixed up very well.
Me and pandey got some liquor from Chandigarh and we started enjoying ourselves. Our journey for Manali began, we had to drive 6726 Ft above sea level and reach manali ASAP so that next day journey can be started early. As we started climbing post Chandigarh, the air was already cool and fresh, the sound of beas river would be clearly heard. Vidhi had booked two rooms at New Adarsh Hotel located at the Mall road just for Rs. 750 for one room through yatra.com. Rooms were amazing at this price. We reached Manali at 11.45 PM, we all were very much tired after a whole day journey and I was almost dead as those couple of pegs didn't go well with me while climbing at 6726 Ft. Padma, the taxi guy from leh had arranged another xylo through Sonu from Manali +919736790009. Sonu assured us to send the car with driver at our hotel at 7 AM. I woke up at 6AM after a good six hour sleep, though I was in little hangover the atmosphere in Manali didn't let me down and I was very much excited to start the dream journey towards Leh, with the hope that the roads will open in next few hours.
Trip to Leh could have been any day cancelled by me or pandey due to financial and other problems at business. But just because we both had booked our travelling tickets and just because those were tickets to Leh, we didn't cancel it. Pandey had arranged Rs. 47,000 and I was able to get an amount of Rs. 53,000. We both had expected an expense of Rs. 60,000 / couple but 47,000 and 53,000 was all we could get.
Our car was booked at Rs. 53,000.00 as the below stated scheduled:-
7th August 2015: Pick up from Manali and proceed towards leh. Night halt at Sarachu.
8th August 2015: Proceed towards Pangong via Karu and reach pangong before sunset.
9th August 2015: Leave from Pangong at noon and reach Leh before evening so that we can roam around in a market.
10Th August 2015: Sightseeing at Leh.
11Th August 2015: Leh to Nubra valley. Night stay at tents at Hunder.
12th August 2015: Hunder to Leh. Night stay at Leh
13th August 2015: Leh to Kargil.
14th August 2015: Kargil to Srinagar.
Following are the short details for 6th August 2015.
Expense for Lunch at a small dhaba joint Rs. 450
Expense for dinner at a good garden restaurant Rs. 600
Expense for alcohol and soft drinks from chandigarh Rs. 1700
Expense for night stay at Manali at New Adarsh Hotel Rs. 1500
Total Rs. spent 4250. 330 KM travelled in 8 hours. 2 Pm to 11.45 PM
As were carrying enough food supplies we didn't had to stop for evening snacks or for other bitings
The roads got opened for us. 7th August 2015
Highway from manali to Leh is opened only from June to September, rest of the months whole area is covered under 30 – 40 feet of ice. BRO Border Roads Organization starts clearing the snow from the highway May onwards. Apart from physical fitness, lot of patience, a sense of humour and a bottle of rum needs handy in the icy areas of Himalayas. Up in the snowbound areas a truck breakdown ahead of us could mean getting stuck for hours and hours.
We checked out from our hotel at 7.30 AM. Ravi was our driver. As soon as we moved out of manali town, I was amazed with the beautiful view of snow capped mountains which could be seen only if the clouds moved. This was all happening at the eye level;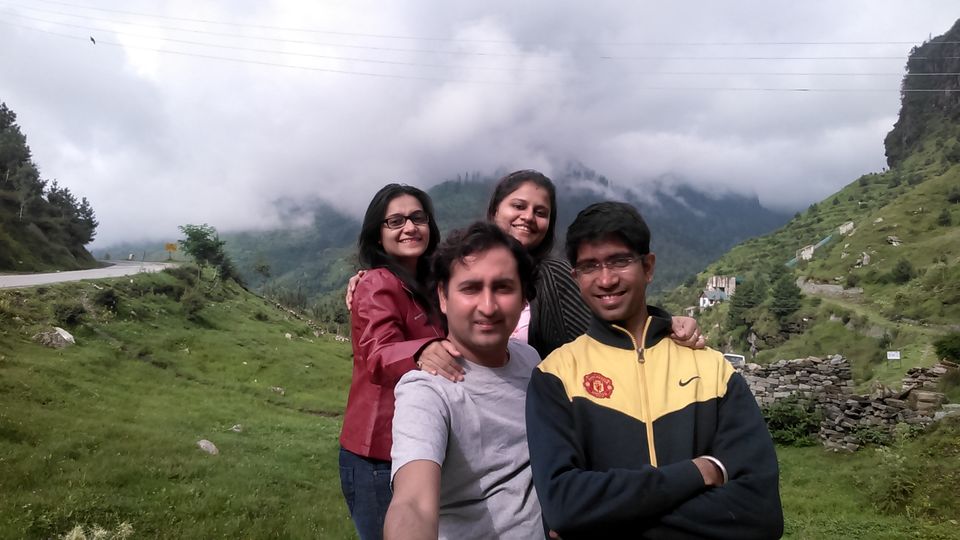 In spite of the ban on maggi in whole of the India, we found one place where maggi is still available illegally. We stopped for breakfast at around 8.15. We ordered Vegetable Maggi, Egg Maggi, Cheese Maggi, 2 plates of Boiled eggs, 1 Gobi paratha and 2 cups of hot piping tea. And while all those ordered items were getting prepared we clicked lot of pictures around the area.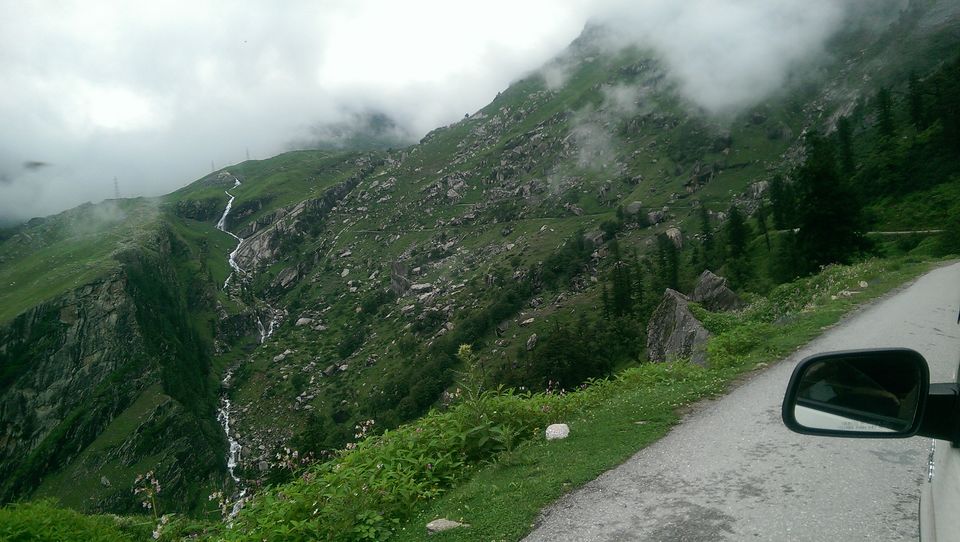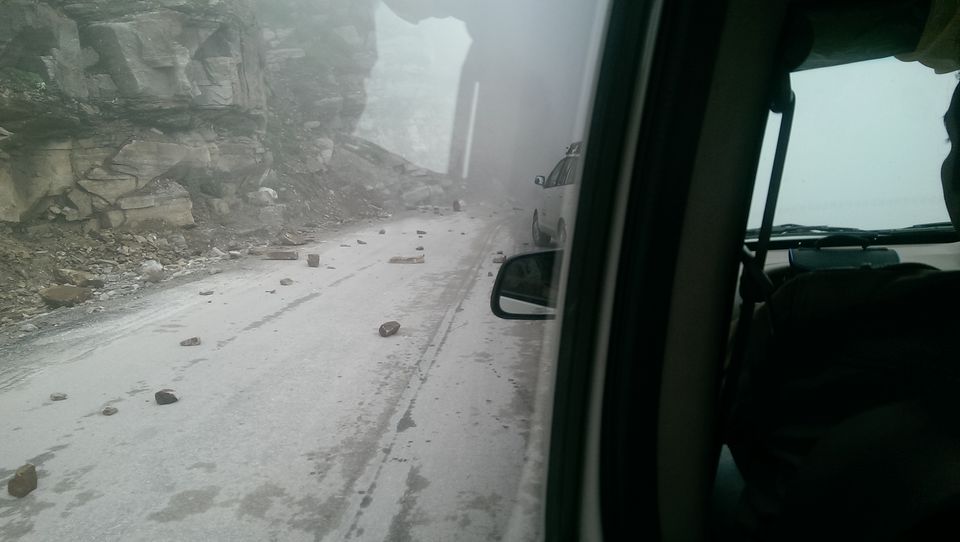 We ate and left at 9.15 AM and stopped at Rohtang Pass which is at the height of 13051 feet, there again we got a chance to click a lot of pictures. Our driver Ravi was a good driver but not so friendly. He wouldn't have stopped at Rohtang pass as we had to climb Baralacha which is at an altitude of around 16500 Ft, but there was a breakdown of his fellow car at Rohtang and we got a chance to stop. Usually Rohtang pass is also completely covered in snow but during august 2nd week there was no snow at all that we could witness.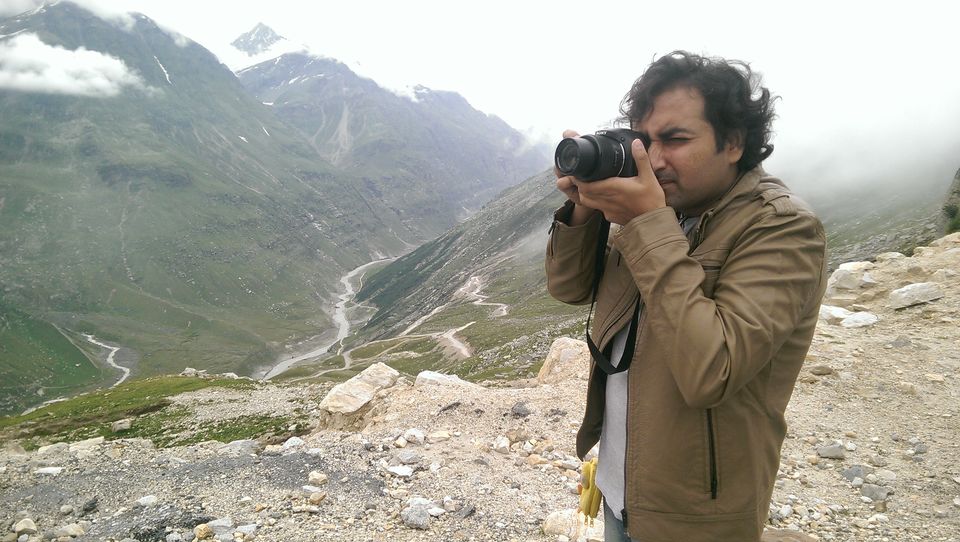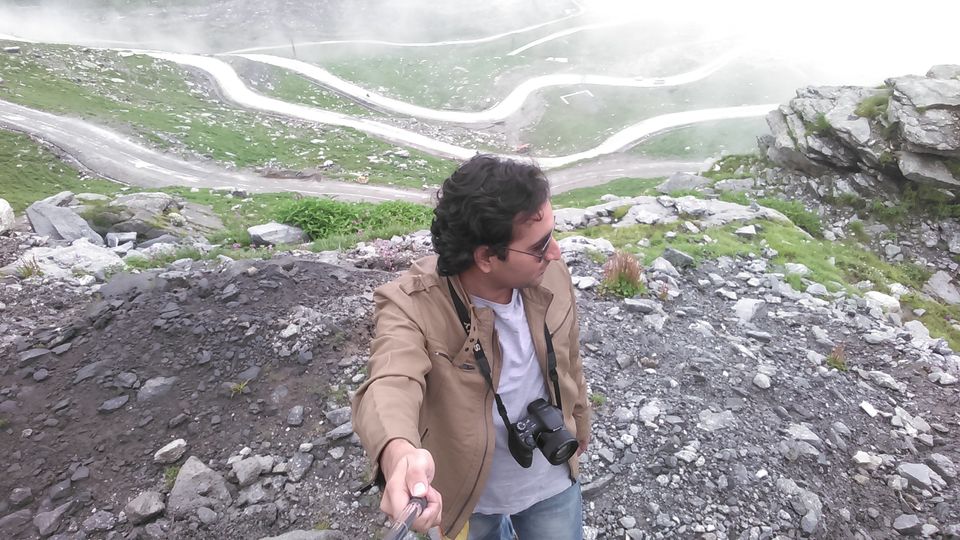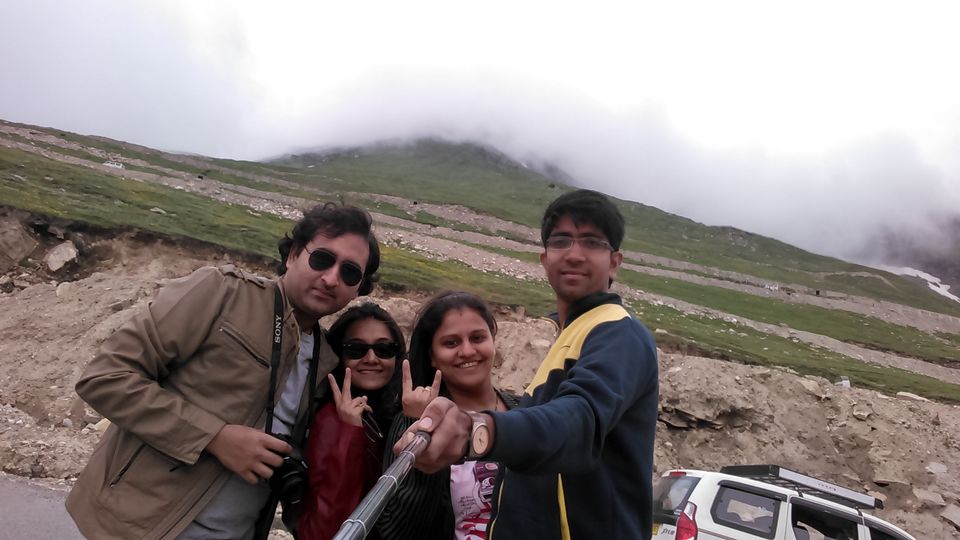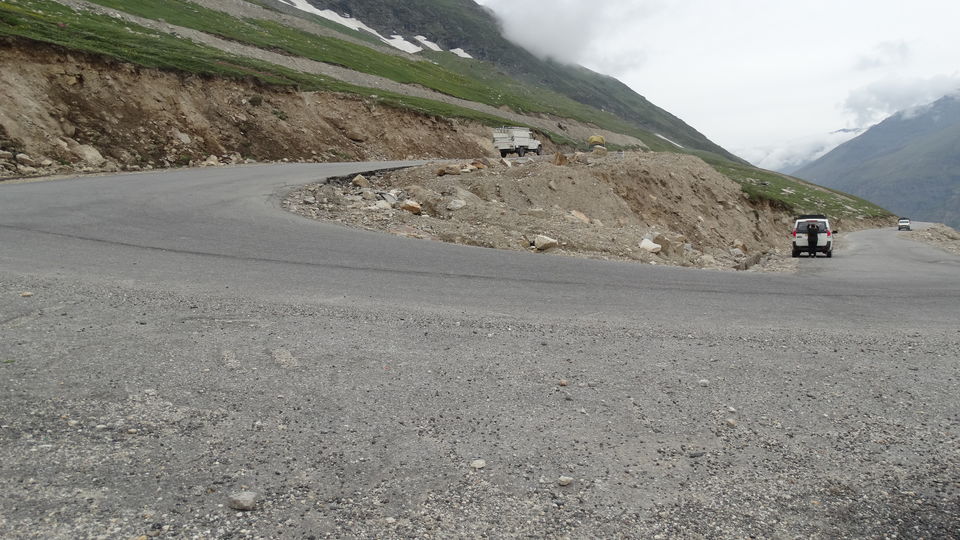 For baralacha we had to go through Tandi which has a last fuel pump on the Manali – Leh highway. There is no fuel pump for next 365 Km.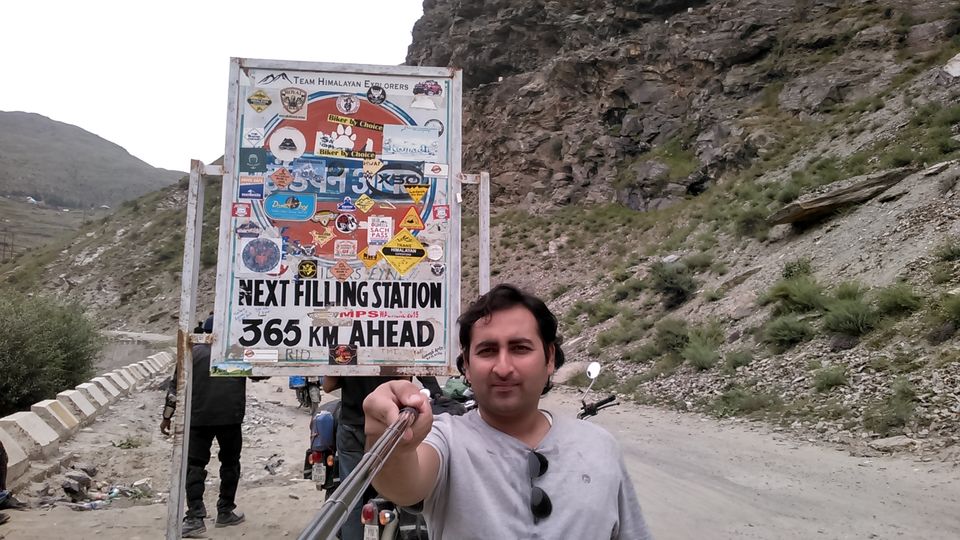 On the way to Tandi from Rohtang we also had a stop at another beautiful location to click few pictures, but the weather turned rough and we got seated in our car in few minutes. After rohtang there comes Keylong and then Jispa. Keylong and Jispa both locations have a good camping sites and also home stays and are at quite lower altitude than Sarachu. Jispa is really an awesome place to spend some quality time with nature. The population of Jispa village is not more than 800 people and it is located in Lahual and Spiti district 1st night stays at keylong or jispa are suggested by everyone, but by going straight to sarachu can result in saving almost half day, but at sarchu there are high chances of getting AMS, oxygen problems which can lead to breathing issues and further, but we were not going to stop at keylong or jispa as we had to reach pangong next day from sarachu i.e. around 330Km, which is a difficult task. Not far from Jispa is Darcha. It is nothing more than a bunch of shops lined along the main road and a police check-post for foreigner registration. A small road runs to the left just after Darcha, connecting the villages deep in the mountains with the Manali Leh Highway. It is though this road that trekkers begin the long walk to the Zanskar and further to Lamayuru village in the Indus valley. From Darcha, it is a steady climb for next 40km to Baralacha la, the highest point in the road so far. Trees now disappear completely from the landscape, limiting the vegetation to tiny grass and occasional shrubs. We stopped for lunch at a road side small restaurant before climbing the Baralacha La. The restaurant was just next to a beautiful lake called Deepak Taal. The water was crystal clear; though the oxygen level was pretty low we still clicked few pictures near the lake.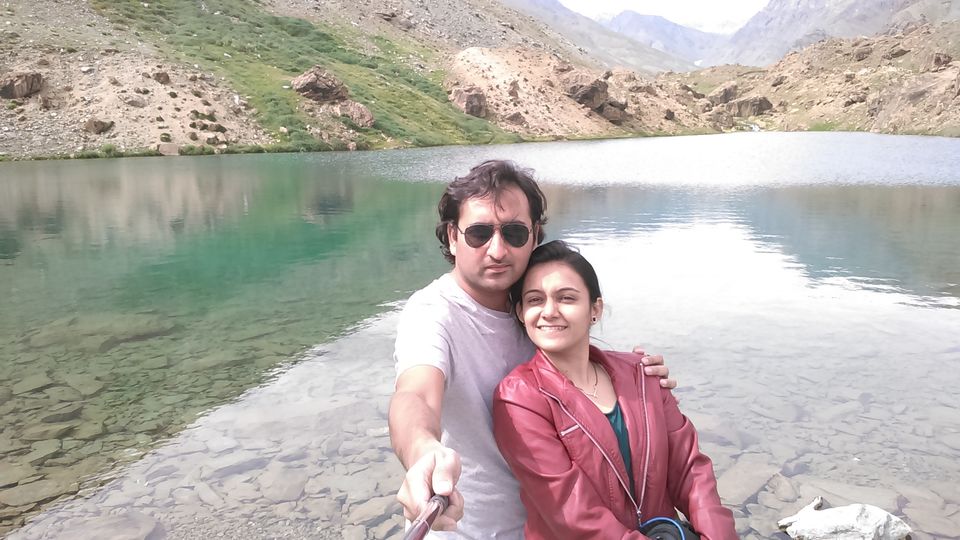 I rested for few minutes on the bed inside the restaurant and food arrived. We ate a lot and proceeded towards Baralacha La which is the climb where mountain sickness typically sets in with little headache. This was our first pass which was located at a very high altitude. Mountains continue to grow taller and more arid as the road progresses north towards Baralacha la.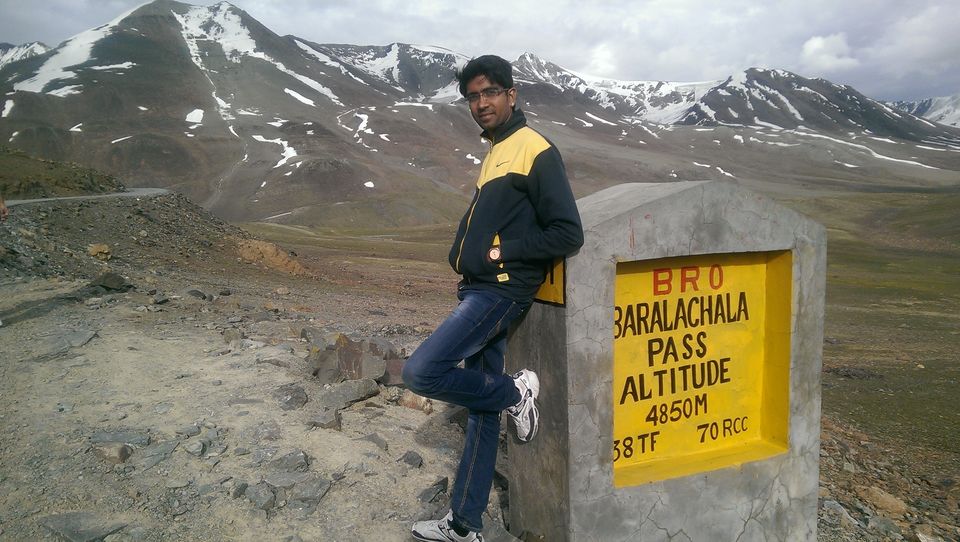 Mountain surface is now in all hues of brown – chocolate brown, muddy brown and at some places reddish brown. Shades of brown are to dominate the landscape for rest of the way. I started feeling ill after eating too much, and to my worse there was a heavy traffic while getting down from baralacha, traffic means dust, pollution, less amount of oxygen, and setting sun gave us enough cold. I was ill. I just wanted to get out of the car and sleep somewhere. We got out of the traffic and at the floor of the valley there is awkwardly named Bharatpur City, which is nothing more than half a dozen parachute tents huddled together. Beyond Bharatpur City is the high altitude plateau of Sarchu. Sarchu was our next option for breaking the journey. It is higher and colder than Keylong or Darcha, and many people say that it tends to get uncomfortable. The rarefied and dry air can add to the discomfort. We reached Sarachu at around 7 PM and got accommodated ourselves in tents at the Dorje Camps.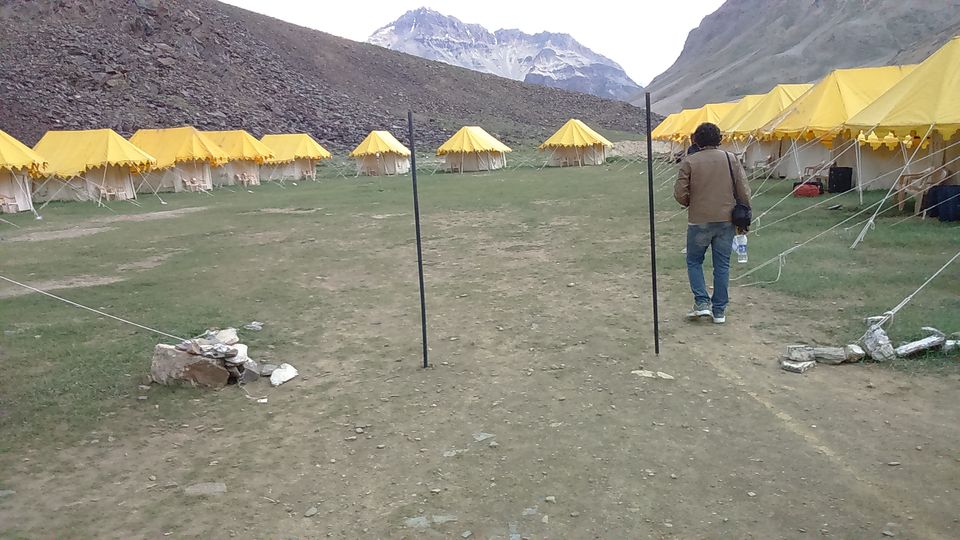 This was our first tent experience. We had expected home stays at sarachu and hence we had booked our tents at the hunder, Nubra Valley and thought of staying at a guest house or home stay at sarachu but there were none. Only tents are available at sarachu. Electricity at camp sites are provided only from 7 PM to 11 Pm. I went inside my tent and was trying hard to sleep but i just couldn't sleep, my head started to pain, I was finding it difficult to breathe, I was feeling weak, I had no energy in my body. I was hoping to get alright by next morning, and was wondering when this night will pass. Manali came in to call me for dinner, i asked her to get me the food in the tent itself as i had no energy to go till the so called restaurant at the camp site. She got me the food, I ate a little enough to survive and slept, I slept at 10.15 and woke up at 1, and after that i just couldn't sleep, but in morning i was feeling fresh. I was happy to realise that the night has passed. I was worried because i thought AMS has got me, and my further trip can be spoiled, and it was just 2nd day of the journey, but thankfully I was perfect the next morning.
Following are the short details for 7th August 2015.
(Rohtang – Tandi – Keylong – Jispa – Darcha –Patseo – Zingzing Bar –Baralachala –Sarchu)
Expense for maggi breakfast at manali Rs. 400
Expense for Lunch Rs. 500
Expense for dinner Rs. 0. Included in tents.
Expense for night stay at tents at sarchu Rs. 3500. (2 tents)
Total Rs. 4400
220 KM travelled in 11 hours. 8 Am to 7 PM
Way to Pangong. 8th August 2015
Last night when we had reached sarchu, I was not in a condition to notice the beauty of surroundings and it was also getting darker. In the morning when I first came out of my tent, the view was amazing, we were in middle of nowhere, it seemed that the world has just stopped, it felt like the rest of the world do not exist, as if this camp site is the only place alive in this world right now, the mountains were standing still and were shining in the first rays of sun. It was heaven.
It was very cold in the morning, people outside were seen in jackets and mufflers, and I was roaming around the camp site in a sleeveless top and a towel wrapped around my waist, just to show off a little bit and to let Pandey, Vidhi and Manali know that how perfect my health is so that they can forget my last night's weaker condition and in a hope to avoid any jokes and embarrassment. But I even had to pay for this publicity stunt, those 15 – 20 minutes of wandering around had caught my breathe and I was now finding it difficult to breathe due to less amount of oxygen available in the atmosphere at the height of 14000 ft above mean sea level. Few minutes of rest and some water and I was fine again, thankfully no one got to know about this as they had left for the breakfast at the restaurant. 10 minutes later I joined them.
We all met at the breakfast table, we were recalling our last night's condition. Manali said she was continuously observing my stomach to check whether I am alive. Pande said he was checking the breathing of vidhi. My breathing sound was so high that pande and vidhi in the next tent could clearly hear it. We had few breads, omelette, cornflakes, and tea, after having breakfast we checked with the tent owners to know whether it is possible to reach pangong which is around 330 KM from sarchu. Personally, though it was my plan to reach pangong directly from sarchu, i wasn't confident that we will be able to travel 330 Km in a day, as we were only able to cover 220 kms the previous day that too in 10 long hours. At the breakfast table we planned to keep the pangong thing un-planned, we decided we will decide about the pangong route once we reach karu, we decided if we reach karu before 5 PM we can travel 110 extra kms in 3-4 hours to pangong. And we proceeded towards 21 Gata Loops.
The climb to 21 gata loops was one of the thing i was waiting for, after checking out the pics of gata loops on google, i also wanted to observe all twenty-one hair pin bends that climb steeply to Naki La Pass at 15,547 ft from top, but to my surprise only 4-5 loops were visible, our driver ravi said, this is all, this is the maximum number of loops you can see. I was disappointed and argued with him, that more loops should be visible from top, he said from top you won't be able see even this much, and to my surprise he was right.
We proceeded towards pang – Upshi – Karu – Leh / pangong.
We passed through nakeela which is at the height of 15547 Ft.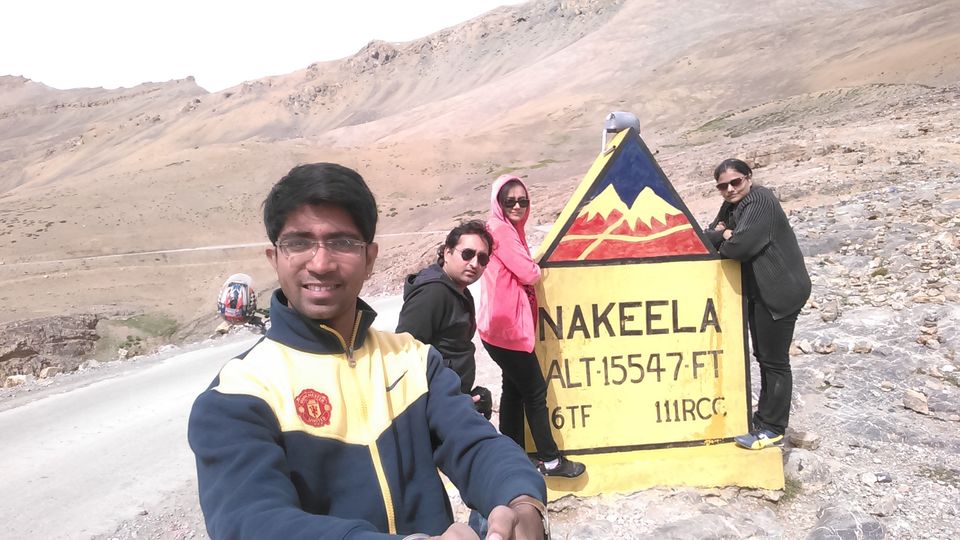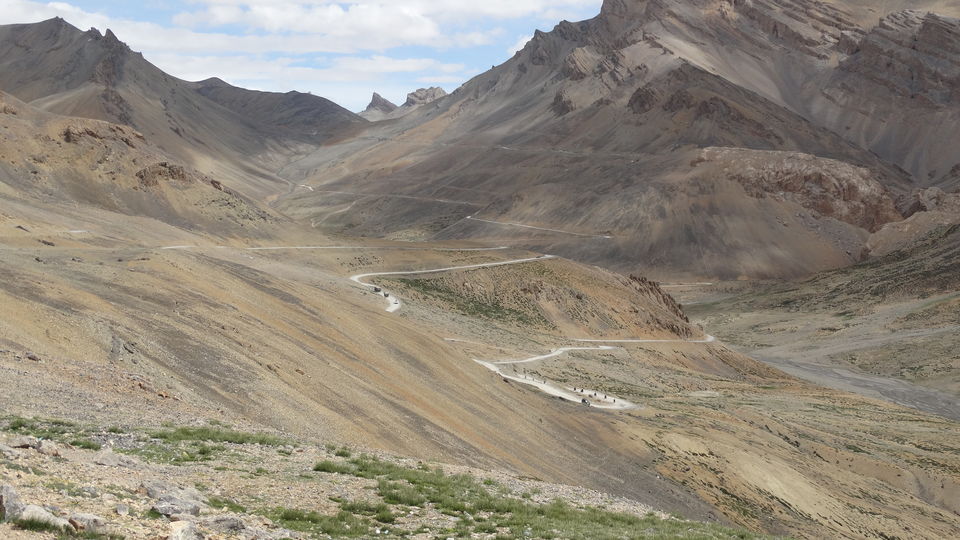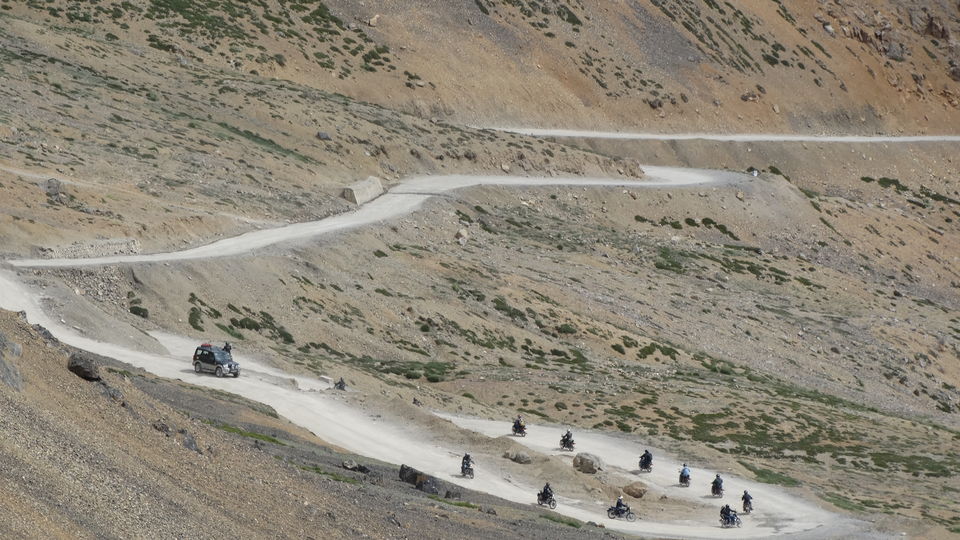 Today's journey was very much different from the previous day; mountains on this route looked completely different and out of the world from what we have seen until now, the roads were in pretty good condition as compared to the road from manali to sarchu. Ravi had enlightened us that due to recent cloud burst at leh and too much rain on the manali leh route have damaged major part of the route.
We went higher crossing Lachulung La at 16,616 ft. I was now waiting for more plains. More plains is the plain flat surface of mountain area twenty minutes after Pang, more plains exists for around 40 kms, where the road is as smooth and flat at 15400 Ft as any express highway but with no traffic, and the best view of the surrounding mountains. All other snow covered mountains which we were noticing in previous two days could be now seen below our eyes, clouds could be seen at the eye level, and sky seemed to be much closer to us now. This area is uninhabitable and has no construction at all, and also no population, like most of the areas in ladakh, to our surprise we witnessed hail stones while driving at the more plains. It felt like we are driving at the speed of 100 Km/hr in heaven.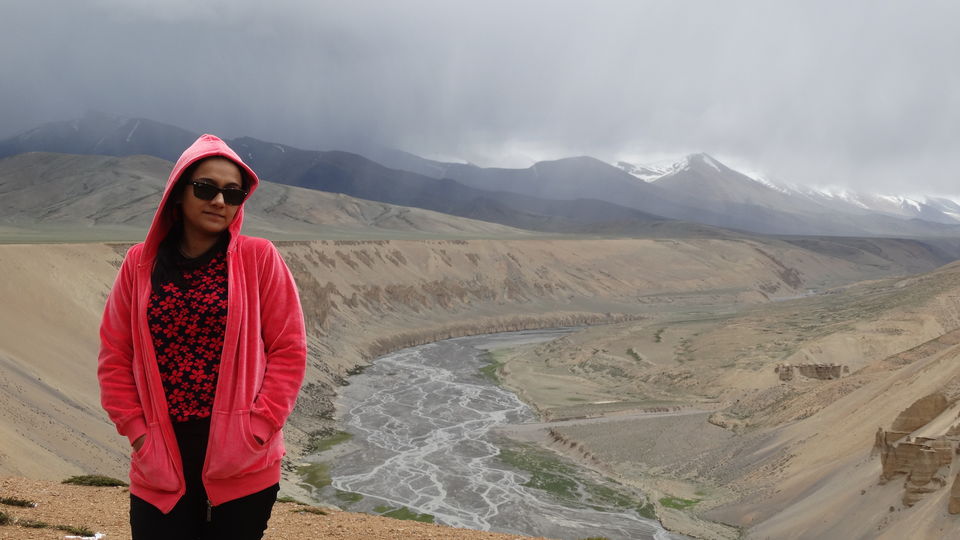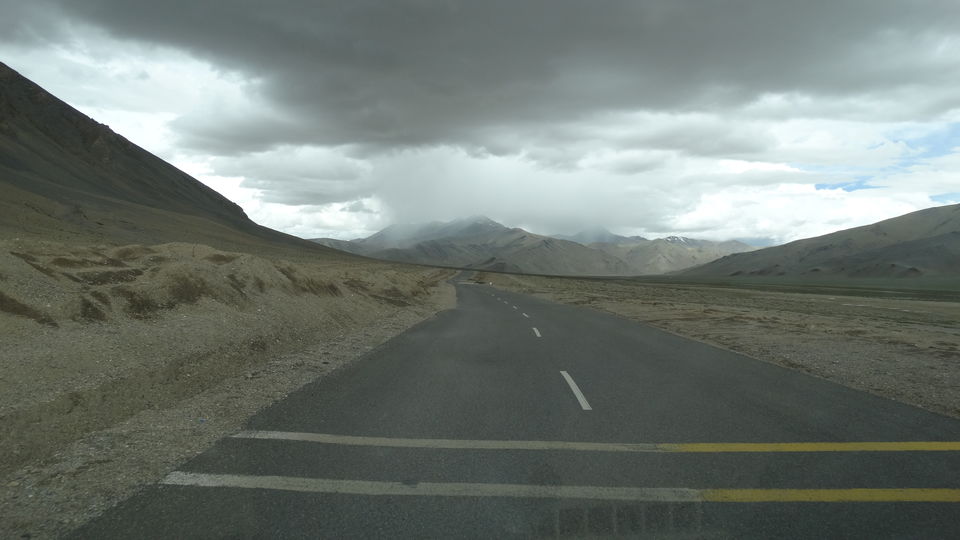 We started ascending towards next heaven that was named as Taglangla and could be seen from more plains, weather seemed to be getting rough at Taglangla. Taglangla is the world's second highest motorable road as claimed by the Indian Govt. / Indian Army. It is located at 17688 Ft. above sea level. We clicked few pictures with the board which says "you are passing through the world's second highest pass".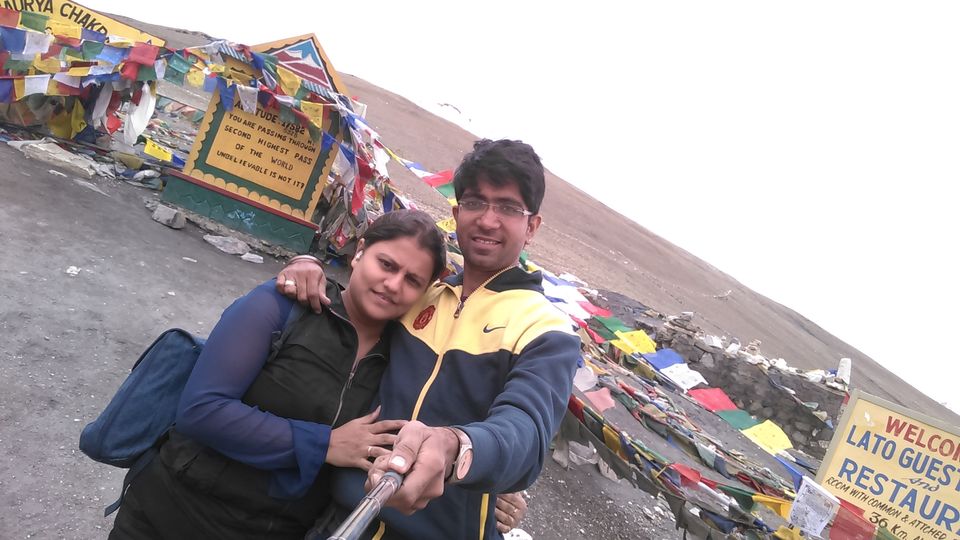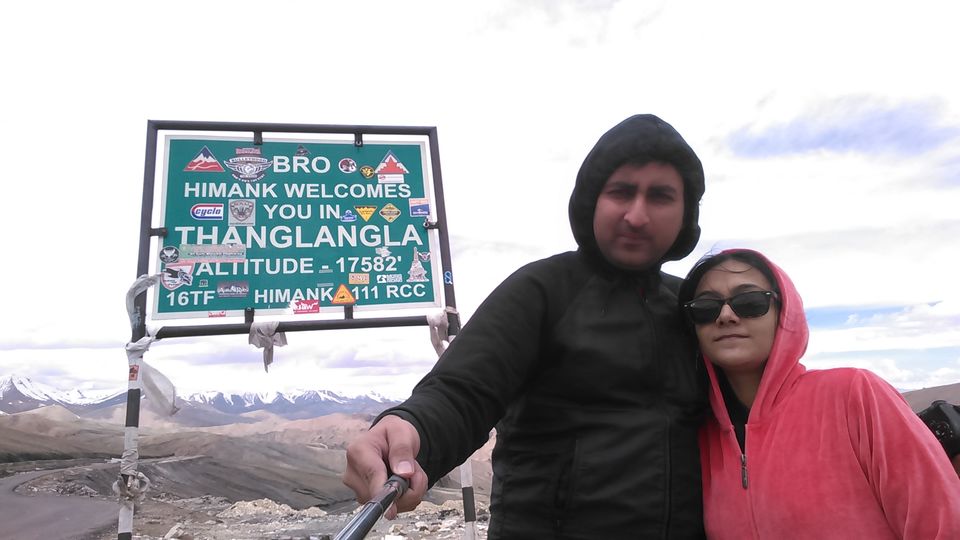 We reached Upshi via Rumtse and wanted to have lunch, but we were in hurry to reach karu so that we can reach pangong before sunset, so we waited for an hour to reach karu. We decided we will eat something at karu. Mobile network for Airtel and BSNL starts from upshi. We all did calls at our homes and spoke to our families. They were literally shouting on us as our phones were not reachable since last 2 days; it was difficult to make them understand what we have been through.Padma from leh was supposed to pick us up from karu and that was going to be an end with driver ravi. Though ravi was little unfriendly, but he was a good driver, and a supportive guide. He made sure we are safe all the time. We cannot forget ravi because it was him with whom we had travelled the best highway which I call as heavenway from Manali to Karu / Leh. We reached karu and as usual the food was unpleasant, but now we were getting used to eat almost anything so that we can survive. Meanwhile padma found us, welcomed us with white coloured ladakhi traditional scarf and we shifted our bags to another car, and to my surprise it was only 3.30 Pm. We reached before time. While reaching karu we observed those areas and roads which were badly affected by the cloud burst. That was the area where landslides had occurred and the route had closed from the side of leh. I did call my friends who had asked me to return home, I did inform them that we had reached safely, they said they got an idea that we had already left for leh as our phones were out of reach since last 48 hours, but they were happy for us. One of those two friends one was Deven, Deven had helped me to plan our whole trip from day 1. Deven told us you would reach pangong which is 110 Km from karu in less than two and half hours. But padma made sure we travel in no dilemma of reaching pangong in such short time. He informed us that the roads are badly damaged due to the recent cloud burst and we are going to pangong through Changla which is the world's third highest pass at 17688 Ft. Padma introduced us to his driver Tahir, he seemed to be little shy and little boring, but we never knew we would miss him so much when he will leave. Tahir made us feel homely all days, he made sure he serve us the best, from the bisleri bottles to the facemask to protect us from dust, he made sure to find us the best accommodation in our budget of Rs 700 a room at all places. He made sure we eat good food, and enjoy our journey. He became friendly within next 2-3 hours. We left from karu at 4.15PM to reach Pangong lake with great enthusiasm, even after travelling 190km from sarchu in 7-8 hours we were ready to travel another 110Km.
Road to Changla was severly damaged.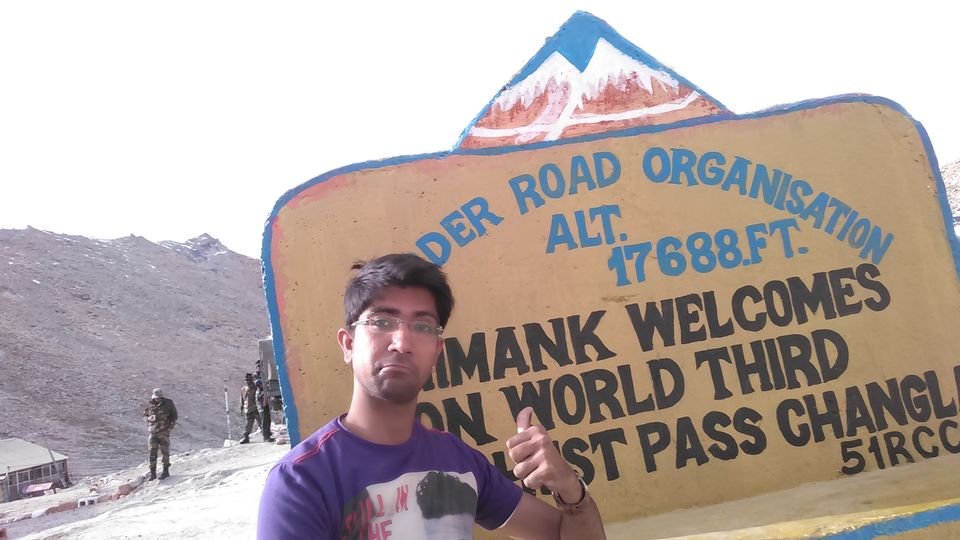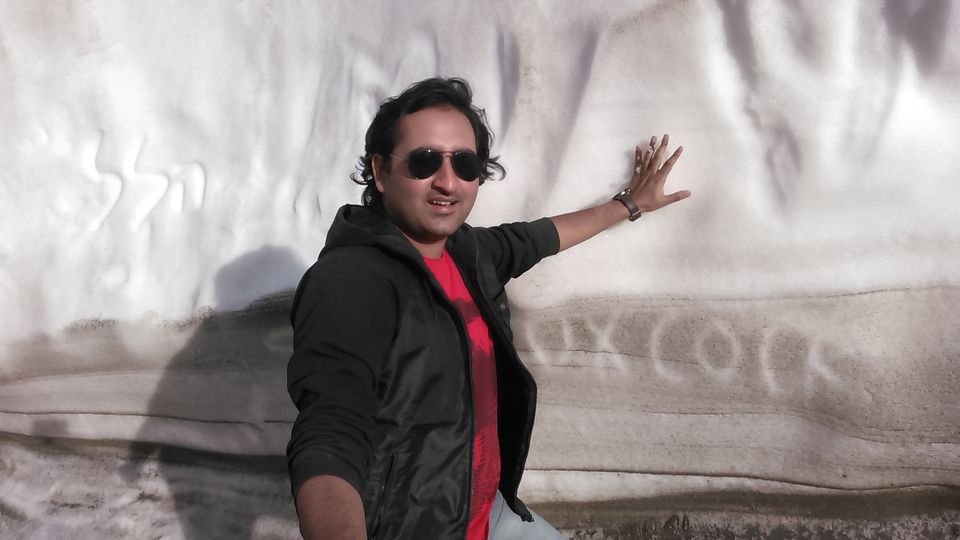 We stopped at Tangste to eat maggi, but to our surprise it was not nestle's maggi but yippie noodles. It was 6.30 PM. We ate and proceeded towards pangong.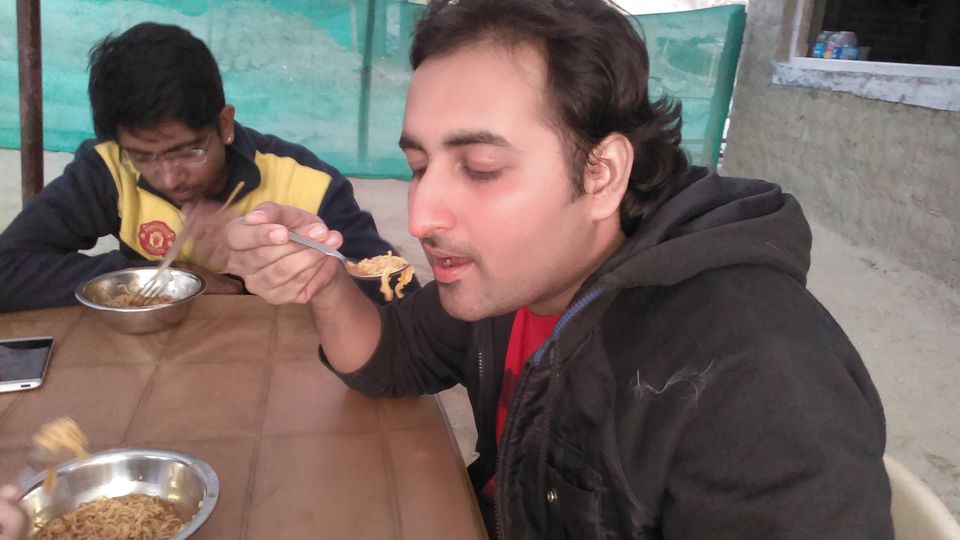 Sun did set and it became dark. I was eagerly waiting for that point from where pangong starts, Tahir did informed us that the lake has started, but we couldn't see anything as it was absolutely dark outside. We reached Pangong at around 8.30 PM.
After a long search for the good room last night we did find one at Rs. 1000 per room without food. There were home stays which were even cheaper but they didn't had attached bathroom, but quality of the rooms were not that bad, but we were with our wives so we had to look for an attached bathroom and little safer place. After having a look at 4-5 places we choose to stay at that place which we had found at Rs. 1000.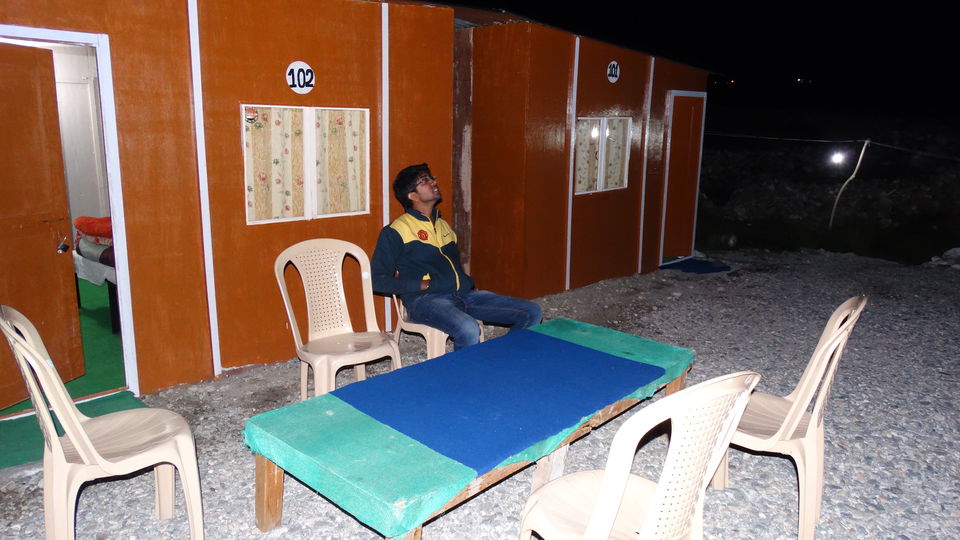 As it was dark at all places, we couldn't see the lake anywhere. We would only know where are we located when the sun rises, and I was hoping to be very near and in front of the lake. We ordered some fried rice, maggi and soup, as that was available with the room's owner. We ate a little and slept at 10PM. It was cold.
Following are the short details for 8th August 2015.
(Sarchu - Nakee La – Lachung La – Pang – More Plains – Tanglang La – Upshi – Karu –Sakti – Zingral – Dubruk - Tangtse – Lukung - Spangmik (Pangong)
Expense for breakfast Rs. 0. Included in Package
Expense for Lunch Rs. 150
Expense for evening snacks Rs. 300.
Expense for night stays Rs. 2000. (2 rooms)
Expense for dinner, Rs. 700
Total Rs. 3150
300 KM travelled in 12.5 hours. 8 Am to 8.30 PM
Heaven named as Pangong. 9th August 2015
I woke up at 1 in the night, due to little headache and inefficient ability to breathe due to cold. I did try a lot to sleep but just couldn't sleep. After 4AM I was moving the curtain aside just to see if I can see the lake. At 4.45AM, it was all visible, I was very happy to get accommodated in front of the lake, the view was awesome, i again tried to sleep, but i wasn't able to get a sleep. I went out of the room at 6.30 with my camera and started clicking pictures. I was back within half an hour, everybody had woken up.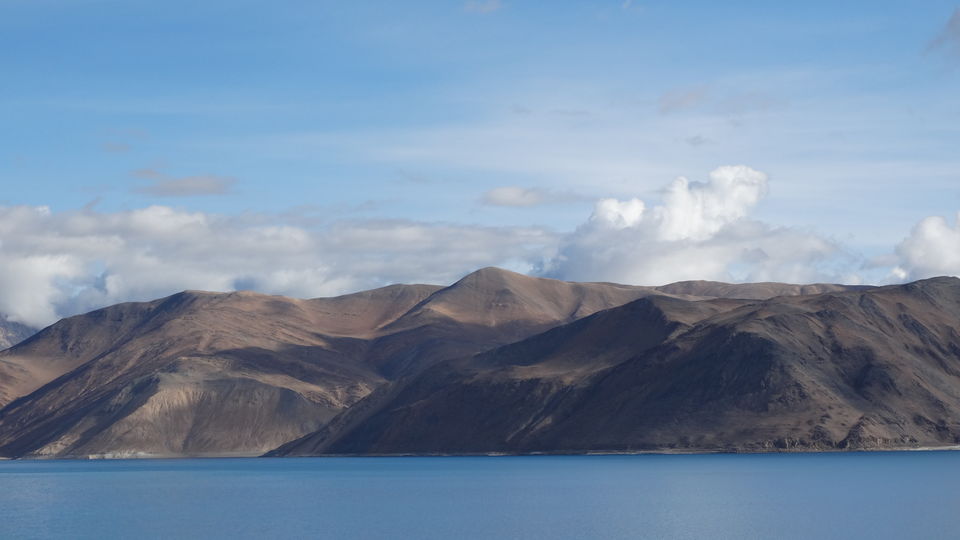 As our breakfast wasn't included in the package, she said we will be charged 150 per person, and the menu for breakfast would be bread butter and omelette. Nobody wanted to eat omelette. We decided to buy a packet of bread as we were carrying Jam, Butter, Sandwich spread and lot of other things. We asked for hot water and took bath and left to enjoy the lake view from its banks. We found a location at the lake where we could sit and have our breakfast. It was one of the finest experiences to eat sandwiches, biscuits, khakhras, etc at the Pangong Lake.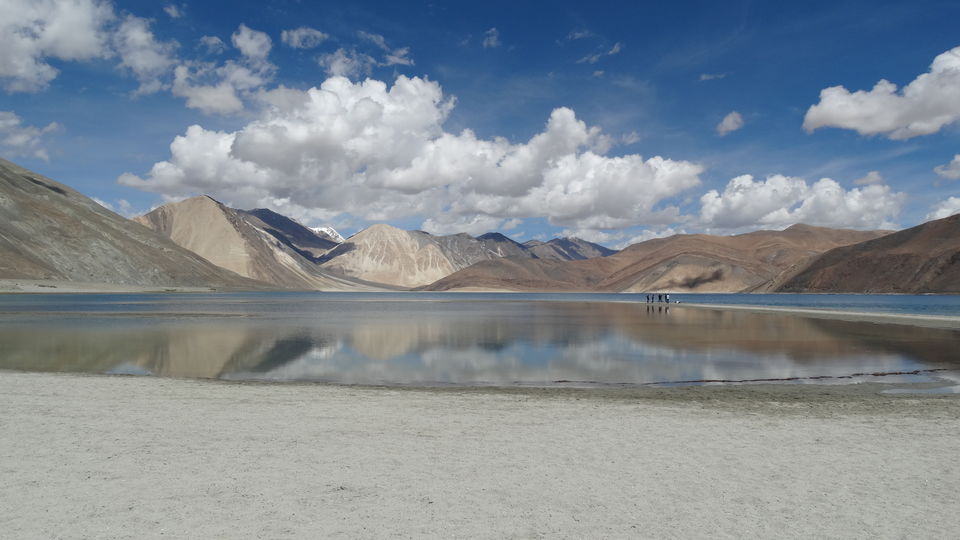 Colour of the lake used to get change in 1-2 hours. The main reasons of the changing colour are the colour of the sky with moving / unmoving clouds, colour of the mountains used to change because of the sun, and of course the transparent water made it more beautiful. Clouds above the Pangong Lake were just not moving, they were still. Colour of the sky was brightest we had ever seen, and with only four persons below its roof in a while. Beautiful transparent lake water, sky, clouds, snow covered mountains, Rocky Mountains and sand mountains, all these things at one place made us feel like heaven. At Pangong we felt like the world has just stopped for us. We saw the lake in multiple colours like, dark blue, light blue, little white, reddish / brownish and green.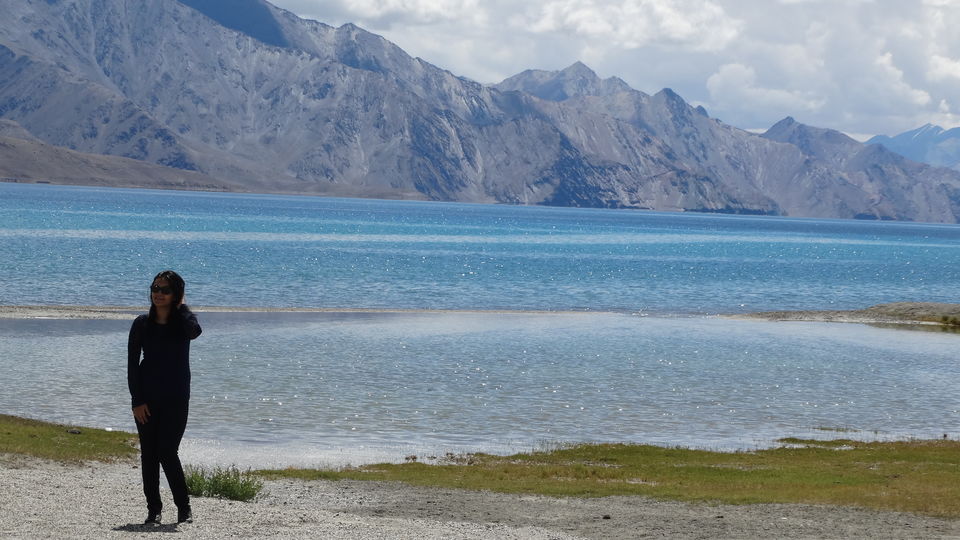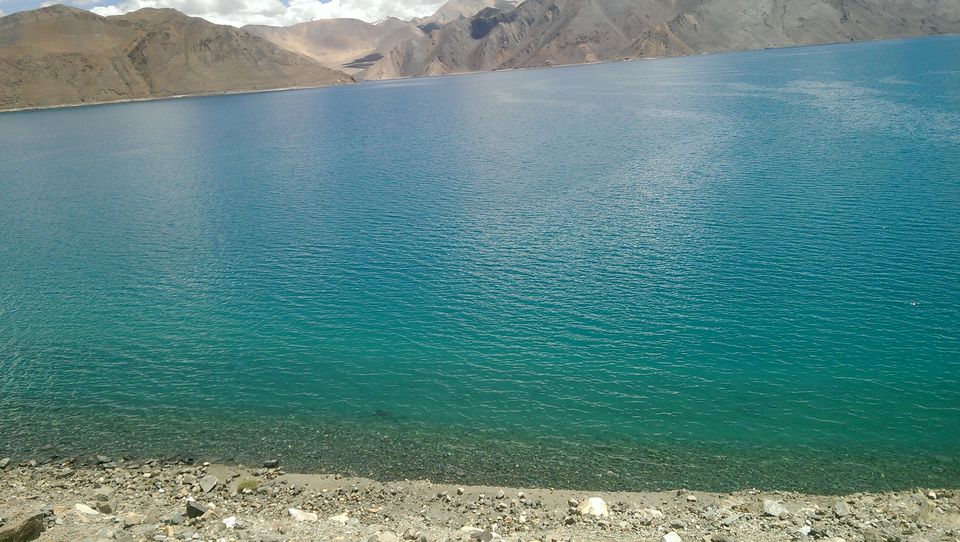 Pangong Lake is situated at a height of 4,250 meters, far away from barren land in Ladakh, Pangong Tso is the largest salt water lake in Asia. The crystal clear blue lake sprawls over an area of 100 kilometers across the borders of two countries in India and China. It is one of the charismatic lakes situated on the Changtang plateau in eastern Ladakh region. As I said the salt water plays with sunlight to produce different effects of light. One-third part of the lake lies in India while the remaining two-third lies in Tibet, a region controlled by China. A large chunk of streams that fill the lake are located on the Tibetan part. The first glimpse of the azure blue waters and shaky lakeshore remains etched in the memory of tourists. During the winter season, the lake and its surroundings are engulfed by freezing temperature. The surface of the lake becomes so solid that one can walk over it.
We didn't wanted to leave that place, but as we had to reach at other places and look out for more heavenly places we had to leave from Pangong. We left at around 11.15 AM.
Passing through Changla was hell, as there were no roads. We were literally falling on each other and tahir was enjoying our suffering, it was lot of fun. Climate drastically changed as we got down from ChangLa, our jackets were now a problem for us, sun was shining at its best, and we were feeling terrible. At 3 PM we were around 30KM from leh, we were starving, tahir stopped at a cafe cloud, which was an authentic place, we ordered, pasta, pizza, a fix Punjabi platter, and many more things. Food was authentic and very good in taste. After 3-4 days we were having some food with good taste. We were very happy; we ate and left to reach Leh.
Tahir had arranged an accommodation, it was home stay and we had a look at it, rooms were spacious with attached bathrooms with all latest amenities but I still wanted to explore more options, we wasted 1 hour in looking for more rooms, but all were expensive. We chose to stay at the same place which was shown to us by Tahir. The lady host asked for Rs. 800 per room, we did bargain to Rs. 700, and later to Rs. 600. She agreed. We were supposed to stay at this same place for 3 days. We got accommodated in our rooms, did rest for a while, and in a while when sun was set, we went out to roam around in the market. Market at Leh is big, and 80% visitors are from foreign countries, at times I felt like I am in Goa. We did buy few things as a remembrance. We had planned to hire royal enfield bikes for the next half day to complete one of our dreams of riding bullets in ladakh, we had planned to go around for the local sightseeing from morning to afternoon on our bikes and we visited few garages who provides bullets on rent and got to know that bikes for half day are only provided after noon that to subject to availability. We called up tahir and informed him about the same and we decided to carry on with our previous plan of local sightseeing in car itself. As we had a plan of having couple of drinks tonight we took a parcel from a restaurant and went home. We bought few soft drinks, bitings were available in a lot in our mobile canteen, we asked for few glasses from the host. Arijit Singh's live performance was going on Pandey's mobile, my Bluetooth speakers were on and our evening was rocking. We spent a very good time knowing more about each other's life and listening to one of the pandey's real life bollywood movie style story. It was fun.
Following are the short details for 9th August 2015.
(Spangmik (Pangong) – Tangtse – Sakti – Karu – leh)
Expense for breakfast Rs. 40. (only a packet of bread was purchased)
Expense for Lunch Rs. 900
Expense for evening snacks – soft drinks Rs. 200.
Expense for night stays Rs. 1200. (2 rooms)
Expense for dinner, Rs. 400
Total Rs. 2740
148 KM travelled in 5 hours. 11 Am to 4 PM
Leh Town. 10th August 2015
Following locations were planned for today:
Hemis
Druk school (Rancho's School)
Shey Monastery
Shanti Stupa
Leh Palace
Hall of Fame and
Magnetic Hill
We woke up at around 7 AM, and we were out at around 9 AM. We all were starving. Our first spot was Hemis which was around 45 Km from leh, tahir said we will have breakfast on the way, and he didn't take a stop till karu (35 KM from Leh), he stopped at a small eatery shop named Punjabi Dhaba, all the wait till karu was worth it, parathas were awesome we ate like there is no tomorrow and proceeded towards Hemis Monastery. Monasteries were really boring for us like visiting any other temple would be, another reason for not liking the monastery was we had ate a lot and we were lethargic. Later on I felt if we would have looked for someone to guide us inside the monastery it would have been interesting and knowledgeable too.
Hemis is visited by many tourists around the world, we witnessed few group tours also but mostly old aged uncles and aunties visit monasteries, the young guys which you will see at such monasteries would only be guys from European or western countries who are interested and keen to know more about the ladakhi culture and Buddhism.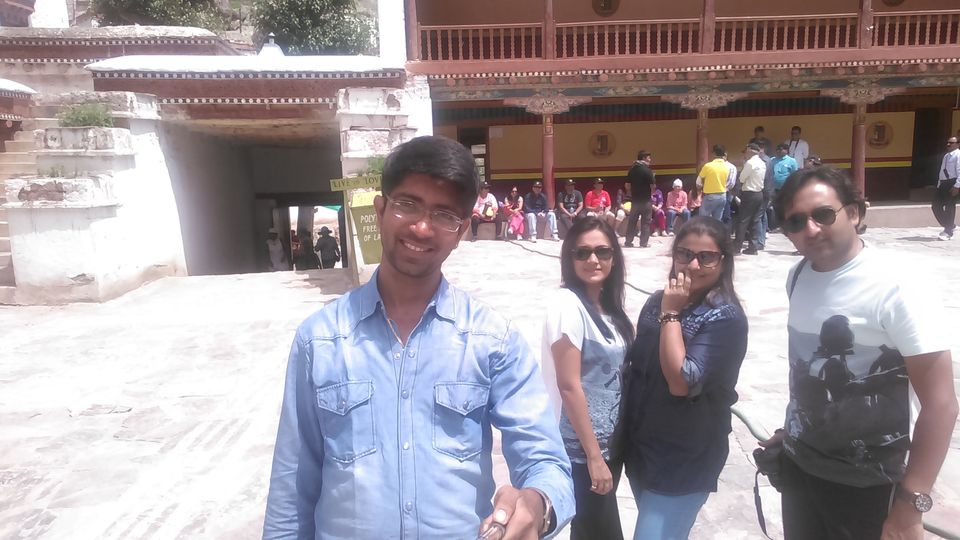 We clicked few pictures, prayed to the Buddha and left for Shey to visit the Druk White Lotus School and also the Monastery. Druk White Lotus School is place where the shooting of the movie 3 Idiots was done few years back, the school which is shown at the end of the movie where Amir Khan teaches Engineering to young students from local town. After the great success of the movie, this school was renamed to Rancho's School dedicated to the very inspiring character of Amir Khan as Rancho (Ranchoddad Shyamaldas Chanchad) in the movie 3 Idiots.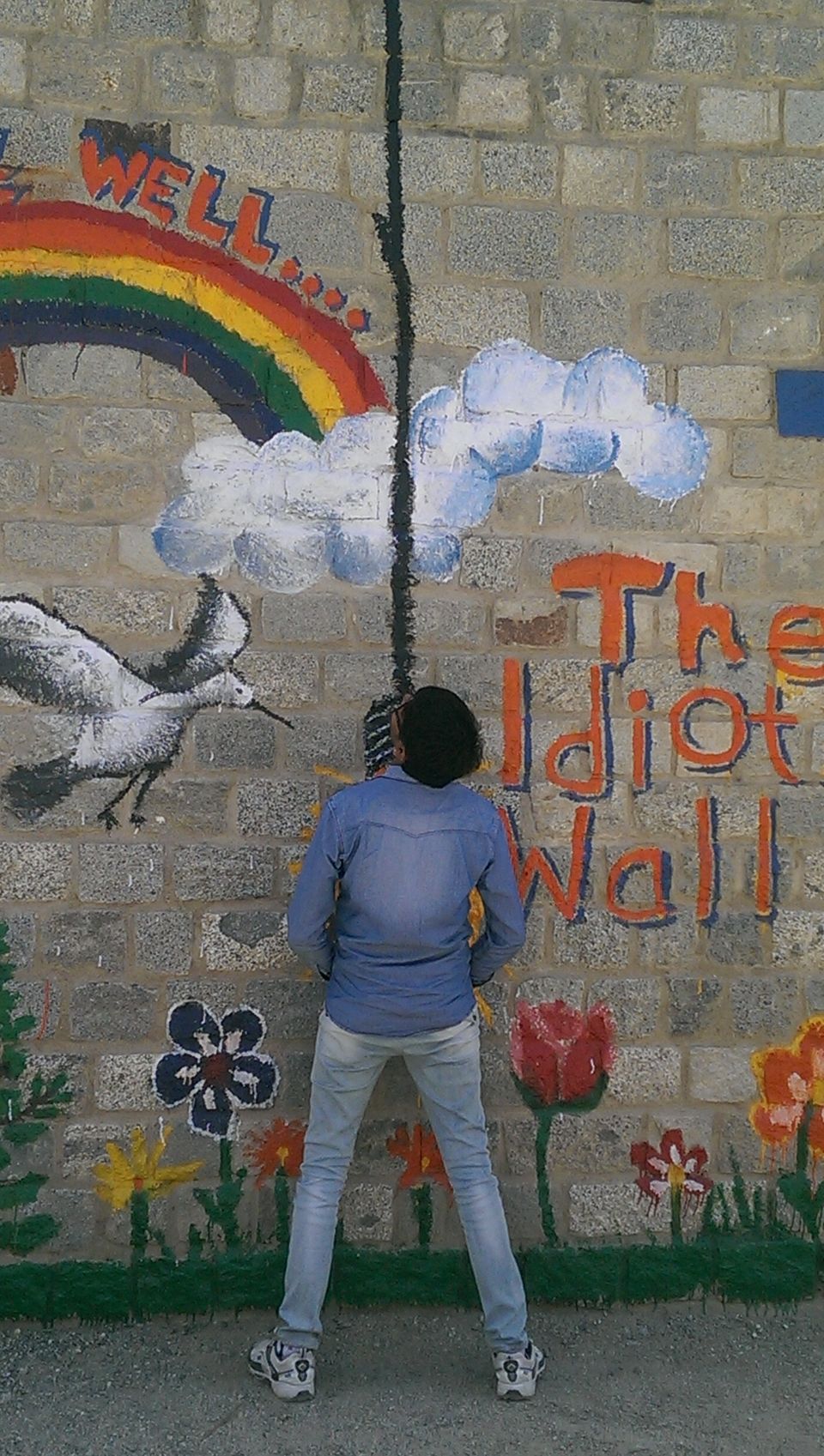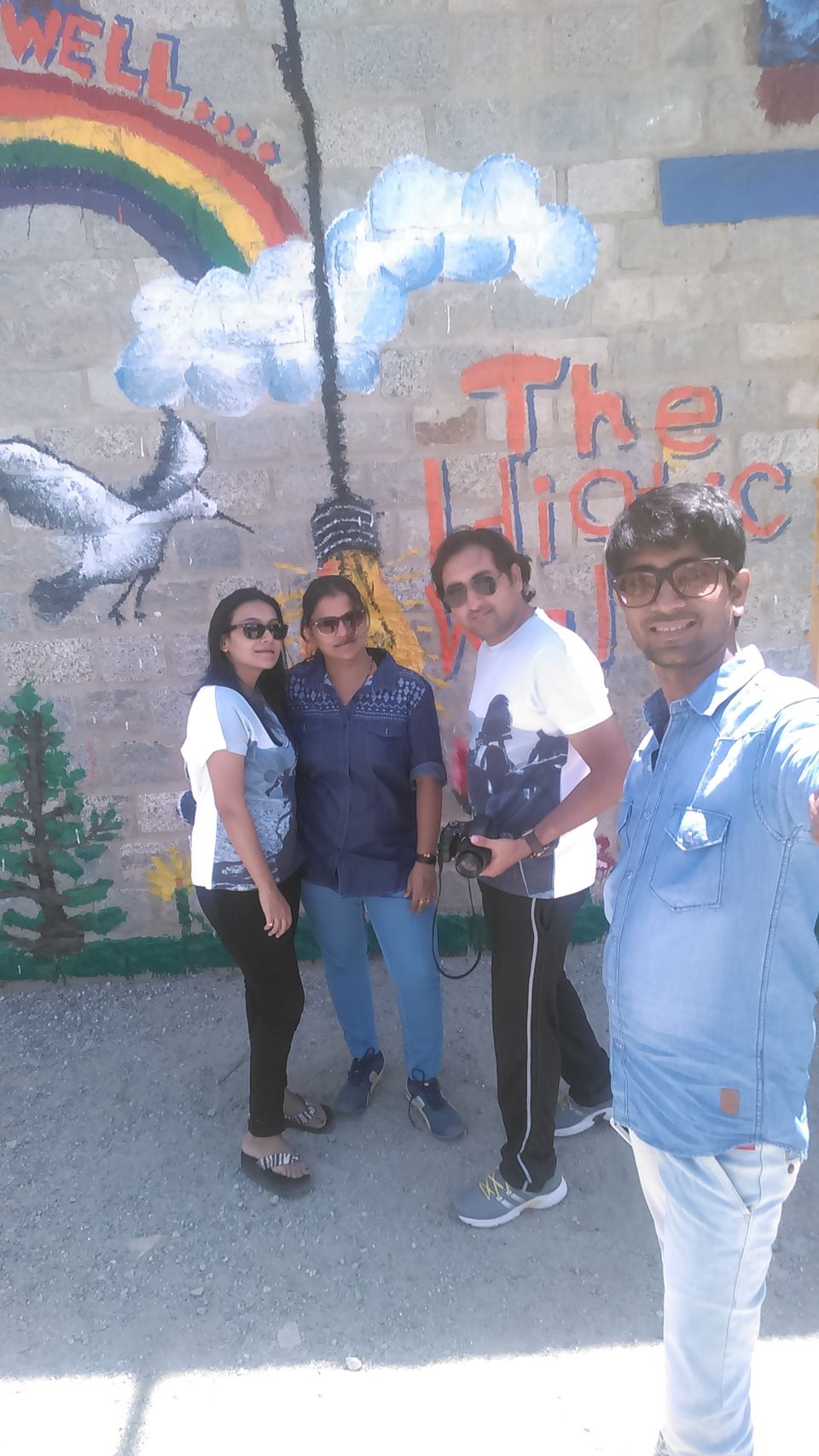 Tahir stopped at the Shey Monastery after the Rancho School. We had to walk up to the huge monastery, we were damn tired to climb up on our own, I clicked some pictures and we rested at the small pond situated just opposite to the mountain on which the Shey Monastery was located. It was relaxing but overall we were bored. After travelling through those high passes, rough roads, exploring the unexplored of Himalayas on the Manali – Leh Highway such as the Baralacha La where i had to strive hard to survive, staying at the middle of nowhere at sarchu at the very first night which is located at 14100 Ft with beautiful surroundings, 21 Gata Loops, NakeeLa, LachungLa, More Plains, TaglangLa and of course the paused Pangong Tso, Leh town was pretty boring but relaxing. It definitely was a Pit break for our journey, as next day we were travelling to Hunder Village of Nubra Valley passing through the mighty pass of Khardung which is located at 18380 Ft which is the highest motorable road in the world as claimed by the Indian Army.
It was 1.30 PM, we all four were tired and bored, wanted to go at the room and rest but Tahir didn't agree with our plan, he took us to the Hall of Fame which is located at the beautiful outskirts of the Leh town just next to the airport and the air force base. We all got what we wanted, the location. The beauty of the area got us back to the excitement and we were eager to explore the Hall of fame which is dedicated to all those brave soldiers who gave their lives just to protect us from the Pakistan Army during the Kargil War in 1999. Hall of Fame also has the wing dedicated to the Siachen Glacier, which is the world's highest battlefield at the Indian Pakisan Border at the 18 – 24000 ft above sea level. There are Siachen tents kept at the display for the people to understand how the army stays there.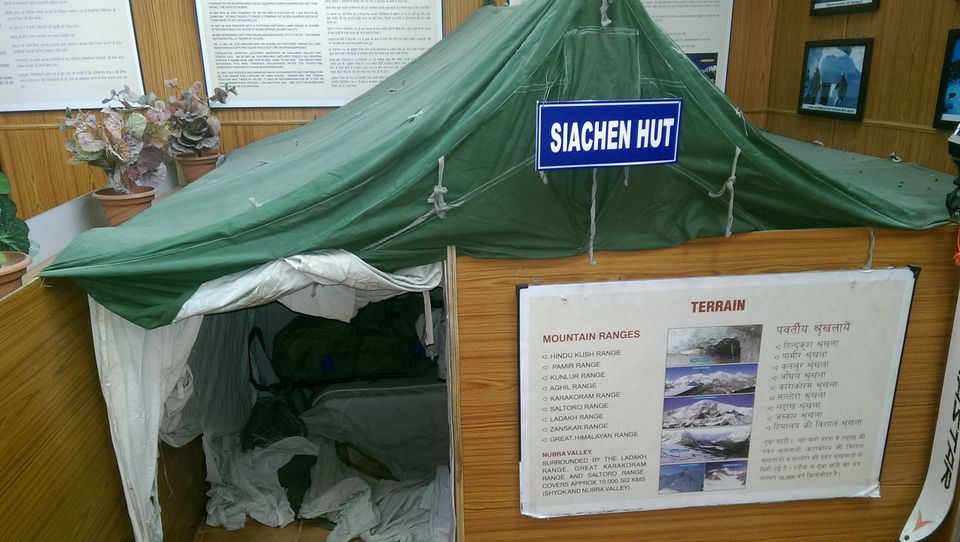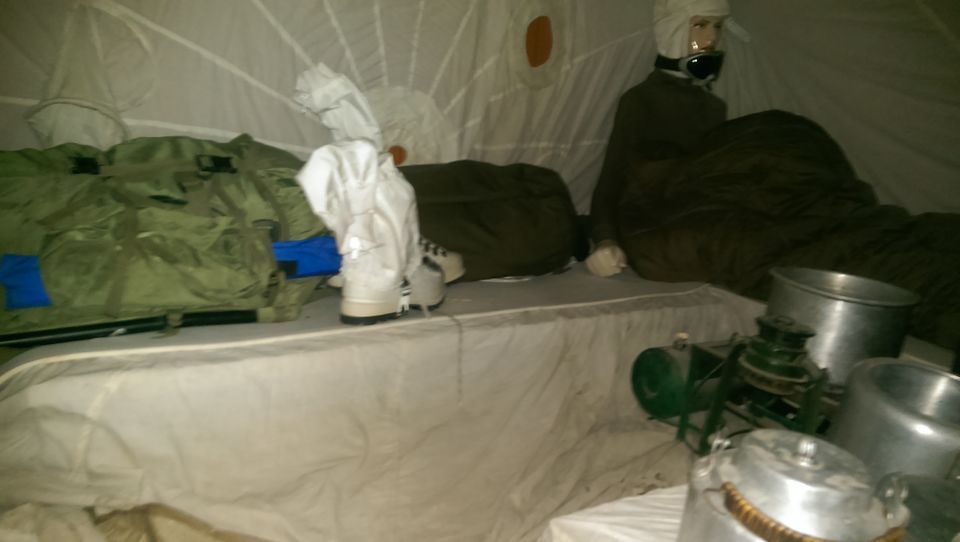 There are also all the accessories kept at the display like jackets, helmets, gloves, boots, tools, arms which are used by the army at the Siachen glacier, it is shown how a soldier lives up there without exposing an inch of his flesh to protect it from the frost bite. All those equipments which are used to climb the glacier are there in display. All those war arms and ammunitions are kept there at the display. Also there are pictures showing their regular workout routine, arms testing at the temperature of not less than minus 40 degree centigrade. I was surprised to see the picture of 21st June 2015, where the soldiers are performing Yoga on the International Yoga Day. Hall of Fame is a must visit place. We all were charged after visiting the Hall of Fame, all of a sudden all the love for our nation was coming out of us. We salute those leaders who are in the front to face the bullets so that we can be secure back at our place with our families. Hats off to the Indian Army. Also there is a certificate of Guinness books of record kept at the hall of fame at Leh on the name of the founder of the highest motorable route at Khardung. They have a small theatre where they show a short film on the wars India fought after independence. Most part of the film covers the latest kargil war which was faught in 1999. It features in details how the Pakistanis entered Kargil and Drass valley. It explains how the locals helped the army to create and show them the routes to climb up the peaks of Kargil and Drass. The movie shows how the Indian army captured all three peaks of Pk4875, Tololing and Tiger Hill which is dedicated to the Captain Vikram Batra and now renamed as the Batra Top.
Our next destination was Shanti Stupa. Shanti Stupa is a Buddhist white domed stupa on a hilltop in Chanspa, Leh. It was built in 1991 by Japanese Buddhist Bhikshu as a part of peace mission. The Shanti Stupa was enshrined by the 14th Dalai Lama.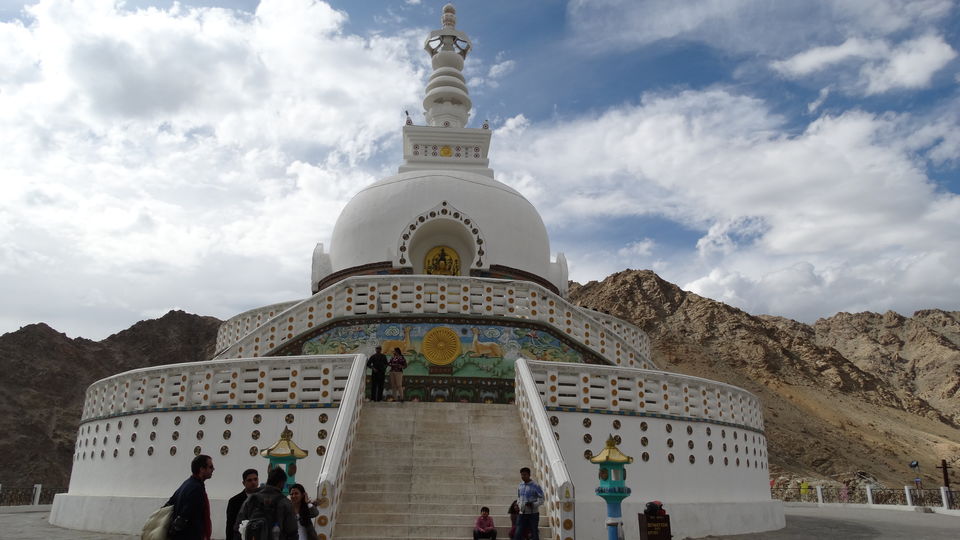 The Stupa has become a tourist attraction not only due to its religious significance but also due to its location which provides panoramic view of the Leh town and its surroundings. On getting down from the car the first thing we saw was the canteen and its location, it just amazed us. As we didn't had lunch today due to heavy breakfast of parathas and more parathas, we now wanted to eat something, we ordered some sandwiches and some tea from the long list of the tea menu. We ate and relaxed sitting outside the canteen, facing the Leh town from a height, enjoying the cool breeze and also the wind. In a while we did walk a few metres upwards towards the stupa. We were enjoying the view overlooking the city. It was quite relaxing. Half an hour of time pass and we went up to the stupa, it was huge, very huge. Shanti stupa is so beautifully located on the small mountain that we spent more than an hour here. At the one side of the stupa there is mountain, another side it is the way down to the city, third side it has a Army base camp and the fourth it has the Leh city. We did click lot of pictures, spent some quality time and left.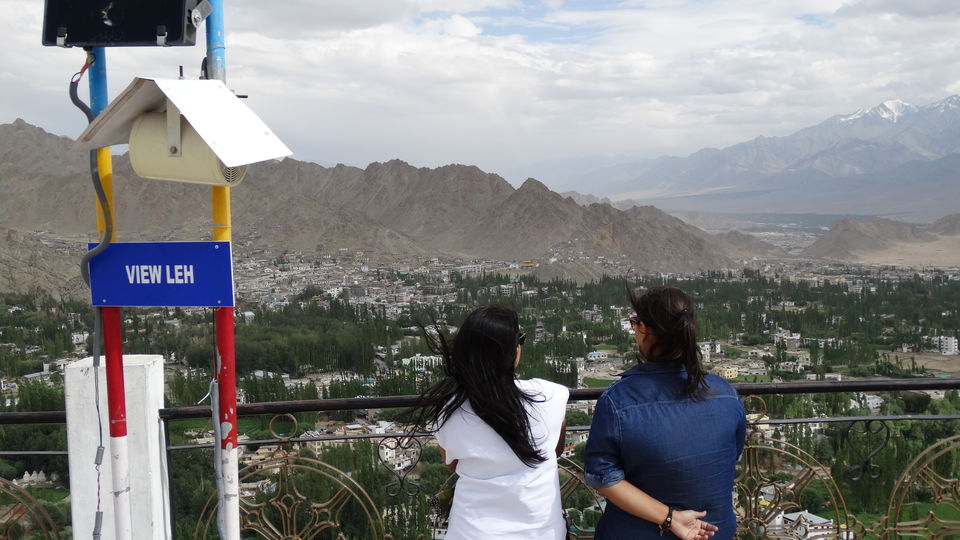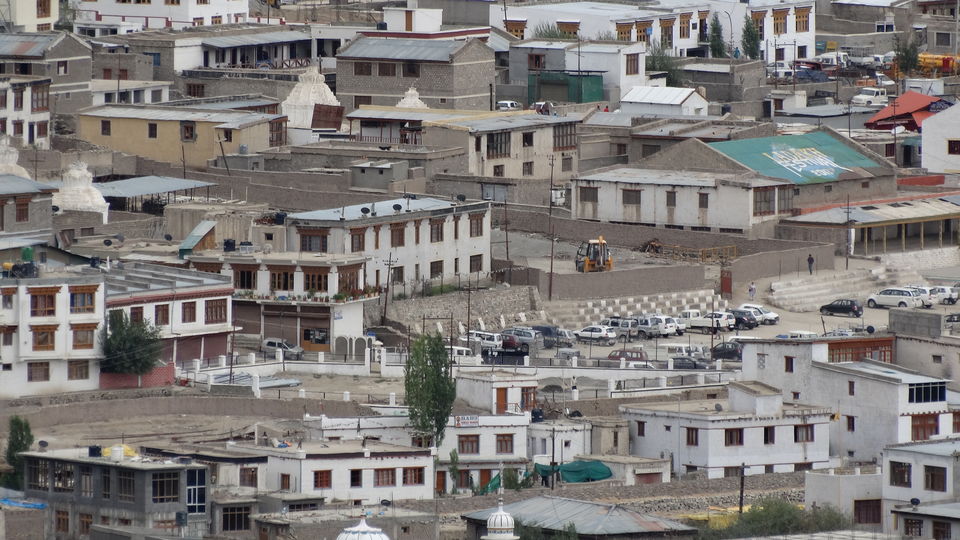 Our next destination was The Leh palace which could be seen little below the eye level at the opposite mountain for which we had to cross the whole city. Leh Palace is a former royal palace overlooking the town of Leh. We read it outside it's a nine storey building and we gave up, we didn't go inside. We were back on route on the way to magnetic hill which is around 30 KM from Leh and at 11000 Ft above sea level, located at the Leh – Srinagar highway. Visiting magnetic hill was my idea has we had little time in hand but everyone suggested we will visit the magnetic hill at the last day while leaving from Leh as it is located at the other side on NH 1 D. We wandered around in the market got some stuff for boozing, got some raw potatoes to make french fries at our host's kitchen, we didn't knew whether she will permit us. Unlike previous day we didn't took parcel so we went out for dinner looking for a place with free wi-fi.
Following are the short details for 10th August 2015.
Expense for breakfast Rs. 300.
Expense for Lunch Rs.0 (nobody took lunch due to heavy breakfast)
Expense for evening snacks - 200,
Expense for soft drinks, potatoes, etc. - 200,
Expense for dinner, Rs. 600,
Expense for night stays Rs. 1200. (2 rooms)
Total Rs. 2500
Around 120 KM travelled.
Highest Motorable road in the world. 11th August 2015
We left at 8.30 from our guest house for Nubra Valley via Khardung La at 18380 Ft above sea level.
In a while we started climbing for Khardung La, road to Khardung was little better as compared to road through Chang La towards Pangong Tso. After feeling the cold and scarcity of oxygen at Baralacha La, Nakeela, Taglangla and Changla we were literally scared of the thought of being at the world's highest motorable pass. We were advised not to spend more than 15 minutes or else it can turn disaster for us, which made us even more scared. With lot of excitement and little fear we turned at the last curve of Khardung Mountain and the highest pass was exposed to us with lot of crowd and a beautiful view of the surrounding mountains below our eyes. We were damn excited to be at the world's highest motorable road at the height of 18380 Ft above sea level. We could read all those sign boards in which one sign board clearly says "you should not be here for more than 25 minutes".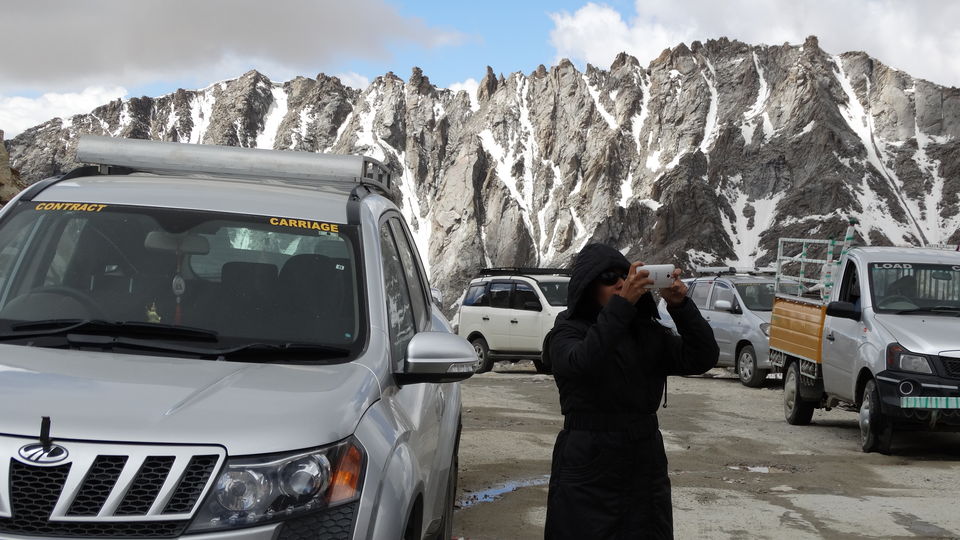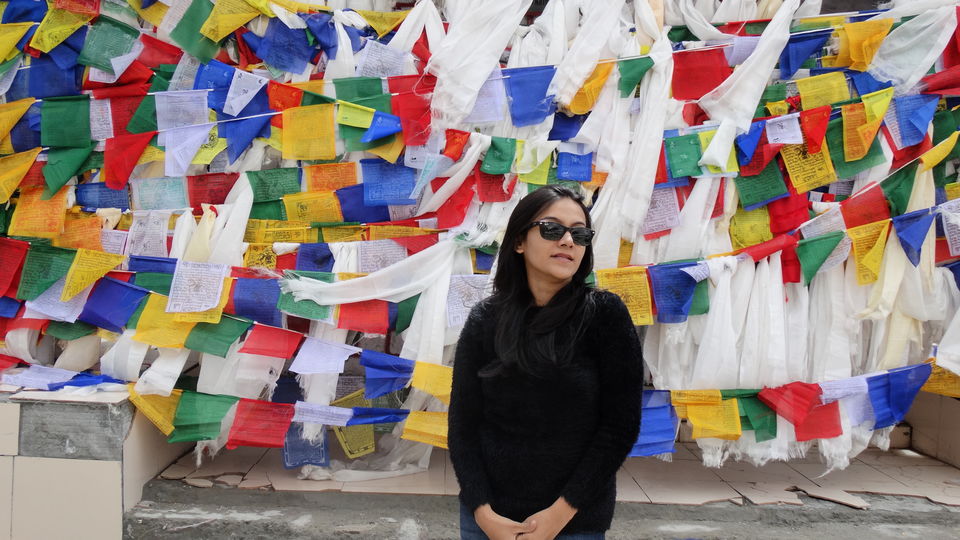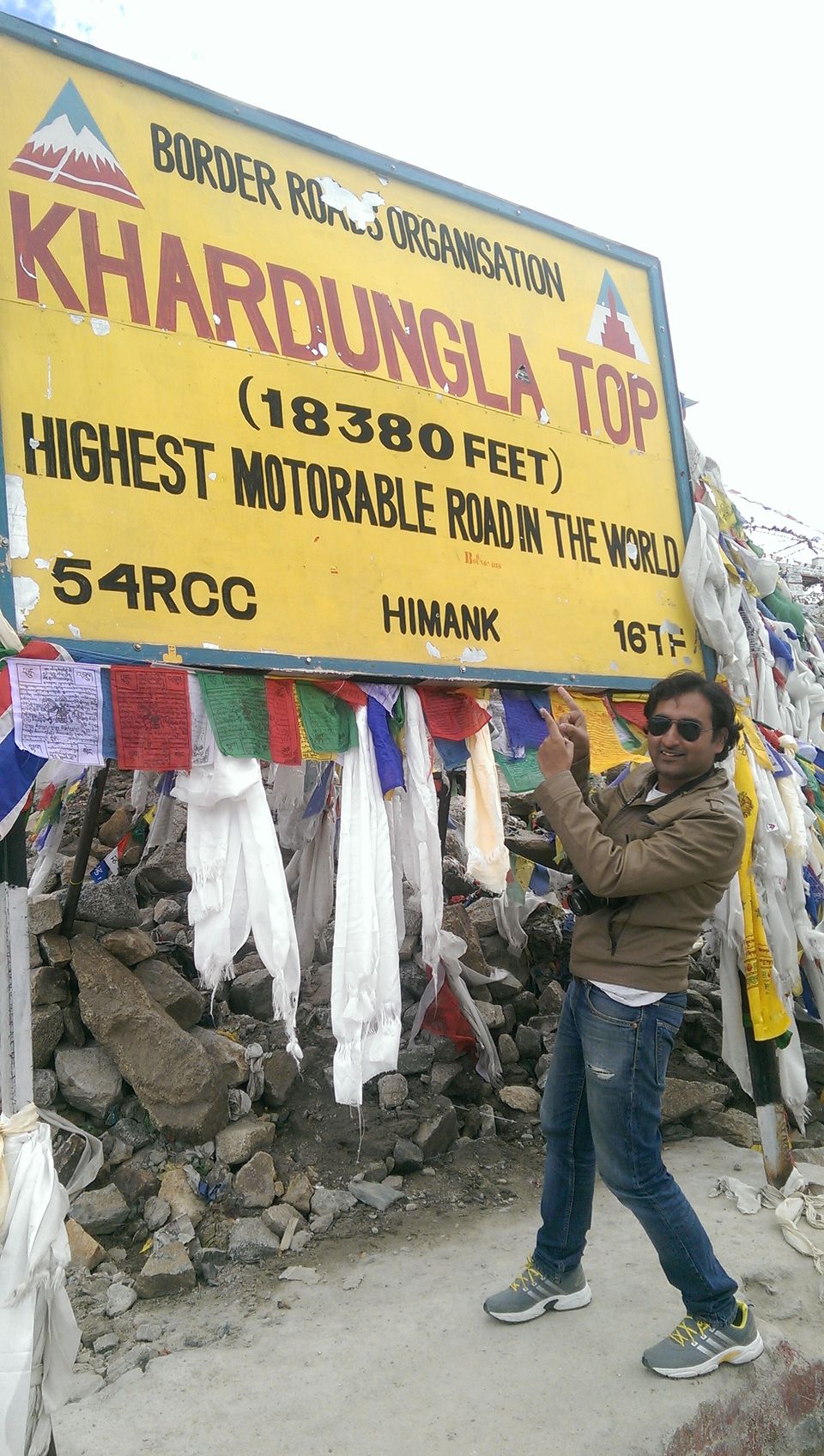 It was a dream come true, clicking pictures at those sign boards, playing in snow at the height of 18380 Ft can't be explained here in words. To my surprise we spent 45 minutes up there. One we were back in a car my right hand had become white, literally it was white, blood flow had completely stopped, and I was feeling nothing in right hand. I did keep my hand in downwards position so that some blood can easily come and also put some water on it. In some 10 – 15 minutes my hand was red again and I felt quite a relief. As we left the highest pass and started going downwards towards Khardung there was a drastic change in the atmosphere, our jackets got off. We got down to Khardung village, there were few food and resting options at this village, but we didn't stop and proceeded towards khalsar. Khalsar village was completely destroyed due to the recent cloud burst couple of days back. No house could be seen in one piece. Road side shops were half emerged in sand. It was terrible.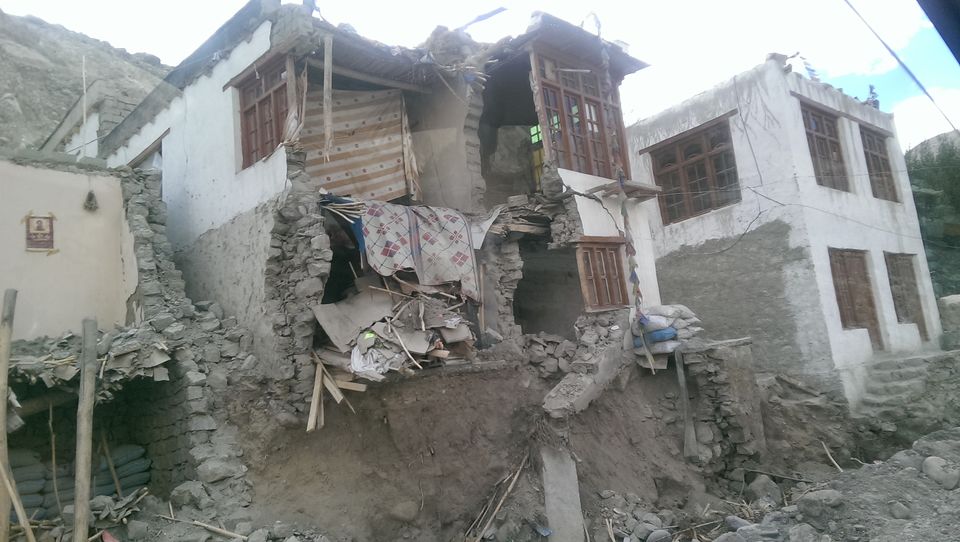 We proceeded towards hunder.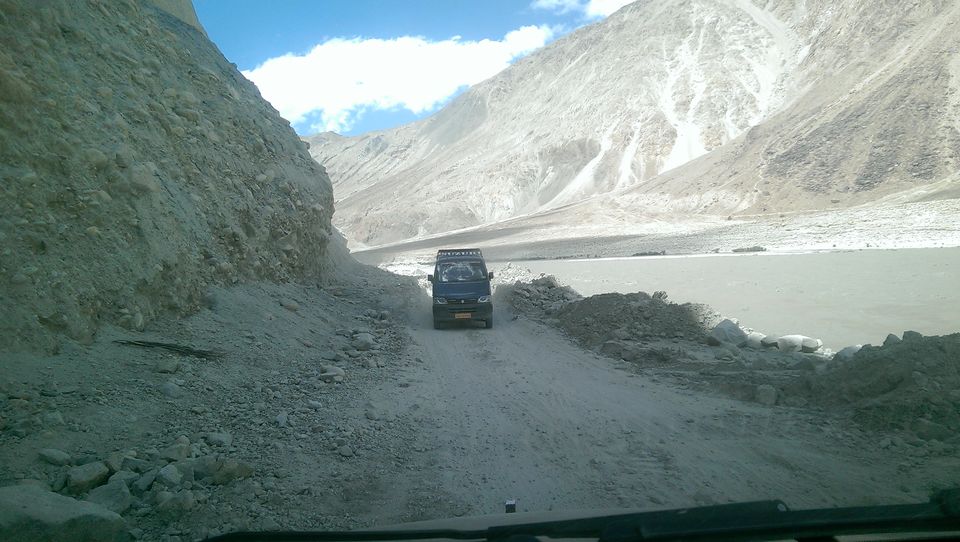 In the mid way we got our permits to enter the forest reserved area, took a turn for hunder via diskit. Straight road goes to sumur and panamik which also has the white sand dunes and hot water springs respectively. Road further from panamik goes to Siachen glacier.
Nubra valley is basically in Y shape, Diskit and Hunder fall on one side where as Sumur and Panamik on the other. We had lunch at diskit at around 3 Pm, only one restaurant was opened with full crowd, the only cuisine available was Chinese, and that too only fried rice and only one plate of noodles were available, we didn't took a second thought for confirming the order before someone else can do it. When the food arrived we did add some sauces and made it edible. We left for hunder where we had booked two tents at the Double Humped Camps. As soon as we left diskit the desert was now visible, landscape had now changed from vegetation and plantations of Diskit to the desert of hunder, earlier the landscape had changed from the snow covered mountains and passes from Khardung to the greenary in Diskit. On the way to hunder we were surprised to see a landscape where there was a sand dune, shyok river, farms and snow capped mountains all at a single place. Probably these kinds of landscapes could not be found anywhere in the world except ladakh.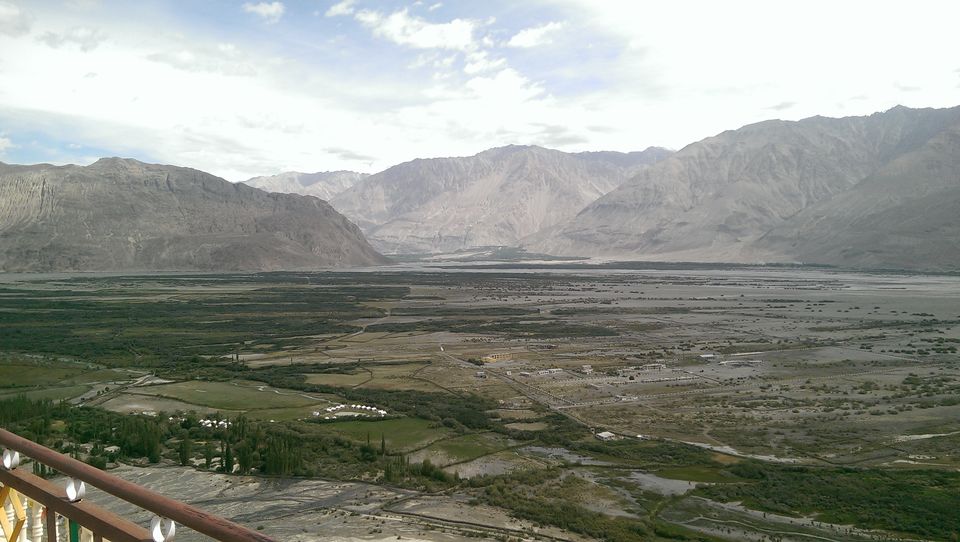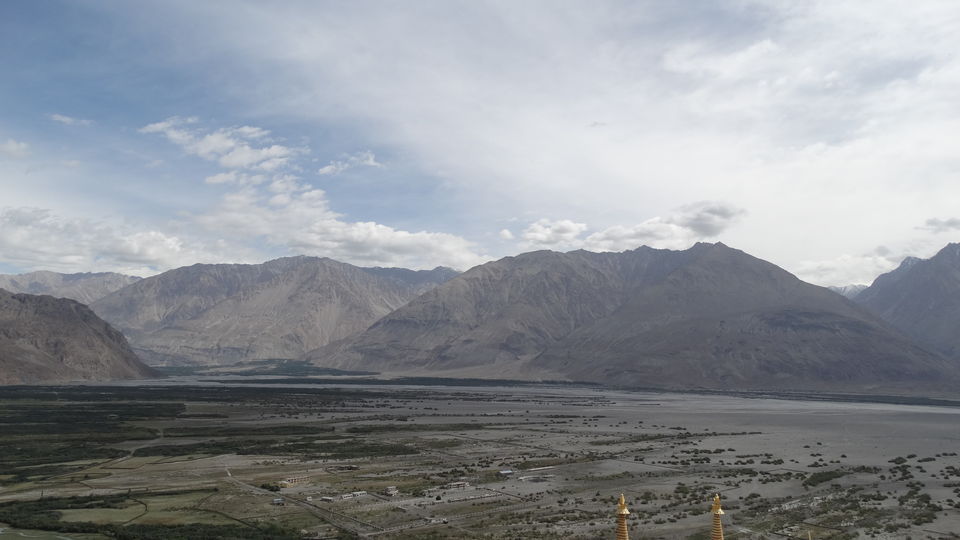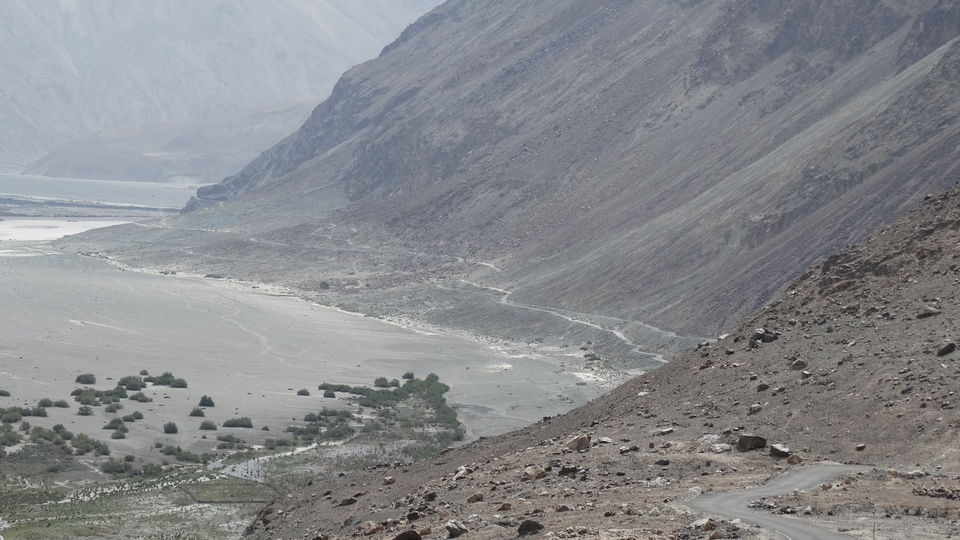 Out of 10 tents at the Double Humped camp only one was occupied by a honeymoon couple, yes a honeymoon couple. Poor couple probably didn't knew all about ladakh, and were continuously struggling for survival with each other, with the camp guy to shorten their stay which was already paid and also with their car driver looking for better roads to reach leh and cancelling their further trip and getting flight back to their city.
Location of our camp was nice, whole camp site was covered under the large trees and there was a small water flowing route in the middle of the camp, hence the weather inside the camp was little cooler than outside. We relaxed having tea at the table and chairs placed inside the campsite under a large tree.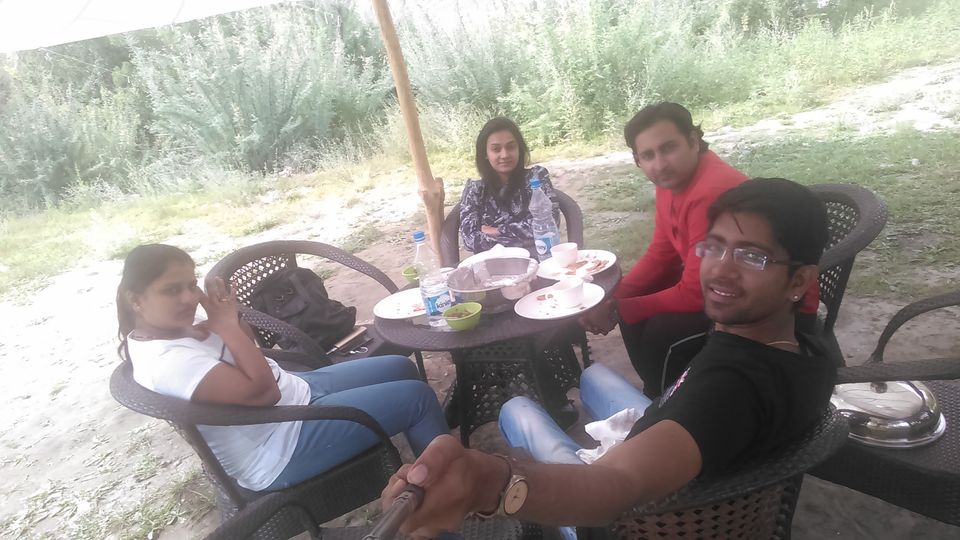 Alcohol is banned at the nubra, you can get it only with the army people. We were able to make an arrangement of an Old Monk. In the evening we went to white sand dunes which appeared mighty after being there. The camp location was also very refreshing and we had an Old Monk with us so we didn't much worry about the other things.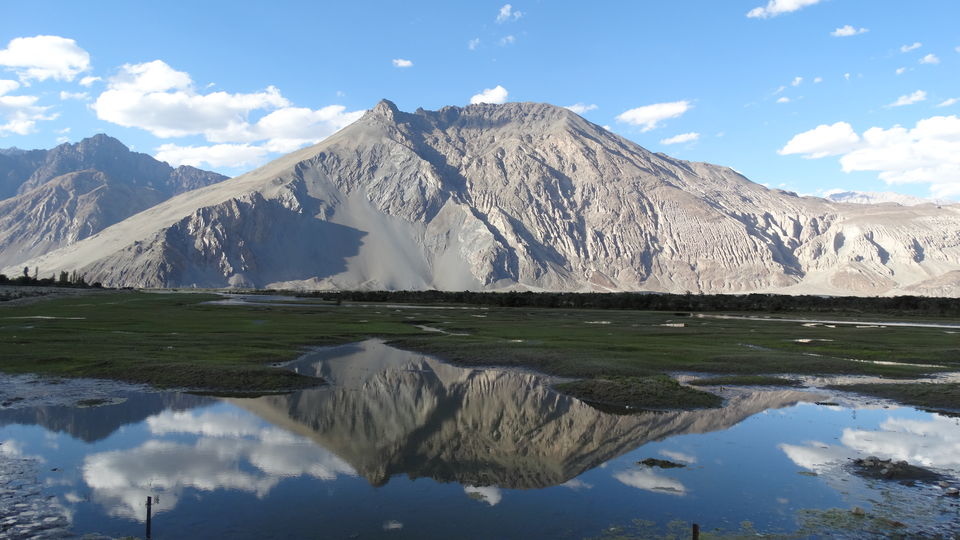 Sand Dunes were much bigger and vast at the height of 10500 ft above sea level. Lot of questions does arise like how come there is sand at such a height. There is a myth that ages ago this valley was under water and hence there are the remains. Nubra valley is the only place in India where one can find double humped Bactrian camels in a desert of white sand dunes.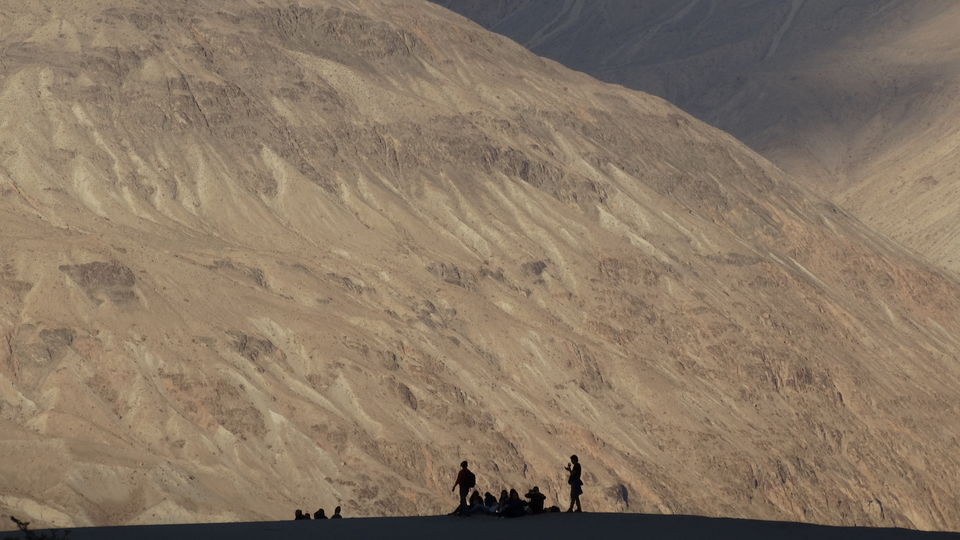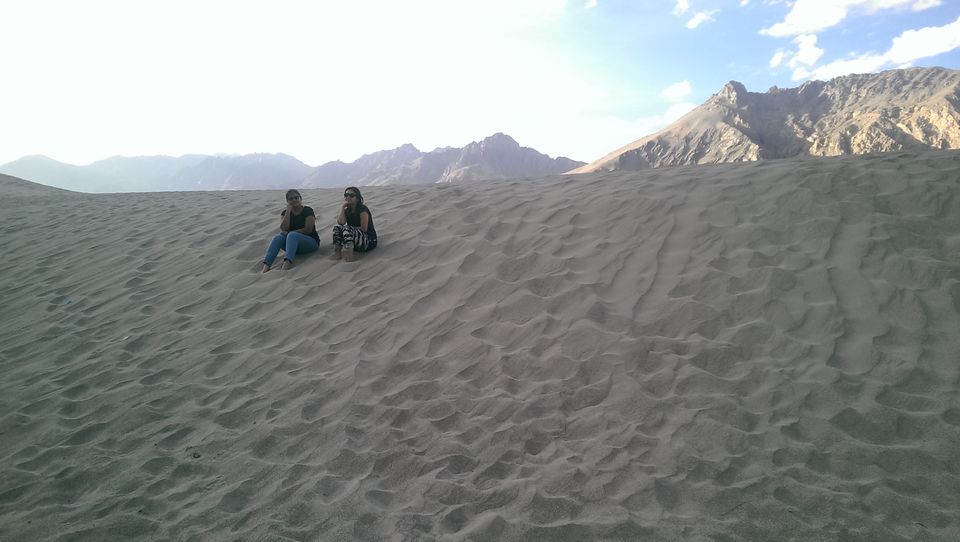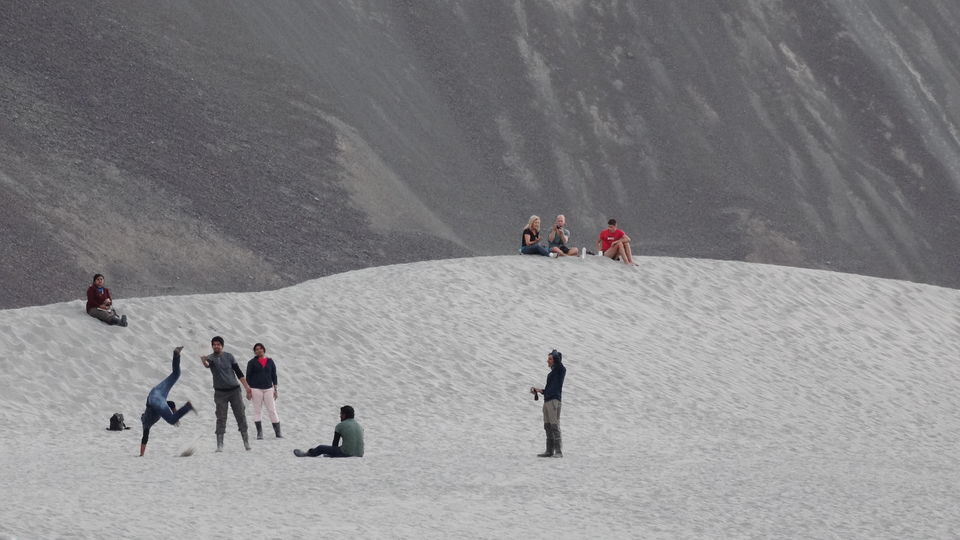 The world famous Siachen glacier is few kilometers from Panamik. Panamik is the last point which can be accessed by civilians. Siachen is the highest battlefield on the earth. In earlier centuries, there used to be trade passing through this area to Central Asia, the route is known as The Silk Route. In fact, Bactrian camels were brought to the valley by Mangol invaders in 17th century for trading purpose. These Bactrian camels are the main attraction of the nubra valley where we can get to ride through the valley on them. We spent few hours playing in the dunes until it was dark. We went home got fresh, and were sitting below the tree with our all time partner Old Monk. We requested the cook to make French fries and some boiled eggs. Within an hour or two whole 1 L of Old Monk was finished and the rest is history. We had an awesome sleep that night. What happens in Ladakh, brings you back to Ladakh.
Following are the short details for 11th August 2015.
(Leh – Kardunga – Khalsar – Diksit - Hunder)
Expense for breakfast Rs. 800.
Expense for Lunch Rs. 400
Expense for night stays Rs. 3500. (2 tents)
Expense for dinner (Starters + Soft Drinks + old Monk + Dinner + Breakfast for next day) Rs. 2200
Total Rs. 6900
Around 150 KM travelled. (6 Hours via Khardung La)
Last night at Leh 12th August 2015
After a memorable evening spent at the camp site, next day morning we were prepared to leave from such a beautiful desert. We had parathas and some biscuits for breakfast and we left for the Diskit Monastery. There is a beautiful landscape of flat land deserts of white sand with huge Rocky Mountains behind it. We clicked few pictures on the way and left. Diskit Monastery is the largest and the oldest surviving monastery in Nubra Valley.
We were now starting to get the feeling that our trip is going to end soon, soon we will again start running behind the money sitting at our desks. Nobody wanted to go back home leaving this beautiful region behind. We were highly thankful to Tahir for making our journey an unforgettable one. We realised we will terribly miss Ladakh and also Tahir. Tahir had become like us, he sometimes used to criticize us, he used to pass jokes on us and make us laugh. We never did mind his jokes on us. Tahir was basically from Kargil, he also shared some stories from the 1999 war when he was young but was there in kargil, all civilians were shifted to nearby village at the time of war. Currently tahir's family lived in a village few hours before Kargil. Every year during tourist's season in Ladakh, Tahir comes to ladakh with his wife and kids as there are many options open for earning. We had told him, tomorrow we will take a halt at his house, have some tea and only then we will go to Kargil.
We had planned to stop at the Khardung La again as Pandey wanted to wear his Spiderman mask and get a dub smash done, but we were tired and hungry as well. We went through the highest motorable road for the second time but didn't stop and left directly for Leh. We reached Leh at around 3 PM, at the outskirts there was a good looking fast food outlet where we did stop for lunch. I had a severe headache and also my ears were paining as we got down to 10,000 Ft at Leh from 18380 Ft at Khardung very quickly. Road down to Leh was almost with no obstacles and also the road was in good flat condition as compared to a day before, looked like BRO had worked hard to remove those big stones across the road and had made it a smooth ride. BRO continuously works throughout the season to maintain the roads, roads gets damaged almost every day or every week, due to landslides, rainfall, etc. So the road would not be the same as you had seen it a week back. Tahir got us down from Khardung within 70 minutes and I was in little trouble, like I get in flights while landing. We ate some sandwiches and dosas and got back home. Couple of hours passed and I was okay after taking a power nap.
We got back out of our rooms at around 6 PM, it was our final day at the Leh market. We bought some stuff for evening session, did take one round, looked for a good authentic roof top open restaurant and went there. We did some time pass as it was too early to go back to room, we had some soups, some starters, got our dinner parcel and went back home. It was our last session at Leh. Again we had a great and memorable evening. Next day's journey was planned to Kargil, through Magnetic Hill, Sangam, lamayuru, fotu la or moon land, mulbek and kargil. Kargil lies near the Line of Control facing Pakistani-Administered Gilgit–Baltistan to the west. We knew the roads are in a very good condition like any other highways in our country. We were going to be on NH 1 D tomorrow. We had planned to leave from Leh at 8 but there were surprises and shocks stored for us for the next day.
Following are the short details for 12th August 2015.
(Hunder – Diksit – Khalsar – Khardung - Leh)
Expense for breakfast Rs. (included in previous day's bill)
Expense for Lunch Rs. 440
Expense for night stays Rs. 1200. (2 rooms)
Expense for dinner & booze Rs. 1180
Total Rs. 2820
Around 150 KM travelled. (5 - 6 Hours via Khardung La)
Leh to Kargil 13th August 2015
Every morning Tahir used to be there outside our place before time, and it was 8.45 and he was not there. Pandey asked me to call him and check; to our surprise he didn't receive my call. Mean while I got a call from Padma, the taxi owner, he said there has been some problem and so tahir couldnot come to kargil with us, and he is arranging another car in 15 minutes. At once we all thought that tahir himself would have denied to his owner to go ahead with us. But whatever the reason would be we just were not able to think of proceeding towards the last part of our journey without tahir.
Surprise Surprise! I get a call from tahir, he sounded energetic and first words I heard from him was not hello or jullay, it was "Ooh la la", i desperately asked him where are you and why are you not coming, he said "Sir, me aa raha hu. 5 minutes me aa raha hu", and he was there. At once we thought he would come with another car and new driver at our place to pick us up and say good byee. He arrived in the same car and no other driver was there. Pandey and i was literally abusing him and asking me what the hell happened. He said pehle car me baitho fir batata hu.
We got to know, there was a fight. Last night a driver with his car with kargil RTO passing was beaten up, he was severely injured and hospitalized. In the early morning, Leh taxi union gets news that few cars and drivers from Leh are beaten up in Kargil as a reaction of the last night's episode, and they were warned, if any car from Leh RTO passing arrives in kargil will be attacked. Our car had a passing JK 10 i.e. Leh passing, and obviously our car couldn't go to kargil which is the only route to Srinagar, and one day later on 15th August we had flights to catch from Srinagar. Tahir had spoken to one of his friend Zakir who had left from kargil for Leh with some tourists. And for obvious reasons even they were not going to get to enter leh. They both had decided to exchange passengers at Khalatse which has 90 Kms after leh, and just before lamayuru.
We proceeded towards Magnetic hill. The Magnetic Hill is situated along the Leh-Kargil-Baltic National Highway, 30 km away from Leh, at a height of 14,000 feet above sea level. At the Magnetic Hill in Ladakh, our vehicle moved uphill at a speed of 15 km/h even with the engine switched off. All this happened without any visible external force with no trick involved. At the specific place a sign board has been put up. All we have to do is drive our vehicle to that spot, switch off the engine, and watch the vehicle move up the hill at a steady speed. There are many explanations to it. Some claim that the vehicles move because of the magnetic properties present in the hill. According to them, the magnetism here is so strong that it pulls the vehicles on its own. Others assign this spectacular phenomenon to supernatural powers. However, a third explanation that is much closer to the truth is optical illusion. It is believed that the surrounding land at Magnetic Hill produces an optical illusion, which makes a downward slope appear upward. Hence, left to itself, a vehicle appears to be moving upward, whereas it is only being pulled down by the force of gravity. One of the main factors contributing to this optical illusion where a downhill slope appears uphill is a completely or partially blockaded horizon. It is usually hilly areas that the level horizon gets obscured. Thus, objects that should be perpendicular to the ground–trees, posts, etc.–appear to be leaning. This in turn creates an optical illusion, making a slight downhill slope appear like an uphill slope.
Though we were constantly worried about changing the car and the driver, ladakh never broke our adventure spirits. Yes we were definitely upset about leaving tahir behind and so was he, but there was nothing he can do to come with us till Srinagar.
Landscapes on the Leh Srinagar highway are way too different from the Manali Leh Highway, and that too with the perfectly built up tar road, it is wonderful and well deserved drive after continuously going through ups and downs at the highways since last 7 days. Though land here also was completely barren but it was completely different from the other side of the ladakh region i.e. on the manali leh highway.
After magnetic hill we stopped at Nimmu, where two rivers Zanskar and Indus meet. The sangam. The name of Indus river was only heard when I was in school, we were glad to witness the confluence of these two great rivers. In the following picture the river coming from front which has clear water is Indus, and the muddy one coming from Left is Zanskar.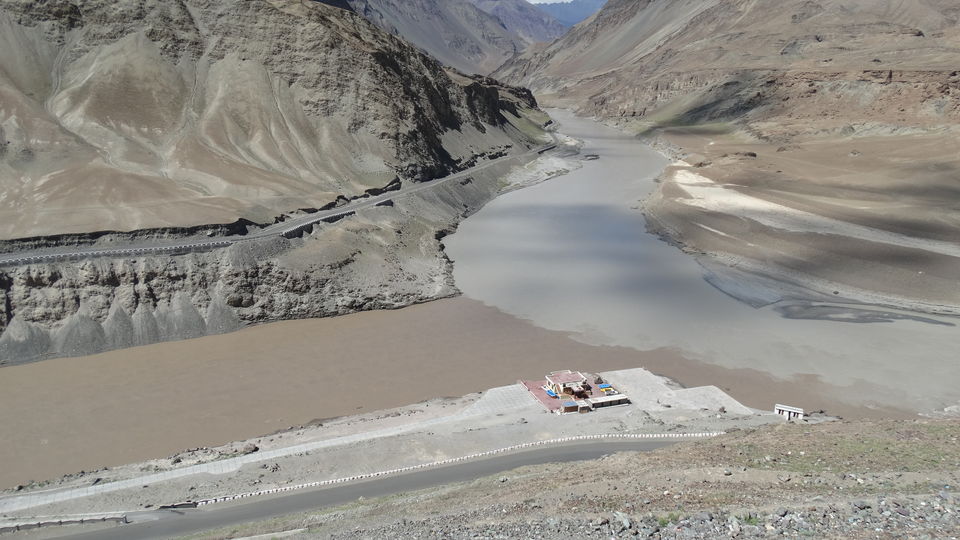 After the sangam, river continous as Indus. River rafting is also done at this place, tough the water was quite still we wanted to go for rafting, but we found it little expensive at Rs. 1200 each and hence we dropped the plan for rafting, we didn't found it worth spending so much where the water is also still.
We skipped visiting Alchi Monastery and went directly to Khalatse. On the way to Khalatse there was a huge convoy of the military trucks. There were around 250 – 300 trucks, luckily around 200 trucks were stuck and waiting at the left side of the road due to minor accident 40 Km before Khalatse. We overtook all those trucks in one go and went and stopped right at the spot of accident. The accident site was cleared in next 10 minutes.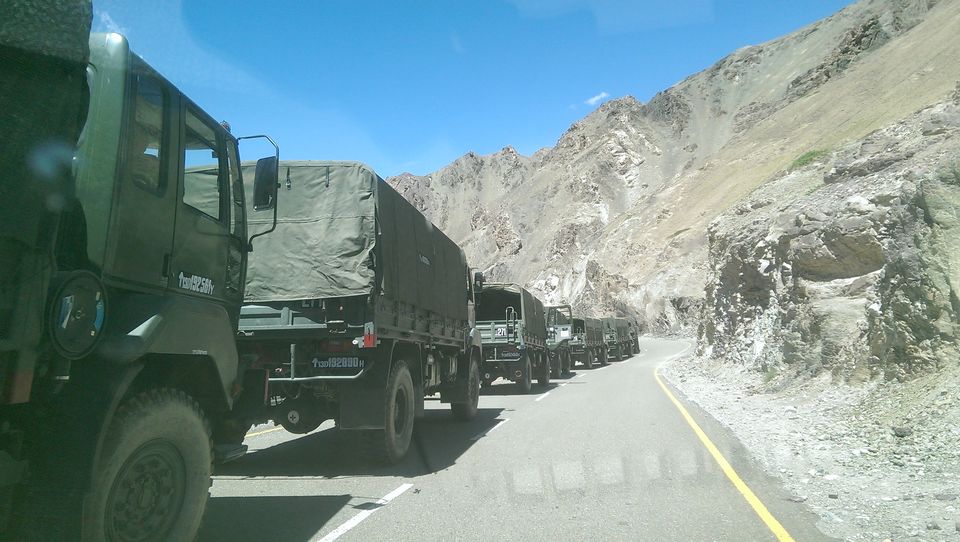 Tahir stopped at a very good garden restaurant. Though it was a pure Veg restaurant, food there was awesome, after many days we had a taste of some real desi Punjabi food. At many places in Ladakh we don't get onions free with punjai food we have to buy a plate of onion salad.
Tahir had said he will be back in 45 minutes, but it was more than one and half hour now, we were waiting and continuously calling him; he said he is waiting outside the town for another car to arrive. He asked us to relax for a while. Mean while, those military trucks started to pass, we were horrified because further on the way to kargil we have to pass Namki La which is situated at the height of 12139 Ft above sea level. Tahir came in a while, he said another car has arrived, they are waiting for us at the outskirts of Khalatse. Till then we had bombarded tahir with lot of questions, who is the driver? Do you know him? Will he drop us till Srinagar or only till kargil? Will he arrange a stay for us at kargil? What if tomorrow he says he would not come to Srinagar? Do we need to pay him extra? And so on. Tahir was trying hard to relax us.
The end of journey with Tahir. We spotted the other car with the JK 07 RTO passing; name of the driver was Zakir and was a short guy. There was a couple with him; he had got them from Srinagar. They were curious to know how our journey was from manali to leh. We did talk for a while, and also discussed the last night's fight between the people of leh and Kargil. Meanwhile our luggage was exchanged. We clicked a picture with tahir and promised him to be in touch. Tahir was about to cry. We were sad, but we had a journey to complete. We invited him to our city and left.
Zakir also had a Xylo which was owned by him. Now we could see the military convoy right in front of us, we were prepared to waste hours and hours that too in scorching heat and tonnes of dust. But we were so happy to see all those trucks taking a right turn towards Batalik highway, leaving the road to lamayuru / kargil completely vacant for us. While coming from leh to khalatse we didn't even notice 1 single car approaching towards Leh from kargil or vice versa due to the strike, and even now the road is completely empty for us towards kargil.
Here comes the Lamayuru. The Lamayuru monastery is situated on the sides of the steep hill high above the deep gorge through which the Lamayuru River flows. It is a magnificent view even from a distance. I wished to stay at this place if we would have some days in spare. There is a sense of peace in this place. We stayed for around 10 minutes there.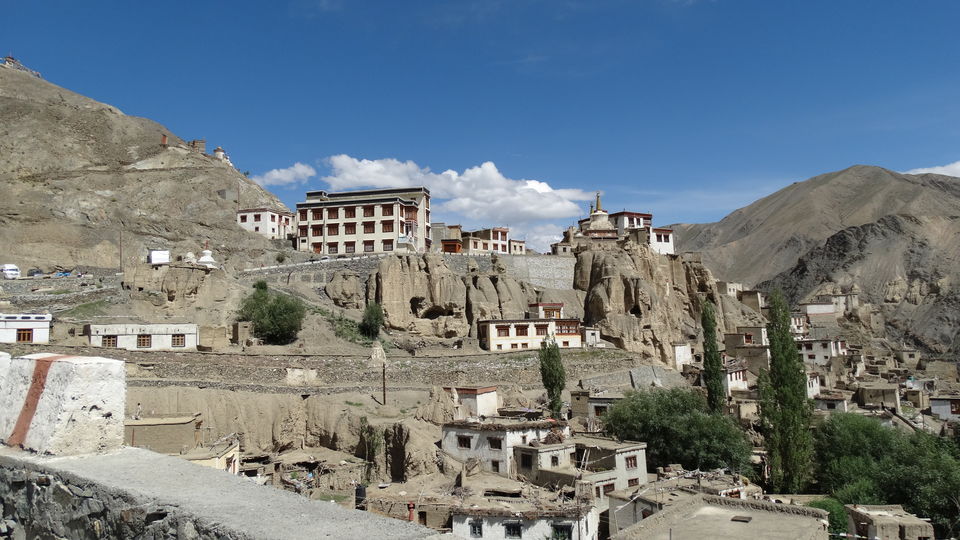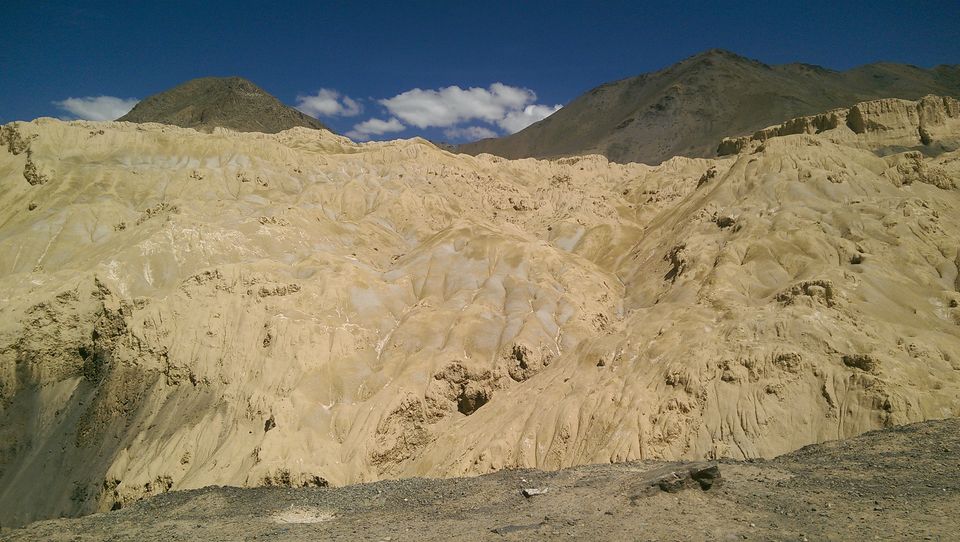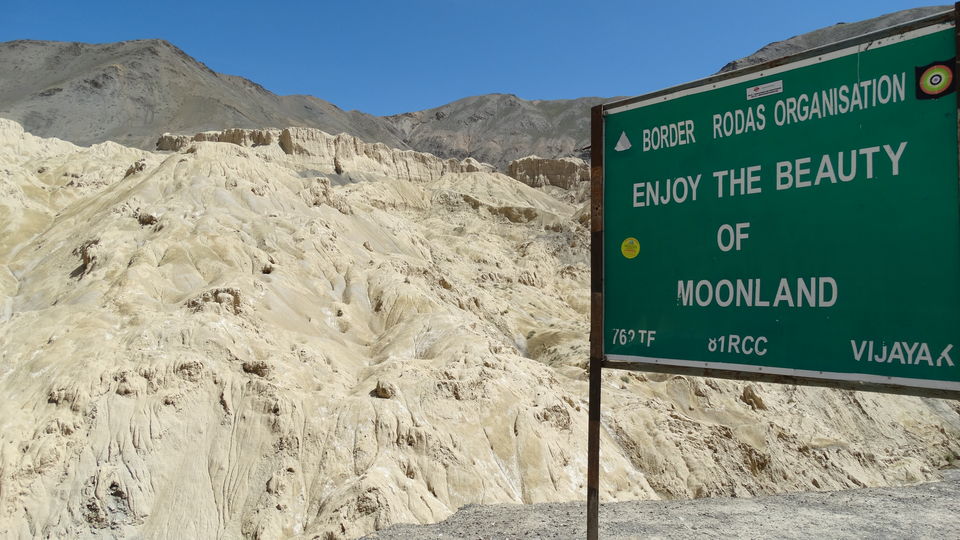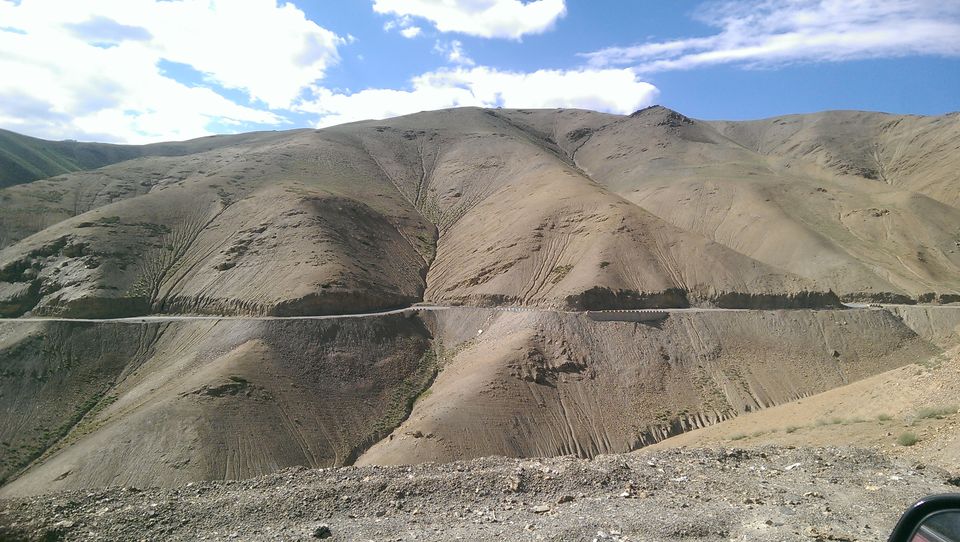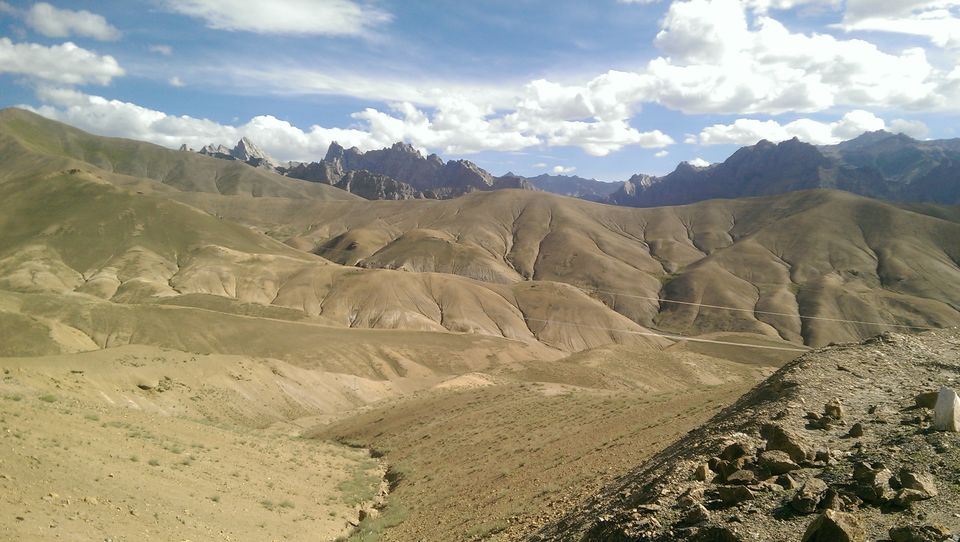 At Wakha, 60 kms after Lamayuru we stopped for some tea and refreshments. Tea was really refreshing. We got fresh and left in half n hour. As we left from lamayuru and preceded towards kargil i.e. from ladakh district to kargil district, word Jullay changed to As Salam Ale Kum, Julay was the magic word in ladakh. It is a multipurpose word; you can say jullay to greet someone or even to thank someone. Jullay is the first word that comes out of the mouth from the people of ladakh. Greeting had changed from jullay to As Salam Ale Kum. Language had changed from Ladakhi to Kashmiri, yes Kashmiri language, it sounds similar like Urdu but it is not Urdu. While in ladakh if you are ever in trouble and need help from someone, don't forget to start your conversation with Jullay.
After getting fresh we approached towards Kargil. Kargil lies near the Line of Control facing Pakistani-Administered Gilgit–Baltistan to the west, and the mostly Indian-Administered Kashmir valley to the south. Of total population, 80% are Muslim.
At the outskirts of the Kargil town, we were stopped by a mob. There were around 15 – 20 people speaking loudly in Kashmiri language and all of them had a big sized wooden sticks in their hands. Though there was nothing for us to worry about as we were travelling in local JK 07 car, still we were scared to death.
Even at Kargil there were no fans, at the rooms, infact they didn't had electricity, it was scary to spend the next 12 hours in dark, we didn't knew how would Manali and Vidhi react too this whole situation. It horrified us but we had no other option than to stay there. We missed Tahir, if he would have able to come with us, he would have got us accommodated at a place much safer. We convinced each other that it is just a matter of one night, next day morning at 6 we were scheduled to leave for Srinagar.
We booked those two rooms, and went back to the car to get the girls and also the luggage. Manali and Vidhi both co-operated very well to the circumstances. We got back to the guest house, kept our luggage in our respective rooms and got back to the town to get some food packed.
It was dark when we reached at our rooms, host switched on the generator on requesting, but only till 10 PM. We had planned to watch a movie on my laptop. We got ourselves fresh and got back together at Pandey's room. Movie was half completed, and there was a knock at the door. We all looked at each other and my mind started imagining things at the speed of 250m/h. Pandey opened and there were around 4-5 people including our host and Zakir. As there was no electricity, there was a pin drop silence in the surroundings, generator had gone off, the floor was complete silent, due to which their talking felt like an argument. Even I went out outside the room closing the door. There was a guy named Bashir, he was from Srinagar, he informed us that the strike which was between Kargil and Leh is now expanded to Kargil and Srinagar. Taxi union of Srinagar had warned, they will not allow any car to enter Srinagar either from Leh or Kargil. At first I thought this is conspiracy, to make us stay here for one more day. Now the situation was something like this, Zakir had a car which had a Kargil passing JK 07, he would not be allowed to enter Srinagar. Bashir owned an innova which had Srinagar passing JK 01, but he would not be allowed to leave from Kargil. Bashir was quite convincing. He convinced us that he will take us out of kargil and will drop us at Srinagar tomorrow. In short we cannot continue our journey with Zakir. We just didn't trust anyone, but we had no other option. Bashir said he is parking his car right outside our guest house now itself. He asked us to get up at 4 AM and be ready at 5, we have to leave from Kargil before Sunrise, so that there are no people to stop us from getting out of town. We got back to the room and informed manali and vidhi about the situation.
Even after paying for two rooms, we all slept in one room. The night was about to end in next few hours.
We were recollecting the memories and number of drivers we have changed 6th August onwards.
Sardarji driver From Ambala Cantt / Chandigarh Airport to Manali,
Ravi from Manali to Karu / Leh,
Tahir from Karu to Khalatse,
Zakir from Khalatse to kargil and now
Bashir from Kargil to Srinagar.
We had to change four drivers instead of one i.e. from Manali (7th August) to Srinagar (14th August).
Following are the short details for 13th August 2015.
(Magnetic Hill – Sangam – Lamayuru - Fotu la - Mulbek - Kargil)
Expense for breakfast Rs. 0 (Self made bread butter and Jam Sandwiches)
Expense for Lunch Rs. 500,
Expense for dinner Rs. 480,
Expense for night stays Rs. 1600. (2 rooms)
Total Rs. 2580
Around 213 KM travelled. (9 Hours, 9 AM to 6 PM)
Kargil to Srinagar 14th August 2015
We woke up at 5 AM, nobody bothered to ask for hot water, we got little fresh and left at 5.45. Bashir was waiting for us, we got our luggage stacked in the trunk of his Innova and left. Nobody was there to bother us and in next five minutes we were out of the town. Bashir soon became friendly, but I must say he was professional. He was doing all the good talkings to impress us and to get more tourists for him next year and we didn't let him down, we behaved like a good listeners.
Whatever bad habits Zakir also had, I must say people in Kargil, Srinagar and Ladakh are the best people I have ever met, they are very co-operative and honest with the tourists as they survive only on the tourists. I found Ladakh as the safest place. Firstly Padma had helped us in arranging another car from Manali to Leh, secondly Tahir also got us another car arranged from Khalatse to Kargil and then even Zakir got us another car arranged till Srinagar. If this case would have occurred in any other city, every driver or the car owner would have asked us for extra money, but here nobody even asked a single penny extra, that was unbelievable for me. We are even grateful to Zakir for arranging another car till Srinagar.
As soon as we hit the highway, we were amazed by the beauty of the valley, after many days we spotted little greenery on the mountains and also on the road side. We could now spot army people all over the highway, we were also lucky to witness the live training of the soldiers on the mountain side, they were running and climbing the mountains as if they were running on the flat straight road, we saw them crawling on the roads. This would probably be their daily scheduled. I used to remove my head from the window of our car and salute those brave soldiers standing by the road side to protect us from the enemy. Though we do not do much good for our nation but we can at least salute those who are protecting the nation and their civilians. I think it makes them feel good, that the civilians do care about us and respects us.
On the way to Srinagar from Kargil, there are many big patches which are directly exposed to the Pakistan army. At most of those patches there is huge wall build by the BRO which lasts for Kilometres to protect the roads to get damage and also to protect the vehicles passing through those areas from the Pakistani Army, as those areas are directly exposed and are in firing range of Pakistan i.e Pakistan Occupied Kashmir.
We stopped at the Kargil war memorial which is around 55 km from the Kargil town. It is this place where the Indo-Pak battle of 1999 was fought. Kargil War Memorial, also known as the Vijaypath, is a war memorial built by the Indian Army, located in Dras, in the foothills of the Tololing Hill. The memorial is located about 5 km from Dras centre across the Tiger Hill. The memorial is in the memory of the soldiers and officers of the Indian Army who were killed during the 1999 war between India and Pakistan. The memorial has a huge separate area with names of all the officers and soldiers who died in war. The main attraction of the whole memorial is the Sandstone wall, in the open, which has the names of all the Indian army personnel, who laid their lives during the Kargil war besides there is also a souvenir shop. Visitors to the memorial can also see some of the peaks that the Indian army captured back from Pakistan.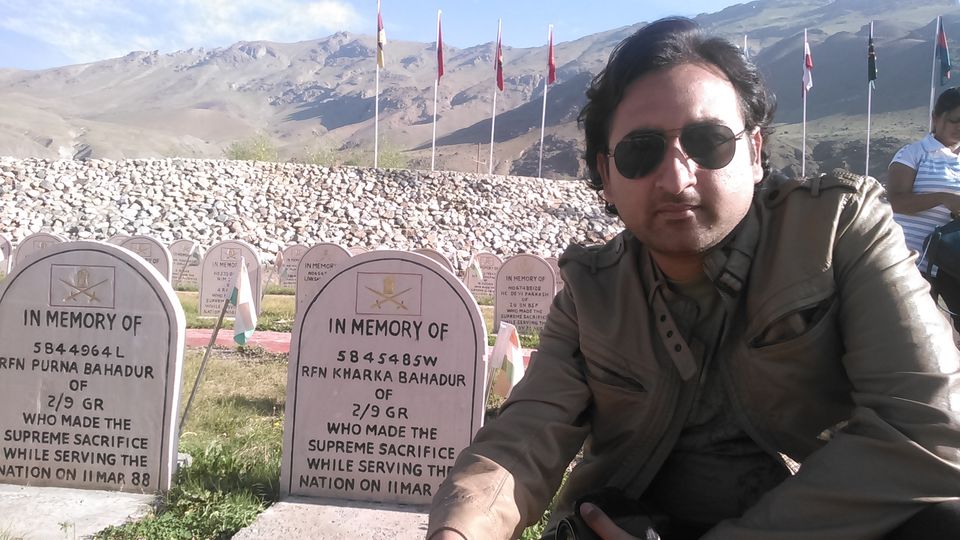 Kargil war memorial is a must visit place for every Indian. There are many stories written about the soldiers giving brief information on how they survive, there are poems written by some soldiers, there are the conversations written on the wall, every word of their conversation is dedicated to the Mother India. On reading all these things, we could sense they are different from us; they are different because they give up their lives in protecting the civilians of our country. Though we do not and can never do enough for the soldiers who are standing in the Front protecting us from the enemy, they do deserve a salute and lot of respect. There was a bulletin board in which you can write your feelings or messages for the Army, Pandey wrote "Tum ho toh hum he" somewhere in between hundreds of the messages. There are many quotes written by the Indian Army which express their feelings and remind us of our duties to protect our nation from within. One of my favourite quote is "When you go home, tell them of us, and say that, For your Tomorrow we gave our Today". We had a wet eye leaving this Veer Bhumi. Hat's off to Indian Army.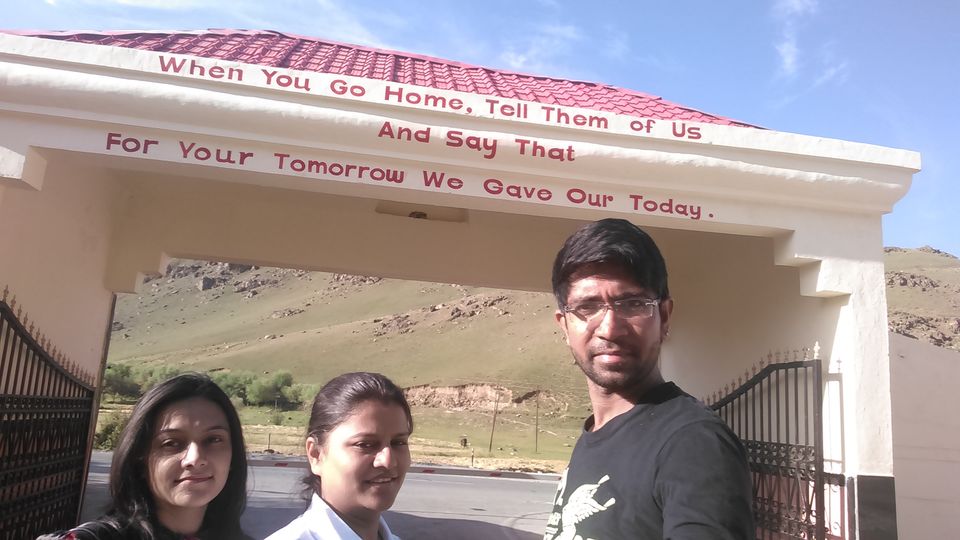 We did rest for a while at the cafeteria before leaving and had some tea and whatever snacks was left from our mobile canteen. We also did some talking with the soldiers present there; they were polite and very much informative.
In a while we were at Drass and soon we came across the sign board "Welcome to Drass, second coldest inhabitated place in the world".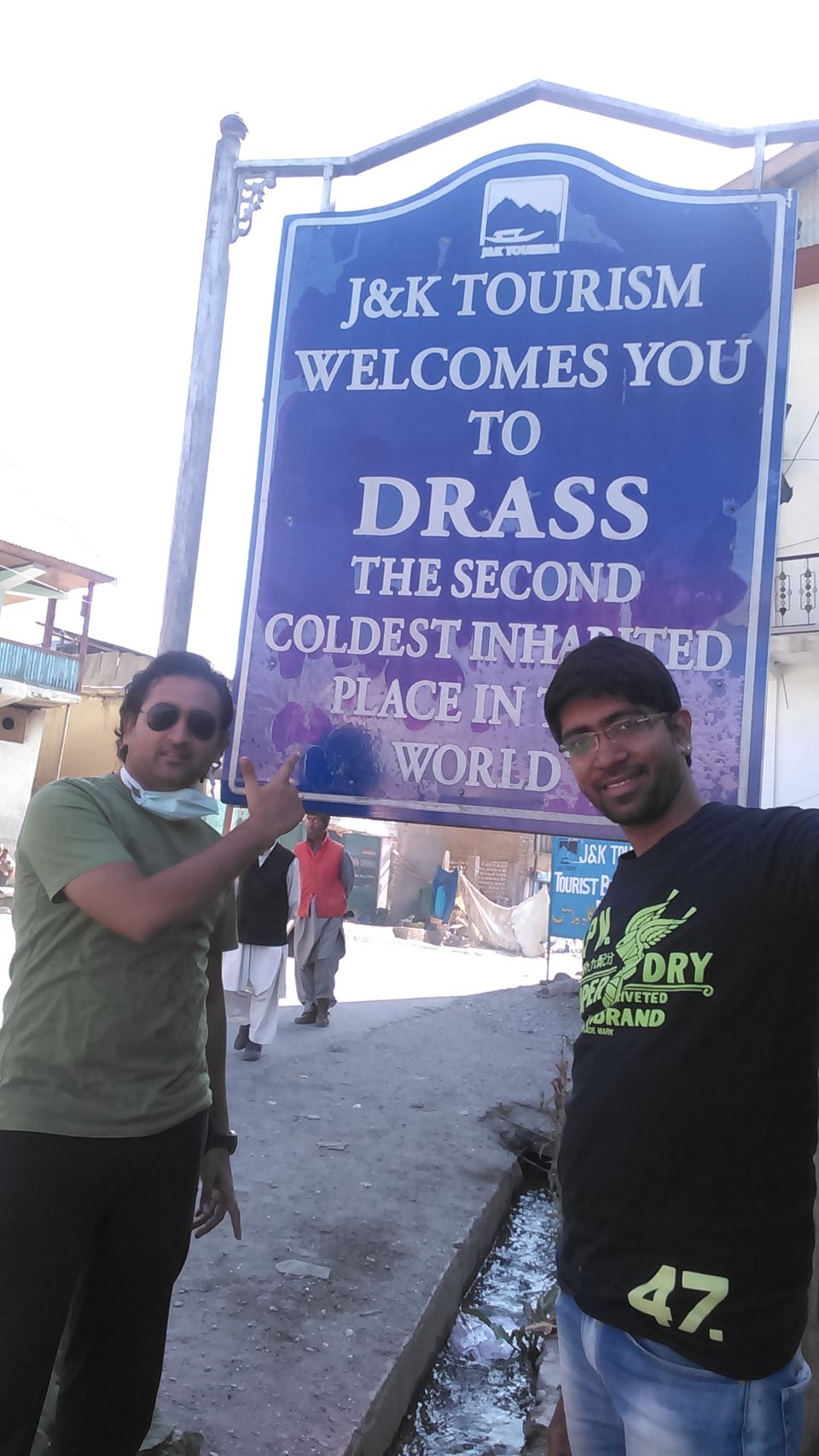 After 6 days of off-roading, we were driving on the perfectly maintained tar road National Highway 1d since we left Leh. Though the terrain and was not as rough as compared to the Manali – Leh highway hence the Srinagar - Leh highway gives you a pleasurable ride / drive. But this beautiful road was soon going to end beyond the Gumri check post as we will now be approaching the mighty Zoji La. We had a small convoy of Army trucks right ahead of us as soon as we started ascending Zoji La, but overtaking them was not a big problem this time as initial few Km of road up to Zoji La was in a proper condition, and within 20 – 25 minutes we were through those trucks. Out of those few highest passes of the world we found that Zoji La was the most difficult one in terms of the narrow and steep roads that too totally damaged, but the adrenaline within us made us pass the mighty Zoji La without any difficulties.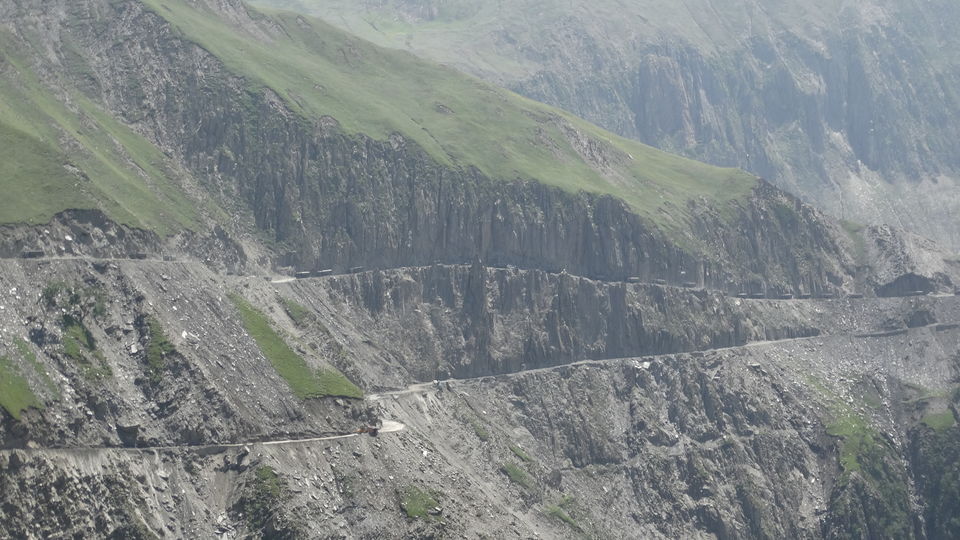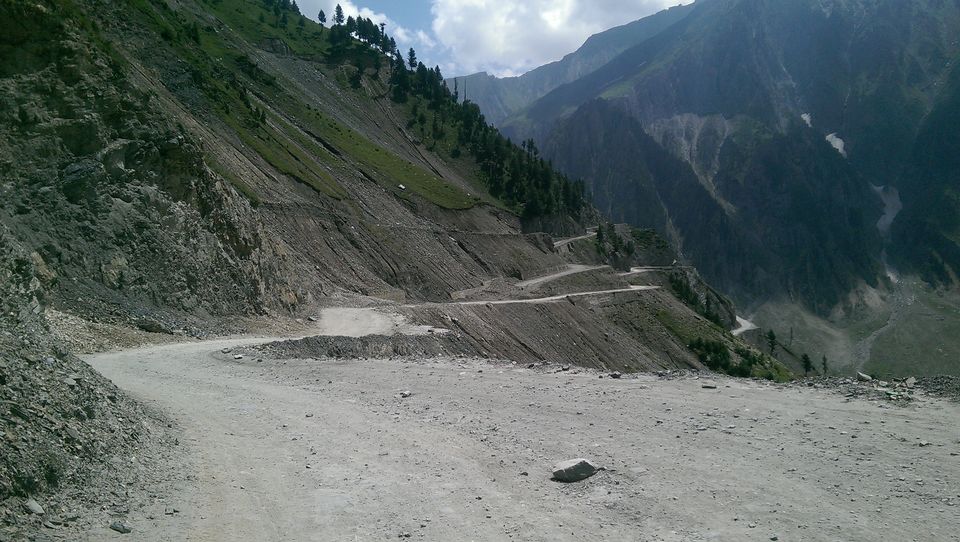 Zoji la could be termed as an entrance to Kashmir valley and trust me the view from Zoji La made it all worth. We could now witness the little bit of greenery right in front of us after 7 long days. Pandey, Vidhi and Manali were feeling good as the terrain changed from naked mountains to green looking mountains, I told them to hold their breath as the landscape will drastically change as soon as we cross Baltal and proceed towards Sonmarg and then Srinagar.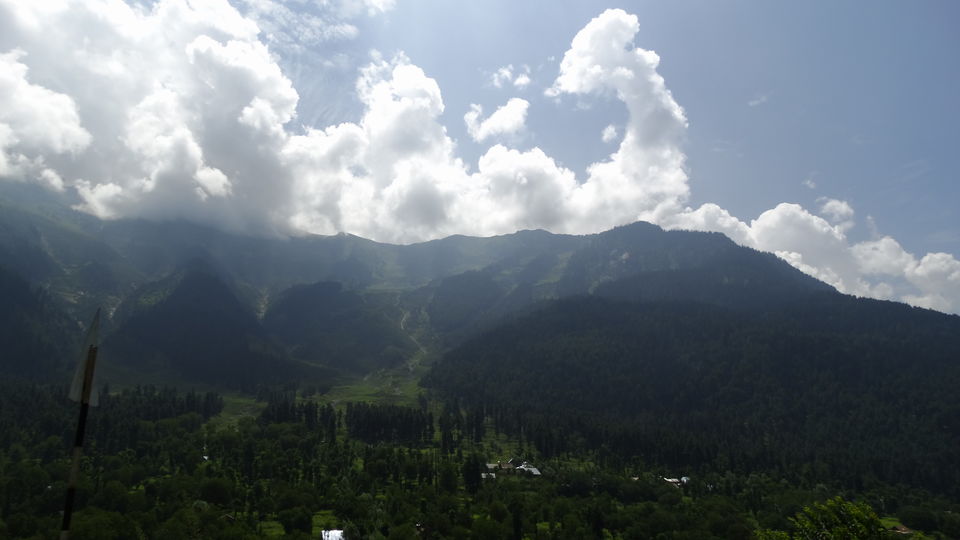 Baltal base could now be seen while descending from Zoji La, but it was still long way to go. 6 years back I had been to Baltal for the most famous Amarnath Yatra, at that time we had hired an SUV from Jammu to Baltal via Srinagar and Sonmarg. 72 months old memories were now flashing in front of my eyes, I felt like I was here yesterday only. I was now desperate to be in between the mountains completely covered by the pine trees but for that I have to wait till we get to Sonmarg. Indian military guys could now be spotted every Km as we were approaching Baltal. Road from Baltal to the Amarnath Baba cave was once one of the favourite location of terrorists to attack the Pilgrims so we could observe the tight security at the Baltal base.
We got down to Baltal in a while, and I was sharing few of my experience with my buddies from my previous trip to the Kashmir valley. That tiny looking Sind River from Zoji la was now at the level of NH 1D and it was not at all tiny. Exactly where we had got down at the river side few people were leaving for rafting. We got ourselves fresh with the cold water of Sind River, clicked few pictures and left towards Sonmarg which is not more than 4 Km.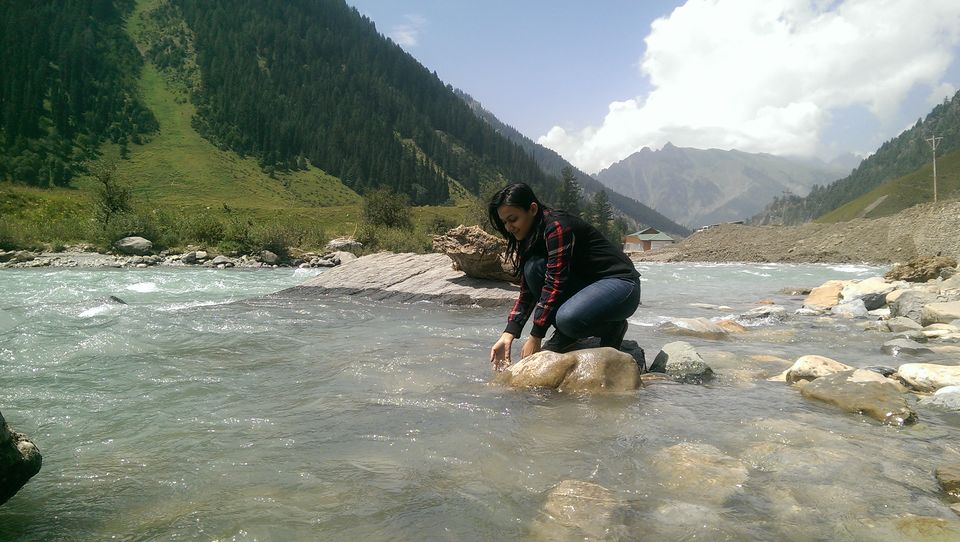 As I had said landscape got dense, as far as we could see, we could see only green, big mountains covered with big pine trees, little bit cloudy, cold breeze flowing into our car and making us feel fresh with plenty of oxygen, melting glacier created occasional waterfalls which looked as if like milk is flowing from the mountains, villages in between the greenery with hardly 2-3 dozens of differently build houses and the notorious river flowing across the beautiful curvaceous roads. All things said above are explained in one word by the locals "Sonmarg".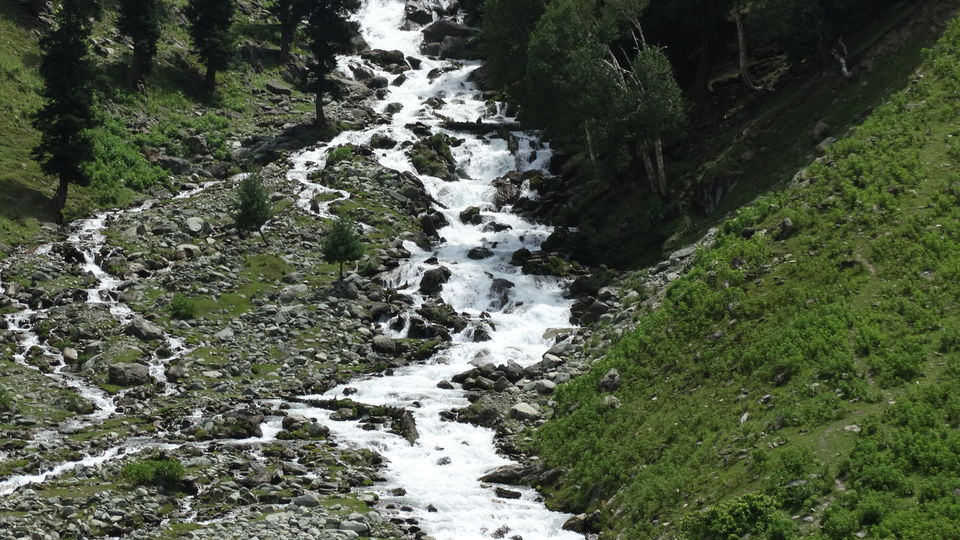 We crossed Sonmarg at around 1 and we were starving. Bashir stopped at a Dhaba we ate food like there is no tomorrow. In around 45 minutes we left for Srinagar which is around 1 and half hour drive and final destination of our epic road Journey.
At around 4 Pm we entered Srinagar city. We were into some serious sort of civilization. I had not expected I might feel like alien entering into any city, I had forgotten that in this world there are buildings, there are lot many people on the streets, there are thousands of cars, lot of pollution, lot of things to eat, to buy, lot of noise around, etc. I didn't wanted to be here anymore; I wished I could go back to the land of Lamas i.e. Ladakh, where there is no network in my cell phone, I wanted to go back at those most silent places I have ever witnessed, at that beautiful Pangong lake where the world had just stopped. But scene on the other side of the coin was not the same, Manali, Vidhi and Pandey were going crazy seeing the network in their cell phones, Pandey couldn't resist not being on whatsapp anymore, in fact Pandey didn't wanted us any more when he got access to internet. Some people living in the city changes their colours like the chameleon.
We drove through the one side of the Dal Lake and reached at the heart of the capital of Jammu & Kashmir. On knowing we didn't had any bookings done for the night, Bashir advised us to hire a shikara, roam around in the lake and also look out for the lodging options in the Lake. Idea of spending the night at the house boat was kept optional as we were running short of money. We hired a Shikara for Rs. 1200 for around 2-3 hours.
Recent cloud burst during 2014 had completely destroyed the beauty of this Lake, it was completely different from what I had experienced when I was here in 2009. Whole of the lotus garden was vanished due to floods.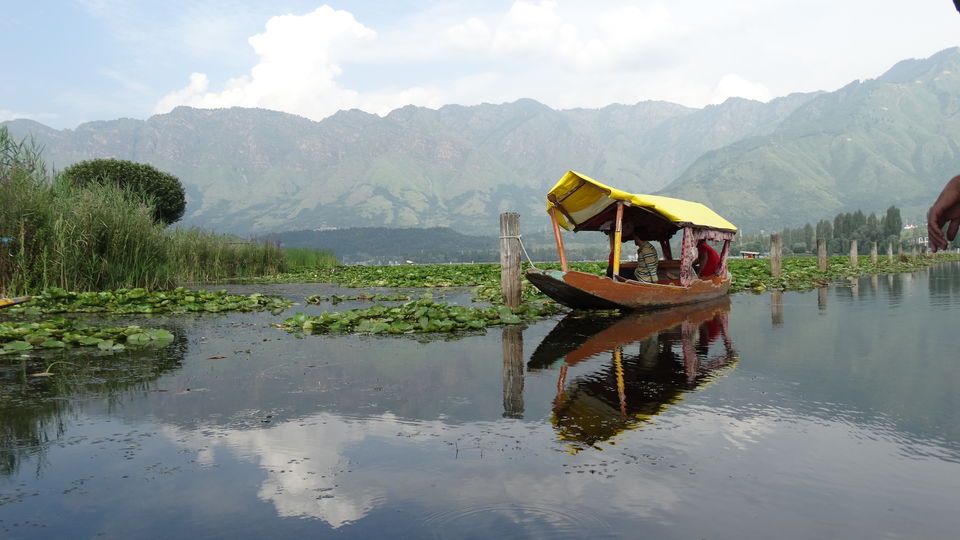 The shore line of the lake, is about 15 Km and most part of the lake is still un accessible due to the damaged caused by the flood, there were few cleaning machines working on the lake which removes the plantations from beneath the lake making it easy for the Shikara sailors to sail their boats. Apart from this normal life of the civilians from Srinagar was also damaged, we met an old aged sailor who used to stay right in between the lake and his house was completely taken away by the storm.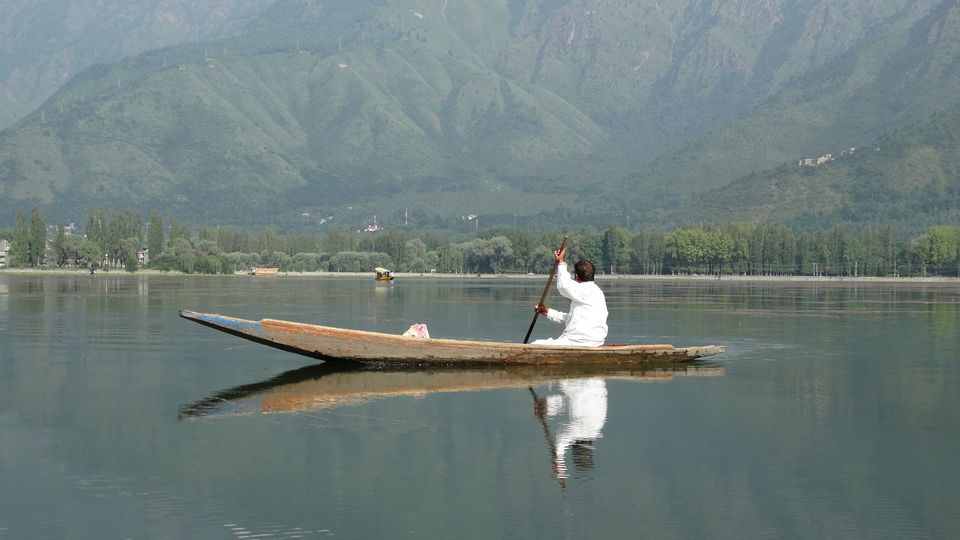 For those who do not know, there is a complete market on the Dal Lake, from the groceries stores to medical stores, from garment stores to eateries and also the hotels apart from the house boats, there are also few villages on the lake. Just like we got bicycles, bikes and cars to travel from one point to another, people living on the lake owns a boat, we saw I young kid coming back from the school, he got down to the lake at the boat parking area, got on his boat and started sailing towards his home.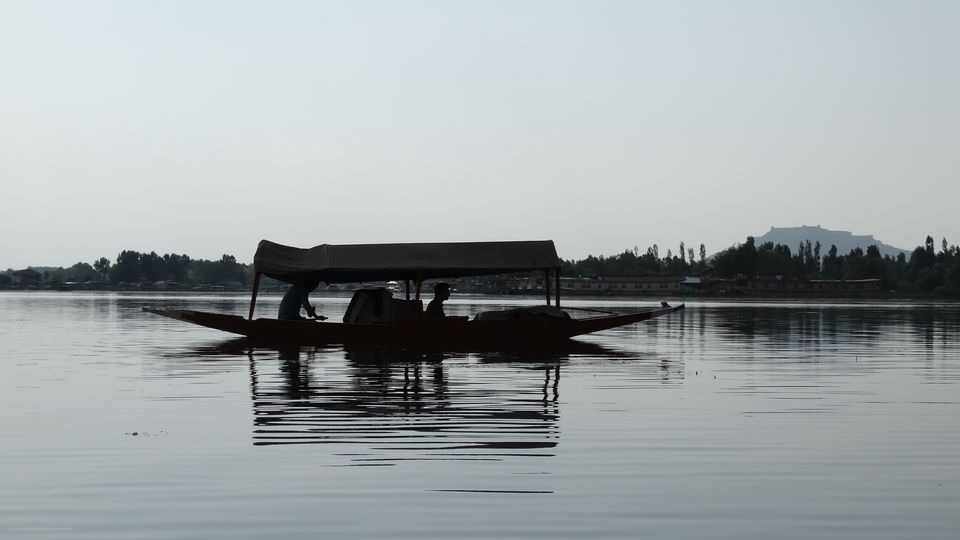 House boat owners provide free ride of shikara from their house boat right till the main road.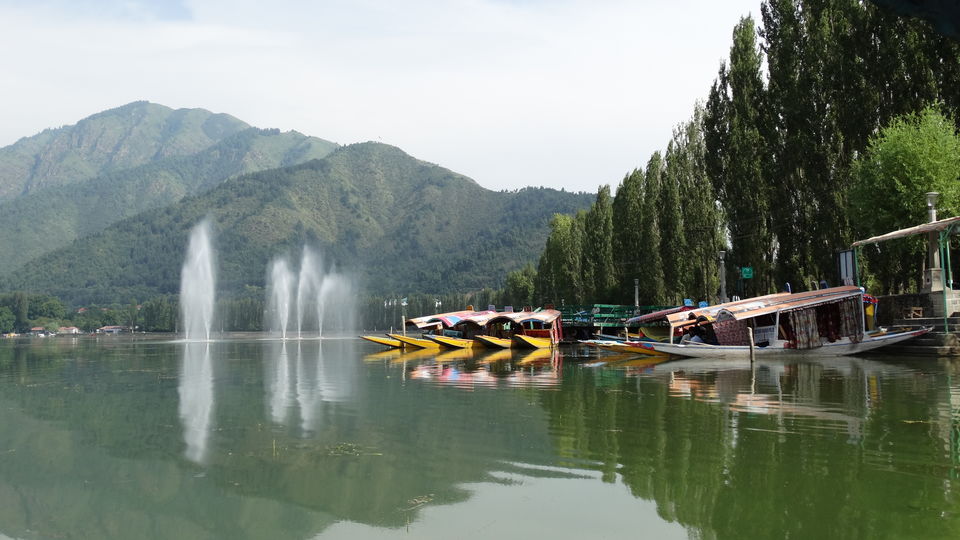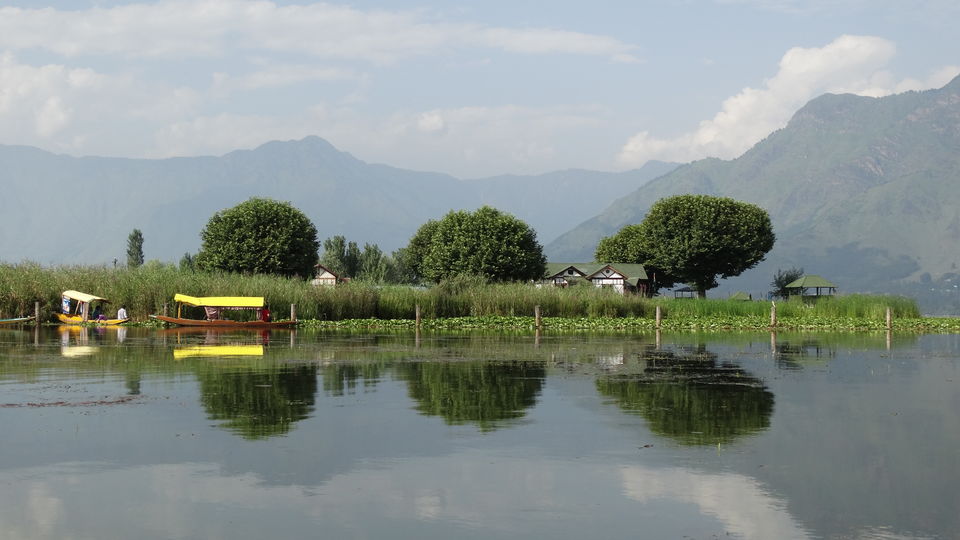 Thanks to internet connection and God given gift to Vidhi of searching the cheapest hotel in town, she once again found a decent hotel rooms at a mere 750 Rs right in between the Dal Lake. We went to the hotel, looked after the rooms, and we found it pretty decent at this price, we booked two rooms, and went back to complete our Shikara ride. After looking for few eatery boats we found an eatery which has got maggi, we ordered few magi and we had a thought this could be the last time we could eat maggi as it was then banned in whole of the country, and nobody was sure if ever we going to get to eat magi again. We were so engrossed in eating magi that no one from us wanted to waste time in taking a picture.
All this time Bashir had accompanied us in the Shikara ride. We asked him if we could get some booze, I knew Srinagar has got 2 wine shops, but due to Independence Day next day, this city observes dry day for 2 freaking days. We still tried to get it in black but the rates were not at all pocket friendly.
We got back to our hotel, got fresh. Our hotel was located at a beautiful location right in front of the main city road but it was at such a distance that the noise from the road couldn't reach us. Water could be seen from the two sides of our hotel.
We did spend some time chit chatting and then later on packing our bags for the final leg of our journey back to home.
10th and the last night away from home. Though it was our 10th night, it was the 1st place where there was a fan hanging on the ceiling.
Following are the short details for 14th August 2015.
(Kargil – Drass – Gumri - Zoji La - Sonmarg - Srinagar)
Expense for breakfast Rs. 30 (tea only)
Expense for Lunch Rs. 550
Expense for Snacks Rs. 120
Expense for night stays Rs. 1500. (2 rooms)
Expense for dinner Rs. 550
Total Rs. 2750
Around 210 KM travelled. (10 Hours, 6 AM to 4 PM)
For next day we only had an expense of Rs. 800 for the drop at the Srinagar airport and that was all we had left in our pockets. Our flight was at 12 noon and airport was just 45 minutes but we had planned to get on the road at 8 Am as the next day's date was 15th August.
Last leg of the Journey. 15th August 2015
Last night was ended with terrible dinner and morning started equally inedible breakfast. Our bags were packed, hotel bill was paid and we had no money left in our pockets, though we were not going to need any money as our flight was booked with meals and by evening we would be resting at our homes. This thought was making me upset as I didn't wanted to go to any sort of civilization, but assured myself I will be back to Ladakh by 2017 but that would be a bike trip.
Anyways the adventure had not yet ended, we were at the capital city Srinagar of Jammu & Kashmir state, and we had to reach its airport. There were barricades placed all over the city, strict patrolling was being carried on the Indian Army and local police, each and every vehicle was being thoroughly checked, and travelers were asked to provide their identification proofs and valid travel documents by the local police followed by Indian Army Personals with their guns on our windows, never before we had such experience, though there was no need to worry as we had no explosives or any kind of illegal stuff with us but still getting to the airport was one adventure in itself. Into the airport premises, 2 Km before the main airport, pre security check is being done where each and every car has to pass through their scanners with the luggage in the separate scanners; nowhere in India had we had experiences such tight security.
Our flight to Mumbai from Delhi airport was being delayed by more than half n hour and I was in one difficult state as me and Manali had to board another flight to Rajkot from Mumbai at 6.20 PM, we landed at Mumbai at 5.40 and we just rushed through the cabin requesting everyone to let us through as we had another flight to be boarded, people did cooperate us and my heartbeats came in my control only when we boarded our flight.
I got back home as a changed person, I was more calm than I was ever before, I don't know what thing in me had changed but I was confident to lead my life ahead as I had once again survived in the conditions where there was very less oxygen available, hardly any modern day facilities, one of the roughest terrain in the world, one of the most difficult road journey in the world that leads us to the 18,389 Ft above mean sea level, highest motor able road in the world.
One of my favorite travel quote that I have come across is "a traveler travel miles and miles in search of peace but returns home finding it".
I hope I have inspired at least few people to travel this year.