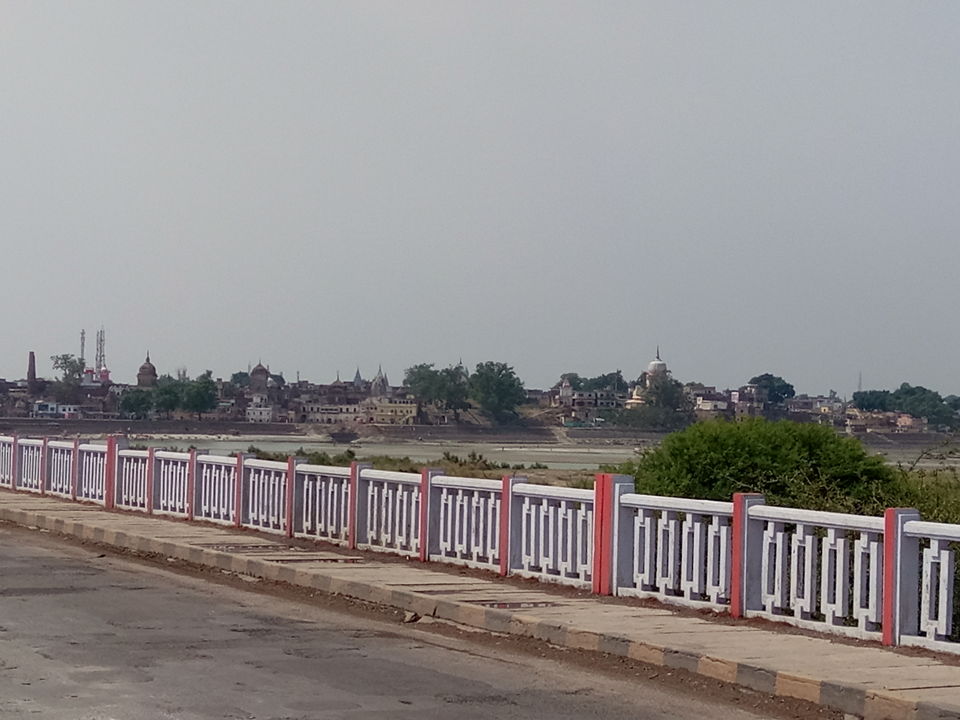 We all heard about the story of Lord Ram which is now a days a big political agenda for few political parties, but have you ever focused on what is the main matter and issue behind taking the copyright of Shri Ram.
When ever we think or talk about Ram and big facts strikes our mind "Ram Mandir in Ayodhya".
The same happens with me also i asked many people about this but with every individual the story behind the birth place of Shri Ram changes. Some says that the land is of (So Called) Ram Mandir and other individuals say that the land is of (So Called) Babri Masjid on the other hand people say that there is no existance of Ram Mandir on his birth place in Ayodhya. Whom to believe, The Sold Media or Fake Politicians.
This strikes me a lot, I decided to lets visit Ayodhya and Explorer what is the main matter behind all these stories.
It`s 5:30 in the morning and it`s raining like Cats and Dogs, At that time i was so sad but after few hours of rain now the sky is clear, so i decided to leave on Royal Enfield.
I was so happy that day because i am going to witness the real truth behind the myths.
It takes around 3 hours to reach Ayodhya and as i entered the city i saw a beautiful city next to Saryu River.
With lots of Historic Buildings and Palaces Ayodhya is a beauty that shows about the history and culture of India. Thousands of peoples were there to worship Saryu River.
As I crossed the bridge I asked a guys what is the name of this place and he told me that it is known as Naya Ghat. Now I am super exited to visit that disputed land. As we were entering the palaces and the old temples are giving us more interest to explorer more and more.
And finally we managed to reach Janam Bhumi by 12:30 in afternoon a big security check line strikes me whats happening there a local individual told me that inside the area you can`t even take ur wallet. I was shocked that time I parked my bike and managed to deposit all our stuff even watches and keys of my bike.
As we started entering the Security Checks are coming one by one and after walking from about 6 security checks we managed to reach in front of Shri Ram. Two Pandits were sitting and collecting parshads from visitors and we saw the statue of Shri Ram from about 20m away in a Iron fencing and no one except security and other forces is allowed to get out of that fence.
As i came out i started thinking that approx. 1000 of Para troops/Local Police were deployed for the safety of that disputed land and It strikes me that why it`s a Disputed Land and that reminds me about the Supreme Court of India that the case of this disputed land of Ram Mandir / Babri Mazjid is still pending.
On thing i will if you ever planned to go Ayodhya Trust Me as you take exit from the Temple area there are several hostels and the food is awesome with minimum prices,
Travelling back the whole way i was just thinking why not Supreme Court gives the final decisions from so many year even the local citizens, shopkeepers said to us that there is always a fear has been taken place in our mind, we don`t even know that next morning will start with Riots or other Anti-Social activities even they are demanding that let`s finish all the matter and talk about the development of Ayodhya which is like such a beautiful place to visit .
This Journey gave me a lot of memories and experiences and the real fact about this piece of land according to local citizens and other we got to know that at the time of Birth of Shri Ram there is a palace and a temple and when Babar came to ayodhya he broked the whole palace and temple and ordered for construction of Barbri Maszid and after few years during riots that maszid of Babar was broked by local citizens and karsewaks and after that the Piece of Land is disputed till now and is on stay and no one can use that land till any decision given by Supreme Court of India. We hope for the best and peaceful decision.