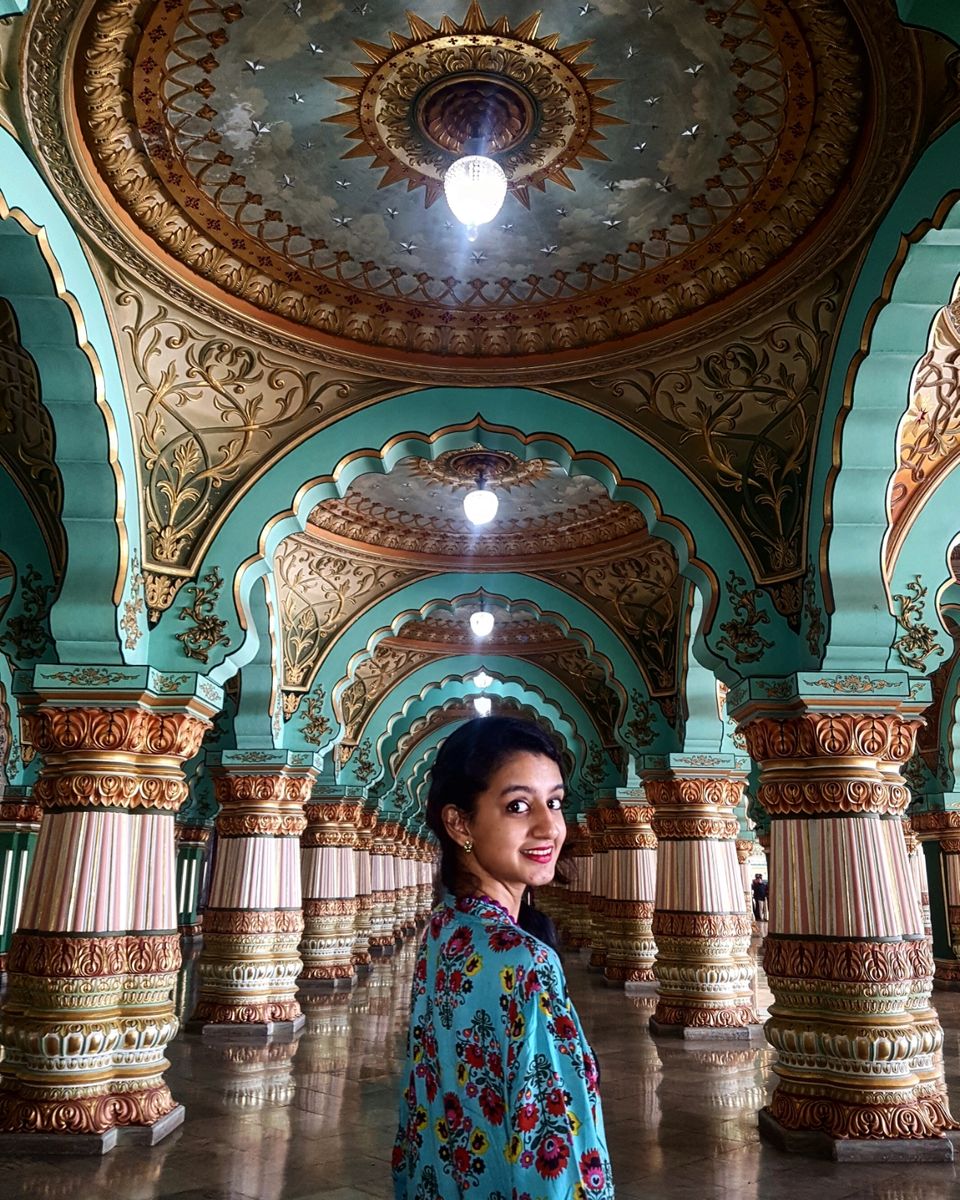 To perfectly describe Mysore/Mysuru - It definitely seems like a portal to History and Back in Time !!
Mysore is Grand, Historic and Mystical ! The whole time I was there, I was in complete awe of how such monuments and people existed back in time . Mysore being the earlier province of Karnataka, holds great significance for the people here .
Unlike any other major cities in India , Mysore still reflects most of its Architecture, Culture, Work, Food and People as back in the time of Kings and Queens .
Mysore is visited by both locals and travelers from around the world for its Majestic Monuments, The Great History, Festivals, Food and Nature! It could be everything you can make of it .
Now, Mysore is located in the Southern part of Karnataka , close to the capital - Bengaluru . And there are loads of places to see in Mysore and in a close distance from it.
HOW TO REACH :
BY RAIL : Mysore is very well connected by rail from most of the places in India . It takes about 2.5 - 3 hours to reach Mysore from Bangalore by train. There are various passenger and super fast trains running daily. It is the most convenient option in my opinion. And it was right on time according to the schedule. Railway Station in Mysore is very close to the City Center.
BY ROAD : From Bangalore, it again takes about 3 hours to reach Mysore . One can catch a government KSRTC bus from Majestic ( Bangalore ) to Mysore; or book private travels too . It will generally cost more for Private travels than KSRTC and also Trains.
BY AIR : The nearest airport to Mysore is Bangalore- Kempegowda International Airport . Bangalore airport connects all major and developing cities of India. Further from Bangalore one can choose to travel by train or bus.
BY OWN VEHICLE : It might be the easiest option for one who already has a vehicle . Mysore is easily accessible from major cities like Bangalore , Goa, Chennai , Coimbatore and so on. It is only about 170 km from Bangalore .
WHERE TO STAY :
5 Star / Resorts - Mysore is home to many of the hip properties likeRadisson Blu, Royal Orchid, Fortuneand many more are available at your service . They all have a Palace vibe to it ! and the Lalitha Mahal seemed to be one of the oldest and also a heritage site in Mysore.
Budget Hotels - OYO being the most popular for budget hotels; you can book one online . also there are various budget hotels nearby the central Bus Terminal in Mysore which you can choose personally . We stayed at a Budget Hotel/ Residency called Aishwarya Residency which was really good and economical. It was in a walking distance from Bus Terminal , Close to Railway station and even close by some monuments like The Mysore Palace and St. Philomena's Church!
WHAT TO EAT :
Mysore being home to the delicious South Indian foods like Masala Dosa, Idli , Full Meals, Mysore bhajji and the world famous dessert - MYSORE PAK ; you can find yourself immersed in loads of options to choose from .
WHAT TO SEE :
Coming to my favorite part of the blog is giving you ideas of what all you can see in this majestic place ! Even though Mysore is not huge , there are loads of attractions in and around Mysore .
Mysore Palace :
Of course the palace was my first priority !! The home of the Wadiyars Built around 600 years ago ; has immense history and beauty to it. It is like travelling back in time and Re-living those moments !! The Palace has two parts - The Residential Building (Built 600 years ago) and The Main Building (Built 100 years ago) . I emphasis to check out both of them for complete history !!
Chamudeshwari Temple -
The temple dedicated to Parvati; is situated on top of the Chamundi Hills . It is Lush and covered in Nature and is a must visit to pay your respects one who visits Mysore! It is divine and a calming experience in total . Also visit the Nandi Temple in the Foot hill of Chamudi Hills while coming back. It is believed to be Monolithic structure of the bull (carrier of Lord Shiva) .
Melody World Wax Museum -
It has a world record for largest collection of authentic musical instruments from around the world !! Not very time consuming but it is very interesting to see some musical instruments and old electronics !
Sand Museum -
Artists carved beautiful sculptures on sand and mud depicting Indian Mythology and so much more . Definitely worth a visit.
Shuka Vana -
Home to Exotic Birds like - Parrots , Parakeets, Cockatoos and more!! Sukha vana is a must visit and its free !! You will witness some of the amazing and adorable people friendly birds . It is all enclosed in an Ashram which also you can take a tour of .
Bonsai Gardens -
In the same Ashram , you can also find Bonsai Gardens well maintained . There are more than 100 trees/bonsai which you can stroll through after watching the birds . (Entry fee applicable)
Lalitha Mahal -
One of the Oldest Heritage Hotels in Mysore , Lalitha Mahal definitely holds some History and lots of beauty. Located amidst nature , it is perfect to experience some royalty . We visited the Mahal for Lunch and spent the afternoon there !
Jaganmohan Art Gallery -
Home to one of the most famous painters of India - Ravivarma ; this art gallery holds some of the priceless paintings of him and other great artists . Some belonged to the Mysore Palace which were later shifted in the Gallery . This place is a much visit for Art and Literature lovers!!
St. Philomena's Cathedral -
This church is a Roman Catholic Church depicting Neo-Gothic style architecture built in the year 1936 . This is one of the most iconic places in Mysore as it tells very much about history and its marvelous architecture .
Tipu Sultan Summer Palace -
This was one of my favorite places in Mysore !! All credits to its beautiful interiors and just the feel of royal-ness . This palace is located in Srirangapatna ( 20 km ) from Mysore . And is definitely worth the visit !! Make sure to visit Mayura Riverside Restaurant near Tippu Summer Palace for an afternoon lunch or snacks and drinks !!
Balmuri Waterfalls -
Located just near the Tippu Sultan Summer Palace , is the Balmuri Waterfalls by river Kaveri . It is definitely one of the most relaxing places to visit in Mysore.
GETTING AROUND :
Mysore being a relatively small place , most of the sites are easily reachable by autos ! But my personal suggestion is to rent a bike/scooter from near the Bus Stand and roam around as much as you want!! It will be much easier to go out of Mysore also . The rental bikes come very cheap at 590 INR for 48 hours + 200 INR for helmet !
WHAT TO BUY :
Mysore is very famous all over India for its SILK . If you are craving traditional South Indian Look ! Then head over to KSIC showrooms for authentic Mysore Silk Sarees .
Treat yourself with Mysore Pak - Traditional sweet that is delicious and melts in your mouth !
If you are heading towards Srirangapatna or even in Mysore ; you will find various wooden toys and articles ! pick one up as a souvenir .
Mysore has been one of my favorite places in South India to visit ! I hope this inspired you to head towards Mysore soon :)
HAPPY TRAVELS !!