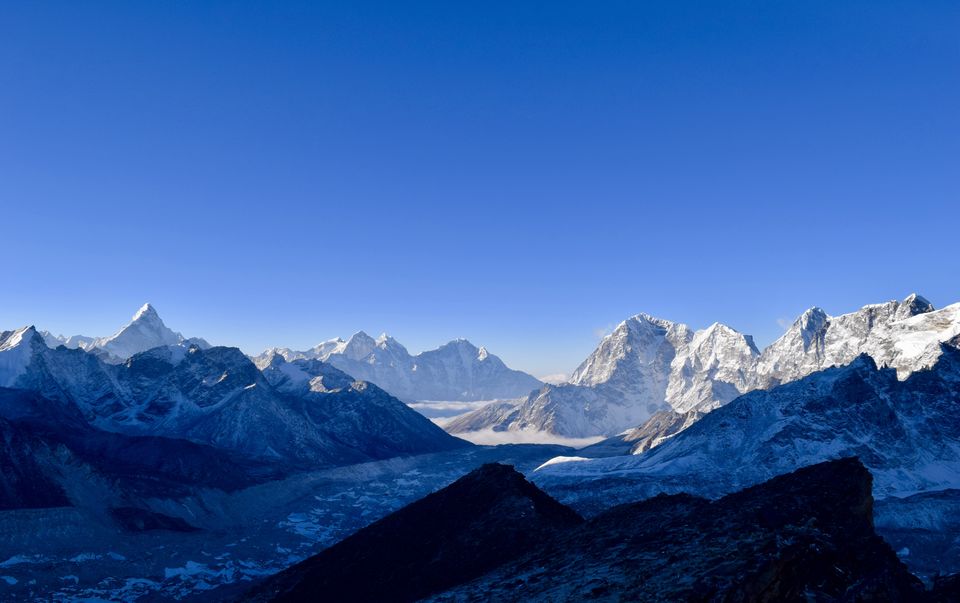 05:00 am, Lobuche (4940 m) –
The alarm clock rang only to greet me wildly awake. This was the 08th day of our tiring, seemingly never-ending but beautiful journey which took us from the foothills of Himalayas, through farmlands, forest and fast flowing rivers to glaciers, frozen waterfalls and some of the highest mountains of the world.
The whole team greeted each other at the breakfast table and even though everyone was exhausted, had headaches, loss of appetite, and endured terribly cold condition there was an excitement in the air as this was the day when we were going to make our final ascent to Everest Base Camp.
I started my ascent wearing four layers of clothing. The ligament tear in my right ankle was paining a lot since last two days but today, the enthusiasm overpowered pain and I experienced a renewed energy in myself. It was a six-hour trek with a break in between for lunch, which turned into a power nap session to recharge ourselves. In the final part of the climb, I hiked on loose rocks, beneath which was swathes of ice, the world highest glacier was welcoming us in all its glory and after months of anticipation, 8 days of painful and strenuous trekking and gaining an altitude of approx. 5000 m from my hometown….
I was standing in front of top of the world.
The Planning –
It was a Tuesday afternoon. I was sitting in my office after lunch and was bored, A LOT! Especially since I had resigned and my morale to do my job was at all time low. I was browsing through my Facebook feed and thanks to Facebook destroying my privacy, I was getting all advertisement related to vacationing at cold, desolate locations (Antarctica and Iceland eh…who could blame Facebook).
Suddenly I saw a promotion regarding Everest Base Camp(EBC) Trek and it was offering me Rs 3000 cashback. The thing about Indians is WE LOVE DISCOUNTS, even though the company initially artificially inflates the prices and then offers discount and we might end up paying more but as long as it says the word discounts, we are game!
I opened it and well…..immediately knew my next adventure. I knew the trek to EBC was not going be easy and there was no fun in doing it alone. I needed my friends to tag along and make it an epic trip.
I asked two of my close friends/colleagues who were sitting next to me in office and they immediately agreed (I guess they were as bored by their lives as I was..P). Next I asked my Antarctica buddies and one of them, immediately agreed. And just like that, we were now a group of fantastic four!
Fast forwarding by a couple of months in which we had endless discussions amongst ourselves regarding fitness, what to wear, eat, a car accident which resulted in ligament tear in ankle and doctor's advise to not go…..I was ready to start my journey.
Day Zero - Jaipur to Kathmandu
Contrary to what you may think, this is a very important day. All your last minute shopping and renting of trekking gear is done on this day plus you get to meet your trek leader and team on this day. But most importantly, this is last day for next 12 days when you can truly DRINK and EAT GOOD FOOD.:P
We arrived in Kathmandu and met our energetic, enthusiastic team leader. There was an uplifting aura about him and we immediately knew that we were in good hands.
Then we met our team - there was a 52 year women cop who loved trekking and could give most of us a run for our money in fitness. Couple of Doctors, one of whom was passionate about trekking and another one, who was there to find passion and meaning in his life. A banker - mother of two, who wanted to challenge herself and set an example for her kids to follow their dream. An engineer who was there to impress and follow footsteps of a girl he admired and another one who was there to get away from the life back home before he decides on his further goals in life. Then there was us - an engineer who was constantly looking for new adventures, trying to push his limits (that's my over the top description.:P), a media guy who was baked selling Ad spaces on TV and was looking for some adventure, an engineer who left his high paying job to do farming and was hoping to reconnect with his grassroots and another one who after being part of some of the biggest projects of the world, wanted to take a break.
A group of 10 distinct personalities, people from varied walks of life came together for one of the most difficult journey of their life.
Day 1 – Flight from Kathmandu to Lukla followed by trek to Phagding (2652 m): Trek duration – 3 hours
This is possibly the only trek route where you could be screaming for your life even before the start of the trek.
Lukla airport is considered as one of world's most dangerous airports, with extremely small airstrip nestled between mountains and no air traffic controller on the airport, all this makes it for one hell of a ride. But it is an equally scenic ride and this 35 minutes ride can be one of the best you will ever take. The flight passes through valleys with some amazing views of Himalayan mountain ranges.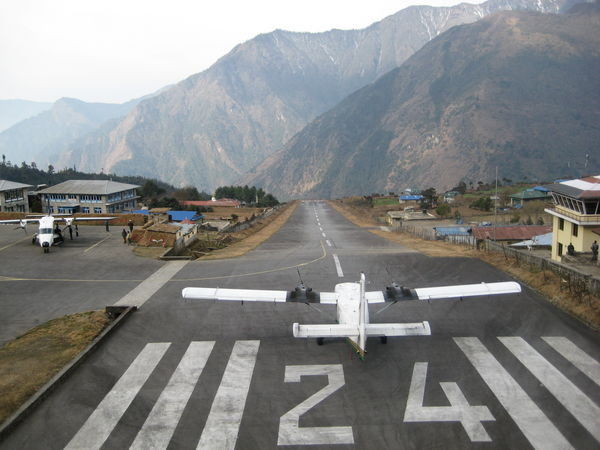 We landed safely and after a quick lunch officially started our trek. It was an easy day with trail passing through small villages and farmlands. With huge excitement, we crossed our first hanging bridge today. There were many ups and downs today but nothing was too vigorous. We stayed at a Tea house accommodation where I had my first of numerous Dal Bhat today. People who know me know that I don't like and avoid eating rice and I realised what great a challenge this trek was going to be for me in terms of FOOD. With this thought I went off to sleep.
Tip – Sit on the left side of the airplane to get better views during the Kathmandu-Lukla flight.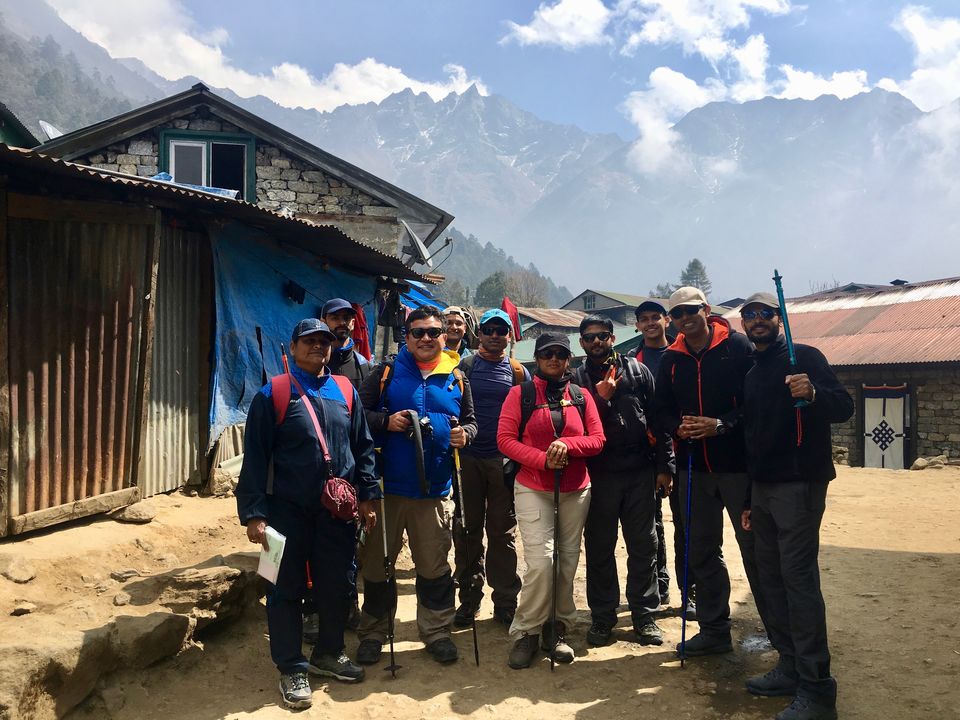 Day 2 – Phagdin to Namche Bazaar (3440 m): Trek duration – 6-7 hours
With an elevation gain of nearly 900 m, this was one of the steepest and hardest days.
Just because you are not setting foot on Mount Everest, do not think that trek to EBC is an easy trek. It is a difficult trek, so difficult in some places that you will wonder, why did you sign up for this in the first place. And this day was one of those days…
The route got more scenic with every step. The Dudh Kosi river flows alongside the trail till Namche. We crossed a number of high swaying hanging bridges and stopped at Monjo for lunch. It is the last village before entering Sagarmatha National Park. After Monjo, the farmland gave way for the high mountains and forest.
The trek after Monjo was very strenuous. There was high climbing and steep steps. We stopped frequently, to catch our breadth and more so to admire the scenery and take pictures along the way (yeah I know it's a bad way to trek.:P). Just before entering Namche, a thundering sound drew our attention to an avalanche on Mount Lhoste(Fourth highest mountain in the world - 8516 m), a reminder of how deadly mountains can be.
We finally reached Namche and despite the day being so hard, it boosted my confidence that if my torn ankle can survive this, then it will surely survive the upcoming days.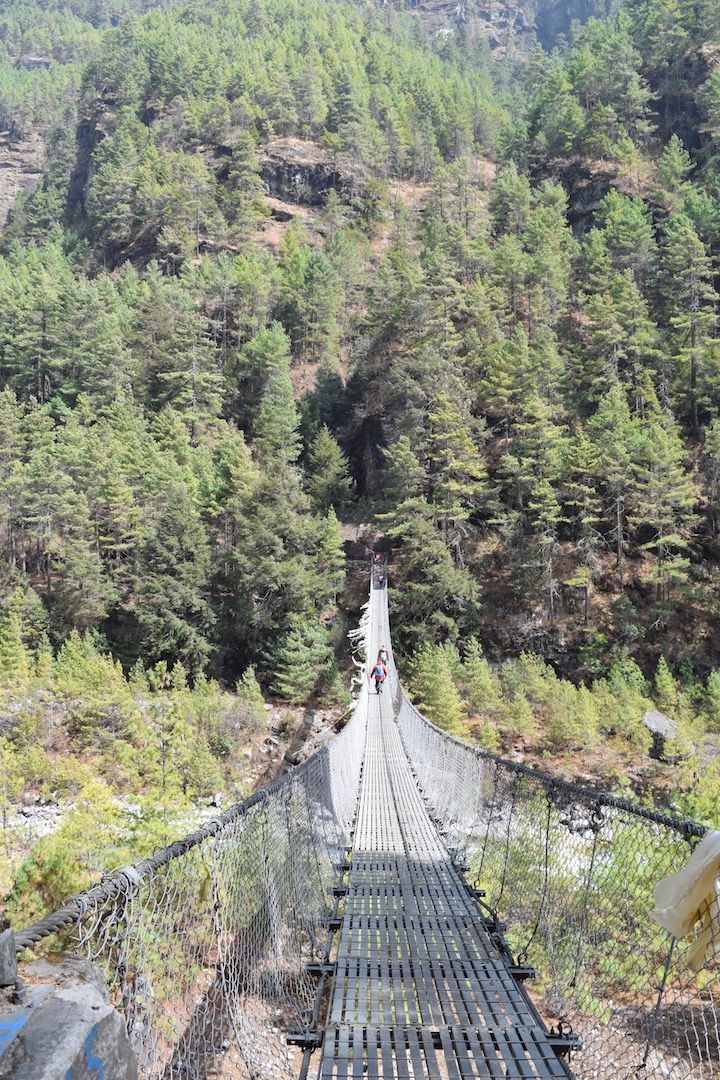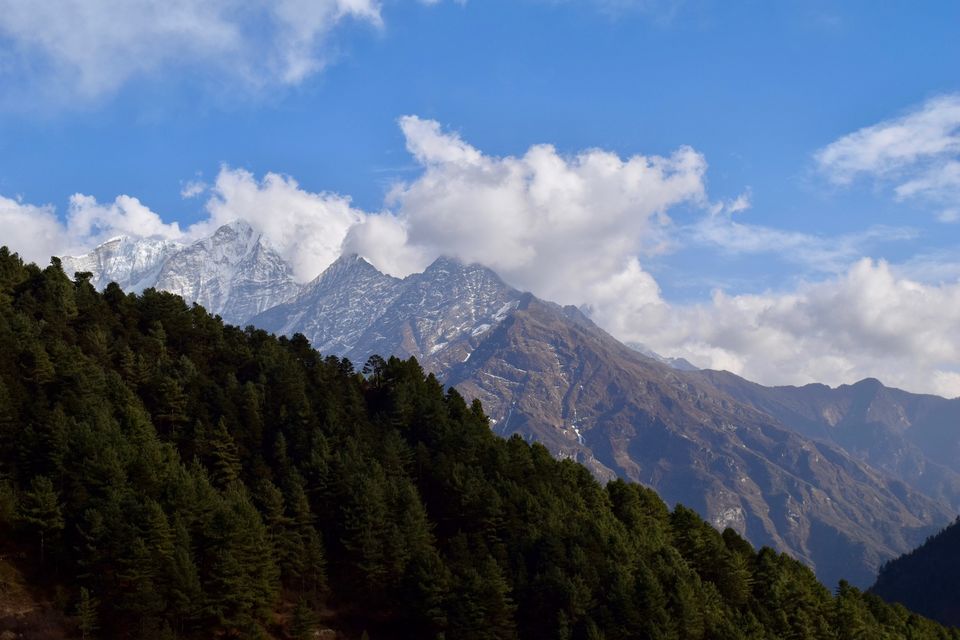 Day 3 – Acclimatization day at Namche
One thing you quickly learn about rest days is that they are NOT REST DAYS. It's a day for your body to acclimatise at higher altitude with lesser oxygen and you make a steep uphill climb with altitude gain of 250-300 m and sleep low for your body to better acclimatise for upcoming higher altitudes.
We first made a hike to Tenzing Norgay memorial and this is where we got my first view of MOUNT EVEREST. I was overwhelmed and just stood there for 5 minutes admiring the view. After the tough hike yesterday, it provided a much needed adrenaline push for the upcoming days.
After clicking numerous photos and to the surprise of many fellow trekkers, a yoga session by some of our enthusiastic teammates (yeah, that happened..:P), we went on another climb on a mountain for acclimatisation.
This was the day and place where I had variety of options to eat from and I ate like there is no tomorrow - garlic bread, pizza, burger, pastries and what not, which was a bad idea.
Digestive systems work slowly and less effectively on higher altitudes, so eat light food, preferably Dal Bhat or something like fried rice.
I puked all night and had no idea whether I would be able to complete the upcoming trek successfully.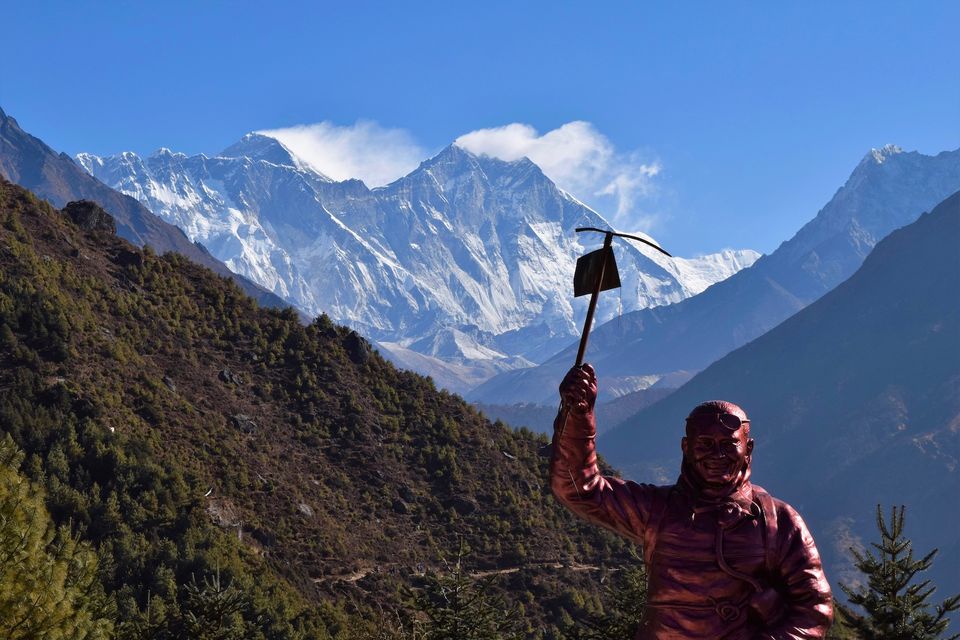 Day 4 – Namche Bazaar to Tengboche (3880 m): Trek duration 5-6 hours
The day started with me feeling drained out of all energy. The team was very supportive and because of my condition, the start of trek was delayed by over an hour.
The first part of the day's trek was not so difficult, with few ups and lots of down's. We had great views of Mount Ama Dablam and Mount Taboche the whole time. We descended right till Dudh Kosi river and had our lunch. I ate sparsely.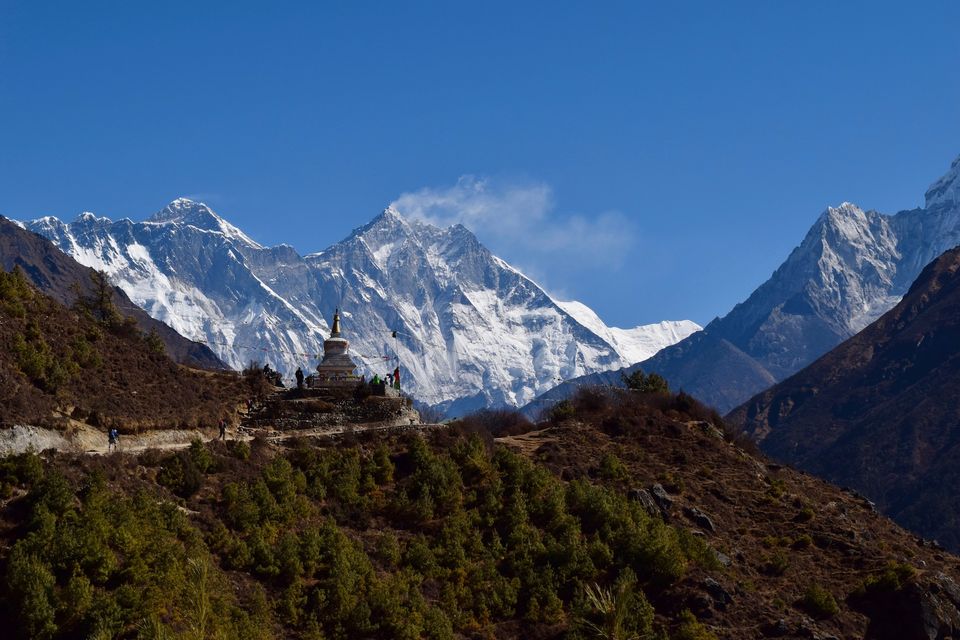 Then the uphill climb started. I had little energy but the will to reach Tengboche was strong. The route was one of the most scenic we had encountered till date which helped me took my mind off my health.
I met a Jordanian woman on the way and asked her about her motivation to go to EBC. Her answer left me spellbound, made my problems look so feeble and gave me the necessary motivation and boost to reach Tengboche. She said "Trekking is a synonym of life for her as a Jordanian "Arab" woman, with lots of ups and down but she has to overcomes the high's and low's to reach the top". We reached the Tengboche before sunset and instead of going to the room, I went and sat in the valley overlooking our accommodation.
Tengboche is the most beautiful stop on the way to base camp. If you are lucky, you get a clear view of Mount Everest, Mount Lhoste and Mount Ama Dablam right in front of you. There is also a beautiful 103-year-old monastery which you can visit and offer your prayers.
We saw sunset over the beautiful mountains and were also lucky to see a clear star studded night sky.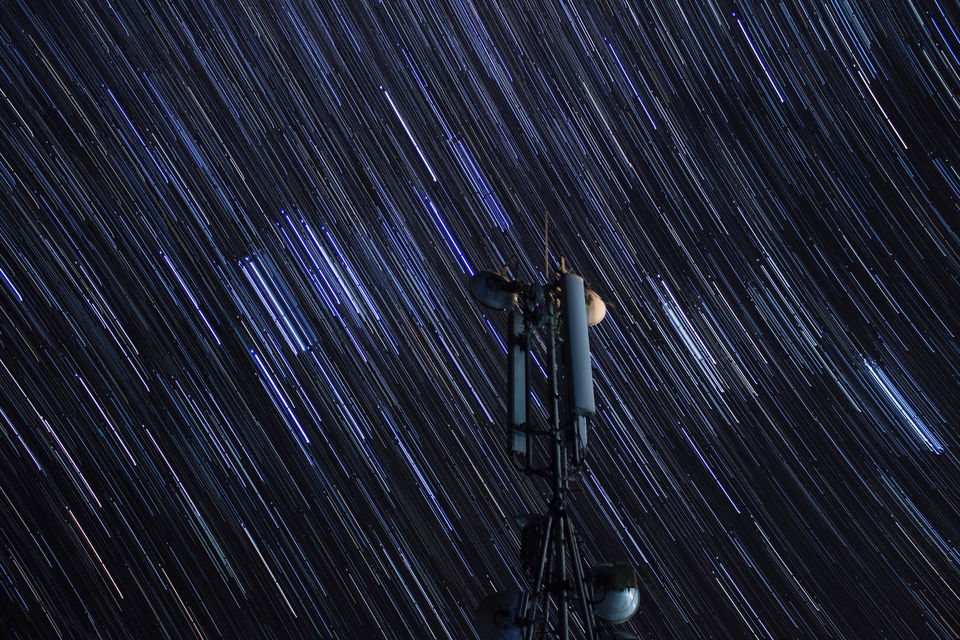 Day 5 – Tengboche to Dingboche (4360 m): Trek Duration 6-7 hours
06:00 am, Outside temp: – 16 C and yet everyone was outside witnessing a beautiful sunrise with clear views of Mount Everest, Mount Lhoste and Mount Ama Dablam. All the weakness from the previous day was gone - Mother Nature is indeed a master healer.
After the sunrise and breakfast we went to the monastery to participate in morning prayers and seek blessings from the monks.
We started our trek with the sad news that Jordanian woman is going back as she had started to experience difficulty in breathing. At 4000 m, you cross the last of tree-lines i.e there are no trees over 4000 m and so the atmospheric oxygen reduces a lot. Because of lack of trees, the wind also picks up substantially and we were advised to wear more layers and not to stress ourselves.
Initially we descended for few hours with small ascends alongside Dudh kosi river to reach Pangboche and had our lunch there. Here we heard news of couple of more climbers being emergency evacuated through chopper because of breathing difficulties. Thankfully all the members of our team were feeling fine.
After Pangboche, the landscape changes drastically and trees are replaced by low scrub. We moved across high mountain pass. At around 01:00 pm the weather changed for worse. We had strong gusts of chilling wind flowing across along with light snowfall. We hurried our way through the Imja valley, crossed a frozen Lobuche river and in couple of hours we were finally in Dingboche.
The first words that came out of my mouth after reaching our accommodation were "Hot chocolate please".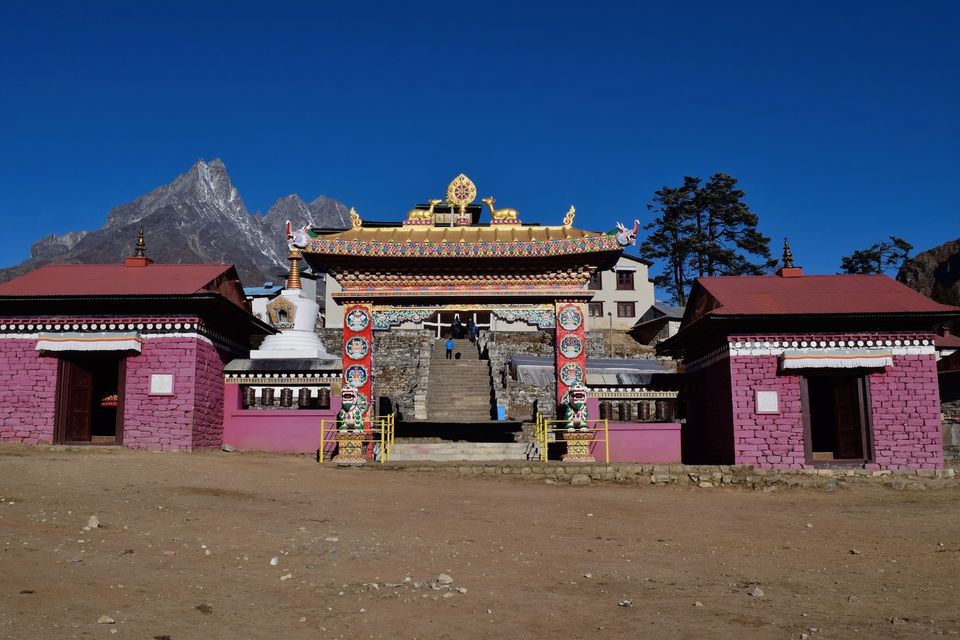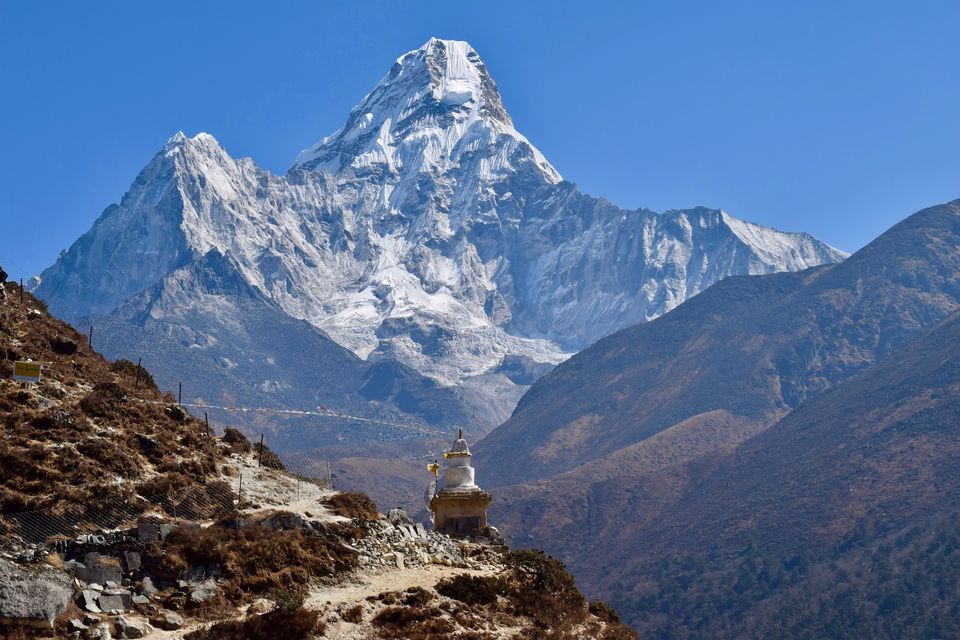 Day 6- Acclimatisation at Dingboche
We were greeted by a sunny day. We took a small hike to see Mount Lhoste(fourth highest mountain in the world - 8516 m) and Mount Makalu (fifth highest mountain in the world - 8485 m). We spent the rest of the day sitting in sun, listening to music and enjoying the view.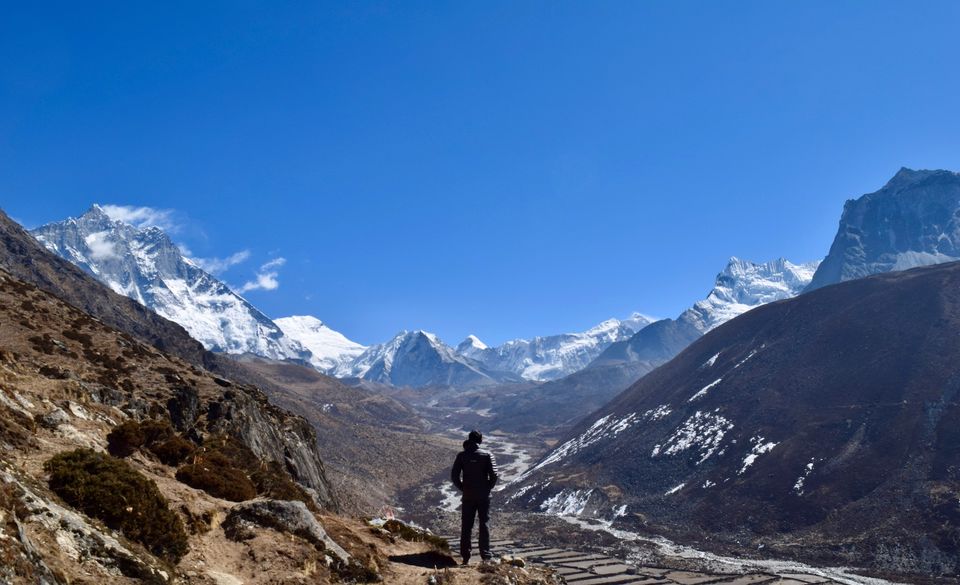 Day 7 – Dingboche to Lobuche (4940 m): Trek Duration 6-7 hours
The trail started with small half hour hike leading into flat plains. Slowly we made our way Thukla where we stopped for lunch. Almost all the team member's had headache.
Apart from the usual exertion from trekking and extreme cold, the high altitude and less oxygen had started to take its toll. Many recommend taking Dimox, but it has a lot of side effects. While four people from the group were already taking Dimox from Namche Bazaaar, the rest of us decided to rather take Asprin for the time being. We took a short nap and started our further ascent.
Just after Thukla there was a STEEP ascent for around an hour. Slowly and steadily we climbed upwards. After the ascent, we came across memorials of people who lost there lives while summiting Mount Everest – Brave men and women, people who pushed the boundaries of human limits. It was also a reminder of how dangerous the mountains can be. After passing the memorials, we walked across flat plains, crossed a frozen river and finally reached Lobuche in the afternoon, all the while having great views of Mount Pumori (7138m) and Mount Nuptse (7861 m).
After dinner, everyone settled in their rooms with butterflies in the stomach, tomorrow was the BIG DAY and supposedly the longest one yet.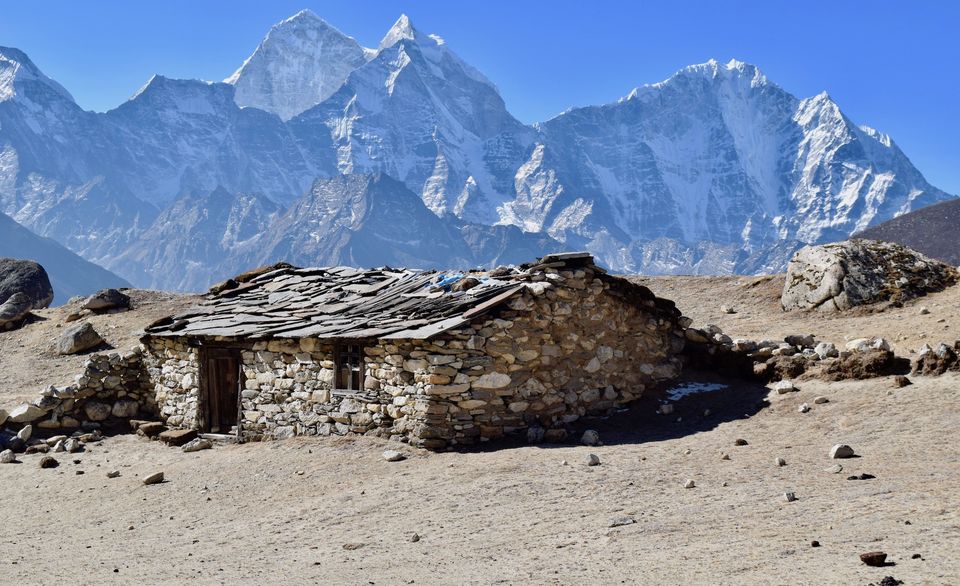 Day 8 – Lobuche to Gorakshep (5170m) to Everest Base Camp (5364m) and back to Gorakshep: Trek Duration 8 hours
Today was the day. It took us approximately 3 hours to reach Gorakhshep where we had snacks. We were all tired and exhausted but were ready for that last push for EBC. One of our teammates had severe headache and decided not to go to EBC but rather rest in Gorakhshep.
And after another 3 hours of climb, we made it! We were there! The mood was celebratory. There were few tears and everyone hugged and congratulated each other (Drinking at high altitudes is not advisable..:P).
After soaking in the view we started our journey back to Gorakshep which took another two hours to complete. We had great views of Mount Everest, Mount Nuptse and Mount Pumori on our way back.
Exhausted, we entered our lodge to be greeted with claps and words of encouragement from other teams. We settled in and all our thoughts wandered back to the day we started our journey and how far we had come ever since.
P.S - We couldn't sleep tonight, our guide had already warned us about it in advance due to high altitude and low oxygen.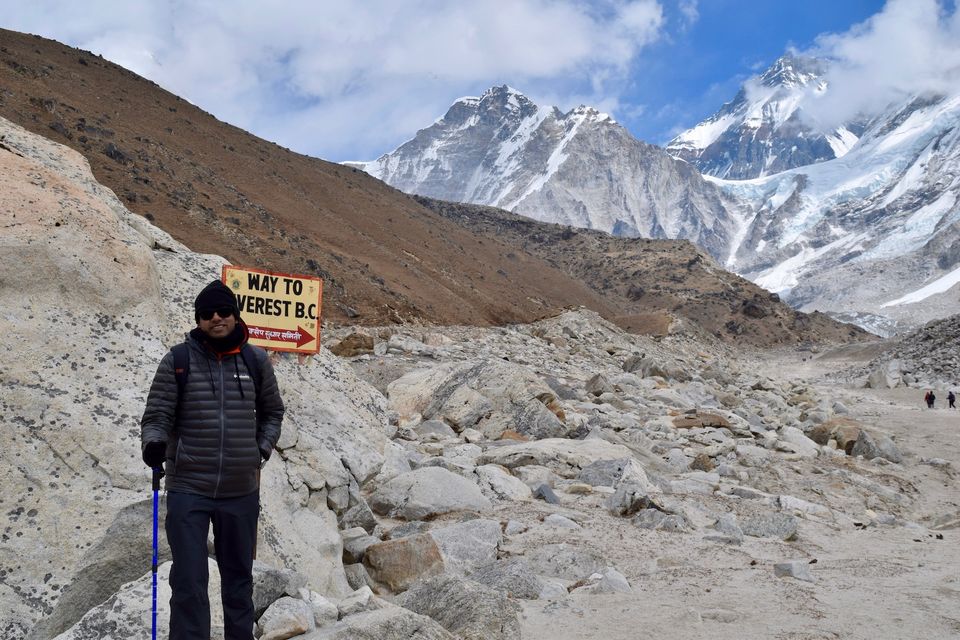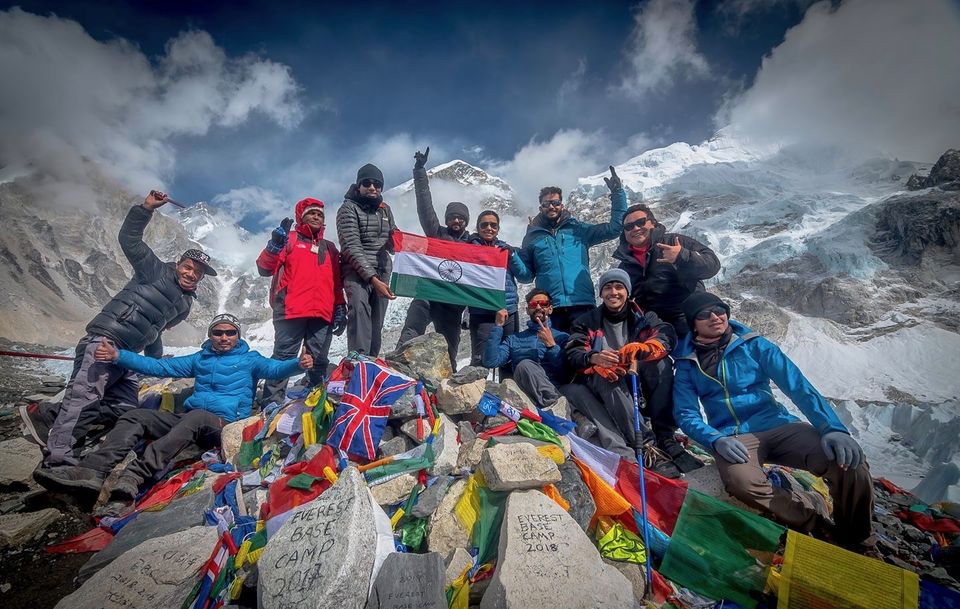 Day 9 – Gorakshep to Kala Patthar (5645 m) and descend to Pheriche (4371 m): Trek Duration 10 hours
This was the MOST DIFFICULT but also the most rewarding day of the trek. Three people of team had backed out of trek to Kala Patthar even before it started.
04:00 am, Outside Temp: – 24 c. Seven remaining members of the team started the trek in pitch dark. Wearing our headlamps and five layers of clothing, we slowly started to move uphill. It was a steep up-climb. Couple it with extreme cold and low oxygen levels, every step took its toll on us.
Our target was to reach the peak before sunrise and view sunrise over Everest and rest of Himalayan peaks in all its glory. But it was turning out to be a tough task, tougher than we had imagined. Two more of our teammates surrendered midway and one surrendered 100 m below the summit.
The remaining four of us, with frost covering all our outer layer, slowly made our way to the top. We reached the top just before sunrise and WHAT A VIEW IT WAS. On one side we could see peak of Mount Everest right at our eye level with sun rising behind it and on the other, the entire Himalayan mountain range. It was a view I would never forget in my life.
Due to extreme cold and maybe poor clothing, one of our teammates lost sensation in his fingers(he is fine now) and was told to rush down. The remaining three of us also carefully descended.
After a short nap at Gorakshep, we started our descent to Thukla (our initial destination). Couple of hours into descent, weather got bad and we experienced heavy winds and snowfall. We reached Thukla at around 01:00 pm only to find out that due to bad weather many other climbers had halted in Thukla and there was no room available.
We then decided to go further down to Pheriche. My leg was hurting like hell, but there was nothing that could be done and so I popped a pill and continued my descent. Weather became worse, with heavy snowfall and visibility reducing to few meters. We slowly made our descent and after three more hours reached Pheriche.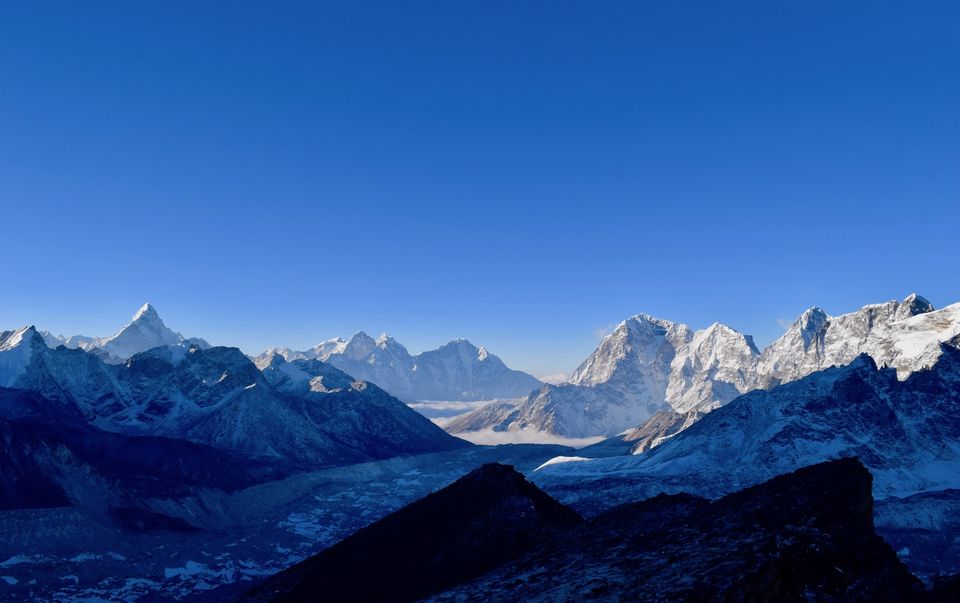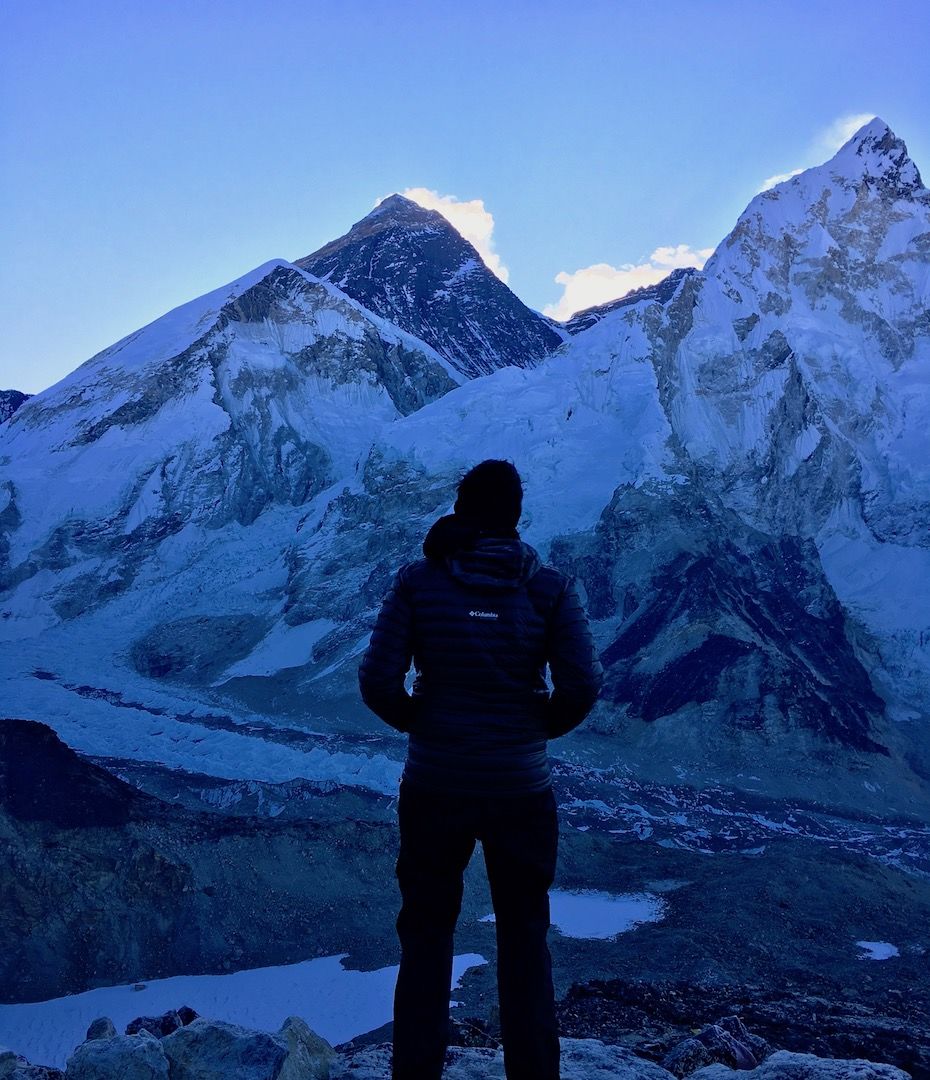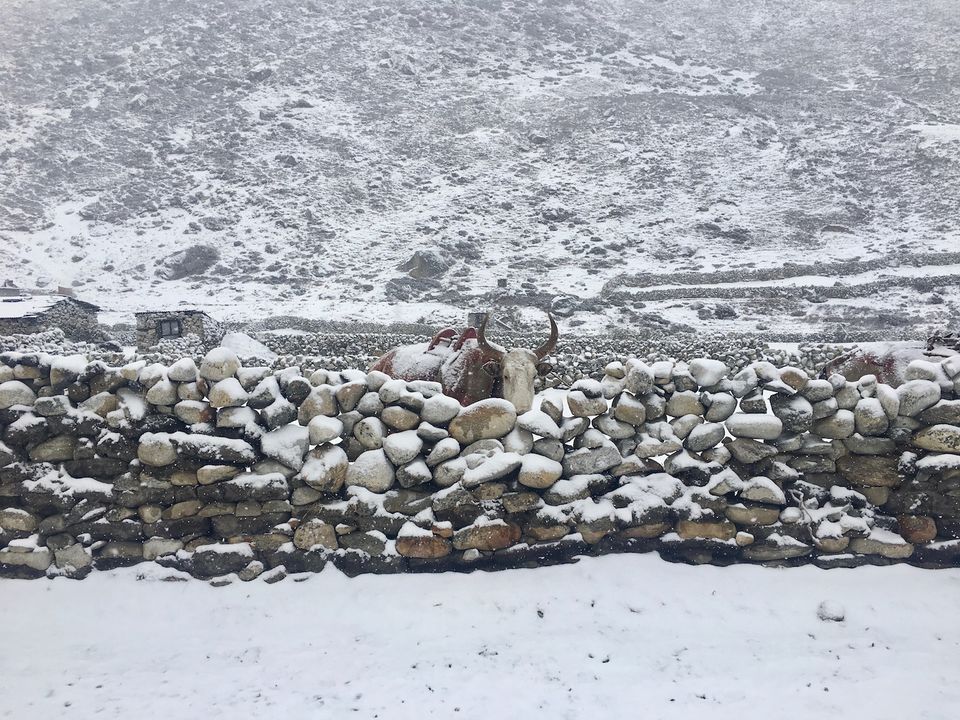 Day 10 – Pheriche to Tengboche (3860 m): Trek duration 5 hours
Day 11 – Tengboche to Monjo (2835 m): Trek duration 7 hours
Day 12 – Monjo to Lukla (2860 m): Trek duration 5 hours
Day 13 – Flight to Kathmandu from Lukla
Descending sucks - all your motivation to reach to top is over and you still have to climb steep patches that you descended while ascending. This is why most of the accidents happen while descending.
You have to keep yourself motivated and remember that there is a party waiting for you with all your friends that you made in this trip at Luka (we started it in Monjo itself…:P). You will get good food and drinks (strongly recommended a local beverage called as Mustang Coffee).
But what you will be most glad to see is running water in taps and hot shower. Believe me, we were more excited to see unfrozen water pipelines than anything else. I bathed after 12 days and it was a heavenly feeling.
This trek taught me a lot of things – it taught me to value and cherish smaller things in life, things we take for granted in our everyday life. It taught me that to go up, sometimes you have to go down and most importantly it taught me that Human spirit has no boundaries, battle is half won the day you decide that you are going to achieve your goal!
Few important things to note if you planning to undertake this trek –
1. Pack Well – Its gets very cold and you should not compromise on the quality of winter wear you bring alone. Also all trekking gear are easily available for buying or renting in Kathmandu. Sleeping bags are available for rent as low as Rs 70 per day.
2. Carry your own water bottle and water purifying tablets with you – Bottled water in upper reaches gets very costly, so carry your own water bottle and purifying tablets(these are also available in Kathmandu). This way you will also be helping the environment.
3. Carry high energy food such as chocolates, energy bar, dry fruits with you and carry it on your daily backpack
4. Wear Knee Caps while descending. It takes a lot off pressure from your knees.
5. Don't take Dimox until you feel the need to, it has loads and loads of side effects. Instead keep some camphor tablets in your handkerchief or tie it in a lace of cloth and wear around your neck as a pendent and keep inhaling it.
6. Drink loads of water, it will help you with the altitude.
7. Go Slow but keep going - Try to walk continuously with fewer breaks. Because soon after you stop walking, you body heat dissipates and you start feeling cold. Frequent changes in body temp that too extreme can make you ill.
8. Carry cash – Cash is the king in higher altitudes. Carry approx. Rs 35000 (Nepali Rupees)
9. We did this trek in early March, before the start of actual season as we wanted to avoid crowds and did not mind the colder temperatures. Based on your preference, you can choose an apt time for the trek.
10. And most importantly – BE POSITIVE. You will be exhausted, will hear news of people being evacuated but you got to believe in yourself. You will be in one of the most beautiful places on earth, surrounded by some of the world's highest mountains. Think of each day as something that will bring you to an even more magnificent view and enjoy the company of people you are trekking with.
HAPPY TREKKING!!