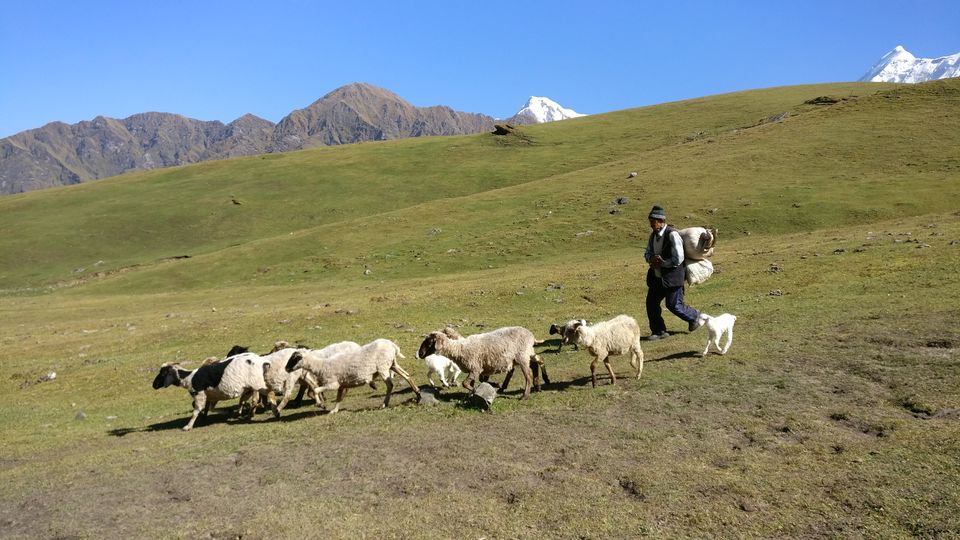 Bedni bugyal
One of the most beautiful meadows of Uttarakhand is Bedni Bugyal. It is at a distance of 20 Kms from the village called Wan. Bedni bugyal shares it's beautiful landscape with another meadow called Ali. Hence many times referred as Ali Bedni Bugyal. The meadow has a water body, a pond that is commonly known as Bedni kund, and right next to it, is a small temple dedicated to goddess Nanda Devi. The famous Nanda Devi Raj Jat Yatra, a religious hike barefoot by the devotees of the goddess, which takes place every 12 years has its 14th stop at Bedni Bugyal.
The meadow is a high altitude mountain top which has nothing but grass on its crust, aiding the survival of horses, sheeps and other cattles. Shepherds from the local villages are often seen using the pastureland in the right season. At an elevation of 3,354 meters, the winters here, come very strong and the snow takes it all for good. The 360° views are just so magnificent. Jaw-dropping view of mount Trishul and Nanda Ghunti. The Bedni kund or lake actually gets one of the most spectacular reflections of these mountains making the admiration for the place reach another level.
How to reach the meadow?
You can reach the place from both the sides of Uttarakhand.
Dehradun - Haridwar - Rishikesh - Rudraprayag - Karnaprayag - Lohajang - End of the road to Wan and start the trek
Nainital-Almora-Someshwar-Gwaldam-Lohajung-End of the road to Wan and start the trek.
To start the trek, hike the trail towards Wan village from the road which is about 1 Km to Wan. There a lot of homestays and a beautiful Forest Rest house at Wan to stay for the night after a long drive. After Wan, you would have yo climb to a forest checkpoint, and further descend towards the river. After a quick break you would again have to climb toward the top of the mountain reaching Geroli Patal, a campsite and a rest house in the middle of the Jungle. This trek is about 10 Kms and usually takes 5-6 hours. Trekkers usually take a break for the night here but if you can pull it off, the next 9 Kms will take you directly to the meadow, Bedni Bugyal. The trek has lots of Rhododendron and Oak trees to shade you from the high altitude sun. Drinking water is available from the natural water sources along the forest.
Hopefully some photos of this place will help you make a positive mind for the trek. 😃