To start with, let me break your bubble. The Triund Trek which claims to be easy all through the internet is NOT easy. For those who are fit and have considerable experience in trekking , this maybe a cakewalk. But for those who are trekking for the first time and are looking for a weekend get- away- easy -trek, this can prove to be quite a tedious task. However, it is worth all the hard work once you get to the top and have a breathtaking glimpse of the Dhauladhar snow clad ranges of rocky mountains.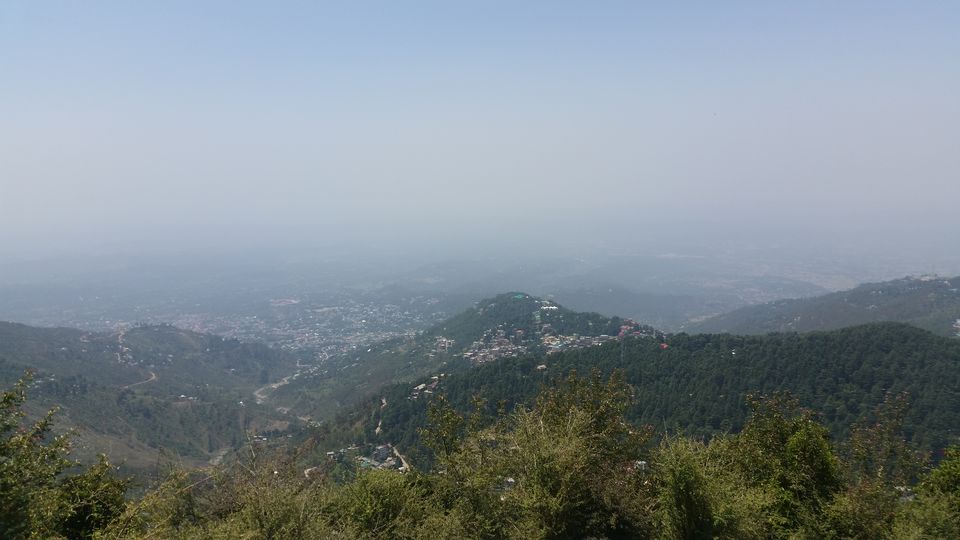 The houses sprinkled below is where we start. This picture was taken not even half way to the destination.
There are plenty of guided tours in Mc Leodganj that charge you a bomb for this trek. However, we did this trek without a guide and it went just fine. I'm going to save you some money and get you to Triund and Snowline very economically. Here we go:
Day 1:
Set off as early as possible or else brace yourselves to get charred. Trekking at noon drains you more , hence keep your ETD as 10 am MAX. Eat a heavy breakfast because this is probably the last wholesome and decent meal you are going to have for a while. Carry at least 2 bottles of water per person.
Prices of food is directly proportional to altitude. The higher you go up the costlier Maggie , Water, Gatorade, biscuits and Chocolates become. Cost cutting technique= Pack your bag with food and nothing else . Food is the sole thing you crave during this strenuous trek and it is the sole thing that rips your pocket.
There are 2 ways to trek up to Triund:
Galu Devi temple : This route is gradual and easier to climb, but its longer. If you are put up in Mc Leodganj or Upper Bhagsu, a cab to Galu Devi temple will cost you Rs 200. From where the cab drops you, the trek starts. This route is recommended if you are a first timer as it doesn't tire you out as much.
Upper Bhagsu route : This route is steep and catches altitude quickly, hence it is shorter. But, you will have to trek through a forest and face dilemmas at many crossroads. This route is comparatively harder but it gives a true trek feel. Adventure enthusiasts, this is your route. At a point, this route joins the Galu Devi temple track and from there it is a single route. While coming down, this route is not recommended as there are way too many loose rocks and one can loose their balance easily.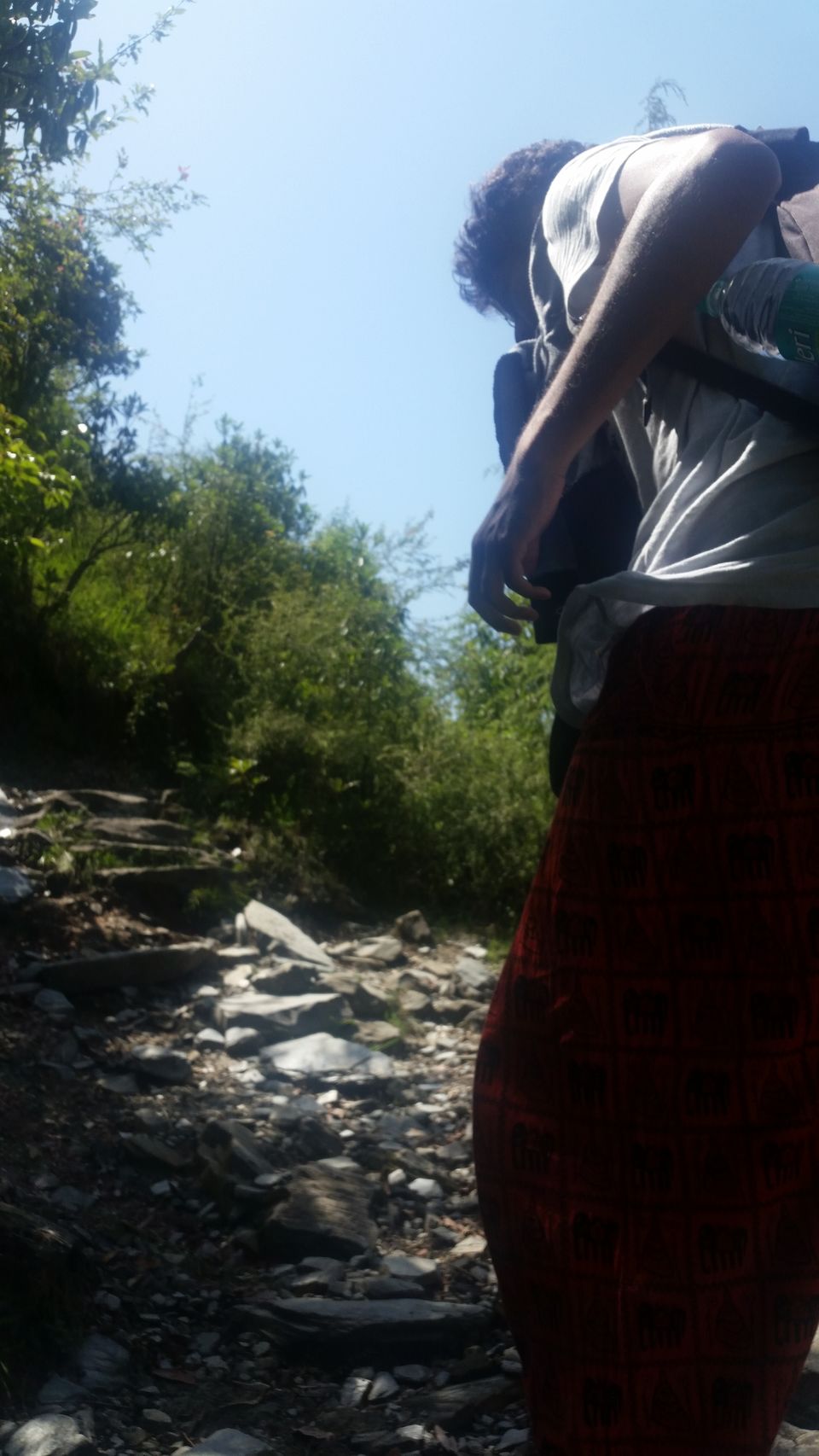 The steep and rocky trek from Upper Bhagsu route.
There are around 4 to 5 cafes situated at picturesque points on the way where you can rest and refuel yourselves with Gatorade , Maggie and other eatables.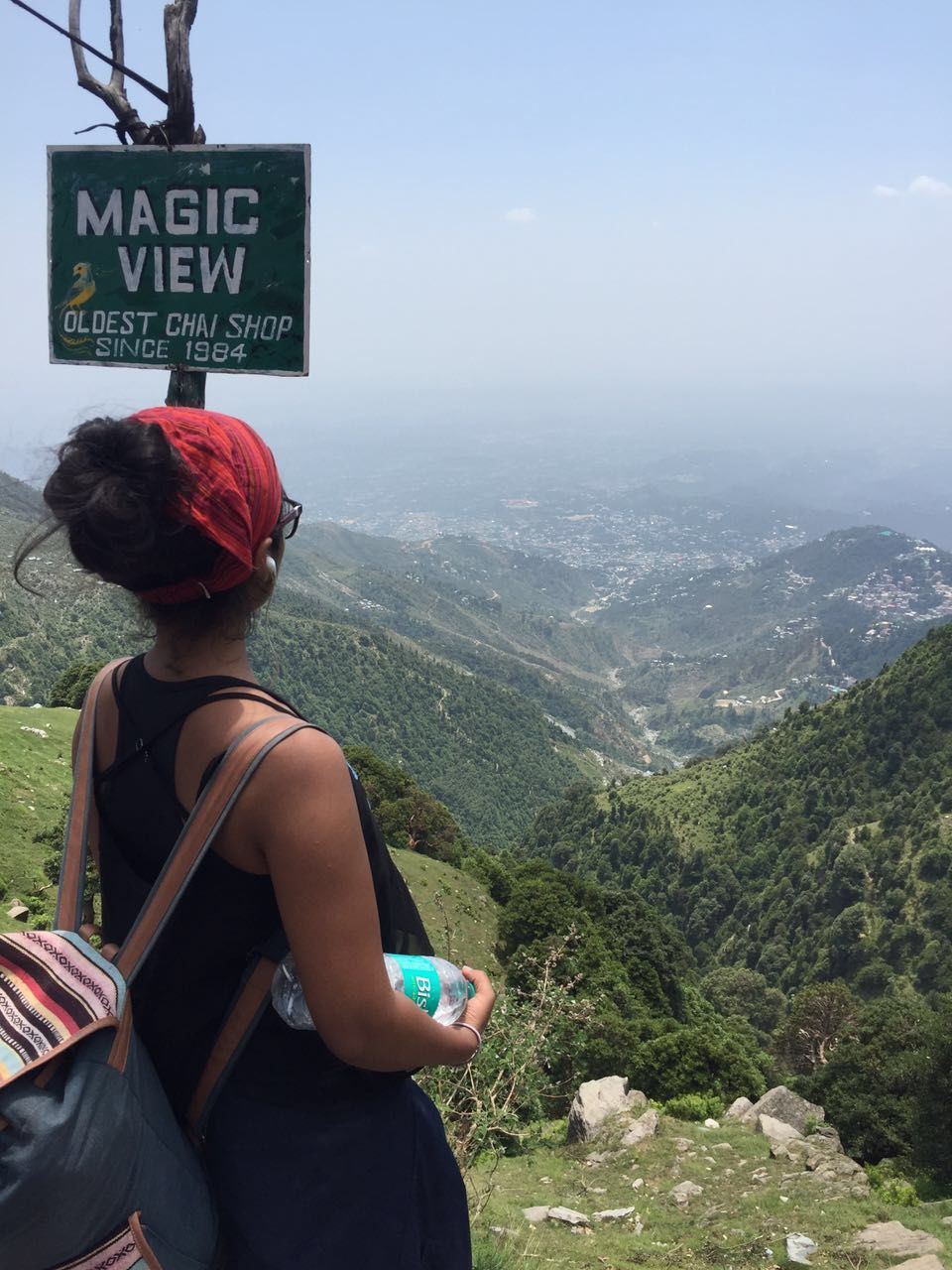 A truly magical view
Ideally, one should take around 3 to 4 and a half hours to reach Triund. I took a break every 500ms and reached up in 4 hours, so it all really depends on your stamina.
Once you reach on top, you will see a plain land with lush grass, umpteen tents and thousands of people , all of this surrounded by hefty mountains. I loved the view from Triund, but it was a bit too loud for my liking. Antakshari, children crying, people talking loudly, littering etc. The holiday season had done away the solace of Triund and amidst all this I wasn't able to find my zen.

A Panorama at Triund
So, my friends and I decided to trek up 2 to 3 kms more and reach Snowline , which as per our research had lesser number of people and a better view. We spent around half an hour in Triund and started our trek to Snowline by around 4.30 pm.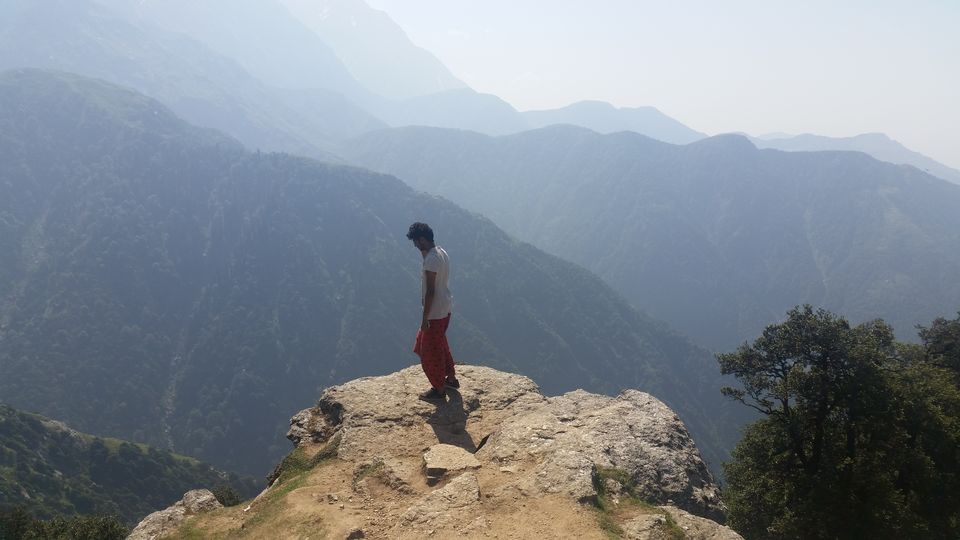 Cliff ends are our favorite
However, if you are exhausted and like the vibes around Triund, you can rent out tents there for Rs 1300(3 person tent) or Rs 500 (2 person tent). During the weekends they hike up the price hence put on your haggling hats. Ideally, one must not pay more than Rs 300- 400 per person for a tent.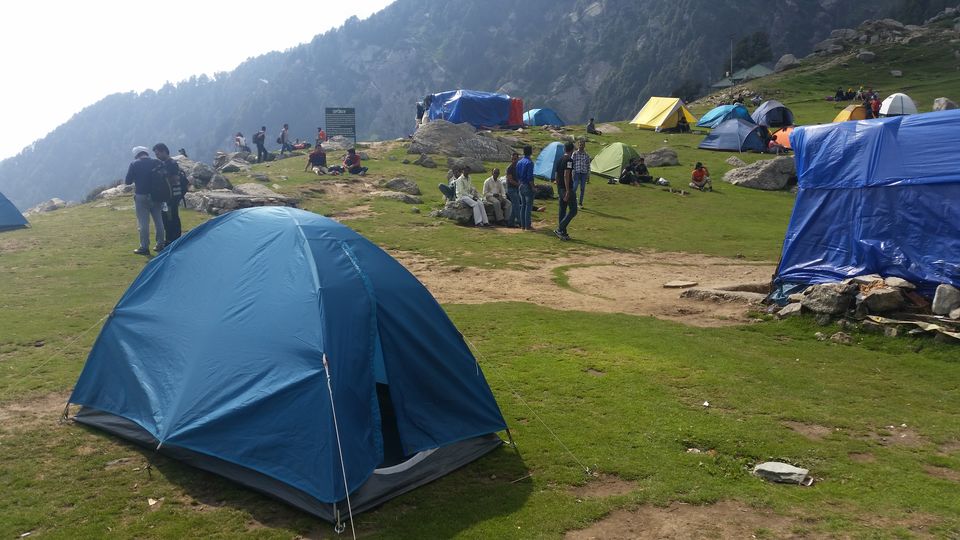 The bustling Triund.
The trek up to snowline is also steep, but it somehow feels easier as the sun is less harsh by then and the break in Triund rejuvenates your energy levels. However, there are no cafes on the way to Snowline, hence stock your supplies from Triund. Yellow arrow marks on boulders mark the trail to the snowline, so look out for these markings and you will get there safe. The air gets colder and thinner, and the view gets better the higher we go.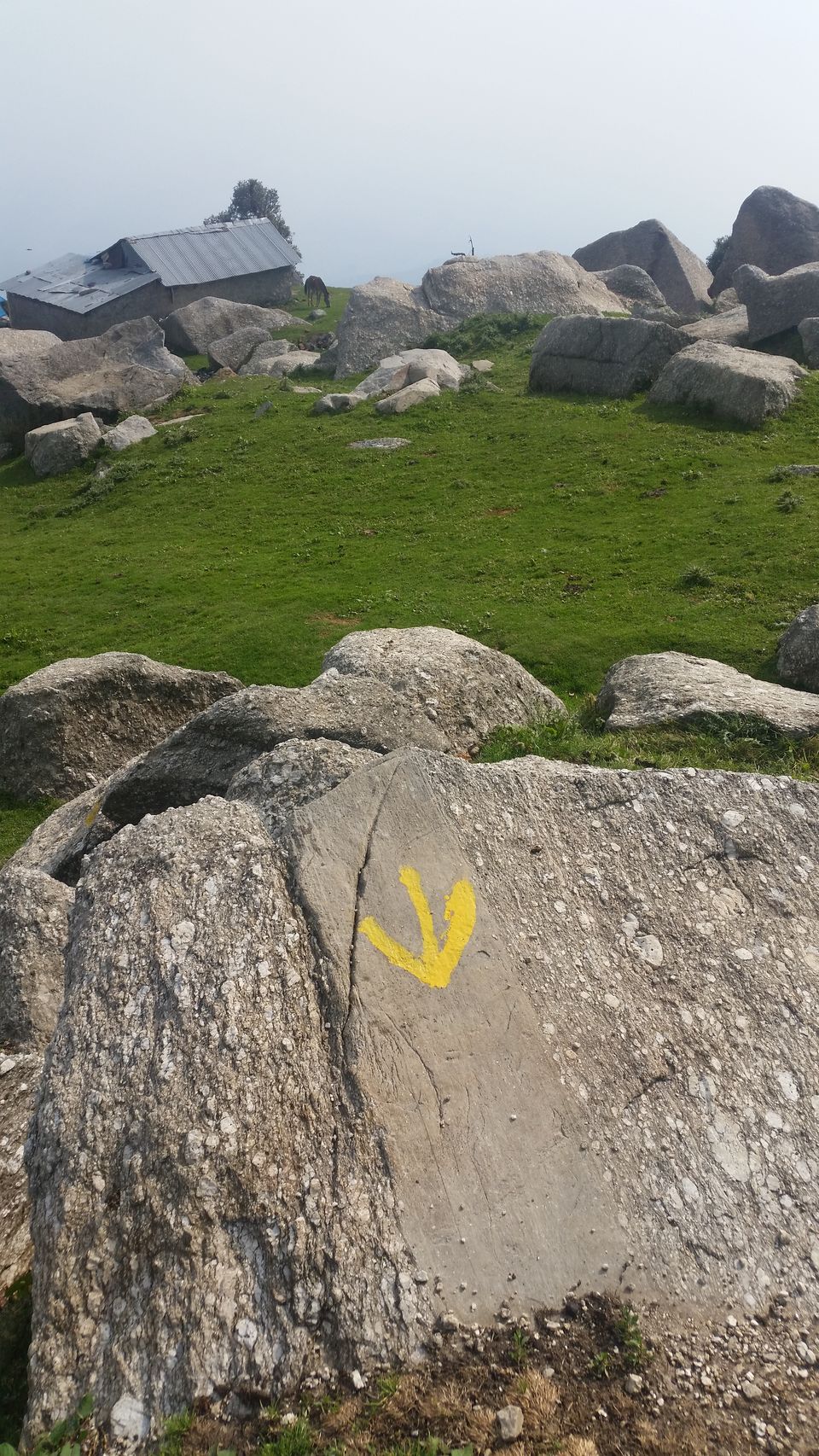 Yellow marks that will lead you to snowline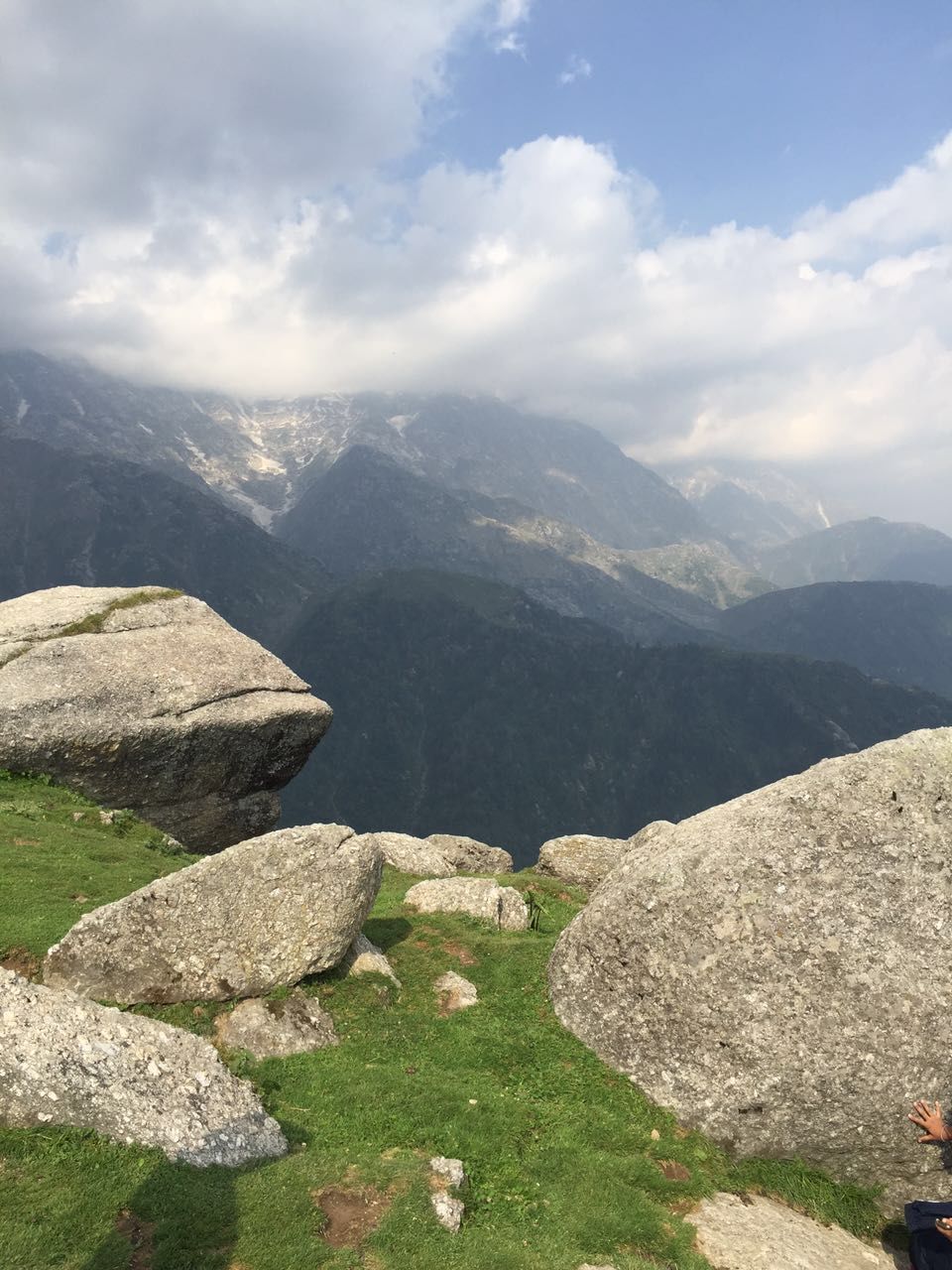 The view while trekking to Snowline
There are 2 camps in Snowline- Himalayan Quest camp and Snowline cafe camp. We stayed at the Himalayan Quest camp as it further secluded and is situated at a cliff end facing the Indrahar pass. The Snowline cafe is a famous landmark and there are tents pitched around here too. If you walk past the snowline cafe, a small pond appears, and down ahead of the pond is where Himalayan Quest camp is situated.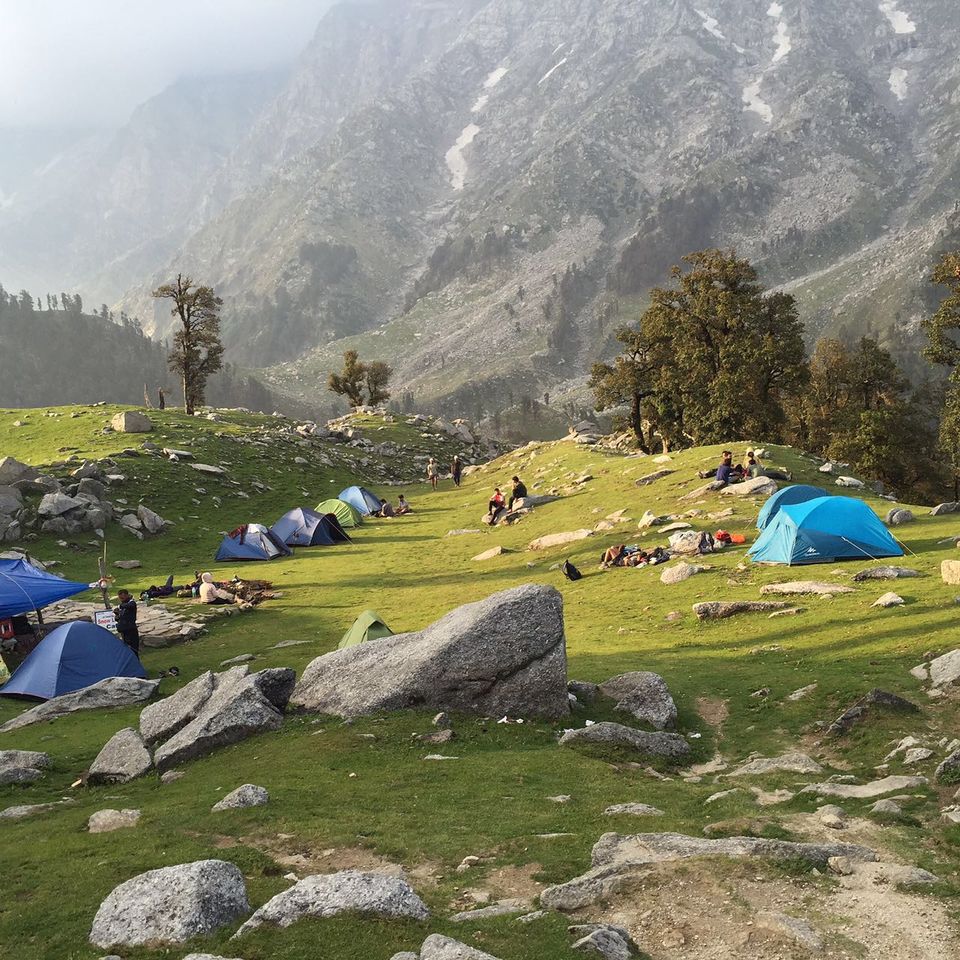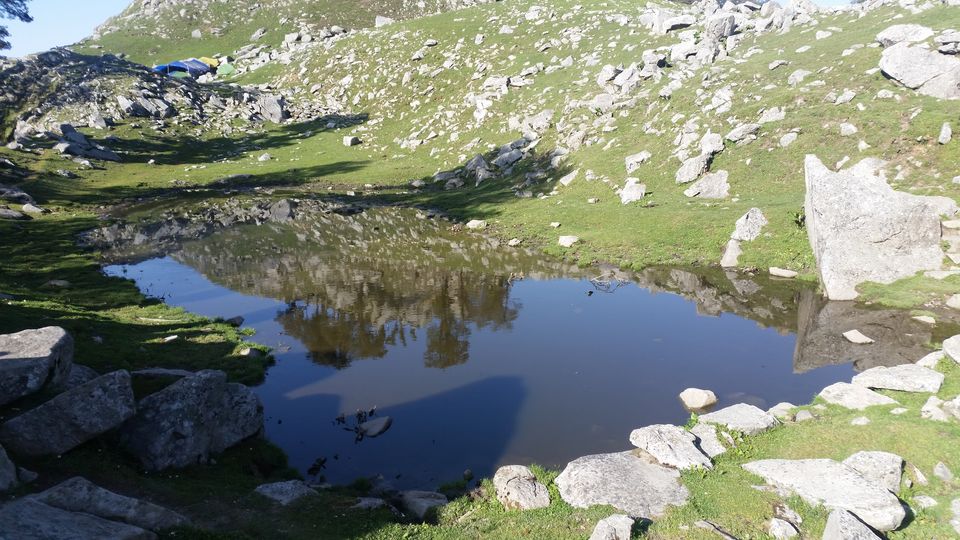 A lovely clearing with a not so clean pond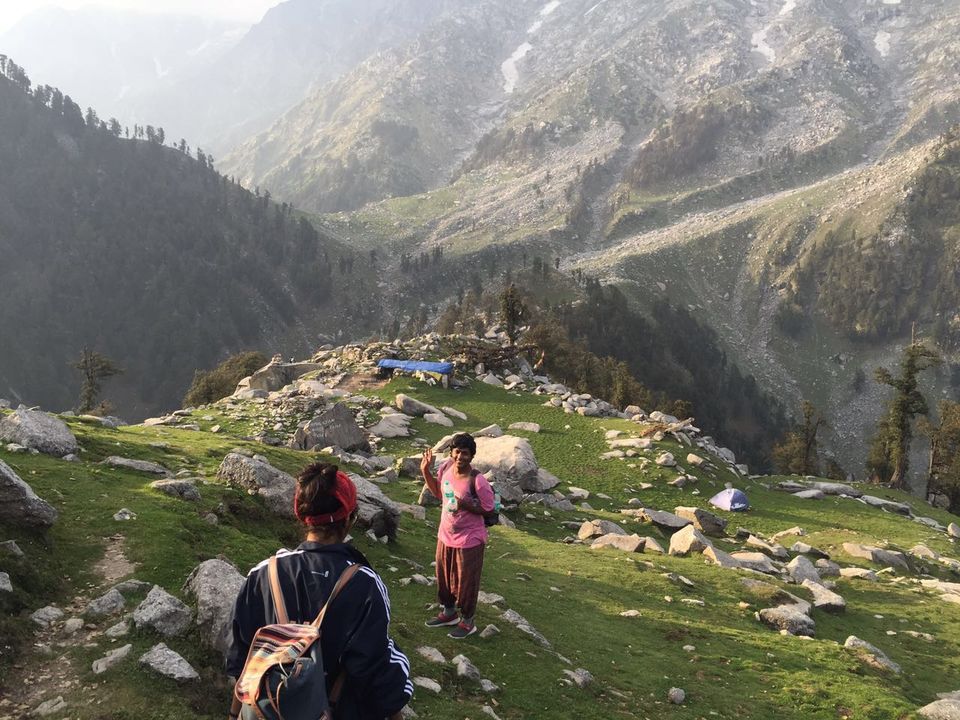 Himalayan Quest Camp ( we were the first, hence no tents have been pitched)
Himalayan Quest Camp is run by Mr Sansar ( 9882494092) and his uncle.The food is a little on the expensive side( Rs.150 for Dal Chawal, Rs 60 for water), but I wouldn't mind paying so much for all the man and animal labor it takes to get provisions up to this height. At night, we started a nice bonfire to keep ourselves warm and stayed up looking at the shimmering snow and star filled velvety sky.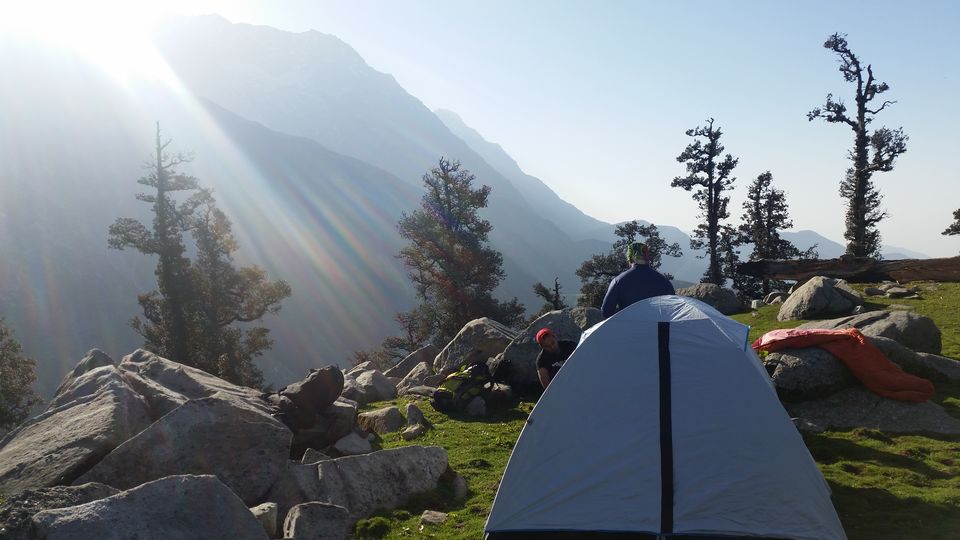 Comfortable tents with individual sleeping bags are given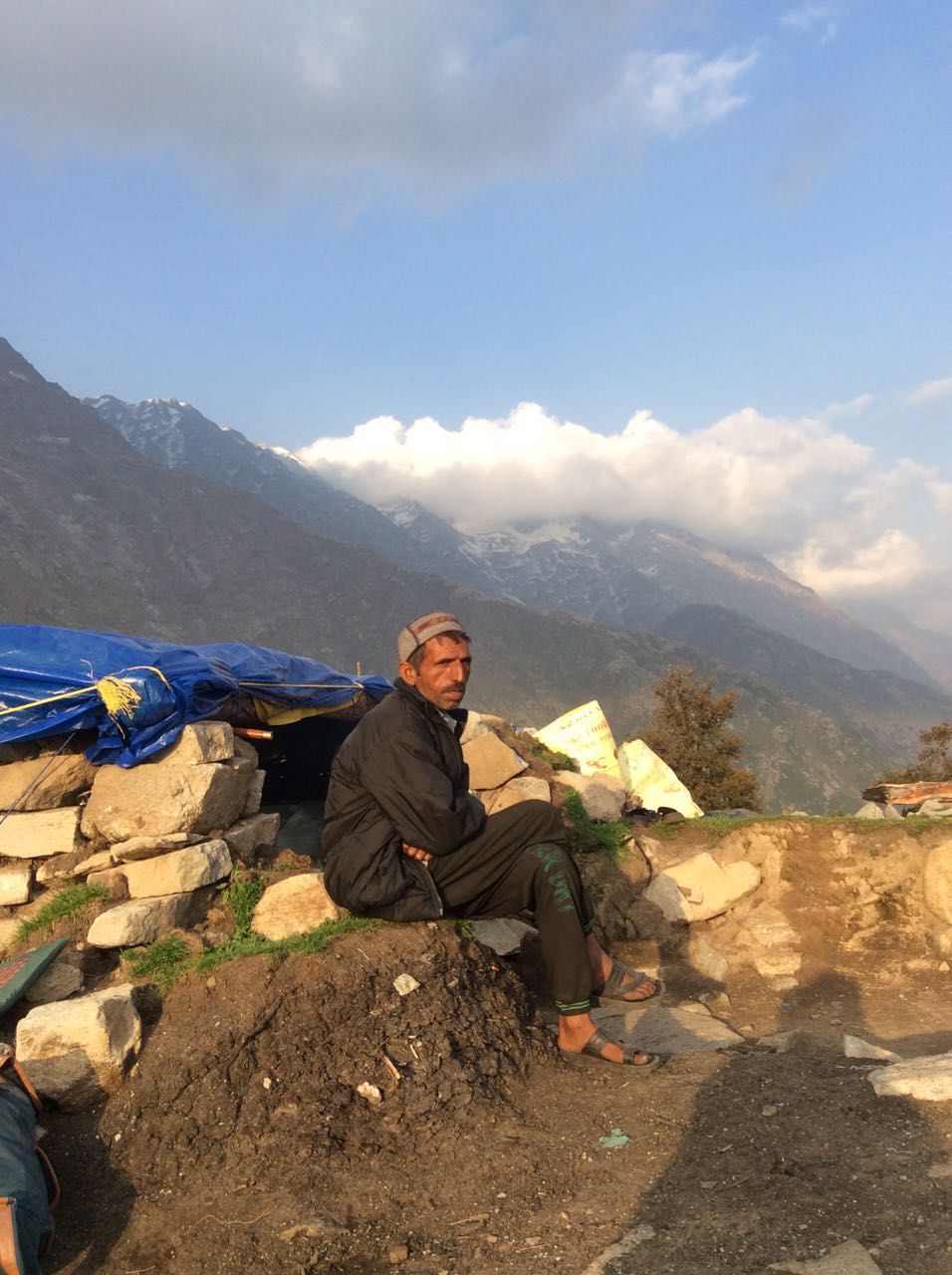 This man makes the best dal in the world!
Disclaimer: Once you leave your hotel in Mc leodganj, there is no provision for going to the washroom, except in the open. Hence, moderate your eating and drinking.
Day 2:
We started our journey back to Mc leodganj by 8 am. Trekking downhill is less strenuous, but it is mentally bogging as you need to be careful while placing your legs on loose rocks.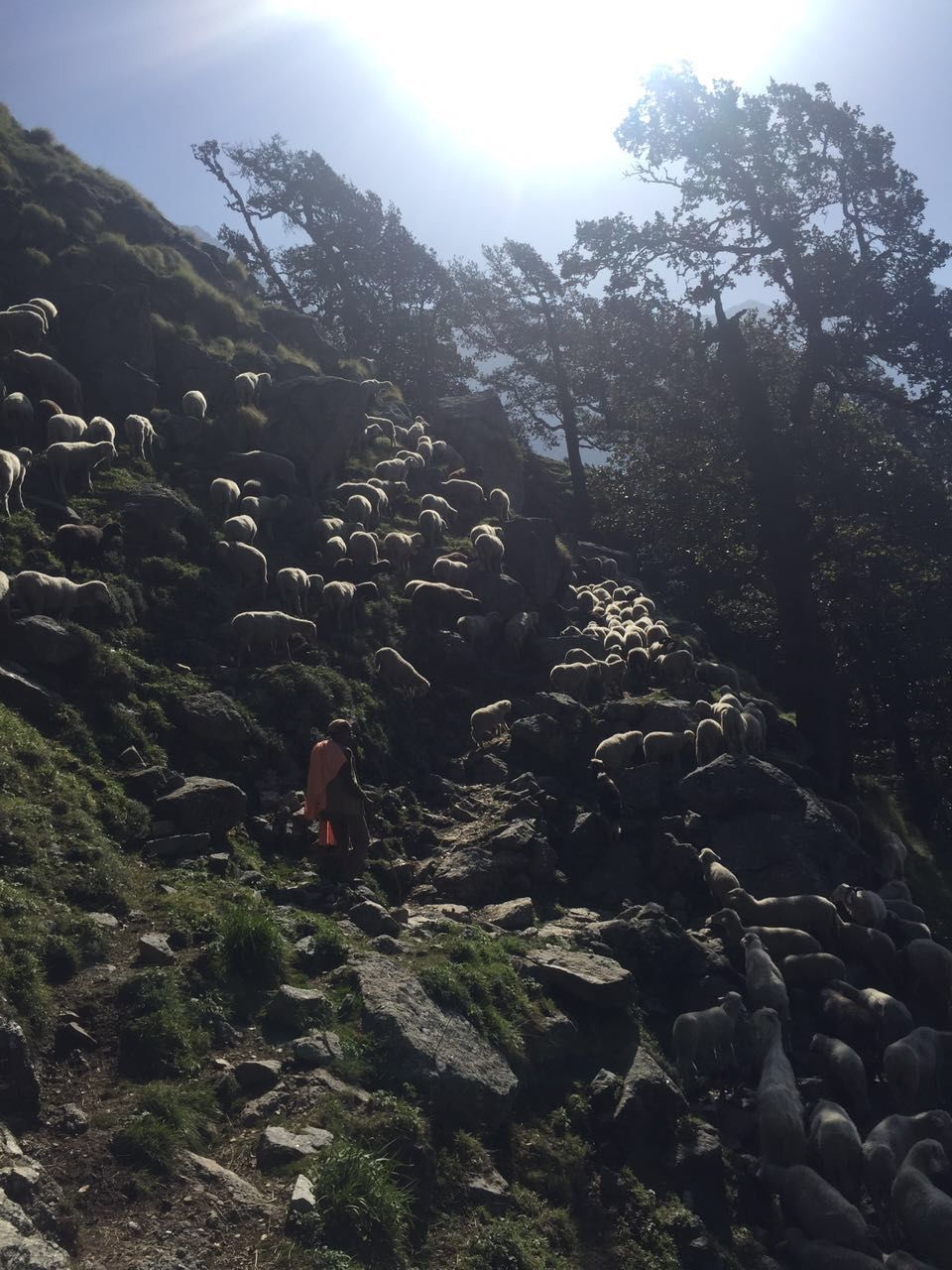 So, this is what we had to face while climbing down.
We took an hour to reach back to Triund, and from there 3 to 4 more hours to get back to Mc leodganj.
Traveler tips:
Stack up on food and water before the trek in case you want to save up on money.
Carry jackets and windcheaters for the night
Good shoes is a must( My 2 year old Nike shoes tore beyond recognition)
Check weather forecast for the day before you set off. If rains are predicted, shift plans as officials close the routes.
Don't stop at Triund. Go all the way to Snowline and if you can, till Indrahar Pass. Its going to be worth the effort. Trust me.
I guess that's about all you need to get yourself to Triund, Snowline and back. Now pack your bags and off you go !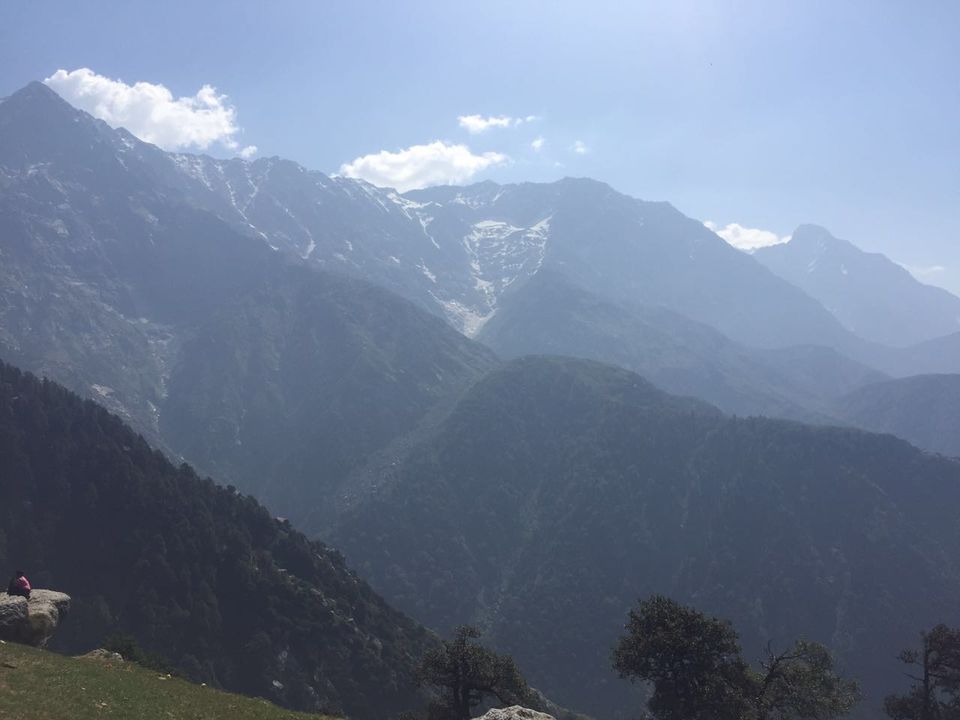 Mountains are calling!!!