Have you ever been visited by the powerful thoughts of setting foot in Australia? As if that is not enough have you ever taken a glimpse of thought at the famous Uluru? I would be termed psychologically lazy if I can afford to forget even a pinch of the beautiful scenery of Uluru in Uluru, the biggest stone in the planet earth. However, it's not a walk in the path to visit this place some dollars has to be thrown in the sea of expense.
Uluru is one of the most secluded places have ever vested in my life. The closest town that could be said to be near, the Alice Springs is around 6 hours' drive. The flights to there are expensive, so I decide to pick a relatively cheaper option, a flight to Alice Springs where I based myself, then the rest on my own. I bet pregnant women cannot make it here.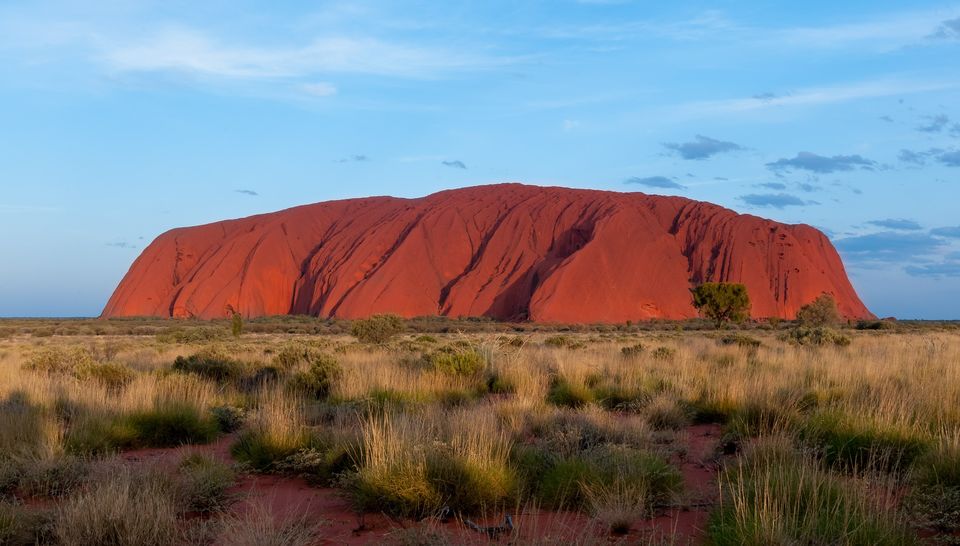 The journey to Uluru was characterized by enough levels of comfortability the car was spacious, and the seats were comfortable, a characteristic of a long voyage. Before late we jetted out of the Alice Springs together with my driver, I was told its approximately 470 km . The road to the site is not quite catchy so we had little to see along I resorted to a story book but for the driver he had to be keen on the glaring gear for our safety. I occasionally napped, but the breeze could not let it come naturally and comfortably. After about 200 km we stopped to have a snack and short calls.
Ouch, a flat top pointed out mountain was in vision, I thought had arrived at last. Ooh, that was Mt. Conner I hear that most of the natives trick the visitors that it's the Uluru. We stopped at took a photo and moved on.
Within no minute we were at the Ayer's Rock Resort also known as Yulara. Here people who got it difficult to stay away sought accommodation. I could now see Uluru. "Wow! I can't believe what am seeing" it was totally the opposite of what I expected to see, so amazing. Here we were told a lot about what we expected to see while on the site as well as a couple of precautions.

We proceeded to the Olgas or more famously known as Kata Tjuta, which has a hidden meaning of 'many heads' .it has six massive domes of rocks. We curved around a rock on a path that cutter between the domes. Large red rocks punctuated with a green bush was a good scenery. The heat was a bit uncomfortable it rose to 36 degrees. The Kata Tjuta's beauty was more of comparable to Uluru its high was slightly more than Uluru at 550 meters can still remember the fruits we were given at watermelon being the best of them all.
At last, we were at Uluru, an away glance made us think it was such a little scenery. Here is the first place I experience the real value of culture we were not allowed to take photographs at some places which they considered sacred. The word Uluru came for a term that was meant for an intersecting place for three different tribes .The place is divided such that each category hangs out in various locations, young, old, men, women, and children. The hiked around the base to appreciate the rock paintings the little lakes, rivers, and puddles. We were lucky to find the waterfalls on due to the just ended rainy season.