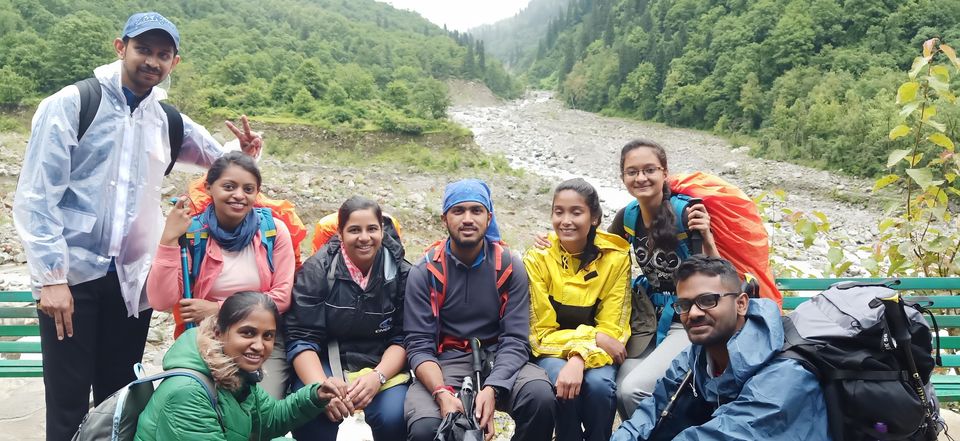 If you were bitten by a trekking bee then you are game for any trek. High altitude trek requires different attitude because it's not about finish time always, its about coping with your physical body strength along with will power.
To be honest,I decided to go for trekking on our own to valley of flowers. Having read about experiences of many solo trekkers I thought its easy. Some prefer solo travel and solo trekking as well.I failed to convince myself on what if something goes wrong? I don't want the first Himalayan trek to be the last trek in my life. Hence I turned towards group trekking.
The foremost reason to prefer group trekking is "Safety". The assurance that somebody will be there to hold my back when I fall, some one to push us further after all our energy got drained, somebody to motivate us, some one to support us though they are struggling with their own backpack. And to hear some stories, to play some games and to transform from strangers to friends. These are the untold reasons I picked group trekking.
Many trek organisations are doing this trek, but why did I go with India Hikes? Just on the basis of my friend's friend's recommendation. They have a good reputation and reasonable cost so I booked the dates. That's the first impression. Once we registered, their mandatory screenshots to show our physical fitness had pushed me to do some jogging. When there was just a month to go for trekking, my day started with their mails related to how to prepare for the trek. Every day mails were quite helpful and gave insight to what to expect from the trek. So you were not trekking with India hikes just for 5 days but beyond that.
Trek lead,Pranav was quite impressive in his leadership and coordination. Nobody in our group felt left alone.Everybody trekked in their comfortable pace yet we finished our trek on time.Guides like Kp and Dhebu were helping us by all means.To wake up in a different place with zero network itself kind of detox for whole body and mind.Feeding us timely with good food at an altitude of 9k is not an easy task. Trek day starts with Oxymeter reading and stretches. The day ends with some games to ease our pain. Little discomfort in lodging at Ghangaria because of accommodating another batch as Great Lakes of Kashmir trek got cancelled.I assure you trekking valley of flowers with India hikes brings you memory for life.
Valley of flowers - not like walking in a park (This is the line I read in India hikes and realised the difficulties it might throw at me, though it is mentioned as Easy trek in their page. Yes, it is easy indeed). Valley of flowers was in my bucket list ever since I created one. I am super happy to cross that in my list.
To read the entire season of my valley of flowers trek, then check out this article