M akela hi chala tha janib manjil magar, log sath aate gae aur karwan banta gaya...
This one I witnessed in this first official trek with Apex Adventures group. I was on cloud 9, damn excited when Friday afternoon (20th Jun'14) group coordinator Amol confirmed that he can accommodate Tamanna and me for this trek.
I had no idea of the history and isn't interested though (details can be wiki'd here - http://www.indiatvnews.com/news/india/know-about-kalavantin-durg-world-s-most-dangerous-fortress--30463.html). I GOOGLEd too but the details never scared me and all the more encouraged my willingness to get lost from the daily chaos and busy living.
Thus this one was special is all due respects and yeah I had my share completely. Amidst all the odds (trust me there were odds :( and I was praying for no rain tho drizzling would work ;)) roads (passage should be more apt) untraveled were calling and we started the journey around 6:15 in the morning (Saturday 21st Jun'14) and then whole day had its wings open to the unfolded and unimagined wanderlust. Noteworthy to mention my tryst with the total 30 strangers except the fact known that all will be sharing same level of interest & excitement (trust me this is the best 1 can opt for, recommending once in life to kick off travel with bag packed to Roads travelled/ untraveled).
Fun loaded, energy packed 31 people (excusing me n Tamanna as Marathas had the priority and we were not so keen to have-so-friendly-talk) made their introduction on the go followed by Antakashri by dividing the front and back side of the TT in 2 groups like a school (this time front one battled and won well).
10:15 AM: It was scorching hot that made people crib a bit but I was thanking God for #NoRain thing when the bus stopped at the start juncture. Bag packed with water bottles tucked in the side, laces on for what road had to offer on the go.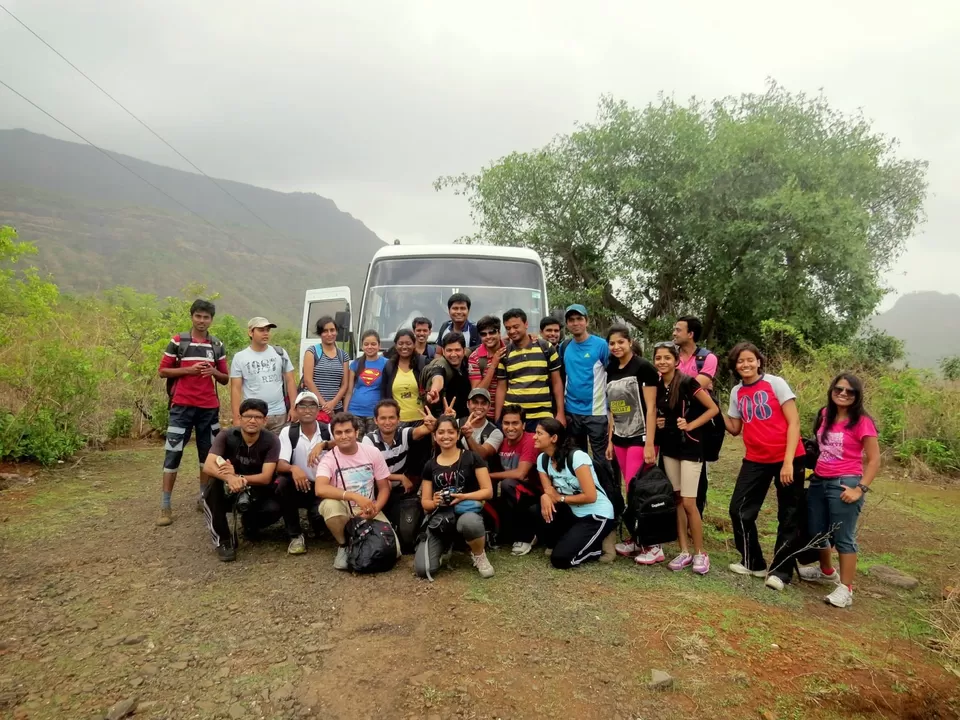 11:15 AM: I never believe in shortcuts but guess everyone else has the fascination; I followed the crowd too and we opted 2, cutting the deep forest, paths made by waterfalls in the past (absolutely steep and slippery; climbing like a monkey and watching out the steps is what saved me there :) ) and which had barely avoided few centimeters of trek :(
12:15 PM: wasn't sure if I to thank (half battle won) or worry (worst is yet to come) when some co-travelers pointed to the Flag mounted at the top of the sheer and daunting mountain (suggest you to not opt if you have vertigo). A stop for 10-15 mins wasn't enough to collect the energy and strength to climb that high for sure but we had a long n a difficult way to go and there we started marching again (all this while me n Tamanna were giving each other a energy dose of motivation which was worth it that we realized at the final destination).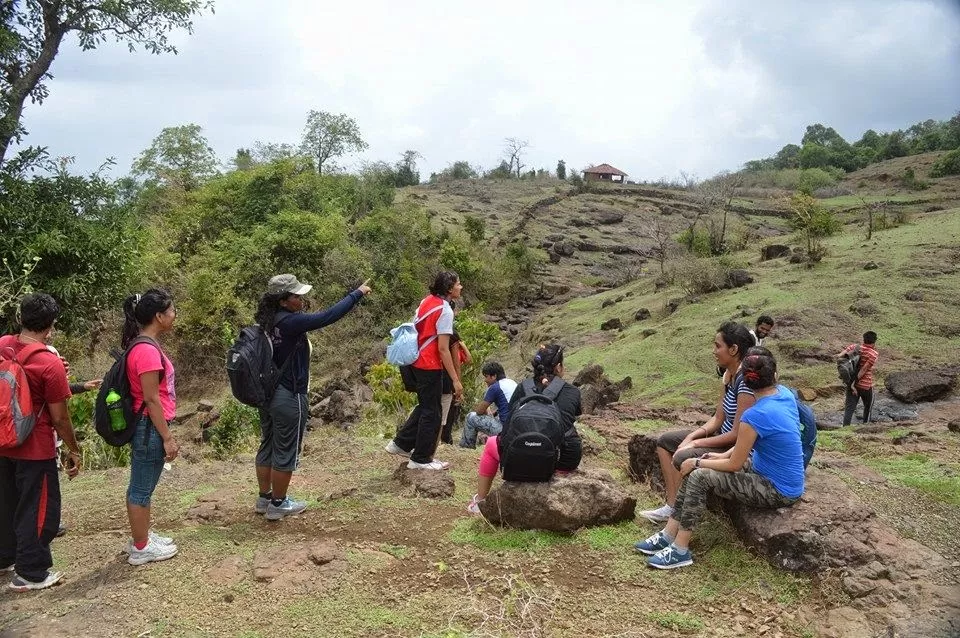 All this time God was merciful with #NoRain thing, windy/ shady at times but little brutal as Sun was meting us in all sweat and which was eventually making the go/hiking little difficult (I realized as wasn't precise while making a wish; guess that's what I always do infact everyone does ;) :P)
Now a walk midst some village for a while followed by 0.5 foot steps (surely these are the longest and all the more for on n off you walking between abyss (khaayi) and mountain on your left). Mere thought of walking 2 persons at a time on 1 step or holding someone was scary enough to ruin your whole endeavor.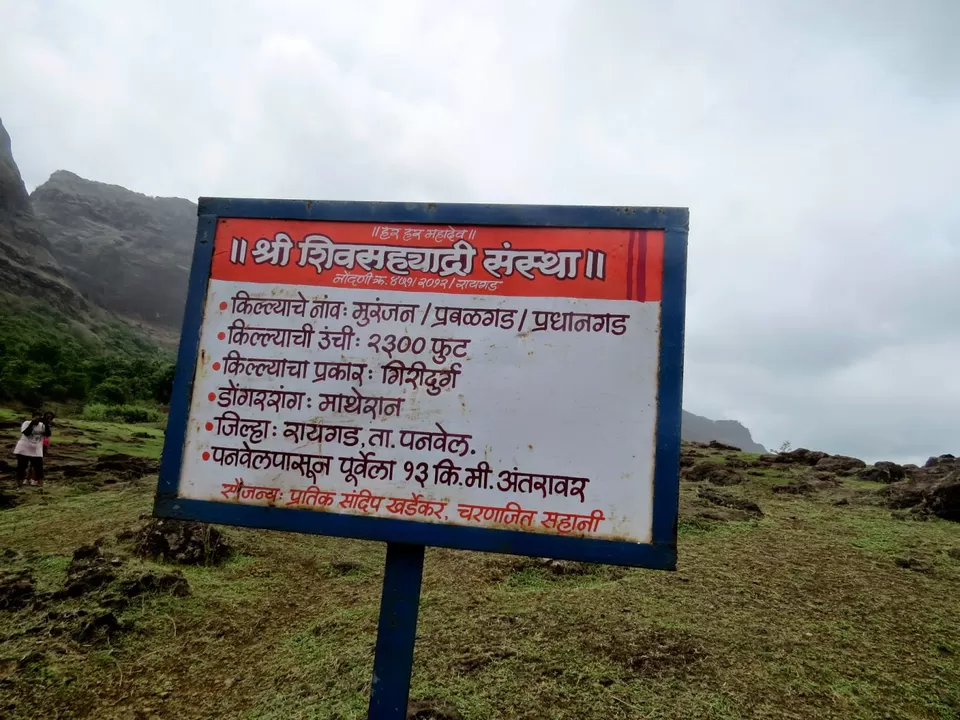 1:30 PM: Badly sweating, gruelling wanna gave up but the desolate, dumped forest had nothing to offer in return so marching ahead was what one would opt for (Glucose/ electoral or any such thing was barely of help in this steep passage). Narrowly crawling, climbing we reached to a point where the whole world was looking so small. At such a height locating the TT was such an energy stroke that we could simply forget the hard way and cherish the heavy wind welcoming the whole crowd.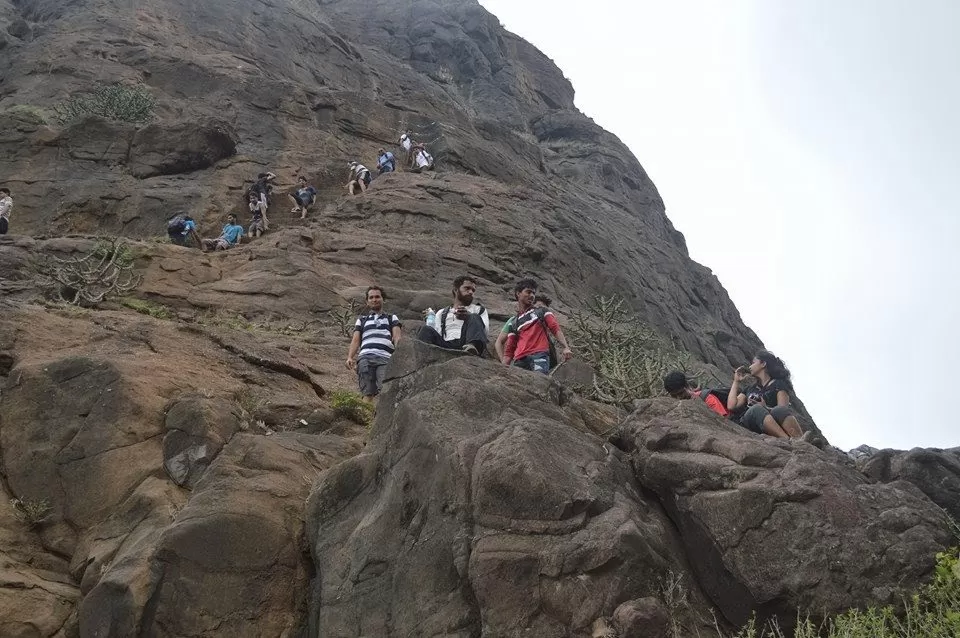 2:15 PM: and yeah we there " '2300 foot' ". OMG....the world is absolutely small and whole crowd cheered 'Jai Maratha', 'Jai Bhawani', 'Jai Shivaji'; it turned the whole atmosphere so worthy of the efforts everybody had put in to reach here. Everybody turned into an avid photographer with the 'click', 'click', 'cheers', 'Cheese Butter' sounds coming from every corner of that flat surface on the top of this mountain. Trust me, every bit of the effort was worth when one swallows the very ounce of the Air this high (such tranquility, such a peace. Period.)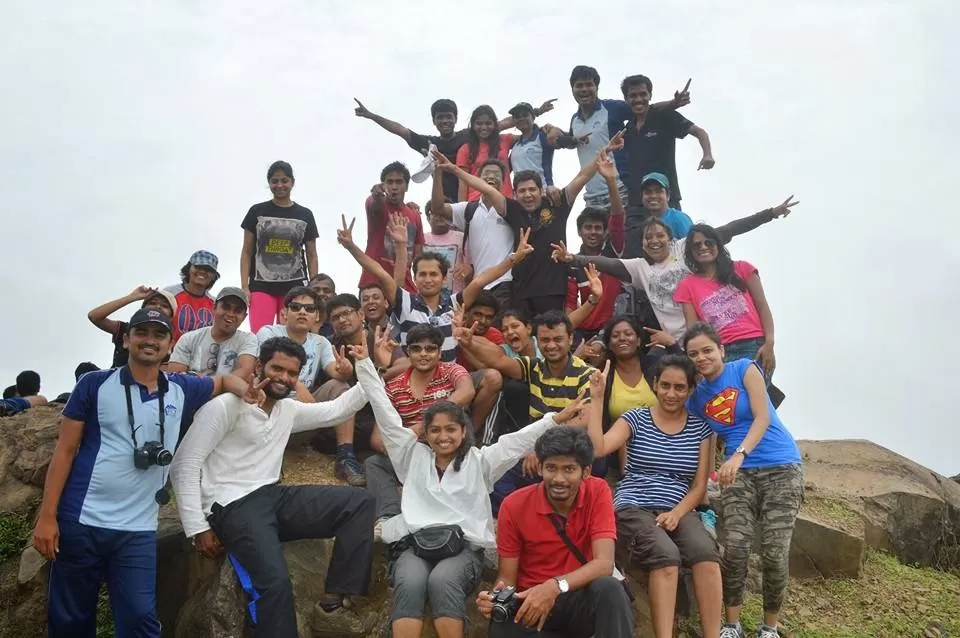 3:15 PM: Post Jevan we started to descend as the hollowness of the same path will daunt again and home is what one long for all this time. We (me n Tamanna) were part of the early movers but by taking pauses the last crowd met us in the middle. Walking back was absolutely difficult coz of the sheer slope and an eye for details is what can save one from falling.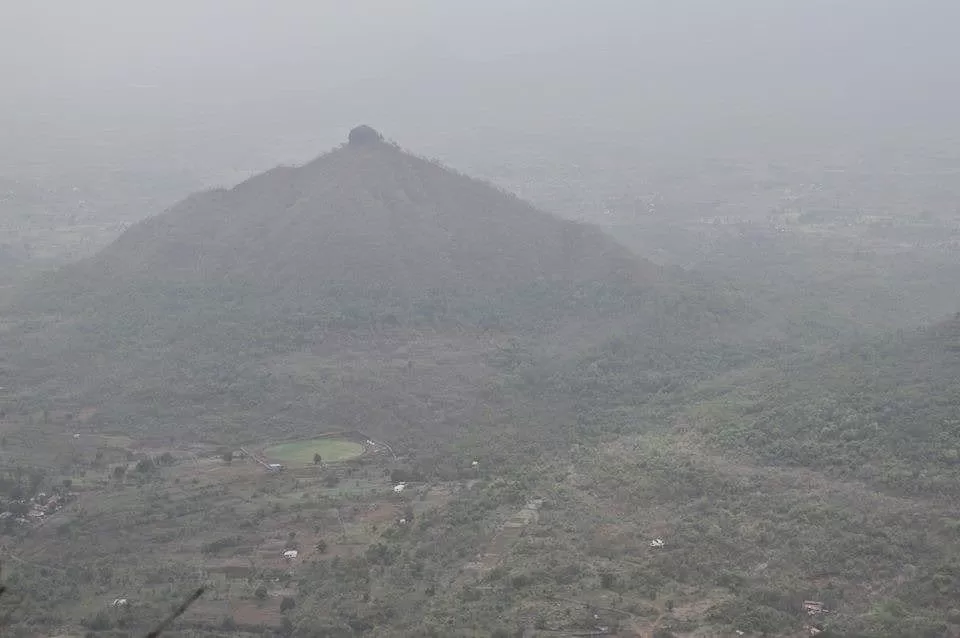 It was 5:15 PM when we reached the TT back but a portion of the crowd still had energy left to swing on the long branches of Banyan tree. Amol did propose us a ride but busting head and aching back had strong influence to decline the offer.
They further took us to 1 among the 'Ashth Vinayak Ganpati Temple' on the way and I had one of the best wada paav and chai at the adjacent dhaba (this one was a true reliever in all respect). Me, Tamanna and few others were as good as dead 'almost' but remaining crowd (probably frequent trekkers) were still loaded with the energy thus they were dancing, jumping, playing on the way back home which eventually ended with 10-15 rounds of 'Dumbs raj' game.
At around 9:15 PM I was back home, barely walking, talking in the lane but definitely returning with hell of memories to cherish with crazy fellows.
At last, a day well spent is what I could afford to think before dozing off that day around 9:45 PM.
"Roads Untraveled, Paths unfolded" (Rain could have added more fun but I dint wish for)......will meet again on another! :-)