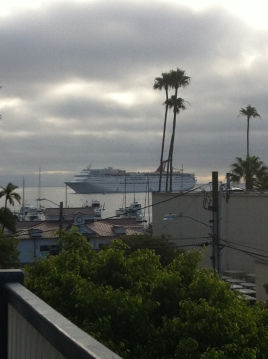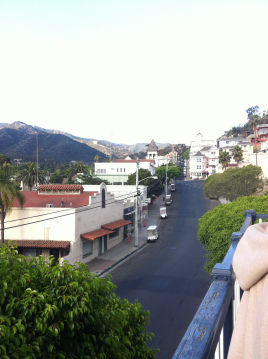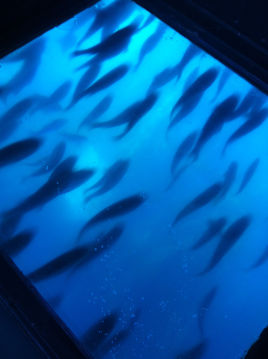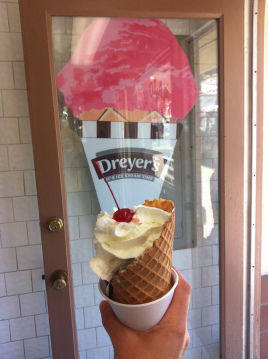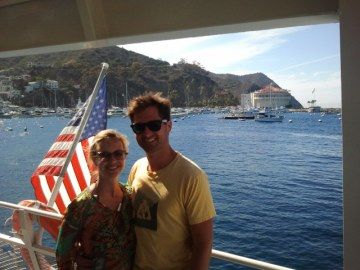 My whole life, I've never been to Catalina before and I've been twice last year, within 6 months of each other actually! Funny how things like that happen. My first time was on Valentine's Day, for a lovely let's get "outta-town" trip, which was one month after Mr. No Pants Man's birth. A much needed and much appreciated getaway. Mr. No Pants Man did so well on his first voyage cruise, he slept the whole ride over on the Catalina Express. Our second time was this summer and it was a whole gosh-darn family and friends extravaganza!!! We had 20 people! Whaaaaaaaat?!?!?! that's CRAAAZY!!! This trip was the highlight of my summer for sure! I couldn't believe how awesome it was to have so many friends and family on a that little perfect island. We brought an EZ Up to the beach everyday, blankets, chairs, towels, sun block and lots of snacks.
Bright sun shining water, electric orange Girabaldi fish, blow-up inner tubes and salty snorkels made our 3 day vacay just magical. I don't have a large family, so for me, this was a real treat having all the people you love (well, not everyone) right there all day long and on vacation! We stayed at the Hermosa Inn (a discount joint) which is perfect for what we needed; a place to sleep and bathe. Our gaggle took up an entire floor of the historic, run-down, but perfect little inn and we all had a blast! All of our doors were flung open most of the time, going in and out looking for whomever we needed at that moment, like a game of Hide and Seek. The second night we were there, we ordered take out pizza, brought it back to our rooms and ate out in the hallway while drinking beer and wine and telling funny stories, what a riot we all are! I'm so lucky that we made this trip happen. Most of us are on a budget and that was just the perfect way to spend a warm, summer evening. Who needs air-conditioning and chocolates on the pillows ?! (well, I would) the way I look at it, it was a step up from camping! I'm not a fan of the "outdoors" when related to the actual sleeping on the ground, part of the "outdoor experience" people talk about.
Catalina Island hosts all sorts of events and contests durning the summer, one of them was a lip-syncing contest for children, my nephew and another one of our younger family members decided to enter and it was hilarious. Most of the children stood in one spot and would mouth along with the pop song, barely smiling and not much in the way of entertaining the crowd, but one of our little guys had his step-mom hop up there on the stage and they wowed the audience with hip gyrations and large arm movements to the song, "I'm sexy and I know it" by LMAFO. http://www.vevo.com/watch/lmfao/sexy-and-i-know-it/USUV71101468 Needless to say, they won over the judges and crowd! We laughed so much on this trip, I will never forget it!
It makes me smile every time I think of that night in the hallway…
Fond memories, best summer experience…