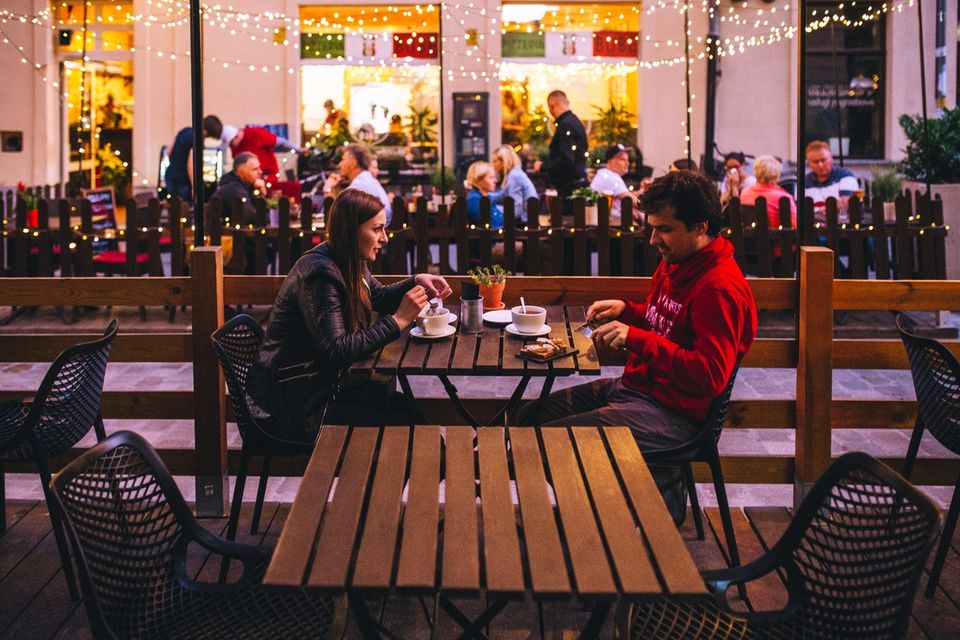 You swiped right; you matched; you had a great conversation; and now you want to put your best foot forward when you meet him/her for the first time. We all know that the ambience of a place has a lot to do with your mood and as such it becomes critical to choose the right locale for your first date. So like a good wingman, I will guide you on your mission to find your love. Plan the perfect first date for him/her at these amazing cafes in Bangalore:
1. Byg Brewski Brewing Company- With live music, outdoor seating and a full bar menu available, Byg Brewski is the perfect setting for a date. And just look at how it looks!
2. TBC Sky Lounge- For the gourmet lovers in town, this is the best place to tickle someone's taste buds.
3. Onesta- Do both of you love Pizza and will bond over how much of Pizza each can devour? This is where you should head.
4. Bloomsbury's Boutique Cafe and Artisan Bakery- Up for a unique culinary experience that would leave a lasting experience and establish you as someone who knows where they are heading? Head to Bloomsbury's Boutique Cafe and Artisan Bakery.
5. Rural Blues- A small long-drive away lies this eclectic cafe that won't just charm you by its food but also its vibe.
6. The Fatty Bao - Asian Gastro Bar- The way to someone's heart goes through their stomach. So why not hit the right spots by taking them to The Fatty Bao!
7. Flechazo- Unsure of what he/she might like? Get spoilt over food choices at Flechazo. A date won't ever go bad here.
8. The Fisherman's Wharf- Impress him/her with your taste when it comes to beverages at the Fisherman's Wharf. Though it may not be a good idea to do so on the first date, but you will definitely feel like drinking like a fish here.
9. Chianti- If he/ she ever mentioned that they love Italian, this is the place where you should take them out to without a thought, and you will be surprised if Italian food ever tasted so good.
10. TherPUP - a Dog Cafe- If both of you love cute furry gentle beasts, this is the right place to come close to each other. Play with the cuddliest pooches at TherPup while you munch on some quick delicacies.
Have you taken your date out to a fantastic place? Share your stories with us.