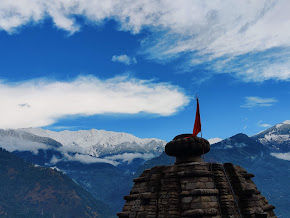 I have been confused and clueless about the lack of information about working from the Himalayas ( My version of WFH !) - productivity level at a new place, internet connectivity in a remote place, expenses, food and overall experience. Being an avid traveler , the itch to make use of the 'new normal' was bothering me for months. Finally , I decided to take the plunge and figure this out myself. So here I go !
P.S - My husband and I do corporate jobs and heavily dependent on internet for our work.
We travelled to Himachal for a week of holiday starting from end of March'21- started from Mashobra and then moved to Manali, followed by finding a right place to continue to work from home for the next couple of days. Just that these couple of days turned into couple of weeks !
We chose Naggar very accidently as I was looking for a place which is not in main Manali ( thinking its crowded) yet not too secluded. It was a charming surprise as Naggar is a beautiful offset to Manali, 30-35 mins before Manali , towards Kullu. It is definitely less crowded, has some charming cafes and a vibe which is not 'touristy'
Across these 8 weeks ( and still counting ) , here's how our ( my husband and I ) typical day looked like -
Woke up around 7 AM to views like this! This is a lovely hybrid - hotel + homestay place which suited our needs of a decently big room, well done interiors , extremely clean bathroom and most importantly open spaces in the form of this huge balcony and very well maintained gardens. We had a quick coffee followed by a walk in the Jungle.
Walk in the Jungle led to some stunning discoveries. Everyday we learnt about one new plant, one new flower, fresh air and some lovely dogs to pet! Medium to Easy incline walks for 1 hour or so was a very comfortable burn of calories. The smell of fresh air after being at home for many months added to the much needed refreshment of the mind and body! We would either stop by at the many cafes for breakfast or head back to our stay and have meals there itself.
We could comfortably start working by 9.30 Am or so. Now the most important topic - INTERNET!
Similar to Treetops cottage in Naggar, most of the places we went to also had fantastic internet. The local cafes also have good speed of internet which was reassuring! Many afternoons we worked from these cafes as there were very few people making it as quiet as work would need. We did carry a Jio pocket Wifi which came in handy on some odd days when it rained and got borderline stormy leading to interruptions in internet. Airtel and Vodafone worked great so in emergencies we could hotspot too. Some places its either / or vodafone or airtel, Jio works everywhere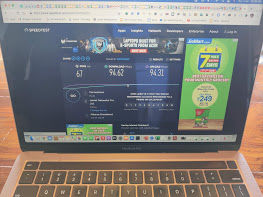 On some days we would wind up our work earlier and go to cafes in the evening. The pic above was clicked from the rooftop of one of the cafes right next door.
We met a lot of locals, travelers like us, had some memorable conversations and formed long term bonds! We looked forward to these times to learn about Himachali culture, food, people , tradition via the extremely warm and welcoming locals !
We used our weekends by going for a longer trek to neighboring villages - eg: Rumsu or got together with a bunch of people to go to some stunning one day treks like Bijli Mahadev.
If you happen to come to Naggar do try out the German Bakery for coffee and deserts, delicious meals( homemade indian or mouth watering pastas) at their rooftop called Ragini, Sharma ji's parathas and chai, Beena's tibetan pasta, Wool cafe's pizza and Homemade cafe's rum balls!
Here's how the cafes look by the night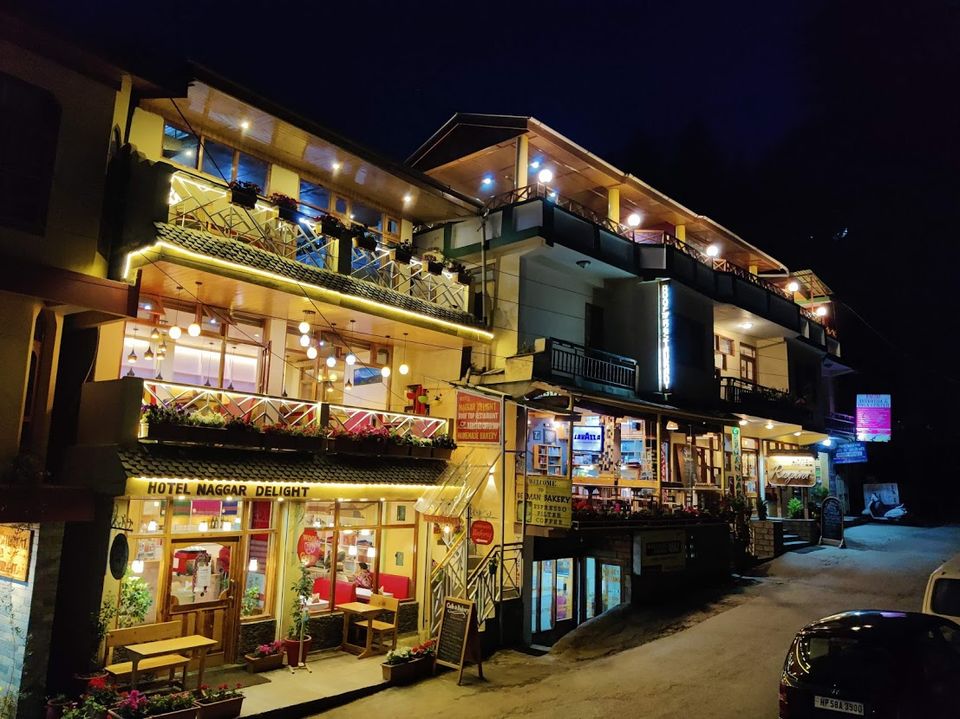 After a month of being at Naggar, we wanted to go to Manali for a change in scenery. The Dhungri forest which is beyond the famous Hadimba temple is a stunning walk! Well laid out paths amidst the magnificent deodars became our companions for the next couple of weeks. This place was walking distance to old manali or mall road for the occasional cafe cheer!
After being away from home for more than a month, we started missing home food and hence, decided to move into the next stay with a Kitchen. By this time, Covid cases started rising in H.P and lockdown had set in. With cafes being shut now, we were happier moving to a smaller village as we were not going to miss the restaurants anyway.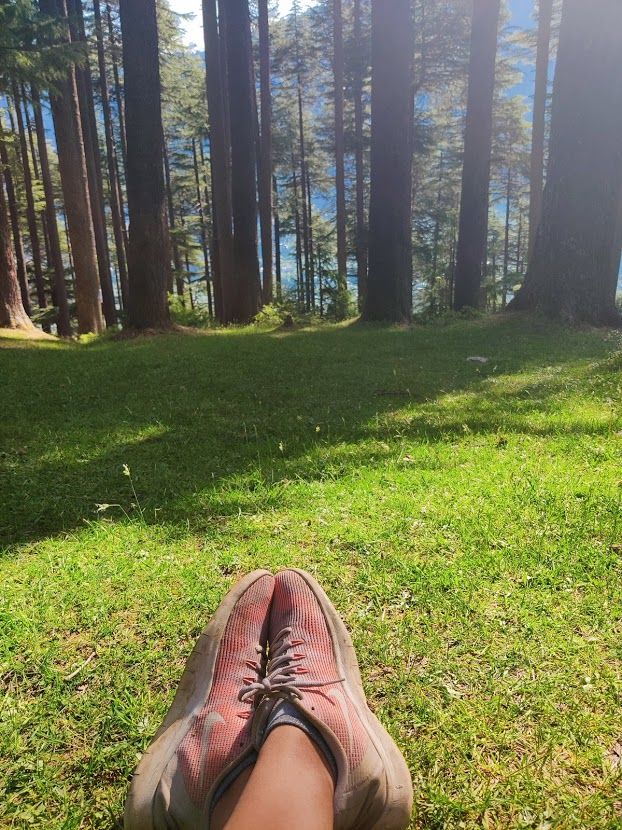 In a quaint little village called Batahar , 17 km away from Manali and 5 Km before Naggar, we found out next stay! This one is built very aesthetically and had a kitchen to ourselves along with a help who would do most of our cooking. It has two rooms and a huge living room with an open kitchen in the middle. We are lucky to just book one room yet have the common space ( thanks to the HP lockdown) We are sorted for few more weeks now!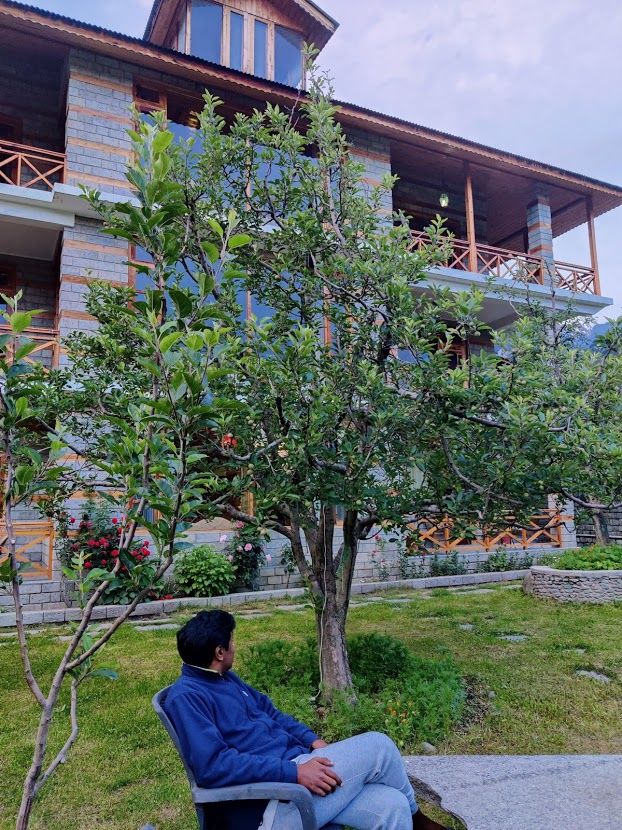 The kitchen allowed us to cut down on food costs, eat healthier and save a lot of time during meal breaks
In a summary, here are the two sides to this trip -
PROS - You breathe fresh air away from cities, keep your mind sane in these tough times, explore a new culture like you never can on a defined holiday, Not worry about grocery, cooking, managing a house like you would back home , get more productive at work as you have something to look forward to before or after work, make the most of WFH times! The biggest pro is you explore a new beautiful lane everyday and move beyond the touristy tick marks at your own pace as you are not covering an itinerary anymore. This was the most liberating feeling for me!
CONS - Could be expensive depending on the stays you choose, may miss home food faster than I did, in case of emergency not very easy to get back home, the nearest airport is 10 hours away. Bhuntar is technically an airport with one flight a day and three times the cost, be ready to be mobile and live out of the suitcase.
EXPENSES ON STAY/HOW TO CHOOSE A STAY?
Stays in Himachal can suit any budget. There are multiple factors to consider for choosing a long term stay. Monthly stay cost can range from Rs. 25K to Rs. 90 K a month. Here are some of the key factors based on which these prices depend -
1. Location - Old Manali is cramped and harder to get an open space kind of homestay, there are more of hotels and yet pricey. In manali , we stayed in Dhungri near Hadimba but essentially location means less secluded, closer to cafes and the happening part of the town - be it Manali or Naggar. I strongly recommend looking for slightly outside areas like Bhatahar, Aleo, Burwa as they still have great views, less tourists, driveable to manali and yet cheaper. You can always do a bit of both these types of stays too.
2. Size of the room or common private space - In our Dhungri village stay ( not recommending at all, hence not naming here) , we had the best room in the stay but the ground floor rooms which were smaller and had no private balcony were priced at half of what we paid. They still had the common living area and a common balcony access. Small compromise but a great cost saving!
3. Views - Direct views from room/stay is an add on as you feel like you are in the Himalayas and not in a flat in Mumbai facing other buildings :)
4. Aesthetics - Living in a concrete house vs a wooden flooring and ceiling pahaadi house does have a big cost difference too. This is a personal choice, we didn't want to live in anything like our flat but some may feel that they still have access to everything pretty outside, so why not save some penny here. Sure!
5.Amenities - This would mean access to laundry ( one gave us free access to the common washing machine, one took our clothes to a laundromat and charged, one offered nothing!) , open garden spaces where you can work from, room service for cleaning and food, in-house chef. Main manali food is a tad pricey but Naggar was very affordable and well priced
Depending on the compromises or inclusion of the above parameters, you can get a good stay anywhere from Rs.20k to 90k a month. The highest end of spectrum will check all the tick boxes and I am not looking at super grand 5 star like hotels as that's not the intent here. If you can give upfront commitment for longer stay, you can steal a discount of 25% too.
For a ballpark figure, our first ( Naggar ) and third stay( Bhatahar) were around 3k a night, while the one in Manali - Dhungri Village was for Rs. 1800 a night. For food , we paid around Rs.500 a day per person but this includes coffee, three meals, deserts, just about anything we wanted to eat , when we got our own kitchen, this substantially came down.
HIGHLY RECOMMEND - The smartest thing to do is book a decent stay for a week and spend that time to walk around and enquire about stays. You will find the best deals this way as many of them are not listed online plus you will save the online portal share of the cost.
WHAT TO CHECK FOR IN A STAY?
- Internet speed : Ask the owners to take a screenshot of the speedtest
- Table and Chair : Impossible to work for long hours on just a bed , so we asked for this and people arranged for it if they didnt have one. We were two of us, so the Naggar stay folks gave one of their own study table and chair
- Lighting : We got lucky in the first stay but realized how important is lighting. Most stays were not built for long term stays and hence had dim hotel like lights which is a pain if you are working from home.
- Power Back Up : This was not a big problem, but do ask . If the stay is in an area which has frequent power cuts, you may want to check on duration of the cut, power back up availability. Keep your laptops and phones always charged, you never know. Keep a power bank handy
HOW MUCH TO PACK FOR A LONG STAY LIKE THIS?
Just enough for a week to ten days. Remember you are in a cold area - you sweat less and hence reuse clothes a lot more than you can imagine.
WHAT SHOULD I PACK?
Power bank for those extremely rare short power cuts, WFH essentials, essential medicines, warm clothes which can be layered as the weather can get unpredictable, windcheater ( I missed bringing them and highly regret this!) as it continues to rain on and off all the way till now ( late May) , not just any sports shoes but preferably trekking shoes. These villages are inhabited so you will easily get your basic essentials like a regular brand of toiletries eg: Himalaya
SAFETY: HP has one of the nicest, warmest set of people. There is a reason we don't have a view on HP as they are never in the news for wrong reasons.It is extremely safe for women, solo travelers, walking on the roads in late night or just about any other regular adventure you can think of. We met some lovely locals and homestay owners who went out of their way to let us enjoy the culture of HP.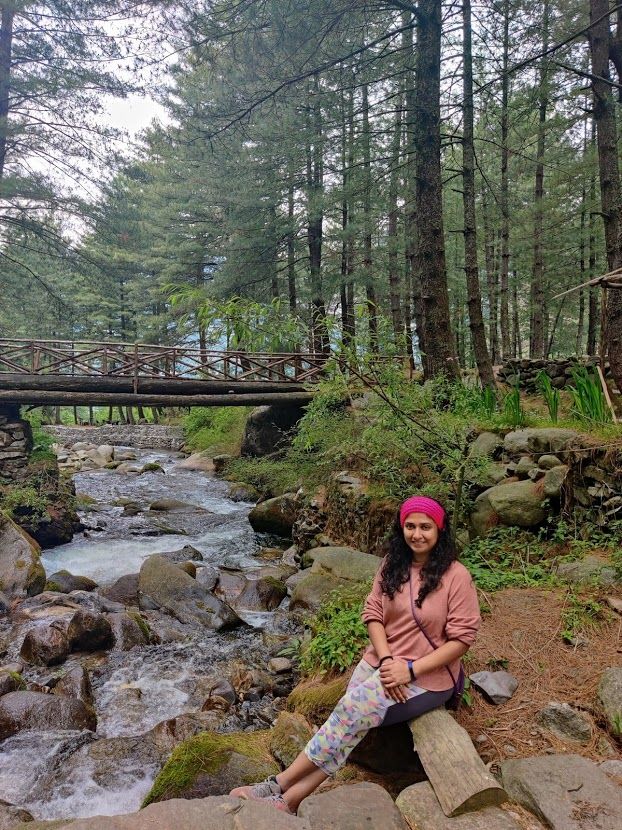 The pandemic has changed ways of working and probably the only chance to experience living in the mountains.. what are you waiting for?