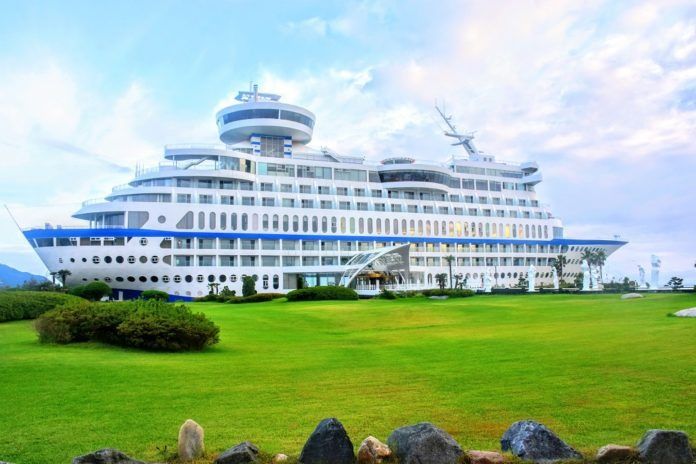 Sun cruise Resort and Yacht is one of its kind in the World. It is a resort in Jeongdongjin South Korea ( east coast). The unique design of the hotel resort makes it one of the major tourist attractions of the Country. It gives you an experience of living on a yacht. ( Perfect for people who have Thalassophobia or fear of sea)
The property is well managed and thoughtfully designed. The lovely exteriors are complimented by stunning interiors. Beautiful fish pond at both the sides of the entrance way is an interesting addition. The property has a park with many unique sculpture. There is plenty of space for you to unwind.
What to expect at Sun Cruise resort & yacht?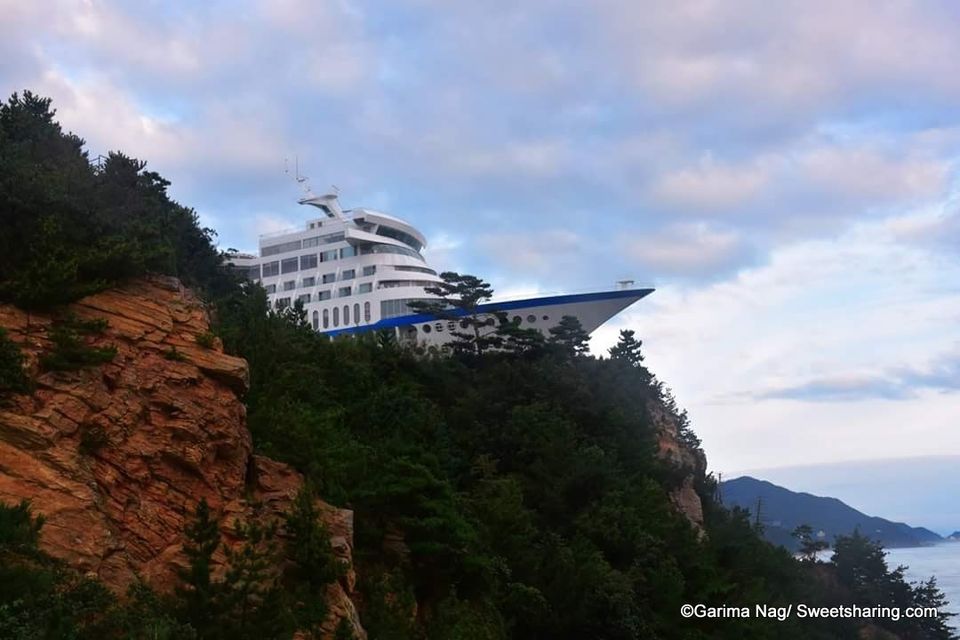 It is one of the most unique hotels hands down. The first word that came out of my mouth when I stepped on the property was WOW. We were there to celebrate my birthday. I thought It was the perfect location to bring in my special day. In fact, it could be a perfect venue for any celebration, birthday party, small wedding or get together.
The sprawling property boasts of a huge pool, European and Korean restaurants, Karaoke room, health club & convenience store. The room's interior is a bit dated but in a good shape.
Booking tip : Although all the rooms have sea view but the rooms of the north are better. It gets better at high floors. The room with sculpture park view has the actual sun rise view.
Wow Factors of Sun cruise resort & yacht
There is no denying that the location of the place is a winner. The view is spectacular from every angle. Unlike many other prime hotel properties which are either amidst the commotion or sandwiched between other buildings, Sun cruise resort & yacht will wow you with its setting. The serenity of the place is unmatchable.
2. The Interior
I checked the pictures of the resort online. I was rather skeptical if it was as good as it looked . It was indeed beautiful, actually better than I expected in terms of the appearance. The granite flooring, rich wooden interior complimented by equally gorgeous artifacts, a breathtaking center piece and delightful flower arrangement make a wonderful first impression.
3. Perfect romantic getaway
If I could have my way I would have planned my honeymoon at this place. It is simply romantic. Every room has spectacular view. Imagine getting up in the morning with an insane sunrise view.
Swimming in the pool or taking a walk in the lush garden with your partner, a candle lit dinner with a 360° view of the place, romantic gazebo to spend a cozy evening, it's perfect for a romantic getaway.
Sightseeing at Sun Cruise Resort & Yacht: Not planning to stay at the resort? You can still check out the property by paying an entrance fee of W 5000 per person. You will be allowed to check the sculpture garden and beach area.
No So happening facts about Sun cruise resort & Yacht
The rooms are spacious and well kept yet first thing you will notice is that they do not have the usual toiletries in place. Apart from Shampoo, conditioner & body wash in Jumbo bottles there are no other product in the room. With the price tag, it is expected to provide at least the usual welcome pack to the guests. I have stayed at several hotels in South Korea. They all provide good quality personal products like hair gel, body cream, eye mask, room slippers, dental hygiene kit etc. It was a big disappointment considering the price they are charging.
2. Cleanliness
It came rather as a rude surprise that the room was not properly cleaned. I could see the traces of previous guest in my room. Beside the sheet and comforter too has a strange smell. The room was not cleaned until we asked for it at the front desk.
3. Water is chargeable
You heard it right. You have to purchase water bottle as long as you stay here. There is no provision of complimentary water bottles or drinks in the room. I found it odd.
4. The restaurant & cafe are expensive
The first impression of the place was pretty good. Hence we decided to check all its in house facilities. We tried the restaurant and cafe. The menu was decent but not comprehensive. They had a nice selection of wines. Somehow at the price you would expect a fine dinning experience but it was a let down. There was just two tables occupied yet the food took a good 30 minutes to arrive. The waiter didn't speak English therefore was not of much help. If you are on a budget, I would recommend to try any eatery outside than the in-house restaurant.
My Verdict
Sun cruise Resort & Yacht is a place to spend a relaxed weekend. The place speaks luxury and class. It is unlike any hotel or resort in South Korea. I was totally smitten by the beauty& elegance of the place. Overall it was a memorable trip for me with minor glitches. If you like to unwind at a luxurious and one of a kind place in the world , this is the your bet. Totally Recommend!
Services: 3.5/5
Activities around the place: 3.5/5
Location: 4/5
Value for money: 4/5

A compulsive traveler, voracious reader & habitual fashionista. Love to explore, live & laugh.