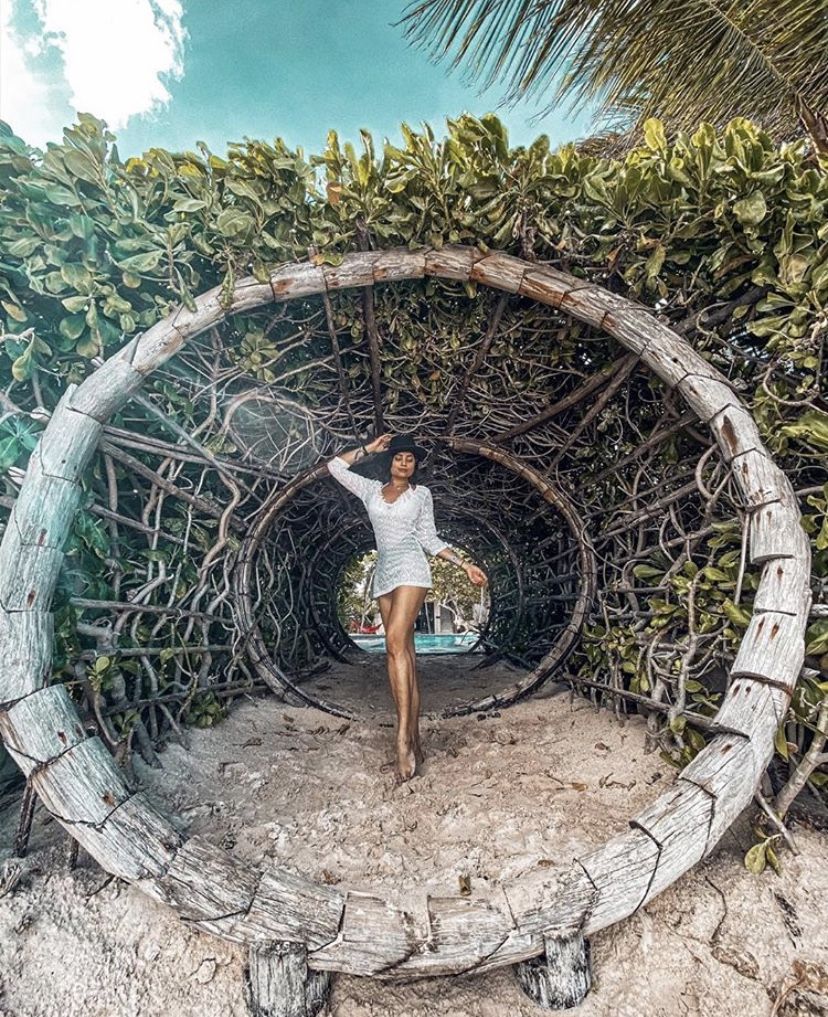 You have to visit this paradise town situated on the Caribbean coastline of Mexico's Yucatan peninsula. Tulum is all about luxury boutique hotels on the beach, and fancy restaurants that masquerade as hippy-chic establishments. You can also plan a trip on a budget, as there are many hostels and affordable places in Tulum, but I would recommend staying in a beachfront luxury hotel at least one night. We all need some pampering from time to time, don't we?
In general, a trip to Tulum would definitely cost your pocket, but it is so worth it. So, start saving already as these five luxury hotels in Tulum will make you crave for a tropical Tuluminati experience with views of turquoise blue crystal water.
Note: I went to Tulum for the New Years and the hotel prices are super high during high season (nov-dec), so better plan your stay for off season- same luxury, and you pay way less.
1. Ahau Tulum
Looks familiar?
I am sure you must have seen this giant art structure on Instagram as it is one the most photographed place in Tulum. Guess what, you can stay here.
This upscale Eco-friendly beach resort in Tulum is my favourite hotel in Tulum with the best staff at your disposal at all times.
3. Habitus Tulum
A sustainable sanctuary fronting a beach on the Caribbean Sea, this relaxed hotel in the jungle of Parque Nacional Tulum. It is the best eco-luxury hotel in Tulum, setting standards for laidback luxury. The hotel was designed in partnership with local carpenters with the intention of having as little footprint as possible – quarters, for example, were constructed on elevated platforms and feature natural palapa (thatched) roofs.
You won't need the WIFI here, though it is provided throughout.
4. Mimosa Tulum
Luxury that will suit your budget. Mimosa Tulum is located in downtown Tulum, away from the beach. The owner, Jimmy is very friendly and makes sure that you are having a great time.
5. Alma Hotel, Tulum
This tropical luxury boutique hotel offers comfortable, relaxing beachfront suites with Mexican style decorations, private beach access. Perfect for couples or group of friends.
2. Casa Malca
Pablo Escobar's Mansion is now an art-filled boutique hotel located in Tulum. Yes you read it right, you can stay in Pablo Escobar's house. Casa Malca is a trendy spot for photos and a great place to stay. It is a famous place among celebrities, so you'll be running into stars from time to time. Keep your cameras ready at all times.
If you don't want to stay here, you can still visit the restaurant which has a minimum spending of 1000 pesos, or $50 per person.
This hotel has the best cafe in town. "Raw Love Tulum" is a paradise for vegetarians like me. Their smoothies, acai bowls and yummy tacos will leave you craving for more.
Dreaming of Tulum already? Now you know where you have to stay.