Ubud is one of the most famous destinations in Indonesia, especially Bali. You have the famous Tegallalang Rice Fields (UNESCO Heritage Site), Tegenungan Waterfall, Ubud Monkey Forest, Campuhan Ridge, and so on.
But that is not all, Ubud is also quite famous for massages and has the a few of the best swings which offer amazing tree and river views. So, if you are an adrenaline junkie or if you want those envious Instagram-worthy photos of swinging on a large swing, then you have to check out these places in Ubud.
Bali Swing Options
We tried one of the highest swings in Zen Hideway but that is not the only swing option available in Bali anymore. Recently, many new Swing places have opened up here for you to try.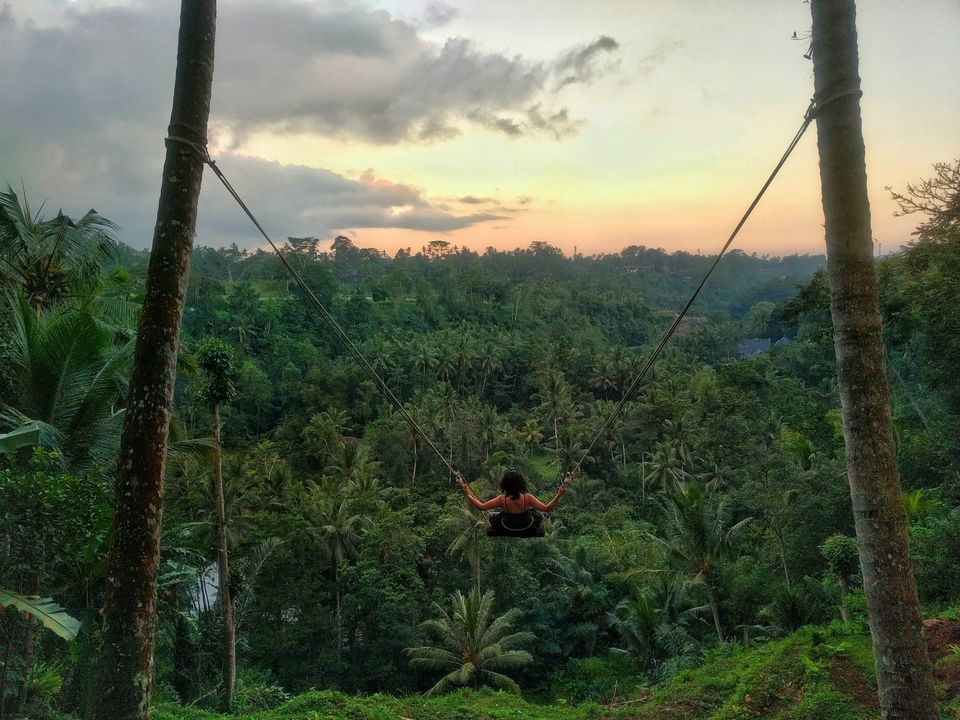 However, if you want the authentic experience or a good view then here are a few Bali Swing options to consider in Ubud:
Bali Swing
One of the most popular places for swinging in Bali is the Bali Swing enclosure where you have an option to swing at different heights. Also, this place offers a great way for swinging with palm views and river surrounding you, giving you a perfect jungle vibe.
It takes a 20 minute ride from Ubud to reach this place which opens up at 8 a.m. in the morning and stays accessible till 5 p.m. in the evening. There are other nests and structures here too for photography but the cost of using all this is 35 USD (including lunch and pick up from fixed points).
If you don't wish to use the swing then you still have to pay 10 USD so, you may as well use it and make the most of your time here.
Zen Hideway Swing
Another popular swing option in Bali is the Zen Hideway Swing which is a 30-minute drive from the Ubud city. Perfect place for people who are looking for some peace and quiet, Zen Hideway has a swing which is nestled amidst the coconut trees and offers you a mesmerising view of the Ayung river and small waterfalls.
The price for a swing here was 250,000 Rupiah but recently, they have stopped this option to people who don't stay at the property. So, if you want to enjoy a swing here then you have to be a guest of any Zen Hideway property.
Tegallalang Swing
There are two swings at the Tegallaland Rice Terrace from where you get amazing views of the rice field. The cost of swinging is also quite low at 50,000 Rupiah so if you are looking for an affordable experience then this is the place to go!
But remember, they use harness to keep you secured so if you are looking for natural pictures, then you have to photoshop your pictures or wear the harness inside your clothes.
Wanagiri Hidden Hills Swing
When we were visiting Indonesia, we didn't have many option for the Bali swing and certainly not the Wanagiri Hidden Hills Swing. If I did, I know I would have definitely chosen this option for my exciting swing ride.
This exciting swing ride overlooks the lake and is situated in the Munduk region, which is about 2 hours away from Ubud. So, this might be a great way to take a drive and explore the other parts of Bali. And the best part is that there are wooden teacups, human-sized bird nest, tree houses, etc. for you to take a picture in.
The price of using the swing and taking pictures on other nests is 50,000 Rupiah.
Where to Stay in Ubud
There are several hostels and guesthouses to stay in Ubud which cost about 50,000 - 150,000 Rupiah per night and are clean and spacious at the same time. I stayed at a hostel named Joker 2 Hostel which cost me about 100,000 Rupiah per night and included free breakfast, tea, coffee, water, etc.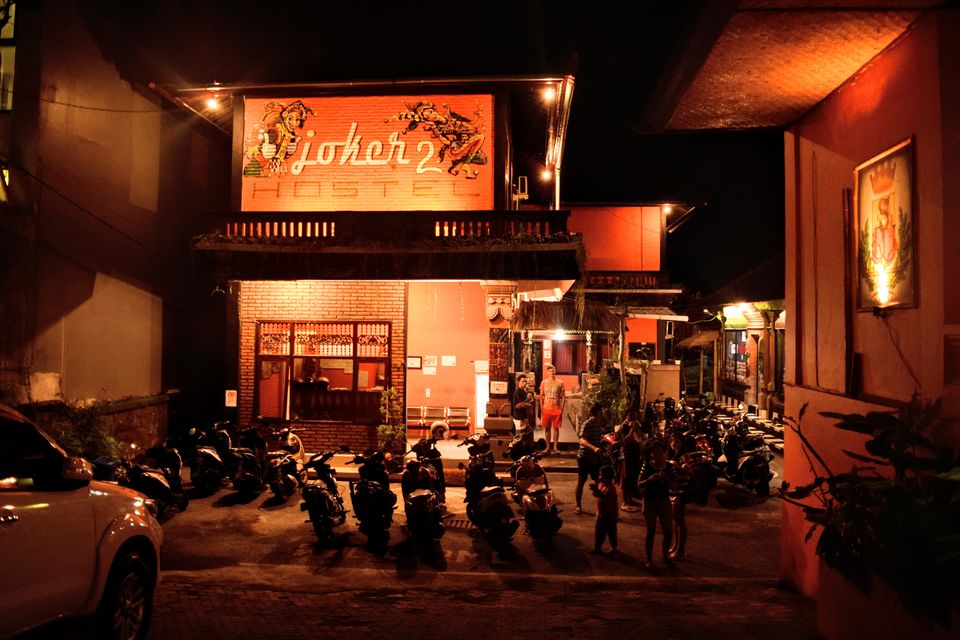 You will also find several other hostels, homestays, etc. in the same range which you can book at booking.com or Hostelworld as per your convenience.
Best Time to Visit
Ideally, this is no best time to experience the Bali swings. However, if you are looking for good photographs then reaching an hour before the sunset would be a good idea. However, do remember that you might not have too much time on the swing due to the setting sun so plan your visit carefully.
You can also go early in the morning when you will have to wait less and can actually enjoy the swinging experience while watching the morning sun shine.
Tips for the Bali Swing Experience
Swinging on a high swing while being surrounded by trees and nature is an exhilarating experience. However, if you want to truly enjoy yourself then make sure you follow the below-mentioned tips:
1. Wear the Safety harness tightly while swinging because this is an extreme sport. If you are not careful, you might end up getting hurt or worse killed as you plummet from a great height. So, while taking pictures is important, don't remove the harness and just enjoy the experience securely.
2. If you are scared of heights, then avoid heavy eating before the swing and acclimatize yourself before you transfer to the big swing.
3. For people who are looking for Instagram-worthy pictures on these swings, wear colors which will contrast with the background. Go for colors like red, yello, light blue, etc. to stand out.
4. Point your toes to enjoy the swing and switch the sides on the swing. You have 20-30 minutes to enjoy the swing so you can swing backwards and forwards so, make the most of it.
My Experience on Ubud's Largest Swing
I am terrified of heights but when I was planning my trip, I stumbled upon the Bali swing experience here. There was no question about not trying this swing because, after all, how many places do you come across which have such an adventurous activity.
However, in 2017, there weren't too many Bali swing options so I had to search a lot before I came across the Zen Hideway Swing details. We took our Scooty and made our way to this resort during the evening and well, rest is history.
First, they let us ride on a smaller swing which only required a rope to keep us in place. This was a great way to realize what you are getting yourself into and was certainly quite thrilling at the same time. After that, they shifted me to the bigger swing where they strap you in with a harness to make sure you don't fly off in the sky.
Overall, I absolutely loved this experience and would suggest anyone in Bali to give this swing a shot. It is exciting and memorable and a great way to overcome your fear of heights!
Frequent searches leading to this page:-
Bali honeymoon package cost from India, Bali honeymoon packages with private pool, 4 days 3 nights Bali honeymoon package, best places to visit in Bali Indonesia for honeymoon