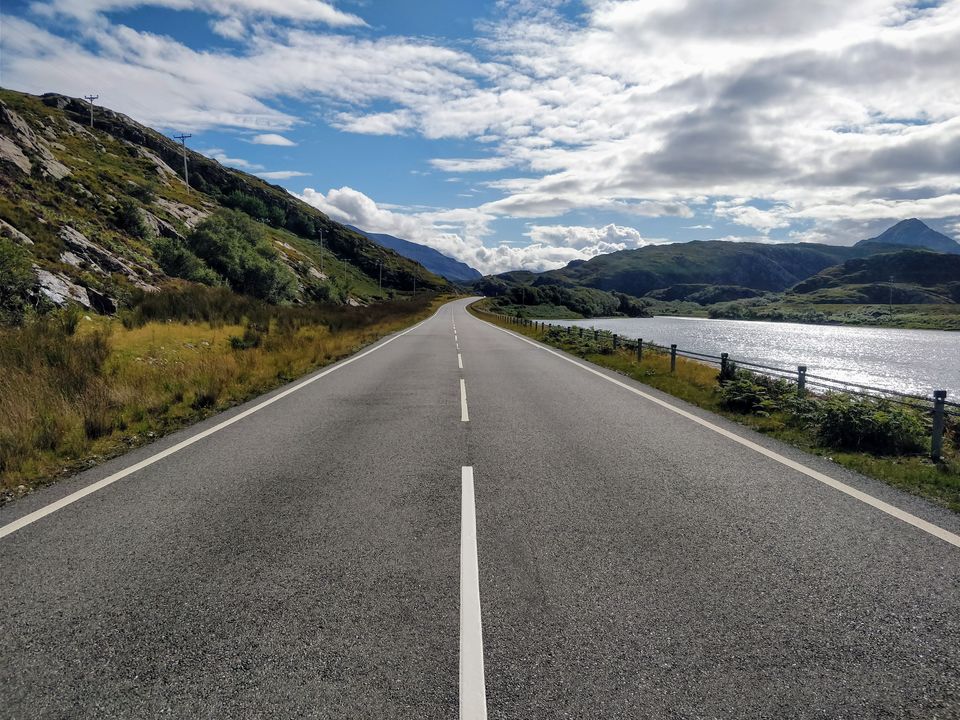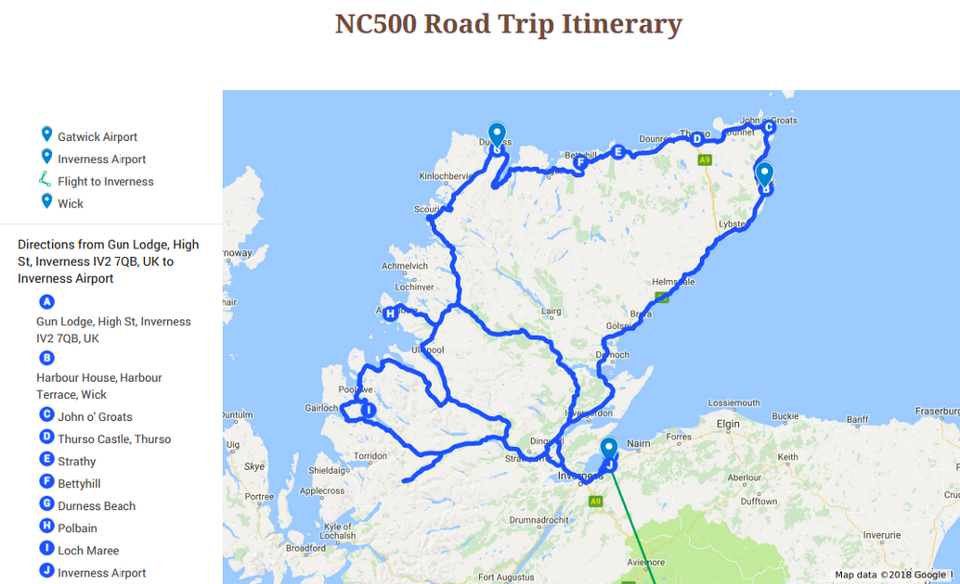 It was a bright day in Bexleyheath, London, where I was living for at least a month. The NC500 road trip had been planned well in advance, while I was still in India. I had read a little about what NC500 actually was, while trying to somehow restrain myself from finding out more. All I knew was that the time I was going to visit Scotland was an ideal time — summer was around the corner, which is considered to be one of the better times to visit these Highlands. All this, in an effort to research less and just go out there and have a thrilling time.
On the fine evening of 22nd August 2017, the first mode of transport was a flight from Gatwick to Inverness where the plan was to reach Inverness by night and start the road trip early next morning. It usually takes about two hours to reach Inverness from London. Inverness has a small airport and as soon as you step out of the airport, you know you have arrived in Scotland — it is located very close to the coast and has a very quiet atmosphere. The anticipation of what I was about to witness the next morning had already been built up, resulting in an anxiety-filled sleep, but I was pumped up as soon as I woke up, gearing up with all the gadgets I had, checking for batteries, chargers and other accessories. A car was rented for the next six days and, thus started the coastal drive into the Scottish Highlands.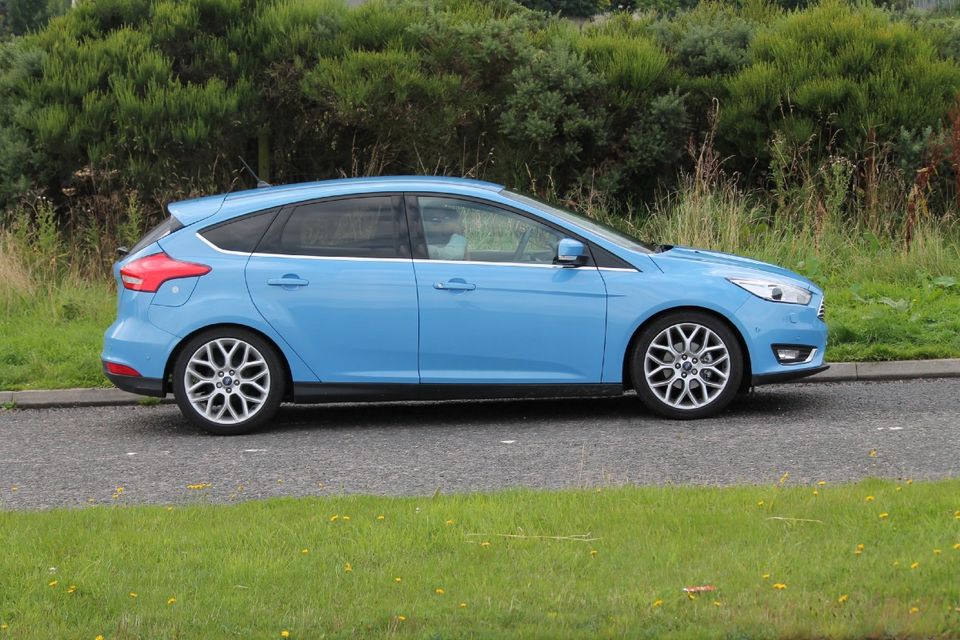 Starting around 9 AM and taking the A9 roadway from Inverness. As soon as I departed, the clean view of the coast and the sky brimming with clouds made me click a lot of pictures. The A9 roadway by the coast, stretching all the way to Tain (and beyond till Thurso) is about 35 miles long. The first stop was at Glenmorangie Distillery located in Tain. The distillery is huge and covers a large amount of land by the coast. It has a lovely aroma of barley which can be smelled as soon as you enter Tain. It is located in a picturesque setting and the buildings are what you expect traditional distilleries to look like. At only 10 pounds, the tour was a steal, considering how welcoming the staff were. I also learned what exactly is the story behind Sixteen Men of Tain. After a few sips of a wide variety of single-malt whiskies, I headed towards the Falls of Shin Community Project. Located next to the river Shin, it has a famous view point called Salmon Leap, where if you are lucky, you can see salmon leaping from the Falls of Shin on their journey upstream. As a visitor, you can see the salmon jump from the waterfall viewpoint, just over the road or wander into the woods on a peaceful forest trail and come back to the Community-owned visitor centre for food. The next stop was at Golspie to see Dunrobin Castle. By the time I had reached the castle, it was about 5 PM and 50 miles were left to cover for Day 1. The thing about the (Highland) countryside is that shops, markets and public houses close quite early and people go to bed as early as 8–9 PM. Keeping that in mind, I had to reach Wick by at least 8 PM (yeah, too much to cover and explore for Day 1). After a short drive in the fog, I arrived in Wick around 8:30 PM and checked-in to a nice cosy lodge, booked previously through Airbnb, and got out to get some dinner. It was funny to find one of the few restaurants open at this hour in Wick was an Asian restaurant called Spice Tandoori — had lovely Indian food with some nice people serving us. That lovely dinner brought my first day to an end in the Highlands and I had covered about 180 miles from point A to point B which was a lot of distance to begin the coastal road trip with.
I woke up very early the next day, at around 05:30 AM, and to my surprise, people were already up and had started their day as I saw a man reading a newspaper out on the streets. Seeing people up so early even before sunrise made me really wonder how life was lived in the Highlands. I started walking down the Wick river street under the bridge and found myself in the middle of Riverside Park. It was 06:20 AM and I saw the bright sun rising from the other end. It was such a good morning and I was amazed to check the time and reminded myself that the day had just started. Everything was right at that moment. I walked and spent another hour in the Riverside Park contemplating how lucky I was to be there in middle of the Highlands. I had to get from point B to point C and left Wick at around 10 AM. The next stop was Duncansby Head Lighthouse, about 20 miles from Wick. This lighthouse was built in 1924 and is the farthest by road from Land's End, about 2 miles from John O'Groats. This scenic point stretches all the way to Skirza Head covering 4 miles and the walk is an out-of-the-world experience. I highly recommend it. There are two types of seals found by this coast , the grey and the common seals. While walking, I read about selkies which are local tales of seals along the coast that changed for a time into humans (yeah!) by shedding their coat and sometimes they (people) hid its skin to prevent it returning to the sea. It remains the mystery whether these selkies are the souls of drowned sailors or legends arising from the grey seals' mournful singing. Moving west, the next stop was the most northerly point of mainland Britain — Dunnet Head. Similar to the other Heads, the view was just breathtaking with a bright mix of blue and violet coloured sea. Hours can be spent being wilfully lost in the utter silence of these cliffs, breathing in the fresh air. It was about 2 PM and I was starving, so I headed towards a town named Thurso, situated in the historical area of Caithness. I entered a pretty cool place named Y-Not Bar & Grill which is also a live music venue. Had a delightful meal with some tap beer. After finishing my lunch, I found out I had about 70 miles remaining for the day. I made several stops in the middle and then, stopped a little ahead of Loch Eriboll, at a place named Smoo Cave — formed over many thousands of years by erosion from the river and the sea. The last stop for the day was Durness, where the rented Airbnb apartment was located, by the coast.
It was the morning of 25th August, 2017, 4 days in the Highlands had gone quickly by and as soon as I woke up, I took a walk towards Durness Beach, close to the Sango Bay viewpoint. It was a lovely quiet morning with a light breeze and several campervans were parked close to the beach — beautiful setting and few people were sitting around the shore. There was something about the air in Scotland and even though it was summer, the cold wind was a constant reminder to wear more layers of clothing. At around 10:30 AM, I left Durness and headed down towards Ullapool. The first stop was at Scourie which is a small village famous for birdwatching. The scenery I witnessed at Scourie beach was quite dramatic and dominated by mountains all around. I was surprised to spot a few palm trees despite the northerly location. Weather across highlands can take interesting turns, so don't mind if you see heavy rains or fog during summer time, well, you are in the Highlands. Before reaching Drumbeg viewpoint, it started raining heavily and that's when I spotted a candy shop that said "Secret Tea Garden" inside which looked pretty inviting, so I decided to make a short stop (since it was raining anyway, so needed a shelter) and explore the secret tea garden. It was a lovely small food joint filled with positive notes, cakes, breads and pastries. The owner was very welcoming and really humble. He had visited India and we spoke a little about how clean the air is, in Scotland. He further told me about a special fungi that only grows in some northerly part of Scotland, which has clean air and no pollution. I laughed and told him I didn't think any fraction of pollution could be noticed or formed here in these Highlands. After spending an hour or two there, I headed to my next Airbnb house which was located a little north of Ullapool, at a place named Achiltibuie and called it a day while seeing the picturesque dusk. An interesting thing which we did was sunset chasing at 8:30 PM in the evening, where we drove around the lake to find the perfect view of the Highland dusk, a shot of which can be seen below.


The host was Ian and his lovely old property called Tigh na' Tilleadh (tigh is an archaic Scottish term for a house) was a house that was equipped with almost everything a visitor would need. Generally people across the highlands are pretty friendly and Ian was one of them. Among number of interesting discussions I had with him, one stood out for me. People across highlands do not lock their homes as there is a strong feeling of trust amongst the community, I am not sure how much of it is missing in today's world. The house also had a turntable, an LP player on which I played some old-school records (Iggy Pop, Def Leppard, Jimi Hendrix and Iron Maiden). It was the start of a very lazy day because the house settings were pretty groovy. The one interesting drive to cover for fourth day was Applecross. After finishing a very healthy breakfast full of nutrients, I left Ian's property around 10 AM. The first stop was at Ullapool, the northwest's principal town famed for its cultural life in the northwest Highlands region, notorious for live music nights and boasting a few quality restaurants and drinking holes. Since it was afternoon, I didn't quite get to see the nightlife but the town was as scenic as other parts of the Highlands, except it was northern Highlands. For travellers starting NC500 from the other side of Scotland, Ullapool is the first major stop. Northwest Highlands are also famous for midges, a tiny smaller-than-mosquitoes but much smaller whose bites are usually more irritating than painful. They usually appear in large numbers and cannot stand even a slight breeze, so they cannot keep up with you when you are driving, riding or even walking. There are midge hats and midge repellents available easily, so it is not as much of an inconvenience as I had expected (from a little that I had heard). The next stop was a random one, next to the Dundonell Hotel, where for the first time I spotted a Northern Lights campsite (active only in the winter and autumn seasons). A little ahead I also spotted Highland cattle with long wavy coats and distinctive horns, they are quite docile but really heavy. Applecross was ahead — a scenic 20 miles drive that allows you to appreciate Scotland's most magnificent mountain scenery (goes as high as 2,053 feet). I was really excited for this drive, but unfortunately, it was a single-track road and a caravan driving ahead of me blocked the view. It was clearly written on a red caution board that it is unsuitable for caravans but some people, after making it so far, take the Applecross Road anyway rather than missing out on something that scenic. Anyway, it was a really good drive and the view was really breathtaking. By the time I got down, it was around 6 PM and I had to check-in at Loch Maree Hotel in Achnasheen. I had another 80 miles to cover and then reach Inverness by the next evening.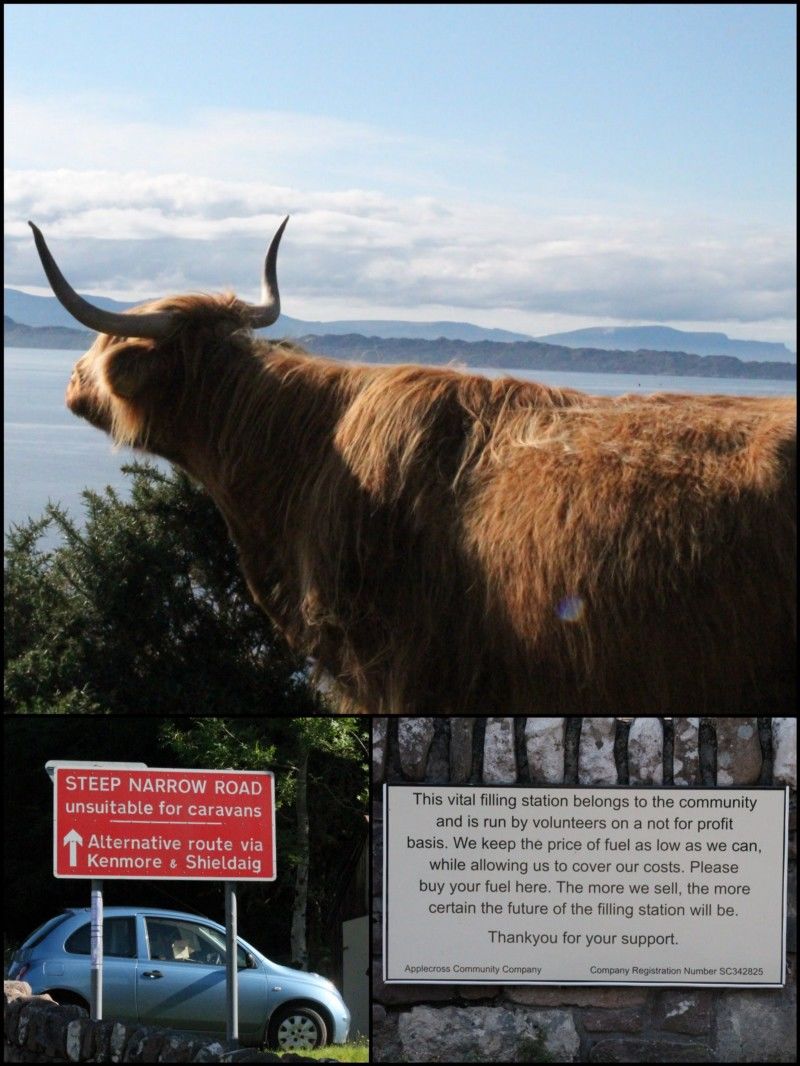 It was the last day in the Highlands and the stay at Loch Maree was quite exquisite. There's nothing more soothing than spending an early morning hour lakeside appreciating the Highlands. The advantage I had was that the lake was barely a two-minute walk from my room, which also had an unrestricted view of the said lake. I were very close to a small town called Torridon which is a mecca for all hillwalkers and lovers of wild places. The first exciting stop for the day was the Torridon Deer Park. After reaching Torridon Countryside Centre, I first bought some deer food and a few charity batches. The Countryside Centre was huge and I spent a good 10 minutes walking towards the protected deer park, a fenced-off area, where you can see deer in their natural habitat. The deer seemed ecstatic to see humans holding food for them and took the food from our hands, making sure to lick everything we had to offer. Some chewing grass, some looking here and there; deer are docile creatures indeed. After spending quality time there, I headed back towards Inverness and made the last stop at Rogie Falls. The Rogie Falls parking area is well-maintained and comes under Forestry Commission Scotland that has free leaflets detailing out the walks that can be taken either passing the beautiful forest or the falls. These walks are very underrated, and it is only after one has meandered between the abundant trees, amid the sound of running water that they feel their perspective being changed; something I had never experienced before. Like I keep saying, there is something about these Highlands, and people who prefer solitude, tranquillity and zen would definitely resonate with this untroubled region which is free of the recurring chaos of life.
Since I was a bit ahead of my schedule, I got out for a small walk. I was still not over the fact that my visit to the Highlands was coming to an end, and there were so many emotions and feelings attached to the northern coast. After reaching close to the coast, I sat down exactly where the road ended and merged with the shore. The wind was befittingly ungentle and cold, yet it felt comforting. It was an overwhelming moment that I attempted to experience in its entirety; one that I wish had never ended. The experience I was taking away with me couldn't have been expressed without all the pictures that I had taken. Covered with beautiful countryside all over the coast, this country is a must-experience. If time ever permits me, I would like to cover these five hundred miles again, at half the speed as I feel a good ten days can be spent peacefully in the Highlands.