Sri Lanka, also known as 'The Pearl of Indian Ocean', is emerging as an Asian tourist hotspot with its exclusive combination of World Heritage sites and history, rich culture, extensive tropical forests with wildlife, pristine beaches and extremely friendly people.
When we think of Sri Lankan food, the first thing that would probably come to our mind is rice and curry with coconut flavors. But there's much more in store for you - Sri Lankans have a variety of dishes with amazing blend of spices and the local fruits and vegetables. Their signature delicacies range from differently cooked rice to spiced meat and an array of desserts.
For travelers, it's like a grand feast to satiate all the senses!
Here are 10 dishes that would leave your taste buds craving for some more - and make sure to complete your trip only after trying all these!
Fish Ambul Thiyal (Fish Curry)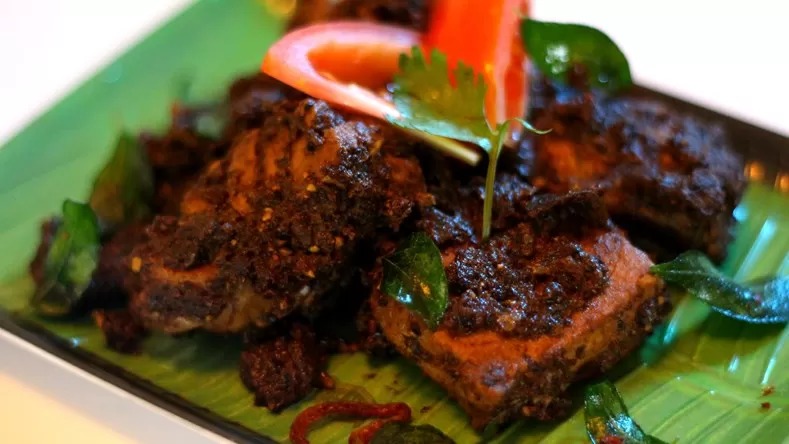 This can be called the signature dish of Sri Lanka, and the specialty of this preparation is that it'll last for a week in room temperature! The main ingredient is a special type of tamarind called 'goraka', which gives the fish curry a unique sour taste to tantalize your taste buds. Apart from goraka, there's a blend of other spices including black pepper, turmeric, garlic, cinnamon, and curry leaves.
This sour fish curry is usually cooked in a clay pot and served with 'kiribath' (a specially cooked rice).
Kiribath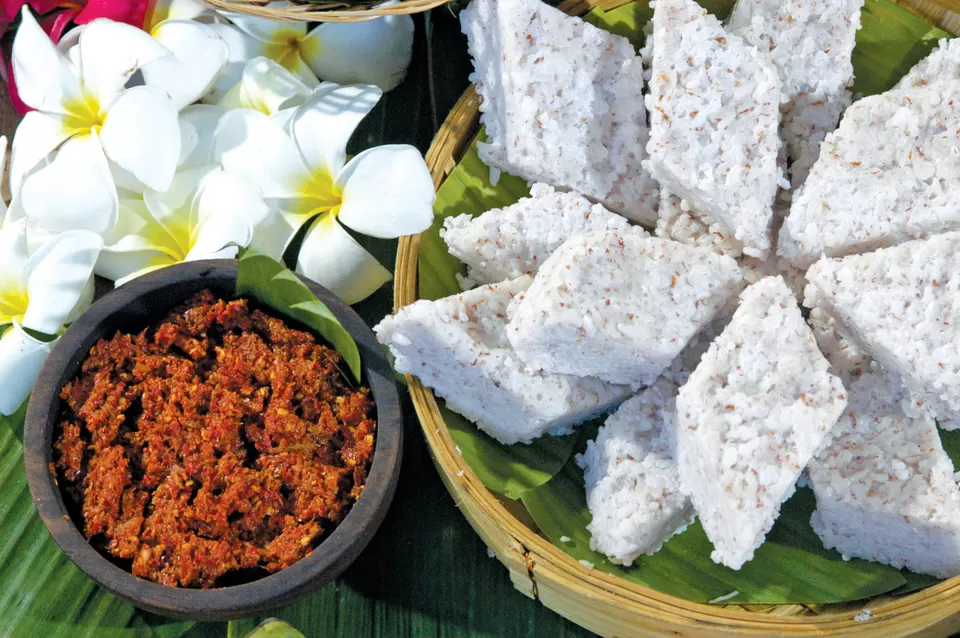 This is a special type of rice which is mostly cooked during occasions and for welcoming guests. The rice is cooked with thick creamy coconut milk and it has a slightly creamy taste. After the cooking process, the rice is cooled and cut into wedges and served like pieces of cake with rich fish or meat curry.
Lamprais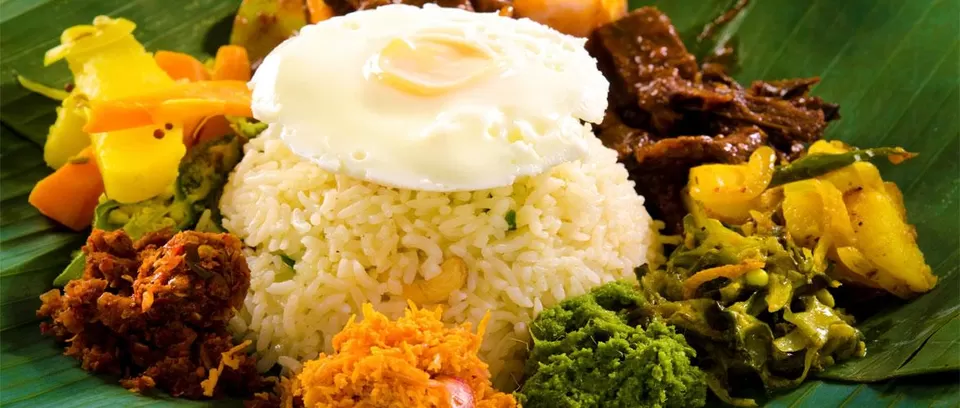 Originating from the Dutch word which literally translates to 'a packet of food', this was introduced by the Burgher community of the European colonial masters in Sri Lanka. This is basically a meal consisting of boiled eggs, frikkadels (Dutch-style beef balls), belachan (a shrimp paste), eggplants, meat curry, rice and sambol (desiccated coconut cooked with chilis and onions) - and all these wrapped in a banana leaf and steamed.
I guess this already sounds exciting to you!
Hoppers (appam) and String Hoppers (idiyappam)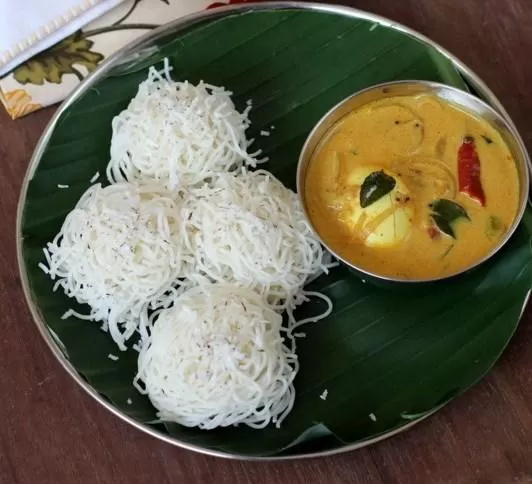 These are eaten at any time of the day - for breakfast, dinner or even as an evening snack! Appams are more like flaky pancakes made with a batter of rice powder and coconut milk. This is a famous dish in many of the Southeast Asian nations, but the one you'll get in Sri Lanka is slightly different from elsewhere, as it is often made with eggs and extra chili powder, to give it a spicy twist! Idiyappam is made from rice noodles - which are curled like a ball and flattened when served.
Ambul Polos (Green Jackfruit Curry)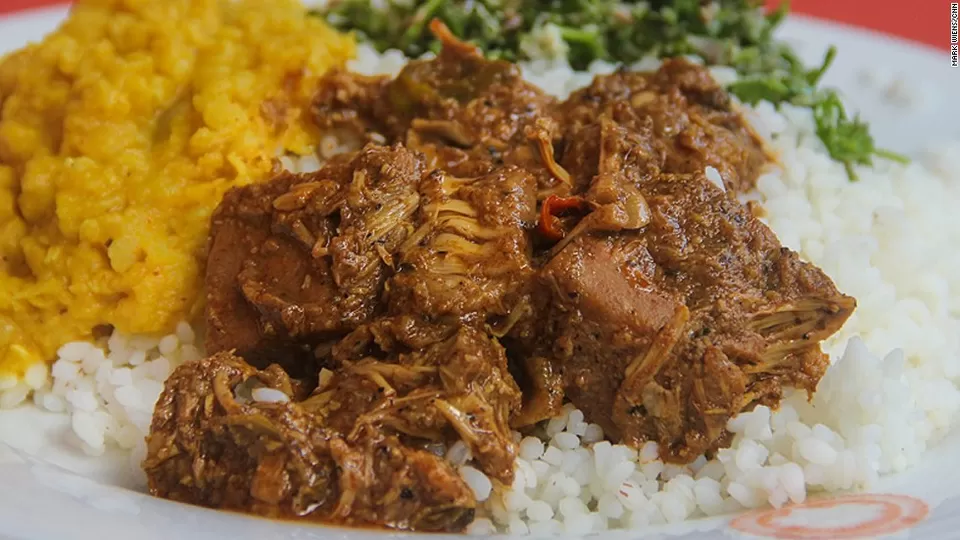 Sri Lankans love their vegetables as much as they prefer meat! Jackfruit is one of their favorites, and it is consumed in different stages of ripeness - from very ripe and sweet to green and starchy. They cut the raw jackfruit in chunks, and it's boiled till it becomes soft. It is then cooked with onions, garlic, ginger and spices like mustard seeds, turmeric, chili powder, roasted curry leaves and coconut milk.
Koththu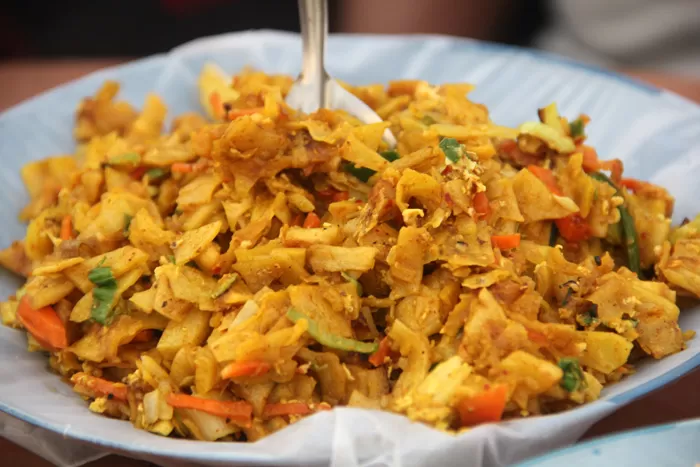 This preparation was introduced to consume the leftovers effectively - but with time, the recipe went through several phases of evolution, and now it is one of the most popular delicacies of Sri Lanka, which is an ultimate snack for the evenings! The 'godamba roti' (a flat crispy bread) is cut into pieces, and mixed with shredded meat, lots of green vegetables, onions, grated coconut, and spices. It is often served with a spicy curry sauce having a strong flavor.
If you get a chance to volunteer in Sri Lanka and be closely associated with the natives, or choose a home stay accommodation over hotels, you might get to taste the authentic koththu that's actually cooked with the leftovers!
Isso Thel Dala (Stir Fried Prawns)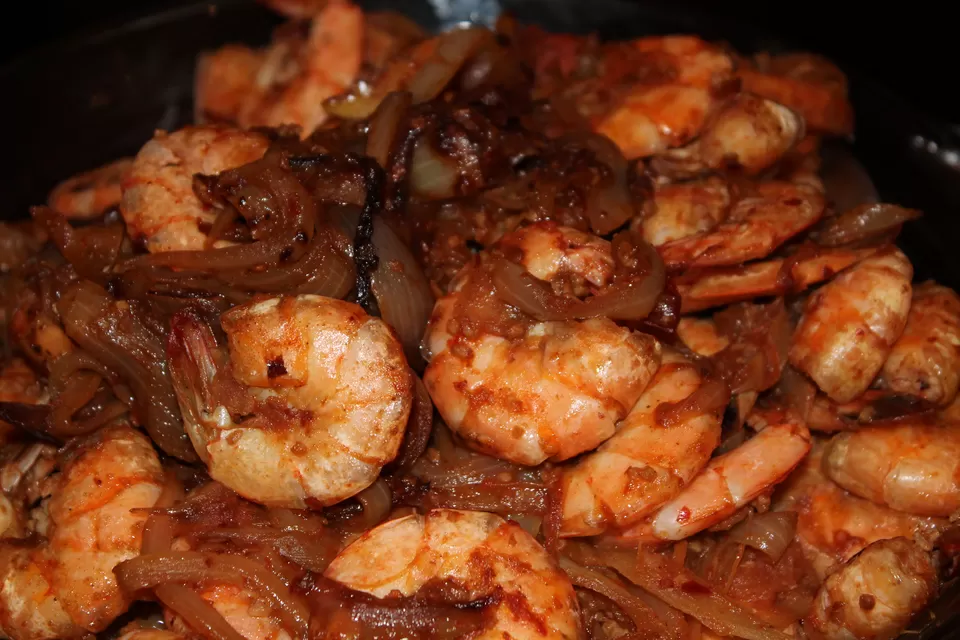 Being in an island country, trying out the local seafood preparations is a must!
Try the isso thel dala, which is more like a snack you would want to binge on - prawns are marinated with salt, red chili powder, grated coconut and green chili paste. Then it is fried, along with curry leaves to give it a distinct flavor.
Warning - This might be too spicy for you to handle!
Mas Bola Kariya (Meatballs Curry)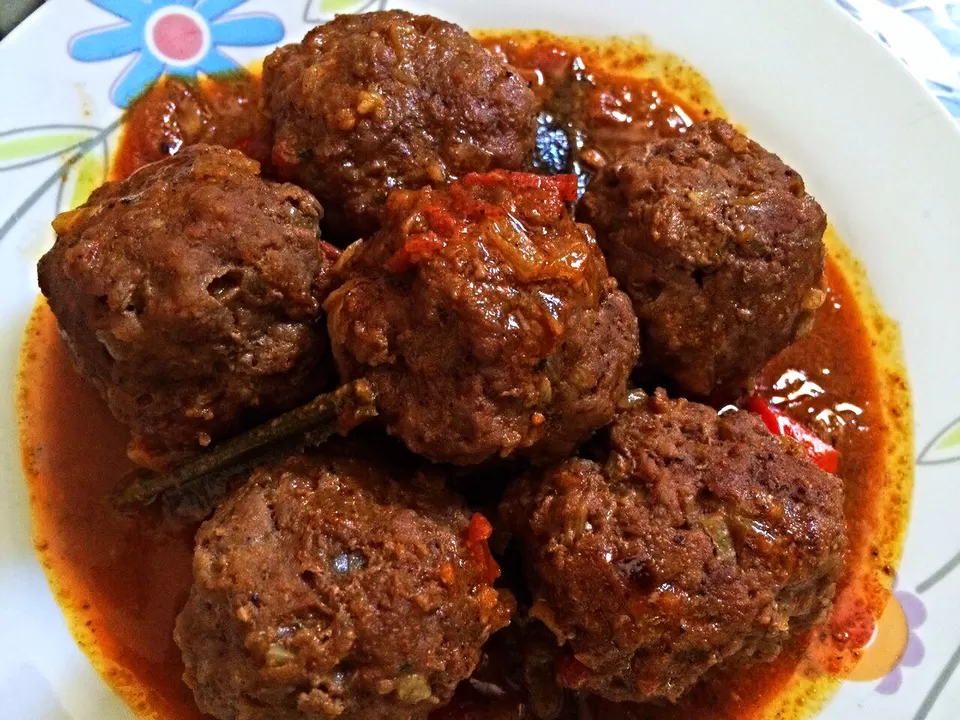 Mas bola kariya is a spicy and creamy meatball (usually beef) from Sri Lanka. Curried meatballs can be enjoyed with all kinds of rice, especially idiyappam. The coconut milk makes the sauce extra thick and creamy, and blends the flavor of the spices with the beef.
You'll surely be craving more for this!
Watalappan (Spicy coconut custard)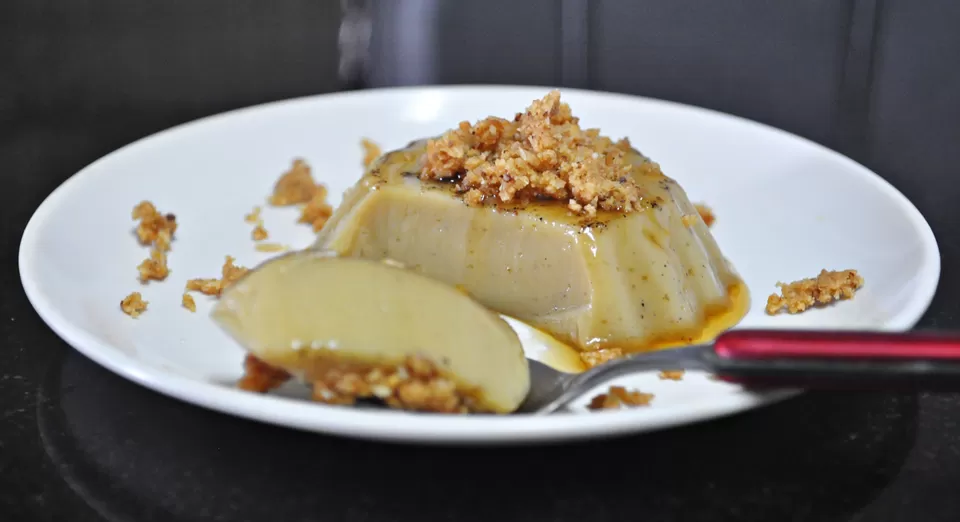 Any meal is incomplete without a dessert - and when in Sri Lanka, you'll get to try a variety of spicy desserts! Yes, you read it right! Watalappan is a famous baked coconut custard that comes with a tinge of spices - and sweetened with jaggery.
This is a Sri Lankan twist to the usual caramel custard, and you'll fall in love with this delicious dessert.
Kalu Dodol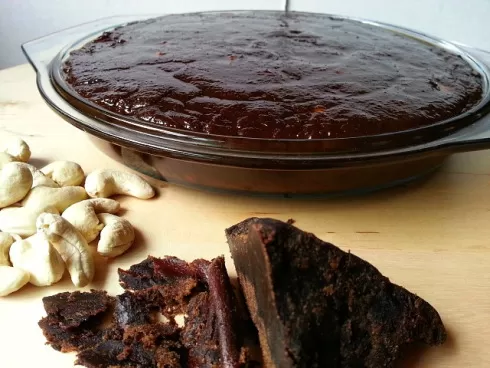 This requires a lot of time to be prepared, and is usually made of rice flour, coconut milk and jaggery. It is more like a cake with a twist, and the Sri Lankans absolutely drool over it. A lot of dry fruits are added to dodol, in order to give it a rich taste.
A destination's perfect feel can be obtained through tasting its authentic delicacies - and no journey can ever be complete without trying the local food!
So, now that you have the list of 'the must-try dishes' in Sri Lanka, make sure that you don't miss out anything!
I hope you'll have a great trip, and return home with a bundle of memories. And if you want to share about your favorite food from the land, do comment here - I'll love to hear back from you!
Happy traveling and Bon appetite!
Frequent Searches Leading To This Page:-
Sri Lanka tour packages price, Best places to go in Sri Lanka in march, Top tourist attractions in Sri Lanka, Tourist attractions in Sri Lanka, Best beaches in Sri Lanka in November