My husband and I travelled to the beautiful island country of Sri Lanka this January. A country of serene beaches, mesmerizing landscapes, very humble people and undoubtedly a foodie's paradise!! On returning from the trip, a very common question that we were asked was, "How was the food there?" A very important aspect of the trip that everybody was curious to know!! And hence, my first blog on Sri Lanka is about its delicacies!!!!
We travelled to the south and central Sri Lanka and treated ourselves to all their local delicacies. Their food preparations, though being very similar to the South Indian cuisine, were unique owing to the use of locally produced spices like cardamom, cloves and pepper. In contrary to what I read over the internet, their dishes which were termed very spicy were actually medium spicy. So, if you are a spice lover, then request for extra spice in your dishes!!
(Spoiler alert- Coconut is a part of every single dish!!!!! And you will love it!!!)
Let me begin with a dish that is popularly found throughout Sri Lanka and consumed during anytime of the day- Rice and Curry. Steamed rice served with a choice of either Chicken/seafood curry, 2-3 vegetable curries, dal, papadam and coconut sambol. The coconut based curries were very yummy and each with distinct flavour.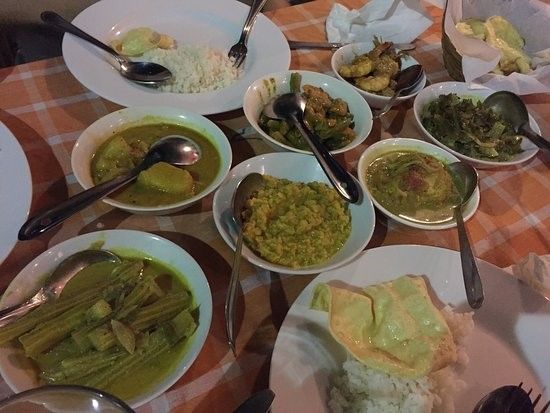 Coconut sambol is a vibrant and tangy dish made of grated coconut, red chillies, lime juice and onions. We were lucky to find authentic Sri lankan home cooked rice and curry dishes in Galle.
Coconut (Pol) Roti and Dal Curry: A typical Sri Lankan breakfast comprised of roti made with grated coconut and served with dal curry and coconut sambol. A very nutritious and wholesome dish to start the day with!!!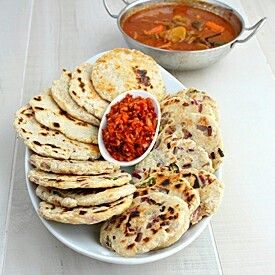 Hoppers: Known as Appam in Southern India, hoppers are a tasty and pocket friendly street food option in Sri Lanka. They are available with a variety of toppings ranging from egg, veggies, cheese, etc. But my personal favourite was the plain hoppers we had at Hela Bojun Hala, Nuwara Eliya. It is an outlet built by Ministry of Agriculture, Sri Lanka where the farmers bring in fresh produce and sell authentic Sri Lankan dishes at very nominal rates. Our hoppers were served with a spicy tomato and chilly chutney that complemented the cool weather at Nuwara Eliya.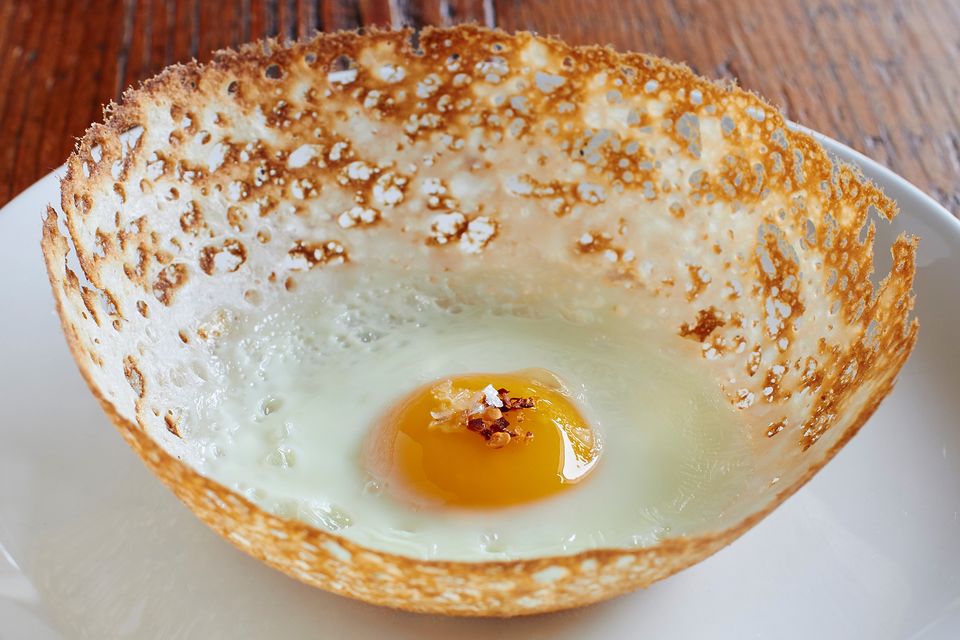 String Hoppers: Commonly known as Idiyappam to South Indians, string hoppers are also available in different versions. It is steam cooked and served with a coconut and vegetable curry.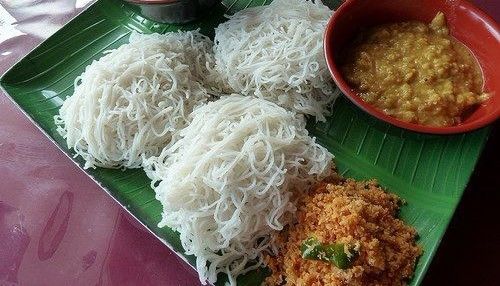 Devilled dishes: This is a Chinese cuisine based dish and found in menus of almost all restaurants in Sri Lanka. It consists of deep fried chicken/seafood, tossed in assorted veggies, garlic, soya sauce, chilli sauce & vinegar. It is usually served with steamed rice or fried rice. The restaurant at which we had devilled chicken in Sigiriya served us overcooked chicken. So, our experience with this dish was not that great but devilled dishes are one of the popular dishes in Sri Lanka.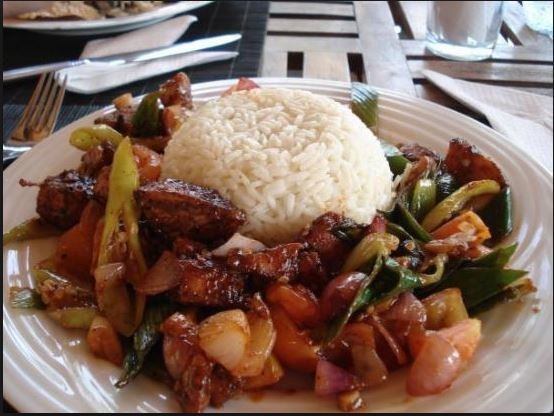 Apart from the local delicacies, you will also find good options of Italian restaurants. If you happen to be in Nuwara Eliya, do visit Salmiya restaurant for a wonderful treat of Pizza and pasta. Delicious thin crust pizzas, a must try!!!! We went there two days in a row for dinner and absolutely loved their preparation!!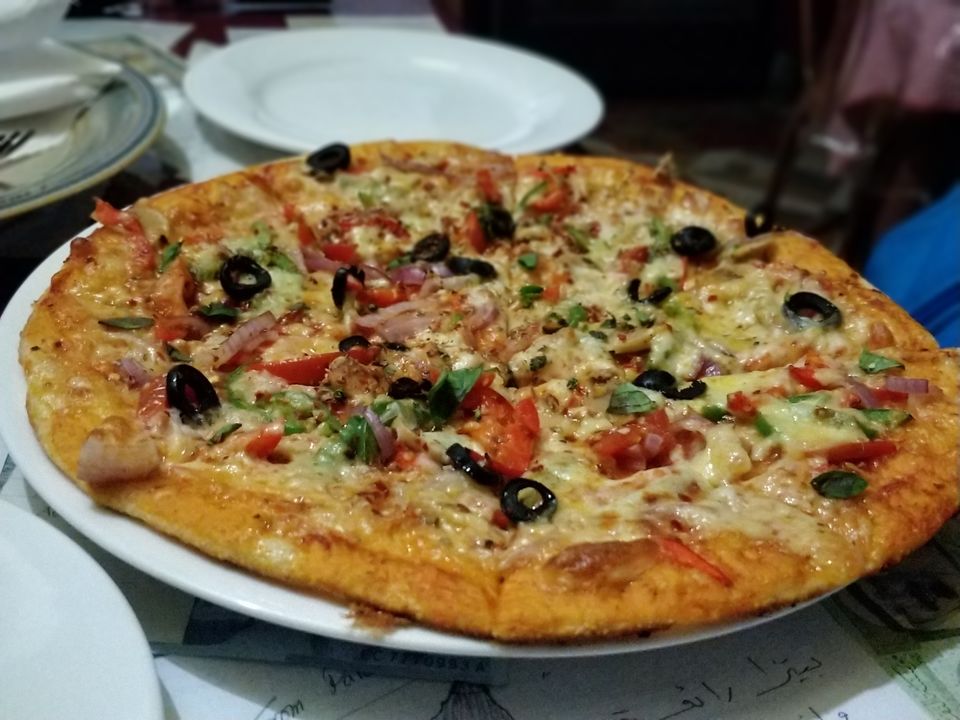 For Sri Lankans, fruits constitute a major part of their staple diet. Everywhere we could find a fresh spread of fruits. Just grab your favourite fruit while travelling or exploring the country!!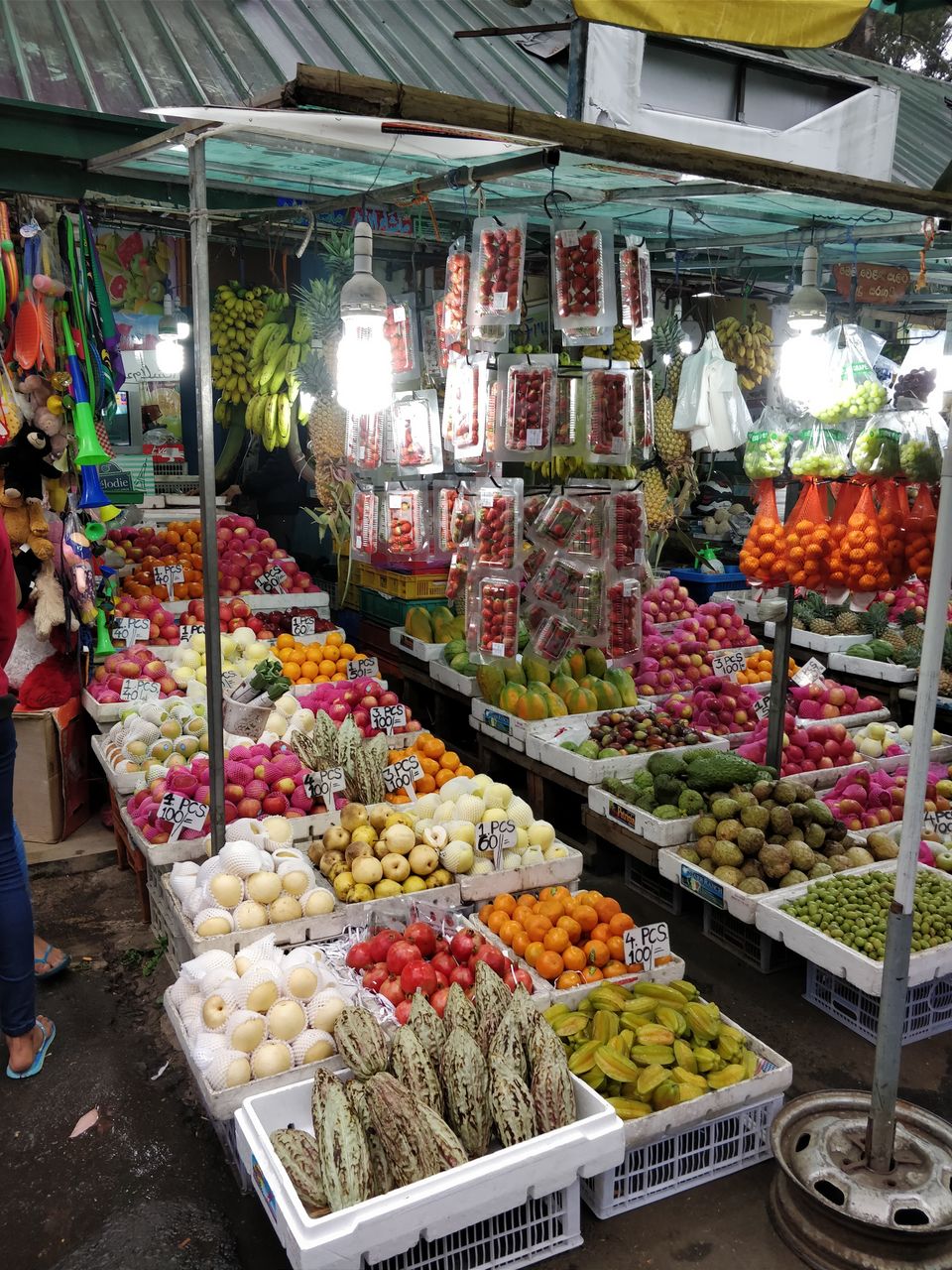 Apart from the local cuisines, we also relished the breakfast of omlettes, bread, butter, jam and fruits served at our stays.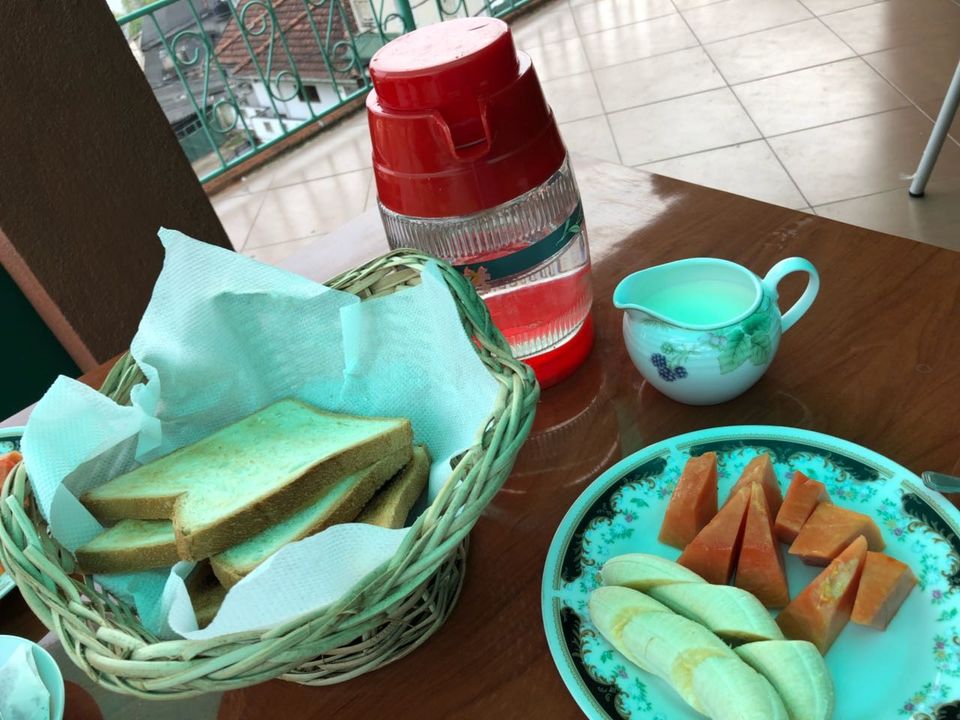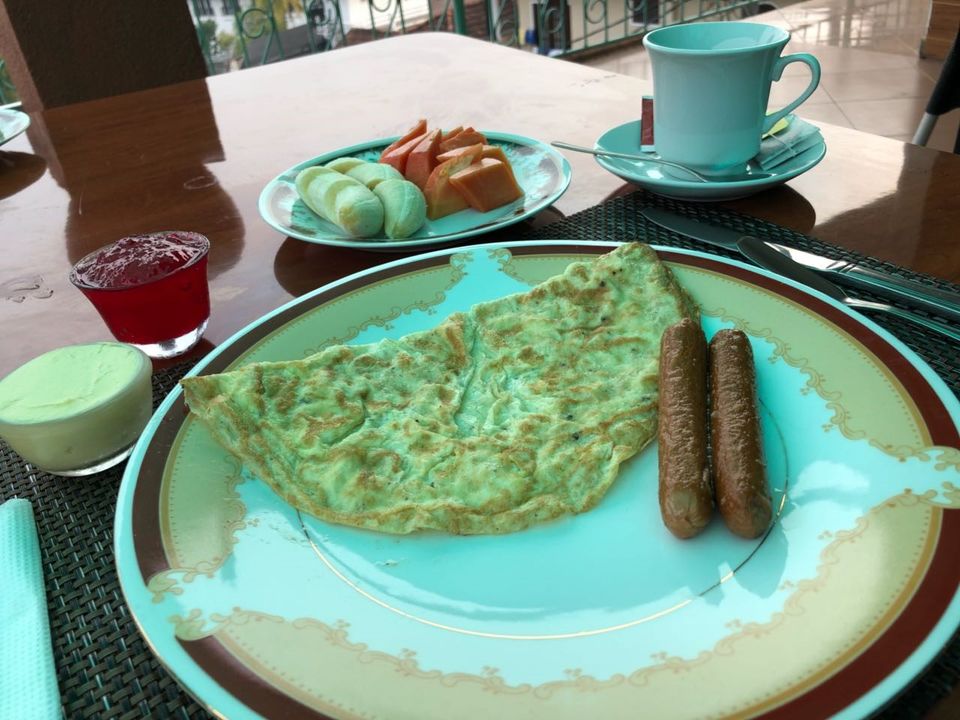 The beverages included coffee and tea, but when in Ceylon do have their tea. At one of our stays, we were welcomed with orange and mint flavoured tea and it was the best tea I ever had.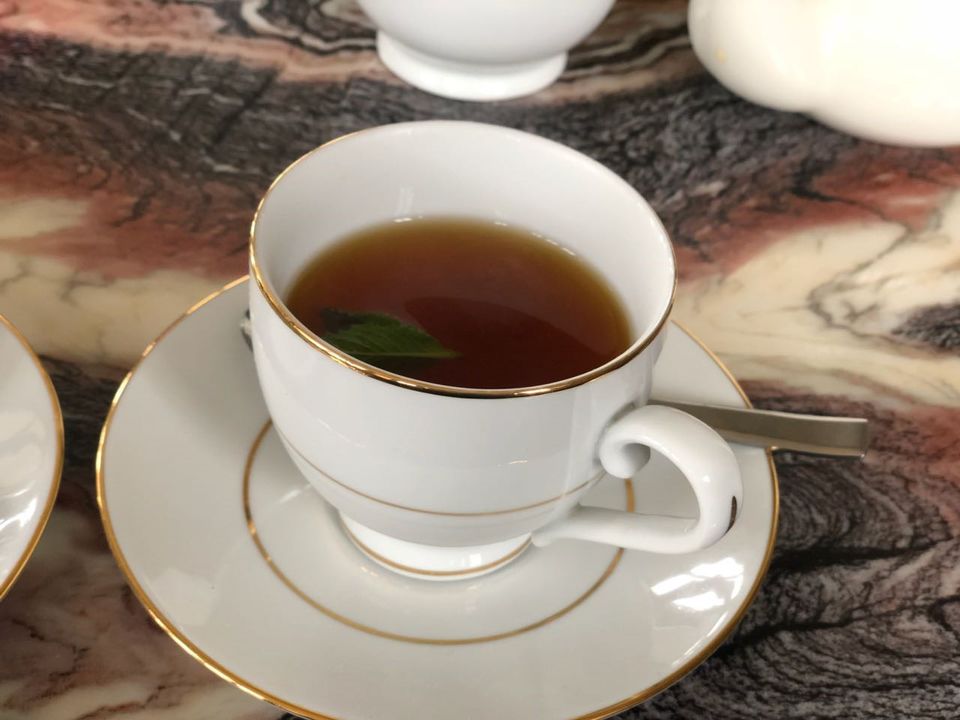 On the whole, our week in Sri Lanka was filled with wonderful and memorable meals...!!!!!
[P.S. Since we were so engrossed in relishing the delicacies, we missed to capture them in our camera!! Silly us, I know!! (A lesson to remember for future blogs...!!!). So, some pics in this blog are representative images I downloaded from the internet. Thanks to the owners!!!!]
Also, please like or leave your comments on this blog in the comments section and also hit the follow button to get notified about my future blogs!!
You can view all my travel blogs on https://millidiary.com