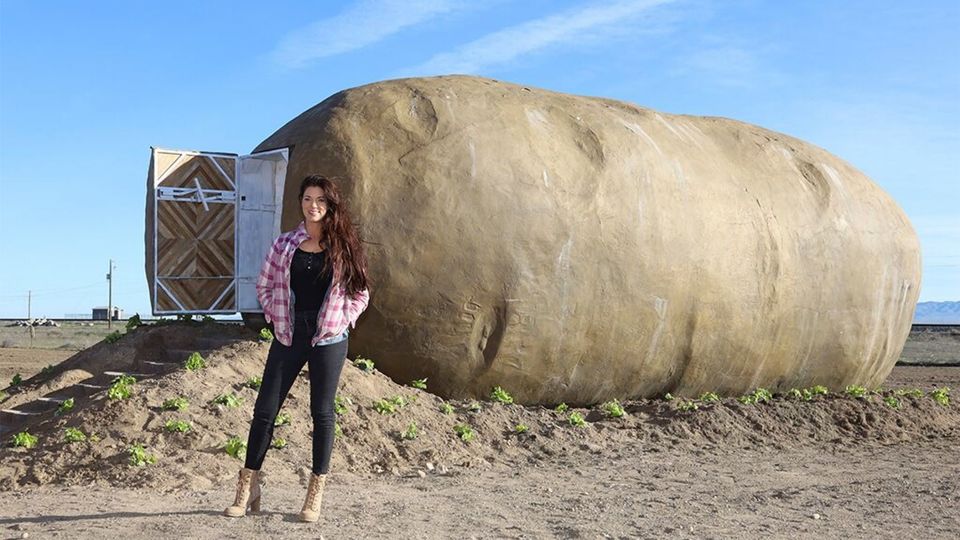 Thinking of quirky stays? We have another one to add in your list. Big Idaho Potato Hotel was originally built as a prop to promote state's national crop among the residents.
Ever imagined yourself living in a vegetable? Well, now you can. The Big Idaho Potato Hotel is the new spud in town. Unlike other hotels, it has a unique story to tell. The six tonne potato-shaped structure was formerly built to promote the state's national crop and is now all decked up to host people for stays.
After completing its promotional tour in the U.S for six years, sponsored by Idaho Potato Commission, it has now been converted into a rental stay. The spud hotel is the brainchild of a house developer Kristie Wolfe, who always wanted to transform this potato into something more interesting.
The Airbnb was opened to public on 22nd April 2019. The president of the Idaho Potato Commission, Frank Muir responded to the grand opening of the hotel as a 'great way to experience what it is like to be inside a potato for a change and not vice versa'.
Set up on 400 acres of land on the Southeast side of Boise, the potato hotel is 28 feet long, 12 feet wide, 11.5 feet tall and 336 square feet. If you are looking for weird places to stay on your next trip, then I assure you this is the quirkiest stay you can find.
Though the exterior of the hotel can get you some interesting and unusual pictures for you feed, the interiors of this farm-stay are the real deal. The place is chic and modern, packed with basic amenities like a bathroom, bed, air conditioning and heating. It also has an indoor fireplace.
With one queen size bed, the potato stay can only accommodate a maximum of two people.
Cost: It costs approximately Rs 14,000 for one night. Book your stay here.
Know of a hotel, home stay or resort that made you fall in love with the destination? Write about it on Tripoto and help the travel community discover something new.