All of us are looking for a quiet and relaxed weekend getaway to recharge ourselves and give us a break from our fast paced lives. And in an attempt to do that, we often end up in the hills, camping at some peak or chilling in some cool hostel with a magnificent view.
But after some time, going to the same commercialized places can turn out to be boring and ineffective. However, that doesn't mean that we have to give up on the hills, it just means that we need to start looking for unique experiences at offbeat locations now. And one such place is The Pahadi Motel near Jim Corbett National Park.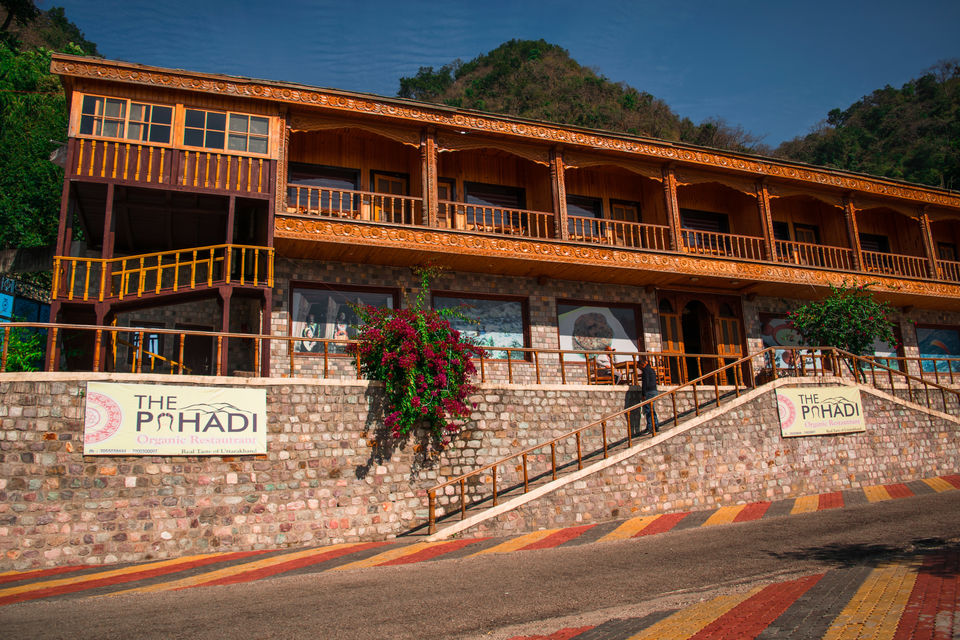 The Pahadi Motel has a really unique concept of giving their guests a true Kumaon experience by feeding them the Kumaon dishes and greeting them with the traditional Choliya dance to give them a true Pahadi feel.
Situated on the road connecting Ramnagar to Ranikhet, Almora, etc., The Pahadi is just 35 km away from Jim Corbett and offers a lot of activities which makes it a good place as a weekend getaway.
About the Property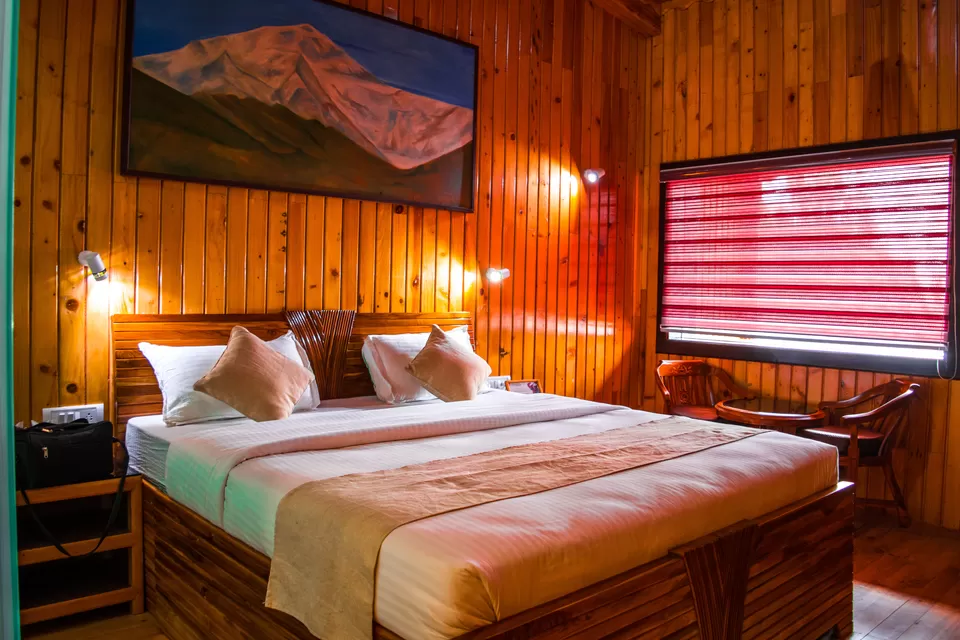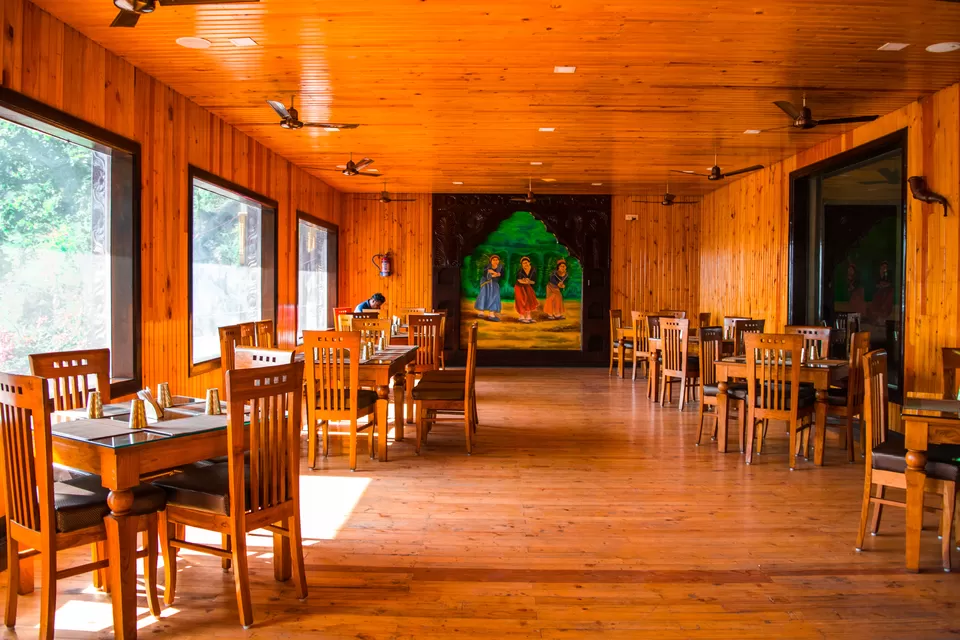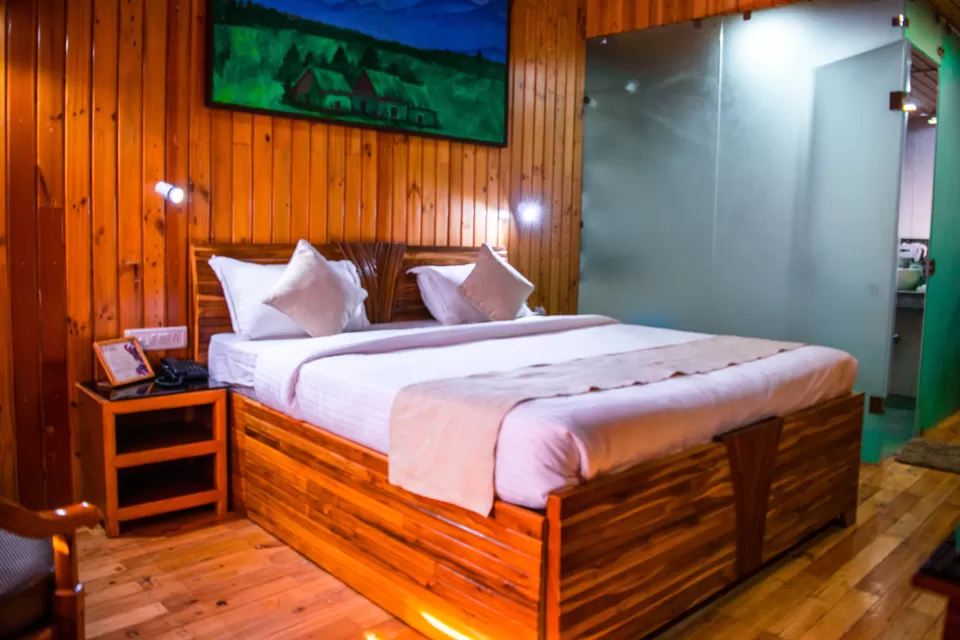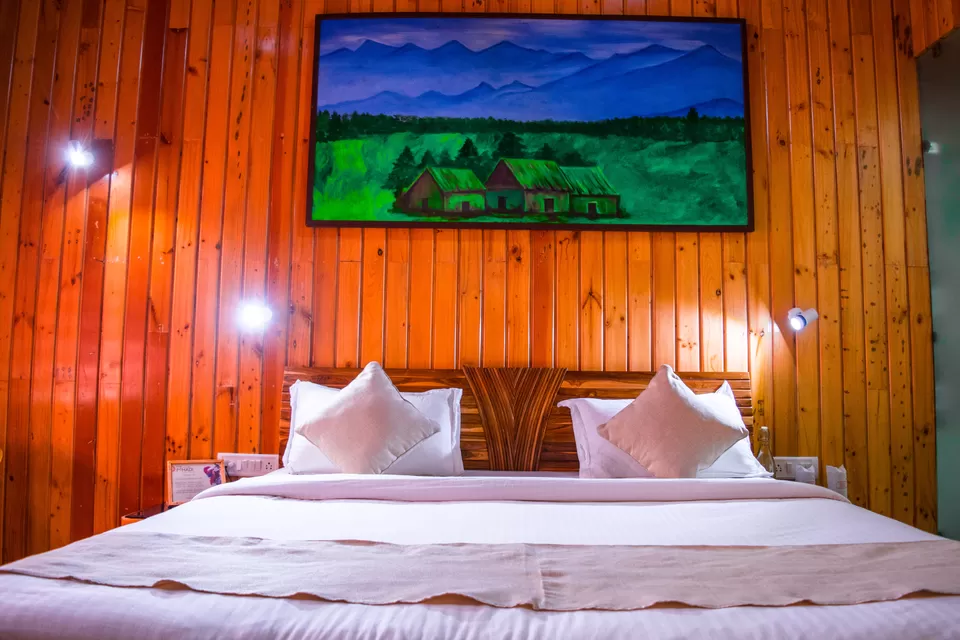 Started by Ranjeet Rawat and his son, Chetan Rawat, this property was initially started at a simple restaurant last year in an effort to promote the local Kumaon dishes. But that wasn't enough so they opened the Pahadi Motel to give their guests a better idea of the Kumaon traditions and designed their hotel in a way which promotes this.
The hotel is built out of wood and stones and has an intricate design which gives you a glimpse into the Kumaon culture while making your stay utterly comfortable and cozy here.
Once you arrive the place, you are greeted with the local Chholiya dance which is a traditional Kumaon dance that was originated thousands of years ago. There are 14 rooms at the property which are built out of recycled teakwood and each have a beautiful painting hanging just above the bed.
Each room has a balcony too which gives you an amazingly clear view of the Himalayan foothills and is the perfect place to witness a beautiful sunrise in the morning.
Cost
As mentioned earlier, there are 14 rooms in total which are similar in construction and decoration. The Pahadi offers three plans to its customers when booking a room here.
Continental Plan (CP) includes free breakfast for two people along with the stay and costs 5,500 INR.
Modified American Plan (MAP) includes free breakfast and dinner for two people along with the stay and costs 6,500 INR.
American Plan (AP) includes all the meals for the duration of your stay and costs 7,500 INR.
Food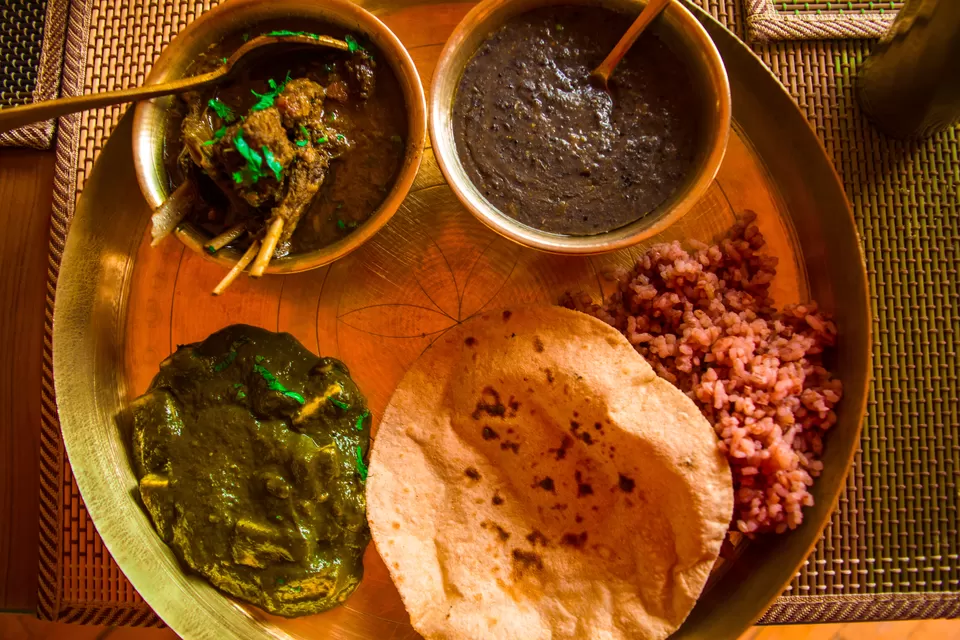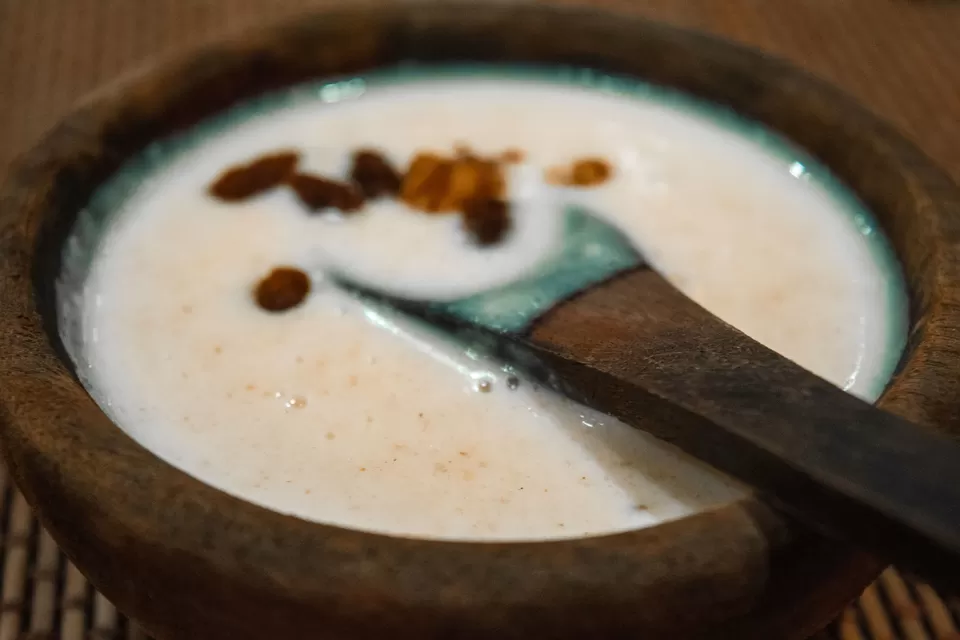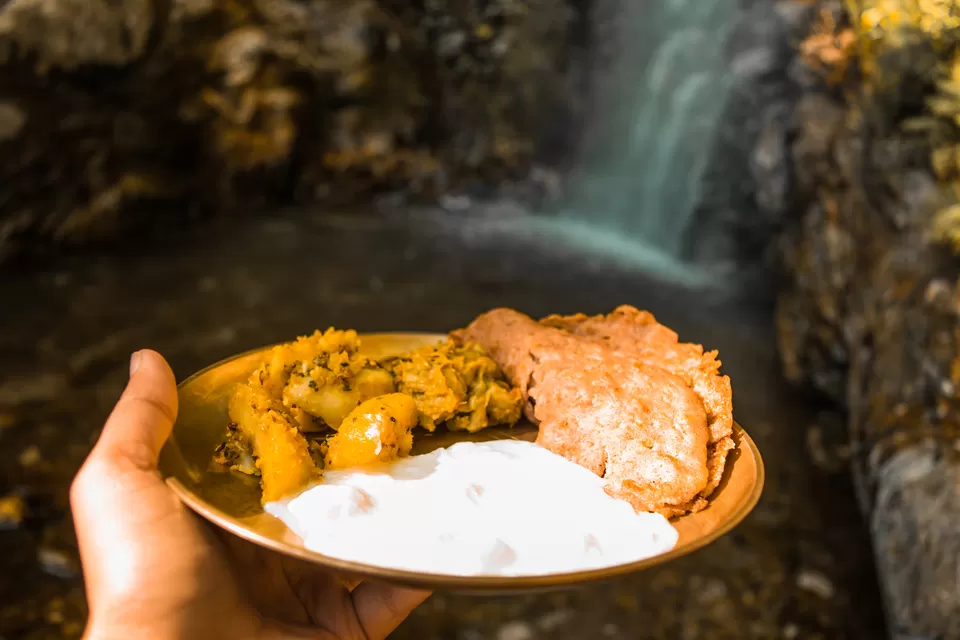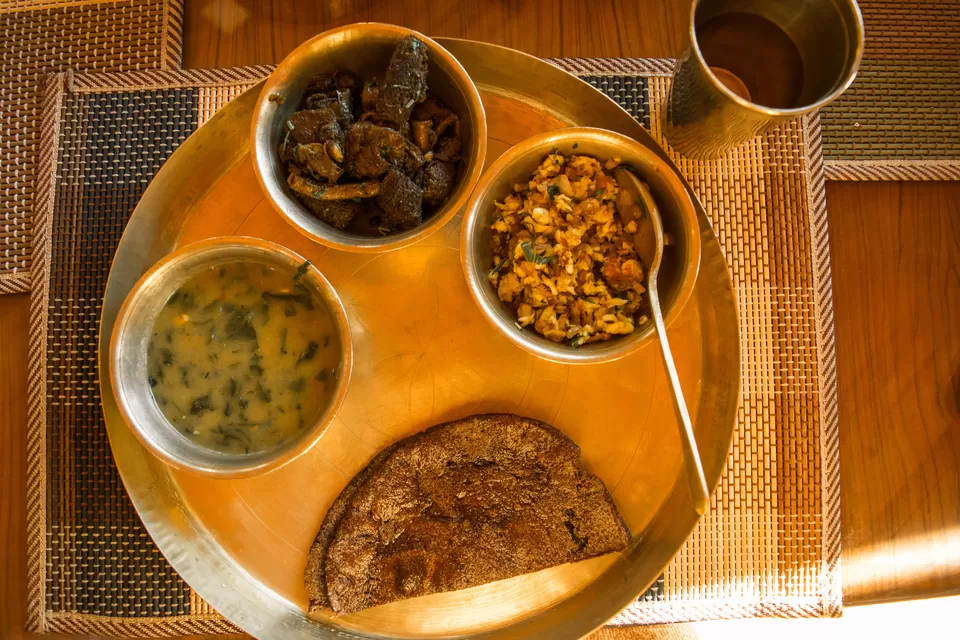 One of the best things about The Pahadi is their food preparation and how they try to promote the local Kumaon dishes in their restaurant. All the meals prepared here are fresh, meaning they pluck the vegetables and ingredients fresh from their organic farm while preparing each meal.
So, it is a good idea to order in advance as it takes them time to get the best vegetables for your meal and then prepare it for you. You can also watch them prepare the food through a live window which is definitely something new.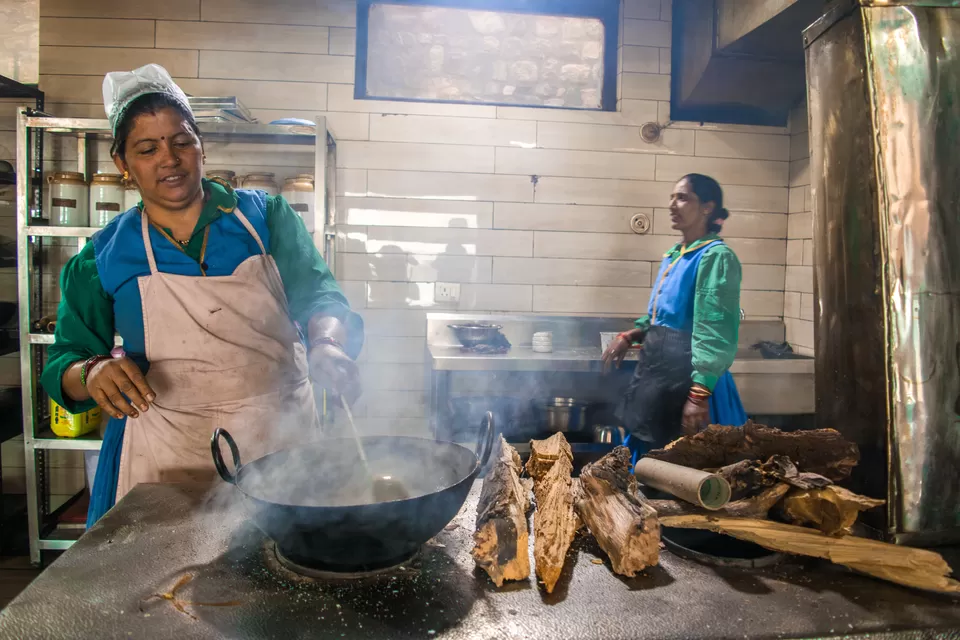 A few dishes that you must definitely try here are the Madue ki Roti (finger millet chapati), Gahat ke Dubke (Dal), Palak ka Kaapa (Spinach dal), Red rice, and so on. For non-vegetarians, Bhutuwa, Mutton Surua, Bater curry, etc. are a must try.
Also, for breakfast you will usually be served Chhou (red rice chapati) with gaderi (Arabi) and aalo ki sabji. And don't forget to taste the delicious Kumaon desserts Laapsi and Madue ki Badi.
The Pahadi is a great place to experiment with food and give your taste buds a new cuisine to try and all the dishes are healthy and organic so you don't have to worry at all.
Best Time to Visit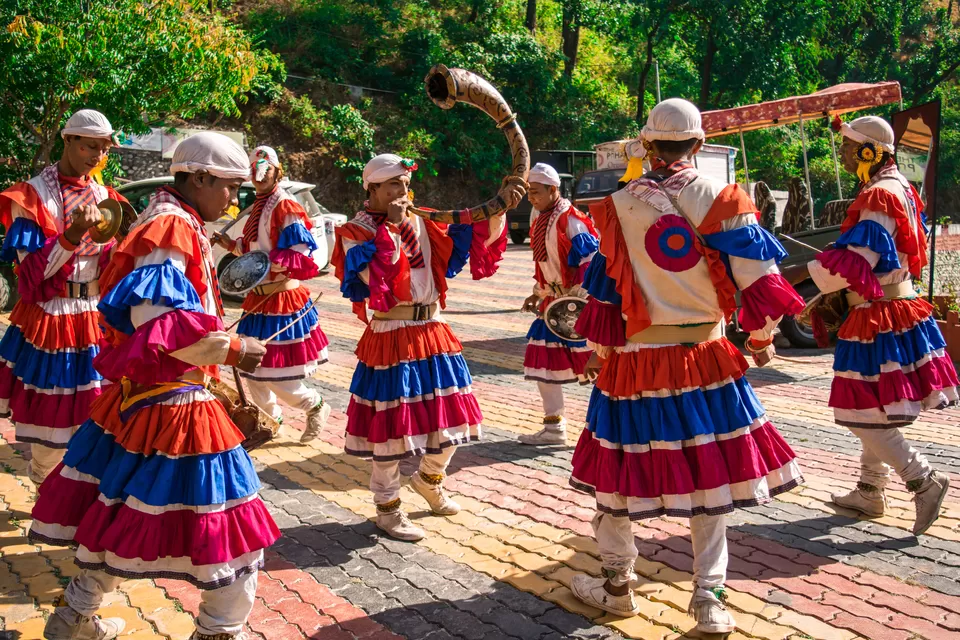 You can visit The Pahadi anytime during the year but if you want to go on the Jim Corbett Safari and see some animals then winter season, i.e., November to February is a good time to visit.
You can also enjoy the clear mountain views at this time and can observe some well-known peaks like Trishul, Gaumukh, Panch Sheel, and so on here.
In the monsoon season, the place is much greener and you can observe the organic farming in detail which is practiced at this hotel.
Summer and spring are good times too as this place stays cool throughout the year. So, it can be a good place to escape the summer heat of the plains.
How to Get Here
One of the best things about The Pahadi Motel is that it is easily accessible by road so you won't find it difficult to reach here.
By Road: One of the easiest and most convenient way to reach this place is to get your own vehicle here as the road is well-maintained and easy to follow. It is located at a distance of 357 km from Delhi so it would take you just about 6-7 hours to reach.
By Rail: Another option to reach here is to take a train till Ramnagar railway station and then hail a cab or get on a local bus to reach here.
The railway station is around 40km from the hotel so it would take you just about an hour to reach.
By Air: This is not the most convenient way to reach The Pahadi as the nearest airport is around 80km away in Pantnagar. You could also take a flight to Delhi and then take a bus/train/car to reach The Pahadi from there.
What to Do Here and Around Ramnagar
Go For a Safari at the Jim Corbett National Park
You can take a Jungle Safari to the Corbett National Park and spend half the day looking out for animals around here. Since the national park is just 30 km away from The Pahadi, this is a good option for stay for some quiet and relaxed time in the hills which you won't find in other resorts and hotels near Jim Corbett.
Try Out a Few Fun Activities at the Hotel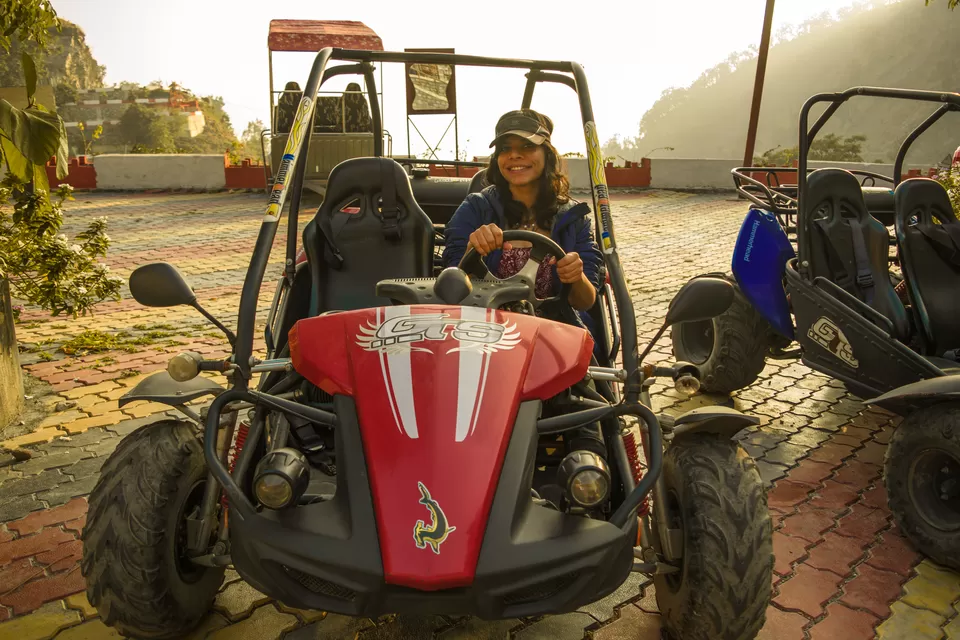 One of the best things about The Pahadi is that they have an adventure arena too where you can enjoy some fun activities and games. There is the Burma bridge, Trampoline, ATV ride, Flying fox, and so on activities that you can indulge in for an extra cost.
Go For a Short Hike to the Sunset Point
You can also request the staff or the owner to take you to the nearby sunset point which is around 10-15 km from the property and gives the most amazing view of the mountains during the sunset. Enjoy a hot cup of tea here while the sky changes its color and becomes multicolored.
Enjoy an Amazing Breakfast at a Waterfall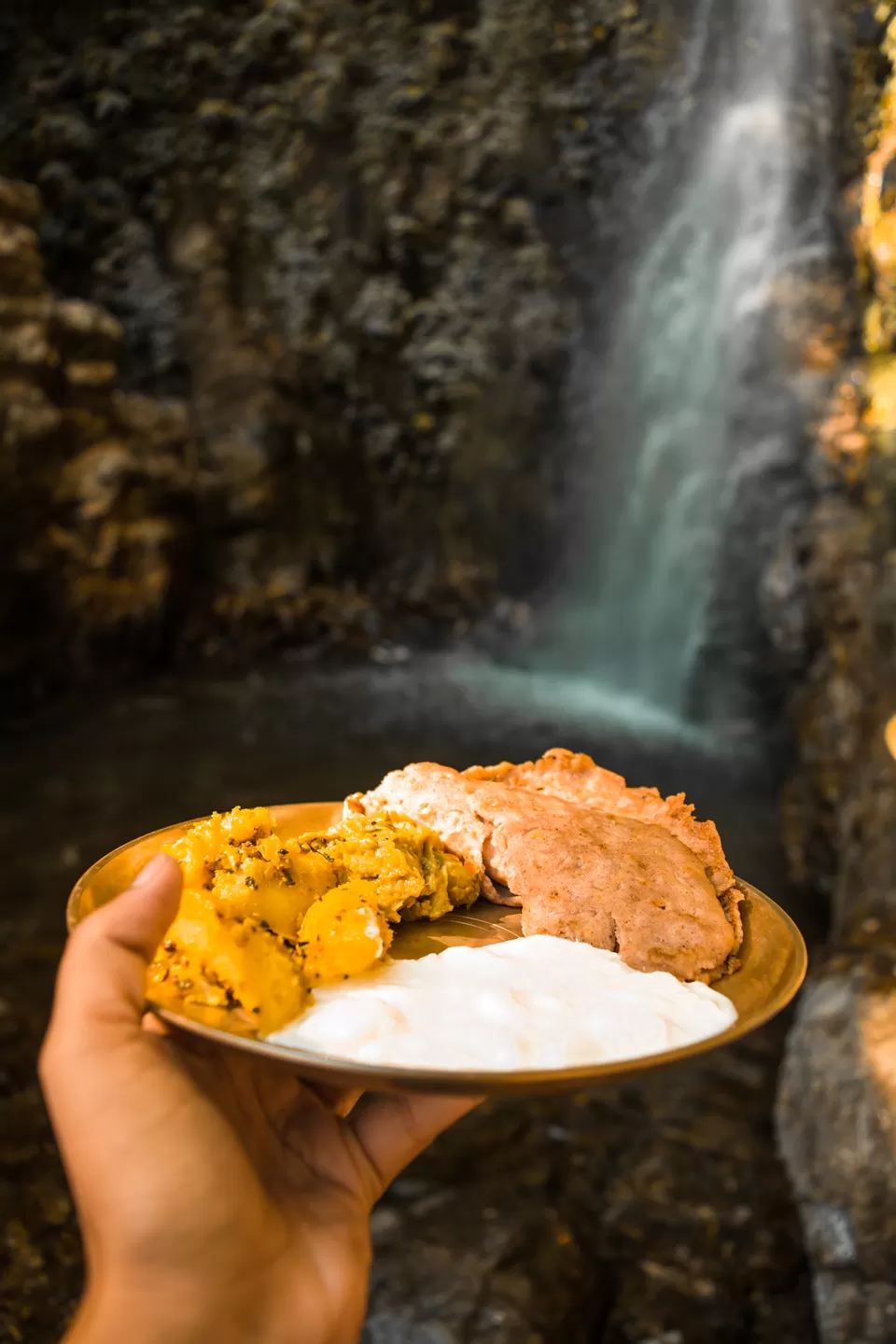 Bored of the same breakfast in bed? Then, you can request the staff for a breakfast at the nearby waterfall which is unknown to the tourists and is a great way to spend your morning. The water is fresh and cool here and the waterfall is partially hidden from the view so you can spend some quiet time while enjoying your delicious Kumaon breakfast.
Take a Tour of the The Pahadi's Organic Farm
You can also ask the owner to take you through their property's organic farm which consists of 4 polyhouses and grows everything from rice, pulses to spices. They grow everything from turnip to spinach to cabbage and all the food grown here is completely organic and healthy.
Go For a Walk to the Nearby Village to Interact with the Locals
Ask the staff to show you the way to the nearby village where you can spend some time interacting with the locals. Here, you can learn more about their traditions and lifestyle and get some tips on how to live healthy. Plus, the evening golden light makes this a good place to visit and take photographs so you will definitely love the magical village feel here.