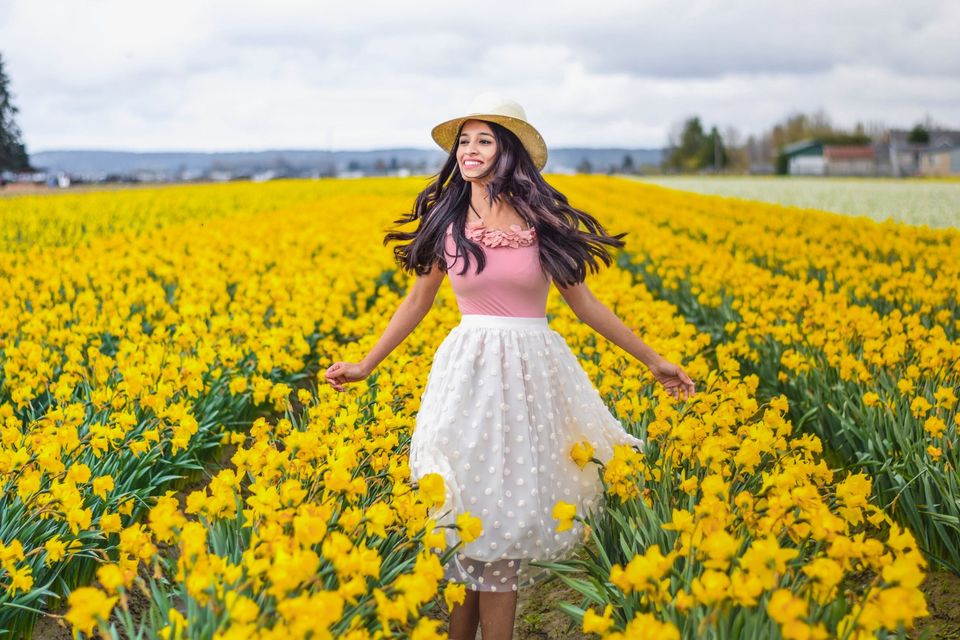 I have been fascinated by drool-worthy Instagram pictures of flower fields from all over the world, and that's when I started researching about similar places in United States. I stumbled upon Tulip Festival that happens in Skagit Valley in Washington and immediately planned a short weekend trip.
With the arrival of magical spring in the state of Washington, a new life begins and colors start peeking out from the cover of darkness. Beginning in April, for about a month, cherry blossoms reach peak bloom and the Skagit valley puts away its gray-colored winter jacket and wears a VIBGYOR spring cardigan. The white and pinkish flowers start popping, setting a beautiful pink canopy for the travelers. The University of Washington is one of the great places to view Cherry Blossoms. These fragile cherry blossoms really evoked the joy of springtime and the fleeting nature of beauty.
Tulip festival is in Skagit Valley which is about an hour and a half drive from Seattle. The tulip fields look like a painting, delicate, stunning and incredibly vivid in color. It's hard to choose just a few photos to show since the flowers are all so beautiful. Be it wearing a long flowy white dress in such incessant rains of Seattle or twirling in the middle of flower fields, I had my perfect Bollywood (DDLJ) moments. This time I'll let my photos explain how unexceptionally beautiful this experience was!
Some useful tips for visiting Skagit Valley Tulip Festival:
1. Best time to visit Tulip Festival is mid-April, preferably weekdays. But if not possible, try to go early in the morning on weekends. (It opens at 9 AM).
2. Due to rains, fields are always muddy and slippery, so choose your footwear accordingly.
3. You don't need to buy tickets online to visit these fields, it is available at the entrance. (Carry cash with you to avoid standing in long queues)
4. Keep checking the weather online, it is very erratic.
5. Fields are about 1 hour away from Seattle, so prepare your transportation accordingly.
6. Be prepared for rains. Carry an umbrella or raincoat without fail. (During my visit to UW, I ended up posing with my umbrella in all pictures.)
7. Black, white or pastel coloured outfit would go perfectly with vivid colours of tulip fields.
8. Last but not least, don't forget your camera. It's impossible to control yourself from clicking pictures here!
9. For tons of outtakes and other lovely images that don't make it to the blog, follow me on Instagram.
Love,
Madhura