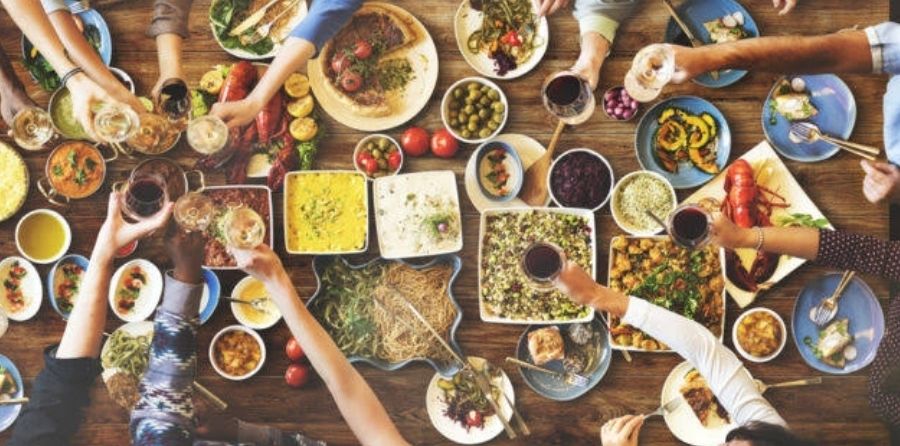 Everyone in the world munches on something, and for a foodie hearted people, the world is full of love. Here are the food festivals around the world which makes us to chomp and munch more and more
1. PIZZAFEST
Right goes for the pizza lovers wherein you can eat as many different pizzaz in circle and square shape with inundated margherita,mozzarella cheese with spicy tomato sauce and pummarola still made under tradition way. This fest takes place in Nepals ,Italy which usually hosts during September and it lasts for 5 to 7 days.
' Ma tu vuliv a pizz ' is a famous lyric of Naepolitan song addressing to a woman who only wants to have pizza. So if your also one of the 'Ma tu vuliv a pizz ', then it's a definite not to miss.
2. SALON DU CHOCOLAT
if you are one among the people who eat and sleeps with chocolate, this is just the splendid one. This is hosted in Paris, wherein people around the world come in as it conducts workshops, chocolate exhibition and a fashion parade with chocolate as the centralized theme. This year fest takes place between October 30 to November 3 2019. If you want to taste an explicit chocolate flavors then don miss this out.
3. OKTOBERFEST
For beer lovers and people who wish to indulge in Bavarian culture, head straight away to Germany, Munich. The festival let's oneself to dive in the river of beer and to explore their great traditional cuisine. The festival gives the travel buddies a best time to enjoy and for the people who want to take revenge on all idiocracy bosses by engulfing as much as you can and speak your heart out .The festival this year starts from sep 21 to Oct 6 2019.
4. BACON FESTIVAL
For people who munch on to bacon every breakfast then this is a piece of information to cater on. Hosted in Cleveland, Tennessee. This festival features more than 200 types of bacon dishes and other foodie goodies wherein in every other food, the vendor is to have 3 items of bacon compulsorily.
5.DUMPLING FESTIVAL
Come and experience the zong zi dumpling ,which is a traditional Chinese food consumed during the dragon boat festival/Dumpling festival, in China. This takes place during the 5th day of 5th month in Chinese lunar calendar every year. Zongzi is a glutinous rice stuffed with different fillings and wrapped in bamboo or Reed leaves. The fillings range from rice, pork , roast pork ,chestnuts,red bean ,salted egg and mushroom. In order to tasty the itsy bitsy juicy dumplings, then go on for the festive.
6. NATIONAL CHERRY FESTIVAL
To put a lipstick of red tint naturally and a for a mouth licking experience, head straight to traverse city. Here you will find everything from cherry wine ,Jams ,savoury dishes etc. They also conduct air shows and include the blues, brews and what not , a bbq event. This happens during June end and runs till July 6 2019. So lets pack up.
7. HERRING FESTIVAL
This festival is held at janesville, also called as north Carolina herring festival. It is held annually on Easter weekend. This is celebrated as a way of welcoming herring fishes during springtime. For a person who loves fishing then this is exactly a must going.
8. VEGETERIAN FESTIVAL
For all the vegan lovers ,who are envious of the envy people. This festival let's you to surround with veggies. As the name suggests, Phuket hosts this festival in the belief that this will bring good health and peace of mind. The festival hosts innumerable street food shops and other taboo activities like body piercing, firewalking and so on. It is held during late September and runs till Oct 1st week.
9. GIANT OMELETTE CELEBRATION
Eggs! Eggs! For an eggeterian lover, this festival brings you enormous joy . World famous chefs come here to bake 5000 egg, omelette in a of 12 foot single fillet. This year its conducted on Nov 2 ,3 2019 in Abbeville, Louisiana.
10. BUGFEST
Yes! As weird as it looks , every year in Us they celebrate this bug festival ,where you can taste all the crawly, creepy creatures and explore the dishes made with them. If your one of the adventurous guy who eats bugs for dinner and lunch, then you should try out the cuisines.
11. MONKEY BUFFET FESTIVAL

This festival comes along with a lot of excitement, as the participants in the festival is monkeys and apes where they get to eat a sumptuous meal of fruits and vegetables cascaded in mountain shape . The monkeys go frantic seeing the four and half tons of food laid before them.This festival is held in Thailand lopburi ancient temples as their offerings to monkeys, with the belief that they are the predecessors of finding the lopburi city. This is recorded as one of the strangest festival around the world.
12. NATIONAL STREET FOOD FESTIVAL
Ever wondered if food festival has taken place in India?yes, there you go . Our capital city Delhi hosts the street food festival every year and around 500 best vendors around the globe gather to put stalls and gives the foodies a real time chats and meals. Last year it was conducted in Indira Gandhi National Center for Arts near Indira Gate ,Rajpath Area, Metro Gate no 3. The festival hosts a myriad collections of food and indeed a treat for the butterfly stomach.