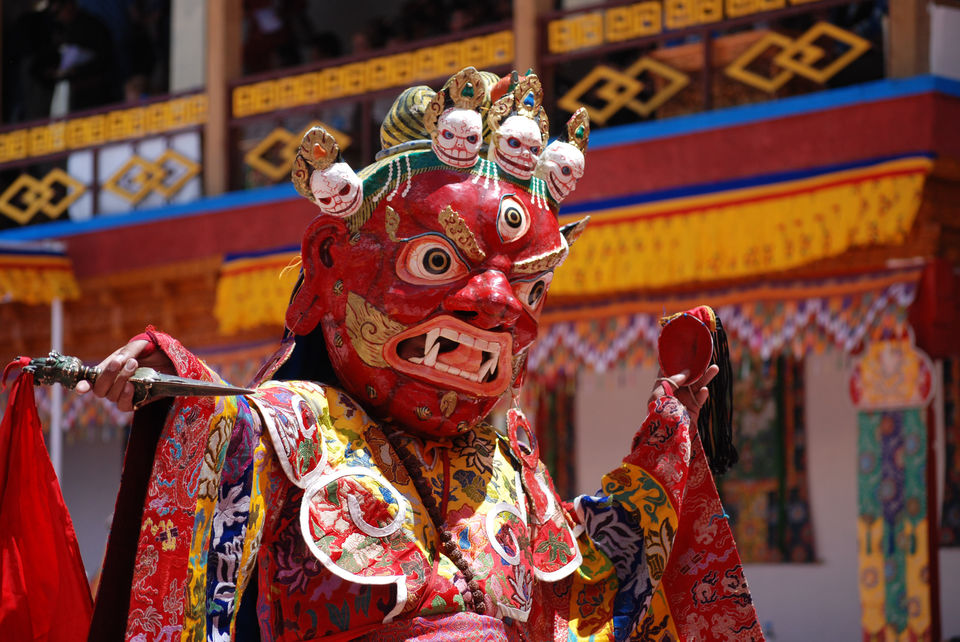 The fact that India celebrates many festivals round the year is no secret. However, once the traditional festival season is over and the calming weather sets in, different cities all over the country come alive with what are popularly known as winter festivals. From local traditions to culturally rich events, these are some of the best festivals to visit this season.
Matho Nagrang Festival
Ladakh is one of the most popular destinations in the country. However, in the slightly off-season month of February, it comes alive with the celebration of the Matho Narang festival in a small village called Matho, located 26 km. away. There are masked dance performances and stunning local acts. 2 chosen monks who are trained for months predict future happenings for visitors. This is one of the main reason people from across the world visit the festival.
Dates: 18 February 2019
Kila Raipur Festival
This festival which started almost six decades back in 1933, has grown from a local village sport event to an international platform for sportsmen. Competition is held every year for local sports such as kabaddi, cart racing and rope pulling etc. Participants from across the world send in their teams to this prestigious event. Visited by millions, this is a festival not to be missed.
Dates: 1st week February 2019
Kite Festival
The state of Gujarat celebrates Uttarayan in a big way. While the locals eagerly wait for the D-day celebration, the state of Ahmedabad comes alive with a week-long kite festival. Kites of different shapes and sizes are flown by both Indian and international enthusiasts. With huge kites flown in from countries like USA and Malaysia, the colourful creations are a sight to behold.
Dates: 6th-14th January 2019
Winter Carnival, Kashmir
The scenic beauty of Kashmir and snow-capped mountains make the perfect background for the winter carnival held every year in Kashmir. From folk dances and winter sports to traditional acts, this event can be a perfect addition to your Kashmir trip.
Dates: 17th-18th February 2019
Nagaur Cattle Fair
In the plethora of festivals that happen in Rajasthan during this time, the Nagaur festival stands out for being celebrated with much enthusiasm among locals and tourists. More than two lakh animals such as horses, cows and bullocks are bought here for trade. In the evenings, sports such as tug-of-war,came and bullock races etc. are organised by the department of tourism.
Dates: 10th-13th February 2019
Pangsau Pass Winter Festival
Celebrated in the small town of Nampong, which is the last village near Myanmar , this festival is rich in cultural heritage. Over the last few years, it has gained a lot of attention from tourists all over the world. The local tribes showcase their simple life and you get a chance to witness their daily routine which is a stark contrast to the modern world that we live in.
Dates: 20th-22nd January 2019
Jaipur Literature Festival
There are several literary events held across the country, however the Jaipur festival is world's largest free event with renowned personalities, authors and celebrities attending it. In the past it has hosted His Holiness the 14th Dalai Lama and Oprah Winfrey among many others. It is a dream festival for bibliophiles around the world.
Dates: 24th-28th January 2019
Jaisalmer Desert Festival
The famous Thar desert comes alive in the month of February to celebrate this three-day annual festival. Bright costumes, turban tying, tug of war and local delicacies are some of the highlights of this festival. They also organise unique competitions such as the longest moustache competition and have paramotoring and Air Force displays as a part of the schedule.
Dates: 17th -19th February 2019
Sufi Spirit Festival
The magnificent Mehrangarh fort opens its doors in the month of February for this exclusive event. This is a prestigious event and is attended by musical and lifestyle enthusiasts from across the world. Listening to such soulful music in the background of the beautiful Jodhpur desert is an experience of a lifetime.
Dates: 22nd-24th February 2019
Losar Festival
Winter brings with it a huge amount of festivals celebrated in the North east to celebrate the Tibetian New Year. One of the most awaited festivals in the region is Losar which is a much sought-after event. At the Pemayangtse Monastery , tourists can witness the rituals and traditional dance forms which are a part of their New Year celebrations.
Dates: 7th March 2019
Goa Carnival
Post the Christmas and New celebrations, when the party season seems to be just settling down in Goa, comes the carnival which again boosts up the enthusiasm of the state. Originating from the tradition of Mardi Gras, this 4-day festival brings about a gamut of song and dance with a lot of feasting and drinking throughout the day. Huge parades and live bands which go around the city are a delight to watch!
Dates: 2nd -5th March 2019
Dwijing Festival
This annual river festival celebrated on the banks of the Aie River is one of the best festivals in this region. From cultural activities to ethnic food and adventure activities, the festival holds back nothing. For adventure enthusiasts, there is an opportunity to go for jungle safaris, do paramotoring, hot air ballooning or take part in various local sports. You can also treat yourself to a helicopter ride to view the amazing landscape of this beautiful town.
Dates: 27th December'18- 7th January 2019
Have you been to any of these festivals yet? Write about it on Tripoto.
Check out videos and more on Tripoto's YouTube page!