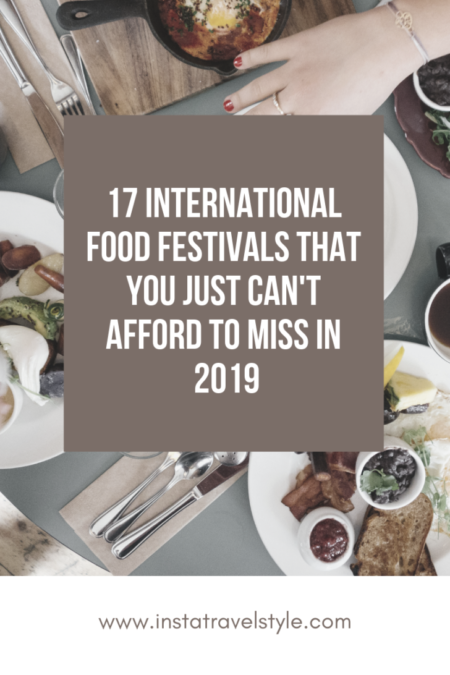 There is no love sincerer than the love of food. There is probably no better way to sense the soul of a place than through its food. There are various international food festivals around the world to keep us cheerful all year long, from greek food festivals to wine festivals, food trucks, sushi. So, pack your bags and try great street food and amazing drinking experiences around the world.
So, if you're foodie, make sure you strike these "17 International Food Festival That You Just Can't Afford To Miss" off your bucket list in 2019.
1) Food and Wine Festival, Melbourne
2) Food Truck Festival Trek, Vroesenpark
3) Lechon Festival, Philippines
4) Die Lange Tafel, Graz
5) Wine and Cheese Festival in Lviv, Ukraine
6) Night Noodle Markets, Melbourne
7) Paniyiri Greek Food Festival, Brisbane
8) Summer Solstice, Stonehenge
9) Medieval Market, Fuengirola
10) Fried Food Festival, Cartagena
11) EPCOT International Food and Wine Festival, Florida
12) Miami Marketta in Gold Coast, Australia
13) Jeonju Bibimbap Festival, South Korea
14) Vivid Festival, Sydney
15) Artichoke Festival in Monterey, Castroville
16) Food & Rum Festival, Barbados
17) Open Kitchen Food Fest, Ljubljana
1) Food and Wine Festival, Melbourne
2) Food Truck Festival Trek, Vroesenpark
Food and drink festivals are very popular in The Netherlands. Most of the food truck festivals take place in Amsterdam, but also Rotterdam has some interesting events planned for 2019. I am already looking forward to the "Trek Festival" taking place from the 9th until the 12th of May 2019 in the Vroesenpark.
"Trek" is a Dutch word for "appetite" and you will definitely need some if you visit. There will be a big choice of served from various food trucks; from Dutch food to sushi, from vegan to burgers. Everyone will find something they like. There will be also a cocktail bar, a biergarten and a wine bar.
Except for multiple food stands, there will be also live music and theatre performances. It takes place in a beautiful public park, so people are free to take their blankets and organise a small picnic. The best of all, unlike other food festivals the entry to "Trek Festival" is free of charge! So take your picnic basket with you and enjoy this nice event in a beautiful setting.
The easiest way to get there is by train to Rotterdam Central station. From there, take the metro (line D or E) to metro stop Blijdorp (just one stop) or take a really short walk to Vroesenpark. Enjoy!
Dates: May 17-18, 2019
Contributed by Edyta from Sayyestomadeira
3) Lechon Festival, Philippines
"99% of Filipinos agree that Lechon is the best food in the country."
Lechon is a roasted suckling pig which originated in Spain and is currently one of the most precious foods in the Philippines. On every fiesta, valentines, birthday, Christmas and New Year, a lechon is one of the "dream" foods that must be in the course. From August 1-12, Filipinos and various tourists visit Mactan, Cebu to celebrate the finest "lechon" festival in the country.
Beware, people, this kind of fats are deadly! Because lechons are overwhelmingly tempting inside-out, even though you knew that you are not allowed to eat it, you will be tempted to take a crunchy bite! Upon seeing, please control your senses as you drool in vain while smelling the sweet aroma it emits. Oh, did I mention its very crunchy and juicy skin?
You have been warned! Only less than 1% of Filipinos can resist the devilish call of a roasted piglet, while the rest will munch every drop of its juicy fats.
In this celebration, Mactan will be full of people who are enjoying to feast the mighty roasted pigs. It will generally be full of music from drums, to parades, karaoke singing, and prayers. People are expected to dine on a 500-seater Mactan Alfresco where they can enjoy every dishes that will fulfill their stay in the Philippines. Tourists will learn how to prepare and cook this kind of foods. Of course, there are also numerous Filipino dishes that will be served, but lechon is a king that destroys the reputation of every food around.
After a tremendous and unlimited pork venture, you may visit the best destinations in Cebu. Notable places are great for sky diving, scuba diving, swimming with the sardines and whale sharks, trekking and camping. Name it, and Cebu might have it!
Graz in southern Austria calls itself the culinary capital of the country. And it may not be far from it. The reason is the region that surrounds it. Styria is an agricultural paradise, that grows wine, fruits of all sorts, pumpkins, beef, pork and many other things that make your mouth water. The region's agricultural products are wellknown in Europe and the world.
There is no better place to taste them than at the food festival Die Lange Tafel. This will take place on 24th August of 2019. Visitors from all over the world gather at this elegant event. Tables are set with white linen, porcelain plates, chandeliers and opulent floral arrangements in front of the city hall. Cutlery and wine glasses are laid out in such an exact way, that they use rulers to place them accurately. In the meantime the best chefs in town prepare a meal that showcases the products of the region.
This is presented in an elegant setting below the clock tower of Graz on the central marketplace. While the sun is setting and candles on the chandeliers shed their flickering lights on the table, the guests enjoy the most sumptuous meal the city can offer.
Dates: 24th August, 2019
Contributed by Monika from Travelworldonline
5) Wine and Cheese Festival in Lviv, Ukraine
Wine and Cheese Festival takes place annually in October at Lviv, Palace of Arts in Ukraine.
Presentation of products from cheese and wine brands, and learning about organic products manufactured in Western Ukraine. Guests will be able to visit the large Cheese and Wine Fair, where products from both large producers and importers, as well as regional organic products, will be presented. Wine tastings from leading wine brands. Magnificent paintings can be painted not only by paints but also by wine. The rich shades of red and purple will inspire your creativity. Winecorkart's presentation of art made of wine corks. Presentation of author's mosaic made of handcrafted corks, and collections of bags and unique cork costumes.
Lend-Art Zone: This is a special area arranged for visitors to relax in the holiday atmosphere with family and friends.
Suitable for kids: The festival's theme is more for adults but children will not be bored as well: there are rides, entertainment activities, master classes on making horses from cheese prepared for the kids.
Tickets: The ticket price is 50 UAH /person/day and each adult guest of the Festival will be able to exchange an entrance ticket to the festival mulled wine.
Dates: October 19-22, 2019
Contributed by Inna from the Executive Thrillseeker
6) Night Noodle Markets, Melbourne
Dates: November 8 - 25, 2019
7) Paniyiri Greek Food Festival, Brisbane
Dates: 19th and 20th May, 2019
8) Summer Solstice, Stonehenge
Held on the longest day of the year, with the maximum amount of sunshine, summer solstice at Stonehenge is a bucketlist experience you won't want to miss. It's the only time in the entire year (aside from the somewhat chilier winter solstice) when you can walk right up the stones and touch them. Everyone gathers reverentially to watch the sun rise between two of the stones and the revelry begins! In fact, the moment the sun rises it's common to sing songs, tap your heels and kneel down in prayer.
Pagans are those who worship at stonehenge and for them it is a sacred and spiritual place. it's also most definitely a foodevent, when food is dedicated to higher powers and eaten as a feast. Honey is made into mead and now is the time to eat the freshest of fruit, to mark the long summer days that have ripened every morsel of the summer.
Traditionally at the summer solstice, fruits that were planted during the Vernal Equinox are harvested and eaten together with friends. There's a great atmosphere over night and everyone is happy to meet and chat. As you enter the English Heritage field you'll see stalls and places to buy solstice foods.
Contributed by Danielle from Livein10countries
9) Medieval Market, Fuengirola
The Medieval Market in Funegirola is a weekend full of fun, where the Sohail castle which stands above the town, transforms into a world of knights and princesses. The Medieval Market in Funegirola usually takes place in August or September, and it is an event for the entire family. The events start every evening at 7 PM and keep going on until 2 AM in the morning.
This event is unique in Spain. Sohail Castle is an old authentic Moorish fortress, usually empty on the inside. On this weekend however, the castle is taken over by stalls of food, crafts and tarot readers. There are a lot of workshops dedicated to children, from clay pots making to woodwork.
In the past years a lot of attractions kept the visitors entertained: archery lessons, street theatre, juggling, stilts, dragon hunters, magic shows and storytellers. The professionals will put on fire eating shows and medieval folk music concerts.
Every evening at the entrance of the castle, there will be a hog roast. Also, both inside and outside, there are plenty of food stalls selling bbq steaks, ribs, chorizo sausages and Spanish black pudding. Besides the massive bbq and beer stalls, you will also find here local producers selling artisanal bread, spices, teas, different cakes and olives. The entrance to the Medieval Market in Fuengirola is free.
Dates: During the month of August
Contributed by Joanna from Theworldinmypocket
10) Fried Food Festival, Cartagena
The Festival del Frito Cartagenero , is a food festival held every year in Cartagena, Colombia. It celebrates the city's fried street foods and is part of a larger celebration of the city's patron saint, the Virgin of the Candelaria.
Like much of Latin America, street vendors selling fried food, known as , is a common site in all of Colombia. However, in Cartagena, there's one type of that you don't see elsewhere. That is the arepa de huevo , the star of the Festival del Frito .
While are common throughout northern Latin America, the arepa de huevo is unique in that it is stuffed with an egg and usually ground beef. It is more like an oversized corn (stuffed corn fritter) than a traditional . It is a popular breakfast food and afternoon or late night snack.
During the festival, fry cooks compete to have the most creative spin on the traditional recipe, serving up arepas de huevo with everything from sausage to shrimp.
Pro Tip: Visitors can also sample other traditional fried snacks from Cartagena. There are live music performances, cultural presentations, and even cooking classes during the festival as well.
Dates: 29 March, 2019
Contributed by Adam from Cartagenaexplorer
11) EPCOT International Food and Wine Festival, Florida
The Epcot Food and Wine Festival is one of Walt Disney World's popular annual events. It takes place during the Fall season around late August to mid-November. Unlike Mickey's Not So Scary Halloween Party, the food and wine festival is not a ticketed event. Your regular park admission ticket lets you enjoy and partake in the festival.
In addition to Epcot's usual international attractions, food stalls offer treats, drinks, and snacks from all over the globe. Each booth represents a country, region or culinary style and has different selections from each other. Some of the countries or regions from which you can taste food and drinks include Africa, Australia, Belgium, Brazil, China, Japan, Greece, Thailand, and so on. There is a huge selection for everyone that it is highly likely you'd find something really appetizing.
The festival also has activities and shows such as culinary demonstrations from food industry professionals and celebrity chefs, book signings, hands-on workshops, drinking, and food sampling seminars, and an evening concert.
The Epcot Food and Wine Festival is a great opportunity to sample intriguing cuisines across countries without having to fly to all of them. It is also one of the best value you can get for your snack credits if you are booking a stay in Walt Disney World using the Free Dining promotion, which usually occurs around the same time.
Pro Tip: We recommend not booking any restaurant reservations during the festival and just spend the day snacking through the park instead of splurging on one big meal.
Dates: August 22 or 29, and will run through November 11, 2019.
Contributed by Yamy from Gofamgo
12) Miami Marketta in Gold Coast, Australia
Miami Marketta is my favourite place to go for dinner (not just because it's round the corner from my house!). The trendiest spot to eat on the Gold Coast, you'd be forgiven for thinking you're in the back streets of Thailand. It's a hive of activity with food stalls serving everything from wood fired pizzas to Korean Bibimbap. The Marketta can seat up to 700 people with long communal tables and everything is completely undercover.
They're all about showcasing local businesses selling foods from all around the world and vendors change regularly. Dishes are cheap but filling and there's a huge selection of drinks on offer plus a dedicated gin bar. If you're not a big lover of alcohol, find the well hidden iced tea and kombucha bar for a refreshing drink.
The Marketta is known for being family friendly and in the late afternoon you'll see groups of toddlers and young kids bopping away to live music. When darkness falls the venue grows up a bit and stays open late, showcasing the best of local and touring independent artists.
Find them at 23 Hillcrest Parade in Miami, Gold Coast. They open every weekend and parking can be a bit limited so I'd recommend you arrive early!
Pro Tip - Expensive, local greek restaurant Hellenika has a permanent stall where you can try their dishes for half the restaurant price!
Date: 7 April, 2019
Contributed by Sophie from Remoterainforestmum
13) Jeonju Bibimbap Festival, South Korea
Bibimbap is a popular Korean rice dish. It is made of rice mixed with vegetables, egg, red pepper paste and meat. Each part of Korea serves a different kind of bibimbap, but it is said that it originates in Jeonju as food for the royal court. Bibimbap was once one of the best dishes in Joseon (the last Korean dynasty), now it is one of Korea's most well known dishes abroad.
To celebrate this dish, the Korean city Jeonju organises a yearly bibimbap festival. The main highlight of the festival is the making and tasting of the world's biggest bibimbap. The dish is big enough for 5000 locals and visitors to eat from.
Apart from the bibimbap festival, Jeonju is a stunning city with loads of things to visit. It's main sight is the huge hanok village, which is filled with traditional Korean houses. Many of these houses have been turned into restaurants and in many of these restaurants you can try a great bibimbap.
The festival is held for 4 days in October and includes all sorts of events, cooking competitions and performances.
Dates: October 23 to 26, 2019
Contributed by Marie Boes from Bemariekorea
14) Vivid Festival, Sydney
Vivid runs for about three weeks annually and is a celebration of lights, music and ideas that brings throngs of people to Sydney after dark. The streets become a spectacle of lights, displays and interactive exhibits spread throughout the city over a geographic area that seems to grow every year. It is a huge boost to Sydney's economy and local restaurants thrive.
Of course, it is also a great excuse for a night out with friends!
My friends and I kick off our night at the Opera Kitchen, which not only does a mean Espresso Martini but also good quality meals for a reasonable price, especially considering you're in a capital city. We can enjoy the lights on the Sydney Harbor Bridge and the Museum of Contemporary Art while we eat and then pop up to the next level to watch the moving display on the Opera House sails - always one of the best shows of the festival.
Our route then takes us past Customs House, another intricate moving display that entrances adults and children alike, before we head for The Rocks. On weekends the restaurants and cafes tend to open late, so you'll often find us enjoying a rich dessert or gelato on our way back to the car.
Pro Tip: As it happens, some of the best places to go out for a meal in Sydney also offer the best vantage points for the show, including the Opera House, Darling Harbour and The Rocks. The revolving restaurants atop Sydney Tower offer the view from above.
Dates: 24 May, 2019 - 15 Jun, 2019
Contributed by Holly from Globeblogging
15) Artichoke Festival in Monterey, Castroville
Castroville, California, calls itself the artichoke capital of the world. And every year, they put on the Artichoke Festival at the Monterey County fairgrounds. There's crafts, games, cooking demonstrations and, of course, all the artichoke-themed food you could ask for!
Dozens of food vendors are there to choose from and, when my family went, we made it our mission to try every single one. You can find artichokes that are grilled, fried, made into soups, bacon-wrapped, the list goes on. Guys, they even have artichoke cupcakes!
It's a family-friendly event that showcases chefs, local performers, and even Ocean Mist Farms' very own artichoke mascot (grab a photo with him for something uniquely memorable to take home!). You can peruse the farmers market, check out the latest work from local artists, and grab an adult beverage at the beer garden. If the kids get antsy, there's a kid zone with games and activities for toddlers through teens.
The festival lasts two days, in case you don't get your fill on the first visit.
Pro Tip: I'd recommend going early to avoid some of the crowds. Lines will be shorter and food will be prepared faster. On that note, definitely try a grilled artichoke. It's simple, but delicious. Enjoy!
Contributed by Mary Beth from a Reluctant Mom
16) Food & Rum Festival, Barbados
Every November the buzzing Caribbean island of Barbados throws a festival celebrating one of the region's most famous exports: rum. Alongside the islands biggest producers, such as Mount Gay, and prominent chefs, a week long string of foodie events is one not to be missed! There are many different events to choose from, whether it's rum cocktails at the Polo day at Holders Fields, a gourmet dinner at one of the many restaurants taking part or tasting the islands freshest fish at Oistins.
Our highlight from the week has got to be the polo day - basking in the warm Caribbean sun, you can enjoy a spectacle of the island's best polo players whilst tucking into morsels from some of the finest chefs. Pick a spot in the marquee alongside the pitch, where you will find three different chefs serving up a selection of their signature dishes showcasing some of the islands best flavours. On top of that, there are a couple of bars, where you can savour a wide selection of beers, wine, cocktails and, of course, rum. The settle down, soak up the atmosphere and enjoy the action!
17) Open Kitchen Food Fest, Ljubljana
If you happen to be in Ljubljana, the capital of Slovenia, on Friday between March and October, there is one event in the city center which simply cannot be missed. Every Friday between 10 a.m and 9 p.m, from early spring to late autumn, the town square "Pogacarjev trg" is hosting a popular gastronomic event called Open Kitchen - "Odprta Kuhna", where food providers from the whole Slovenia present their culinary delicacies.
Since 2013, this event massively popular among locals as well as foreigners. Although portions got smaller and prices got bigger since then, it is still an event where people of all ages like to gather and enjoy the end of the work week with good food, good drinks and a good time with their friends and family. With a Gothic cathedral and the Ljubljana Castle in the backdrop, protected by the river bank and old market building with a characteristic architecture from the other side, you can fully enjoy all the colors, tastes and smells of typical Slovene as well as world cuisine in the magnificent atmosphere of an old, charming city. Lover so meat, vegan food or sweets, everybody can find what they love in Ljubljana Open Kitchen.
Dates: Mar 22 - Oct 25, 2019
Contributed by Tereza from Czickontheroad
Hope you guys have liked this post "17 International Food Festival That You Just Can't Afford To Miss". Kindly leave your feedback below in the comment section.