I love Las Vegas and got to go this August in the hot sunny days of summer..So much to do and see. If you like really hot weather than go in the summer plus prices are better because it is really hot and they slash hotel prices then. Otherwise if you are a fair weather person go in the Fall or Winter for milder weather..
After going to Vegas for over 25 years and staying in almost every hotel-casino my loyalties are with hotels owned by Harrah's corporation. My favorite place is the Paris hotel and casino located right on the strip and near the middle of it. It is smaller which I love and has everything you want when staying in Vegas. Many restaurants and bars to pick from in all price ranges, entertainment, a great pool and spa, shopping at the Miracle Mile stores, Eiffel Tower, Chateau Nightclub and a casino with a big variety of games and tables.
On this trip I got to stay in a suite which was amazing…2 bathrooms, bigger room with a wet bar, and a living area that has a couch and chairs to make the room so comfortable. Here are some pictures from my room but all the rooms at Paris are very nice and comfortable with a French flair….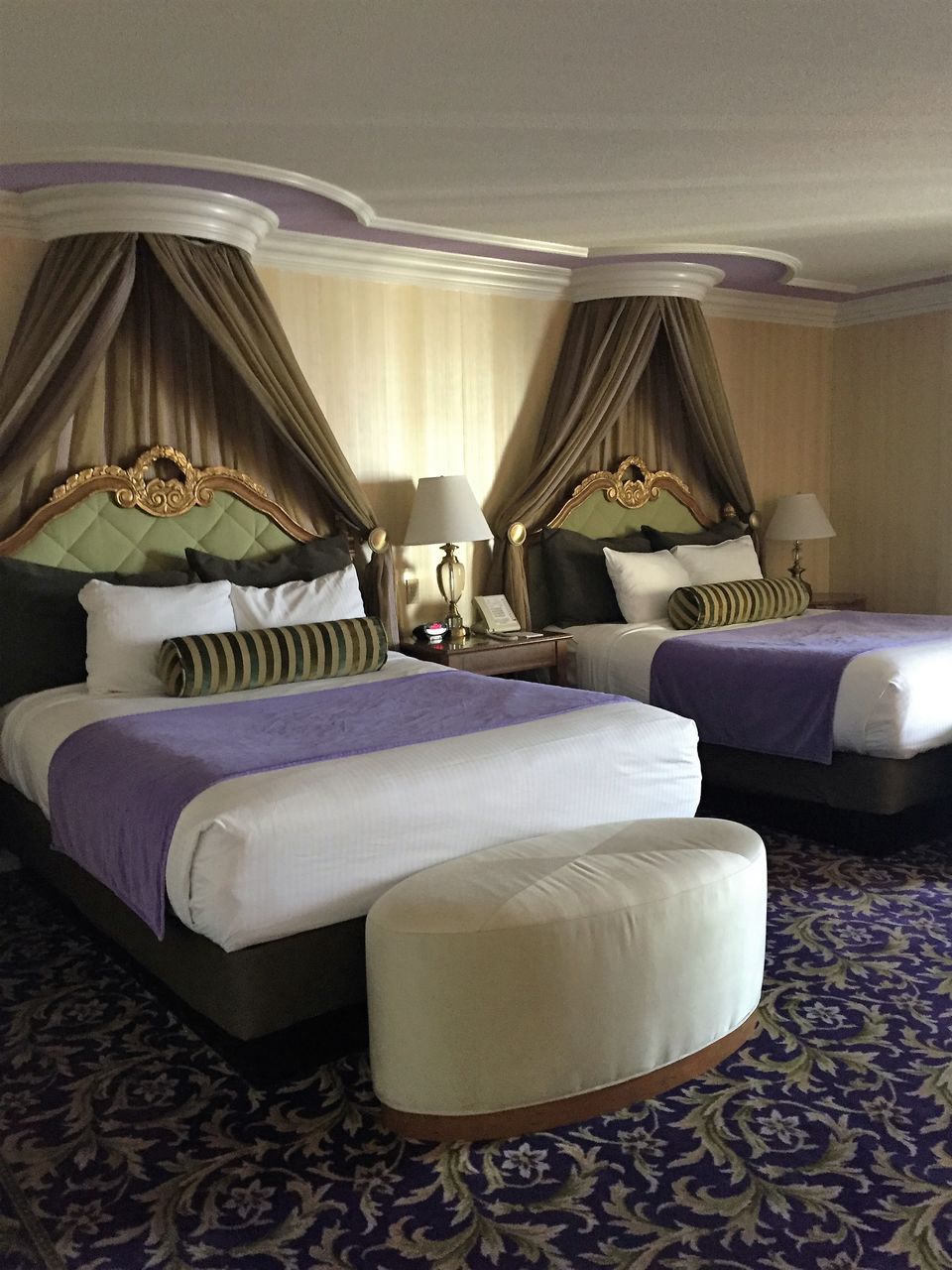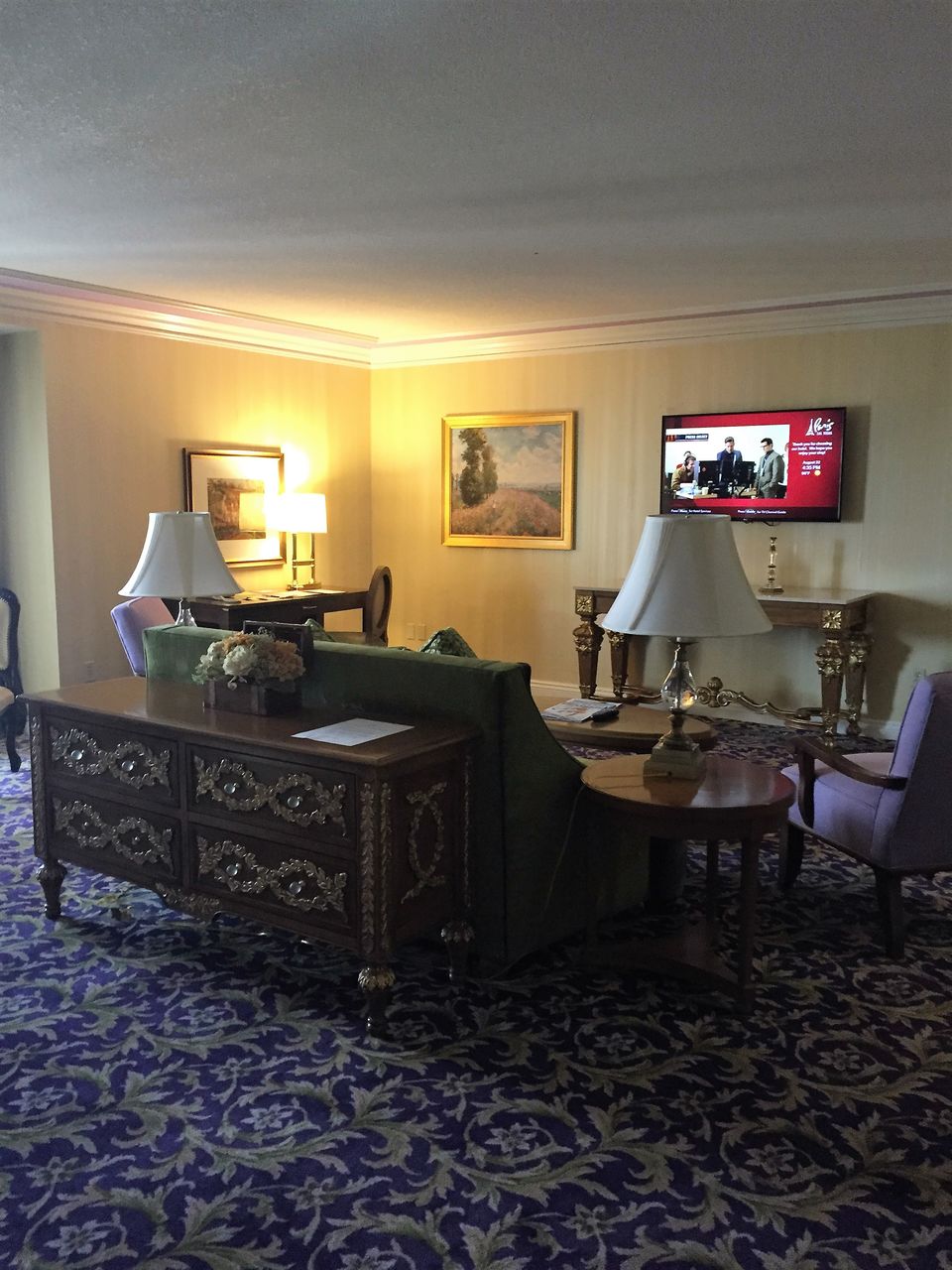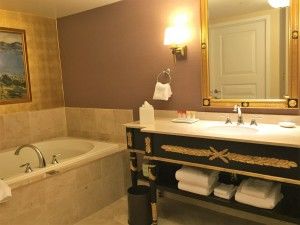 The rooms are wonderful but I also love the bakery at the Paris called Café Belle Madeleine that has coffee and fancy pastries that make your mouth water..they have many items to eat and if you want you can take them to your room. My favorite restaurant in the Paris is the Mon Ami Gabi which is located on the strip and offers a huge wine list with Steak and Seafood choices, superb food and a great view of the water show at the Bellagio. This picture below is taken from the restaurant during the water show at night…
When in Vegas you really should take the bus right in front of the Paris and head down to old Vegas which is known as Freemont Street. There is so much to see and do on Freemont like people watching, gambling in the casinos, listening to free entertainment, shopping and even zip lining if you have the courage. You never know what you will see there. Usually there are street entertainers who perform their acts, music is playing by bands and Dj's and there is a light show many times during the day and night. I love going to Freemont since you never know what you are going to see..
There is so much to see in Vegas and do that you could spend weeks there but the strip is so big about 4-5 miles long with so many resorts and casinos. Bring your walking shoes or plan on taking taxi's or the bus to travel it to see different places. The biggest names in entertainment perform here which is so fun to go see. I encourage you to go to any Cirque du Soleii show because they are Amazing…I have seen Mystere and O by Cirque along with Cher, Brittany Spears, Celine Dion, Elton John, Jerry Seinfeld and many more but there are many shows in all price ranges that are so great to see.
No matter when you go Las Vegas always a great time, even if you don't gamble there is plenty to do and see. If you have any questions about Vegas feel free to email me and ask and remember:
Traveling is Food For The Soul…so Happy Travels to you..
A few more pictures from Paris..reception area, bar, and one of my favorite restaurants which is next door to Paris: Gordon Ramsey's Burger