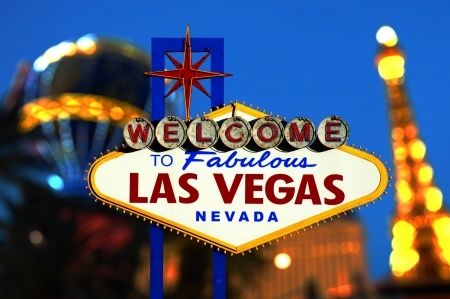 Amid the mountain ranges lies this human masterpiece of entertainment – LAS VEGAS !! This is a paradise for nightlife lovers. If you are planning to stick to Casinos and the Nightlife of Vegas, make your stay arrangements at or near The Strip where lies the heart of Vegas. Those who are interested in some day trips can visit Grand Canyon, Red Rock Canyon, Hoover Dam and other day excursions organised by the local travelling agents.
Start with the epic Fabulous Las Vegas Sign. Take some photographs as a souvenir from the trip. Move towards the Strip and gear up to wander on your foot. Here I literally mean you to gear up as you have to walk more than you have ever expected it to be. So girls, try to avoid heels. For the boys, you need not drape yourself in your suits unless you want to be in. Casuals are allowed inside the casinos. On the Strip follow your heart and go wherever it takes you. It's Vegas, so do as you wish to. No one can tell you what will you like the most. Each casino will have its own special attraction which can only be discovered by going inside. The skyline filled with lights and music, crowded street and huge striking architecture of the casinos will take your breath away. The casino architectures are nothing less than an art in itself. Practically the entire world is here for you.Visit the famous pyramids of Egypt at Luxor, give a toast to your taste buds at the highest restaurant inside the Eiffle Tower, click your photo in front of Statue of Liberty, stroll around the miniature city of Paris and Newyork, walk in your dreamland at Ceasers Palace (Forum Shops), Bellagio (The Bellagio Fountain), Wynn, Excalibur, Cosmopolitan, MGM Grand. Most of them have spectacular shopping malls of all the brands you can think of, souvenir shops and food courts, Irish pubs, bars to take care of your appetite.
Don't miss out on the road show performance done by the local people. Some of them are really spectacular and mind blowing. A kid's dance tribute to Michael Jackson, someone signing his/her heart out for the crowd or someone just making an extraordinary painting in seconds, it all happens on the roads of Vegas and must not be missed out. People dressed up in famous movie characters of Hangover, Michael Jackson, Marilyn Monroe roam around the streets and ready to click a photo with you for a dollar or two. If you are looking for some great shows and exhibitions going inside the casinos then try to have early ticket booking. You can check the show details here.
We always look out for Indian lunch buffets and were happy to find few here as well. So I will recommend: Mint Indian Bistro, Bombay Las Vegas Indian Cuisine. There are ample number of restaurants having multiple cuisine, road-side food stalls so burp on anything you like to.
It took us two nights to hangout at the Strip only. In case you find yourself with some time left then go for the day tours or enjoy the nightlife in Fremont Street or Downtown Vegas