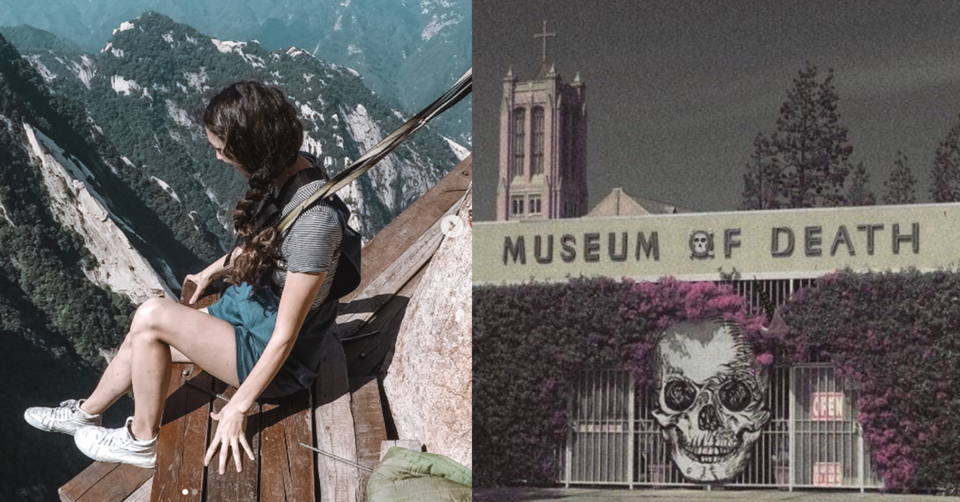 For most of us, travelling is more often than not all about disconnecting from the mundanity of everyday life and exploring a new place. On the flip side, a sizeable number of travellers tend to take the 'offbeat' angle a tad bit too seriously to visit places and do things that completely defy logic.
Did you know that people actually buy tickets to a museum dedicated to death or that tourists risk their lives by hiking up a peak in China for a cup of tea? The world is surely a crazy place and travellers are leaving no stone unturned to explore it all! Here are the world's ten most terrifying tourist attractions that deserve a spot in the bucket lists of all you crazy ones out there. Beware, these might give you a lot of sleepless nights!
Where: Evora, Portugal
While Capela dos Ossos might come across as a regular chapel at the first glance, a closer look reveals a different picture altogether. The small chapel is one of Portugal's most recognised buildings and is best known for being entirely decorated by human bones and skulls! As if that wasn't creepy enough, visitors are greeted with a sign that reads "We bones, lying here, for yours we wait."
Where: Trindade, Brazil
Being a nature enthusiast is one thing but Pedra Que Engole takes it to a whole new level. Pedra Que Engole is a rock formation that 'swallows' tourists, taking them to a dingy cave system before the water flow throws them out into a pool of water on the other side. Despite being an unproductive and risky experience, Pedra Que Engole is attracting tourists from all parts of the world!
Where: Shaanxi, China
Some call it the world's most extreme hike, others consider it sheer madness. China's Mount Huashan is infamous for being the only one of its kind that involves walking on narrow wooden planks held together by nothing but nails. Owing to its more than decent elevation of 7,000 feet, the hike becomes petrifying to say the least. And the end result? You put your life at stake to reach a tea shop on the mountain's peak!
Where: Livingstone, Zambia
Zambia's Victoria Falls become a hotspot for thrill seekers between the months of August and January. The dry season brings about a rare phenomenon every year called the Devil's Pool — a natural rock pool on the edge of one of the world's biggest waterfall. As crazy as it might sound, tourists love risking their lives for what they describe as the "best infinity pool in the world".
Where: Los Angeles, California
While L.A. is famed for all things wicked, the Museum of Death pushes all boundaries. As the name suggests, this strange museum is dedicated to deaths and houses 'memorabilia' from crime scenes, serial killer 'artwork' and actual death footage amongst other creepy things. This one is definitely not for the weak hearted!
Where: Xochimilco, Mexico
If you're someone who's ever wanted to visit a horror film set, drop everything and head to Mexico's Isla de las Muñecas (Island of the Dolls). The super spooky island is said to have been created by a farmer who would be haunted by the memories of his dead daughter. In order to please her spirit, the farmer collected hundreds of dolls and hung them on wires and trees across the island. It is now believed that these dolls move their limbs and open their eyes to welcome visitors on the island!
Step Into The Void, France
Where: Chamonix, France
France's Step Into The Void is just one of those places which can make even the best of mountain lovers' stomach drop in a flash. A glass cabin right in the heart of the French Alps, Step Into The Void rests at a solid altitude of 12,605 feet. The viewpoint dangles on the edge of a cliff, offering endless views of glaciers and snow-laden peaks, something that only contributes to making you feel extremely uneasy!
Where: Palermo, Sicily, Italy
One of the most unusual tourist attractions in the world, the streets of Palermo house what locals referred to as a 'human library'. The catacomb houses as many 8,000 carefully preserved mummies, which for some reason attract tourists from all parts of the world. To make matters worse, some of the mummies have also been kept in 'special' poses with the mummies of two young girls sitting on rocking chairs being a crowd 'favourite'.
Where: Pennsylvania, United States of America
Till the early 60's, Centralia was a beautiful, close-knit small town and that's exactly when disaster struck. An abandoned coal mine below the town caught fire causing severe health implications amongst its residents. After multiple failed attempts to put out the fire, natives were forced to abandon the once thriving town. All these years later, the fire continues to burn with fumes and smoke regularly visible through cracks on the streets. Instagrammers however, instead of staying away from the toxic town, have made it a hotspot for photo ops leaving the rest of us with just one question — how much is too much?
Where: Amsterdam, Netherlands
Giving L.A.'s Museum of Death a run for its money, the Torture Museum is exactly the kind of stuff which makes you question just about everything in life. The creepy museum houses medieval torture devices, some of which are just too grotesque to even look at. But believe it or not, despite the sadist angle, Torture Museum is actually one of the most visited places in Amsterdam!
Ever been to a place that left you scared out of your wits? Write in here and share your travel stories with the Tripoto Community! Don't forget to check out Tripoto's YouTube channel for your ultimate guide to the most extreme places to travel to around the world.