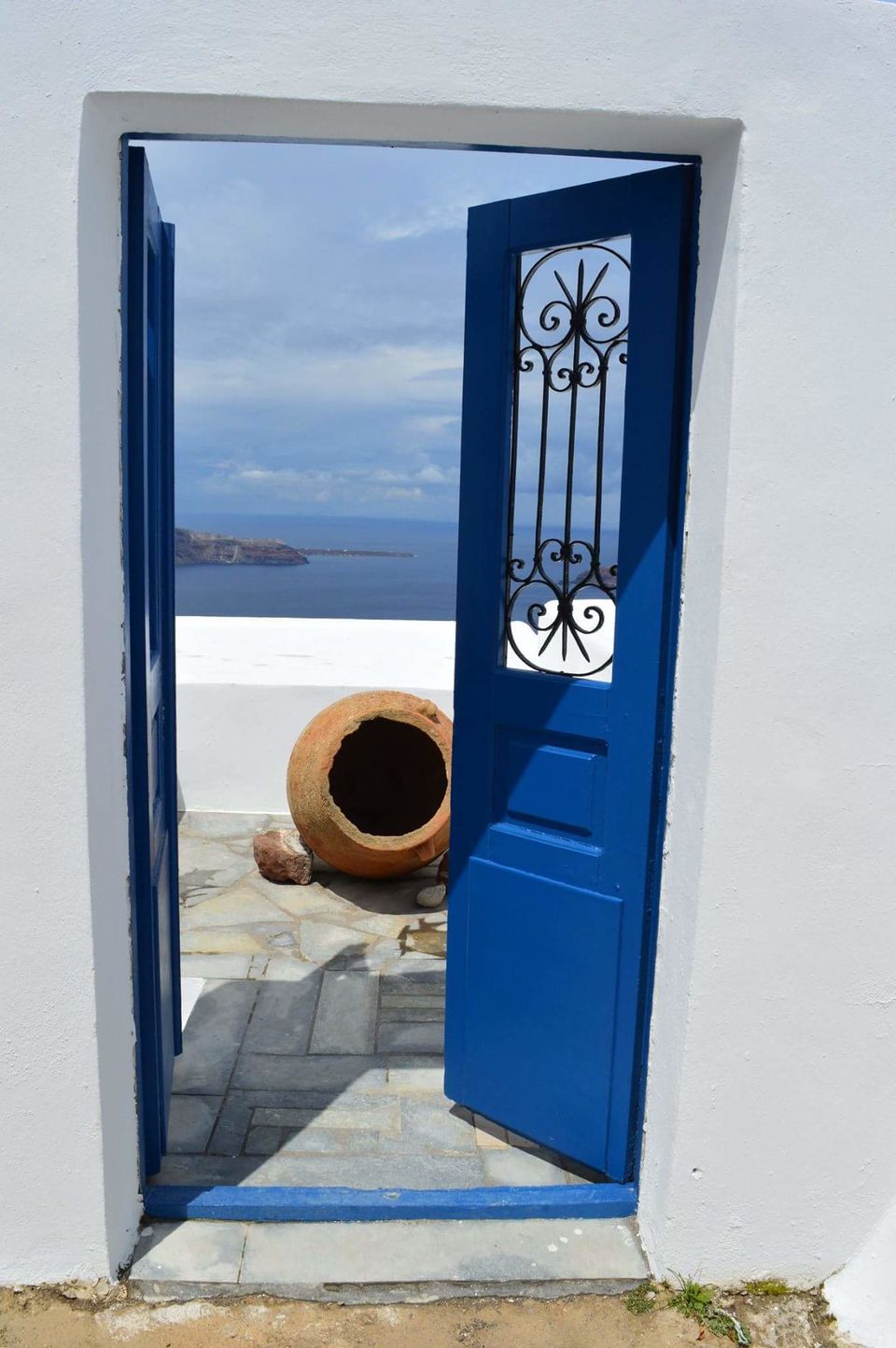 We are all wanderers in some way, just how much we step out and let the wanderer grow onto us is our choice or sometimes not even ours. Sometimes the wanderer needs awakening, a call which he cannot defy, where he gives in and then there is no stopping him. This happened with me, where a person just walked into my life, and with no choice, the wanderer was unleashed, and it's been full of our personalized travel miles. That story is for another day though! The naive attempt here to convert Greek times on virtual paper is only out of the fear of losing even a bit of those memories as time passes. Yes a naive and very selfish start I must confess. But one thing which always goes very well for us is "we go offbeat" with our Itinerary, it's never according to the books of a travel agency, it works or does not work sometimes, but the experience just gets better.We see a lot of Indians traveling abroad with a to-visit-at-this-time list, it's handy definitely, but we miss to see around what is off that list. I hope when you read this, I am able to not just make you feel like packing your bags off to Greece, but also doing it your way, no rules by anyone else.
Greece has been written about by so many folks who go there and fall in love with the place to the extent of writing glorious passages on her. Like poets write about beautiful women and nature, Greece appeals to you with her beauty. Greece was a promise made to me, to start the most pivotal journey of our lives. And I can say with no doubt, no other place would have made it what it was(no offense to your favourite place) . The itinerary was for 9 days, and if I could go back, I would make it 15 at least , because it's just not enough to absorb it all in. The preparations for these 9 days, had a lot of sleepless nights of reading and planning and cancelling and planning again. There are so many sites like tripadvisor, lonelyplanet et al , but with them I would suggest go for the personalized blogs, they really help. That is tip no. 1.
Athens
So, we started with Athens. Don't miss to peep down from the flight to the breathtaking view of the Greek blue waters and the tiny looking islands(it's hard to miss anyway). The accessibility from Athens International airport is very good with metro, bus and taxis. Unless you want to spend a lot on a private drive in a taxi, the bus is the best option if you Hotel is located near the Syntagma Square. Metro becomes a bit inconvenient with the luggage.You need at least good two days to see just the master pieces standing in the city for thousands of years.
To just list what you will find on any source is the Acropolis, the Temple of Zeus, Adrian's arch etc. which are definitely a must visit. But let me add what will take it from nice to awesome. One thing to always keep in bold on your list is " You got to walk it all.. alone or not is your choice ". I love walking, and it gets to an amplified level with the cobbled streets anywhere in Europe generally, so Greece is no exception. The Mount Lycabettus hike is my favourite memory from Athens. The Evangelismos metro station is at the base of the hill, and when I say hike you may imagine a hilly trail upwards, but surprisingly, its stairs, running up with beautiful houses and canopies all pink and green. The hike takes around 40-60 mins depending on your nature to enjoy the path and not just rush it up. And what you get on top is, the most beautiful view of the old city of Gods or shall I say city of the Old Gods. Preferably, choose to witness the sunset there.
Another special experience is the walk around the ancient Agora settlement. It's vandalised like a lot of Indian monuments, but it's beautiful. Every architecture has a story to tell. The Agora region is near the Plaka region and is like a thousand years old settlement cocooned by the more romantic Greek Plaka region with small and beautiful restaurants on the curbs, musicians playing their romantics to our smiles and the shop stops.
Food wise, a very generic trip for across Greece, eat in small taverns, and not in the McDonalds and KFC and BBQs. You have to eat like a local to get the flavour of travel, that's what connects you the most to that land.
In Athens, the Plaka region is full of restaurants to choose from. The menu is displayed outside all, so you can choose wisely based on your taste and pockets.I had the best Greek Salad in Athens. The Souvlakis and Gyros are just mouth-watering to even think of now.
Tip: Indians can ask for their meat to be baked a tad more than how the Greek have it.
For Seafood lovers who would love to have fish, shrimps, oysters by the port with a glass of wine, Piraues is accessible by taxi. We had not read about this anywhere, but our cab driver Lukas, with all the interesting stories he told us in his Greek English, about Athens, drove us to the port saying, " This is where you should eat..We Greek don't eat at the expensive Plaka area..It's for you money people ". And we did, and left with the yummiest smiles on our faces.
Quickies for you:
1. Hotel Plaka, Plaka(really good breakfast,good service and charges) Link here: Hotel Plaka Booking Hotel Plaka BookingHotel Plaka Booking
2. Hotel Athens(very informative helpdesk, smaller rooms but who stays in when there is so much to explore)
3. Go for the full day 4 Euro pass of public transport, all your destinations are accessible at that rate.
4. Bargain with the taxi drivers, it's almost like India.
5. Check the entrance availability days for all archaeological sites). I missed entering the Acropolis, because their labour day was celebrated on 2nd May and not on 1st, yes weird!)
6. Exit from Athens to other islands is either by air(very few islands have airports, and you have to book considering the baggage restrictions on each carrier) or by ferry(the tickets being as expensive as the flights,but if you want to be on the waters for a couple of hours for an experience, this is the way to go). We used the Blue Star operator. Link for booking here:Online Ferry booking
Santorini
' The most prolific sunset is at Santorini'. One doesn't completely lie when they say that. I will come to the details soon. We took the ferry to port Thira, which is at the foot of the beautiful volcanic island. The lava has done a beautiful job there, giving it the shape of a shoe magnet, which attracts you from no matter where you are. Cabs are readily available, but the best option is to call the hotel in advance and ask them to arrange one at 20 odd Euros.
Our stay at Santorini was booked for 3 nights. When deciding where to stay in Santorini, 3 choices being given - Oia (the luxurious, touristy, crowded place), Fira(the other crowded end of the horse shoe magnet) and Imerovigli(the place to be). We opted for Imerovigli, as it is a small, not so crowded, and scenic central view giving part of the island. Its not too light or too heavy for the pockets. Honeymooners specially should not fall for Oia, as it will rip you off giving the same experience as this place. Another option for people who want to stay by the beach is around the Kamari beach(the black beach), it will be secluded and calm. But to wake up to the serene blue waters just kissing good morning to the sun, is an experience well achieved from the top.
The first must do in Santorini - walk. The walk from one end of the magnet Fira, to the other end Oia, is a total 8 hour walk. I know it sounds totally cumbersome but trust me, the hours pass by like you've been just walking for a few heavenly minutes. The walk is over white-painted steps, with the splendid, simmering , azure sea by one side, and the complementing white hotel blocks to the other. The limitless blue trail is so far the best walk I have ever had. When we got walking from Imerovigli, we made a new friend, Scaros. It is a rocky extension in the shape of a small hill. People just pass by it, but again, as part of the self-customized-self-timed package, we chose to visit Scaros. That added an extra hour and a half to our walk, but who minds. We hiked down, up and down Scaros, to witness the fresh air, the eye romancing blue with no one around. Scaros left a permanent , amazing scar on me.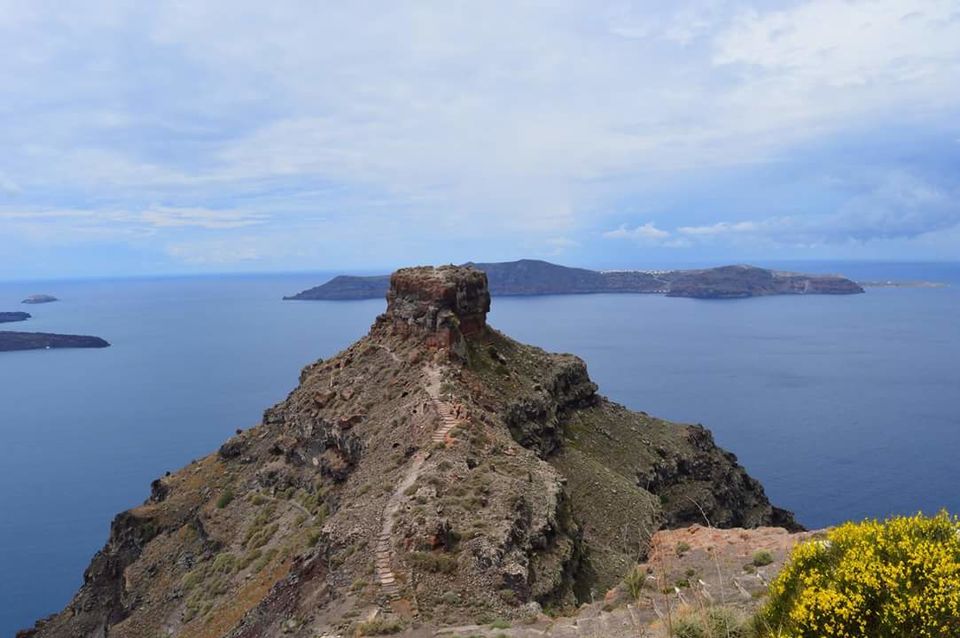 The walk of course includes walking down and up to the small scenes you catch in the bigger heavenly picture, like the small churches, art galleries painted in bright hues, chubby cats lazing around in the sun, stray dogs which are not so stray but domesticated just with the aura of Greece, the famous big church with the blue dome, the small but yummiest taverns, confectionery shops, the souvenir corners, and just a lot of connection to so many objects which can be photographed. No matter how much you click Santorini, you will always find a novel shot, it's at that level. Our walk ended just in time for sunset at Oia- which is popularly put as the most prolific sunset, but I'll tell you what we had in store. The sunset was ofcourse beautiful at Oia, we tried getting as away from the crowd even there. We sat closer to the shore, on unusual rocks to bid farewell to the Sun that evening.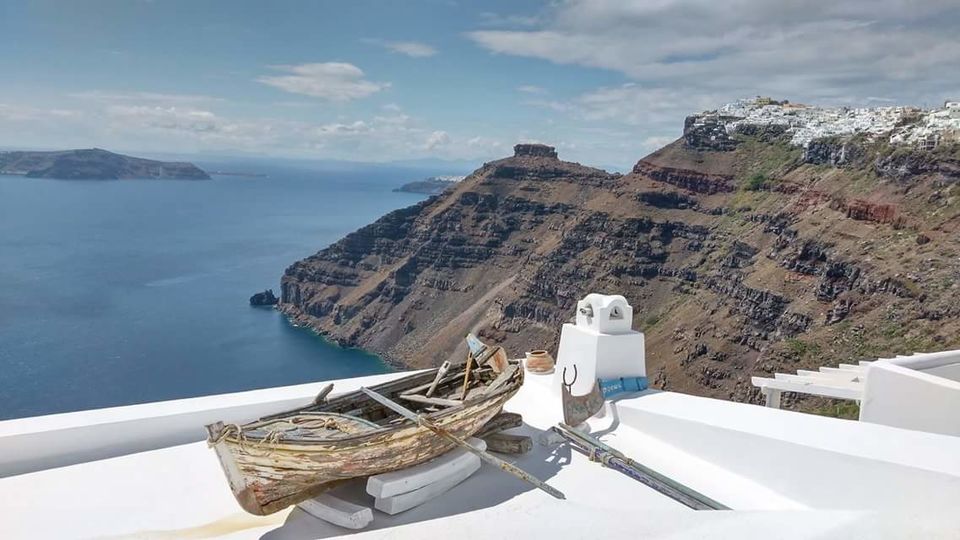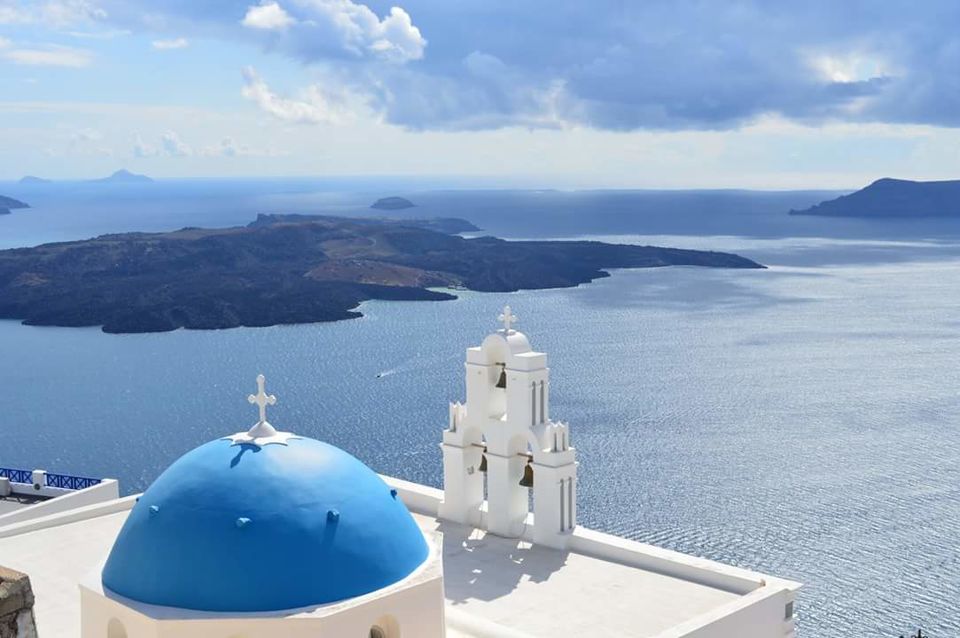 The second must do thing - drive. There are 3 general choices: bike, cars and ATVs. ATVs are four-wheeled scooters with high power engines and as rugged as driving a mini truck. Our plan was renting a scooter and riding, but we came to realise both of us didn't carry our 2 wheeler license. Only I had my 4 wheeler license. Left hand drive, never tried, never tested before. Our hotel owner arranged for the rent agent come to us with the ATV, because that was the only thing besides car we could ride on my license. And so came the lady with the ATV. She hardly made us drive that rugged little vehicle for a minute and rejected us both saying, 'No it's too risky. I cannot give you this. You take car.' To which we both looked at each other and with smiles, rejected her offer. We being Indians, our jugaad nature is not left at home, no matter where we go. We decided on plan B- Walk up to the vehicle renting shops, and convince them that our license is actually valid for both 2 and 4 wheelers, that's the rule in India, one license, all types of vehicles. The big Greek owners in their accent politely condemned. ' You take only car on this license'. I really wanted to ride along those scenic shores, and I just couldn't let go. So we decided to risk our lives at my left hand drive virgin skills. We rented a car, with basic instructions from the attendant, and his farewell assurance being, ' Don't worry, its just like in your country, just on the other side of the road'. What he fortunately doesn't know about India is it's no way like any other country in driving, with the most benevolent police. So we took the leap of faith and started with our drive. Santorini made my first international drive experience the most startling and paradisiacal one. All of this,with the most encouraging GPS on my right seat. We did it in old style, he had the paper map with him, and told me the turns and ups and downs from it. I still cherish that drive, through the astounding landscapes: the sea, the beach, the curvaceous mountains, and most of all the calm.
Another instance where listening to the locals and not the tourist guides took us to wonderful times, was on the driving day itself. Tourist guide - best sunset at Oia. Koula,Caldera memories owner - ' Drive to Pharos, the light house, you will get the best sunset there.' And we did. She also helped us pick the less crowded and serene beaches, of which Kamari, the black beach topped the list. We drove to Kamari and with another salivating, laid back lunch there, we drove to Pharos with Akrotiri, the Red beach stop on the way. The way was peaceful, lonely, and so more beautiful. We stopped whenever we saw a scene we wanted to sense longer, there was no hurry, just calm at our pace.We reached Pharos to find out a very secluded extension, with a slight hike up and down, and there was a small platform with white rubble. That was our spot and we literally owned it. The sunsets there happen at late hours in summer, around eightish, and we had managed to reach around five. This may be one of the cons of non-touristy planning. So the choice was stay put for 3 hours, or drive back to the center and witness the sunset there. There was no choice actually, we put down a small towel on the rubbel, camped our stuff, and there we were waiting for the Sun to give its final performance for that day, just for us. And that wait, without cell phone connectivity, or even books, where it was just us, and no other distractions to hold on to, but the endless water and the radiant sun and the small sails and our conversations.That is something we have all lost in our internet age, sadly. Not one minute of that wait was uncomfortable. These moments reassure, there is something more substantial to a relationship, which we miss when we are on the run.The Sun set for us that day, and even the pictures cannot do justice to what I witnessed, words may, but I don't have them.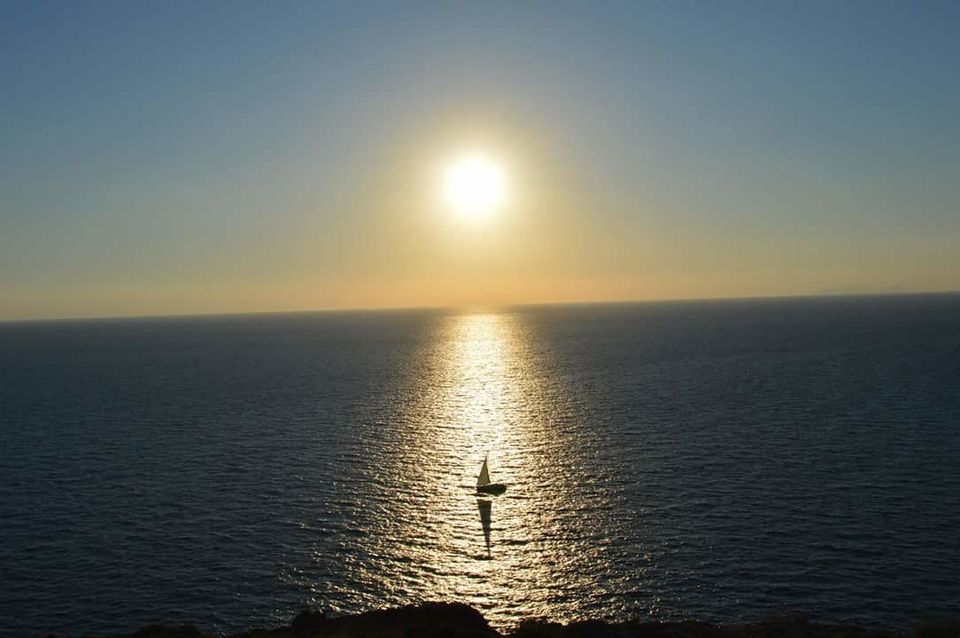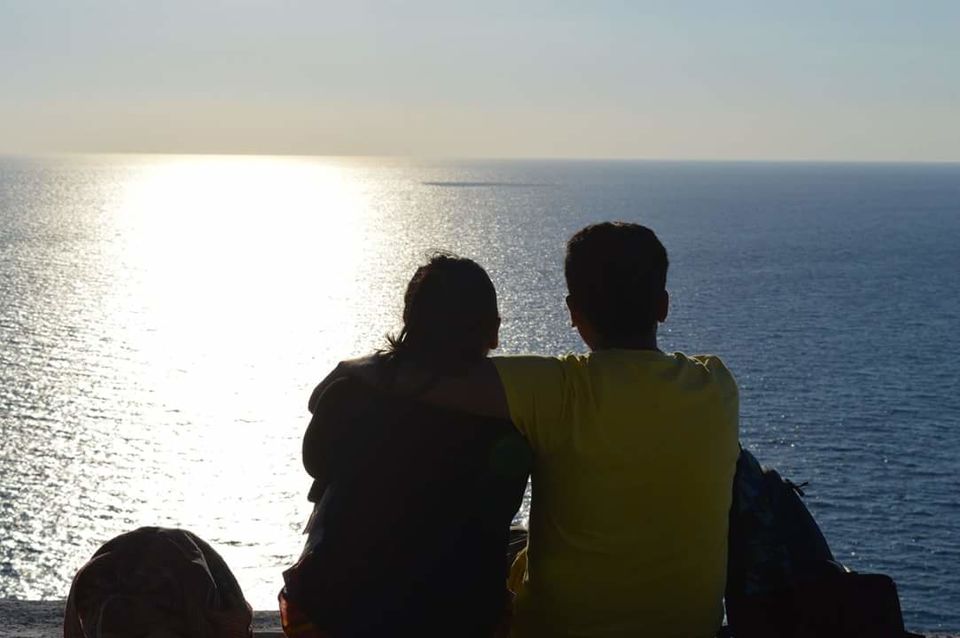 The third must do thing - relax.It's funny we travel to relax, but that is the last thing, especially Indians do when on a vacation.Let go off that must-see , book a nice and chic Caldera view hotel, just sit back in the balcony, and see the island hallucinating you with its various tricks. If you have wine for company, it makes it a serene experience.(Try their local white wine ).It actually works, we have done that for 2 evenings, and I can say they were well spent. The reason on the first was the unexpected showers, and we had to, but the second one was by choice.
Quickies for you:
1. Caldera memories: A beautiful view, a very kind owner Koula, the best site we stayed in. Link here: Caldera Memories
2. Tholos: This was our last moment spot, and was Oh so beautiful, right behind my friend Scaros. They give complementary wine and fruits too.Ask them for the jacuzzi room. Link here: Tholos
3. Ask your hotel to book a cab for your pickup and drop from Thira port.
4. There is a fair chance ferries will be cancelled due to strikes in the current situation, so be prepared with a Plan B.We had to stay one more night in Santorini for the same.
5. Scuba diving at Santorini is supposed to be an amazing experience, try it.
6. Do eat at Taverna Tasos, at Imerovigli and say hello to Theodore.He will make super customized desserts for you, and he knows no English, that is the fun. The other yummy eat outs are Mama Thira, Meli and Thymary at Kamari ans Ambrosia at Santorini for fine dining and lovely sea food.
Milos
If Santorini gives you the feeling, ' I have seen the most beautiful place on this planet ', scratch that. Milos, is virgin beauty. Not touched much, a bus terminal like airport, far distanced houses, less money minded people, and the best of all, pure, turquoise, virgin waters. I'm sure Milos will be one of the few untouched islands in Greece. Sadly, as I mentioned about the ferry strikes in Greece because of its economic condition, our 2 days Milos stay came down to 4 hours. Can you imagine the frustration? 4 hours before we had to catch our flight to Athens. So what does one do?
D'Mitri to our rescue (this name there is like Rahul in India, every 3rd person has it). He is a 65 plus, jolly, talkative(even with cute broken Greek English) cab driver. He is working even now. We told him, we have about 2 hours to cover Milos, to which he responded so positively with his jolly gestures,"Sit, I will take you". So off we were on the D'Mitri ride. His talks included so much innocence and experience at the same time, doesn't take time to trust a guy like him. He proudly has 4 children, and when asked about his age, his response, was," Ahhhh noooo!!!! D'Mitri.. Boom...grave..down down..", apparently anything bad for him in English is 'Boom'.
He took us to without doubt the most beautiful beach I have seen in my life so far: Sarakiniko. It was just us there, and the blues. It's not a sand beach.The bone white beach is formed from volcanic rocks shaped by wind and wave, imagine Nature's poetry. It is perfect filming or photography spot, with all the calm you need. I just wanted to stay there, never come back. The pictures do no justice, trust me.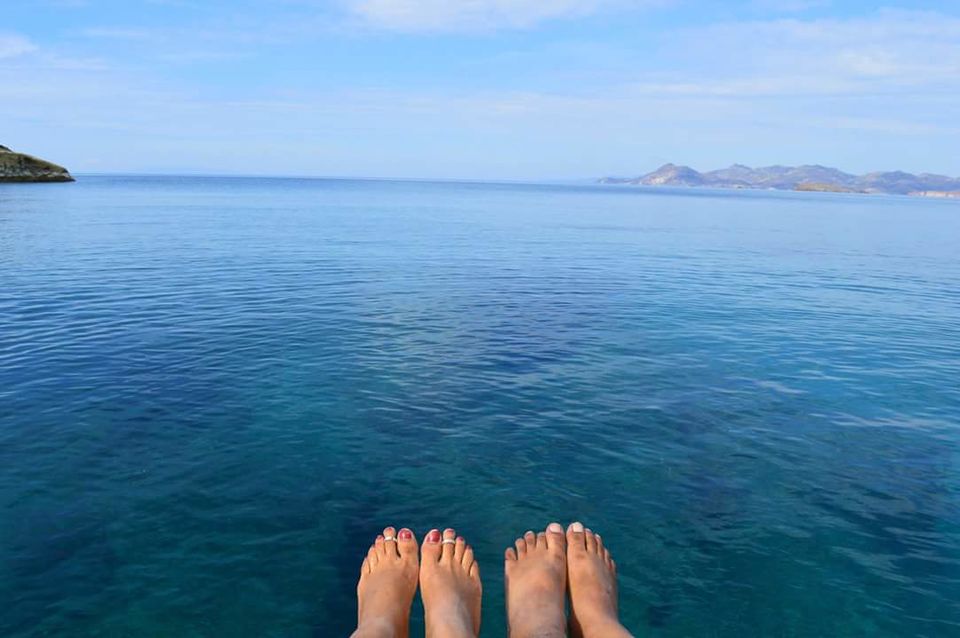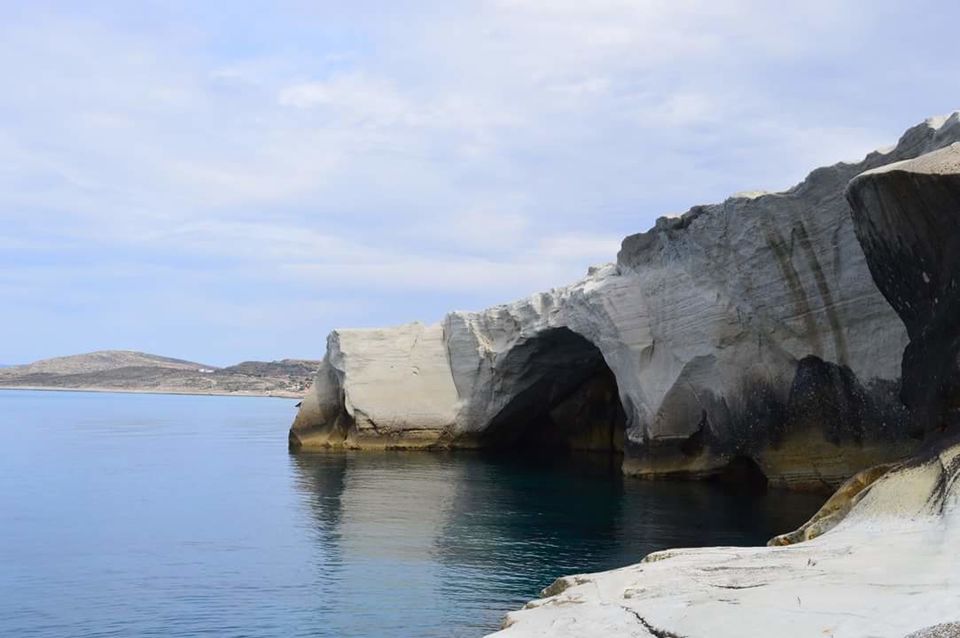 He drove us through the beautiful Pollonia region, which is the best place to book your hotel in. He knew the owner of the suite we had booked for ourselves, like we know our close-knit pals. We visited Nikki for a couple of minutes thanking her, for refunding the euros, in spite of the last moment cancellation. After seeing that place, the regret of not getting to stay there was to the brim. But we have promised her and ourselves, we will go back. it was hard to say goodbye to Milos, it is like those tempting flings one has, but forgets never. Oh yes and the airport, bus terminal may be bigger!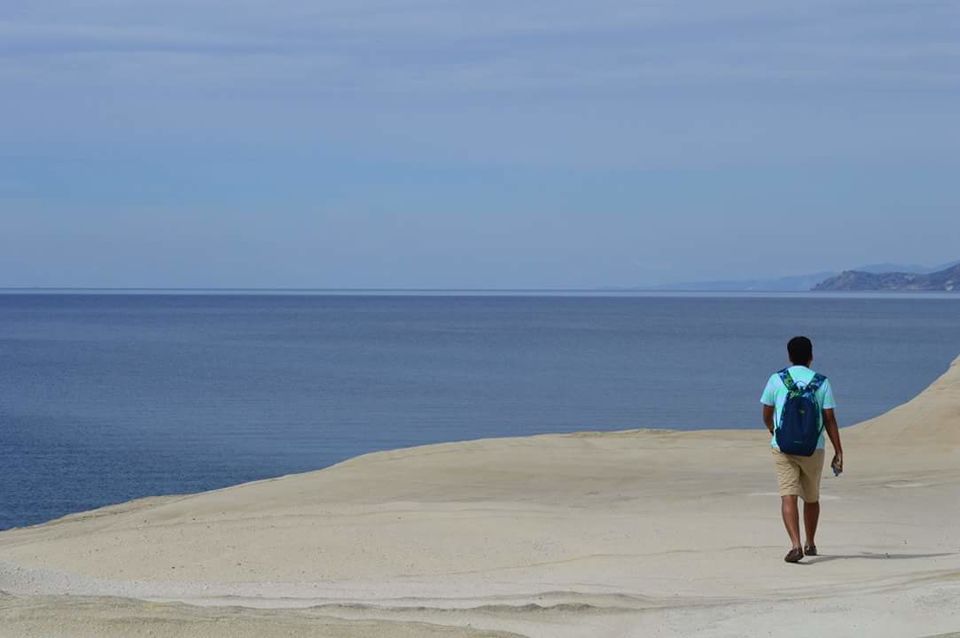 Quickies for you:
1. Nikki Savvas, Pollonia- beautiful stay with a very benevolent owner. Link here: Nikki Savas
2. Kleftiko beach – snorkeling
3. The whole island can be covered with a cab ride if you are short on time.
The last 2 days, I kept lamenting about how I will bid farewell to one of the most beautiful places to exist on this planet.Food, wine and the music is what we rode on in that time.In Athens, one must try this tram ride. Beyond its purely urban use, it allows one to enjoy the Athens seafront from Faliro to Voula. It runs along one of the most impressive axes in the southern suburbs of Athens, by the seaside all the way.
We even got to witness a live demonstration at Syntagma Square, the country is in unrest. What went wrong with this paradise, is beyond thoughts. The greatest philosophers, artists, authors, mathematicians belong to this restless nation. But the ways that nature has with it, I hope will never change. It will continue to be the serene, priceless, white and blue Greece.
Yamas to Greece!( yamas is cheers in Greek)